Home » Blog » Wine & Drink » Strange infusions: Mojito-infused Rum!
Tina, I'm a genius! I've just had the best idea ever, I said one day.
"What is it this time, Johan?" she probably though when I texted her the fifth or so time that day with another food or drink related idea I'd come up with. "I think we should get hold of a good white rum and infuse it with a bit of lime and some of our awesome Moroccan mint from Growing Home to create the ultimate Mojito-flavored rum," I quickly went on to explain and that, in place of the usual sigh, almost immediately prompted a reply from her that read simply: "Wow! You really are a genius! Now get to work! :D"
Mojitos, a love song
Why this sudden and unproved declaration of genius on my part and unstoppable enthusiasm on the part of Tina? Well, because we have a thing f0r mojitos 'round these parts.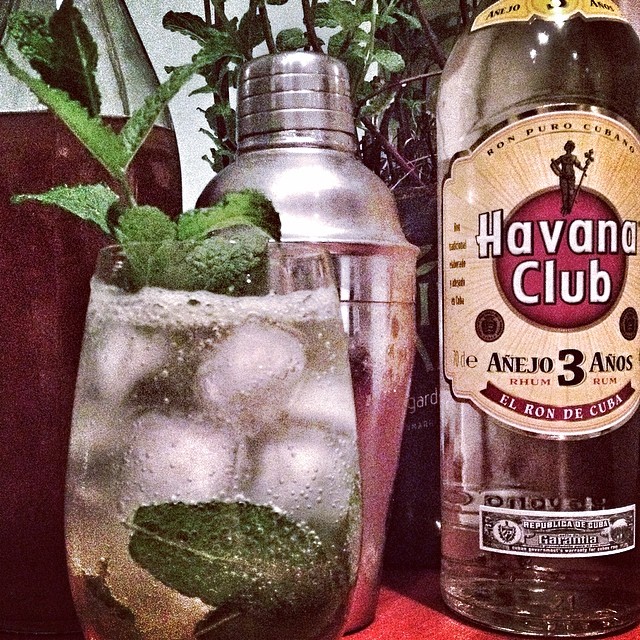 The Mojito, in all her glory!
To me, a proper mojito is more than just a drink, it's a passion. I've devoted hours, days, probably weeks to the quest of mojito perfection, and I do produce what I consider the best mojito in town, if I dare say so myself. As is often the case with my culinary hysteria projects and passion for wine and drink, my love for the mojito has rubbed off on those around me. And probably on no one more so than Tina who has assumed the role of guinea pig in most of my successful experiments, as well as some of my not so successful ones. This has ignited in both of us a bit of a love affair with the timeless classic that is the mojito.
A love affair that has raged for years now. There's just something about that classic combination of crisp, sweet, white rum, mint, lime, a touch of sugar and the cool, sparkling, mineral qualities of a good sparkling water such as San Pellegrino. With spring well under way, summer on the horizon and many a long evening filled with great weather, greater food, friends, good wine and drinks ahead of us, the thought of having many of the star qualities of one of our favorite summer cocktails contained in an infused rum that could be sipped over ice or used as a base for cocktails… Well, it became almost too much to bear for both of us, so I quickly set out in search of mint, lime and, most importantly, rum!
My idea was as clear as it was overwhelming now that I look back at it: to create the perfect, new summer spirit!
Picking the right rum
Wait, did he just say most importantly rum? Why yes, he did! In a perfect mojito, the key ingredient is in fact rum. Coupling this with the fact that there's quite a lot of rum in a mojito, (probably another reason why we love them so much), it stands to reason that you would want to pick a good, white rum for your mojito and an equally good or better rum for your mojito-infused rum.
You see, my friends, white rum is not just white rum. There are a myriad of white rums out there, each made by different producers scattered all throughout the tiny nations of Caribbean and a few tiny nations as far away as Denmark (or so I've heard). Each carry their own distinct trades and features. Some are cheap, some expensive, some are young, some are aged, some are sweet, some are crisp, some are memorable, some are horrible. In short, there's a white rum for everybody and for every purpose, and an expensive rum is not necessarily a good rum (right Bacardi?). It's a jungle out there and picking the right rum for the purpose can be a bit of a challenge, but that's another post. One I'd love to write some day.
Suffice to say, for your mojito making needs, a white Cuban-style rum is your go to bet. Havana Club, in particular, produce some gorgeous and very traditional white rums very suitable for the mojito flavor profile. Their Añejo 3 Años in particular is phenomenal for mojito making and it's what I usually use in my mojitos. It's also what I would have used, had I had some and had I not gotten this brilliant mojito-infusion idea of mine rather late on a Sunday afternoon when most stores were closed and I had only my local supermarket to rely on! No matter, though, I soldiered on, I had a creative plan rolling and a little blonde screaming for mojito infusions.
What are some great mojito rums? Try Havana Club Añejo Blanco or better yet, the Cuban favorite, Havana Club Añejo 3 Años. Suffering under the US embargo? Try Ron Matusalem Platino or, well, Ron Pampero Blanco. If all else fails, there's always Bacardi.
With frantic eyes, I scanned the shelves of the supermarket, that were not exactly overflowing with white rum selections by the way, and quickly feasted my gaze on a bottle of Ron Pampero Blanco. I first laid eyes on Ron Pampero when my dear, old friend Louise bought me a bottle of their Premium aged rum for my 30th birthday a few years back and I've treasured their stuff ever since. I still have some left of that bottle, being the sappy idiot that I am, but I have gone through a few bottles of their other rums, the white Blanco version included, since then and to the best of my recollection found them quite nice.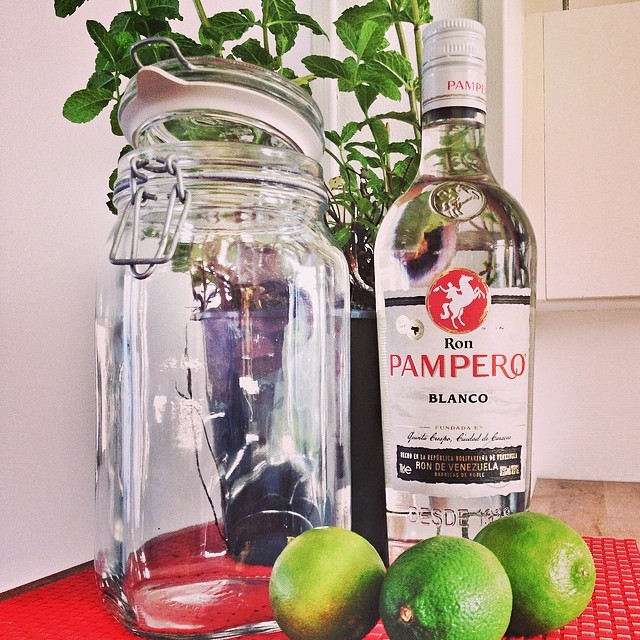 Ron Pampero Blanco, limes and mint, what more do you need?
A quick google search on my trusty iPhone led to a review by my friends over at thefloatingrumshack.com which indeed confirmed my recollections and, in short, described the rum as "fresh, clean, sweet and fruity and well… very nice indeed!". All these qualities, especially the very nice indeed part along with a few more superlatives along the lines of "silky creaminess" seemed like fitting qualities as the base of a mojito infusion and without much in the way of second though, I grabbed a bottle from the shelf and threw it in my basket along with three nice, organic limes from the produce section.
The mint, I figured, I'd harvest from my already overgrowing urban garden. Shaking with anticipation, I then made my way home where I grabbed a large glass jar and went right to work creating my first test batch of mojito infused rum.
Knocking up the first experimental batch
Having decided on a rum and picked up a few quality limes in the process, the whole business of creating a homemade mojito-infused rum actually  proved painstakingly simple. After all, what is a mojito really but a good rum flavored with mint, lime and a touch of sugar. Well, it's ice and sparkling water, too. But those, I figured, were best added later. For my mojito rum, I wanted the pure flavors of the mojito without the dilution of water and ice, and here's how I went about achieving that.
Using a a vegetable peeler, I first removed the zest from three nicely green organic limes. I did this slowly and meticulously and if you propose to copy my experiment, you should, too. For an infusion, you want as much of the zest as possible but you'll want to avoid as much as you possibly can of the white pith beneath. Much of the flavor and aroma of lime as well as all of essential oils are in the zest, whereas the white pith beneath is just plain bitter and awful. This bitterness will shine through in the final product so do exercise some caution. Don't get too anal about this part, a little white is okay, but do try to get as little as possible in the final mix.
The peeled-off zest, I dropped into a large glass jar. I then turned to my urban garden and grabbed six or eight or so large sprigs from my wonderfully fragrant Moroccan mint plant, carefully picked off the leaves and dropped them into the jar as well, discarding the brown, woody stems as I went along. As far as mint goes, I love Moroccan mint for it's great aroma and almost overpowering mint-like quality. Any mint will do here, except maybe spearmint, but why not go for a flavorful and aromatic variety?
Finally, I poured over an entire bottle bottle of quality white rum. As stated, I used Ron Pampero Blanco which is a great value for money and worked exceptional well, but any, slightly sweet, slightly aged white rum will do and once again, Havana Club would be a very good (and classic) choice. I then closed the lid and shook the jar well to get things going and sent the jar to live in a cool, dark place for a full five days. Once a day or so, I visited my jar to look at the progress and stir things up a little by giving it a shake or a stir.
After but a single day, the liquid started taking on a greenish tint and a vague, herbal, minty scent. And after a full five days of waiting and tending (a small eternity in my book), I was eventually rewarded with a lovely, greenish liquid with an incredibly, strong, prominent and fragrant smell of fresh mint on a backdrop of lime and a clear, penetrating and slightly alcoholic but not at all unpleasant whiff of white rum.
This is it, I thought, gazing at the greenish hue as the smell of mint and lime filled the air around me, and I immediately went and strained my concoction through a fine meshed sieve, making sure to squeeze every last drop out of the mint leaves as I did. I then, fearing the worst but hoping for the best, gave it a taste. And oh, wow. The taste was driven by a herbal, off-sweet, deep and pleasant mint note, nicely complimented by a subtle but equally fragrant and elegant hint of lime, some (for a white rum) very complex rum notes and a rather sharp, yet not entirely unpleasant burn.
Even with the burn, I was pretty impressed with the result, to be honest. White rum generally is not exactly know for its smoothness and ease of sipping. And unless you're a diehard rum fan, sipping white rum in its neat state is hardly much of a pleasure. I do consider myself somewhat of a diehard fan, but I still prefer a little sweetness or a mixer to go with my whites, so in the sheer interest of creating a versatile final product that could be used both for mixing or for serving on its own over ice or with a bit of water, I decided to add some sweetness to my final mix. I did this, quite simply, by adding some confectioner's sugar I happened to have at hand, but I might as well have used home-made simple syrup, had I had some left.
Why confectioner's sugar? Well, for starters because I had it at hand. Secondly, confectioner's sugar, like simple syrup, dissolves easily in cold liquids. Regular sugar? Not so easily!
As far as dosage went, I decided to go with four tablespoons of confectioners sugar for one bottle of rum which gave me a slightly sweet, but not cloyingly sweet product that still had all the qualities of a white rum but with a slightly sweeter flavor profile and less of a burn. If you intend to copy this idea of mine using either Ron Pampero or some other white rum, you should adjust the amount of sugar or syrup to your liking. I'd suggest starting with two tablespoons, giving it a taste and then, if need be, adding more until you reach a level of sweetness that you're comfortable with. For me, four tablespoons was perfect, but you can use as little or as much as you like to create anything from a very dry infused rum to a syrupy sweet rum liqueur.
However much sugar you add, you'll end up with a wonderful, flavored rum that is not only 100% natural, but also a lot better than most commercially available flavored rums and about a thousand times cooler, mainly because you made it yourself.
But don't just take my word for it…
Thinking I was on to something pretty special here, I brought my homemade concoction to Tina's birthday brunch the other weekend and served it up as a surprise treat for her and a few other guests in order to get an honest second (and third, fourth and fifth) opinion. As for serving, I laid it on them in the most naked form that I still found passable to the average palate: chilled, served over a single ice cube.
The final infusion, served over ice to scrutinizing eyes and palates
And? Well, I'm happy to report that 3 out of 4 test subjects were cleanly, well and thoroughly blown away by the results. Strangely enough, the male taster was none too impressed with the concoction, labeling it as harsh and rum-like. My three female test tasters on the other hand described it as crisp, clean, mellow, sweet and surprisingly fruity complex, though… Oh well, you can't win them all, but three out of four isn't all bad. And with nice words like that to match my own first impressions, well, I'm about ready to call it a new summer classic and a perfect base for further experimentation!
The possibilities are endless!
As for applications? Well, I haven't really begun to fully think about that yet. As far as I'm concerned, this little rum is pretty wonderful on its own, on a hot day, served with just an ice cube or two and maybe a slice of lime. And while I have not yet had the time to play with it properly, I believe it would make an awesome base for a slight twist on Hemingway's favorite, the original daiquiri, or the perhaps that most popular of all rum cocktails, the mighty mojito. There's definitely work to be done here and with both summer and a small scale production of this new rum classic already underway, I'll be sure to keep you updated!
And hey, this is just one example of a rum infusion. There are dozens if not hundreds of other possibilities and flavor combinations out there, both light and fruity or heavy and spicy. All of which can be made in the same simple way is this little crowd pleaser… The sky's the limit! What's next? You tell me!
Mojito-infused rum
All the flavors of a mojito, in a rum… Great for sipping or mixing!
Cook Time
4
days
16
hours
Total Time
4
days
16
hours
30
minutes
Ingredients
1

bottle

quality white rum

3

organic limes

zested

6-7

sprigs of mint

about two large handfuls

4

tablespoons

confectioner's sugar or simple syrup
Instructions
Combine zest, mint leaves and rum in a mason jar or other glass container.

Shake well to combine and leave to infuse in a cold dark place for about five days.

GIve glass a gentle shake or a stir once a day during the infusion period.

After five days, strain contents of jar into another vessel, making sure to squeeze every drop out of the mint.

Add sugar to your liking, making sure to taste as you do. Ideally you'll want something that's slightly sweet and palatable, still rum-like but not cloyingly sweet… But to each their own.

Pour back into original bottle or fancy bottle of choice, keep out of direct sunlight and consume at your own leisure.