Home » Blog » Restaurant Reviews » Copenhagen Restaurant Gems: Restaurant Frihavn – A Smørrebrød Oasis
"Restaurant Frihavn is incredible food, passion and heart – at an unbelievable price," I write on my phone as her eyes roll back in their sockets and a not so subtle sigh of "oh my god" escapes her lips in an obvious foodgasm.
"Can I try some," she's asked moments before, her cutlery already reaching for my plate and beginning to scrape together perfect squares of raw beef, onion and capers drenched in creamy egg yolk. "I've never had steak tartare before?"
We are at Restaurant Frihavn, Copenhagen's newest addition to the traditional smørrebrød-scene and I'm blatantly in love: with the surroundings, the concept and the people around me. There's four of us there: myself, the Bosnian Babe, the Curly-haired hot-head and the Bearded Brit. Backed by two very warm and experienced waiters, We are actually on our way on a mini cruise to Norway, but here we are, distracted along the way, having lunch on a bit of a whim, and things are absolutely glorious and perfectly beautiful.
As we sit there, within the confinements of a perfectly reconstructed turn-of-the-century railway building, tucked away between modern high-rises of stone, glass and steel, the juxtaposition between old and new could not feel any greater – yet, at the same time, hardly any more symbolic:
As a smørrebrød restaurant, Restaurant Frihavn is a representative of an absolute cornerstone in Danish gastronomy and spares absolutely no effort or expense in creating a perfect setting around what many consider the pinnacle of Danish lunch culture or a tribute to the culinary communion that is Danish Sunday lunch if you will:
The very building that houses the restaurant is a work of art in itself. A national romantic gem of architecture, originally constructed as a railway station and since relocated to its rather quaint position between modern buildings and industrial complexes.
The plates set upon the simplistic but outrageously expensive tables set throughout the beautifully reconstructed dining room are in iconic Royal Copenhagen design. The cutlery, too, is classic Danish design by George Jensen, while the Holmegaard glassware is thin, beautiful and equally expensive. Heck, even the wooden salt and pepper mills from Kay Boyesen help present a unified vision of simplicity and class.

Still, Restaurant Frihavn reeks of neither class nor snobbery, it's down to earth, classy, subdued, cool and emanatas an aura of warmth and friendliness despite the polished look… It's an odd sort of juxtaposition that not only mirrors the surroundings but is carried forwards into the food offerings.
Smørrebrød – timeless and redefined
Smørrebrød, to those not quite up to date on hygge and other Danish quirks, is a traditional, slightly hedonistic Danish lunch concept consisting of slices of rye bread (brød), smeared with butter (smør), piled high with various traditional Danish cold cuts, seafood or vegetarian ingredients then elaborately decorated using a vast assortment of elaborately arranged vegetables, mayonnaise-based salads, herbs and more.
Smørrebrød are sold by the piece, and every restaurant will feature their own list of more or less tradtional varieties: shrimp and egg on toast, roast beef with remoulade sauce and onions, steak tartare with egg yolk… and upwards of 200 additional varieties are known, all piled high to look like much more than their simple names would suggest.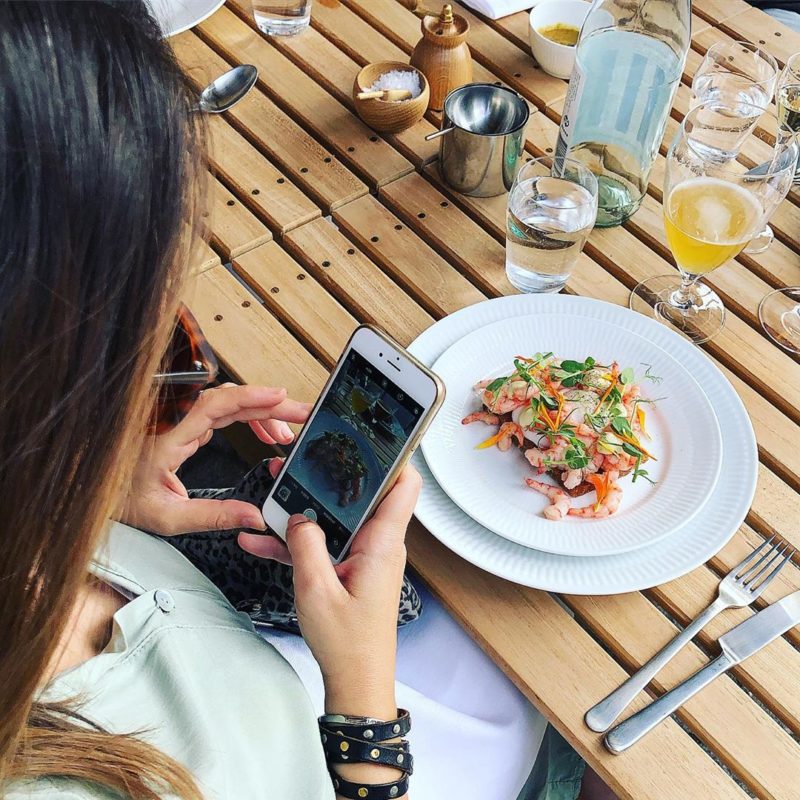 Smørrebrød is considered quite a special occasion twist on a more traditional and humble Danish lunch. As a result, enormous amounts of time and attention are usually given to ingredients, plating and detail. Smørrebrød is ment to be not just consumed but also admired for its elaborate composition, layering and styling of ingredients, essentially making smørrebrød as much a competitive art as a culinary tradition:
Several high-profile, historic smørrebrød restaurants already exist throughout the capital and several schools exist within the genre, from Ida Davidsen's world famous old-school approach to the more modern and sometimes experimental style of places like Aamanns. And it is within this minefield of tradition and renewal that Frihavn now has to navigate using their own proprietary mix of classic tradition, new Nordic cool and a bottomless bowl of charm.
And, spoiler alert, they do so quite well, using their own proprietary mix of old and new: The flavors and traditions are decidedly old-school and would be recognized by most connoisseurs of the Smørrebrød tradition. The style and presentation, however, is modern and beautiful and the attention to detail is mind-blowing without seeming pompous or over the top. This is classic smørrebrød from classic, quality ingredients, plated by steady hands using tweezers and precision… In a timeless, classic setting tucked away within the modern fringes of Copenhagen.
Herring and Aquavit – A classic start
We navigate through option after option on the menu. It's not as big of a problem as you might think, given the very reasonable prices on the menu and the large but not too large selection. The asking price for a piece of smørrebrød is DKK 100 (€13) give or take, two to three pieces will fill most eaters up.
For starters, I opt for and chase through an absolute Danish classic: sweet and sour raw-pickled herring steeped in a caraway-based aquavit, then plated (not quite so classically) with slivers of onions, capers berries, pea shoots and edible flower petals. Fatty, tender, rich, sweet with a delightfully tangy punch, its everything a classic Danish herring presentation should be. And more.
Two of my equally delighted co-diners opt instead for a vinegar-marinated crunchy and tender rye-flour-battered and fried herring served with variations of onions, ranging from raw over pickled to an incredibly reduced, caramelized and umami-rich onion compote. Our fourth (and pickiest) eater goes with the third fish classic of the Danish lunch table: butter-fried plaice, a study into the freshness of fish available dockside in Copenhagen and a testatment to the perfection of the kitchen that cooked a fish fillet into a perfectly crispy exterior with an interior of flaky perfection.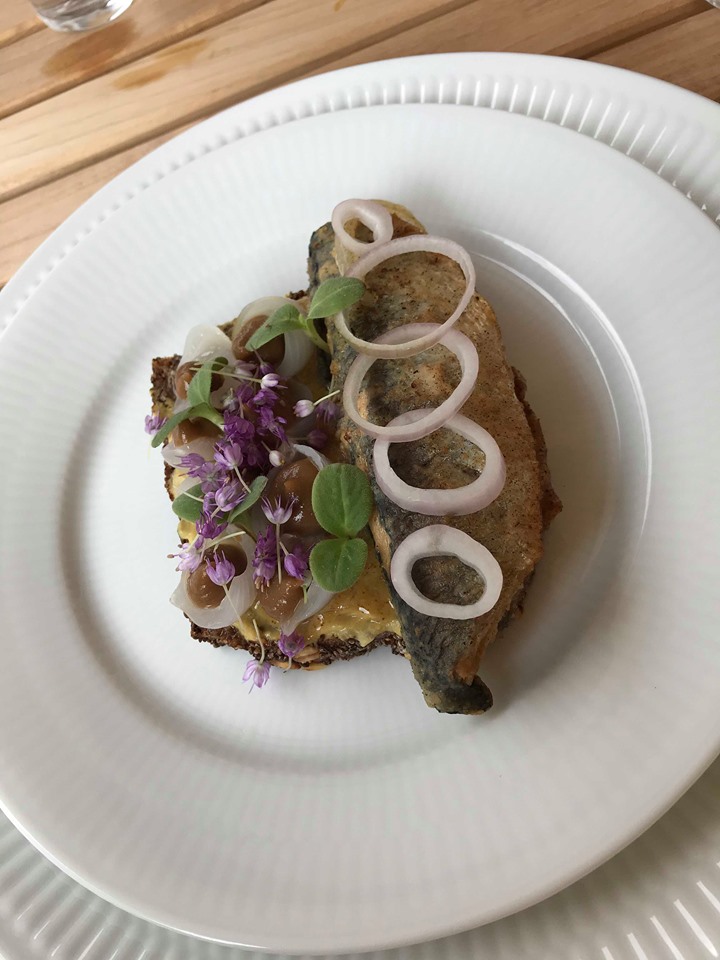 With fish comes aquavit, any Dane (and in our case a Brit and a Bosnian) of sound mind will tell you so we supplemented our fishy diet with a couple of reasonably priced 6CL pours of OP Anderson Aquavit from the safe and sound section of the extensive aquavit card.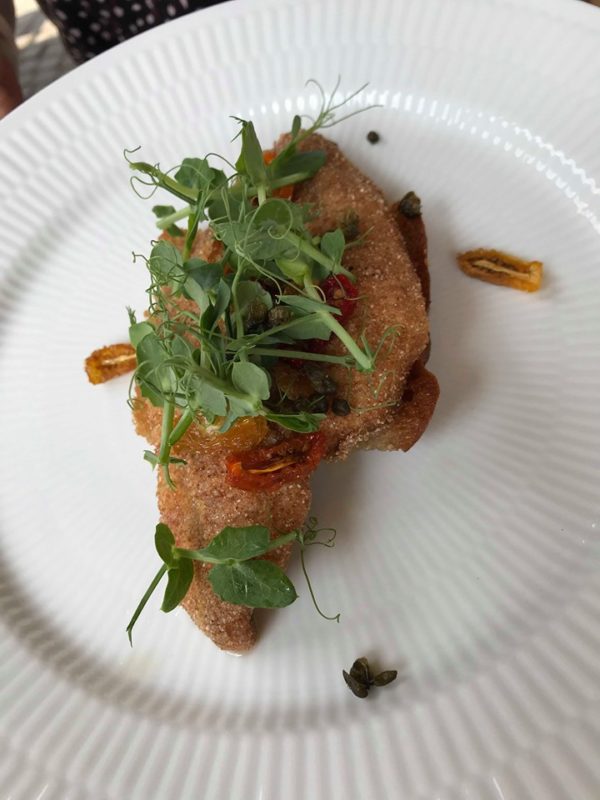 Being the responsible drinkers we are, we thin our booze with a few Kronenbourg Blancs for the Bosnian lady and a few Yakima IPAs for the lads. Frihavn wins no awards for vastness or excitement factor of their beer selection, but I will venture the guess that the selection should please all casual diners and that – at around DKK 50 for a pint – you would be hard pressed to find more reasonably priced brews at restaurants of this level – anywhere in Copenhagen!
Head cheese that brings tears to a grown man's eyes
Liking what we see for starters and literally with a boat to catch, we waste no time in placing an order for a second round of Danish classics and this time, we opt for something a bit more substantial and meatier, well, mostly.
The Bosnian opts for hand-peeled shrimp on toast with a poached egg on top. I order my all-time lunch and raw food favorite, steak tartare, while the Bearded Brit opts for sylte (head cheese), a weird but strangely delectable classic mix of slow-cooked pork scraps and trimmings (nose, trotters and all) served in a solidified gelatinous mess of their own juices.
Our curly-haired problem child plays it a bit more safe and simply orders dessert as a main course "I'm a picky eater," she argues, as if she needs to defend herself – "It's what I like, it's what I want, okay?" – and I absolutely love her for it.
Our second orders, given the state of our business, arrive with perfect timing and once more, we are blown away. Not only is the technique and presentation on par with our previous choices, the flavors are spot on!
My tartare is not hiding between layers of marinades, condiments and flavors as is sometimes the case. Rather, it embodies the pure unadulterated flavor of malty rye bread and quality beef, accented by a thick, creamy quality egg yolk, and a few crunchy bites of capers, pickles and onion. It is one of the simplest, most beautiful presentations and flavors of tartare I have ever enjoyed – and quite frankly one of the best as well.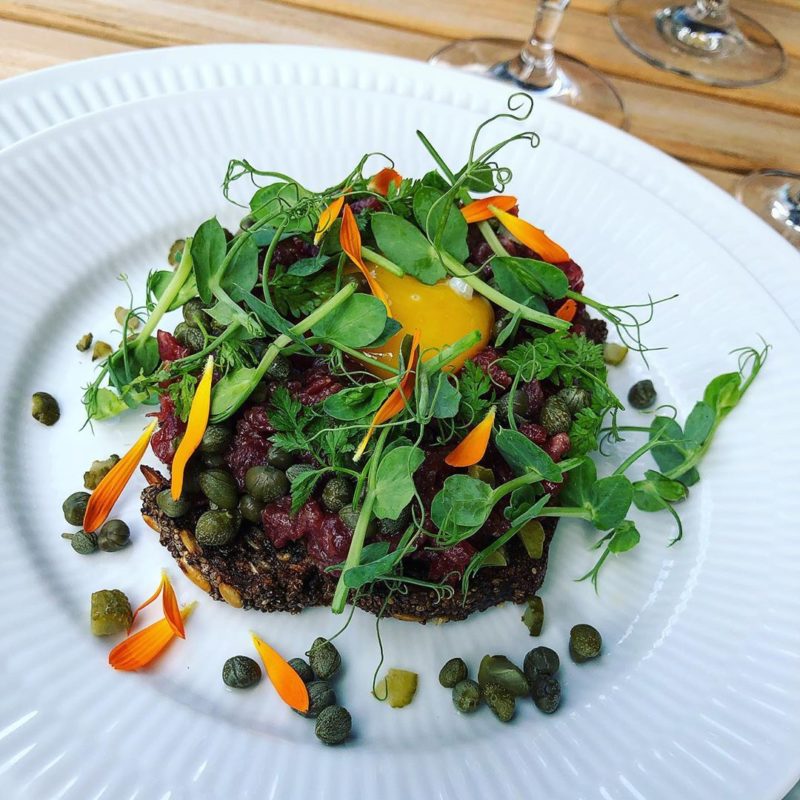 The Bearded Brit to my right, too, has nothing but praise and admiration for his head cheese. "Go'wan," he beckons in his signature excited voice, "try some." I do and for a split second as the complicated textures and flavors of shredded, tender meat, gelatin, punchy mustard and pickle brine from capers and beets meet my tongue, I nearly regret getting the tartare:
Save maybe the flowers, capers and the elaborate presentation, this is the sort of thing my late grandmother would make, this is exactly how she would make it, and this is exactly how it would taste… This, ladies and gentlemen, is the sort of thing that brings tears to a middle-aged Danish man's eyes.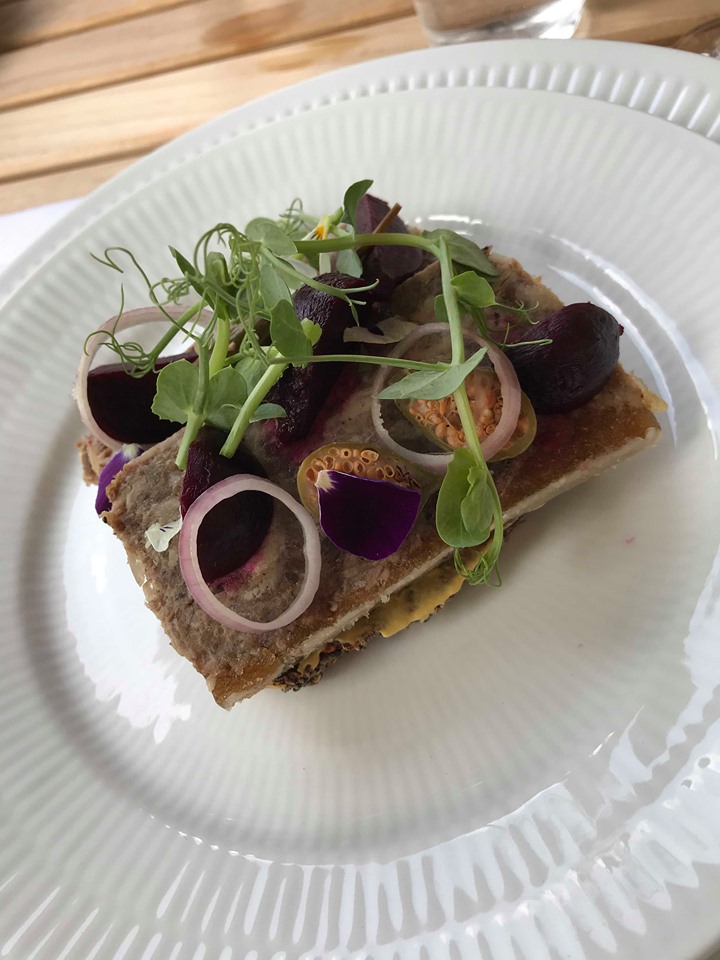 "You need to try this," interrupts the Bosnian, pointing exstatically at the mess she has made of her beautiful shrimp on toast… – "Best. Smørrebrød. Ever."
I dig in fearlessly and, in quite an odd move for someone who till very recently didn't really care for shrimp, I'm inclined to agree. This is a far, far cry from the industry standard shrimp on toast that I grew up with. It's nothing like the brined, industrial shrimp favored amongst lesser smørrebrød pushers. It's proper quality shrimp on proper quality toast. Fresh, hand-peeled, plump and sweet topped with a perfectly poached egg and a showering of paprika. "Mix it up, get a little of everything," she insists gleefully. We abide only too happily and are awarded with a perfect cocktail of subtle shrimpy sweetness, rich creamy egg yolk, toasted bread notes, browned butter and a crisp bite of pea shoots.
Fantastic service worthy of a slight detour
"Yeah, I'm sorry, but I finished mine, you can't have any," says our fourth and curly-haired co-diner. While the rest of us were busy playing food bloggers and assistant food bloggers, she's done what most sane people in her position would do: scoffed down her Frihavn spin on the classic Danish dessert (and tongue breaker) "Rødgrød med fløde" or, in slightly more anglified terms, compote of red berries with cream.
In this case, doused liberally, vulgarly some might argue, with fresh 50 % cream.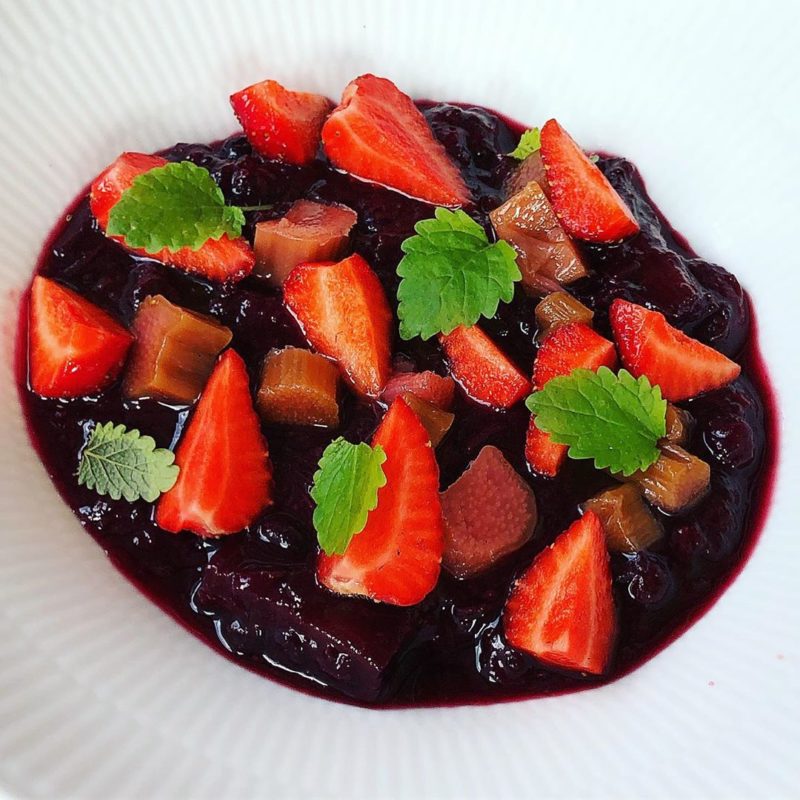 I can't tell you, unfortunately, how it all tasted. The lovely lady finished it all before I could ask – and truth be told, I'm not sure I'd have dared to ask. What I can tell you, however, is a few words about the staff that did the ceremonial pouring of the cream – and took care of us in so many other wonderful ways that day:
The staff – as experienced on the day of our visit – is in a league of its own: Seasoned restaurant rats, friendly and attentive with an eye for details and a certain mix of maturity and wit to them. "Well, there's no pleasing you is there," asks one raspy voiced male waiter jokingly when one co-diner orders water after declining every entry on his amazingly long list of alcoholic beverage suggestions with a "naw, I don't like that."
"You know those bells they have a dive bars and pubs? I wish we had a bell to ring for our favorite, most friendly customers," says his mature, female colleague after the rest of jump the gun and order a second round of drinks in a combination of food-driven excitement and sheer disbelief of the pricing structure.
We laugh whole-heartedly at both incidents and several others throughout our visit. In my mind, part of being the perfect waiter in a Danish lunch restaurant setting is the rather intricate dance between being professional, friendly and on top of things all while being down to earth, friendly and capable of firing jokes with just the right amount of heart-warming Danish sarcasm. On this day, our waiters more than nail it.
The Bosnian co-diner smiles and puts into words what everybody else around the table is thinking: "I absolutely love how they could have easily gotten the cheapest, most inexperienced staff on hand… Yet they didn't. I mean, with a pricing structure like this, you would have understood. Let alone expected it. Yet, they didn't!" – and that's just one more thing that makes Restaurant Frihavn what it is… But what IS Frihavn?
If I'm honest, there are a lot of things that Restaurant Frihavn is not. For starters, it's not your average lunch spot in your average surroundings. Frihavn is also probably not the best smørrebrød in Copehangen, neither is it the cheapest, nor the most conveniently located. But for what it is, at the price asked, it is a new force to be reckoned with – and, I would argue, amongst the best choices in Copenhagen for traditional Danish hospitality, quality food, drinks and class at a more than reasonable price. It's the little place that could, an oasis of history and class in a setting of glass, steel and stone – and a small detour fully worth taking for the food, the people and the incredible juxtaposition.
It is, as I noted at the beginning of this review: Incredible food, passion and heart – at an unbelievable price… And it's also just a short 8 minute train ride plus a short walk from Copenhagen's Central Station. Eight minutes very well spent, I might add!