Home » Blog » Recipes » Bringing the heat: Ghost chili mango hot sauce recipe
As the regular and attentive reader will by now have figured out, I'm quite big on chilies. And with it being harvest season for Danish chili growers, I've been quite blessed in terms of donations over the last couple of weeks.
Most notably so, I've recently received a donation of a pound of ghost chilies (or ghost peppers as our american friends say) from a fellow foodie, good friend and fan of this site. With chilies being perishable little things, this has of course prompted me to think fast in order to figure out just how to either make use of or preserve a pound of these fiery little buggers before they go south.
The Ghost Chili: In all its pretty glory!
Just what on earth is a Ghost Chili? Ghost Chili, or Ghost Pepper, is supposedly the verbatim and somewhat fitting translation of the name Bhut Jolokia given to a particularly hot strain of chili found in the Indian states of Assam and Nagaland. Measuring in at around 400 times hotter than Tabasco sauce, it was until recently considered the world's hottest pepper. Having previously been used as non-lethal weapons and a way of warding off stray elephants, amongst other things, it's now a popular eat and rite of passage among chili heads.
Now, obviously, cooking with ghost chilies can be difficult as they pack quite a serious punch. Nevertheless, they deliver a fruitiness and an aroma so unique that it is not to be missed. The good news when it comes to cooking with ghost chilies is that the aroma and fruitiness is present even when miniscule amounts are used. The bad news when it comes to cooking with ghost chilies is that the same can be said about the heat. Even small amounts will produce a burning sensation and a tingling numbness of the lips that literally will last for minutes. This is great for chiliheads, but may not go down too well with people not accustomed to high heat levels. So be careful with guests.
SERIOUS WORDS OF WARNING:
Ghost chilies are extremely hot and the capsaicin within them WILL hurt you if you're not careful. Handle with care, seriously!
If you've got any history of sensitive skin or inflammation, consider wearing rubber or latex gloves when handling. If using bare hands, wash THOROUGHLY after handling, rub them down with cooking oil, then wash again!
Do not rub your eyes, nose or mouth while handling these. And to the men out there: we've all had that "friend" who… well, you know where I'm going, just don't!
If cooking ghost chilies or other super hots over high heat, keep windows open and have your kitchen fan going at full speed. Try to avoid breathing in the fumes. Chef's handling these peppers regularly in restaurant kitchens wear breathing masks and goggles and it's not just for show.
We all respond very, very differently to capsaicin, so these are general guidelines. You may laugh. But then again, you may really hurt yourself. Don't say I didn't warn you.
That being said, for those of us who can take the heat, there are a lot of exciting things that can be done with ghost chilies. And hot sauce is one pretty obvious application.
Personally, I'm a huge fan of hot sauces! It's one of my favorite things. I must have tried hundreds, especially during my travels in the States. Many I've loved, some I've hated (Tabasco most notably) and others I've downright gotten addicted to. (I've already spoken about my love for Sriracha a number of times). Strangely, though, it's only very recently I've gotten into making hot sauces myself. A shame, really, because making your own hot sauces is not only easy, it's also a ton of fun. So, with this newfound fascination in mind, and a pound of ghost chilies at my disposal, nothing seemed more obvious to me than trying to come up with a Ghost Chili hot sauce.
First and foremost, I wanted to create a hot sauce that would really showcase the exotic aromas and fruitiness of the ghost chilies that I so love, and would help make them a little more approachable to the general public. The sauce I ended up creating – my Ghost Chili Mango Hot Sauce – uses red bell peppers, onions and mangos to take some of the top off the heat, but the ghost chilies still power through, make no mistake.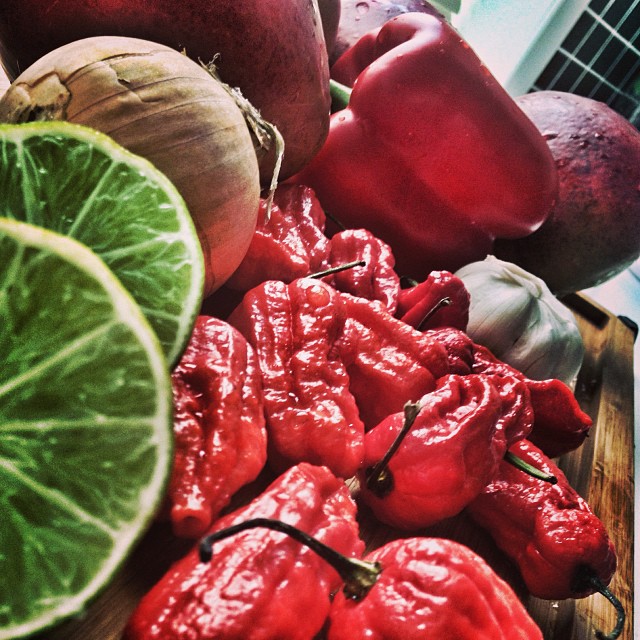 Ingredients for Ghost Chili Mango hot sauce.
The mangos (along with the garlic) help add to the exotic character of the sauce and compliment the fruitiness of the ghost chili all while (I found out) adding a beautiful color to the finished sauce. The apple cider vinegar along with the honey create an initial sweetness which is followed by a serious and lengthy afterburn. While only 12 ghost chilies, a total of about 100 grams, are used to create 2-3 liters of sauce, this stuff is pretty damn hot and should last you a while. The flavor matches the heat, though, so a little sauce adds a lot of flavor.
Too hot for you? As mentioned a few times now, Ghost Chilies are pretty hot little things. If you're worried about the level of heat, check below the recipe for some tips on turning it down a bit. You are, after all, the boss of your hot sauces and should adjust them according to your liking. The ingredient amounts below are merely my suggestions and I have some pretty serious heat issues.
Ghost Chili and mango hotsauce
Mango and honey lessen the burn and add to the tropical aromas of this awesome and blazingly hot condiment. Ingredients below makes 2-3 liters of sauce!
Total Time
1
hour
15
minutes
Ingredients
12

Ghost chilies

or other very hot and fragrant chili such as Habanero

2

red bell peppers

3

ripe mangos

1

large onion

1

bulb of garlic

350

milliliters

quality apple cider vinegar

250

grams

quality flower honey

1

lime

juice freshly squeezed

salt

to taste
Instructions
Remove stems from chilies and cut in halves

Remove stems and seed membranes from bell peppers and chop rougly

Peel mangos, remove flesh from pit using a sharp knife and chop roughly

Chop onions and garlic roughly

Put all ingredients in a pot over medium heat, add water to cover and bring to a boil

Reduce heat and leave to simmer uncovered for 45 minutes. Consider going out for some fresh air during this step

Turn off heat and blend everything thoroughly and CAREFULLY using an immersion blender

Stir in apple cider vinegar, honey, lime juice and salt

Taste and adjust to your liking; add more vinegar, honey or salt if needed

Pour into bottles that have been thoroughly cleaned and scolded. Consider adding liquid preservatives if stashing for a long time
Recipe Notes
For a slightly lesser burn, carefully remove seeds and seed membranes from the chilies.
Be careful when cutting the mangoes. The flesh is slippery and the pit is irregularly sized. After peeling, cut off a small piece of flesh on one side to give you a level surface to work on. Lay the mango on this surface and proceed carefully using a very sharp knife.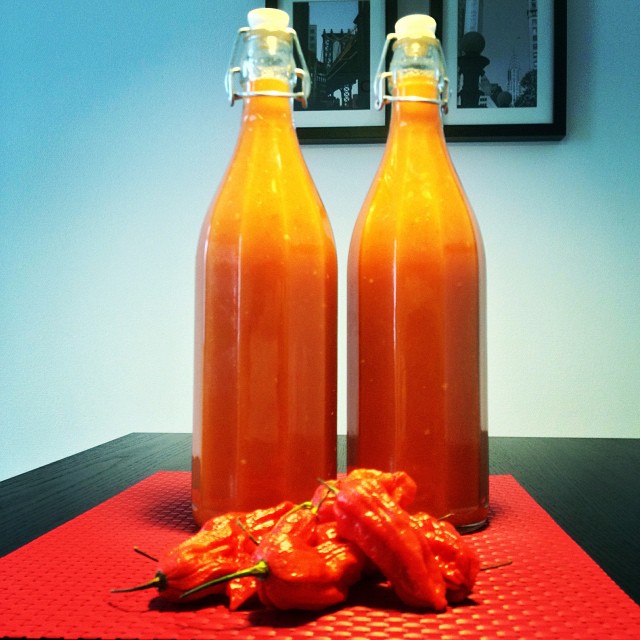 The pretty end result: Twelve little buggers make two liters of blazingly hot sauce.
Ghost Chili Mango Hot Sauce: Hot enough for ya?
Can't get fresh ghost chilies in your area? Or fear they're too hot? Well, fear not, this sauce would fare very well if made with another slightly milder super hot variety such as Habanero or Scotch Bonnet. They offer many of the same tropical aromas and fruitiness but not quite the same kick.
Nervous about the heat? I wouldn't recommend using anything else than a tropical super hot here. Like I said, it adds some very distinct characteristics. I would recommend, however, using fewer chilies if you don't want it blazingly hot. You could probably go half of what I used and still have a pretty hot concoction. Or use just a few and still have a nice heat at the back of your throat. You could also use more, but then you're on your own.
Looking for a good use for this sauce? Why not try our Ghost Pepper Chili based on a loyal reader's turkey chili?