Home » Blog » Restaurant Reviews » Tivoli Food Hall: What to Eat & Drink? A look at Tivoli's luxury food court
The cityscape of Copenhagen is changing rapidly these years. Under the streets, Metros are taking shape, while across channels, bridges are creating new pathways between boroughs. Old buildings are tumbling to their feet while new architectural marbles are rising to replace them. Yet in this constantly evolving landscape, one constant has remained.
For almost 175 years, Tivoli Gardens – the world's second oldest operating amusement park – has provided a beautiful inner-city refuge of sorts from the hustle and bustle of an increasingly larger, busier and noisier metropolis.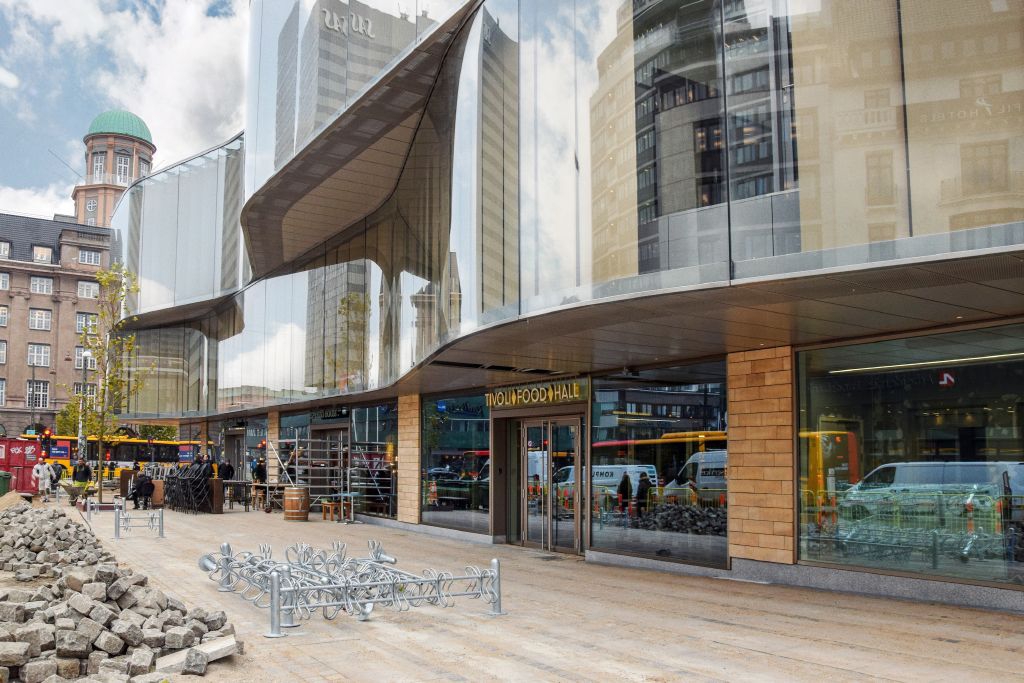 Tivoli Food Hall – set at the base of Tivoli Corner, the largest investment in the park's 174 year history. Photo Credit: Christoffer Anias Sandager for Tivoli. All Rights Reserved. Used with permission.
But these days, even Tivoli is changing: On a frankly unappealing corner once known as the eyesore of the ancient garden, where Hard Rock Café once lay, something new is taking shape. A project that has been a decade and a half in the making and is intended to clean up what has been called the only truly unappealing part of the Tivoli's façade while gracefully and timelessly linking the 19th century amusement park with the 21st century capital outside: a project known as Tivoli Corner.
Tivoli Corner is an unknown triple-digit million Danish kroner investment featuring a home décor apartment store, a coffee bar, a roof-top sushi restaurant overlooking the city and, at its base, Tivoli Food Hall – the old garden's take on a very modern concept, the food court!
Tivoli Food Court: Experience Fast Gourmet?
Tivoli Food Hall is the latest knot on a seemingly unending string of Copenhagen food markets, pioneered by Torvehallerne, shook up by Copenhagen Street Food, gentrified by WestMarket and copied, if you will, in other cities in such ventures as Aarhus Street Food (reviewed here) and Aarhus Central Food Market (reviewed here), both of which have been covered on this blog. What, then sets Tivoli Food Court apart from its peers?
Location, honestly, is the first thing that pops to mind. Tivoli Food Hall is nestled in an absolutely prime location on one of the the city's main thoroughfares, 50 meters from Copenhagen Central Station and right on the edge of Tivoli gardens!
Add to that some great expectations, major investments both monetary and timewise and the fact that the construction dust is still barely settling around Tivoli Food Hall, the first stage of the Tivoli Corner project to stand completed, and you begin to understand the scent of hype that emanates around the project.
By the time you are reading these words, the construction debris should be cleared from and around the main floor of Tivoli Corner while other projects in the building, including an espresso bar  roof-top Sticks N Sushi restaurant, are set to open in stages over the coming months. However, when we, representatives of the press, paid a visit a few days before the opening to the public on 10 November, we met amongst the sound of heavy-scale construction and sights of frantic carpenters, plumbers and electricians, scrambling out of the way after having just barely finished hanging the last fixtures and signs or installing the last kitchen components.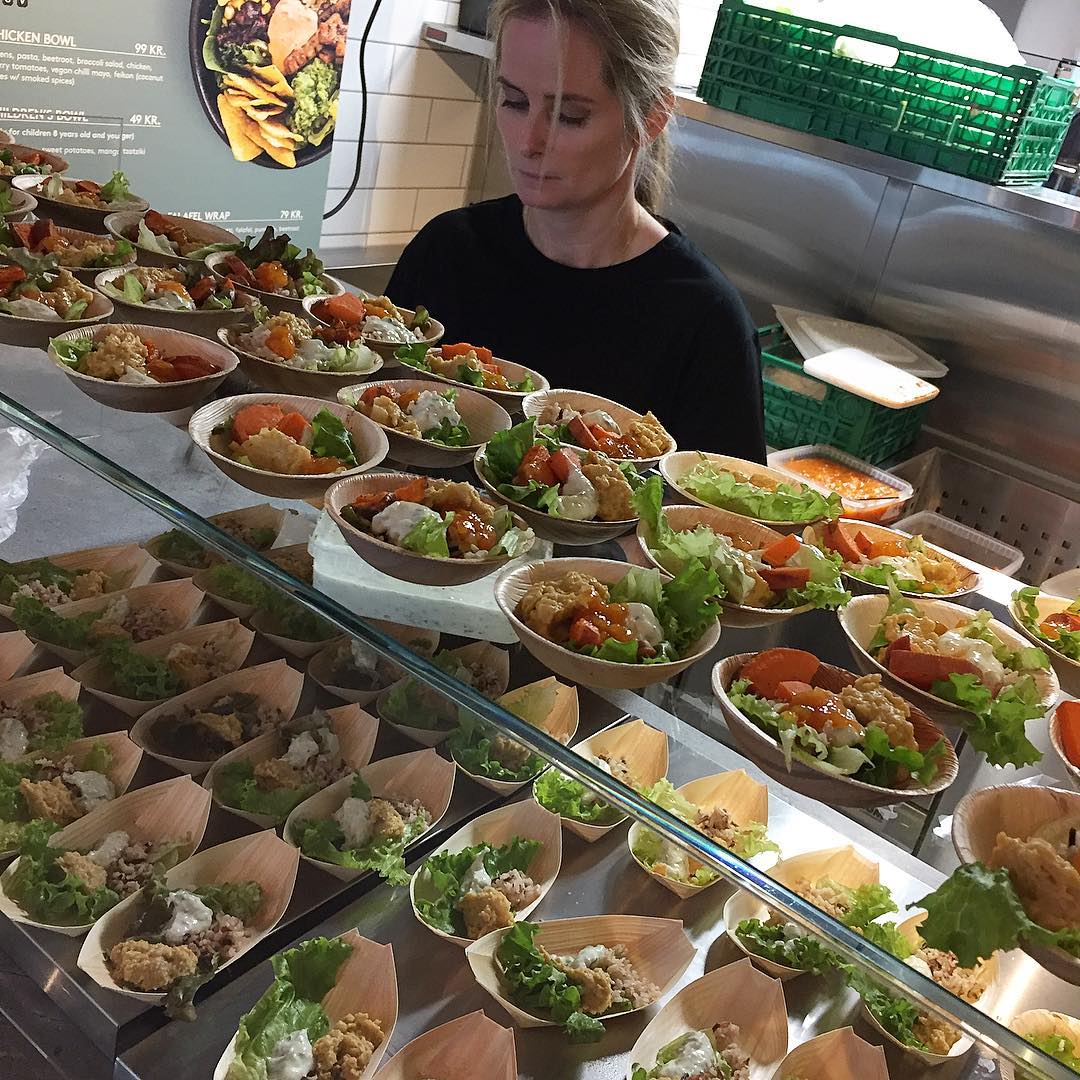 Getting ready to meet the curious – and hungry – press!
We were, essentially, the first to be allowed unhindered access to the premises – mere hours after completion, we were the first to be given a taste of what every kitchen had to offer and the first to attempt to answer the question: What is hiding behind Tivolo Food Hall's tag line: "Experience Fast Gourmet"? And what sets this new venture apart from others like it?
At first, one might be tempted to answer simply: not much! I bumped heads, for example, with one of my favorite food writers Mikkel Bækgaard who on the day and in his subsequent review pointed out that there wasn't much innovation to be traced. Most food stalls were either new franchises of successful Copenhagen chain establishments like Cock's and Cows Burgers (reviewed here), Gorm's Pizza or Letz Sushi, or they were tried and true concepts that had stood the test of time in other cities like Stockholm's Tex-mex darling Zocalo or Icelandic Gló.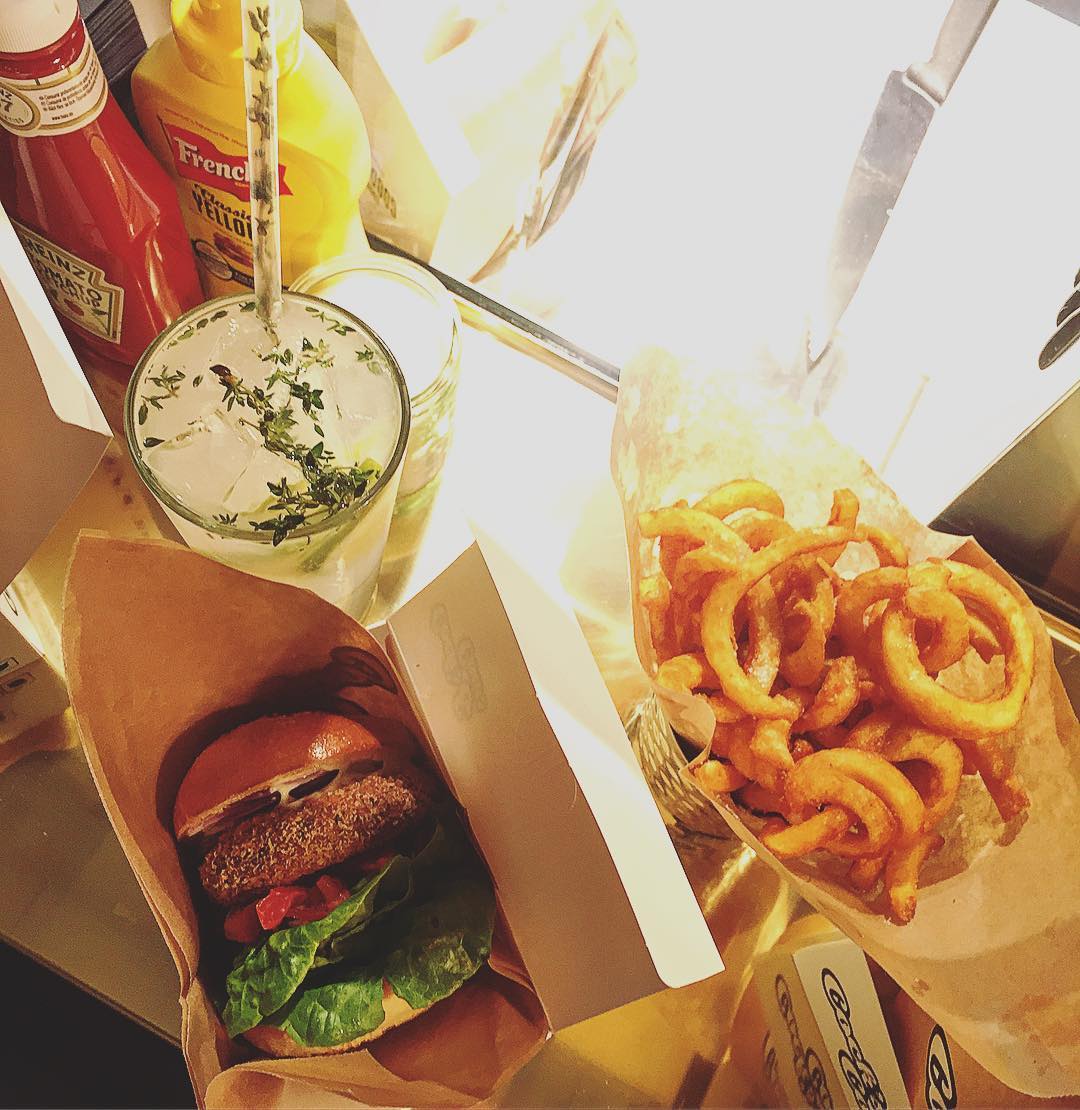 Here's the deal, though… From a business perspective, such relatively conservative behavior certainly makes sense: One can only venture a guess at the rent for a prime spot like this and then probably multiply by two or so. The fact of the matter is, we're talking prime real estate here backed by a 175 year-old world-famous brand – it's certainly in the interest of both Tivoli and the vendors that the thousands of potential daily customers receive flavorful food of consistent quality. Even if this means engaging with some relatively familiar but consistent players.
And what about quality and flavors, then? Having eaten and drunk my fair share of what the market had to offer, I can testify that this is exactly what you will get: flavorful food of consistent quality at a strangely reasonable price, location considered. Expect to spend in the area of DKK 100 (EUR 15) and upwards for a meal and a drink, depending on the lavishness of the meal and the character of your (alcoholic) beverage, and expect it to be fresh, tasty – possibly even local, organic and sustainable – regardless of whether you're going for salad bowls, sushi, baked goods, rotisserie chicken, shawarma, burgers or something else entirely. There's a little bit of everything to be had here from organic cookies to pleasantly fiery bao buns and the powers that be at Tivoli deserve somewhat of a pat on the back for a job well done in setting the bar for quality and picking solid albeit slightly conservative choices for their list of vendors.
Five highlights from Tivoli Food Hall
So, what sort of eats can you expect to encounter on a tour of Tivoli Food Hall? Tivoli Food Hall spans about 850 m2 and features a total of 16 stalls. The entire list of vendors can be found here, but here are five of my personal favorites.
The Bird Tivoli: Artisan toasted sandwiches and craft cocktails
Craft beers and artisan Gin & Tonics are not new to the city of Copenhagen. What is probably a little new is the combination of both of the above in combination with a revitalized spin on a sadly forgotten Danish classic: the toasted cheese sandwich, known here simply as toast.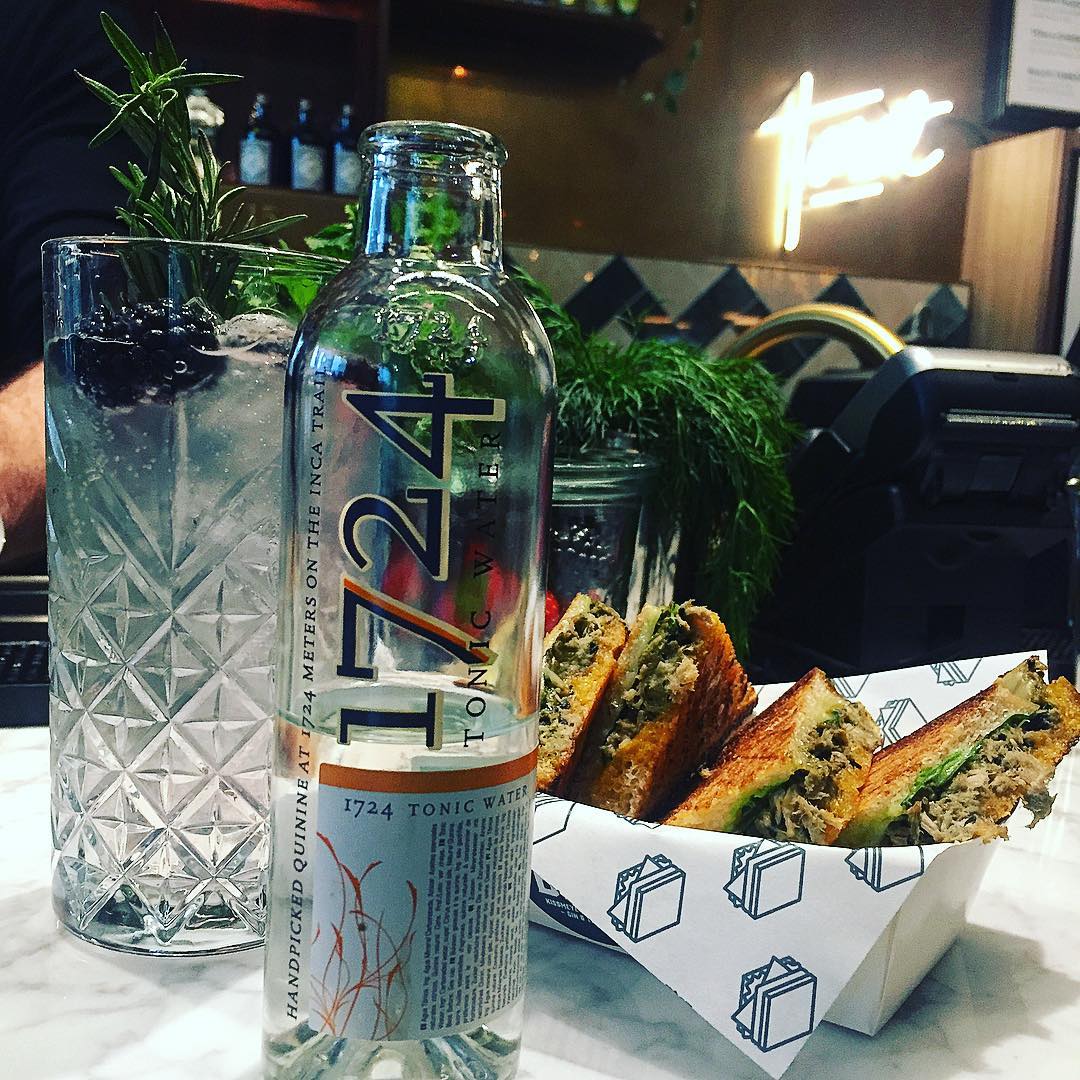 That is, however, exactly what the charismatic crew behind Copenhagen beer and cocktail sensation The Bird and the Churnkey have jumbled together in a sort of perfectly incoherent coherence tucked away in the back of Tivoli's new Food Hall. A 21st century craft beer, Gin & Tonic Toast bar!
Danish tradition demands that toast consists of slices of ham and cheese, tucked away into two snow-white slices of bread, toasted on a press. But the international motley crew at The Bird Tivoli couldn't give two fucks about tradition (actually, even a single fuck seemed hard to come by on the day of my visit): their toast lineup includes: tuna and yuzu mayo melt, beer-marinated slow-braised veal and mango chicken, to name a few freaky, artisan creations.
To wash down the heavy, starchy goodness, you'll find a wide selection of draught beer from craft brewer darling Anders Kissmeyer or a selection of truly cleverly crafted gin & tonics ranging from the appropriately named and dirt cheap Wankers GT (Old Lady Gin with Addsome tonic) to the intensely aromatic and flashy DKK 120 Black Forest (Monkey 47 gin, fresh blackberries, burnt rosemary and 1724 tonic). There's even The Mermaid, a twist on another Danish love story: a salty licorice candy known as salt fish. In the Mermaid (named so out of fear of a law suit from producers of said candy), Danish Herbie Gin meets salicornia and licorice candy sticks in a briny, crisp, savory/sweet and intensely aromatic concoction. Alright, maybe the boys at The Bird do give a fuck or two about tradition anyway, they just like throwing things up a bit and than God for that!
BobbaBella by Kadeau: The Troll Children's Diner
What happens when you ask a group of Michelin chefs from the island of Bornholm to take part in your new culinary venture and give them full, unsupervised creative control under the headline "old-school Bornholm-themed fast food grub inspired by their childhood in the 80's and 90's?"
The answer is a wholly unexpected and adorable clusterfuck in the shape of BobbaBella by Kadeau! Bobbabella apparently means "Troll Child" in their local dialect and seems strangely fitting for the concept which features just about everything I don't remember from my growing up in 1980's fast food culture: naan, medium rare burgers, Parmesan dusted fries, lamb shawarma served with an assortment of goods fermented in house – including but not limited to turnips and kimchi.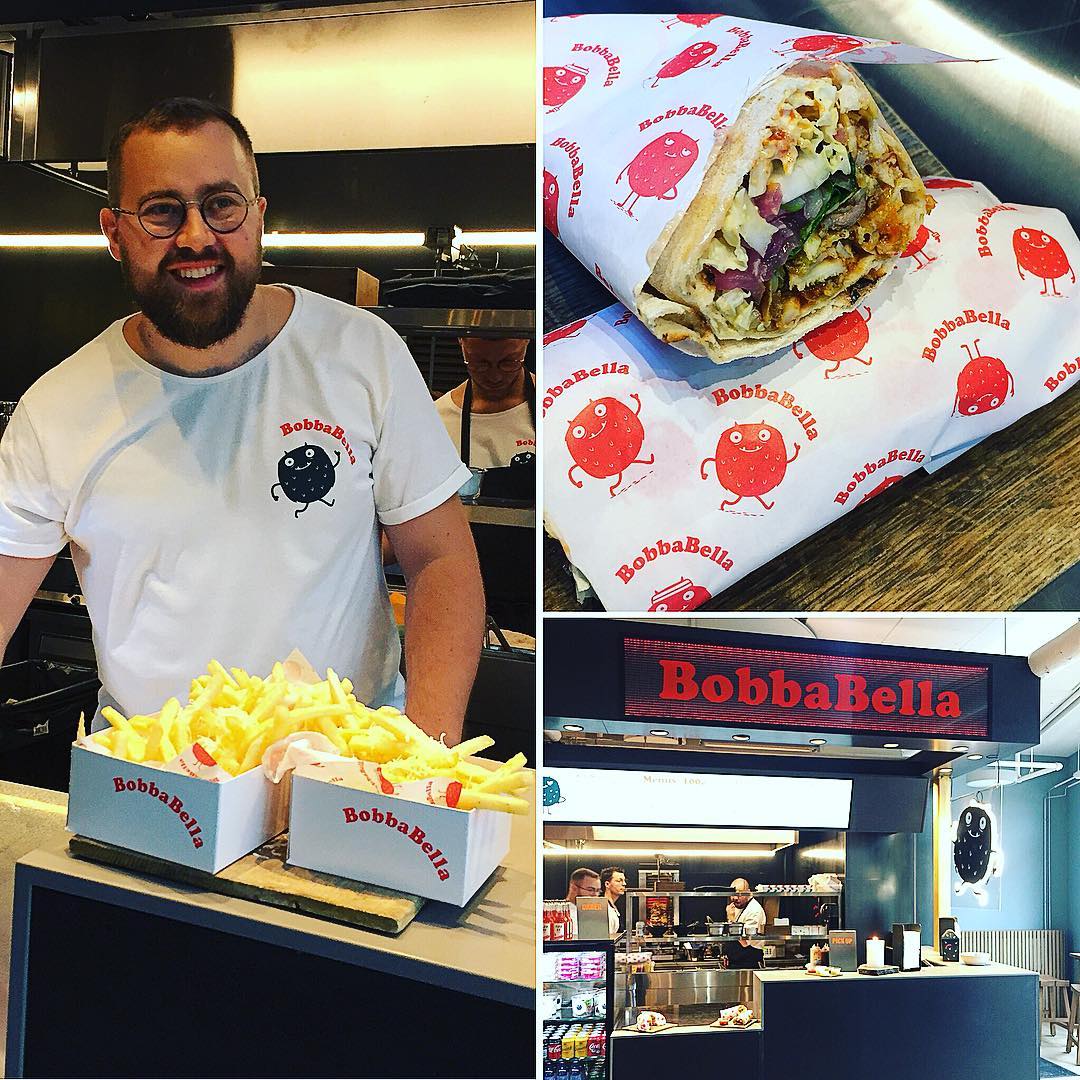 Perhaps Bornholm in the 80's was a much stranger place than back home, perhaps they panicked at the though of kicking it old-school, perhaps the boys were just having a laugh… Whatever their reasoning may have been, the result is an adorably unique offering of superbly tasty, bold and spicy fast food spin-off dishes and perhaps – in reality – the only true wildcard stall in a sea of safe bets.
Letz Sushi: Sustainable sushi with attitude
There's far too much cheap sushi in this world and far too much overpriced sushi, too. And then there's the sweet spot in between: great, fresh sushi at a reasonable price. In this sweet spot, we find Letz Sushi crafting fresh, well-made and tasty sushi from sustainable and organic fish and seafood – with a smile and a twist of rock n roll.
Signature roll from Letz Sushi – fresh, organic, sustainable and tasty!
"I just don't understand the tendency in Japan," says the long haired and heavily tattooed chef, managing to keep eye contact with me and spit playful jokes at the co-worker at his side all while his hands seemingly effortlessly cranked out another signature sushi roll… "I don't understand the tendency of hatred towards western ingredients. I mean, fuck it, I dig mayo in my sushi roll, man! Why not roll with the Californian influences? Why leave out the New Nordic? It's all good stuff!"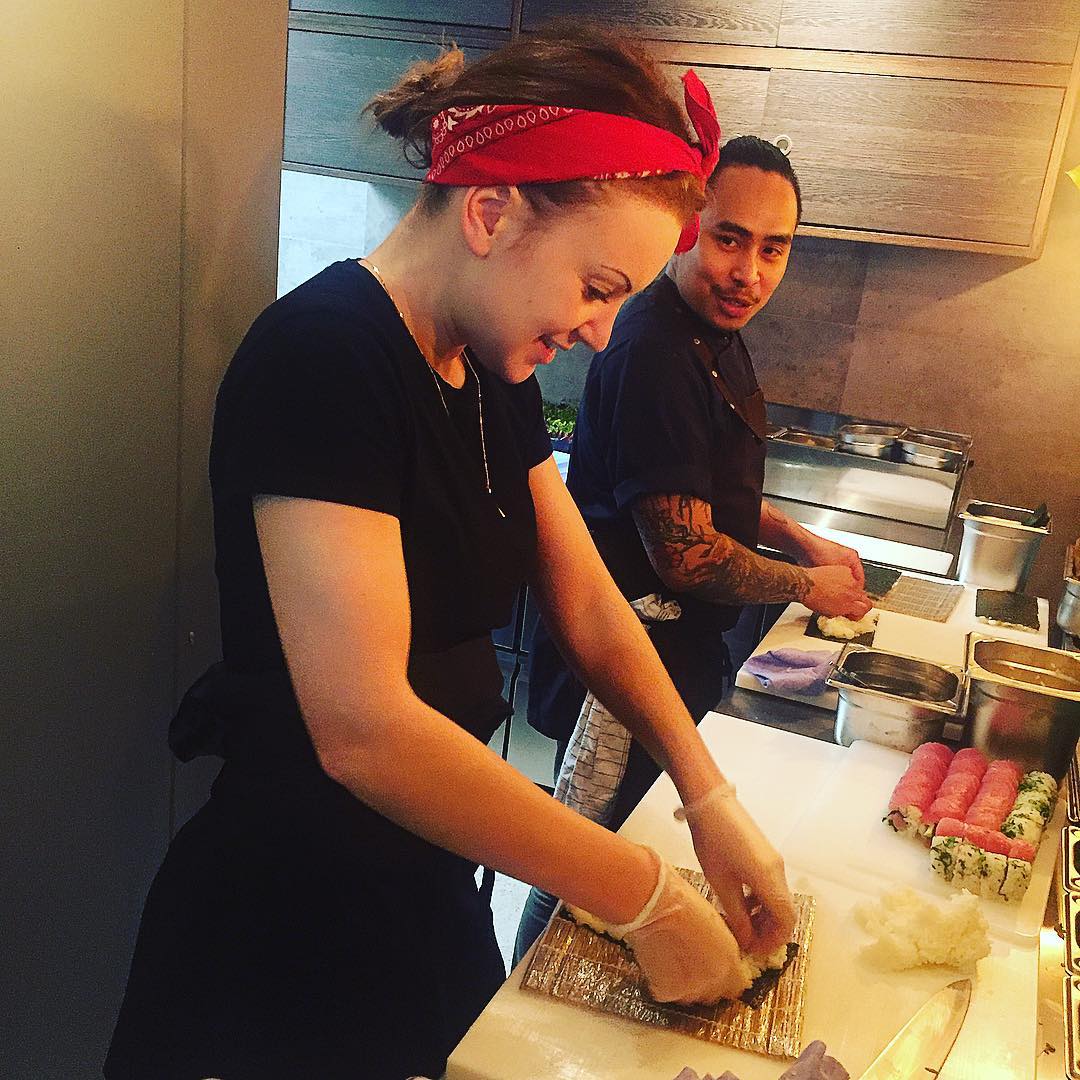 This philosophy seems evident in his creation: Letz sushi's signature roll featuring tempura shrimp, avocado, cucumber and garlic,topped with flambeed salmon, spring onion, kewpie mayo and salmon roe. Other creations include nigiri topped with spicy mayo and my favorite drug in the world Sriracha and many more odd-ball combinations all of which can be washed down with the tangy/sweet house Yuzu lemonade. It's not exactly traditional, it's not exactly old school. It's just honest sushi done well, and sixteen locations in, it's a concept that seems to work.
Chicks By Chicks: Rotisserie chicken and Gravy to die for!
I love chicken, I love beautiful women… And by that rationale… What's not to love about Chicks by Chicks –  a women-owned and rotisserie chicken joint? Ahem, on a professional note, though. Rotisserie chicken can be many a horrible thing but Chicks by Chicks is everything rotisserie chicken usually isn't: organic, well-treated chicken, properly handled and fried to tender and crispy skin perfection, then served with a smile. Classic, comforting, perfect!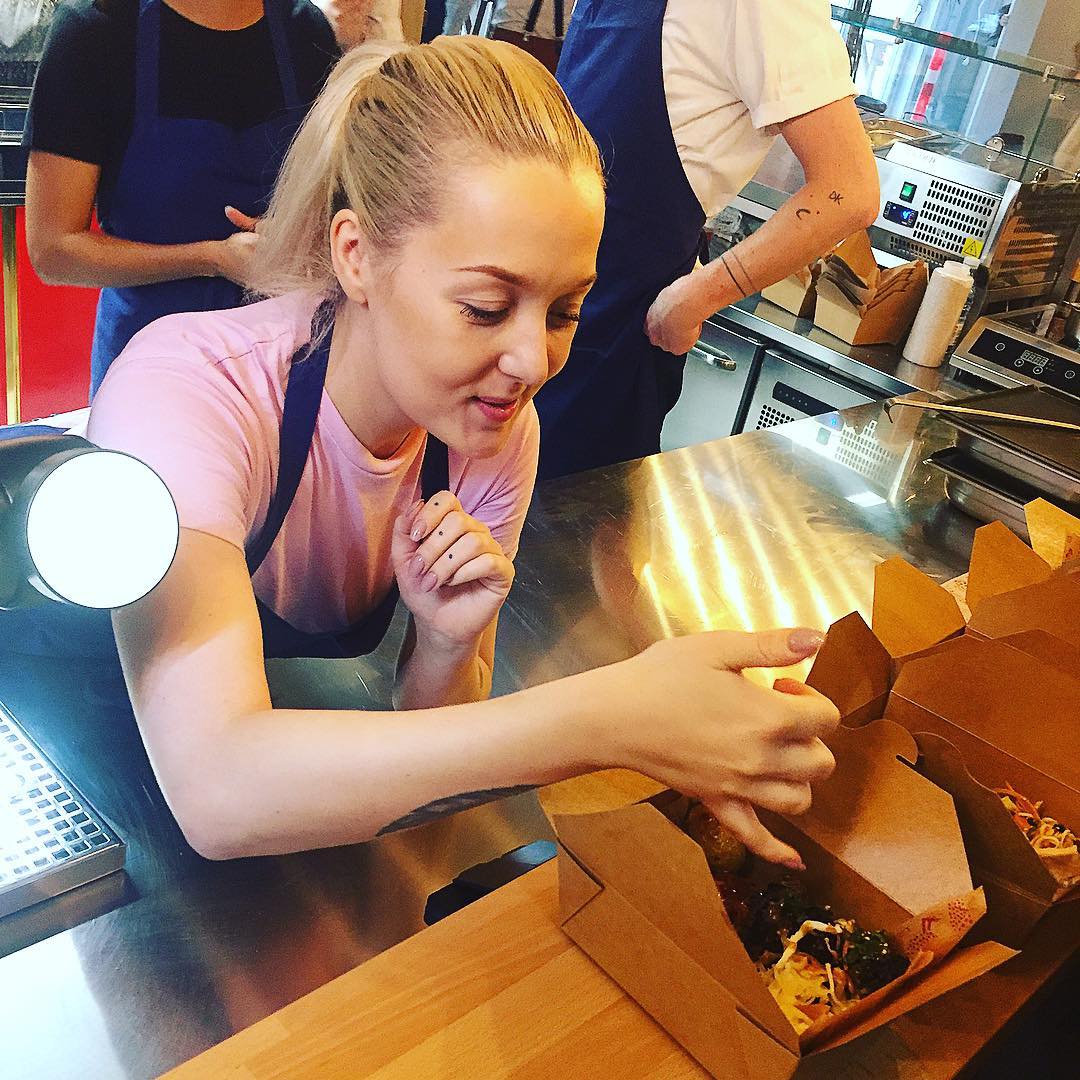 I had a perfectly juicy and flavorful piece dark meat swimming in its own juices served with a side of roasted potatoes, zingy sauerkraut, crisp lettuce with an Asian-inspired peanut dressing and a sauce to die for. Chicks by Chick's signature chicken gravy has drawn criticism for being a DKK 35 surcharge when ordered at their original location in Vesterbrogade… But it's mindnumbingly good and in a town where you're easily charged DKK 10 for a small tub of mayo or ketchup for your fries, is DKK 35 for sauce really that preposterous? I don't know and I honestly didn't pick up on how much the sauce is at the Tivoli location, I was busy having an out-of-body experience licking the rich, intense and perfectly seasoned liquid essence of chicken off my plastic fork.
At DKK 89 for a choice of chicken plus a side, Chicks by Chicks at Tivoli Food Hall is neither the cheapest nor the most expensive dish in town. Superb taste and quality considered, however, it's a pretty good deal, sauce or no sauce!
Gorm's Pizza: A Trusty crowd favorite!
When do you know you've well and truly made it as a restaurateur and entrepreneur? When you're asked to partake in Dancing with the Stars would be a pretty good indication and that's exactly what happened to Gorm Wisweh, the charismatic founder of Gorm's Pizza, a Copenhagen fast food institution.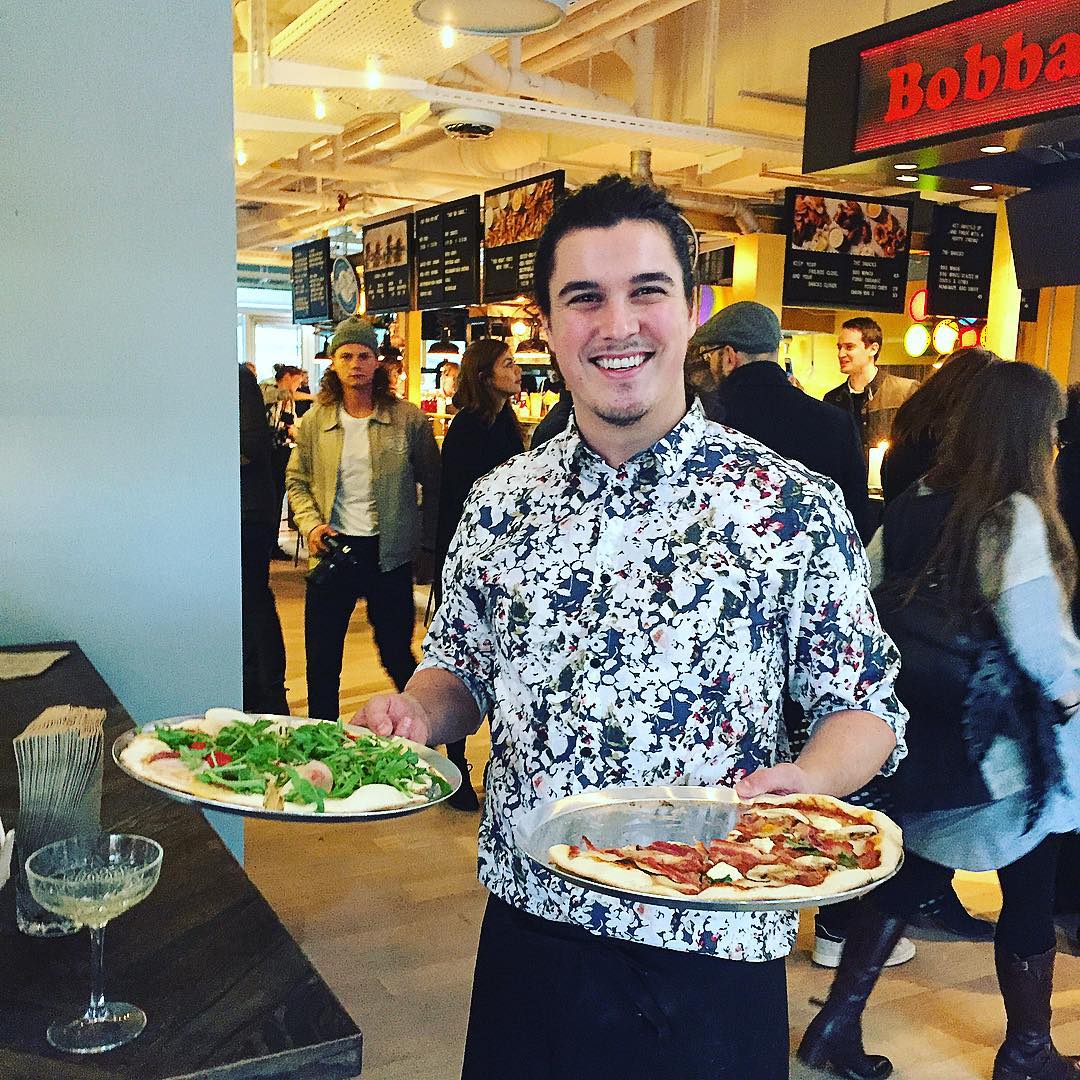 All smiles, bubbles and pizza slices at Gorm's newest location at Tivoli Food Hall. For the record, this isn't Gorm, he was busy actually making pizzas at the time.
Gorm's Pizza make pizzas in true Italian fashion: an annoyingly thin yet airy crispy crust topped with few but fresh, quality ingredients full of flavor. Seasoned Copenhagen foodies will tell you that the pies were better when Gorm himself was spinning them an the original location, but I will still argue that for the price, you can't really go wrong with a slice or two from the friendly people at Gorm's pizza.
To prove my point, I sampled a slice of Lissner's Lamb made with artisan Danish lamb salami, mozzarella, celeriac as puré and crudité, cherry tomato, apple and arugula which may sound like a complete overkill landslide of ingredients, but was actually perfectly proportioned and well-balanced in both taste and texture, featuring a well-composed symphony of hot mild, sweet, tart, soft creamy, crunchy and gooey elements.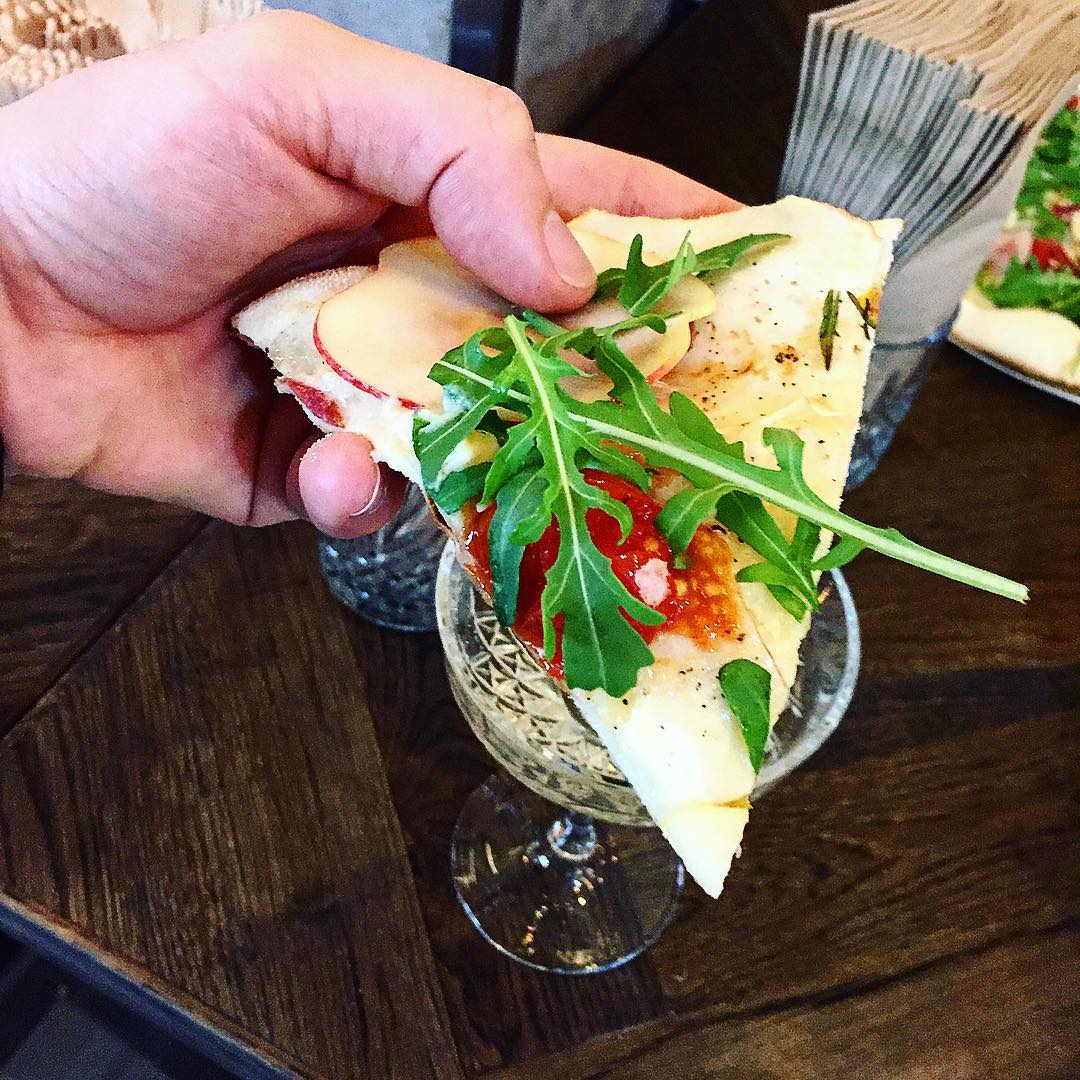 It may not be the best pizza in town, but it's still quite full of authenticity, flavor and attitude. Almost more importantly, though, it's served fast and piping hot with a shot of humor, warmth and a smile which is more than can be said for 95% of the Danish pizza market. If you're looking for a safe spot for quality pizza in Copenhagen, then Gorm's at Tivoli Food Hall (or Torvehallerne for that matter) is a pretty solid bet.
And what of Drinks, Beer and Wine at Tivoli Food Hall?
Only looking to wet your whistle? Don't worry, Tivoli Food Hall sports a wide variety of options. From the above/mentioned  cooling, sweet Yuzu lemonade at Letz Sushi over various juices and coffee specialties to the potently spicy Ginger lemonade at Kung Fu Street Food, the non-alcoholic options are plenty, but there are, of course, far more potent alternatives.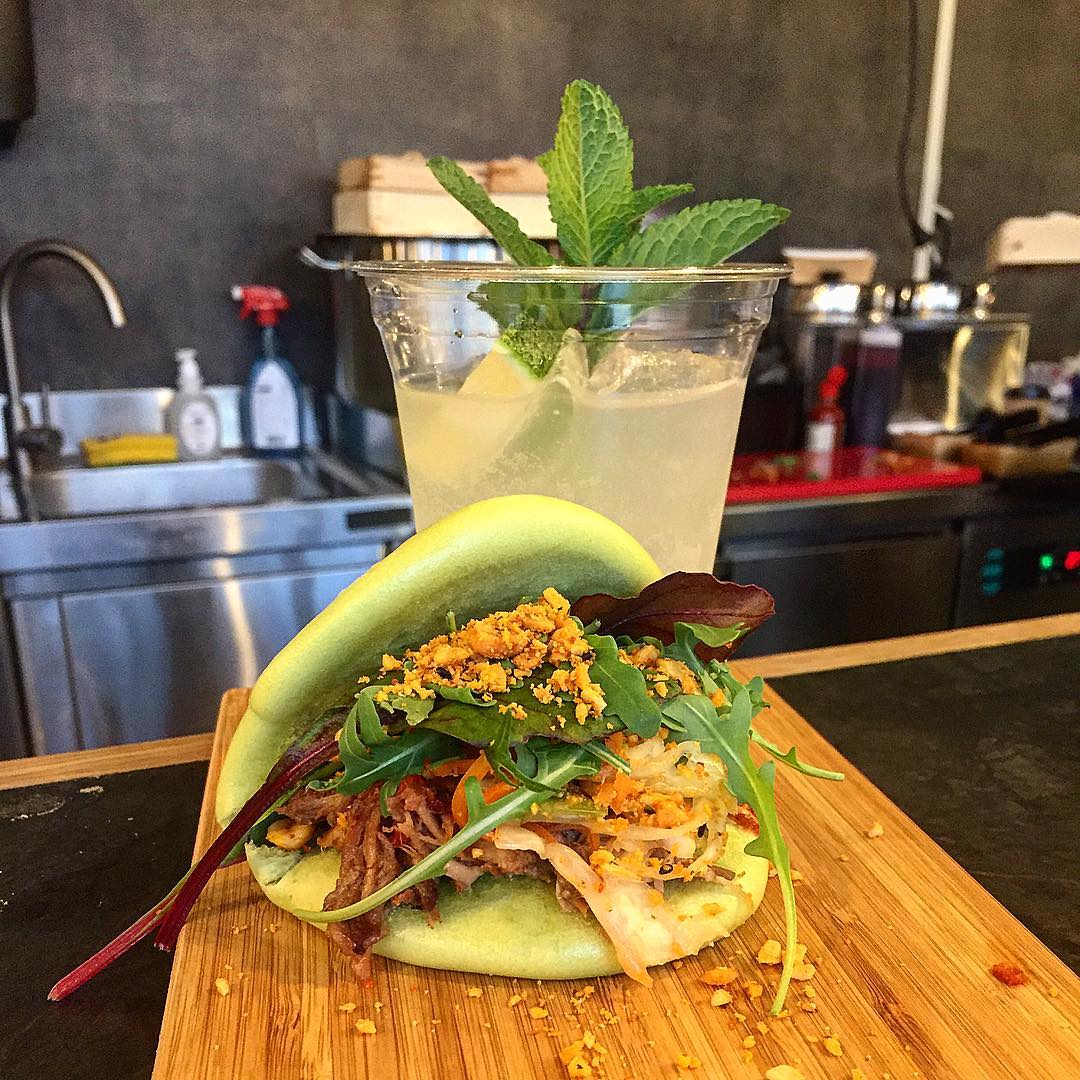 For the record, Kung Fu Street Food make some killer spicy bao buns, but their spicy ginger lemonade is worth a short, too, on its own or as a base of cocktails!
As mentioned, The Bird sports a stunning array of craft beer and Gin & Tonics, Cock's & Cows will churn out a pretty mean cocktail if given a chance; try their soothing sea buck thorn and dark rum concoction on for size or walk on a few more meters to Chicks By Chicks and sample their artisan (and potent) Danish organic cider.
More of a wine drinker? Fear not: Tivoli Food Hall features the newest location of an informal Copenhagen favorite, Le Petit Wine Bar. Le Petit Wine Bar is the unlikely partnership between Ole Mejlby Jørgensen, a Danish entrepreneur and businessman in his best age and Sylvain Codron, a young French restaurateur.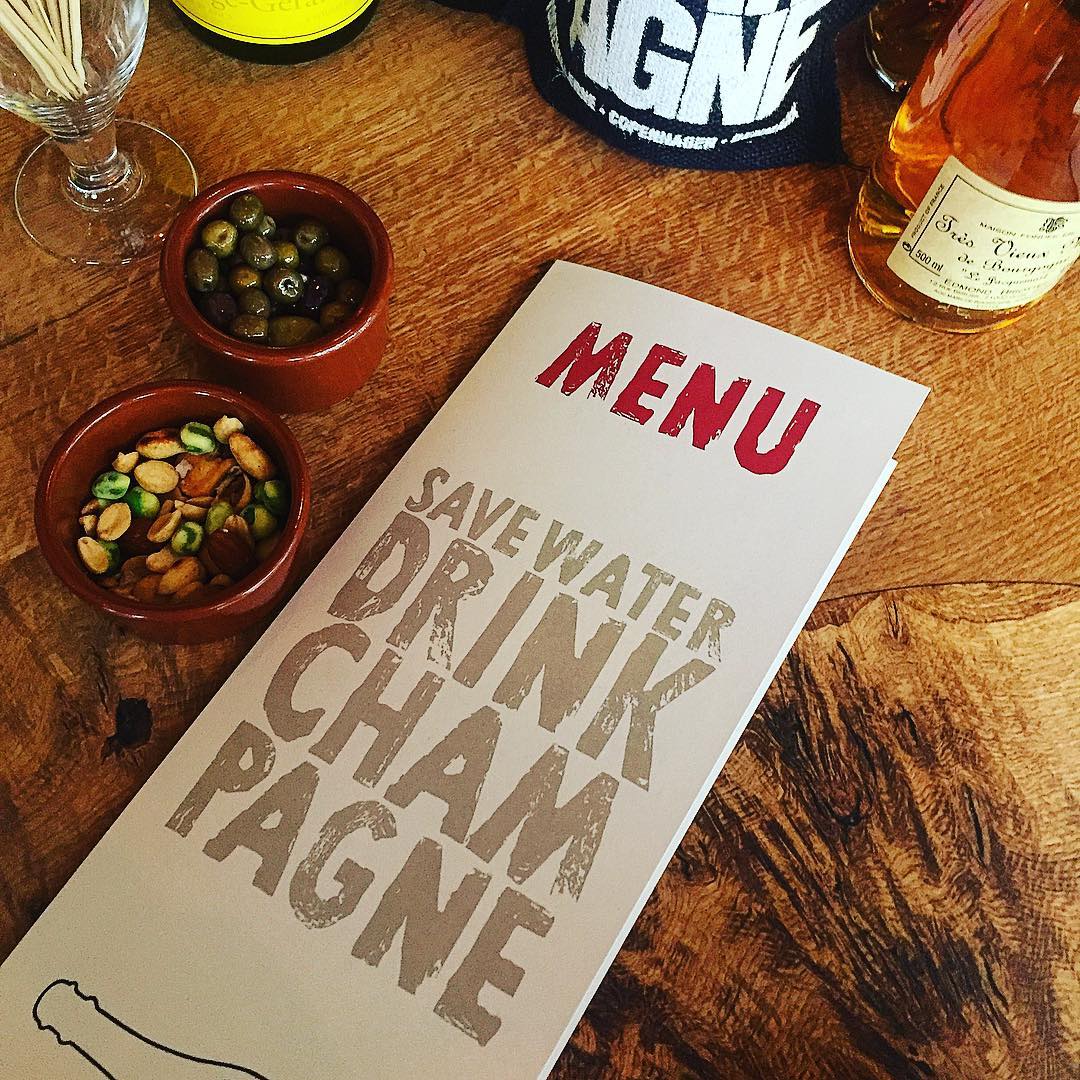 Under the slogan "Save Water, Drink Champagne", they run what can best be described as an unusually spacy and warm hole-in-the-wall. From nothing more than a few meters of counter space and a small open kitchen they run a full scale, no-fuzz operation featuring well-priced wines by the glass (or bottle), a small selection of craft beers, even lunch and dinner service with focus on fresh, quality and often local ingredients. It's part Danish warmth, part French finesse wrapped in a blanket of good-hearted, informal fun and it's a really good place to drop by for a quick, informal and well-priced glass of Champagne. You may not find a lot of elbow space or leg room, but there will be plenty of heart-room and smiles.
Does Copenhagen need a new food market?
Seen from the outside, Tivoli Food Hall seems like just another food market populated by familiar faces. So, what, if anything, really sets it apart, then? Well, if I'm to point to one thing, it would be that Tivoli Food Hall features a mix of vendors that may not be original or new, but are certainly hand picked to create a unique diversity in food and drink bound together by three common factors: quality, attitude and value for money.
Unlike many other food markets, Tivoli's new gamble also has a certain air of cohesiveness and afterthought about it. No two vendors overlap here and not one seems out of place. Everything is strangely streamlined, for better and for worse. Unlike street food markets, you won't see five increasingly colorful stalls battling for your attention with largely identical sandwich and fries value meals of varying quality. Neither will you find yourself in a melting pot like Torvehallerne where you're not quite sure whether you've entered a food court, a market or a specialty kitchen equipment store.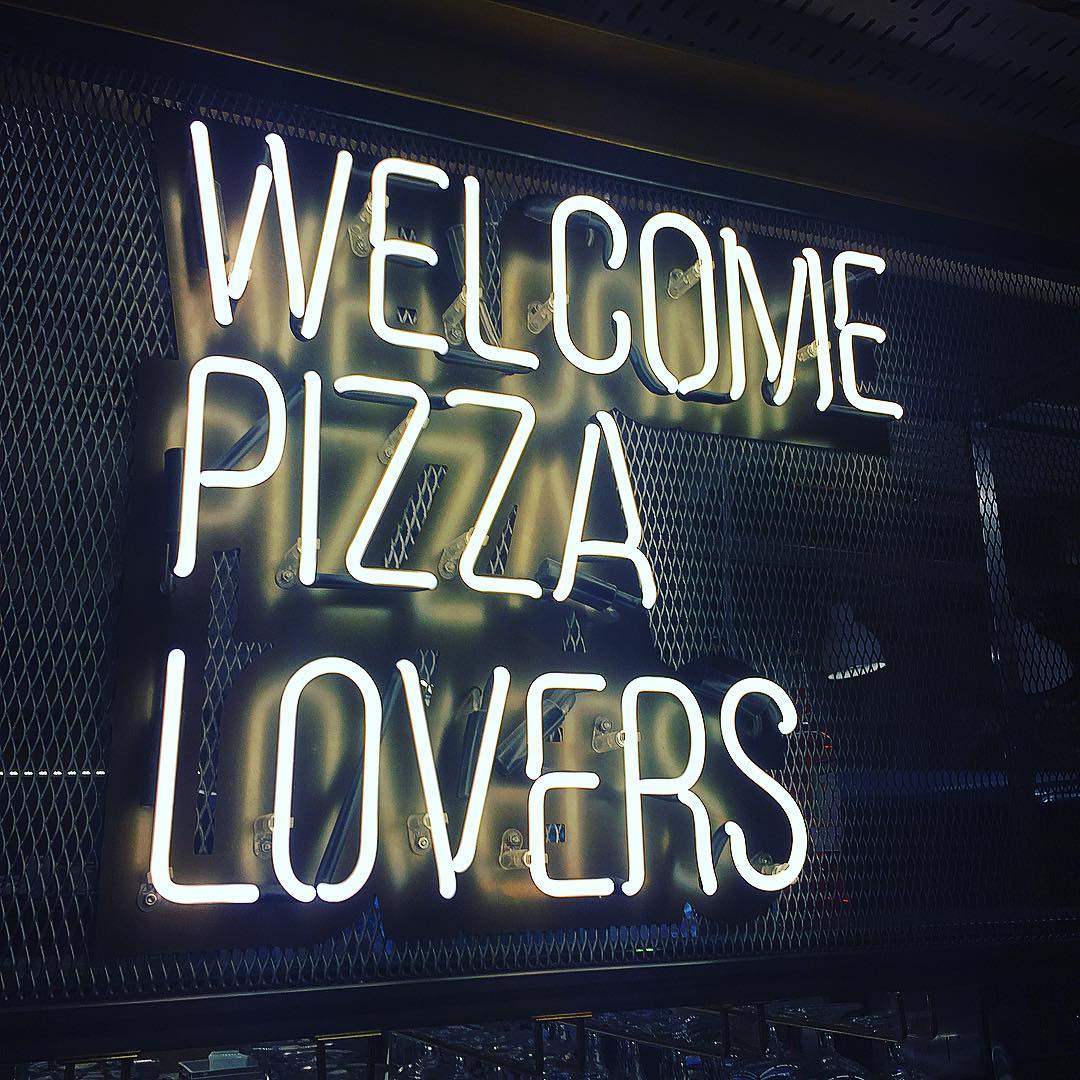 Hey… That's me!
The aim of Tivoli Food Hall is, instead, to satisfy an immediate demand for a quick, quality meal. Tivoli Food Hall is a dream of a small yet diverse group of vendors working towards providing what has become the tagline of the entire operation: Experience fast gourmet.
Will they succeed? The odds seem in their favor…
Whether you're a park visitor or a casual passer-by, whether you want to dine in, take out, or maybe just knock down a few glasses of your favorite poison, whether you're into sushi, pizza, Tex-Mex, junk food, soul food or craft cocktails, I will venture the guess that you'll quickly find something of interest at Tivoli Food Hall – at a reasonable price, mind you, especially considering the location. As a customer in a fast-moving world, that's about all you can ask for along with a good vibe and friendly service.
Again, Tivoli Food Hall's location is nothing short of phenomenal, allowing food stalls to attract customers not only from the busy city streets outside, but from the very park itself, allowing Tivoli visitors a new array of food choices priced conveniently between cheap fast food choices and the more elevated restaurant prices found within the park.
Celebrate good times, c'mon!
With the cards seemingly dealt correctly from the beginning, the success of Tivoli Food Hall basically boils down to resilience and consistency. A steady flow of hungry customers must be amassed and converted into happy, well-fed customers through quality food served fast with a smile and great service and attitude that is a cut above the rest of what Copenhagen has to offer.
The vendors and owners by and large vowed the press with their friendliness and enthusiasm during the pre-opening event. If this dedication, attention to detail and a streamlined course towards delivering consistency in quality continues throughout daily operations, Copenhagen may have another centrally located culinary success on its hands.