Home » Blog » Restaurant Reviews » John's Hotdog Deli: An Audience with The Hotdog King of Copenhagen
The culinary scene of Copenhagen is changing nearly as fast as old condemned buildings make way for new high-rises or shopping malls. Luckily, though, in an ocean of change, there are still islands of relative stand-still. Places where time does pass, but things still seem familiar. Want a bite of the real Copenhagen? It's easier than you think:
Take a train to Copehangen's Central Train Station. Walk off the platform and pause for a minute to gaze at the impressive main concourse, then exit. Not through the iconic main entrance facing Tivoli Gardens, but rather through the back door. Locate the sign pointing towards Rewentlovsgade, follow it down the stairs step onto the gritty streets of Vesterbro, Copehagen's old worker's quarter.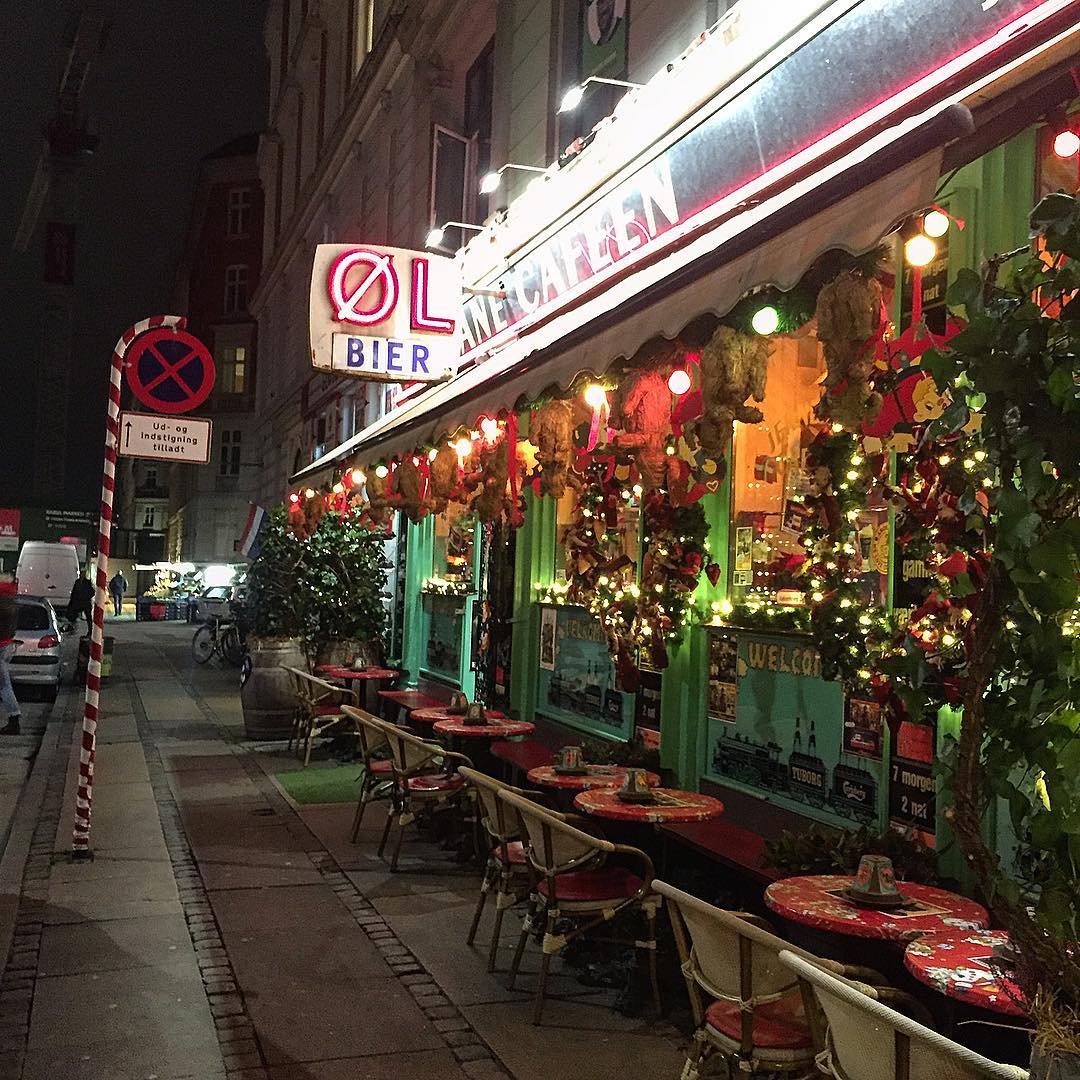 Welcome to the quirky side of the street! Vesterbro is delightfully weird at times!
In 200 meters or less, you've made it to the "ugly" side of the street. A few city blocks that only about half a century ago were terrifyingly packed with worker families crammed into tiny, dark, damp apartments under horrible conditions amidst cheap ale houses, smuggler's dens and brothels.
Pass by Jernbanecaféen, one of the remaining public houses and walk up Istedgade – the hot bed of Denmark's porn revolution in the 1960's where gangsters and smuggler dens gave way to sex shops, porn cinemas and live showers catering to the weirdest of tastes following Denmark's world-famous legalization of smut in 1969.
Times have changed in Copenhagen, many of the old sub-standard tenements have been demolished or completely redone and few of the original hustlers and kingpins remain. Vesterbro has a new shine to it but still struggles with its heritage and the afterglow of a heroin epidemic that ran rampant in its streets in its 70's and 80's. It stands now a jagged up romantic sort of place where rough neck-neighborhood meets gentrification in a banged up pretty kind of way.
You can walk these streets safely today, looking at the beautifully restored facades, passing burger joints, prime sushi and oriental restaurants, but the mission hotels, the men's home and basement dive bars still remain. If the darkness of your soul so desires, you can still pick up anything from a dimebag of weed to a gram of heroin or a lady of the night. Or you can simply take your pick from some of the best food in Copehangen:
Turn left at The Men's Home shelter and skip across Halmtorvet where hookers and junkies used to congregate, then step into the Meatpacking District where the streets once ran with filth and the blood of slaughtered animals but are now the absolute hotbed of Copenhagen's hipster dining scene.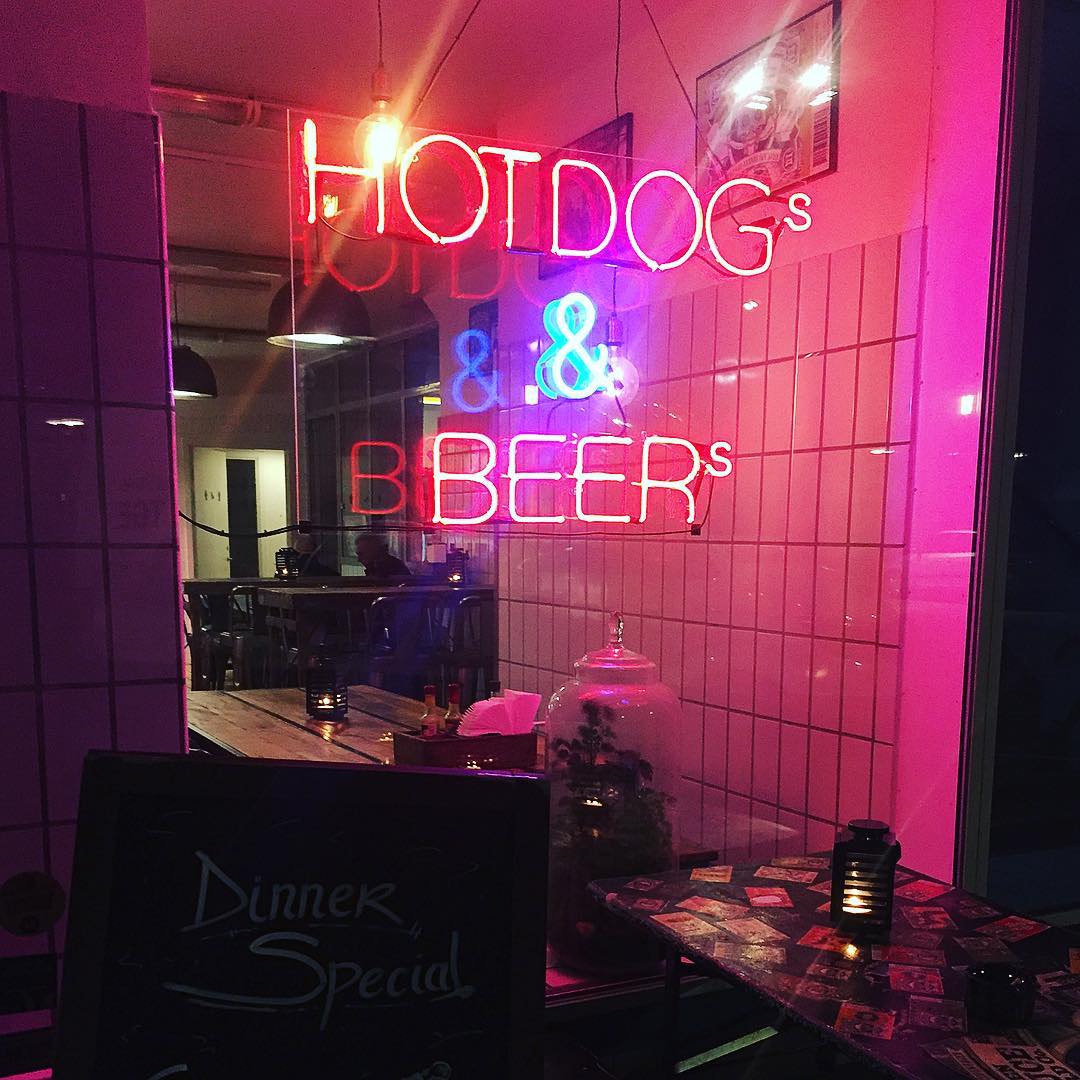 Welcome to Johns Hotdog Deli: in here you can get what the sign says… And really, what more could you want?
In these seemingly endless rows of white and blue buildings that once housed butcher shops, fish mongers and kitchen supply stores, we now find a star parade of eateries spanning in size and cuisine from hole-in-the-wall Mexican food par excellence at Hija de Sanchez over Mother's jam-packed Italian pizza joint to brewing darling Mikkeler's enormous and highly debated Warpigs BBQ Brewpub.
It is also here in the twilight zone between grimy streets and hipster paradise, that we find the hotdog king of Copenhagen, John Michael Jensen and his newly opened but already iconic John's Hotdog Deli.
John Michael Jensen: The King of Hotdogs
Looking more like a battle-worn rock star than a chef with his long, white hair and ditto beard, John is the sacred keeper of a lost art: the Danish hotdog!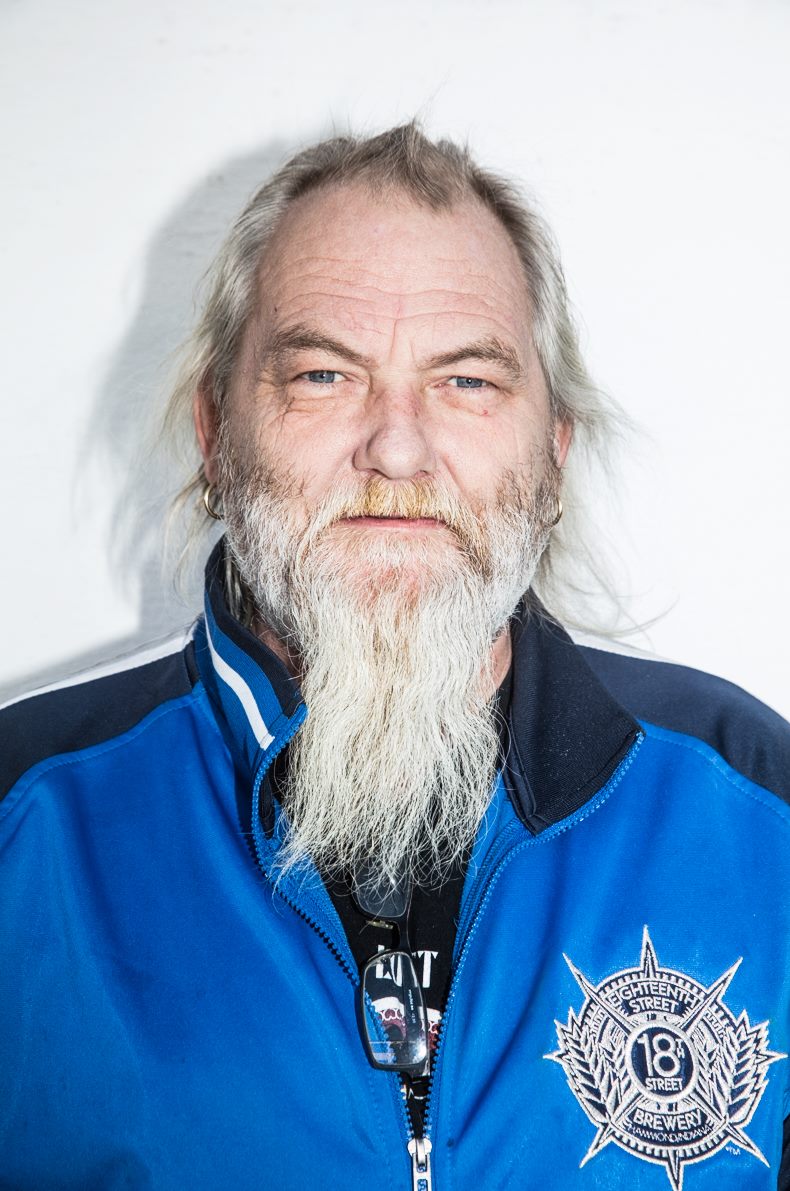 John Michael Jensen – The Hotdog King – Photo Credit: Facebook Profile Photo
Originally peddled by push-cart stands scattered across the city, the hotdog was the original Danish street food and a unique take on the classic hotdog known throughout the world. Featuring a classic pork wiener on a toasted bun topped with not only ketchup and mustard but also classic Danish remoulade sauce, onions (raw and fried) plus pickle slices for good measure, it poses a slightly more nuanced spin on an often simple classic hotdog: Filling and overstuffed with a flavor profile that is at one time savory, sweet, acidic and spicy, with textures ranging from soft, and crunchy to chewy and everything in-between. Whipped up in under a minute, it is the perfect fast food for people on the move, but it's sadly also a dying breed.
New, far more international and fancy street foods such as pizzas, shawarmas, burgers and oil-dripping "Chinese" takeout boxes have entered the cityscape and pushed the hotdog to the brink of extinction. The few hotdog stands that remain generally make a decent living pushing surprisingly identical concoctions made from the same low-grade industry standard sausages and the same base set of cheap, equally unappealing bulk condiments to unsuspecting tourists – or the hopelessly nostalgic.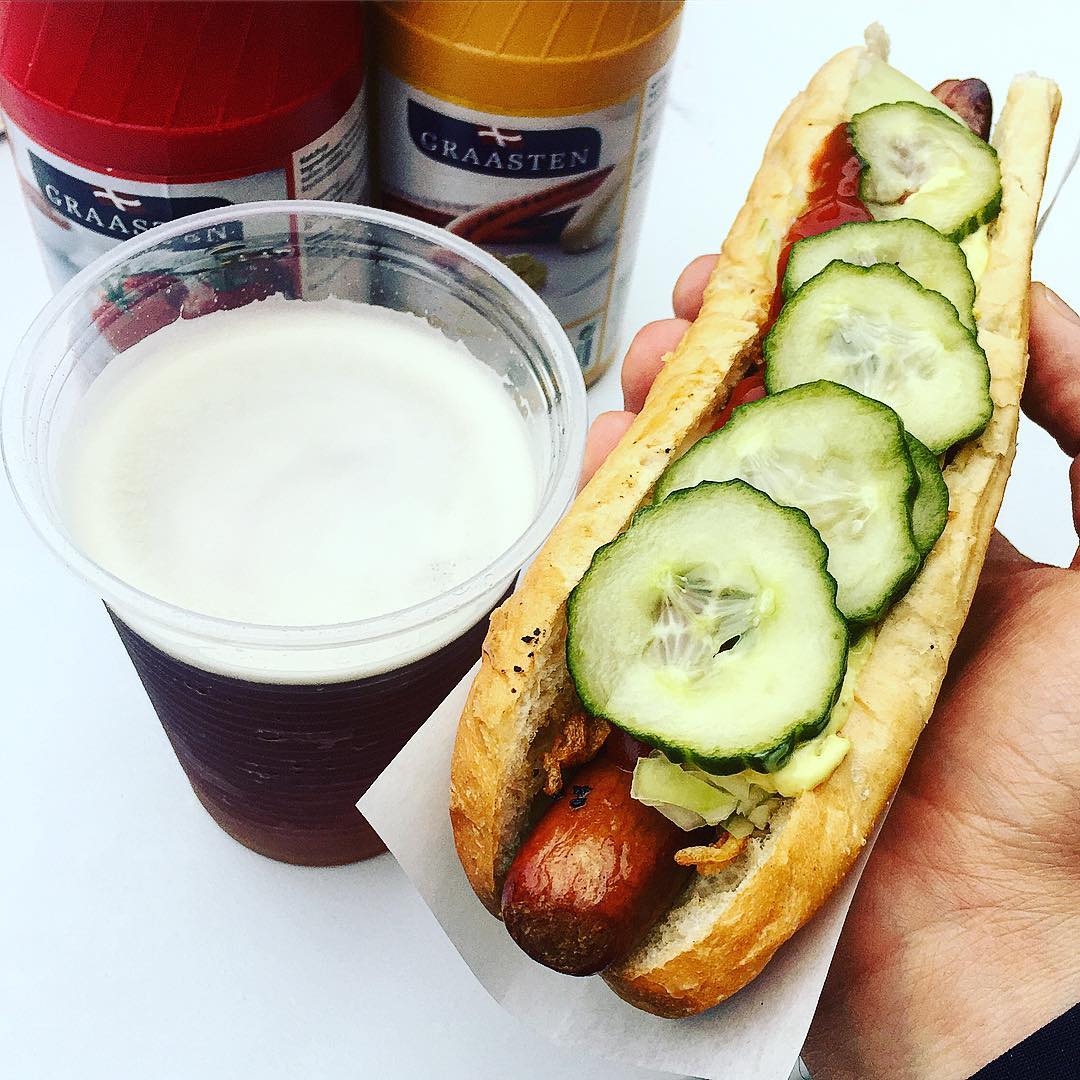 The classic Danish hotdog in all her glory!
And then there are people like John Michael Jensen; Hotdog John to friends and admirers alike. For 10 years, this imposing, gentle giant of a man has parked his hotdog cart outside of Copenhagen's central train station. For 10 years, his small iconic white sausage wagon on a backdrop of Tivoli Gardens was the first sight to greet international tourists descending on Copenhagen by train.
In one way, an iconic sight – it hardly gets more Danish than this – yet in many ways also an ironic sight: I mean, let's be honest here, if there was one thing hordes of Japanese tourists wasn't expecting as their first taste of Copenhagen food culture, it was probably the likes of John Michael Jensen.
Where others use industry standard sausages and run off-the mill condiments, John's bag of tricks include an ever-changing array of hotdog creations made from artisan sausages tailored to his specifications topped with all sorts of bad juju from pickled cucumber relish to onion confit and everything in-between. Then usually doused in a slur of condiments ranging from stone-ground mustard made with craft beer from his friends at Mikkeller over rosehip ketchup and various salsas to chanterelle remoulade or one of the increasingly scorching creations from John's own hot sauce lineup… To name but a few!
At one time familiar and innovative, exciting and bursting with (oft-times unusual) flavors, John's creations helped reshape the fate and image of the Danish hotdog from curiosity to world famous eat, featured on Munchies.com, Anthony Bourdain's travel shows and food blogs around the world.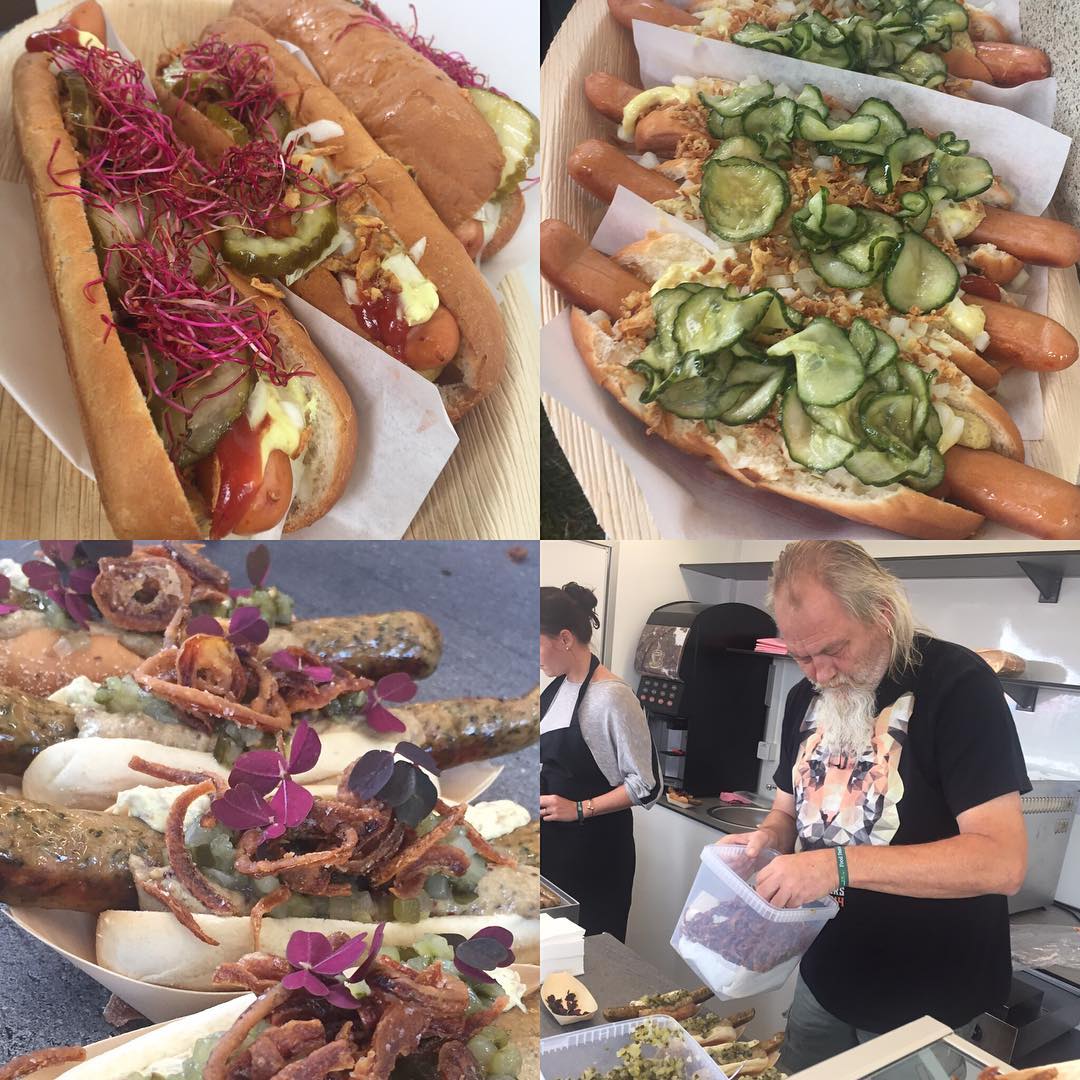 John Michael Jensen churning out hotdogs at the Danish Hotdog Championships at Food Festival 2016. Bottom left is John's winning entry!
The announcement and much hyped 2017 opening of John's brick and mortar version in a small space on the fringe of Copenhagen's trendy Meatpacking District marked a new beginning for the man that would be (hotdog) king and for Danish fast food in general. It was a place I had to visit come first possibility, I knew that much. I had to make the pilgrimage for myself and answer the pressing question in my mind: could John's new hole in the wall possibly live up to the hype!
So, on a wet, windy day in November, I made my way from Copenhagen's Central Station through the once dodgy now respectfully gentrified streets of Vesterbro, past the junkies, alcoholics and ladies of the night – on to the unassuming new home of the hotdog king.
Glancing at the place from the outside revealed little of interest and charm: a few rain-soaked benches offered outside seating while a few hand-painted signs offered a couple of specials and set menus. Inside, the light shone warmly across the white tile walls and brown floors that are archetypical of Meatpacking District establishments. In the window, a neon sign beckoned: "hotdogs & beers". What more could you want?
With a breath of determination and expectation and the fall wind blowing encouragingly in my back, I pushed through the doors and excited out of the damp cold of Vesterbro into the pleasant warmth of John's tiny, new home in hipster central.
A Wednesday Evening at John's Hotdog Deli
The king himself wasn't in on the evening of my visit but by no means did that leave me with a lack of his trademark mix of warmth and attitude. John being the epitome of counter culture sure knows how to hire help! Rather than an audience with the King of Kings, I was treated to sly smiles, impeccable service, perfectly timed, heart-warming stabs, playful jokes and a shot of Fernet Branca from his backup, the Queen of f'ing Everything.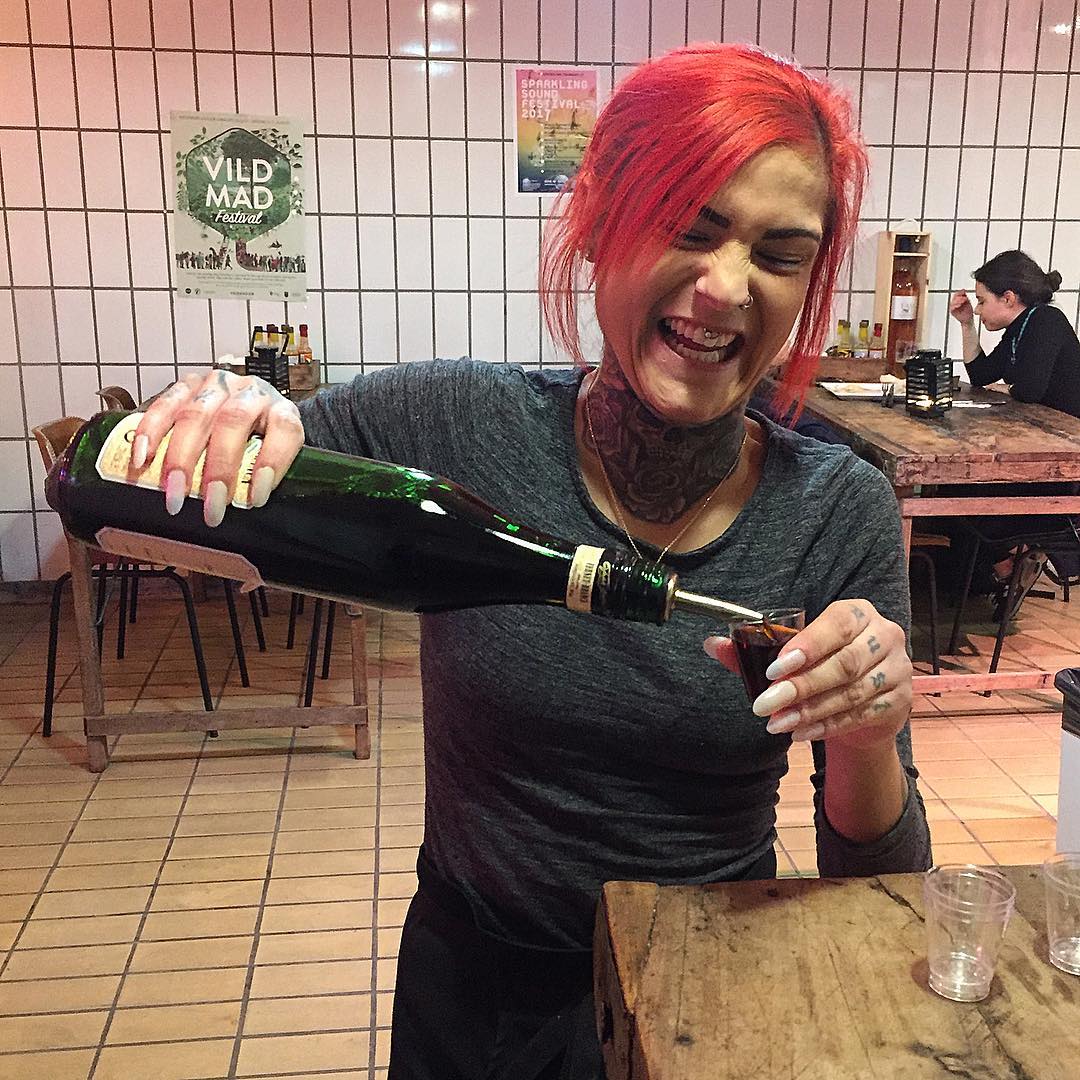 Wednesday evening in Copenhagen…
Loud-mouthed, cheeky, punk-rock pretty and covered in tattoos, piercings and charm, my hostess for the evening was equal parts professional and equal parts attitude… Perhaps not the sort of person you'd expect to see behind the counter of what was generally a kid and tourist friendly establishment, but exactly the sort of person you'd expect John to hire: friendly, service-minded with attention to detail and capable of handling every aspect of the diversified crowd that John caters to. From tourists to local families and the sometimes rowdy and outspoken working population looking for a fill of saturated fats and beers.
Ahem, I digress… Enough about women for now, we're here for the food!
Like his staff, John's food is no joke and it's not about show or pretence. Like the man himself, it's honest, real and f'ing LEGIT! At the time of this writing, he does about three dishes, and he does them incredibly well: a hotdog, a Danish specialty known as a gravy burger and a frikadelle (Danish meatball) sandwich.
If we are to start with the product that owed John his reputation, there are a few things to be said about John's Hotdogs. First things first, they're absolute behemoths!
Rather than using industry standard sausages, John has his sausages made to order by craft butcher Slagter Hallegaard who provide some rather spectacular, large, free-range pork sausage sons of bitches bursting with flavor and spice: I passed on a tried and true variety seasoned with bacon and ramson, disregarded for once a personal favorite cheddar and habanero and went instead with one of John's signature sausages made with lemon, thyme and Havgus cheese by Arla Unika. It arrived perfectly grilled and full of snap, texture, flavor and aromas perfectly nestled in a brioche hotdog bun.
And from then on, it was an absolute free for all: John cuts costs by selling hotdogs following the largely unfamiliar Build-Your-Own concept under which you're handed a steaming hot bun and a spicy sausage and then let loose on the condiment bar, containing everything from homemade sauces and mustards to various relishes and pickled goodies. All made from scratch by the wizard and his crew! Add as much or as little as you like and create a hotdog experience tailored to your personal preference.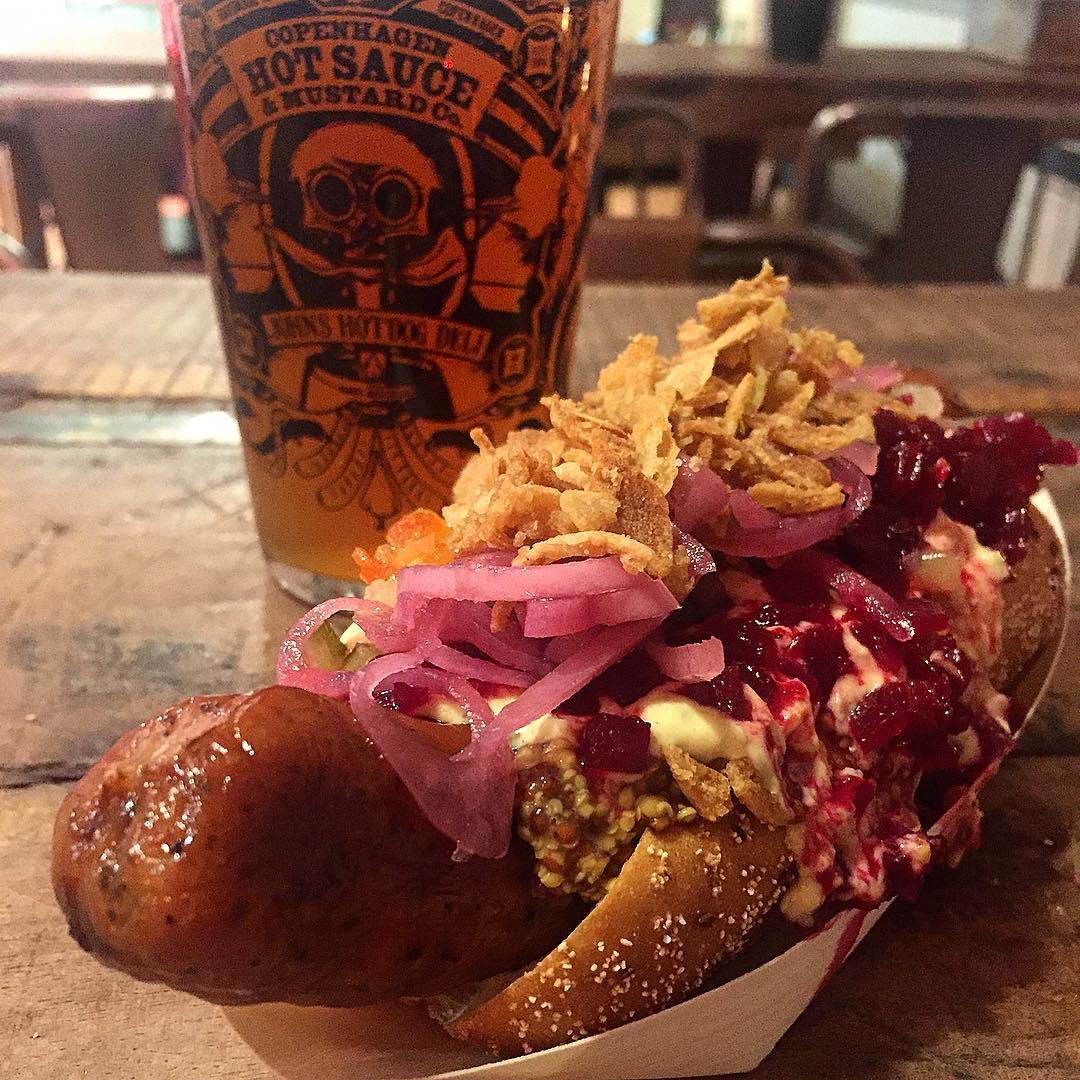 How's this for a fucking hotdog?!
Being the civilized food blogger that I am – well, as civilized as someone taking shots of Fernet Branca on a Wednesday evening can possibly be – I went to work meticulously and first sampled the sausage on its own. All beating around the bush aside, it was basically every bit as good as expected: fragrant citrus notes met a herbal thyme punch on a backdrop of nutty cheesiness provided by the notable nuggets of Havgus cheese nestled within its juicy interior.
It was, however, after a visit to the condiment bar that the product truly shone. Why? Condiments are the heart and soul of the Danish hotdog, adding both flavor, texture, crunch and spice. They complete the meal so to speak, and provide contrast to the relative monotony of merely eating a quality sausage in a bun.
From braised red cabbage to pickled jalapeño relish and more familiar faces like pickles and mustard, the condiment bar at John's provide a vast variety of choices, some of which may seem completely alien to foreign visitors in a hotdog context.
So, here's a word of advice for our visiting tourist friends looking to get a taste of John's sausage (ahem!): keep it Danish. Add a line each of John's awesome homemade mustard and remoulade sauce, then one of ketchup. Next, add pickled onions, cucumber relish and top with another Danish curiosity: crispy, fried onions. In John's hotdog heaven, this is about as close as you will get to a classic Danish hotdog – without the bullshit and inferior components – and it's an absolute bite of heaven!
Not hot or exotic enough for you? Simply return to your seat and dab on a few shakes (or more) of one of John's sauces from his Copenhagen Hot Sauce & Mustard Co. line and you're laughing.
At DKK 45 a pop, John's hotdogs aren't exactly cheap but neither are they expensive. An industrial, run off the mill hotdog will easily set you back DKK 30 in central Copenhagen and John's hotdogs easily pack twice the weight and three times the flavor and spice of an average street dog at a quality level that simply doesn't compare.
Quality wise, John lies more in the realm of better fast food or low-key lunch restaurants and that makes a world of difference in pricing. In a city where DKK 45 will usually buy you fuck all in terms of a sit-down lunch, most people will be perfectly content and happy with a hotdog from John's for their mid-day cravings. The famished amongst us will have had their fill after two. Add a pint of craft draught beer from local Amager Bryghus and you're smiling. Happy days!
Come for the hotdog, stay for the burger!
Somewhat ironically, the best dish served at an establishment known as John's Hotdog Deli may not even be a hotdog. No, as a matter of fact, according to some sources, the main event here is something else entirely. It's John's take on a unique and curious aspect of Danish fast food culture: the gravy burger.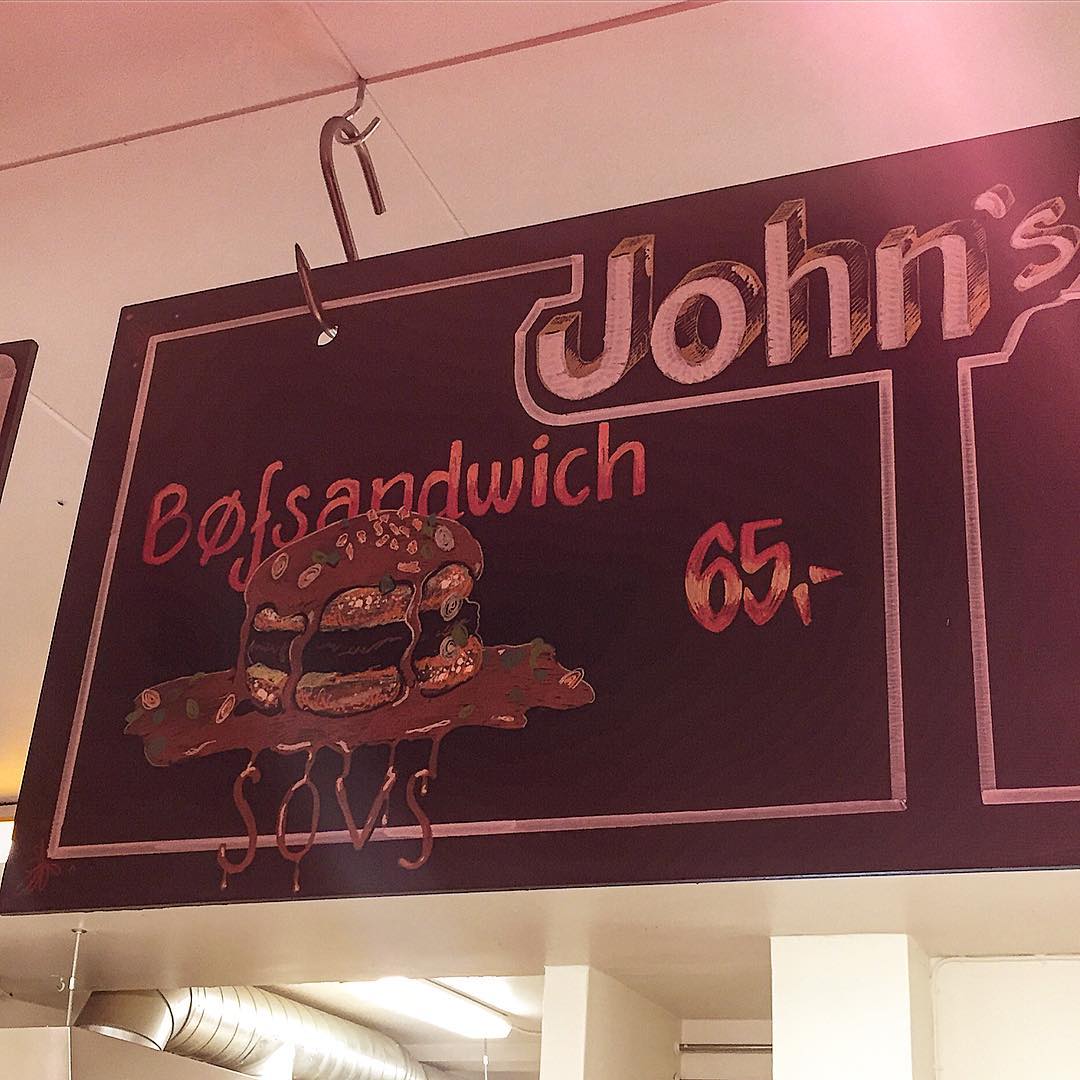 A burger? With gravy? YES!
The gravy burger, known locally as a bøfsandwich (literally: steak sandwich) is the only  completely original Danish contribution to the realm of fast food. Based loosely on the concept of the hamburger, a gravy burger starts out with a ground beef patty served in a toasted bun. Unlike its American counterpart, though, it skips such non-necessities as lettuce and tomato and rather than the original slur of condiments, it's drenched in the familiar Danish trio of ketchup, brown mustard and remoulade. Add to that other traditional hotdog components like raw and crispy fried onions plus pickles and you're home safe, well, almost! For the gravy burger to truly shine, it must quite obviously further be topped with pickled beets and drenched in the liquid love that gave it its name: gravy!
Why? Well. Tried as I have, I've been completely unable to trace the history behind this abomination of a dish. Best I can deduct from listening to some of the leading experts of the subject including Lasse "Hotdogjudge" Görlitz, leader of the annual quest to crown Denmark's best gravy burger, the dish dates back at least 60 years and the gravy element may have been introduced as a simple yet effective measure to keep the beef patties warm in the primitive heating tanks found in the simple food stalls of the time. Few if any primary sources exist on the subject, however.
It's as if some time in the 50's, a cutthroat culinary daredevil took the relatively exotic concept of the hamburger and made it palatable to the culinarily conservative Danes by coupling it with the relatively safe and sound elements of the Danish hotdog. Faced, possibly, with further resistance to this proposal of a sandwich, culinary kryptonite in terms of pickled beets and rich, thick gravy was added, all remaining barriers dropped and a fast food classic was born in the gravy loving Kingdom of Denmark.
It sounds a right mess, and by God it is! But it's a damn beautiful mess! And John's Hotdog Deli is the perfect place to experience this culinary clusterfuck of a meal!
Unlike his hotdogs and the meatball sandwich, John's gravy burger is the only dish in the establishment cooked and plated to order. John may want you to be the boss of your own hotdog, but he knows exactly how he wants to compose and present his beautiful mess of a gravy burger: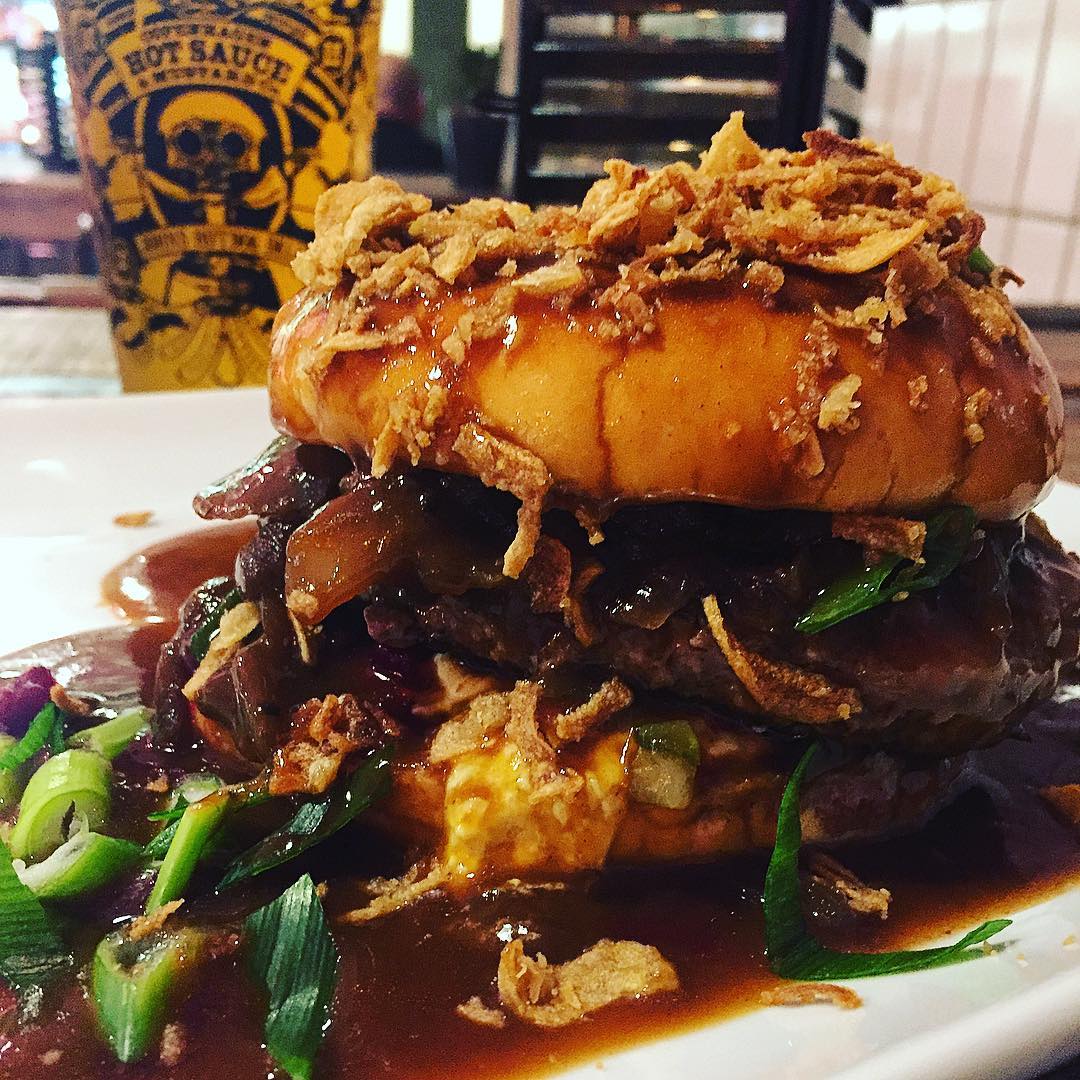 Be still my heart…
A 200-gram beef patty cooked to juicy, pink perfection served on a soft, buttery bun and topped with John's house-made, pickled cucumber relish, pickled beets, remoulade sauce, coarse mustard, ketchup, raw onions, crispy fried onions and spring onions then drenched in the house gravy which, in reality, is more of a veal demi-glace than a gravy.
What sets this bad boy apart from the competition is the level and the quality of the ingredients used. While many are happy serving their sandwiches with industry standard condiments and pickled goods, John creates all his sauces and components from scratch with neurotic attention to detail and funk. The few components not made in house, the beef patty and the bun most notably, are carefully sourced based on quality and flavor. Everything else from mustard to pickled beet root relish are tailored by the master himself, including the heavenly gravy that isn't really a gravy: Most other greasy spoons would serve a "standard" Danish gravy made from pork or beef drippings, stock and cream thickened with a roux and colored with caramel. John's gravy, on the other hand, is a carefully reduced, naturally thickened and colored, rich and beefy brown veal stock – of epic proportions!
In short, the amount of work and detail that goes into creating this seemingly random pile of ingredients is staggering – and in essence that is what people love about the gentle, foul-mouthed original that is John: his stance that even the simplest and messiest of Danish comfort foods can be a culinary experience and that they wholeheartedly deserve the attention to detail, he awards them.
How does such a well-tailored ingredient landslide taste, then? Like a small piece of heaven on a plate, most nostalgia-prone Danes would agree. To foreigners, it may sound like a confusing experience altogether, but somehow the juicy intensity of the meat coupled with the velvety richness of the sauce sings in perfect harmony with the sweet and spicy acidic twang of the condiments while onions add both sweetness, crunch and a pungent bite that breaks the soft mouthfeel of the dish and create an entirely wholesome dining experience. It's a burger with a character and richness rarely seen and a truly unique and messy dining experience.
In line with the Danish hotdog, it's a dish that has to be experienced and at DKK 65, this behemoth of a burger is a seriously generously priced benchmark for Copenhagen burger perfection!
John's Hotdog Deli: A Welcome Addition to the Neighborhood
Actually scratch what I just said, not only the dishes but John's Hotdog Deli as a whole is a place that should be experienced. And experienced it is, thank God, by a diverse crowd from near and far. On the night of my visit, a cold Wednesday evening in November, I saw both French and Spanish tourists, local working-class lads, rock n rollers, suits and families with kids alike at the table of the Hotdog King.
Our diverse backgrounds aside, we all flocked like moths to a flame to the shining beacon that was the iconic "Hotdogs & Beers" neon sign. We all received our fair amount of smiles, rock n roll attitude and impeccable, personalized service on top of an awesome dining experience, and I dare say we all left feeling full, happy and warm through and through.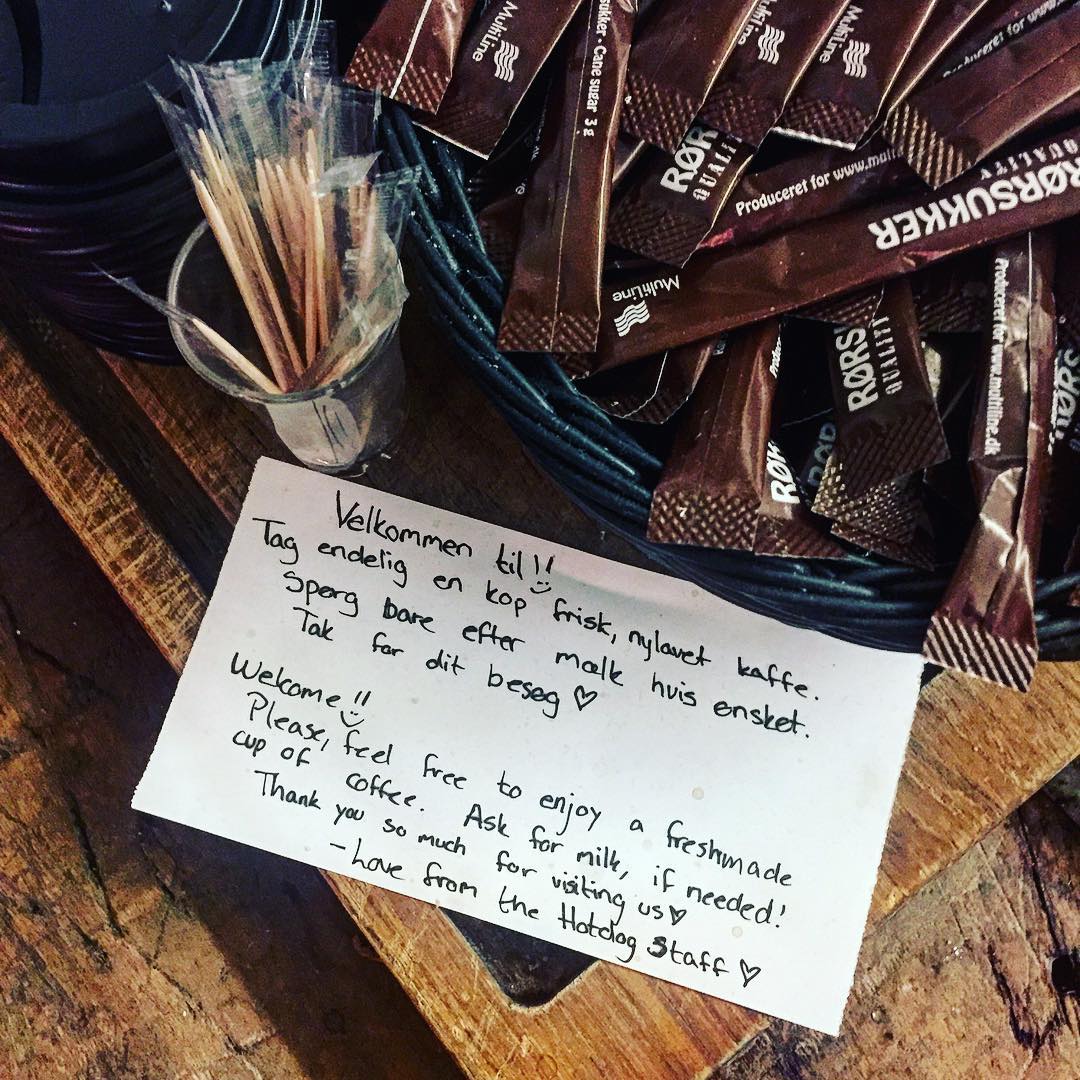 When's the last time you were offered free coffee at a rock n roll hotdog joint? Like, seriously?! I love this place!
It takes a special breed to mix rock 'n' roll attitude, heartfelt warmth, fast food and gourmet flavors in a coherent package palatable to all breeds of life – yet somehow John and his hotdog crew manage exactly that. In a world that is often either a little too polished or a little too down to earth, they are keeping it real and keeping it weird, dishing out fantastic food without pretense or flash – and the historically quirky Vesterbro is a better place for having them around!