Home » Blog » Restaurant Reviews » Quick Picks: Restaurang Kvarnen – Stockholm's Best Swedish Meatballs?
It's a near-perfect picturesque scene: I'm strolling from the Central Station, past the Royal Palace and through the ancient streets of Stockholm's Gamla Stan (Old City) in search of one of the world's most iconic dishes.
My goal is the old working-class neighborhood of Södermalm. It is here, The Hotdog Judge promised me, I would find the finest in Swedish comfort food. "Go to Kvarnen," he said, when I asked the internet for advice on lunch spots for a  business trip to Stockholm; "hands down the best classic Swedish food I've ever had!" – "Will I find good meatballs there," I asked. – "The best," he replied!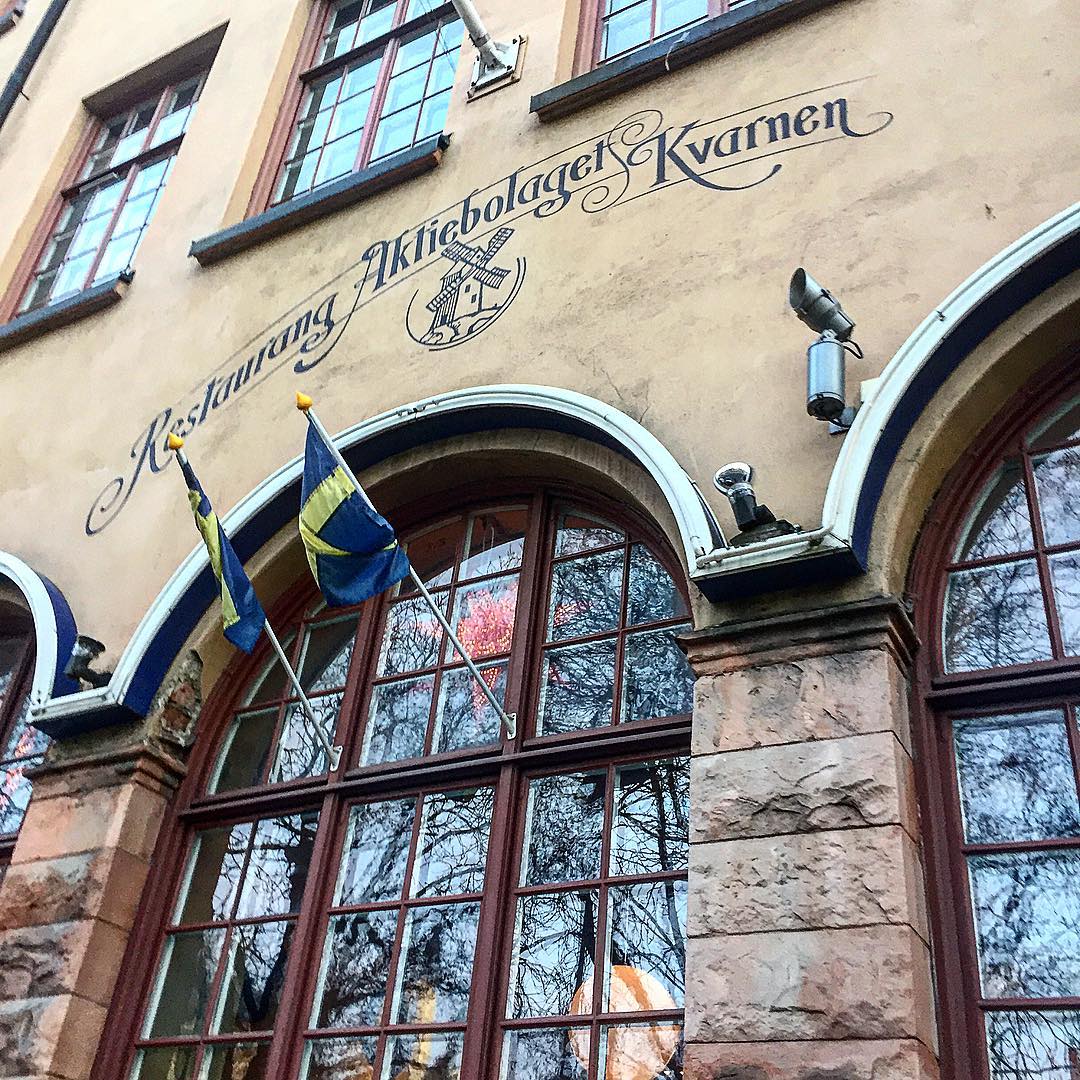 I have a few go-to people for recommendations and when it comes to classic comfort food and all hedonistic shades of junk food, I trust The Judge. A big guy with a big heart and an even bigger appetite, he's inherent superpower is that of finding little tucked away gems all over the world that serve all things good for your soul but not necessarily good for your cardiovascular system… Now, by little gems I mean places you would not necessarily stumble upon but deserve mention and fame. So, I was perhaps a little surprised to arrive at my destination at 12:30 on a Wednesday in December – to find a line of hungry patrons stretching out the door and into the streets. Huh, said I, snapped an obligatory pilgrimage selfie for Instagram and got in line.
World famous meatballs in a historic setting
By no means was I alone in having traveled far and wide: "I thought we'd have beaten the rush by arriving after 12.30," whispered someone behind me in Canadian accent while ahead of me, a group of Chinese tourists chattered amongst themselves while checking their smart phones and an equally stereotypic Valleygirl voice shoved a third "like" into into a sentence. I traveled 900 kilometers for meatballs only to be completely outdone by half the people in line.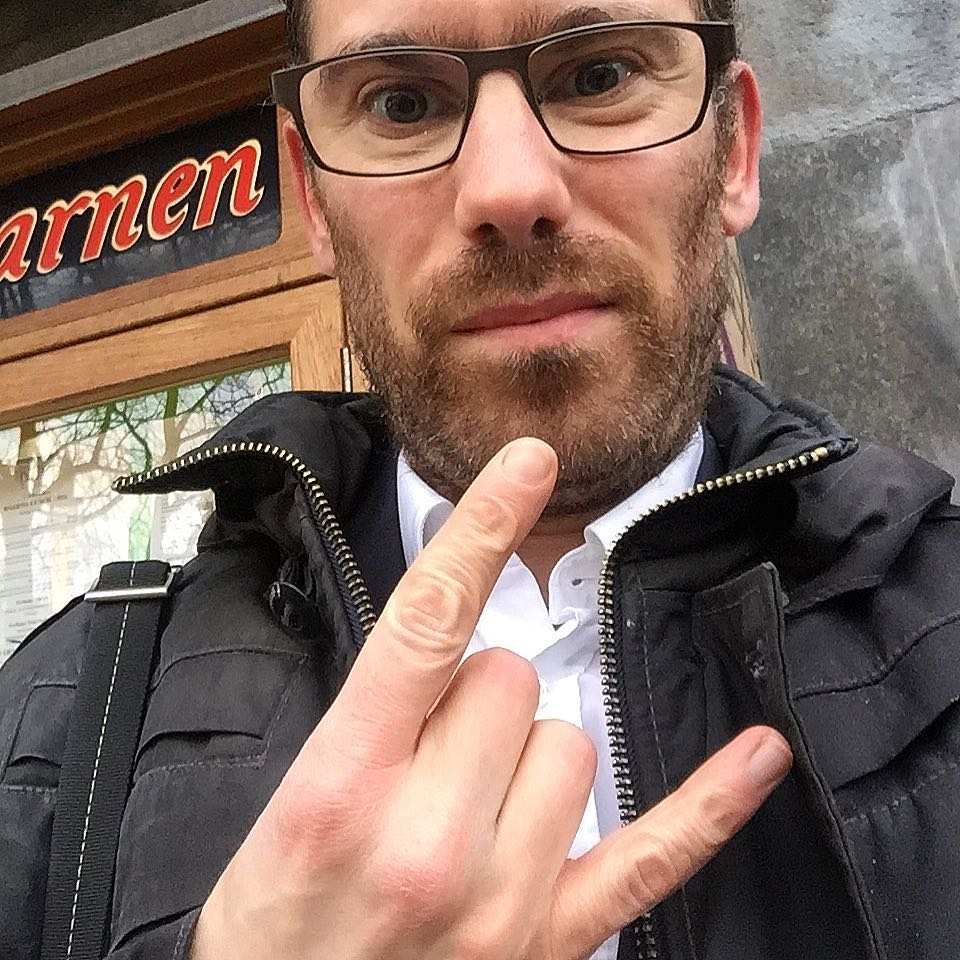 All good things come to those who wait… Even on a Wednesday afternoon, I found a line out the door at Kvarnen!
Meatballs evidently are big business. And good meatballs, it seems, are worth traveling for. Why is that? Well… We don't usually think about it and we Danes (nursing a love-hate relationship with the Swedes dating back several centuries) certainly don't want to talk about it, but Swedish meatballs are probably one of the most universally recognized dishes *in the world*. No, really, think about it. Name one person you know who has never heard of Swedish meatballs?
For those of us not growing up in 1960's and 70's cocktail party culture, a certain furniture giant may well have played a large part in the massive fame and popularity of this dish. But Saturday hell rides to unholy halls of cheap furniture aside, Swedish meatballs remain one of the most iconic comfort foods in this world: pan-fried balls made mainly from beef, onions, herbs and spices, served in a thick and equally flavorful cream sauce. They're an important part of Swedish culinary culture that go back way further than the industry giant that helped popularize them around the world.
The same can be said for the place I was lined up outside, by the way. Opened in 1908 as Grå Kvarn, Restaurang Kvarnen has inhabited the same space in Sweden's Södermalm municipality since its construction, serving as a restaurant, a public house and a social mission.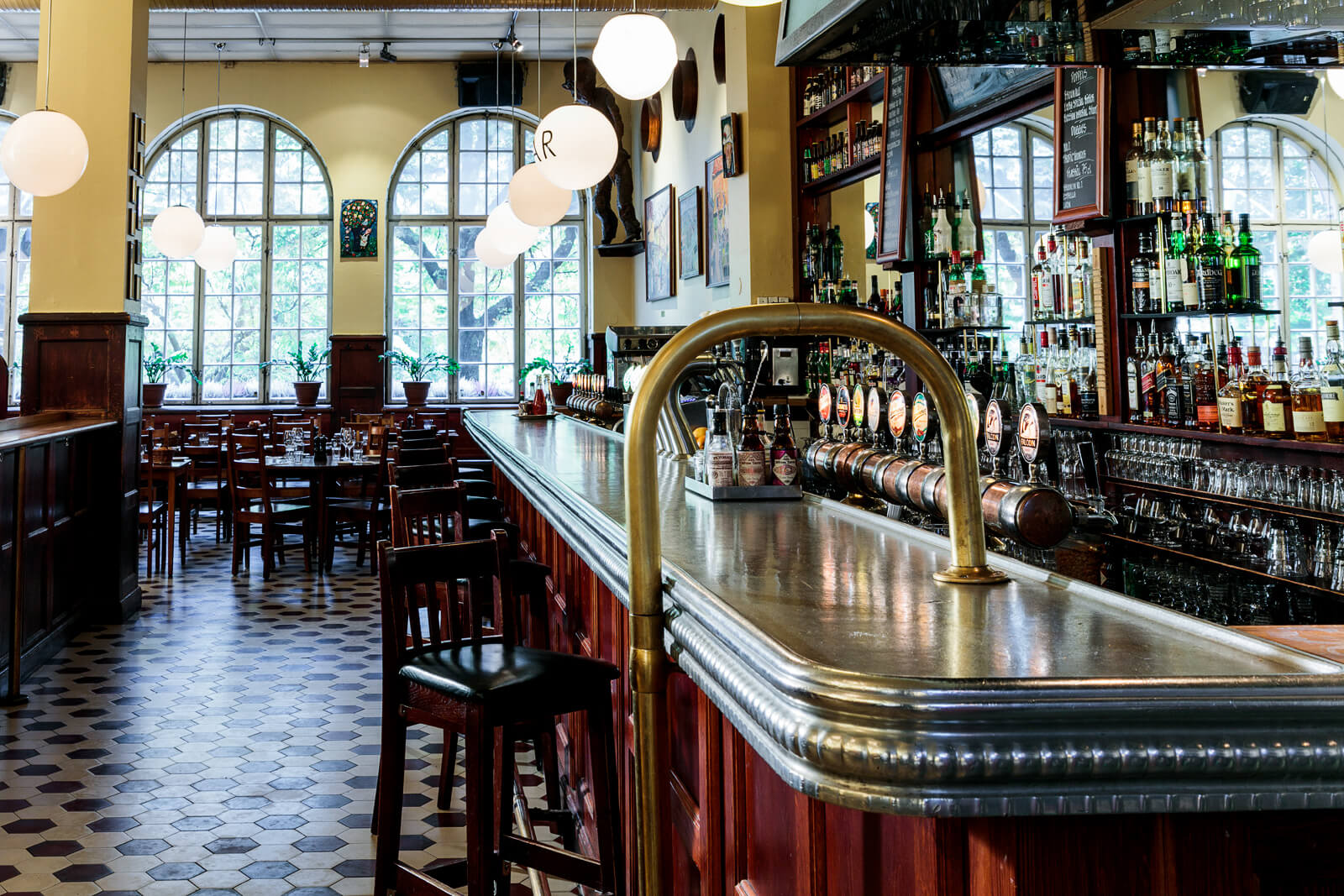 Bar and interior at Kvarnen… Before the lunch rush! Photo Credit: Kvarnen.com – used with permission
For over a century, Kvarnen followed the ups and downs of the neighborhood, including a slow descend into poverty in the 1920's, a boom in the post-war 1950's followed by a gracious fall into modest decay during the 70's and 80's. Eventually, in the late 1980's, after a near-closure and short albeit notoriously botched attempt of transforming the space into a fine dining establishment, Kvarnen resurfaced in its original working class friendly style and served as part restaurant and bar, part sound venue for some time –  only to rebuild and gentrify over time to become what it is today: a beautifully restored peak into Swedish culinary and public house history – and a very reasonably priced classic eatery with a modern vibe.
A hundred year old recipe for the perfect lunch
The meatball lunch at historic Kvarnen is SEK 165 and for such a relatively modest amount of your hard-earned money, you certainly get your fill. As so many other great dining experiences in life, it all begins with bread: two types of traditional Swedish knäcke (crispbread) are served along with sourdough and lightly sweet, spiced rye bread baked with malt flour, all of which is served with butter, of course, and copious amounts. All served fresh and dangerously addictive, but stay strong throughout the wait. Good things come to those who wait and believe me, you'll want to save a bit of appetite. Because, next, following a relatively unimposing side salad comes the piece de la resistance: the meatballs!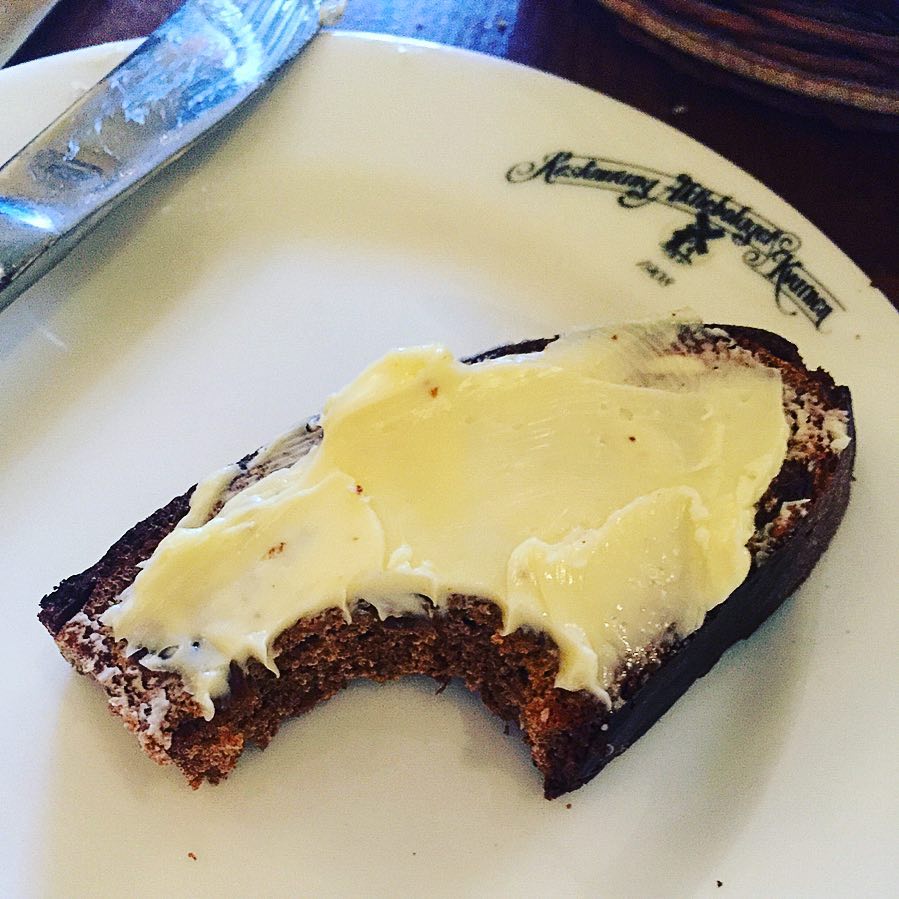 Bread, butter… The perfect start to any meal if you ask me!
Four of them, to be exact, large and plump. Much larger than the traditional size of about 2 cm across. Perfectly compact and dense yet in no way neither tough nor chewy, the arrive piping hot and perfectly textured. Like perfectly juicy, intensely flavorful and rustic nuggets of joy, they arrive swimming in the hearty, sticky and equally intensely flavored cream sauce that from the taste of things at one point served as a braising vessel for the meatballs prior to them being served.
Judging by taste and texture, substantial amounts of beef or veal compose the base of these legendary meatballs with a bit of pork for texture and additional flavor. As far as seasoning goes, both white pepper and the taste of allspice is present along with what may be a hint of juniper and/or bay leaf.
Kvarnen's recipe for meatballs, like the establishment itself, is reportedly more than a hundred years old and was passed down for generations. And there is no denying the difference that respect for history and tradition makes for this unique take on Sweden's national pride. About as far as they come from the approximation served at IKEA, Kvarnens meatballs are comforting, flavorful, authentic and full of bite and character. Despite being churned out at a nearly alarming paste, they taste, look and feel homemade – like the kind you would get at the lunch table of your local Swedish mamma. Probably because the recipe was at one point penned down by someone's Swedish mamma and hasn't been messed with since.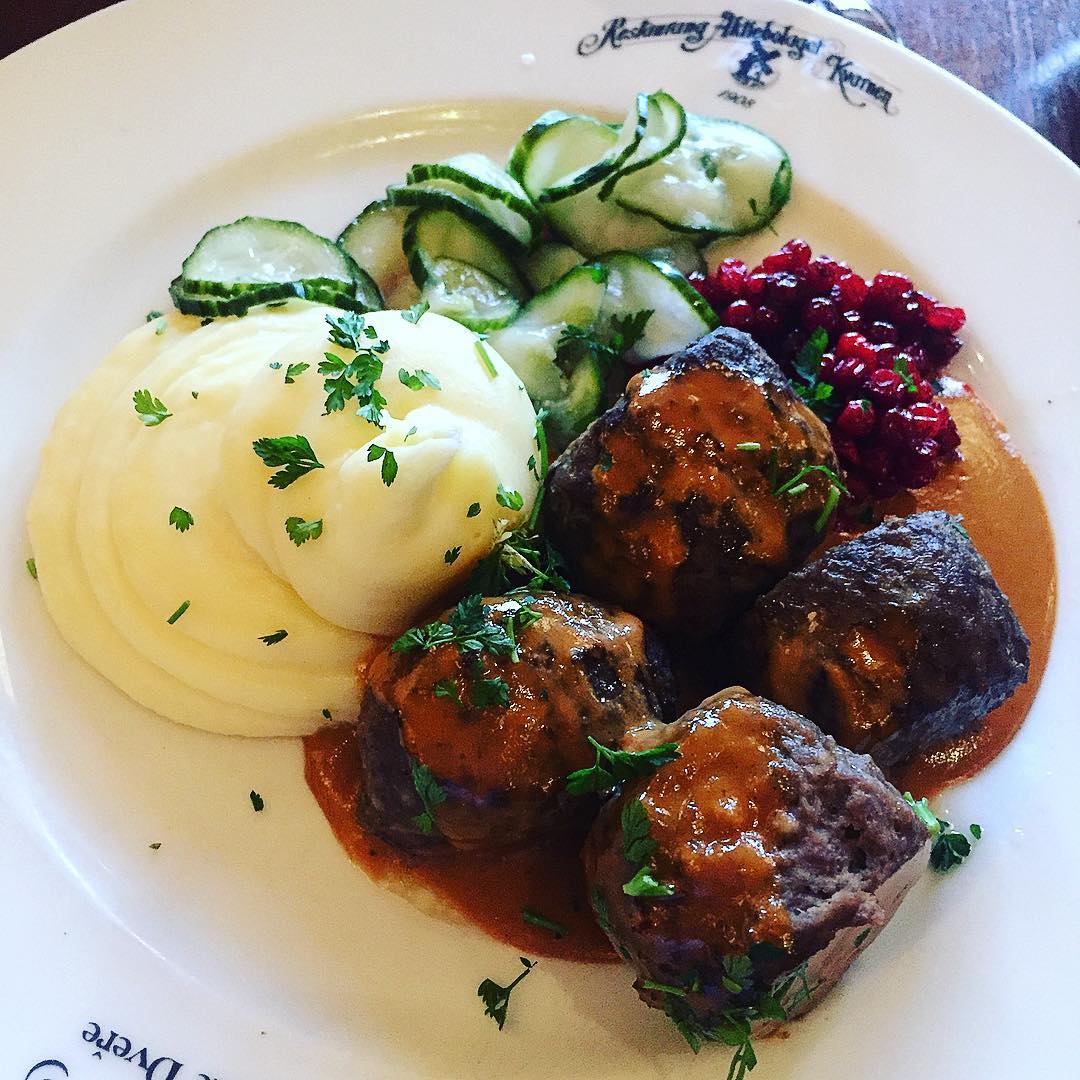 Stockholm's best meatballs? Be still my heart!
Comfort food at its finest… and sitting in these century-old halls to the tune of 2017 lunch service, you can't help but marvel at the thought that a hundred years ago or more, another Johan may have sat in the exact same spot enjoying much the same dish with all the exact same trimmings.
Speaking of trimmings… Served on the side of this quintessential Swedish dish, comes the trifecta of Swedish sides: a pile of perfectly creamy, buttery yet slightly under-salted mash, a healthy dose of pickled cucumber slices and a slathering of the sweet and tart national condiment of Sweden: cured lingonberries. Mixed together, this beautiful mess of meat, starch and cream cut by the beautiful tart and tangy edge of the pickled goods provide a hearty, wonderful and surprisingly filling meal that should satisfy most weary travelers.
Not full? Dessert is included!
Fear not, though, if a full plate of meatballs and a breadbasket doesn't do you in, lunch also includes coffee or tea as well as sweets – in my case a selection of cakes – freely available in an unpretentious help yourself manner from the bar… Oh, and a beverage of your choice, of course!
We'll leave that to sink in for a while: a bread basket, a main course, a side salad, a drink, coffee or tea and dessert for SEK 165 (EUR 16.5)! This, by any reasonable Scandinavian capital standard is a bargain! If that's still not cheap enough for you, the daily lunch special is a meager SEK 115 (EUR 11.5).
How is that even possible? Well, things move fast here and the lunch shifts are hectic to say the least. A very reasonable wait and a fair bit of hustle and bustle is to be expected. Also bear in mind that service can be extremely fast-paced, bordering on stressed, during lunch rush but remains friendly and absolutely attentive, throughout.
The proper amount of pleasantries and attention but not a whole lot more was given during my stay – as should be the case in a busy lunch spot. The name of the game at Kvarnen is fast turnaround, it seems, and while lunch crowds may seem massive – even on a Wednesday – you won't have to fear long waits: not to be seated, to have your order taken, nor for your food to arrive or even to pay up and leave. Basically, the faster you're out the door, the more money they make. The larger the profit, the cheaper the food. It's a perfect win-win situation!
Even with the wait, lunch at Kvarnen can be done in an hour or less which is the absolutely perfect amount of time for a business visit such as mine. If you're not on a business trip or in no particular hurry, however, why not stay around and check out the Czech-inspired beer hall in the back? The Judge says it's the best and when The Judge speaks, you should listen!