Home » Blog » Restaurant Reviews » Review: Michelin-starred Restaurant Substans Revisited (Better Than Noma?)
"That blue dress you helped me pick for my mother in law's birthday? Too fancy?" The frenzied text came from friend and trusted proof reader Tina a half hour before departure.
She was rightfully nervous. The evening was to be her first star. Her first Michelin star, that is, and she had not had much time to prepare. The very night before, completely out of the blue, I had been offered two seats at a unique pop-up dining adventure – and as a small token of appreciation for her friendship, support and hard work, I wanted Tina to be my plus one.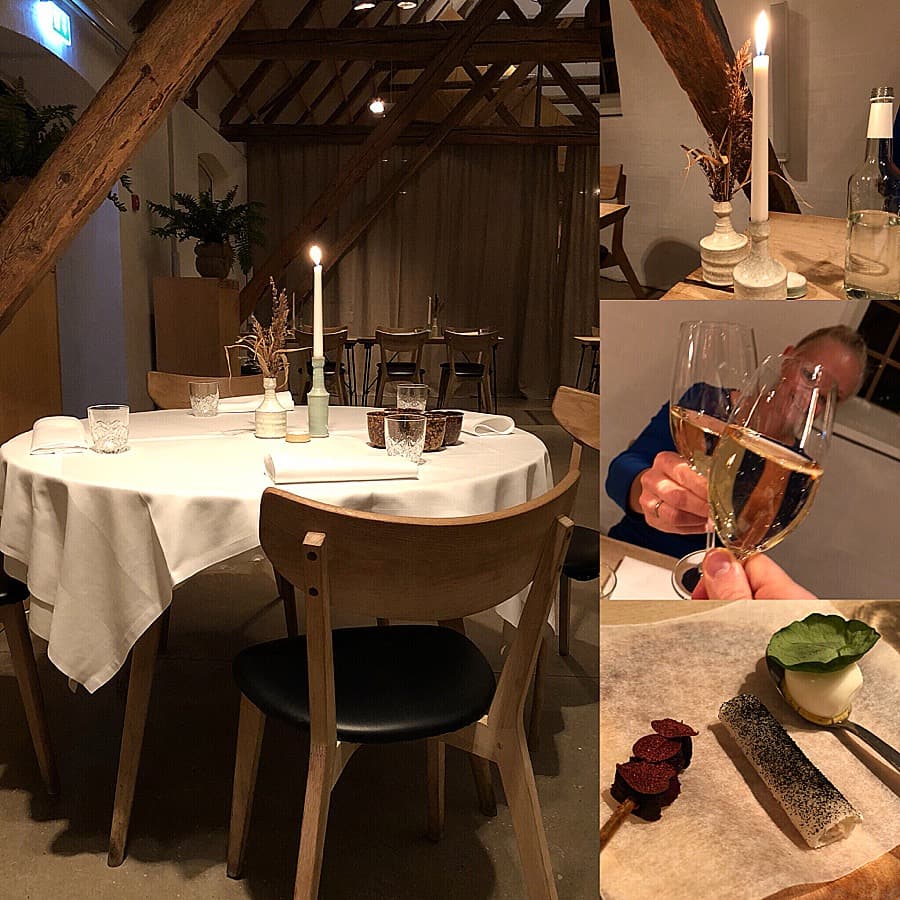 Snacks, champagne and a table with a view. How do you prepare for your first Michelin experience?
For one month only, Aarhus-based Michelin-starred Restaurant Substans (original review) had set up shop in at historic Restaurant Vestermølle in some of Denmark's most idyllic surroundings on the banks of Lake Skanderborg (where I've previously enjoyed other memorable pop-up adventures). The kitchen and dining room of their restaurant located at Frederiksgade in central Aarhus was undergoing much-needed renovations and modernizations and rather than just staying closed, owners Rene and Louise Mammen decided they might as well make an adventure of it. They grabbed their staff, gear, décor and just about everything else not bolted to the floor and moved the entire operations to their beautiful home town of Skanderborg.
A special 12 course tasting menu was created for the occasion and offered at a more than reasonable cover price of DKK 1200 (EUR 160) in a sort of replica of the original restaurant housed within a beautifully restored hundred-year old barn rented for the occasion.
It was this whole experience that my somewhat flustered partner in crime Tina, now wearing her beautiful blue dress, and I jumped in her car on an otherwise cold, damp and not very exciting Wednesday evening in the beginning of January to experience.
Chatting and laughing along the way as we usually do, I noticed as we pulled into the beautiful fire-lit courtyard of Vestermølle in Skanderborg about an hour later, that she was still visibly worried: Could this be true? Could this be happening? Was her dress pretty enough? Was it too pretty?
As we walked from the car to the fire-lit main entrance it slowly but steadily dawned on her. This all was indeed happening and she had dressed perfectly for the occasion. Substans, you see, whether playing home field advantage in downtown Aarhus or hosting a pop-up in unfamiliar surroundings is a lot like my date for the evening: classy yet casual, on-edge yet cool, chic yet laid back.
Substans in a nutshell: Classy, modern, cool!
As soon as one entered into their temporary home, one noticed immediately an almost perfect copy of Substans iconic classic cool, Nordic interior, immaculately watched over by well-kempt co-owner, Rene Mammen, his sleeves rolled up baring his signature full-sleeve tattoos and Nick, Substans' long-bearded sommelier sporting an equally casual style in a pair of Hilfiger shorts and a tattered shirt behind his leather apron… Classy, casual, cool!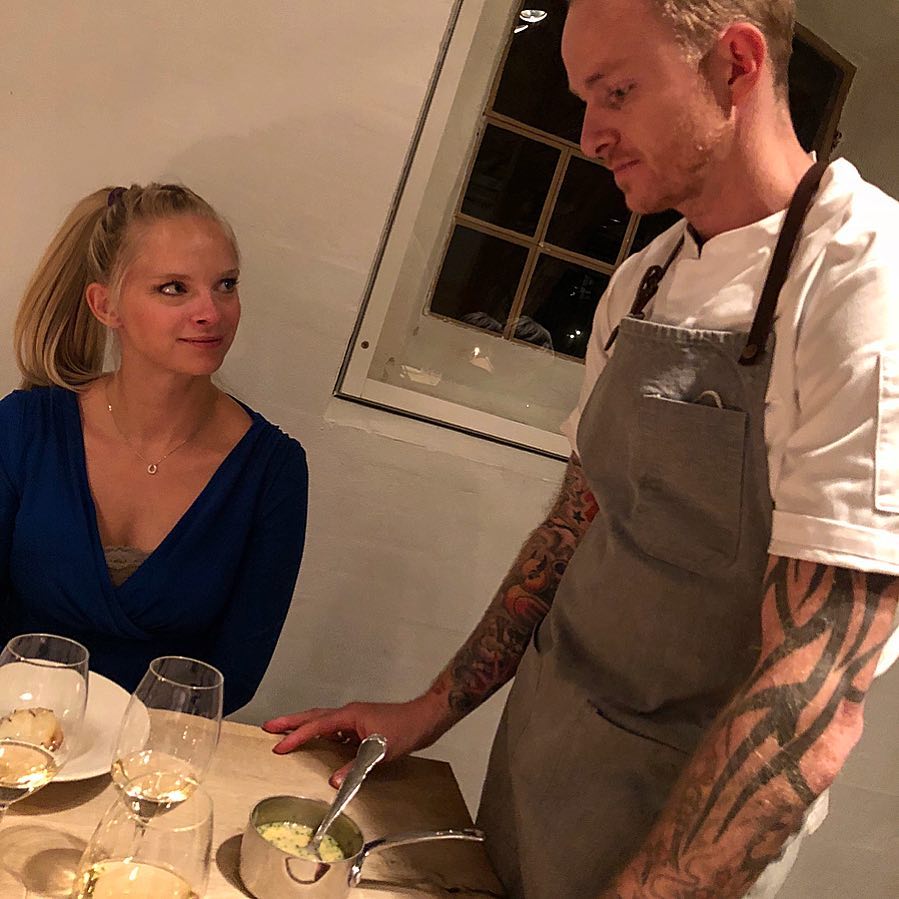 Cool, classy and down to earth – this is Substans! Tina chatting with co-owner Rene Mammen during dinner.
As we were gentlemanly stripped of our coats and led to our table in the middle of the makeshift dining room, we watched an incredibly focused and chronically concentrated Nicolas Min Jørgensen – head chef at Substans and leader of the Danish national culinary team –finishing up his prep-work in the open kitchen while beautifully designee speakers filled the room with the sound of Danish, post-punk, gothic rock sensation Sort Sol… Chick, on-edge, laid back.
This mental image is the complicated creature that is Substans: Heartwarming, stylish, luxurious, edgy and playfully informal but never over the top or fancy for the sake of fancy – nor too laid back and sloppy.
The same could be said about the food: It's simple albeit beautiful in appearance yet surprisingly complex in the thought processes and steps in preparation leading up to what you see on your plate. Ingredients are nearly 100 % organic, local and seasonal, and great care is taken to use every single scrap of every ingredient throughout a meal that is often based around a common theme or connecting element. In this case, possibly as a contrast to the blackness of the night and wind-swept beauty of the wintery landscape outside, the bonding element was fire and whatever ingredients not consumed by the fire were used to their fullest:
From a vegetable consommé made from scraps from every vegetable used in the tasting menu, served as a pick me up from the cold outside upon arrival, to a nutty Jerusalem artichoke caramel with merengue and coffee grounds from the coffee to follow that ended the sensory onslaught; every dish was subtly beautiful yet hiding an overwhelming complexity of thought, preparation and taste, and played an integral part in a wholesome and deliberately New Nordic meal with a touch of rock 'n' roll.
Precise and flavorful snacks and starters
Having checked out the restaurant and acclimatized ourselves on the deeply flavorful vegetable consommé seasoned with pearls of pork fat, we kicked things off properly with a glass of tart, acidic yet beautifully fruity Champagne made from a mix of Pinot Meunier and Pinot Noir to accompany a couple of snacks to get us started:
A marinated and beautifully poached quail egg served on a bed of mustard, goat's cheese rolled in kohlrabi dusted with burnt hay and a gorgeous work of art made from dehydrated beets and blackcurrants. A very New Nordic display with very clean, very fresh flavors escalating slowly in intensity from right to left.
And then things escalated quickly… Into our glasses flowed a benchmark German Riesling from Battenfeld-Spanier: fresh and dry with razor sharp acidity and an underplayed floral fruitiness. "A real palate cleanser without too much opulence or too many distracting elements" as our host for the evening, Rene, put it.
To match this beauty of a wine came an all-out sensory onslaught of a seafood dish, surprisingly deep in flavor, yet incredibly balanced: a malt-crust savory mini pie stuffed with a mix of perfectly prepared mussels, fermented potatoes and leeks topped up with full-fat cream cheese and a sprinkling of Salicornia, both dehydrated as a powder and fresh.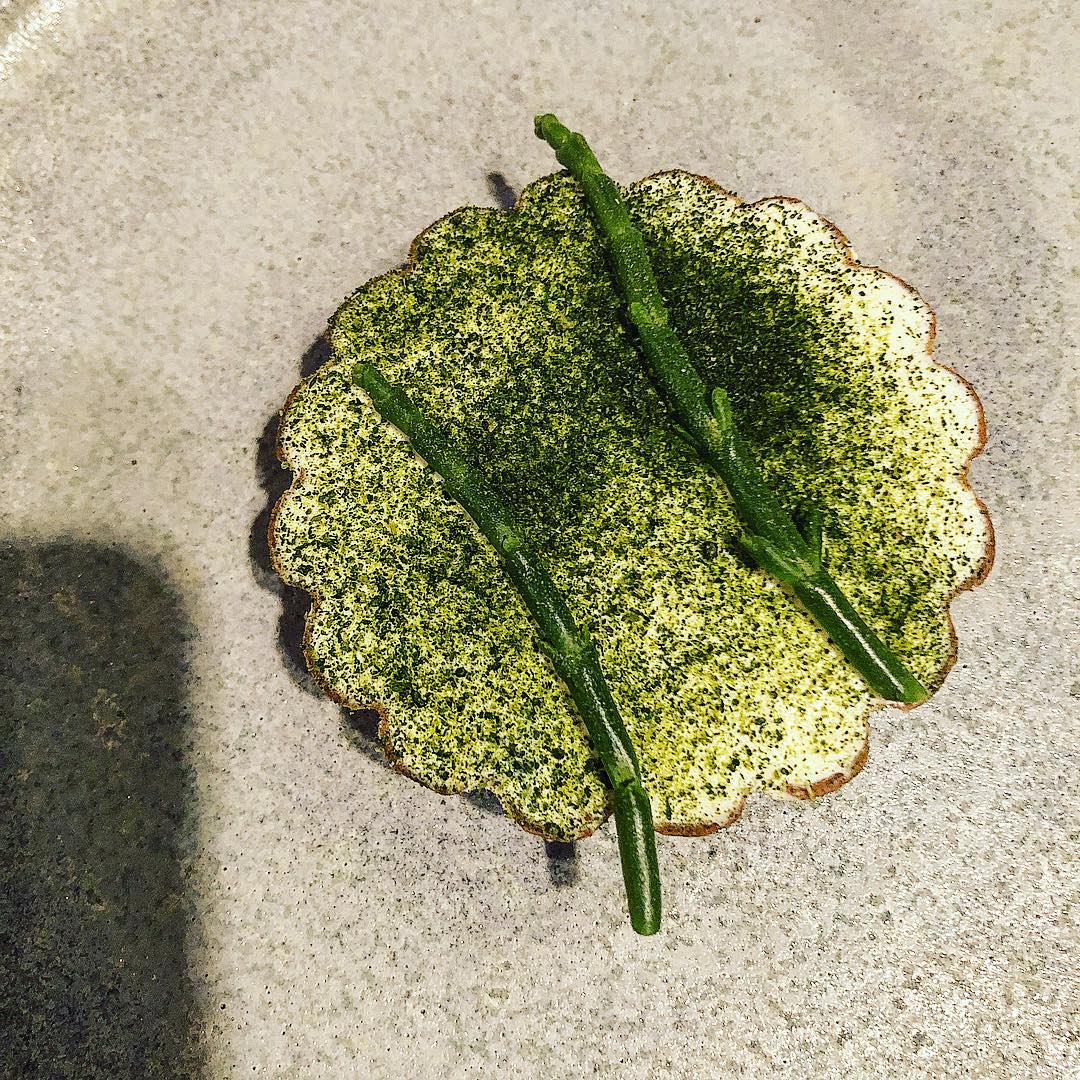 Cooked to flawless, tender perfection and bursting with umami, the mussel and vegetable filling took on a texture and intensity in flavor and seasoning not quite unlike Scottish haggis, but with more inherent sweetness, complexity and a beautiful ocean-like aftertaste, while the crunchy crust offered a welcome textural change topped with the unusual creamy lightness and zing from the herbal cream cheese topping. Wow!
An intensely flavorful start to a meal that was only to become more complex, flavorful and complex as we traversed further into the menu.
Underplayed perfection
What followed was a study in underplayed perfection. A young waiter paraded an entire head of celeriac around the dining room for display, hay baked and beautifully decorated with flowering herbs. He then carried it to a carving station in the middle of the room and meticulously sliced it into single serving pieces. These were then plated on top of a bright green purée made from lovage and the celeriac tops, then dressed tableside with what Rene Mammen casually and in his own laid-back style introduced as "a simple sauce made from reduced buttermilk whey, browned butter, trout roe and white sturgeon Caviar."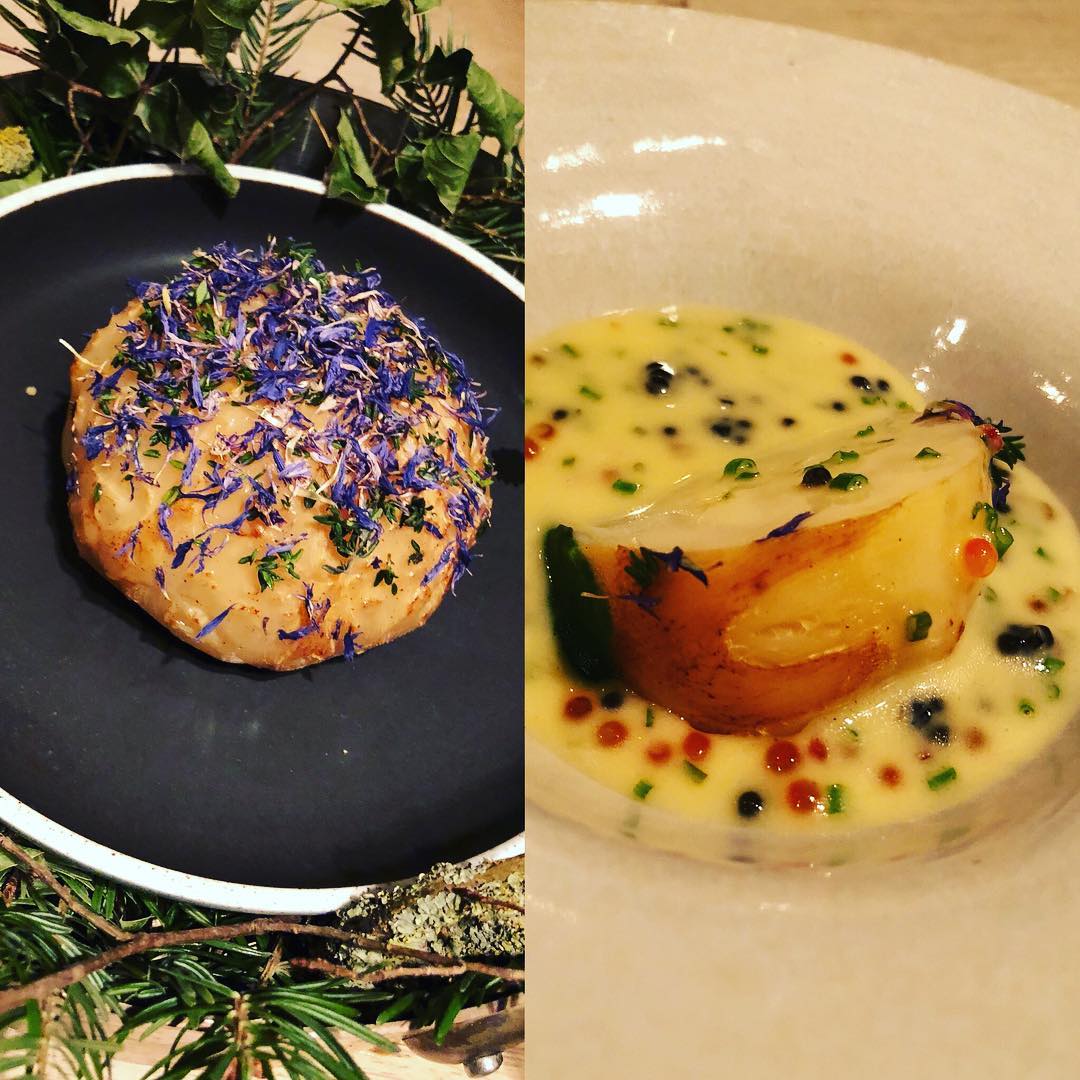 Yes, Caviar. What courage of the kitchen to serve the world's perhaps most luxurious ingredient as a mere accent to something as humble as celeriac – and what an absolute joy to eat, it was! Celeriac, butter and salt play well together and the slightly buttery yet crisp, fresh and briny saltiness of the Caviar really added an extra layer of flavor and an aura of absolute decadence to the dish. Any chef can put Caviar center stage and make it shine, but to take a humble root vegetable, work it for hours and make it outshine the far more hedonistic and naturally flavorful elements in the dish. That, my friends, takes a certain amount of cheekiness, skill and thought!
As did the next dish in line. A perfectly cooked monkfish tail, prepared in a salt crust, to retain moisture and flavor then lightly kissed by pine smoke, was presented to us on lightly scorched and very aromatic pine branches before carving and final plating once again took place tableside.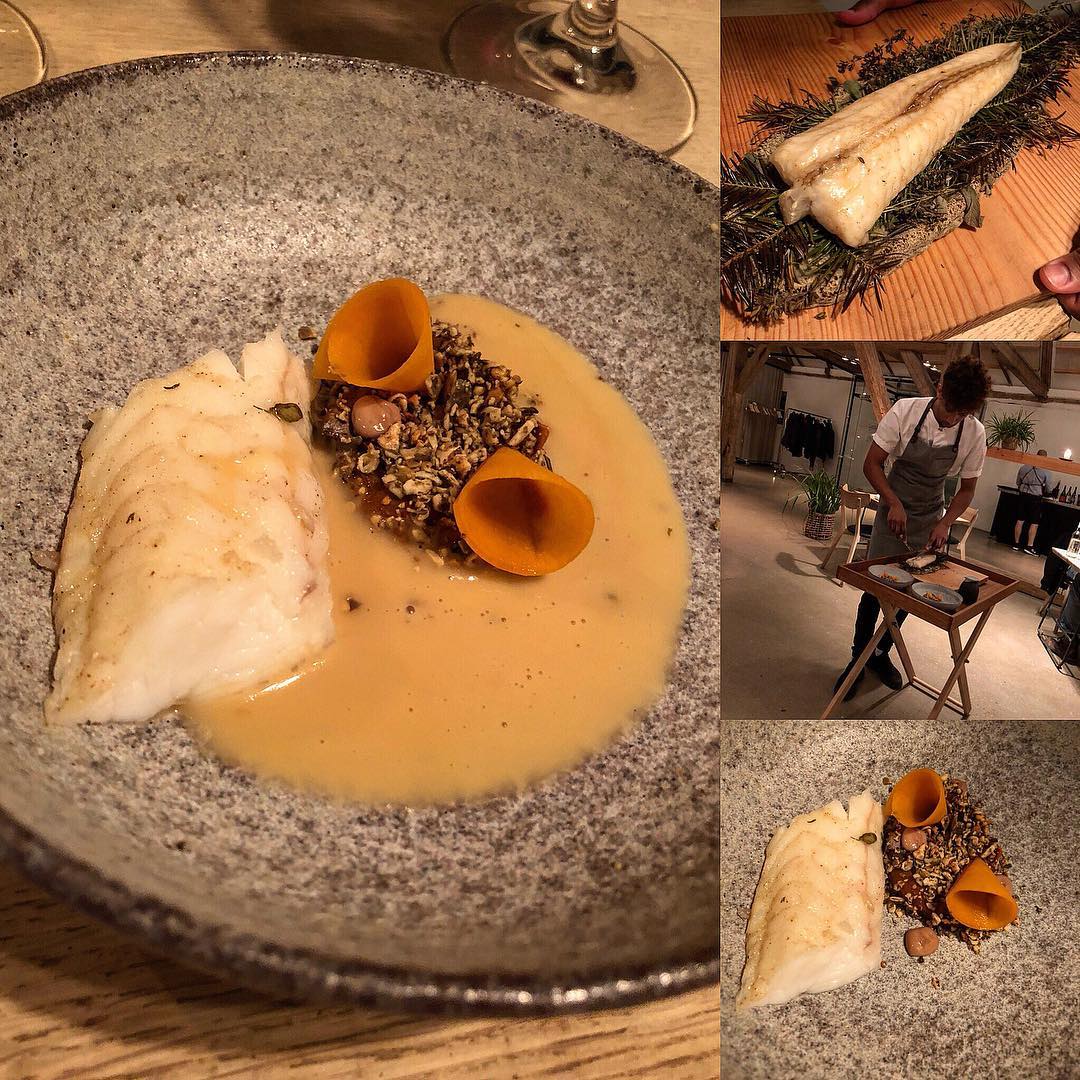 A beautiful flavor bomb of its own, the fish was to be completely dwarfed by its sides – a variation of pumpkin textures (purée, crumble, pickle, mayo) and an intensely flavorful sauce made from pumpkin, reduced chicken stock and one of our favorite cheeses in this world, the nutty Parmesan-like Havgus from Danish cheese wizards Arla Unika.
Perhaps a little too intensely flavorful, my co-diner pointed out, and I'm inclined to agree as it may have taken a little away from the delicate flavors of the beautifully prepared fish. On the other hand, I simply love the rich, intense combination of monkfish, stock and caramelized milk protein – and the figurative middle finger salute handed through this dish by the kitchen to those who argue that New Nordic cuisine is inherently under-played, under-seasoned and under-salted.
As a wine pairing, we were served one of the rare reds of the evening – a Vin de France, the lowest possible classification of wine in France, that was actually a Beaujolais Noveau that the steely-willed female wine maker had decided to declassify after what she believed to be a little too much dispute with the body behind the classification system. Formalities aside, the wine was a classic Beaujolais with layers of fresh fruit packed with fresh acidity topped with a certain funk owing to the natural, no-sulphur approach employed by the wine maker.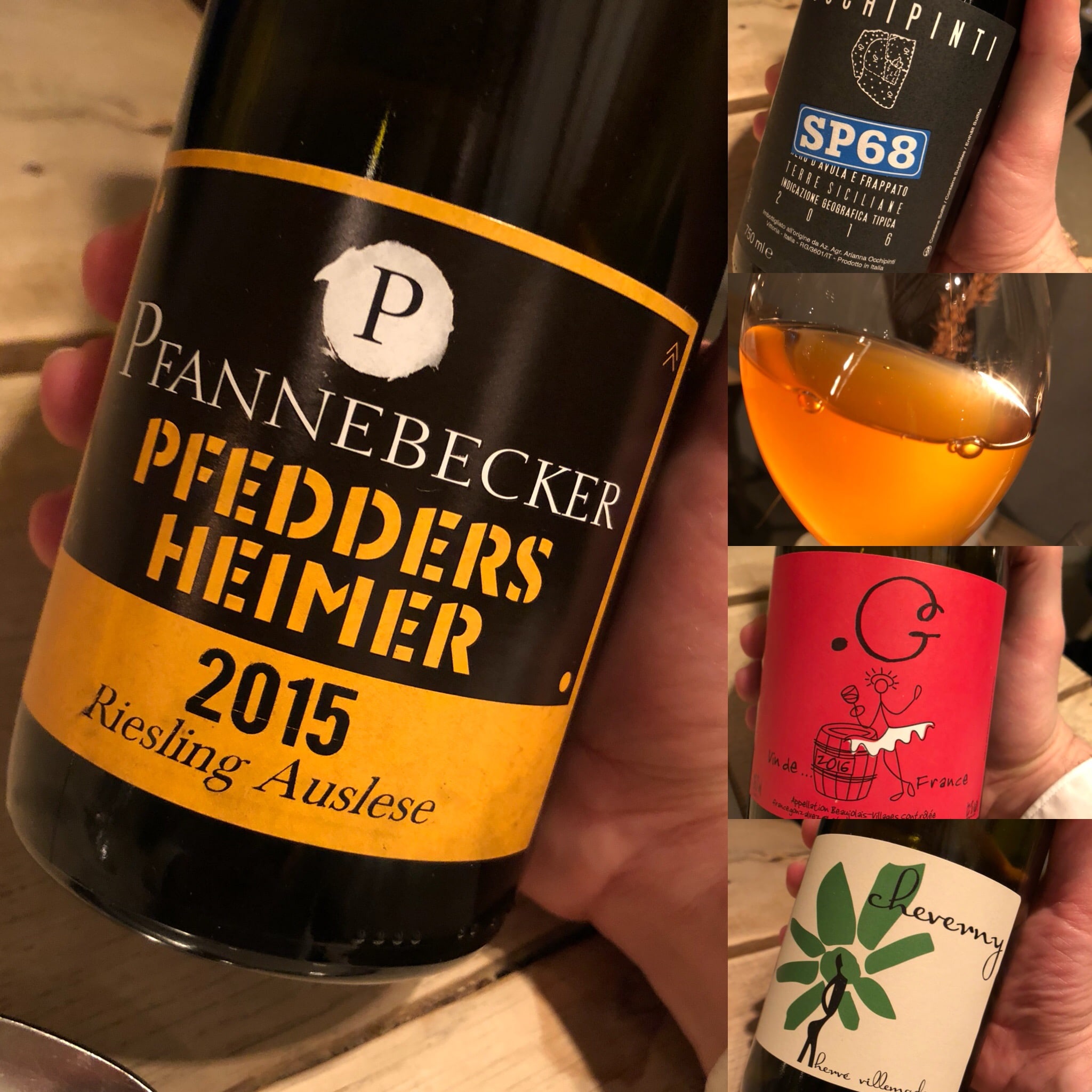 From Slovak orange wine to classic German Riesling – these are some of the wines of Restaurant Substans
Despite being one of the only reds in a lineup of seven, the wine was typical of the Substans approach to wine pairings. Expect pairings here to be entirely organic and biodynamic with some even diving into the realm of lightly funky, natural wine without ever going overboard or becoming completely volatile as is sometimes the case. Obviously, Nick the bearded sommelier has gone to great lengths handpicking unique and tantalizing wines from inspiring and unconventional winemakers to create what I would consider universally pleasing pairings with a story to tell.
Over the course of the evening, we enjoyed wines that were at one time pleasing text book examples of their styles and terroir while still showing individual character and funk, we will however be sticking mainly to the food for the purpose of this review.
Bread is life: A tale of Michelin-starred bread!
Reeling slightly from a seafood sucker punch, it was time to wind down a bit. In the way that only Danes can. By way of carbs! I've said it before and I'll gladly say it again. If you want a quick, reliable restaurant benchmark, look to their bread: less than stellar restaurants serve less than stellar bread, great restaurants bake great bread and Michelin-starred restaurants bake truly memorable bread from the stuff of which dreams are made.
Bread of epic beauty that makes it worthy of a serving of its own on the menu. My co-diner, having read my previous reviews, knows this all too well and lit up brightly as Nicolas introduced to us to the next dish on the menu, his idea of campfire toast: A unique sourdough baked for the occasion, lightly scorched on the fire outside, creating complex, yeasty, slightly sweet, perfectly bitter and smoky aromas and flavors, evoking fond memories of long summer evenings, campfires and the near-ritualistic baking of bread over the dying embers.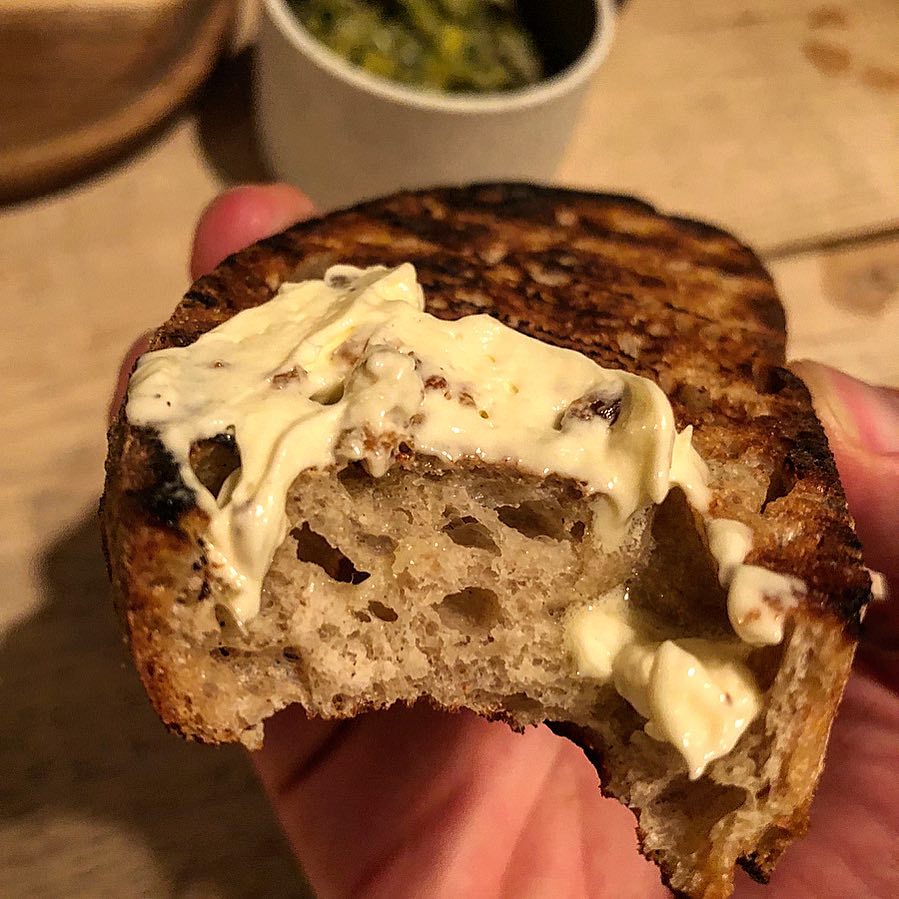 Served with a side of softened butter whipped with chicken fat, a tangy-sweet leek vinaigrette and two wet wipes for cleaning up the mess, it was a humble serving, indeed, but quite possibly as close to perfection as bread will ever be.
Smiling and sighing happily, we wiped our fingers and greedy, little mouths, leaned back for a few seconds and sipped our wines before partaking in a second round of Michelin-starred carb loading:
Next on the menu, came a bit of a vegetarian surprise: a variation of seasonal and preserved vegetables in the shape of a buttery mash of fermented potatoes topped with pickled asparagus and mushrooms, various sprouts, lightly burned kale and panko breadcrumbs for texture. A rich, sweet, tangy, and lightly bitter flavor sensation featuring fascinating slightly funky, lightly sour and acidic takes on otherwise familiar ingredients.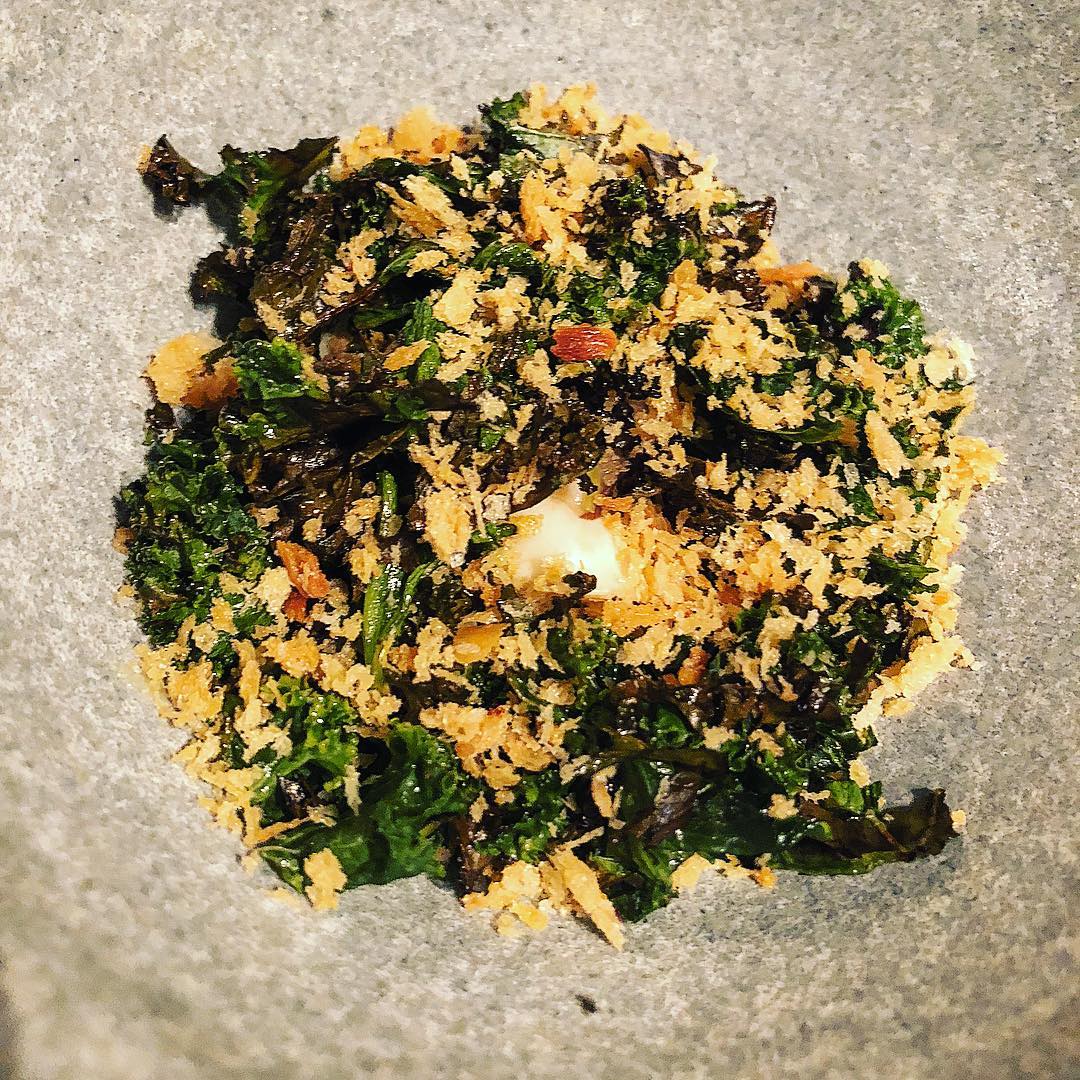 I say surprise for the simple reason that only a few years back, vegetarian servings would seem highly unlikely on a tasting menu – let alone this late in the game, heading into the heavier main dishes. For better and for worse, however, the New Nordic wave has rattled things up a bit and after Noma served grilled plants for a main course, apparently anything goes.
Technicalities and history aside, with its interesting textures, richness in umami, and even meaty and grilled notes from the mushrooms and charred kale, this vegetarian sideshow seemed a perfect fit at this part of the meal. Granted, in a very strong line-up, it may be considered the weakest dish of the evening for my personal taste, but I applaud the kitchen for shaking things up a bit. I also applaud them for coming back strong with one of the prettiest main courses I've seen in a while.
Pungent mains: Heavenly Fusion BBQ
"This looks familiar, this I think I've seen before" I said as the waiter brought our main courses. "Well, you haven't seen this version before, but it's certainly something we like to play around with in new ways," the waiter replied.
On our plates lay slices of perfectly grilled pork – in this case melt-in-your-mouth pork belly covered in a salted plum glace – topped with a mix of dehydrated and rehydrated carrots. It was slathered tableside – in graceful and beautiful ways that only a Michelin-level waiter can – with a Nordic spin on a classic tangy-sweet BBQ sauce made from reduced carrot juice, buttermilk whey and vinegar.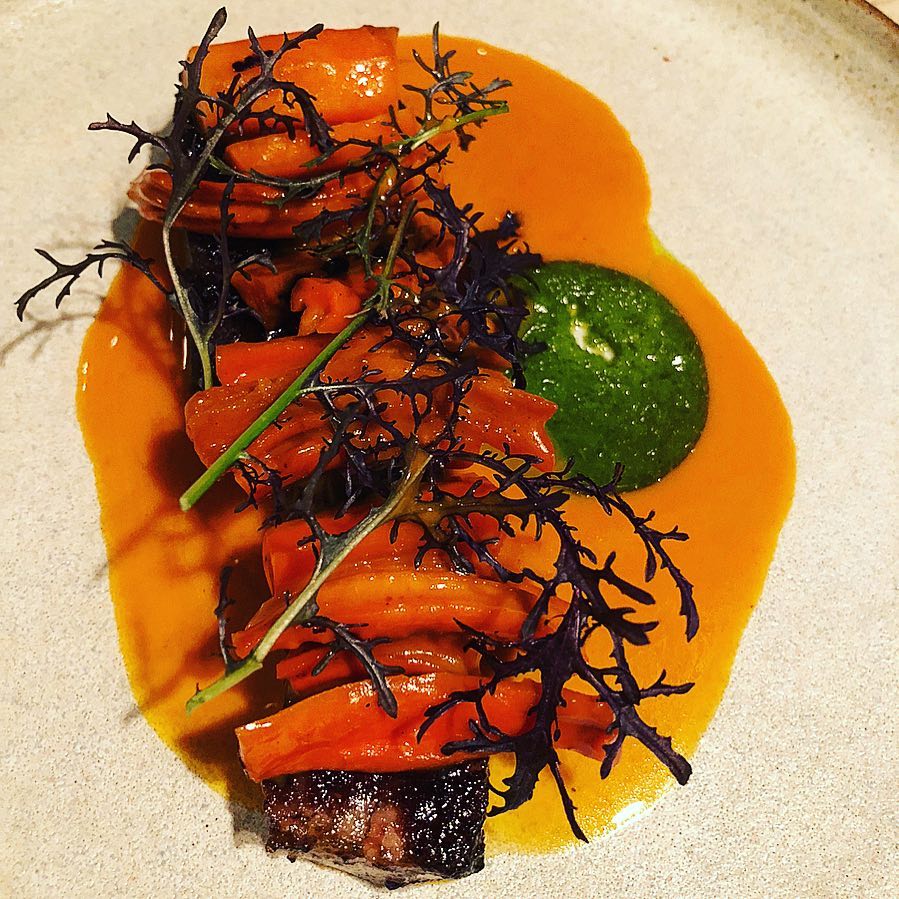 Crispy, fried pork belly is a Danish staple and in this dish, Nicolas used his beloved Big Green Egg grill to combine Danish tradition with a bit of Asian plum-glaze funk and a decidedly American BBQ touch. The result was a schizophrenic concoction of epic beauty: very new world in taste and aromas yet decidedly old-fashioned Nordic in ingredients and appearance. Spending not a second longer than our manners and respect for the work of art in front of us dictated, our fusion BBQ main course went down in hungry bites of sheer hedonistic pleasure with the charred crust giving way to a buttery interior and the silky yet tangy and sweet BBQ sauce providing the perfect counterweight to the fatty flavor explosion that was the meat.
In a field of really great dishes, the main course succeeded in proving an absolute highlight from the kitchen which in a constant game of "keep them guessing" had one more trick up its culinary sleeve before abandoning the savory section of the menu.
"A light savory snack before moving on to desserts," said the waiter, placing what looked like a bowl of twigs in front of us. Within the bowl, however, was placed two crunchy, savory crisps covered in flaxseeds and glazed to look like pine cones.
A small bowl nestled within the twigs held a serving of creamy room-temperature Ask, a a smoked brie-type cheese from Arla Unika and… "What's that sprinkle-stuff on the top," quoth my co-diner adorably and a little confused. "That's freshly shaved truffle, sweetie, more than you've ever seen," I replied and watched as she once again lit up in pleasure and anticipation.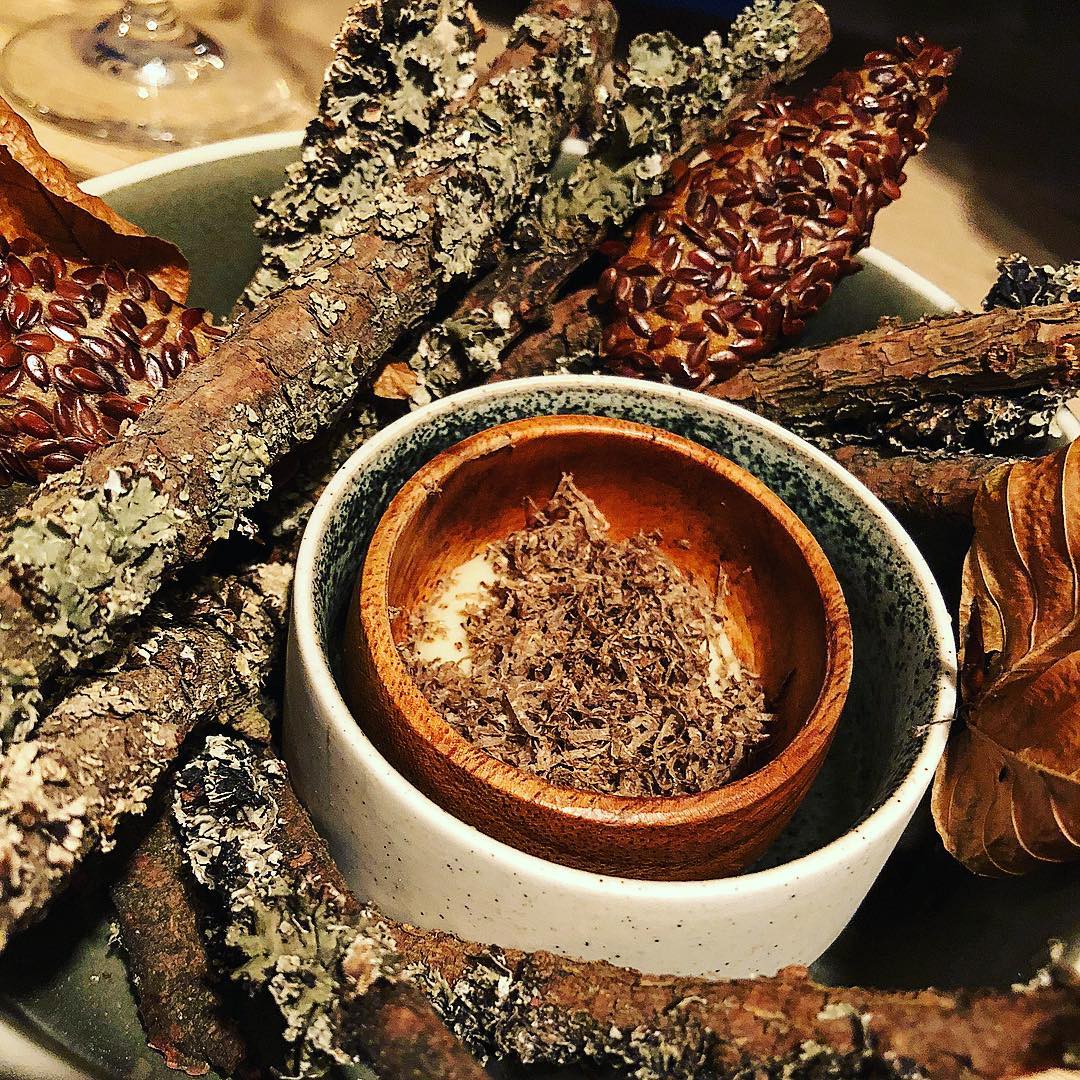 Once again, completely without warning, the kitchen had casually dropped one of the world's most luxurious ingredients in front of us in a simple, surprising and breathtaking presentation. Rich creamy cheese and pungently earthy truffle is a match made in heaven and even with another thousand words at my disposal, I could not scratch the surface of describing our efforts of trying not to seem too greedy while scooping a 50/50 mix of cheese and truffle into our mouths… Michelin-level double-dipping, it's a thing!
Curious yet tasty New Nordic desserts
Listen, can we talk about desserts for a while? I have a troubled relationship with New Nordic desserts to say the least. The underlying premise of pulling savory ingredients into the sweet department and relying largely on the natural sweetness of the ingredients used, is perfectly fine in theory. It should appeal well to people like me who do not possess much of a sweet tooth, actually.
The problem with New Nordic desserts, however, is that they require an unusual amount of talent and creativity on the part of the chef as to not appear too gimmicky, too unbalanced or a little too creative. In my adventures so far, I've seen hits and misses and few combinations have stood out as particularly memorable. Given such a track record, it seems almost unreal that the two desserts of the evening will serve as a future benchmark in my culinary ventures.
First, a lightly sweetened purée of fall apples, seasoned with aromatic spruce shoots and lemon thyme, topped with a perfectly textured crème fraiche ice cream and sprinkled with crystalized white chocolate and shaved merengue provided a perfect balance between a light floral sweetness carried beautifully on an underlying tartness from the apples and distinctly sour dairy note from the ice cream.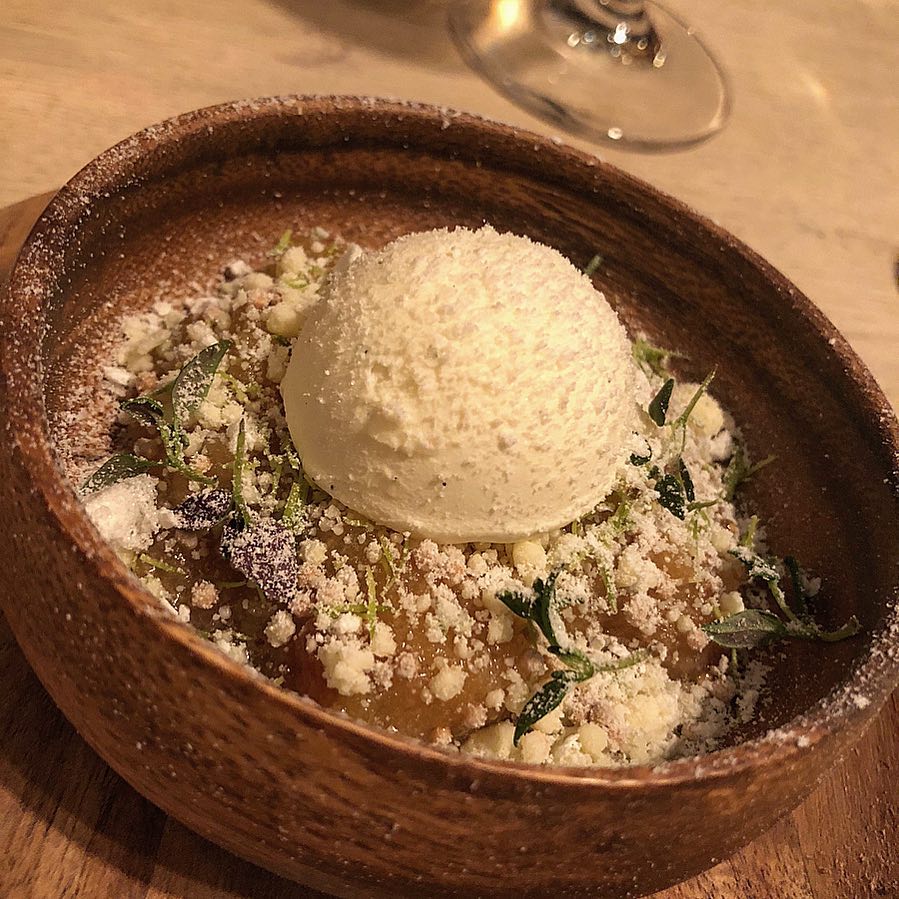 Secondly, a Jerusalem artichoke caramel, studded chunks of Jerusalem artichoke for a nutty kick, then topped with soft merengue, coffee ground for a bitter almost chocolaty note and a perfect quenelle of deliciously tart sea buckthorn sorbet to break the sweetness and push the dish to new heights.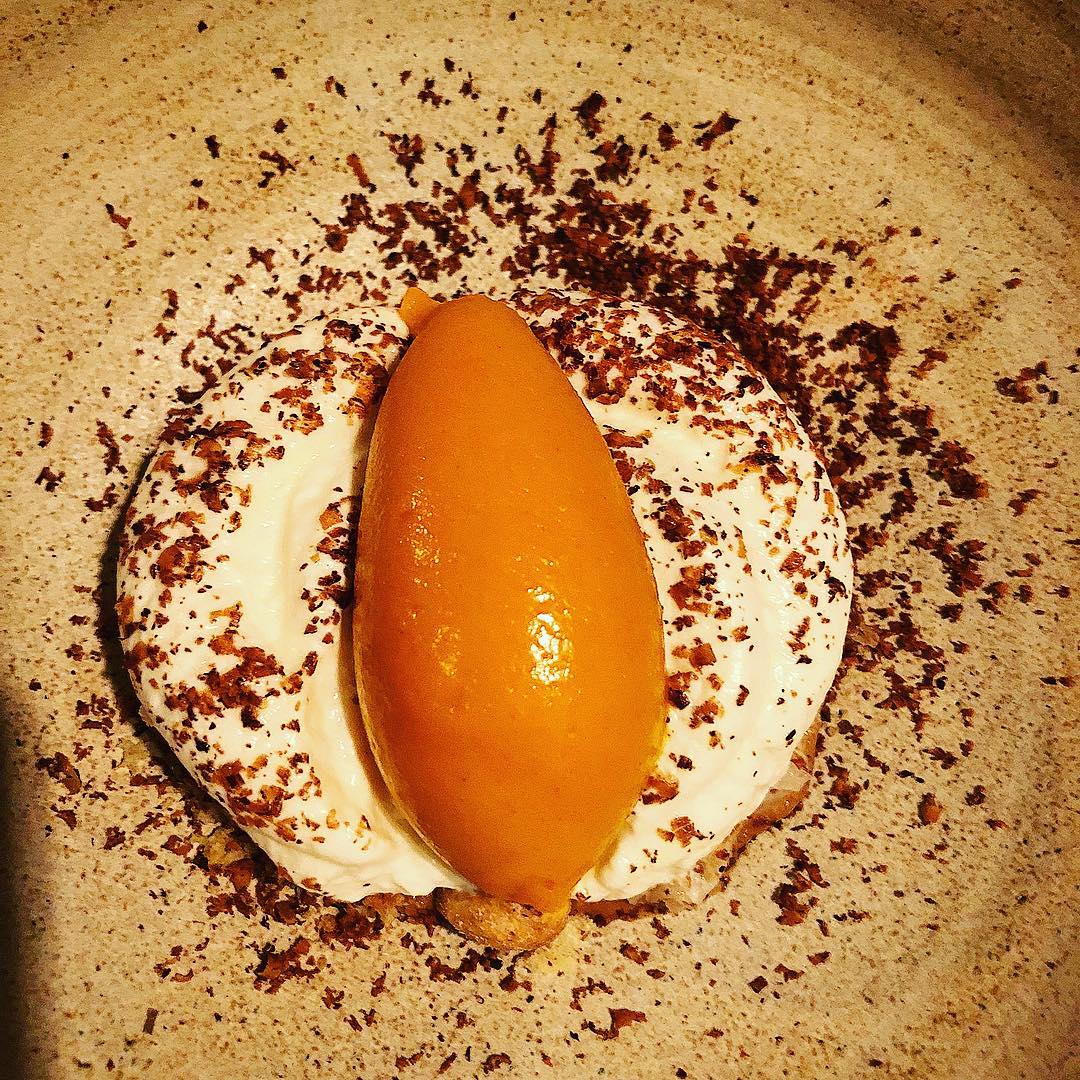 Coming down from a large and overwhelming meal, these two desserts proved a welcome end to a near-perfect dining experience: sweet but not cloying, inventive without being gimmicky or plain weird. The savory elements, be they thyme, spruce shoots or Jerusalem artichoke served a purpose and seemed part of the dishes. There was never a feeling of "oh, I'm eating thyme or Jerusalem artichoke," but rather feelings of "that's a really pleasant floral note" or "what sort of a nut is that in the caramel?" Well done, pastry chefs of Substans! It's such trickery and clever use of ingredients in unfamiliar surroundings paired with complexly fruity, rampantly acidic and lightly sweet German Riesling that make even non-dessert fans sing your praise!
Great Coffee
"This might just be the best coffee I've ever had" said my co-diner about the perfectly harmonious blend that filled our cups to round off the evening, figuratively and literally. "What is this?"
Nick, the bearded sommelier, was summoned and spun great tales about Søren Stiller Markussen and Great Coffee, his small shop in downtown Aarhus and about nearly suffering a mild hard attack while sampling five espressos in an equal number of minutes in an attempt to pick the best possible coffee for the restaurant.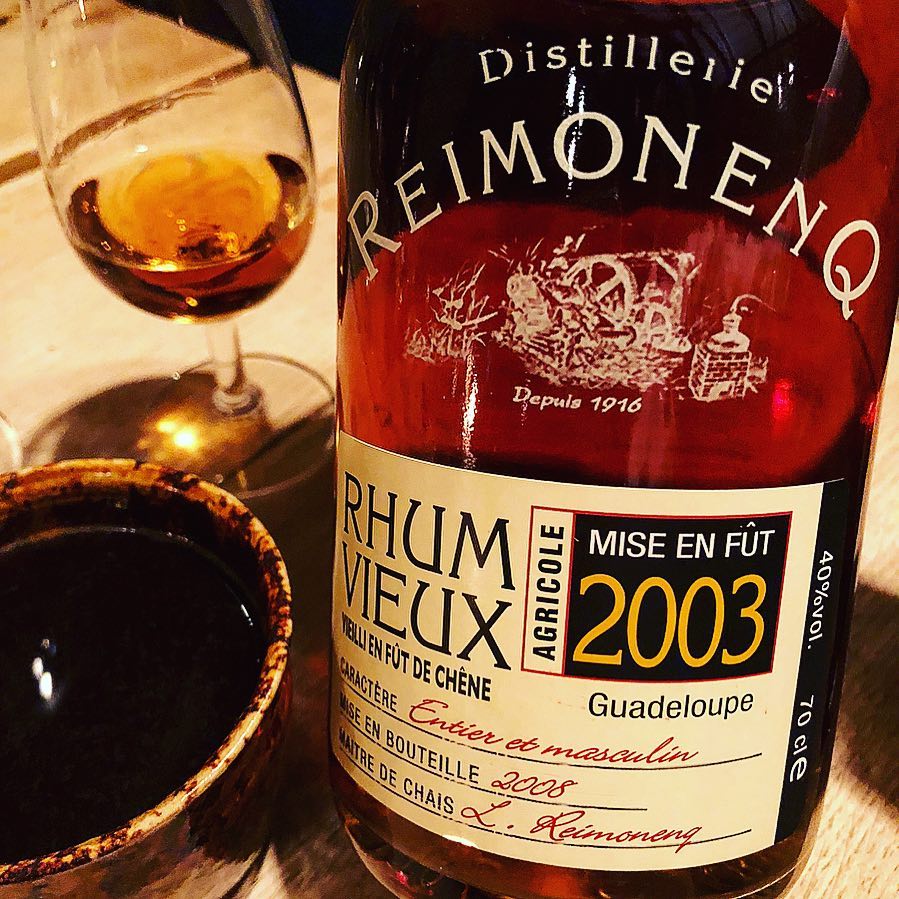 Life on the line, he had done the restaurant a great service. The coffee ranks amongst the best I have ever had. Floral, fruity and earthy with a nicely subdued bitterness and a refreshing acidic note, it proved a memorable end to a memorable meal when paired with a splash of equally floral, refreshingly dry Rhum Agricole Distilelerie Reimonenq and the kitchen's final surprise: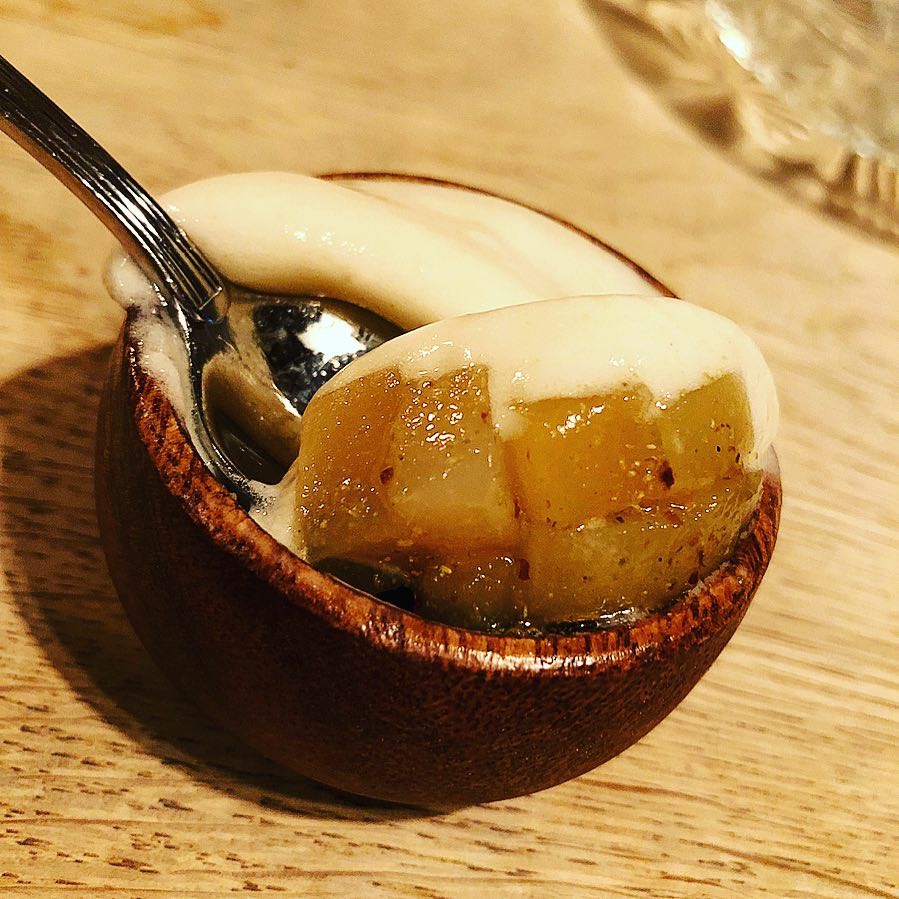 A lightly sweetened poached pear salad with chamomile topped with pear sorbet served alongside sweet pastry with a beetroot and rosehip filling topped with merengue. You know, in case we weren't quite full or overwhelmed yet…
Substans anno 2018: Room to Grow?
"I'm done, said my co-diner," leaning back in her seat. "But not overdone," she added. "Full but not unpleasantly so," I added. Around us, guests were chatting happily, the open kitchen was being cleared of the last remaining debris from service and our hosts for the evening, Rene, Nicolas and Nick, were deeply engaged in conversation. My last glass had been emptied and though no measures were taken to rush us, I knew it was time to call it quits. It was 11 PM, we had a one hour drive ahead of us and the alarm clock would go off at 6 the next morning. I had more units of alcohol in my system than hours of sleep ahead of me, I was buzzed but happily so. I'd had my fill, but not overly so. We motioned to get up and the crew immediately jumped to attention. Nick got the lady's coat, Rene got the door and Nicolas paused mid-conversation to shake hands. "You've grown, your food has really grown," I told him truthfully and his face burst into the largest of grins. "Hey, man," he said visibly excited, extending his arms into the vastness of the barn, "I've given me room to grow!"
As we walked out the door and across the courtyard to Tina's car, those words echoed in my head over and over: Room to grow… Oh boy had he grown, oh boy had they all grown…
A note on drinking and driving: Throughout the meal, Tina merely sipped her wine as to be able to chauffeur me back home. Don't drink and drive people, stay within the limits, you're putting your life and those of others at risk!
I first visited Substans about two years ago and if you read my original review, you will know that I was by no means unimpressed back them. Even so, the experience we were treated to on this otherwise ordinary Wednesday in January was miles above my original impressions.
The subtle and underplayed flavors that are (sadly) often stereotypical of New Nordic cuisine were  nowhere to be seen. In their place was a classical French haute cuisine-inspired dedication to squeezing every molecule of flavor out of even the humblest of ingredients, then meticulously layering these flavors to create seemingly simple yet incredibly complex flavorscapes.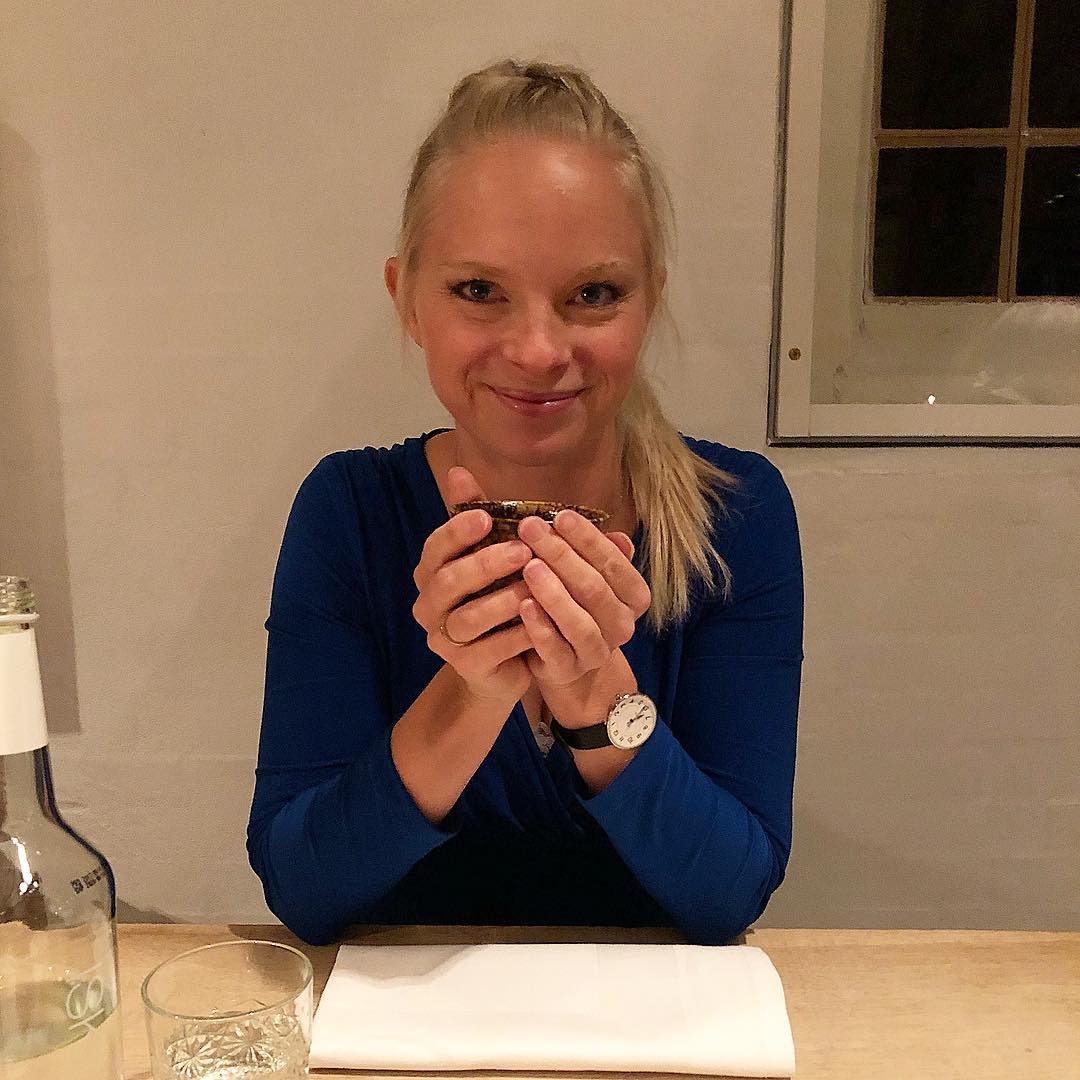 I honestly don't think I've seen her this happy since the day of her wedding!
This, along with a dedication to using superior organic ingredients to their absolute fullest throughout the entire meal coupled with near-neurotic work ethics created a flavorful and wholesome menu with more depth and accents than I've ever seen from hands of any of these guys – or many other chefs on the Danish dining scene for that matter.
Even so, the food is merely scratching the surface of the experience that is Substans. Pushing out such complex and beautiful food with such apparent ease and playfulness takes one hell of a team both front and back of the house, and the team – more than anything – is what makes Substans. They are a colorful bunch, indeed, but a beautiful bunch at that. A diverse crowd of personalities sporting uncovered tattoos, massive beards, shorts, ripped jeans and bare feet tucked into Adidas trainers, they're far from who you would expect to run into at a classic Michelin-starred restaurant – and hooray for that!
As much as I love the classic, stylish French approach to restaurant management, waiter attire and behavior, it's been done to perfection time and time again. A six foot sockless, bold dude sporting shorts in January and half a meter worth of beard, though? That's new! Refreshing, too, and disarming in an odd kind of way. It takes the edge off things – especially for first time visitors stressing about what to wear, what to say and how to act.
That being said, it's often a fine line between informal and Laizzes-faire but at Substans the line is drawn sharply. Tattoos, hairstyles, beards and rock 'n' roll attitude aside, everybody on the floor were extremely open and attentive, extremely friendly, extremely knowledgeable, service-minded and bursting with charisma. In perfect Michelin fashion, we were always at the center of attention without ever feeling watched or overrun. Empty plates and glasses were cleared promptly and our input and opinions were regularly asked, listened to and taken into consideration all while new dishes flowed seamlessly from the kitchen. The operation ran like clockwork – like clockwork with a heart.
Even at the height of service, the entire staff remained calm, collected and outspoken – the clear sign of a happy and functional team. All throughout the evening, they one and all graciously took the time to stop by our table chat with us, exchange a few jokes or answer any questions we might have knowledgeably, in depth and honestly. Our shared interest for food and wine was quickly picked up on and introductions grew longer and more detailed, much to the enjoyment of everybody involved.
If you ask me, what distinguishes a Michelin-starred restaurant from any other top restaurant, it's this perfect mix between superb food, great ambiance, perfect service and… for lack of a better word… soul!
These factors must be present in the DNA of a star restaurant, and it is in the individual mix between these factors that unique and memorable Michelin experiences are created. In the case of Substans' Michelin DNA, one factor stands out, and this factor is soul!
Not that there's the slightest bit wrong with the food. The food possesses more quality, depth of flavor, and thought than ever before, yet is delivered with even more playfulness, knowledge and confidence. It reminded me in many ways of my visit to Noma only with less dogmatic, more approcable and, dare I say it, more flavorful? Better than Noma? Maybe not. A hell of a lot more accessible to the common eater? Most definitely!
Arguments about food aside, however, it is the soul –warmth, focus, tattoos, beards and all – of Substans that makes me want to return for a third revisit!
Full disclosure: We visited Substans at Vestermølle by personal invitation from co-owner Rene Mammen. The invitation stated firmly that a writeup was not expected or encouraged. Hence, the decision to write and publish this piece was entirely my own – as are the opinions expressed herein.
Throughout the evening, the dining experience and high service level we enjoyed was no different than that of paying guests, who I am certain got their money's worth. We are extremely grateful to owners Rene and Louise for their warm and heartfelt gesture, but would have gladly forked out the DKK 1900 cover price (dinner + wine) for an experience of this caliber.