Home » Blog » Restaurant Reviews » Restaurant Review: Gastromé – Aarhus, Denmark – One Michelin Star
At the heart of Aarhus, Denmark's Latin Quarter, lies the most controversial Michelin star in the Nordics: Restaurant Gastromé. Having been in operation for less than two years, Restaurant Gastromé has managed to not only skyrocket into culinary fame but also become a source of great controversy.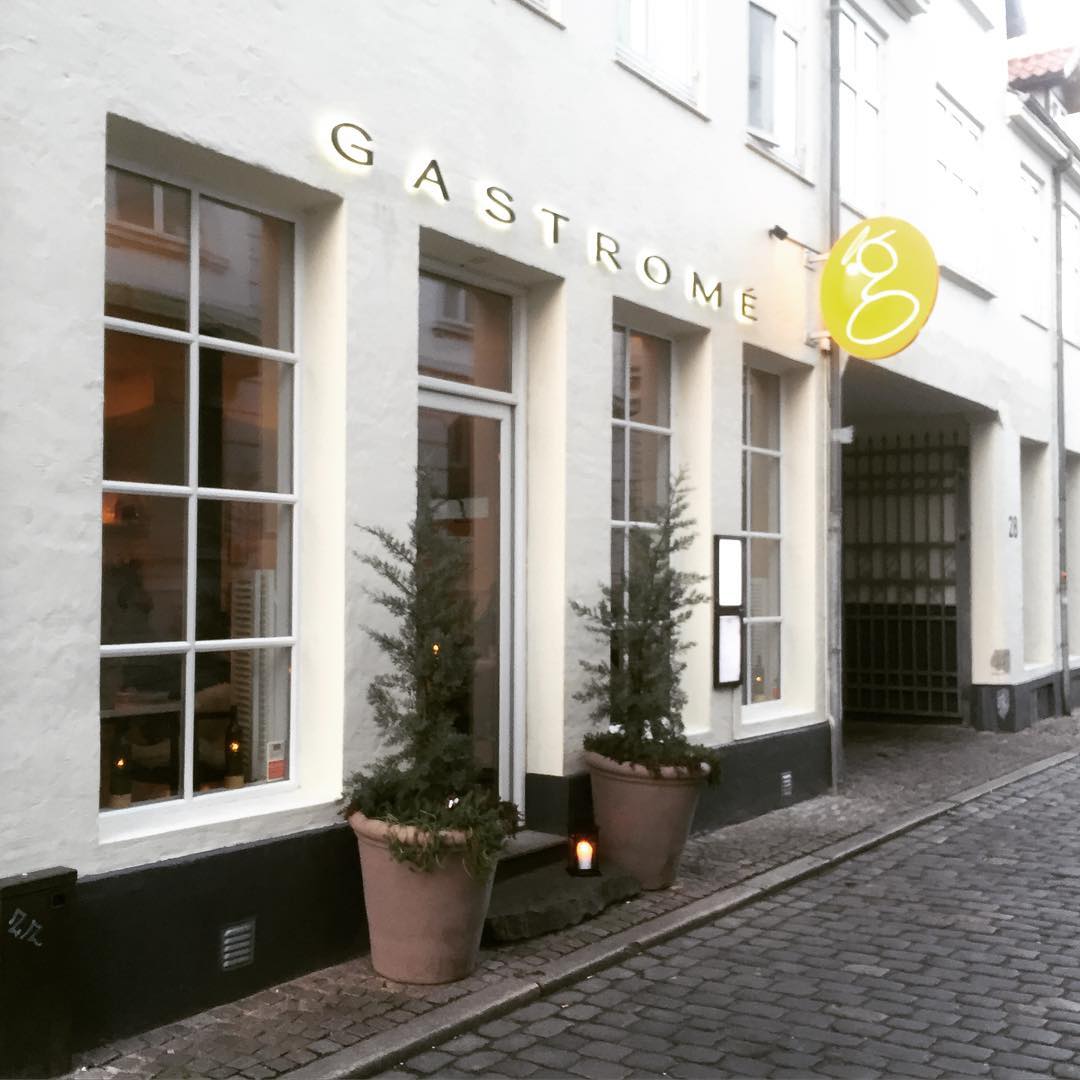 Gastromé – a controversial star!
The place had been open for less than five months when The Michelin Guide released their brand new Nordic Guide in 2015 and in doing so set the culinary world ablaze with controversy. The new guide promised to include restaurants outside major metropolitan areas and it did, sort of – a whopping three of them in Denmark. All of them in Aarhus: a hard-earned and well-deserved star for Chef Wassim Hallal at Frederikshøj, one for Substans… And one for newly opened Gastromé!
Restaurant Gastromé: A Controversial Star
The ink was hardly dry on the first live blogs from the press conference before shock waves rippled through the Danish foodie community. To say people were shocked was a bit of an understatement and to tell the truth, none were probably more shocked and surprised than the owners and staff at Gastromé. But where shock and surprise on their end led to cheers and Champagne, to others it turned to bitter outrage: culinary commentators, critics and foodies alike wondered how a newly established restaurant not even up to full speed could possibly trump legends such as Paul Cunningham of Henne Kirkeby Kro, culinary institutions such as Falsled Kro or already legendary Restaurant Kadeau.
To make matters worse for Gastromé, the first professional reviews were indeed favorable but also decidedly critical while many self-professed culinary experts declared the decision an outrage and argued – loudly – that the star should have never been awarded in the first place. Through it all, the culinary ant colony that is Gastromé soldiered on relentlessly with the weight of the world on their shoulders and continued to try to find their foothold all while dealing with the added stress of a Michelin star and the bad press that went with it.
Hard work usually pays off and indeed when, a year later, Michelin published their 2016 Nordic Guide, Gastromé maintained their star, sparking new waves of outrage and controversy. But out of that outrage and controversy, amongst two flavour-obsessed food bloggers, a plan grew: a joint effort to visit Restaurant Gastromé, tear down the menu bite by bite, test the service to the limit and deduct once and for all: is Restaurant Gastromé worthy of its Michelin Star?
The premise: On Food Blogger Friendships
It's probably no secret to anyone who frequent Facebook or Instagram that for the past couple of months, the little corner of the web that is johanjohansen.dk has been sharing thoughts and ideas with a, umm, slightly larger player on the blogging scene, the loveably crazy Waffle-lady Malou of Klidmoster.dk fame.
Malou, a recognized veteran of the Danish blogging scene, contacted me via Twitter back in December to let me know she was a big fan of the sheer madness that is my blog, to which I quickly replied "Uhhh-buuh, ah… Ummm!"  From there on, though, the conversation grew and I quickly realized I was dealing here with a person who was every bit as obsessed with the theory and science of cooking, the art of cooking itself and, obviously, the act of eating, tasting and analyzing food as myself. Now, anyone who knows me will tell you I am a rare f'ing breed, so it goes without saying that when connecting with a person like this, it wasn't long before thoughts of some sort of collaboration were shared: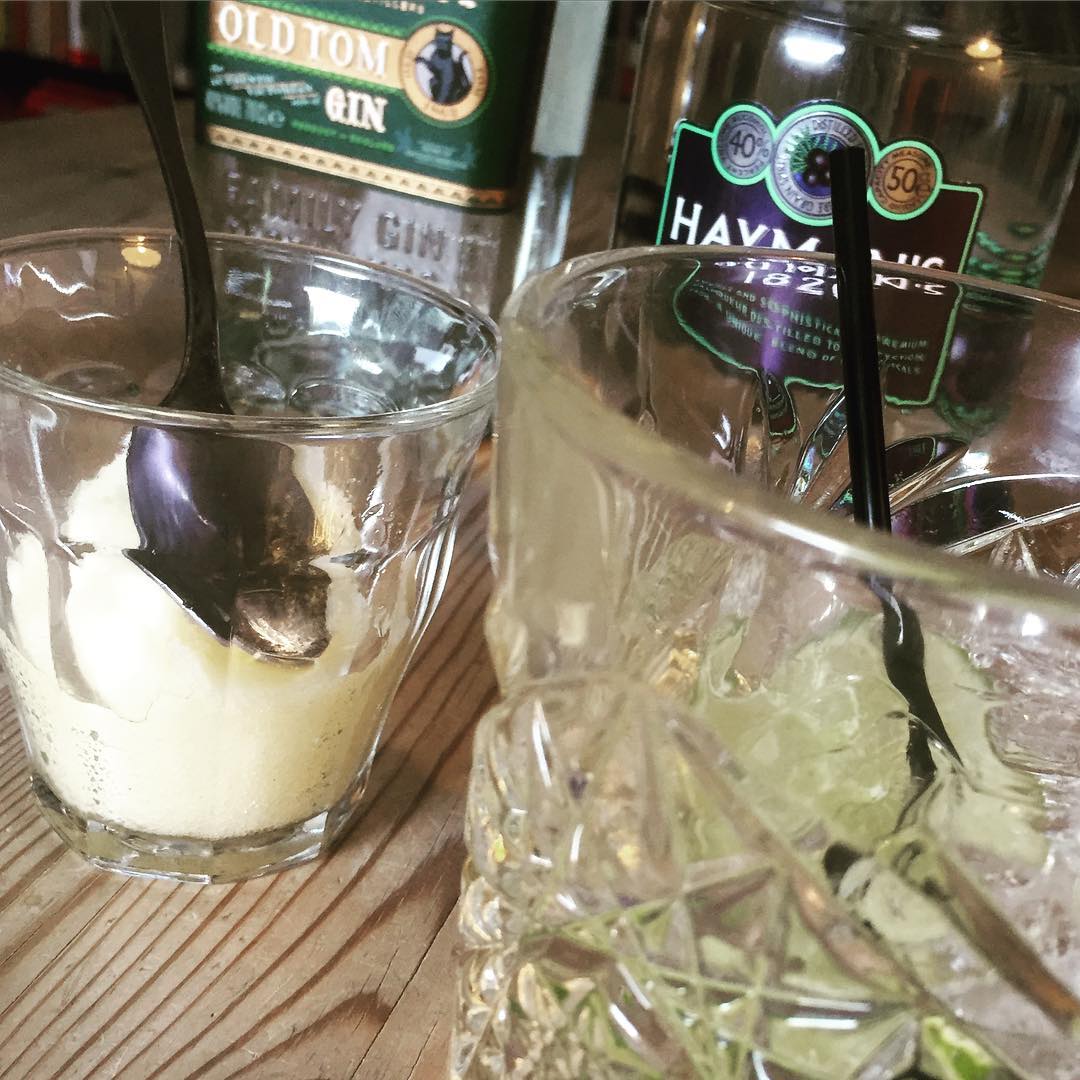 Things were mixed, stuff was cooked. Here's Malou treating me to her version of my "signature" Gin & Tonic sorbet! Humbling? You bet!
We could cook something, mix something, compare something… or just fully tear down a dish, a meal or a restaurant experience together and analyze it into bits and pieces. We wound up doing essentially all of the above over the course of a couple of days, but the subject of this post is, of course, the highlight of this blogger meet-up: Our visit to Gastromé for their Full Throttle Experience… Hey, when you're meeting someone for the first time, you might as well do it in style. Right?
Gastromé at first sight – I'm not hating it
Having enjoyed a small stroll through Aarhus' so-called Latin Quarter, we arrived at Restaurant Gastromé just in time for our 6:30 booking. Okay, well, we arrived where my local guide thought the restaurant would be at exactly 6:30, then strolled down the block to the actual location where we snapped the obligatory exterior pictures, opened up the door, walked inside and threw a few glances around the main dining room.
In terms of appearance, Gastromé is not the place that visually blows you away from the get go. It is however very warm, very ambient and very, very welcoming: lots of exposed wood, clean white surfaces, tall ceilings, some metal and a lot of air between tables, making for an intimate dining experience in spite of the relatively large dining room. Putting it shortly, the style and decor is somewhere between New Nordic Hipster cool and Tribecca Chic with a lot of care taken to make the interior appear homey and intimate while maintaining a certain informal, cool vibe. – "So far, I'm not hating it," my visibly impressed co-diner said.
The co-diner is not hating it! Wait… Waiter, hey waiter, there's a waiter in my wine!
The wait staff, as could be expected at a Michelin-starred establishment, honed in on us immediately and greeted us warmly and informally, swept away our coats and gave us the choice between two available tables; asking us which we thought would be best for our dining experience. We wisely chose a spot in the middle of the main dining room giving us a view over the small open kitchen as well as the restaurant itself. We were quickly seated and treated to a small welcome monologue, including a roundup of our available dining options which turned out delightfully simple.
Full Throttle: What to eat at Gastromé?
At Gastromé, you have two basic menu options: the full-on tasting menu called "Full Throttle" or "Half Throttle" – a reduced version of the full menu. Wine pairings are available for each menu option as is a smaller assortment of quality bottles from well-known wine regions. Your only real customization options come at the beginning of your meal and near the end of it.
For starters, you can pick an optional snacks selection coupled with either a glass of Cremant, a glass of Champagne or a signature cocktail. Prices vary slightly depending on your desired level of decadence. If cost is of no concern, a pairing of Champagne and Baerii Caviar is, of course, also available.
Thankfully, Malou and I see eye to eye on the subject of tasting menus. A full tasting menu is meant to showcase the best an executive chef and his kitchen has to offer through a progression of dishes each building in intensity and complexity. In my mind, the best way to explore a new place is through their tasting menu. Others may disagree, but for once, a woman actually agreed with me and we opted for the Full Throttle menu with wine pairings. We also, very wisely, decided to throw caution (and next week's dinner budget) to the wind and supplement our Full Throttle menu with Baerii Caviar and Champagne – a wise choice it turned out.
Starter: Champagne and Baerii Caviar
What arrived in front of us within a couple of minutes of making our selection were carefully folded napkins cradling a Caviar spoon and little Caviar tins filled with a savory buttermilk panna cotta spiked with just a hint of chili. Draped elegantly across the top was a generous serving of sustainable, Italian Baerii Caviar. The Caviar, we were told by our waiter, came from the world's largest artificial eco system for Caviar farming and had been specifically selected not only for ethical reasons but also for its pronounced taste and creamy texture. Compliments to our waiter here for really taking the time to explain about the life of a sturgeon and the ethics of farmed caviar before carefully slicing a few Brazil nuts over the top of our plates to finish the gorgeous plating.
And this was but the beginning of a wonderful trend. Despite a relatively full dining room, throughout the evening, our waiters always took exceedingly good care to introduce our dishes at length, often telling us not only the origins of the ingredients, but the exact thoughts behind their inclusion and the ways in which they were prepared and combined to create the finished expression of the dish. The same goes for the wines. Whatever prying questions we had, right down the exact preparation methods were answered swiftly, knowledgeably and in stunning detail.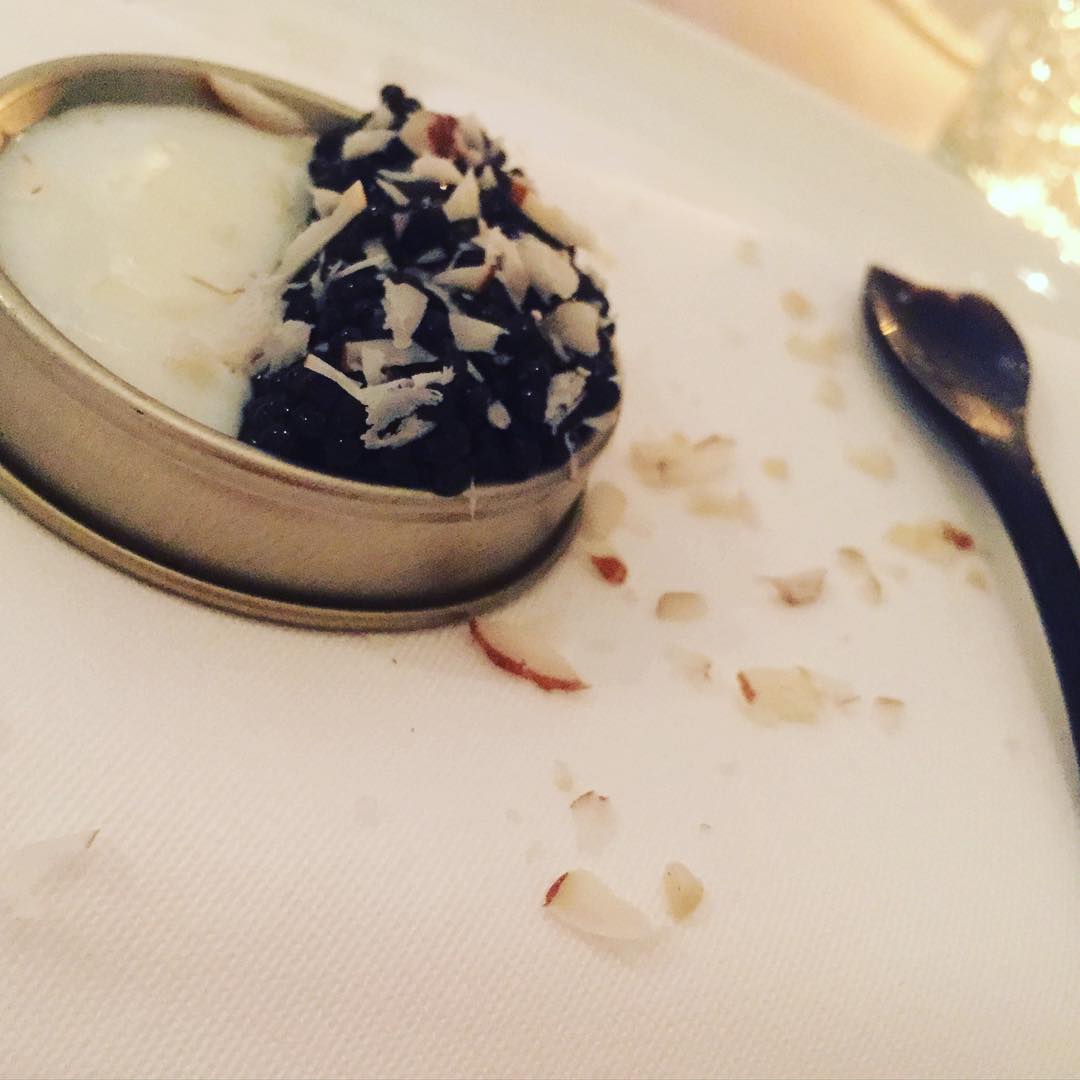 Caviar, Buttermilk Panna Cotta, Brazil nuts
Speaking of stunning detail, I'll go so far as to describe the Caviar dish as a simplistic work of art in both presentation and taste. It's hard to really describe the taste of Caviar, but it's a distinct, salty, sea-like funk with hints of nuts. The mouthfeel is at first firm with a clear pop when the eggs break, then incredibly creamy and oily. It's an expensive obsession, but a wonderful one at that. In this dish, the poppy texture and nuttiness of the Caviar were perfectly matched by the Brazil nuts while the creamy and oily texture were beautifully matched by the fattiness of the panna cotta. The monotony of creamy on creamy and crunchy on crunchy was beautifully broken by the raging acidity of buttermilk and a barely detectable tingling of chili. My obsession with chili aside, I'll be the first to admit that I'm not at all a fan of chili in starters. It tends to numb the palate and wreck havoc on subtle flavors. But my hat is off to Gastromé for having the courage to pair Caviar and chili at the very start of a meal in such a fantastic way.
Speaking of things, I don't usually approve of, the Champagne for our little decadent treat was a Philippe Gonet "Brut Reserve", a blend low on Chardonnay but heavy on both Pinot Noir and "the lesser grape" Pinot Meunier. Generally in Champagne, Chardonnay is used for acidity and backbone whereas Pinot Noir and Pinot Meunier provide fruitiness and depth. To pair a wine rich in deep, fruity notes with creamy caviar and panna cotta made no sense to me as I'd think you'd need the freshness and acidity of the Chardonnay to cut through the richness of the dish. But here already the knowledge of the sommelier at Gastromé started to shine through: the nutty, yeasty notes that are so prevalent in Champagne paired extremely well with the slightly nutty notes of the roe and the Brazil nuts while the fresh fruit notes played extremely well with the creamy aspects of the dish. Any acidity the combination may have needed came from the buttermilk and made for a couple of sublimely balanced little bites and a very happy start to the evening.
Amuse Bouche: Air bread, smoked cheese, lumpfish roe and ramson sprouts
I've been known to say that all I need in life is Champagne, Caviar and female company. Having all three at once, you'd think life would be pretty damn perfect. Nevertheless, I was about to find out that things could actually get better.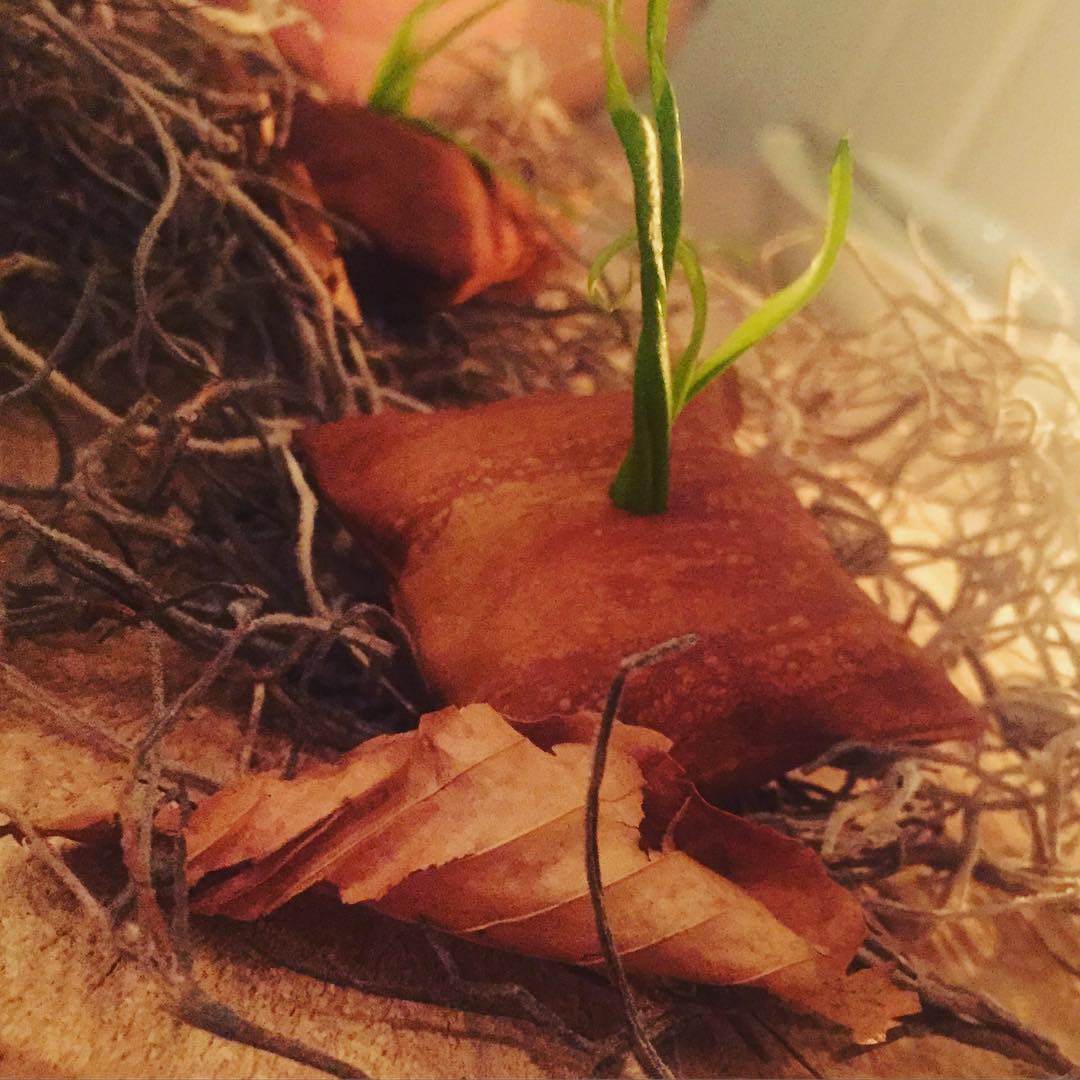 "Air breads" … Just gorgeous!
What landed in front of us next was an unscheduled amuse bouche: A wooden pedestal containing two little golden nuggets cradled on a bed of moss and leaves. The nuggets, it turned out, were bite sized ramson-studded "air breads": crispy wafer thin malted bread which crumbled in your mouth to reveal a powerfully tasting mousse of smoked cheese, crème fraîche and lumpfish roe.
The taste of this bite was impeccable: perfect balance between salty, sweet, smoky and earthy. The textural clash between crunchy and soft, too, was certainly memorable. But for a few moments such dim matters as taste took the back seat to symbolism: Ramson and lumpfish roe are sure signs of spring to any Dane. Seeing a tender shoot of ramson sprouting forth from a nugget of lumpfish roe on top of last year's moss and winter leaves made for a pretty little statement in itself, and is a sure sign of a thoughtful and skilled chef.
But that's not nearly all… Another statement made by the kitchen this early in the game was that while a dish can look simple and unassuming, a grueling amount of work, technique and thought may well have gone into it. Such was the case of this dish and such was the case of many dishes to come.
Selection of freshly baked bread, whipped herb cheese and chicken-infused brown butter
Next in the unscheduled series of events that was the beginning of our meal, came the greatest restaurant trap of all time: bread! As is the case of many great restaurants, we were given a choice from a selection of three: Nordic Focaccia with fermented potatoes, malt bread with brown ale, and sourdough from the Nordic favorite Oland wheat. Someone showed more restraint than others and actually put some weight on the term selection. I, on the other hand, concluded that three is in fact a selection of sorts and went with one of each. Oh, the things I put my body through for my readers!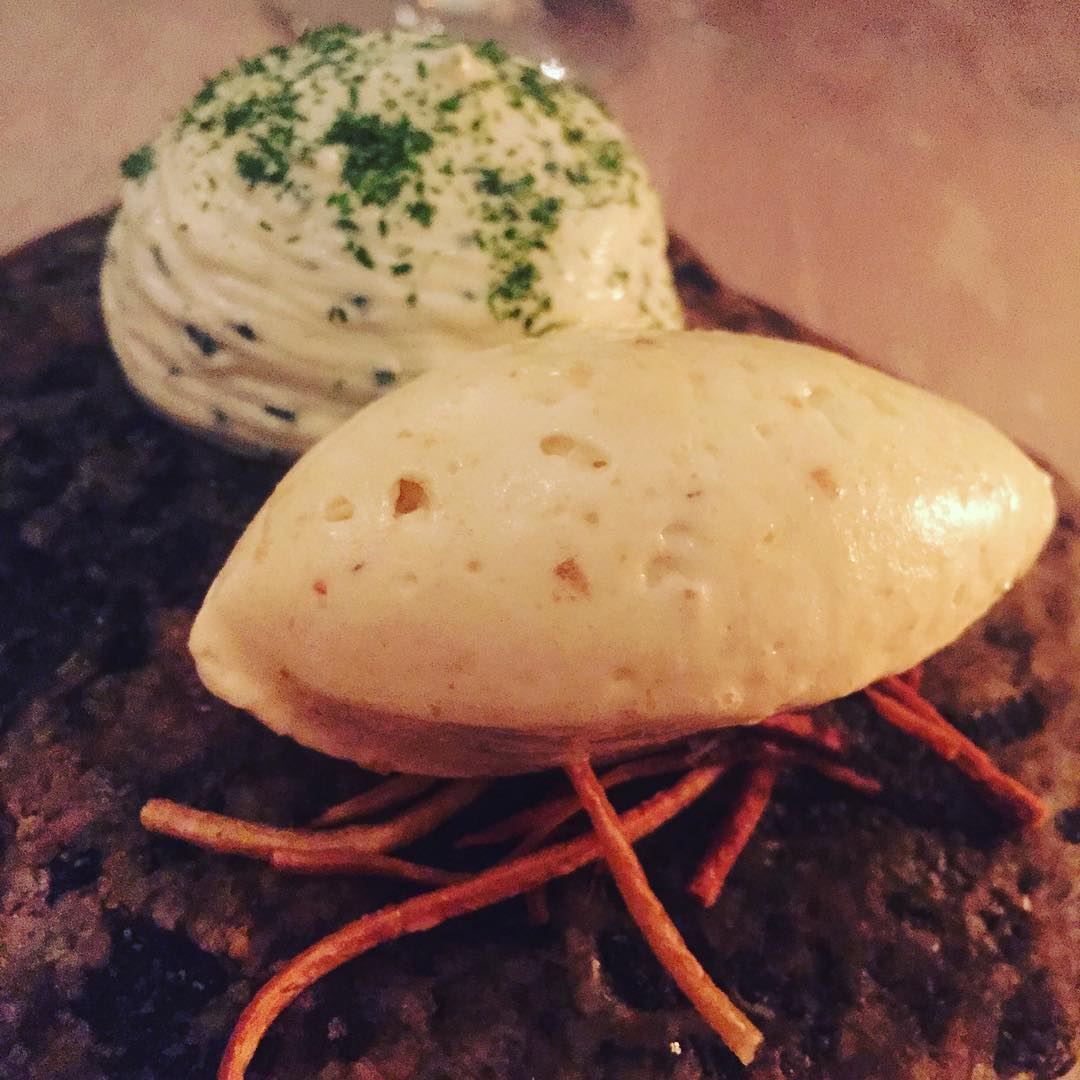 Fresh herb cheese and chicken skin-infused brown butter. Yum.
I'm happy to report that all choices were excellent with the Nordic Focaccia probably being my favorite in terms of taste and texture. All were outshone, though, by the toppings for which they served as delivery vessels: A wonderfully fragrant herb cream cheese bursting with fresh, green flavor and a deliciously decadent chicken skin-infused brown butter studded with deep-fried salsify root slivers.
Again, the kitchen was powering through here with the statement that just because something looks simple, it is not necessarily neither simple nor lacking in flavor. The taste of these simple toppings were absolutely mind-blowing and reminded us why bready treats are usually referred to as the great restaurant trap: truly great restaurants usually serve truly great bread and plenty of it. The trick here is to not fill yourself up on bread so you'll have the capacity to enjoy the things to come. We reminded each other to stay wary of this trap and soldiered on to something that was actually on the menu!
First Course: Cod cheeks, egg yolk, cucumber and herring roe
The first real dish of the evening was a beautiful presentation of spring colors. At the bottom of a large plate was a beautifully set, clear, green cucumber gel. On top of said gel: perfectly poached cod cheeks, green croutons and herring roe all topped by a confit egg yolk cooked in duck's fat and a foam of sorts. Flavor and texture wise, this dish took off in all directions with the creamy egg standing in stark contrast to the gel at the bottom, and the lightness of the foam. The croutons provided a crunchy klorofyl kick that matched the cucumber well but stood in stark contrast to the egg. However, when everything met in the bottom of the bowl over the slightly firm but perfectly textured cod cheeks, it all made a sense as a creamy, herby mess of spring perfection. Especially so when the herring roe joined the party.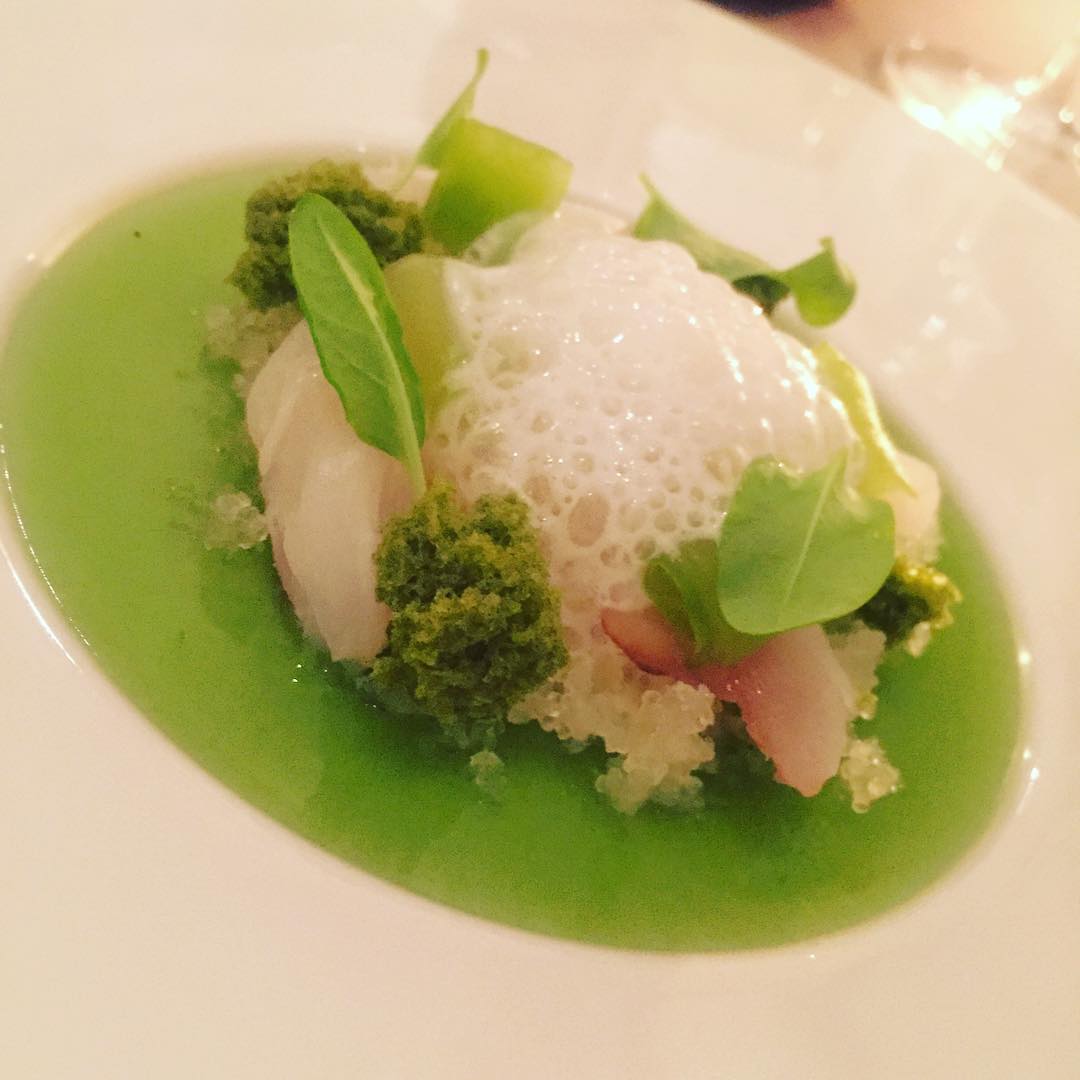 Poached Cod Cheeks and Confit Egg Yolk
I'll be the first to admit that I didn't know herring roe was a thing, but apparently it is – and a complicated thing at that. Our waiter told us that it took something to the tune of twenty herrings to make up what we had on our plates and that the staff might well grow tired of eating herring in the time to come. A heart-warming comment, I'm sure, for my co-diner who is an ambassador of the Stop Wasting Food Denmark movement. And a testament again, to the hardship that went into creating our dishes that night.
But was herring roe good for more than just gimmick? Well, yes! Herring roe is small and extremely crunchy in texture, sort of like Japanese Tobiko roe. Flavorwise, it's not particularly powerful, but it does add a nice salty note to the dish and because it's small and crunchy in texture, the salt notes of the dish come in little flavorful bursts as the roe pops between your teeth, small stroke of genius, there!
Second Course: Celeriac, dried ox heart, smoked almonds
Our second dish of the evening was a beautiful combination of things, my childhood tried to teach me to hate: celeriac which my mother disliked and hearts which she loved but I couldn't stand to a point where this was probably my first time eating them in 20 years or more.
In this dish, we were presented with three shades of celeriac: a vacuum-pickled form, a baked form and a celeriac foam, served side by side at the bottom of a bowl. Crunch and texture was added to the dish by sheets of fried rice paper and smoked almonds while pungent, salty, deep and earthy umami notes were added by a small lump of dried ox heart which was elaborately grated on as a finishing touch at the table.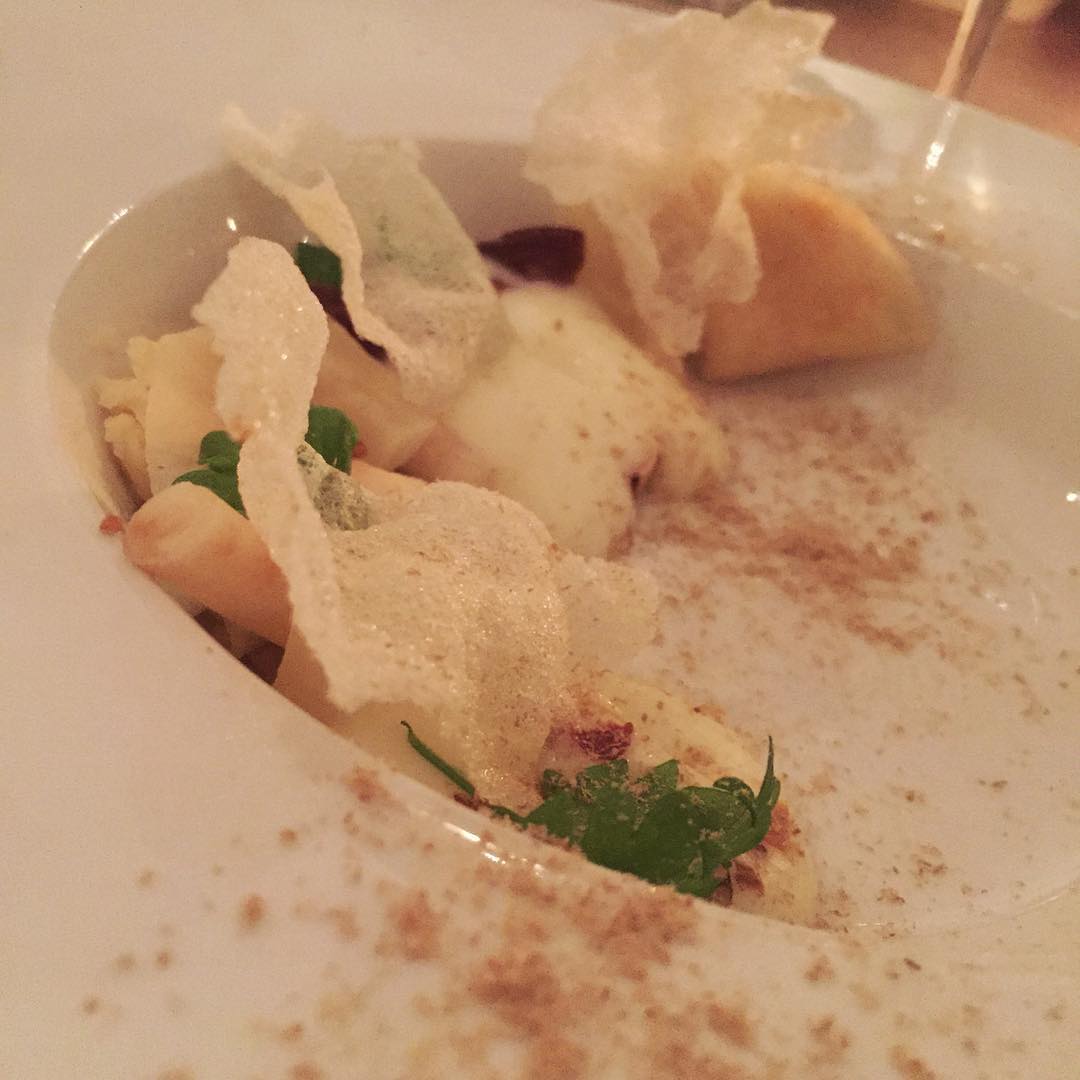 Celeriac and dried ox heart – Mmm… Umami!
Facing my fears, I dug in and realized I'd been lied to all these years. Not only is celeriac enjoyable, it can also be a pleasure to eat. And hearts, at least in their dried forms, are not necessarily bad eats. The overall result was a slightly sweet, earthy and surprisingly beefy sensation overflowing with umami intensity… That was unfortunately too salty! Celeriac on its own is quite a salty little number (my co-diner and fellow flavour-obsessed geek will have you know!) and with added salt plus other salty ingredients joining the mix, it nearly toppled over for me – the self-professed salt junkie!
We made it through the dish, though, and I thoroughly enjoyed the way such unusual and intense flavors had been crafted out of such an unassuming ingredient as celeriac and boosted out of this world by the addition of umami-rich ox heart. I fear, however, that this dish would have been deemed too salty by many casual eaters.
Third Course: Scallops, ginger, coconut, Jerusalem artichoke, brown butter
The third course of the evening arrived in two different versions. As Malou is allergic to scallops, the kitchen had very kindly substituted monkfish for scallops in her version, a pretty generous gesture as monkfish wasn't otherwise on the menu. I can only assume that staff dinner must have been good that evening. Aside from a switch in protein, the dishes were essentially the same: Cubes of perfectly cooked, tender scallops (or monkfish) layered with slices of cooked Jerusalem Artichoke and little slivers of crunchy coconut. The dishes were doused table side with a brown butter sauce laced with shallots, plenty of ginger and lemongrass.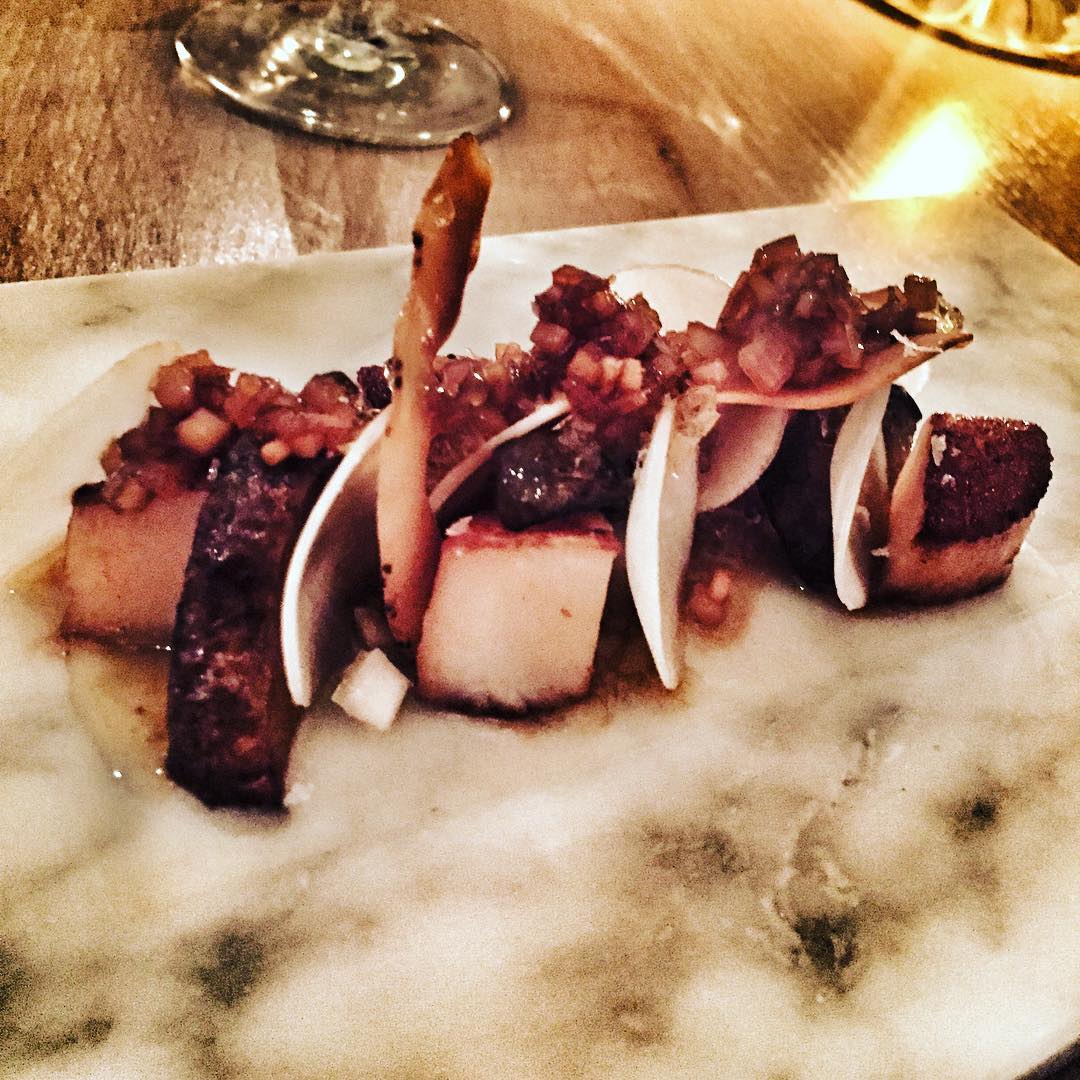 Scallops, coconut and ginger… Wild and crazy!
The dishes we had eaten until this point had been extremely concentrated and powerful in flavor and here, for the first and only time, they nearly crossed the line at Gastromé. Scallops are pretty mild in flavor and can do with a flavor boost – but maybe not quite as much as in this case. The main components of the dish were perfect in taste and texture, but the sauce was definitely a challenge to our palates. My lovely co-diner found the ginger incredibly overpowering while I detected a strange note in the butter as if it were tottering the edge of burned. The notes, I'm pretty sure, were intentional, but it made the dish at first seem incredibly unbalanced and a total miss.
However,  with a sip of the wine pairing – an intense 2012 Albariño White from Rias Baixas  – and a couple of more bites the dish, rather mysteriously to tell you the truth, started coming together and made an odd sort of sense.
This, incidentally, showcased another force at Gastromé: the ability of the somelier to really pair food and wine. Many restaurants have a pretty good grasp about how to pair wines with their dishes. Gastromé, on this evening, took this to a point where at times one would seem hollow or off without the other. One shining example of this would be this particular dish where the flavor composition seemed rough and off at first, but warped into a tamed rock 'n' roll expression when paired with the right wine and given a bit of thought. Brave, clever move, I reckon, but possibly not for everybody.
Monkfish or scallop? Being the lucky boy that I am, I had a chance to taste both versions of this dish in an attempt to figure out which was best. I offered to return the favor and let Malou taste my scallops, but apparently that would lead to a severe allergic reaction, possibly death, and you know… I do a lot of things for this blog, killing people isn't one of them. Ahem, I digress. Which was better? Well, I actually preferred scallops for texture and monkfish for flavor. Monkfish is a beautifully tasting fish, but it's hard to match scallops for texture.
Fourth Course: Lobster consommé, salsify, Danish trout roe
Not for everybody, is probably a phrase that may well also have been used about the visual appearance our fourth course. The idea was beautiful enough: A terrine of locally caught lobster and Norway lobster mixed with marinated salsify root and tied together with string noodles made from lightly pickled potatoes served at the bottom of a shallow dish with local trout roe and a greatly reduced and heavily seasoned consommé of lobster shells spiked with enough cognac to make even the most seasoned of line cooks dizzy.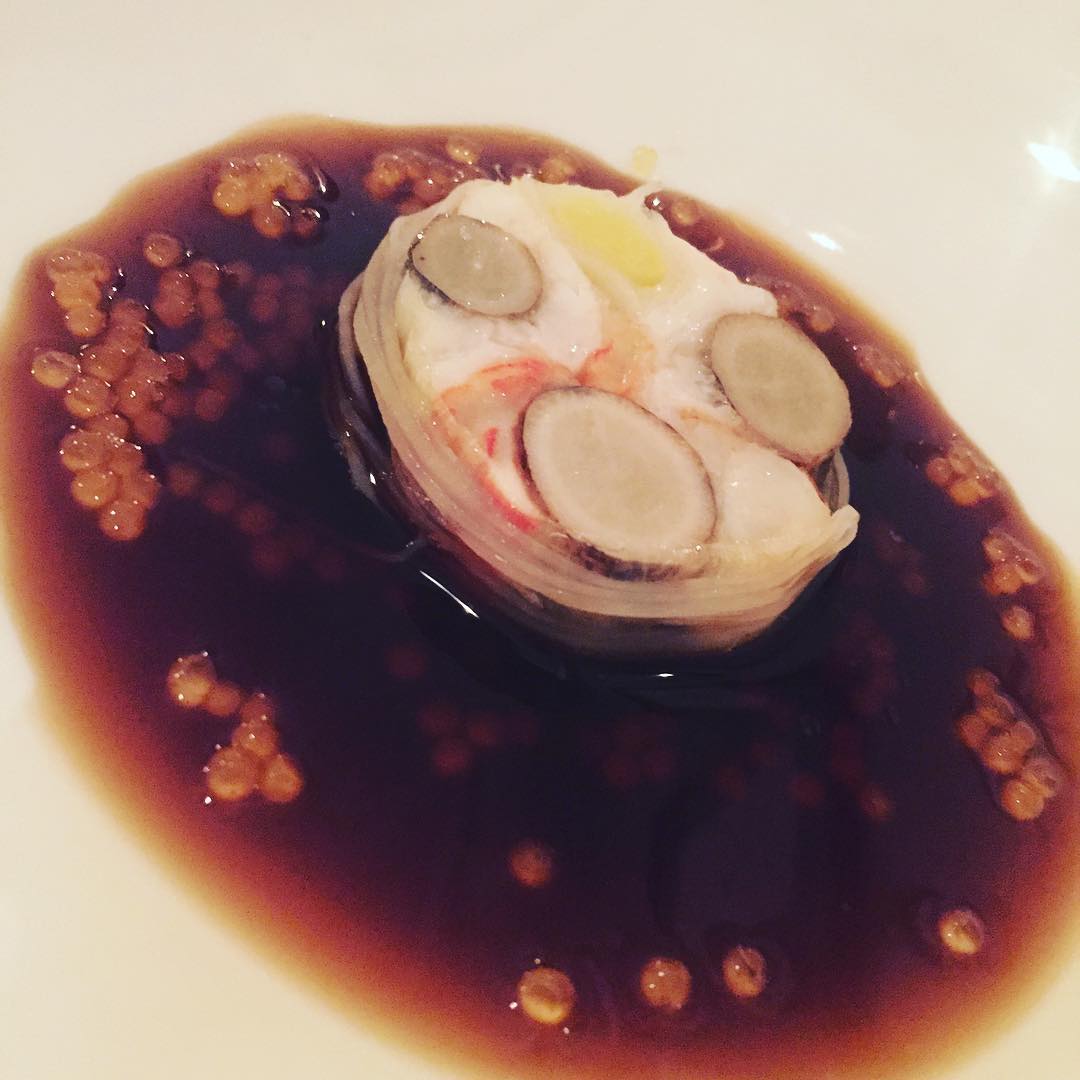 Lobster Consommé and trout roe
The only problem with this dish? It was not a particularly visually appealing dish. Obviously, dishes should be made for flavor and balance, not for visual presentation and certainly not for social media appeal. While the lighting didn't make the dish any easier to photograph using my trusty iPhone 6 camera, this was the least visually appealing dish of the evening to look at and quite possibly the most difficult to eat as the chewy strings of potato proved a bit of a nuisance to peel off and eat. Shame, really, as this was probably the most intensely flavored (yet balanced) dish of the evening  with the natural sweetness of the lobster and salsify root adding a pleasant sweetness and depth to the intensely flavorful consommé burning with spice and cognac.
It's not that this was an ugly dish, it's just that with every serving being a work of art, I feel a little more work could have gone into this particular piece. Our food blogging army of two agreed wholeheartedly, though, that flavor beats presentation any day that our pictures were not quite doing the dish justice and that neither should they have to. Besides, our mumbling quickly subsided when we were presented with the next dish in line.
Fifth Course: Duroc Pork Shoulder, Parsley Root, mustard and grain
In my perfect little world, every dinner should have some element of surprise. Our fifth course had at least two, making it one of the biggest highlights of an already interesting and ambitious menu. The dish probably doesn't sound like that big of a deal and when initially served in front of us looking more like a big, green leaf of interwoven leaves of cress, it certainly looked pretty, but honestly not like that big of a deal either.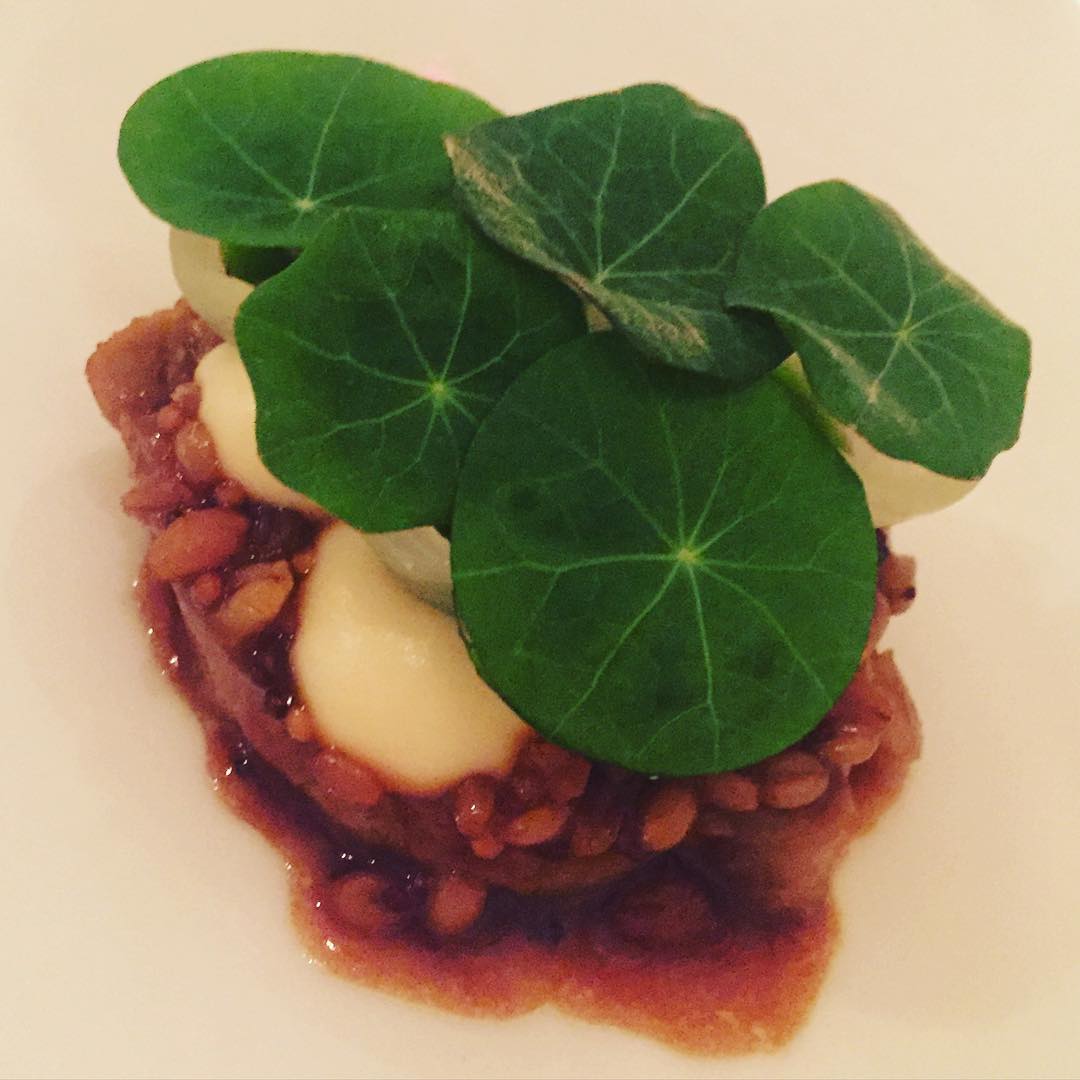 Duroc pork shoulder, before digging in…
It wasn't until you put your knife and fork to the dish, that the magic happened. The leaves on top broke away to reveal little onion "shells" holding little pools of bright green herb oil balancing perfectly upon an airy foam of parsley root covering a tender and perfectly roasted piece of Duroc pork shoulder that was, in turn resting on a bed of cooked barley laced with a complex and powerful sauce made from the roasting juices and whole-grain mustard.
Rumor has it I looked like a kid on Christmas Eve dissecting and eating this dish and I'm willing to believe the rumor. Despite of a buzzing dining room and good company, I was in my own little world: blown away by the level of detail going into every aspect of preparation, plating and the element of surprise of this dish. Not to mention the pure unadulterated taste of quality pork that is truly rare these days.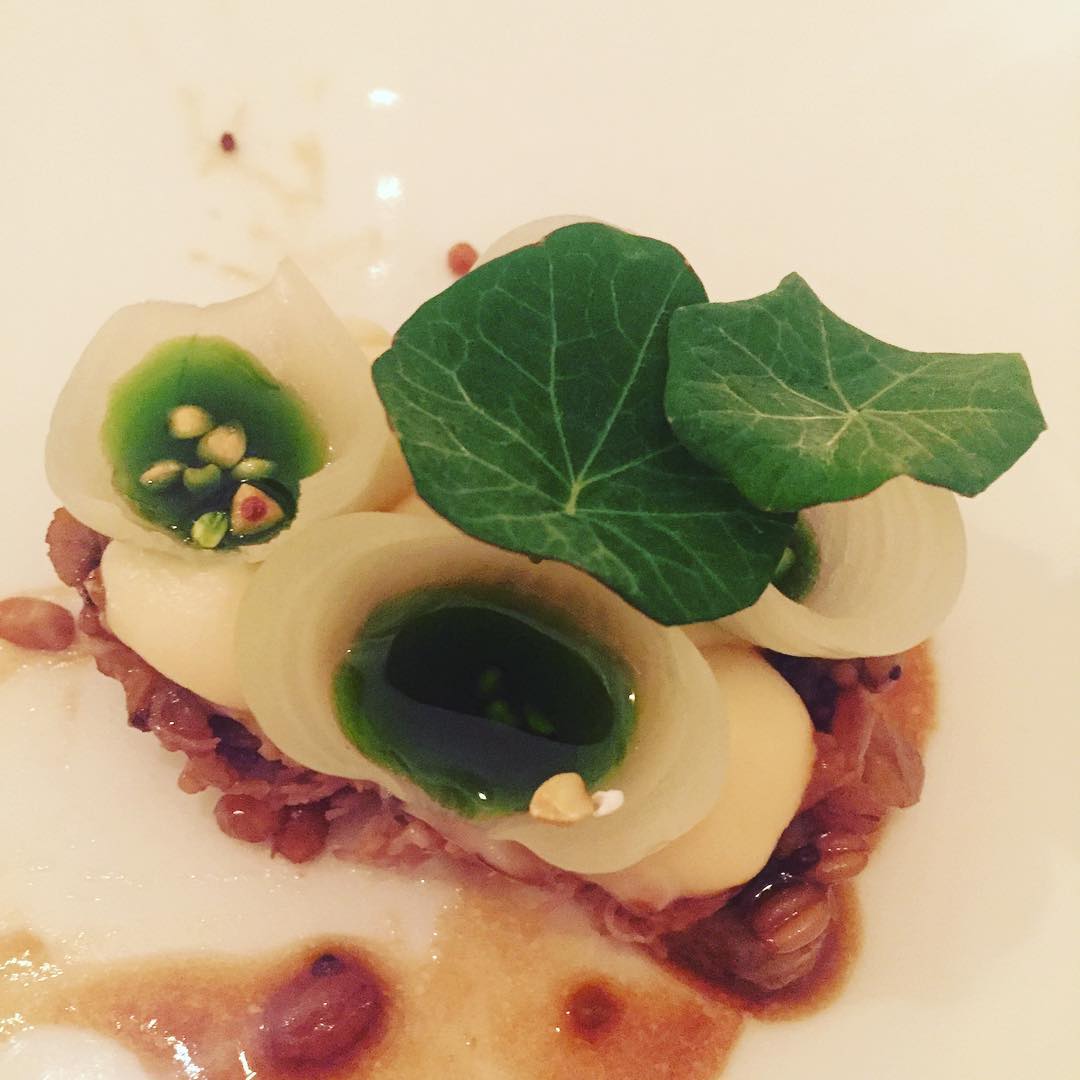 Digging into the pork shoulder…
But wait, there were two highlights, right? Indeed, and the second was the wine pairing, a very light red 2012 'Petalos' from Alvaro Palacios in Bierzo, Spain. I've been immensely challenged by Spanish wine over the years and "Spain" and "light red" are words that just don't go together in my book. Our sommelier whom we had gotten on quite chatty terms with picked up on this comment and offered the following reply: "I know what you mean and I picked this particular wine because it's just so, atypical. You won't get it for the first few sips, but keep trying and you will". He was right, too, the wine at first made no sense and seemed hollow. It displayed the expected characters of a Spanish red: plenty of oak and quite lively tannins, – yet no fruit whatsoever. With food, though, the wine opened up, showing beautiful subtle layers of fruit that helped elevate the earthiness and depth of the dish to new heights. I've seen a lot of half-assed wine pairings on tasting menus over the years. This wasn't one of them. In fact, this was but one of many bold, curious but absolutely competent wine pairings over the course of the evening.
Sixth Course: Ox, yellow beetroot, mushrooms, moss
"On a scale from one to ten, how excited are you about drinking Australian wine with beef tenderloin," giggled my cheeky co-diner when we were poured a glass of Barossa Valley Red for our upcoming main dish of Beef Tenderloin from Grambogaard, a leading Danish producer of top quality free-range meats. She had obviously picked up on my disdain for beef tenderloin that I have voiced quite persistently over the years alongside my more than troubled relationship with Australian Shiraz. And indeed, I was a bit disappointed to hear that behind the cryptic word ox printed on the menu hid the less than cryptic words beef tenderloin.
I was positively surprised by this dish, though. The wine in my glass, for example, may have been a Barossa Valley – but it was not Shiraz, it was a 100% Mourvèdre of all things. Making for a far less jammy and much more earthy and spicy drinking experience. The beef, too, technically was beautiful and well executed. Absolutely perfectly roasted beef tenderloin with only the slightest char on the very outside of the meat, rolled in ash, topped with perfectly cooked yellow beetroots, pickled mushrooms that had been very briefly scorched and little bits of deep-fried moss, another New Nordic craze. On top of everything, again served table-side came a healthy spooning of au jus.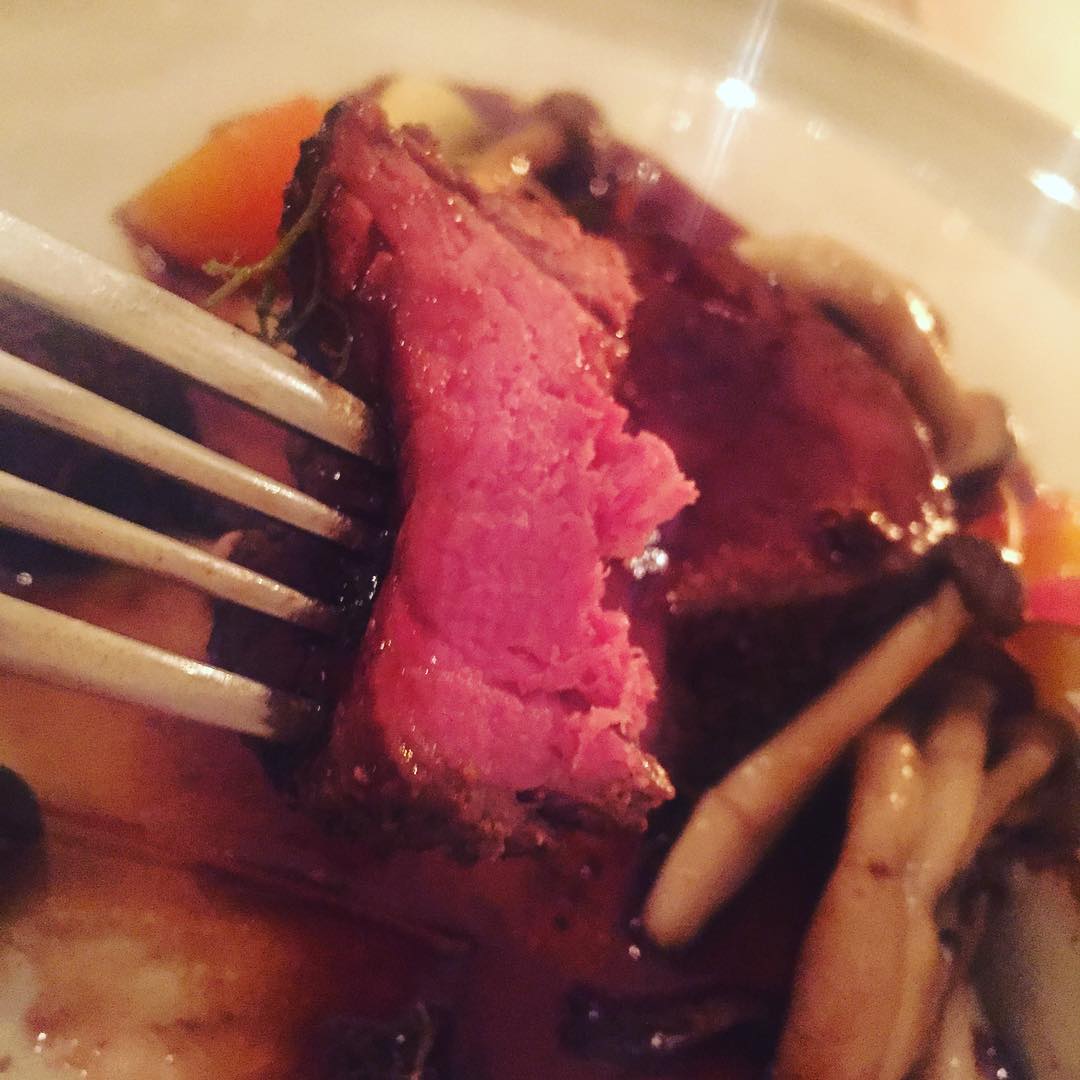 Great job on the roasting of the tenderloin!
"Why are you not yelling," my co-diner demanded, still giggling, head tilted and looking at me as I dug through the plate. "I'm not," I replied sort of perplexed, "because technically speaking this is very well executed, and a perfect blend of textures. All I'm missing is a bit of deeper, more intense beef flavor that you simply don't get from my archenemy beef tenderloin!"
I'll spare you the ten minute dialogue about beef cuts and charred beef fat that followed and skip directly to the verdict of the jury: this was, indeed, one of the most beautiful pieces of meat we've seen in a long time and one of the most beautifully cooked as well. The sauce and other elements on the plate had great depth, flavor and texture but the moss seemed no more than a mix of texture and gimmick, inviting no real flavors to the party. The ash coating, to my palate, seemed a little off, but as far as beef tenderloin goes, I'm pretty sure this is as good as it gets.
Seventh Course: Biodynamic Smear-ripened cheese, pears and long peppers
"What is the worst thing that could happen," I asked as I tried to coax my cheese skeptic friend into joining me in ordering the cheese course. "Worst thing? I'll die," she whimpered. "Okay, what's the second worst thing that could happen," I tried again, to which she smiled, sighed and gave in… To an experience I don't think she'll ever fully forgive me for!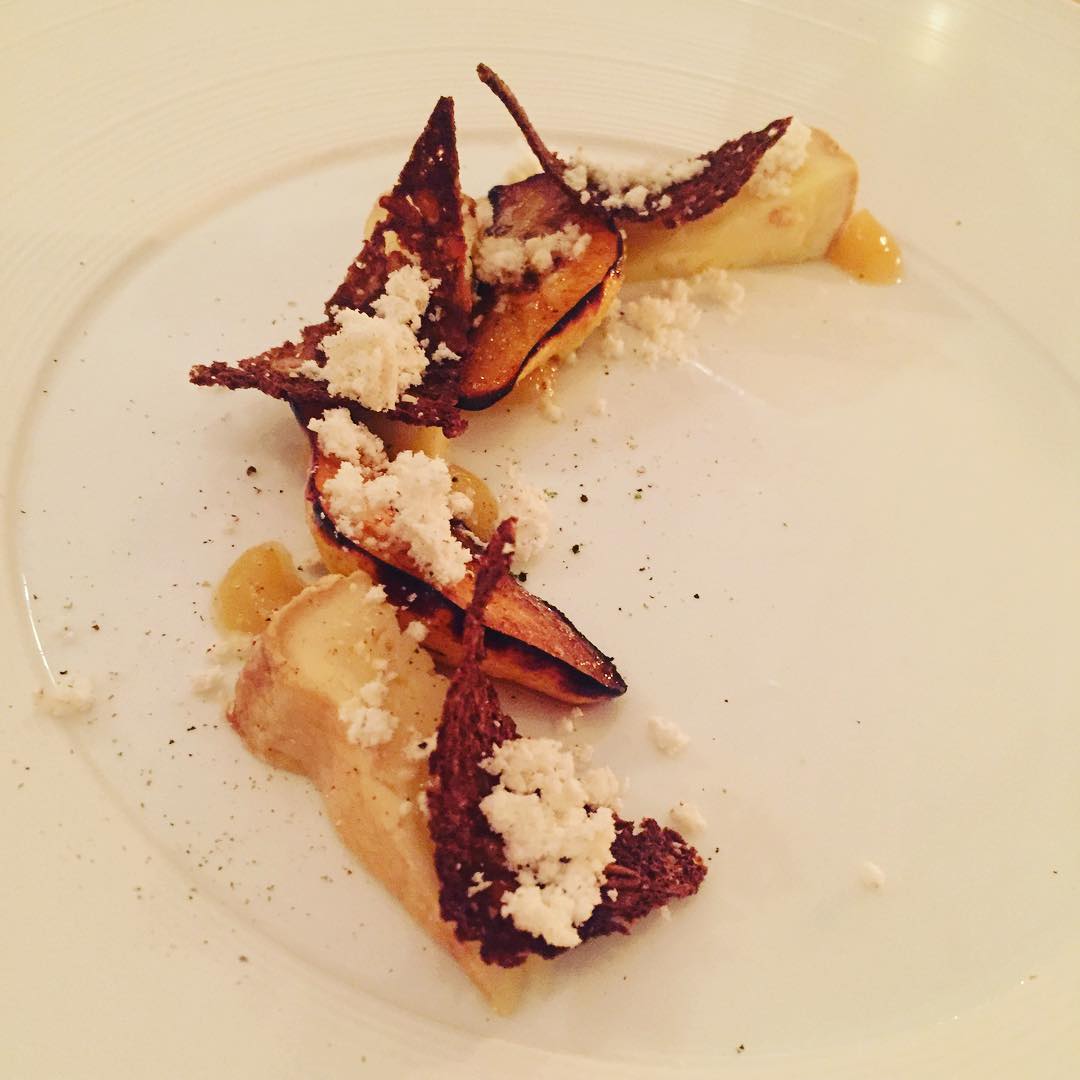 Say what you want about the aroma, Malou, it was a beautiful dish!
A reoccurring theme throughout the evening at Gastromé were playful combinations and bold flavors and aromas. The cheese course was no exception, I noted the minute it was put under our noses. Smear-ripened cheese come in every variety from mild options such as Port Salut to near liquid death. While Malou will swear to this day, we were trying to do her in with a bit of liquid death, I'd say this local biodynamic variety fell somewhere in-between the two extremes. Soft and creamy yet pungent in smell and taste, it came beautifully dressed with lightly scorched pears, pear puré, wafer-thin rye croutons and what I recall as a nut oil of sorts set into a powder through the magic that is Maltodextrin.
The taste of this beautiful mess, as could be expected, was very driven by the pungency of the cheese which caused Malou to back down half-way through while I soldiered on, trying to form an opinion. What I eventually agreed with myself on was that the combination was certainly interesting but that I personally would have liked to see a bit more flavor from the pears and a bit more sweetness in the puré to calm the harshest notes of the cheese and allow the subtle, exotic, spicy notes of the long pepper to shine through a bit more. But that's just my palate. Cheese will always be a matter of personal preference and from what I undestand from talking to the waitstaff, this particular selection came about from actually talking to customers and having many tell them their choices weren't pungent enough.
Pre-dessert: Orange, Kumquats, tonka beans
After a lengthy session of trying to calm my co-diner down using the only method I know, hearty sips of the excellent bone dry but floral and spicy Alsatian Gewurztraminer that came with the dish, we were hit with another surprise serving.
A two part pre-dessert or palate cleanser that served to not only wind us down and prepare us for dessert, but also mellow out the many bold expressions we'd "suffered" throughout the evening. First we were hit with a small cup of homemade iced tea brewed with a combination of green and black teas, then infused with orange blossoms, fresh orange, kumquats and tonka beans.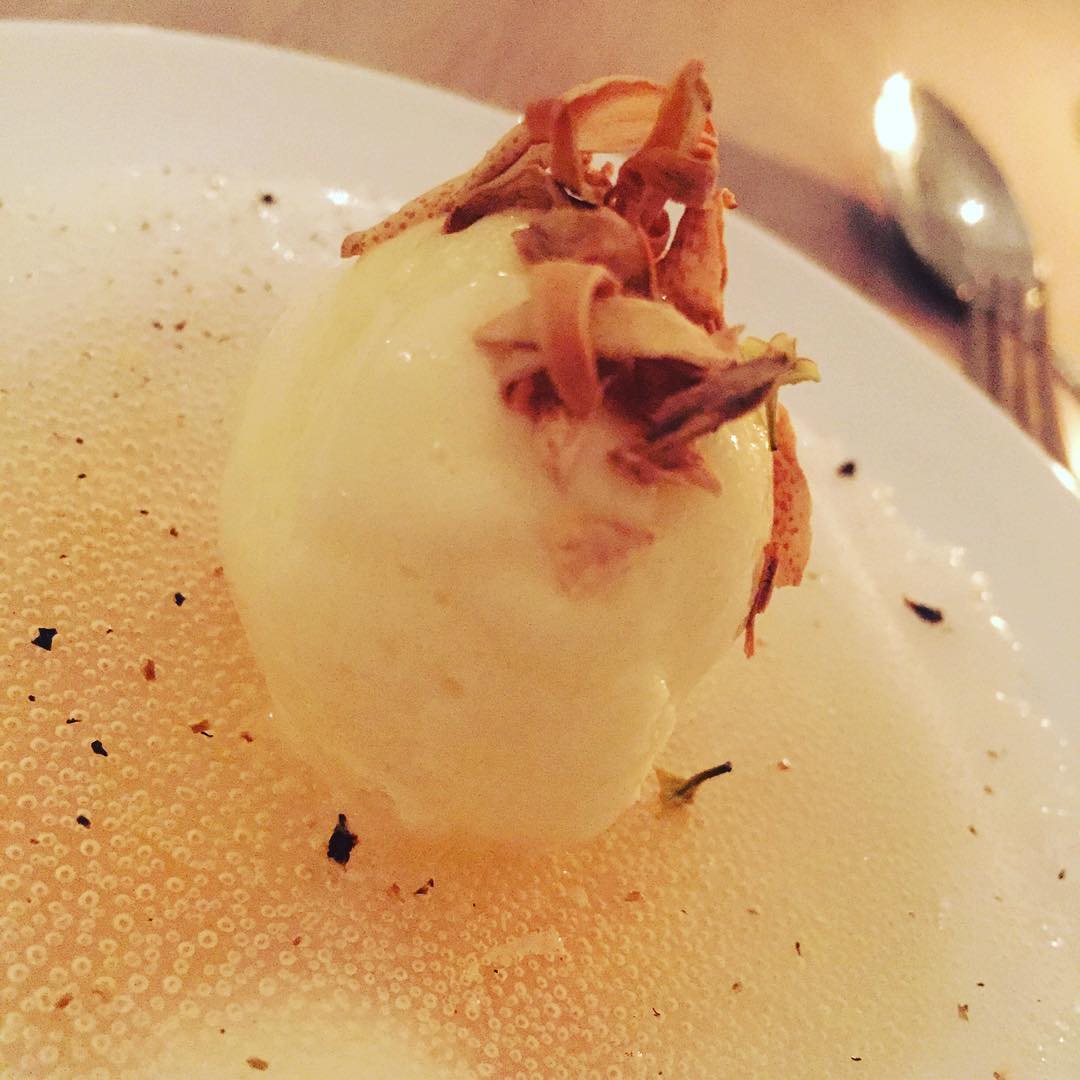 Orange, Kumquat, Tonka Bean… Sheesh!
Then followed another small masterpiece: a mix of orange and kumquat slices stewed in a fragrant sugar sirup of sorts over which was placed a thin caramelized sugar layer topped with a scoop of perfectly textured orange sorbet sprinkled with dehydrated orange zest. Again, the level of detail going into even the smallest and most unexpected servings truly boggled the mind, and the flavors were phenomenal – mixing citrus, orange, and flowery notes in a two part sweet and sour cocktail of nearly perfectly balanced tastes and textures, that managed to impress even this non tea-drinker and anti-dessert person. The only thing that really stood out was the dehydrated orange zest that possessed a slightly chewy texture.
Oh, and the tea? With all the other playful aspect going on, you'd half expect the kitchen to have done something radically insane with the tea, like ferment it into a kombucha-like drink or something like that.  Take this not as a complaint, though, but a free piece of advice! 😉
Eight Course: Dark Chocolate, Blackcurrant rum, beetroot
"Alright, do you want the long or the short story of the wine," the waiter asked, rhetorically, setting down a bottle of Late Bottled Vintage Port in front of the biggest port lover I know (that's not me, by the way!). "Long," we voiced in unison, as we'd grown to quite enjoy the storytelling aspects of the dinner we were enjoying. At which point he literally launched into a ten minute lowdown on the history of port, a quick overview of port types and the characteristic of the particular wine, we were to be drinking: A tour de force of knowledge, insight and storytelling ability that stopped many of his colleagues in their tracks to listen and absorb bits of knowledge.
A ten minute introduction to a wine is probably a little too much for some hence the question about the length of the tirade. For us though, these detailed and often minute-long descriptions of not only the food we were eating and the thought behind it, but also the wine pairings and the reasons for pairing helped elevate the meal to new geeky heights. And I'm so grateful they took the time to let us indulge in the story of our meal. The only problem with this particular introduction, though, was that it helped elevate the wine – a fresh and fruity, yet intense and surprisingly developed 2010 LBV Passadouro – to such heights that it  outshone the dessert, it was served with.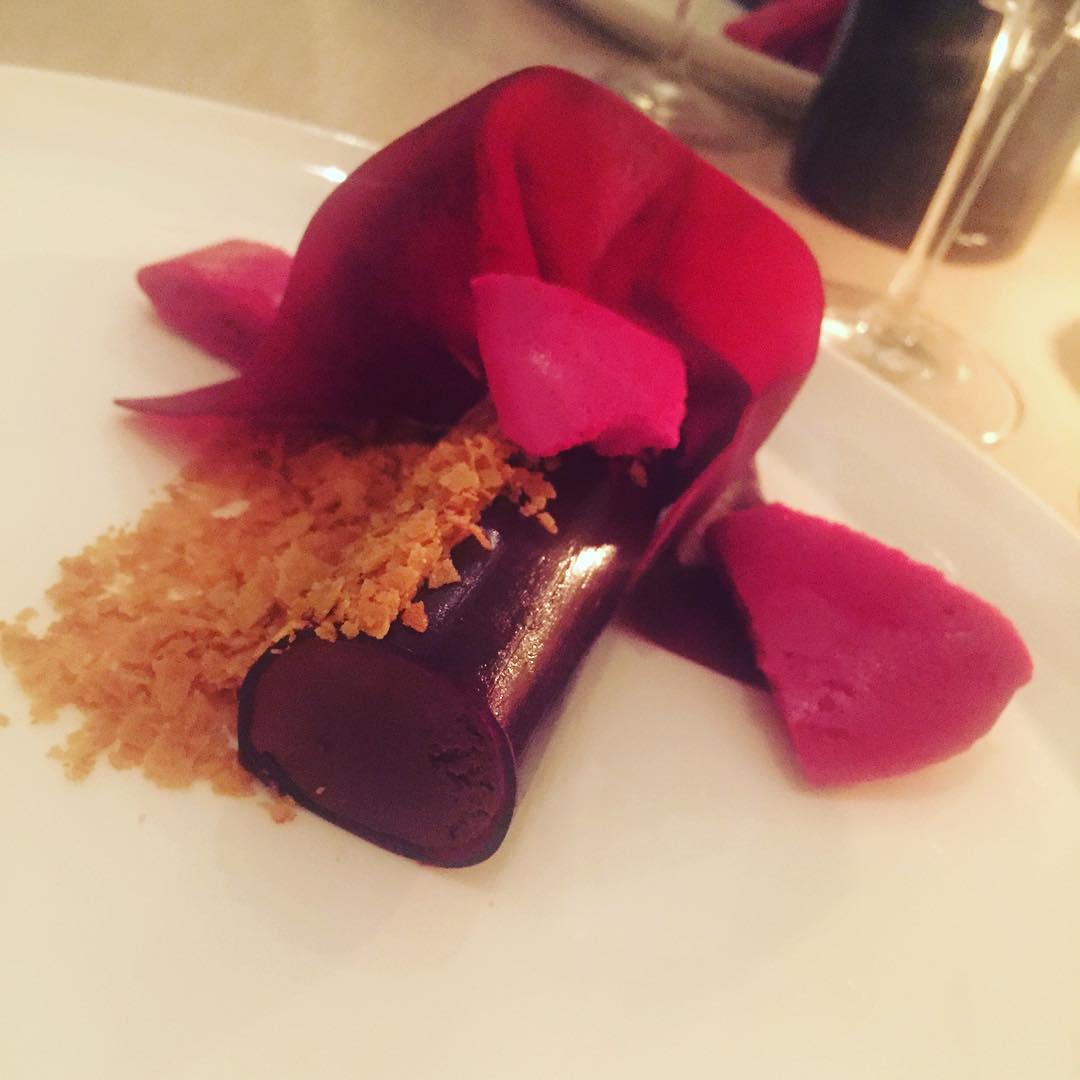 Chocolate, blackcurrant rum and beetroot
That being said, the dessert itself was a mix of classical combinations, served in new ways. Placed rather elegantly in front of us was a roll of chocolate mousse encased in a jelly made from blackberry infused rum, draped with beetroot "leather" and a few bits of beetroot merengue. All in all a beautiful presentation of complimentary flavors that balanced the thin line between savory and sweet. Chocolate and blackberries are classic friends but few people are aware that chocolate and beetroot play really well together, too. The natural sweetness and earthiness of the beetroots play really well with the roasted, fermented notes of good quality chocolate and make for a less sweet but certainly interesting combination. The playfulness in textures applied in this version added a bit of fun to the equation and served the purpose of any dessert: ending the main portion of the meal in a comfortable yet surprising manner – and leaving you perfectly overstuffed in the process.
One last surprise: Coffee, Digestif and Petit Four
Speaking of surprises, a set ritual for me includes rounding off a large meal with a cup of coffee and a digestif. Not because I generally advocate drinking coffee around midnight but simply because it's a nice way to wind down and I'm always interested to see what the house has to offer in their digestif collection. Especially at fancier restaurants where having a well-assorted and meaningful array of quality spirits seems a matter of pride. Gastromé, by any stretch of the imagination, was no exception to the rule as their selection spanned several shelves.
Malou, being the resourceful woman that she is, knew exactly what she wanted and dove for the iconic Malus X: Masculine 2013 Apple Brandy from local Cold Hand Winery. I, on the other hand, felt like a kid in a candy store and could have spent hours pouring over the selection. Not wanting to bore the daylights out of everybody and extend opening hours, I turned to our knowledgable somelier and put him to work with a "surprise me".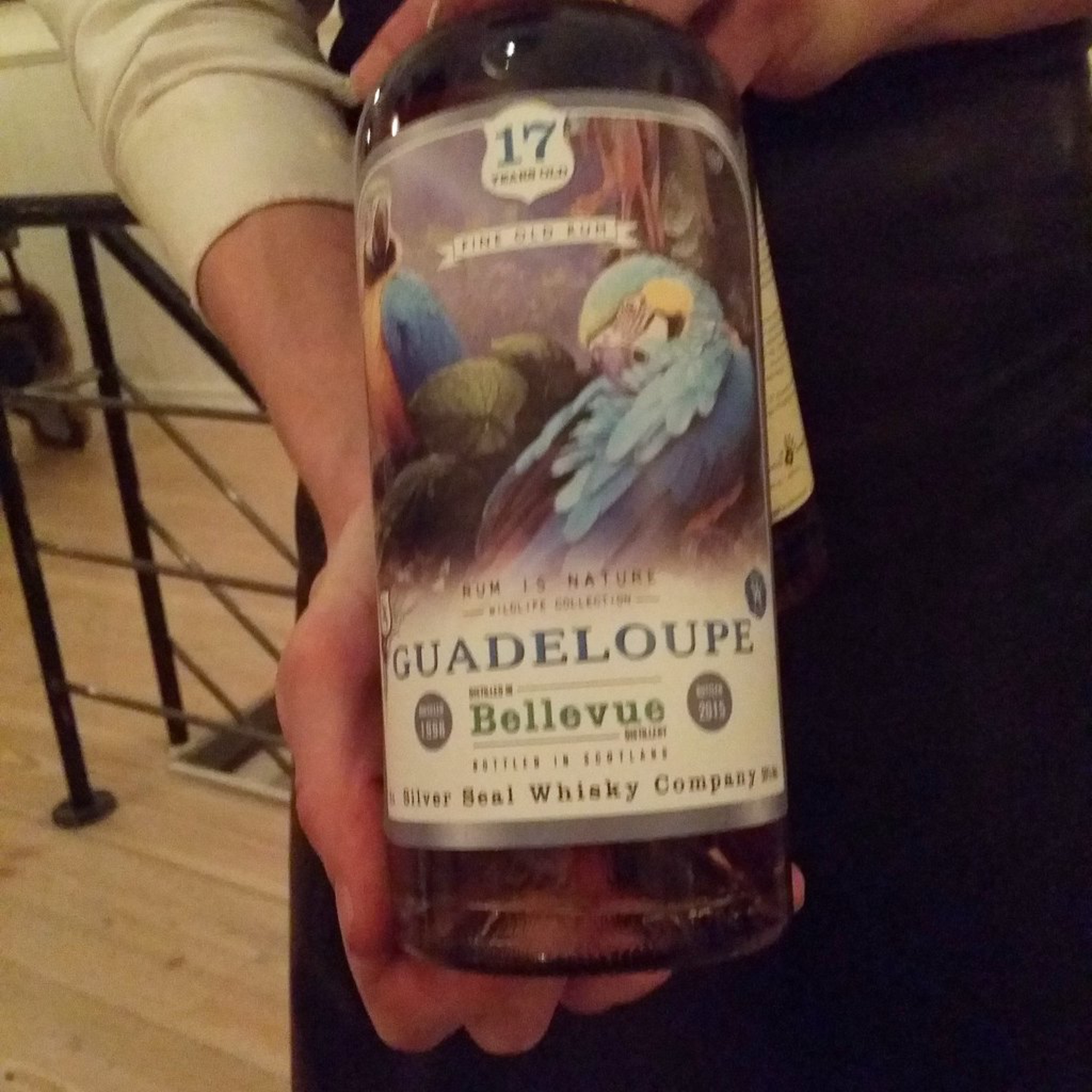 Surprise me, I said. Surprise me he did. Image Courtesy of Malou @ Klidmoster.dk
And surprise me he did, digging out a personal favorite. A Guadeloupe rum distilled in the Caribbean, then transported to Scotland to age for 17 years in the cold climate that limits evaporation and lends itself so well to whisky production. The tasting notes of the rum in question sadly escapes me, possibly due to a growing food and wine coma, but I know that only 250 bottles were ever made and that tasting such a rare gem is an experience that will stay in my mind for a long time along with the full experience that was our five hour dining sensation and sensory onslaught of what Restaurant Gastromé had to offer.
After my obligatory coffee, a nibbling of a selection of Petit Four and a last sip of post dinner dram, we picked up the check, had our jackets returned to us and staggered happy and full back out the front door, throwing one last glance back and paraphrasing, in all honesty, the words first uttered when we stepped in: "I'm still not hating this place!"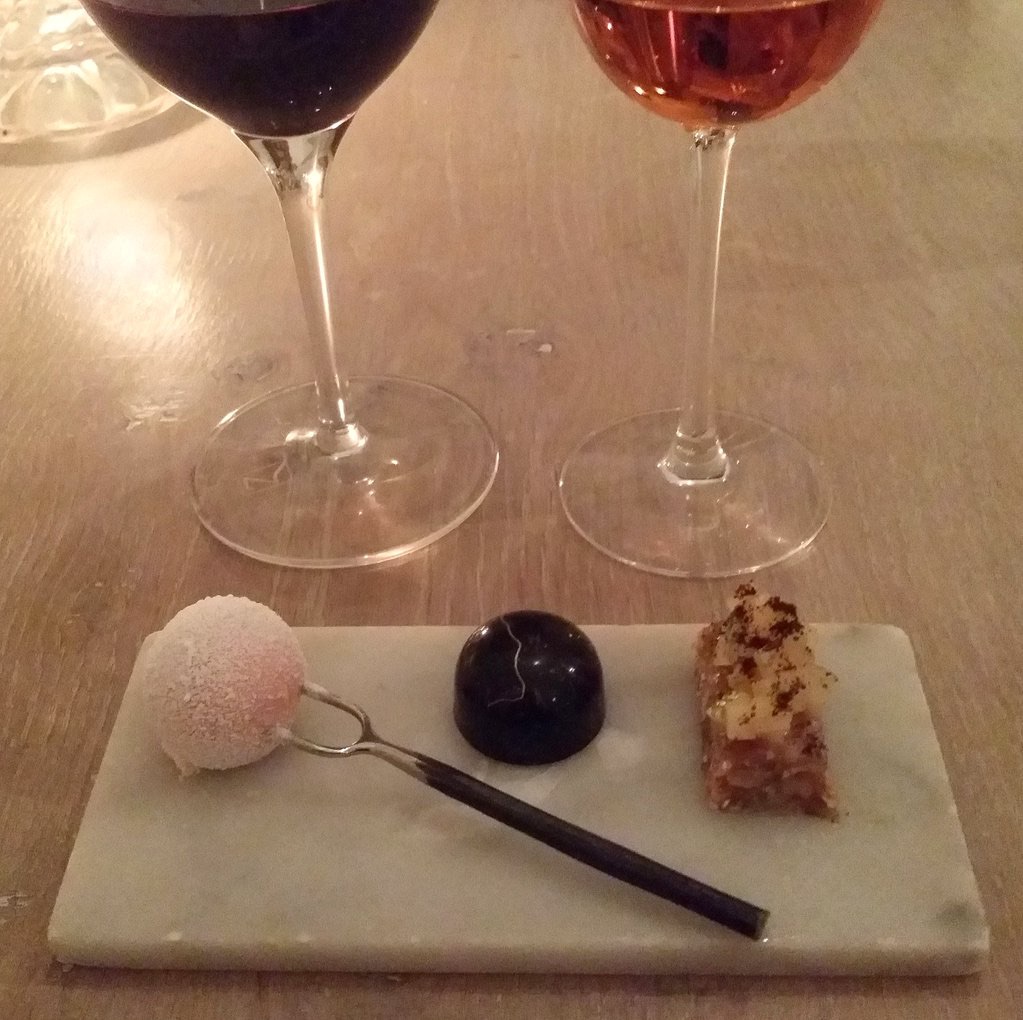 Petit Four: Raspberry Truffle, Valrhona and Valrhona, Granola Bar. Image Courtesy of Malou @ Klidmoster.dk
We continued a block or so down the street to the lovely and quaint Pustervig Cocktail Bar where we ordered up a couple of Old Fashioned from the barkeep and set down to digest the evening that had passed, and to answer the question that had been bugging us (and many others) for going on a year and a half…
Gastromé: Worthy of a Michelin star?
Our grand total for an evening of perfect decadence at Restaurant Gastromé cane to DKK 4,430. By Danish standards, this is a high price and should warrant a great, satisfying experience. It should be noted, though, that our meal included Caviar and Champagne, mineral water, supplementary cheese courses with wine pairings, coffee, petit fours and two very reasonably sized digestifs on the expensive side. Throw away the extras and two people could wine and dine for DKK 2800. Less, still, if Half Throttle menus were selected and/or wine pairings skipped.
For our DKK 4,430, we were treated to five hours of perfect luxury in a posh yet laid back setting at the hands of some of the most knowledgeable, passionate and friendly waiters and someliers, I've personally had the pleasure of being served by.
We came in, I dare say, a little nervous as to whether we would be satisfied, expecting to half-way tear the place apart, pick out major mistakes and put too much thought and weight into even smaller mishaps. We were wrong. Gastromé delivered. They satisfied us, made us feel at home and included us deeply and passionately in the full experience that is their full throttle menu. There were (smaller) mistakes, yes, but these were picked out by two very critical set of eyes and palates.
So, is Restaurant Gastromé worthy of a star?
It is the opinion of this humble reviewer, and I dare say that of my lovely co-diner as well, that what we experienced that evening in terms of food, gastronomic innovation, service and dedication was fully on par with efforts found at other one star restaurants around the world. Gastromé delivered a captivating, playful and indulging dining experience which kept us entertained, happy and pleasantly surprised for five hours.
That being said, there were a few minor dents along the way: a not entirely visually appealing dish, a single case of oversalting and a couple of elements that served little purpose but to add texture and gimmick to a dish. Such flaws, in my book, are not enough to deny a restaurant its stardom but are probably rather the product of an overly ambitious kitchen striving to innovate, improve and surprise. What minor flaws the food had was more than made up for by the overall impression of the menu as a whole, the genius wine pairings, and the time and dedication invested in our dining experience by the entire staff.
Is that enough to warrant a Michelin star? Well, put it this way: People seem to expect that Michelin-starred dining experiences should be absolutely perfect: perfect food, perfect plating, perfect service, perfect wines and not a single bump along the road. This, in my experience, is rarely the case at a one star level. The very definition of a One Michelin-starred restaurant according to the guide itself is "a very good restaurant experience within its style" and Gastromé certainly is just that: a very good restaurant within its style – with room for improvement. What more could you expect?
In my mind, the sole reason for controversy is the amount of time they've been in operation. These guys got their first star within five months of opening which came as a perfect shocker, even for the restaurant owners and staff. They have now, essentially, had a year and a half to get things going and get comfortable with their appearance, style, food and level of curiosity and experimentation. In my mind, what they've achieved in this time frame is, honestly, impressive and I speculate that we've seen very little yet in terms of what the guys will be able to achieve given a little more time to play with ingredients, flavors and cooking methods.
In my book, Gastromé are well entitled to their star and should wear it proudly. Whether other Danish restaurants got snubbed in the recent drizzle of Michelin stars, that's an entirely different discussion!