Home » Blog » Restaurant Reviews » Smukfest: Dining in Style at Denmark's Most Beautiful Music Festival
Full disclosure: In early August, I along with a few other selected bloggers and journalists received an invitation from Madværket to visit their gourmet pop-up restaurant at Smukfest. The experience inspired this write-up about Danish festival food past and present, Smukfest in general and the experience at Madværket in particular.
Prologue: Festival Food Past and Present
June 27, 2003, Roskilde Festival – I'm lying in a patch of grass in the late afternoon sun. Iron Maiden, my all-time favorite live band, is playing in a few hours and I'm feeling queasy. Not for the usual reasons that one might feel queasy at a music festival, mind you, I'm feeling queasy after an encounter with an early adaption of festival food: Nasi Goreng, the sign said, but what I really received was a sweet and burned sticky brown concoction of rice and sauce dotted with minuscule boiled shrimp that made me sick to my stomach. Luckily, this was in the time before Instagram and social media so no photographic proof exists of this culinary experience best left forgotten.
The state of Danish festival food: When an invitation arrived stating "come see visit our restaurant" – we weren't quite expecting THIS! Photo credit: Malou Rotvel Pagh
Fast forward a decade and then some, travel a hundred kilometers or so west to Smukfest (once known as Skanderborg Music Festival, now simply as Smukfest, literally: Beautiful Party) and the scene is entirely different: I'm standing amidst hundred-year old beech trees on the patio of a makeshift wine bar overlooking a more than proficient Queen cover band tearing through Another One Bites The Dust. I'm ever so slightly queasy again, but it's a good kind of queasy this time; a slightly overeaten kind of queasy. I've got a glass of Chablis in my hand. On my left, fellow food bloggers, Martin from rigeligtsmor.dk and Mads from Madsvin.com are heavily engaged in a discussion about the subtle and not so subtle differences between Riesling and Chardonnay grapes. On my right, Malou has her head tilted back, a faint hint of a tear shimmering in her eye as she watches the fading blue sky through the canopy above, whispering something about having found her happy place.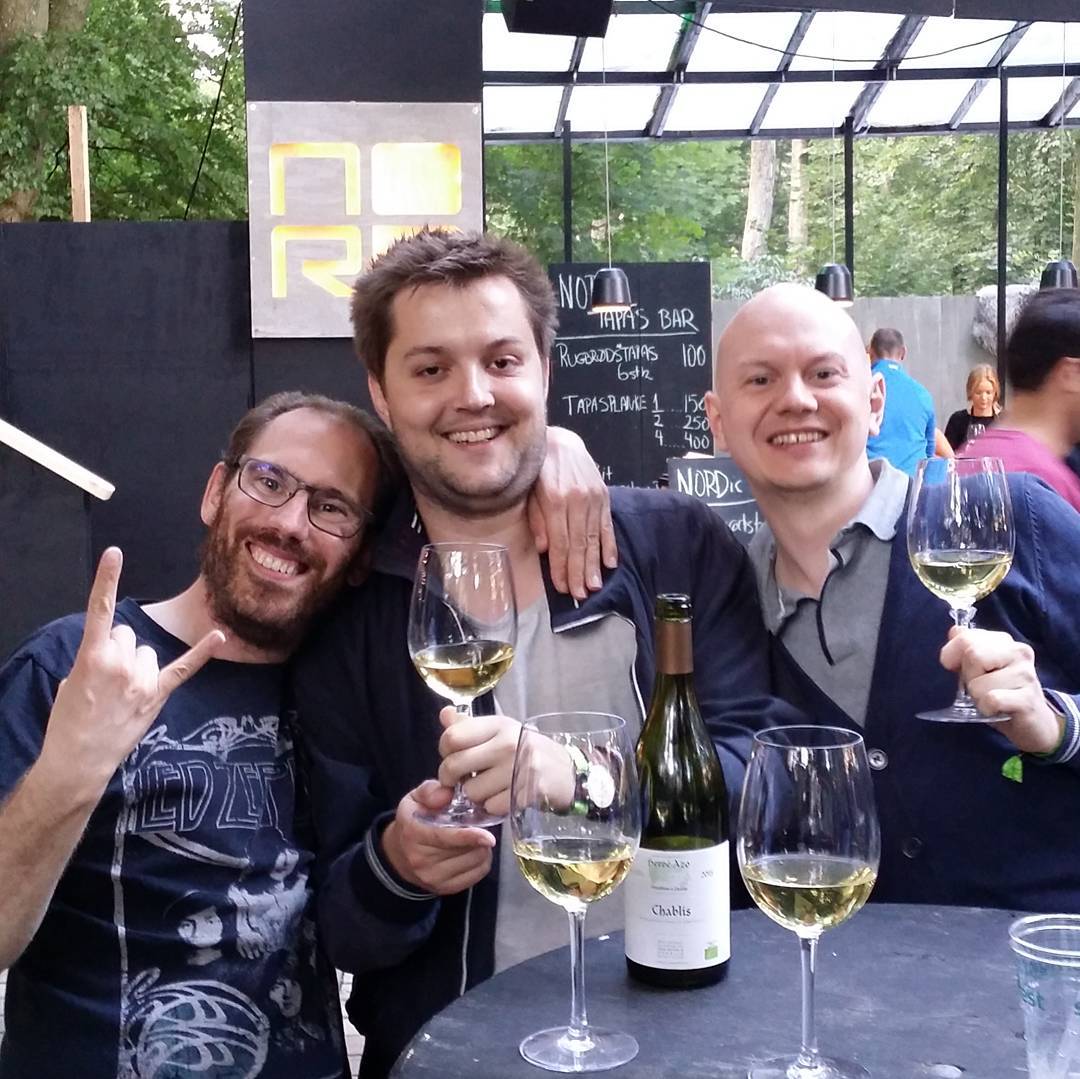 Chablis, smiles and rock 'n' roll: Three happy food bloggers! Photo credit: Malou Rotvel Pagh
We're stirred from thought by the sudden appearance of the always smiling, and down to earth Michelin-starred chef René Mammen, owner of Restaurant Substans (review here) in Aarhus. "Hi," he beams, "what are you guys doing here?" – "Eating… Drinking… Uh, taking in the sights," we respond. "Oh," he quoths, sounding not the least bit surprised, "anything good out there?"
Smukfest: a brief overview of Denmark's prettiest festival
Smukfest is Denmark's third largest and second longest running annual summer music festival with an annual attendance of around 30,000 and 36 years of history to its name. Often described as Denmark's prettiest and coziest festival, it has experienced a surge in popularity over the past decade or so. So much so that the nearly 30,000 tickets for the 2017 festival sold out in a mere five hours before a single music act had been announced. We don't care, said the regular festival goers, we were never here for the music anyway.
So, what were the 30,000 odd people there for? To be honest, we were not at all sure, but we'd heard some rumors: The food was good, we'd heard. People had a good time, rumors said. But we had never experienced the mood and feel that was Smukfest ourselves. So when Malou and myself received a gracious invitation from Madværket to experience a day of music and dining at Smukfest, we knew not at all what to expect but were eager to find out. Maybe there's a story to be told, we thought and simply jumped in feet first. More specifically, we boarded a special bus from bustling downtown Aarhus which took us in a reasonably straight 30-minute line to freedom first through industrial estate and across rolling fields, past serene lakes and through quaint old towns to the heart of Festival Land right outside the beautiful and quiet town of Skanderborg, Denmark.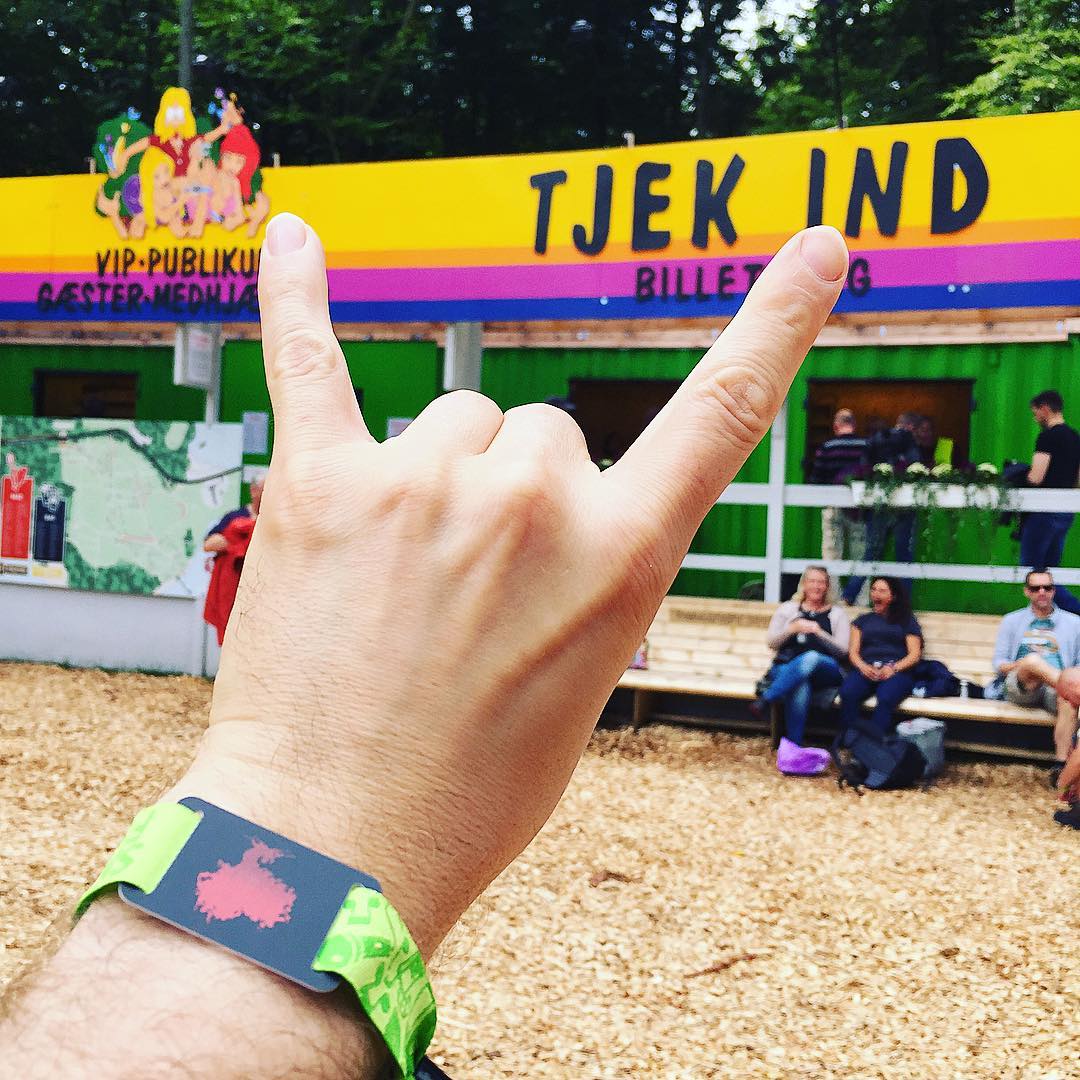 Obligatory festival armband shot!
The serene bus ride soon gave way to a short-ish walk down winding forest roads through ancient woods whose undeniable beauty were masked not even by the presence of tens of thousands of more or less inebriated party goers of all ages gathering from near and far to form a sing stream, heading in the same general direction. We arrived, eventually, at the festival check-in area where we picked up our armbands and then crashed for a while in the perfectly idyllic and rather appropriately named Sherwood area, a sort of pre-festival area consisting of a sizeable clearing in the woods, containing a number of food stalls and bars as well as a small stage.
While festival goers waited for the main festival area to open at 3 PM Wednesday, they could chill here with a beer, a glass of wine and a bit to eat while listening to local bands earing a break on the Sherwood stage. Arriving about three hours prior to the grand opening of the festival, we decided to do what the regulars did and performed a quick sweep of the area in search of something to drink and a bite (or two) to eat.
Smukfest: a new take on festival food
We quickly settled in at CANBlau tapas bar and decided to share a couple of glasses of Cava, a black burger and a few spicy sausages. While not particularly appetizingly plated and peculiarly seasoned for our taste buds, the food was fresh, well-prepared and already a far cry from the festival food of yore. "I think I'll like it here," I said as the band playing the background kicked into a rendition of Lynyrd Skynyrd's iconic "Sweet Home Alabama" that matched the food: clever and thoughtful, but not exactly memorable.
Ham and garam massala burger and spicy sausages with aioli and truffle sauce. Sloppy plating, odd flavor combinations and far too much truffle oil – but bold and still a far cry above the festival food of yore!
Having sucked as much nutrition as one could out of a glass of bubbles, we ventured on to explore more of what Sherwood had to offer. The main festival area did not open for a few hours, giving us plenty of time to assess the food and drink situation. Said situations, like the rest of the festival, we found to be colorful and varied – from industry giant Tulip Bacon's massive diner-styled restaurant over the equally large Wunderbar from brewing behemoth Royal Unibrew to smaller stands peddling everything from pizzas and burgers over Mexican street food to Danish classics like Stegt Flæsk (crispy-fried pork belly).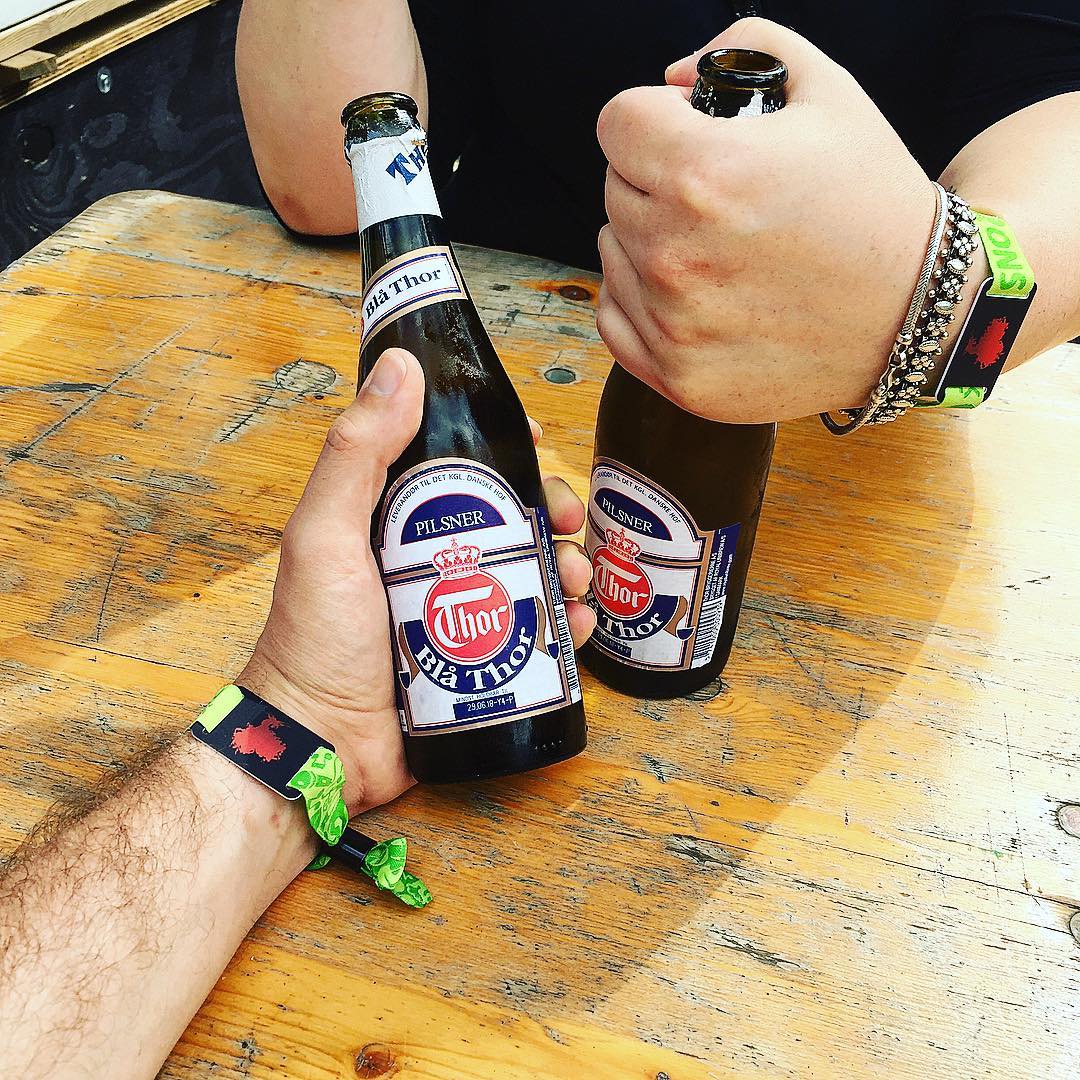 Hmm… What to do while waiting for the gates to open? A classic, local beer? Oh, okay, then!
Feeling suddenly a little overcome by a severe case of awesome weather, we eventually settled down for a reasonably crafted Bloody Mary and a couple of beers served to a strangely mesmerizing mix of 70's punk classics, 80's power ballads and 90's sing-along songs at Stjernen bar, a psychedelic work of metal and colored glass located near the entrance to the main festival grounds. From here, we simply watched the world turn as the forest got ready for the party of the year.
Smukfest: A peculiar spectacle of hippie spirit and high class
As the gates opened at 3 PM, we joined the masses and slowly made our way through the mesmerizing landscape of Smukfest that opened before us. Not only was this one of the most serene and beautiful festival grounds I've been to, with its tall trees, winding forest paths and peaceful clearings in place of concrete, grassy fields and beaten dirt tracks, it was also overflowing with a sense of camaraderie, pride and creator spirit, like a fully updated version of the last hippie wave of the colorful Danish counter-culture movement of the late 70's on which it was founded. Proprietors – be they restaurateurs, barkeeps, or simple snack pushers – built their own temporary stalls here and they did so with a sense of friendly competitiveness and pride, causing one structure to rise up bigger, more elaborate, unique and impressive than the other.
A Smukfest take on ye olde beer tent – the massive structures were elaborate and impressive!
Smukfest was not your usual festival collection of matching stages and generic food and drink stalls, it was an all-together perfectly unmatched mish-mash of increasingly impressive semi-permanent structures built of wood, refurbished building materials, scrap metal, kitsch and what have you.
I could live here, I said, dreamingly, passing by the appropriately named Champagne bar near the festival's main stage, before walking into the arms of a beaming Søren Andreasen from Aarhus' Klassisk 65 Bistro who was overseeing opening service at his weekend pop-up venture Smukfisk (Beautiful Fish), a 100 or so seat institution on these festival grounds planning to serve up 750+ lobsters, a couple of thousand oysters and lord knows how many crayfish over the course of the five day festival. Fresh lobster cooked to order any time of day (or night) at a music festival? Oh my, the times they are a-changing!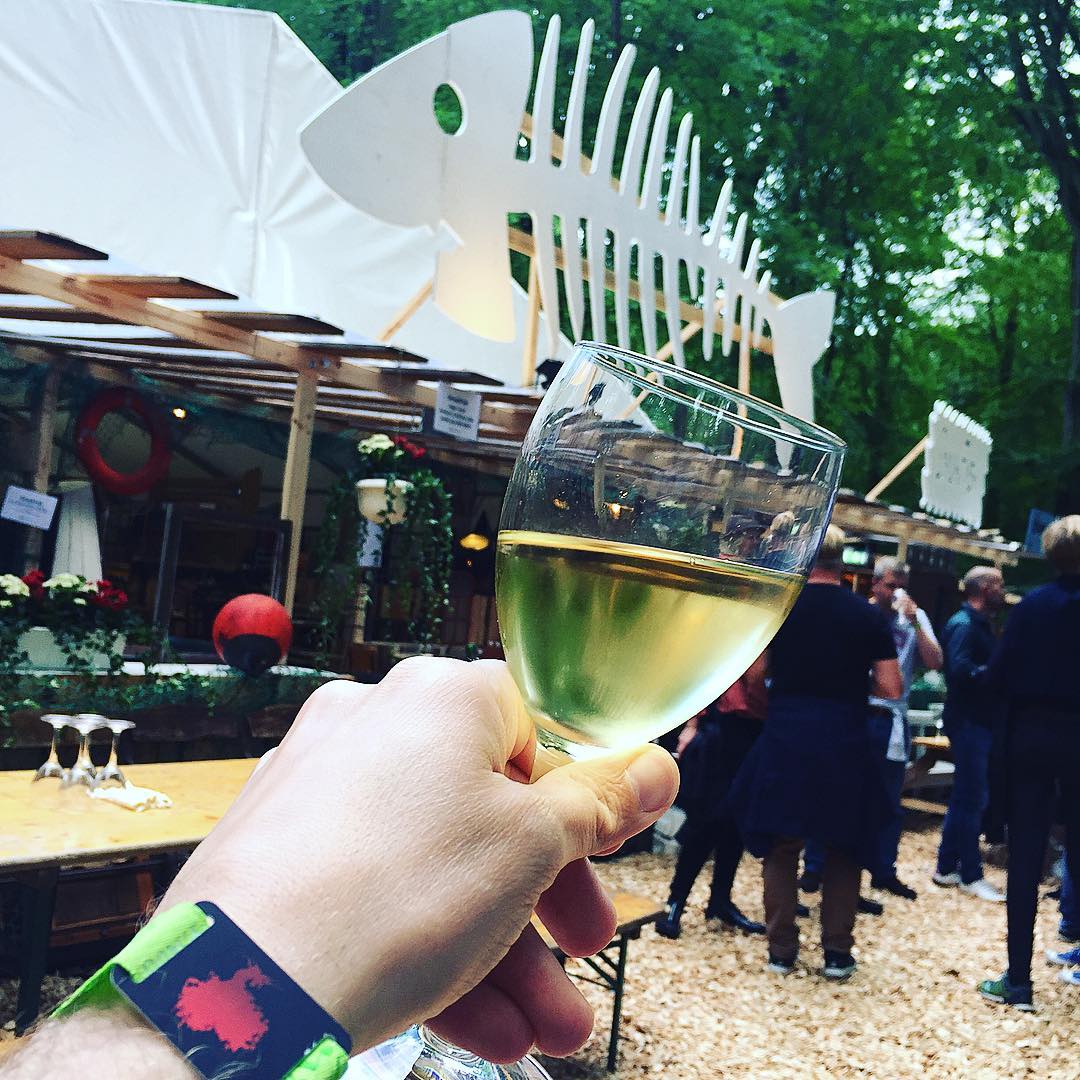 Sipping white Cote du Rhône to the smell of crayfish and fish sizzling away. Life on earth is good!
We sat for a while, sharing a glass of beautifully accessible white Cote du Rhône with Søren, while listening to his plans and dreams for the weekend before venturing on through beautiful forest trails and making our way past more grand structures. We stopped briefly by our good friend Jakob "Gourmensch" Nussbaum who despite being a rookie in the Smukfest game had jumped head first into the pioneer spirit and can-do attitude that soaked the otherwise dry forest bed on which we walked: From his home-crafted "campfire hut", he was grilling up Asian-inspired hotdogs featuring a plethora of elaborate ingredients such as pickled daikon, yuzu mayo and crispy pork crackling. I mean, why the hell not, if lobsters cooked to order is not your thing, how about a gourmet hotdog any time of day or night?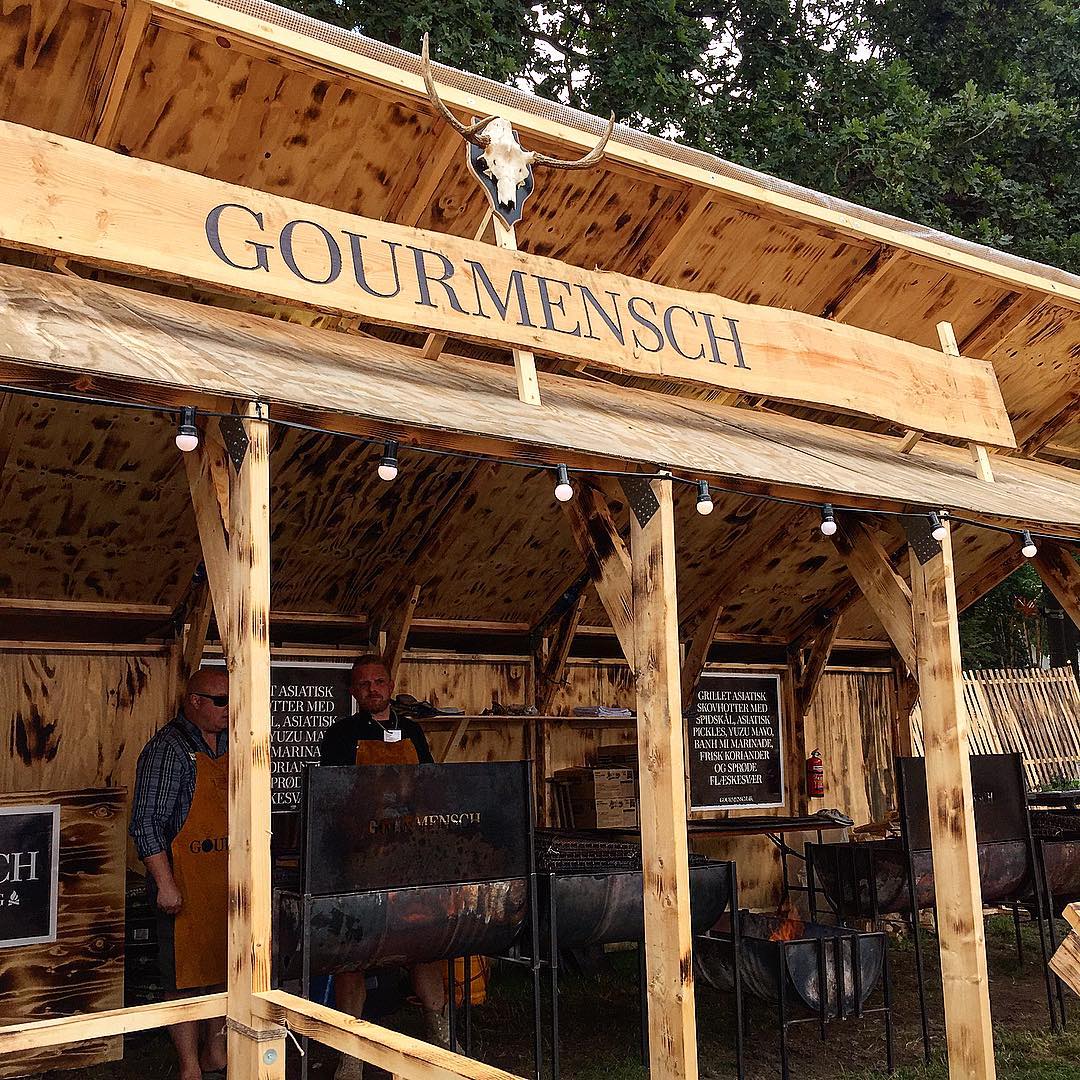 Calm before the storm at Camp Gourmensch – Gourmet hotdogs grilled over open fire pits!
More hugs, pleasantries, questions and ideas were exchanged before we excused ourselves and made our way towards the real reason behind our visit and the perhaps most ambitious project on the festival grounds.
Madværket at Smukfest – Gourmet pop-up dining with wow-factor
Lying right next to Camp Gourmensch on the bonnie, bonnie banks of lake Skanderborg, lay Madværket, a scenic pop-up adventure spanning two stories envisioned, created and operated by an entity of the same name, a cluster of farmers, meat producers and restaurateurs from my native region of the country operating with one shared vision for the culinary world: better, healthier, tastier and more local and sustainable food.
How is this for temporary pop-up dining?
The project was spearheaded by Rasmus Vemmelund of Sdr. Bjert Kro (review here) whose head chef, kitchen staff and host took care of most food-related logistics while the wine selection was cleverly managed by a childhood friend of mine, Kristian Vestergaard Frandsen of Vestergaard Wines. The meat, seafood and produce for the elaborate dishes crafted in the restaurant's five day life span was, of course, mainly provided by Madværket members in an effort to show the people of Denmark (and the world) what our little region in Southern Denmark had to offer. The wine list, on the other hand, including many affordable options as well as a limited "cellar selection" featuring vintage Champagnes, classified Bordeaux, top Chateanueuf-du-Pape and even a few bottles of 2015 Pingus priced at whopping DKK 10,000 for those so inclined.
A couple of hundred grams of Caviar on ice, some world-famous cheese tempering away. What more do you need? Photo credit: Malou Rotvel Pagh
"Cool tee," remarked one waiter cheerily in response to my Led Zeppelin t-shirt while taking a sip of his beer as we entered. "We work hard and we play hard, we want the feel to be fancy yet laid back but never too laid back," remarked pop-up restaurant manager, Rasmus Vemmelund, who was waiting to greet us at the door, casually in response to the slightly less than ordinary welcoming committee.
He then, in his signature humbly proud way gave us a tour of the anything but laid back premises including the downstairs restaurant, a walk through the open kitchen and up a back staircase to the imposing views of the upstairs wine lounge where we found another friend, Kristian Frandsen, doing what he does best – pouring wine.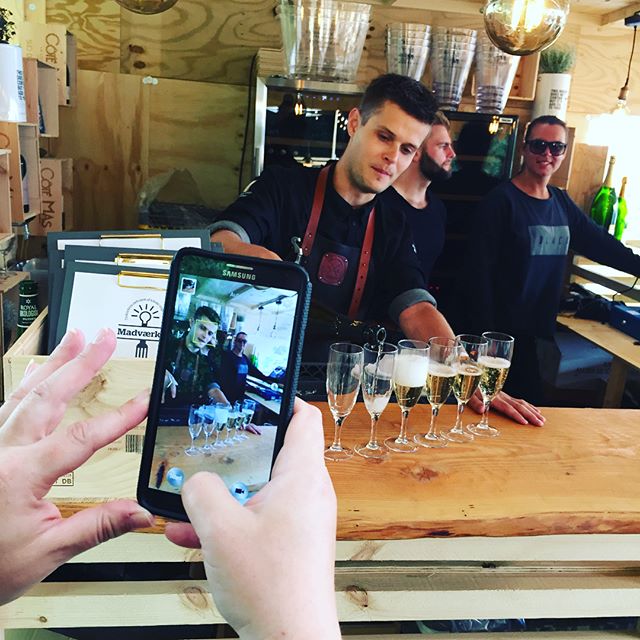 Champagne? Don't mind if we do!
Following a tour of the impressive structure built from 1.5 kilometers worth of rafters, 400+ meters of wire and other such ludicrous figures and stuffed with 2 tons of kitchen machinery, 10 pallets worth of plates, cutlery and lamps plus 66 tables and 170 chairs creating a rustic yet stylish Nordic décor, we were offered a chance to relax in a couple of soft chairs and benches on an outside patio next to the entrance. Relaxation in festival lingo usually refers to the consumption of alcohol of some sort and as it happened, here we were in for the best kind of relaxation:
A waiter soon appeared with a bottle of André Roger Grande Reserve Champagne Grand Cru and we were treated to a glass of what has quickly become one of my go-to Champagnes: full-bodied, crisp, fruity, flowery with a hint of minerals and a relatively high dosage (sugar level) making for an incredibly easily drinkable glass of bubbles. We chatted for a while until we were not so rudely interrupted by the appearance of two very familiar faces in the shape of Martin from rigeligtsmor.dk and Mads from madsvin.com – apparently these strapping young lads had received the same invitation as us and quickly joined us for a sip (okay, more than a sip) of Champagne, some not so quiet contemplation and a chat with the crew.
After winding away a bottle or so of Champagne in the warm afternoon sun, exchanging experiences and tall tales, we had our glasses topped up by the polite wait staff and were asked back into the restaurant for a closer look – and a taste – of Madværket's special festival menu featuring products from small, local farmers and producers.
Exploring the Menu at Madværket: Gourmet food in a festival setting?
The menu at Madværket was purposefully kept simple and consisted of a single four-course prix fixe menu (served for lunch and dinner) priced at DKK 500 plus a small selection of simple yet extravagant snack servings, cheekily labeled as "snolder", a Danish word meaning both candy and excess.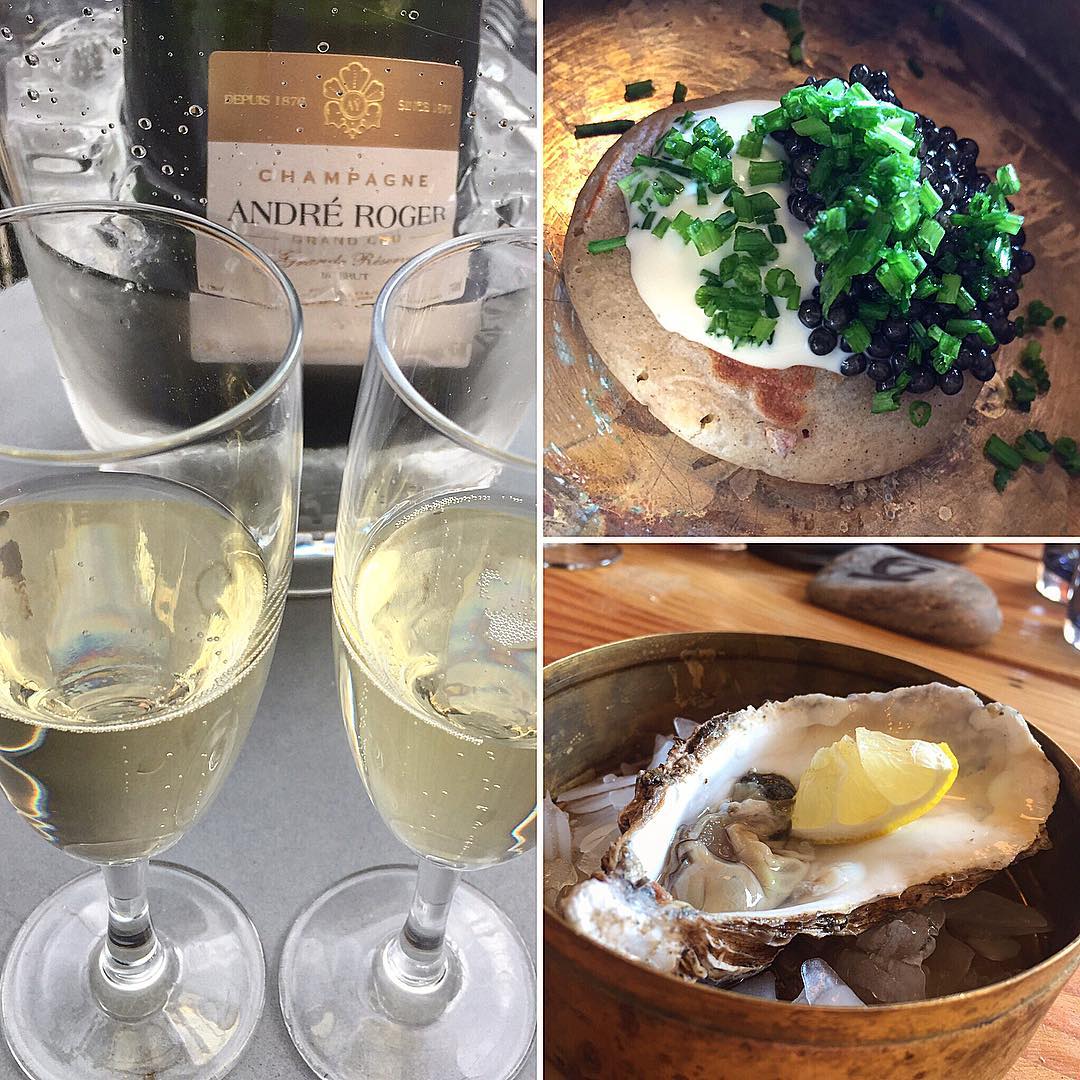 I want candy!
We kicked things off with one of my favorite pieces of candy, a simple, classic rendition of blinis, crème fraiche and beautiful, crisp Caviar from Lyksvad (review here), Denmark's first and only Caviar farmer.
Chasing the Caviar came a single top-quality oyster on the half shelf, salty, succulent, fat and sweet, garnished simply with a single wedge of lemon, allowing the pure oceanic minerality of the oyster to shine through perfectly. A lesson in simplicity and top quality ingredients.
"I can't believe I'm at a festival eating a four-course sit-down dinner. Honey, we're living it," came a beautifully drunken slightly too loud chirp from two women in their late thirties having a party a few tables over. "I can't believe I'm at a festival eating Caviar and oysters, whispered I to myself! I wonder what's next?"
Next came a pour of what has easily become one of my favorite Austrian wines, the fruity and mineral-driven 2015 Von Den Terrassen Grüner Veltliner from Joseph Erhmoser followed by the first course of the prix-fixe menu and another study in simplicity and freshness of ingredients: cured scallop with celeriac and apple, a classic combination treasured for its diversity in texture from soft to crispy and it's perfect balance in flavor between sweetness, freshness and acidity.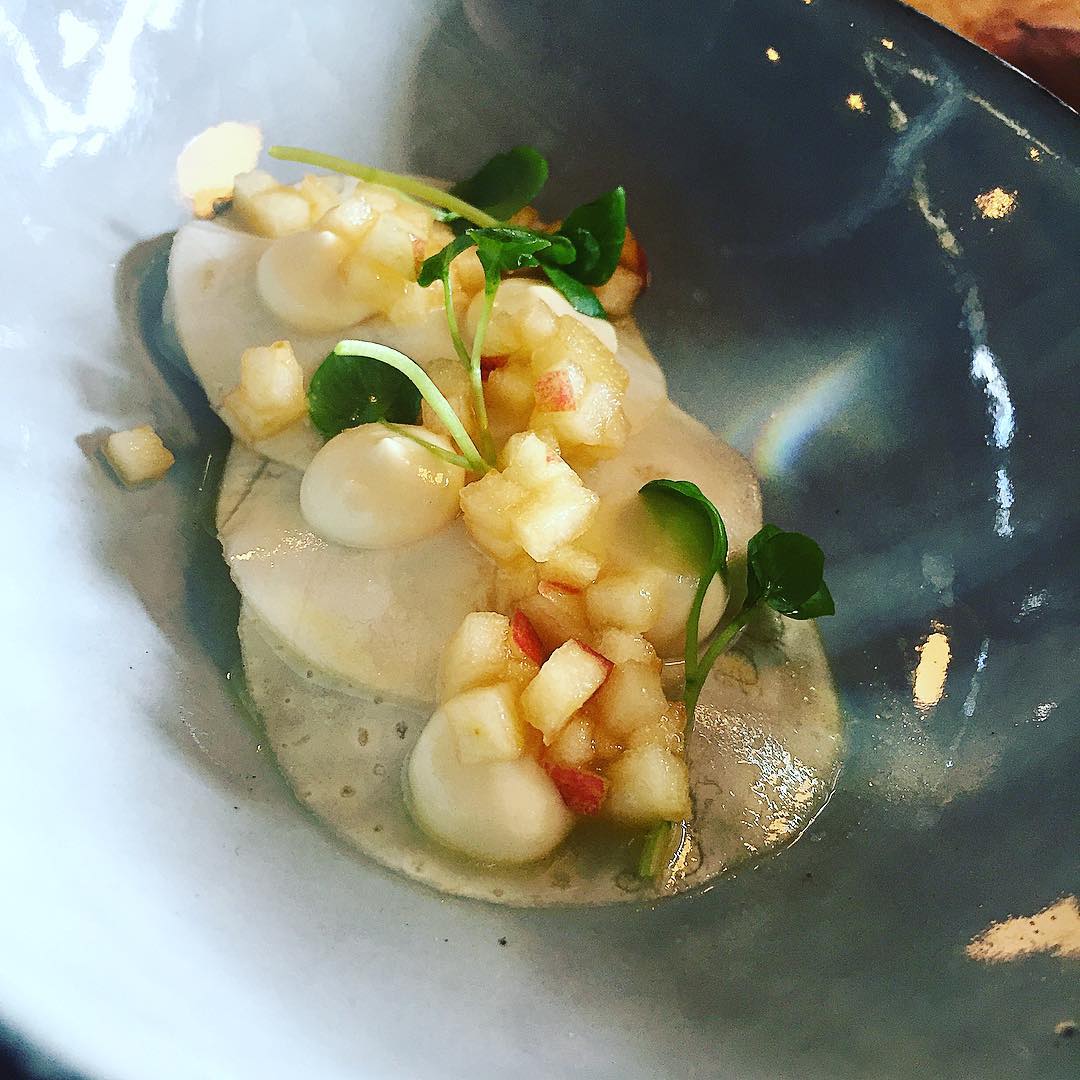 Scallops, celeriac and apple
Chasing the scallops in quick succession came an even more ambitious attempt at festival food: baked cod and summer cabbage with smoked mussels and a beautifully airy fumé drizzled with green oil. Gorgeous to look at and a challenge to prepare, I imagine, given the delicate nature of the fish and the attention to time and detail needed to cook it to flaky perfection. In my case, though, the dish was worthy of a restaurant kitchen: firm, yet perfectly flaky and flavorful fish draped in a light and beautifully textured, rich, smoky and intense sauce.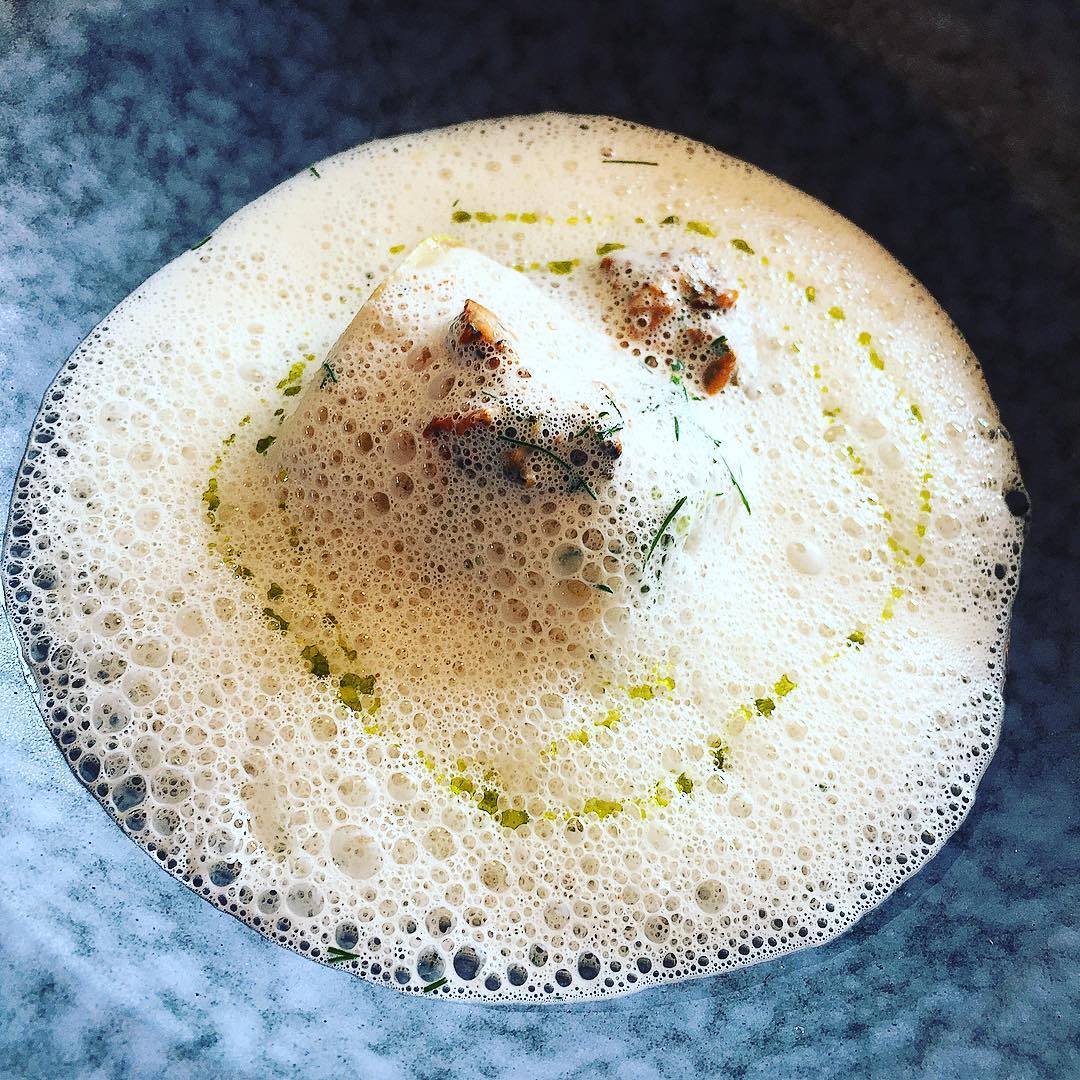 Cod, summer cabbage, smoked mussels and a beautiful fumé
Malou's eyes lit up, as following the fish arrived a bottle of some of her favorite red nectar: a fruity, straight-forward and incredibly affordable 2015 Chianti Colli Senesi from Poderi del Paradiso made from "approximately 100% Sangiovese" as the grower and producer would say. My eyes, on the other hand, lit up because red wine meant main dish and the crew from Sdr. Bjert Kro usually produce some pretty solid and flavorful main courses.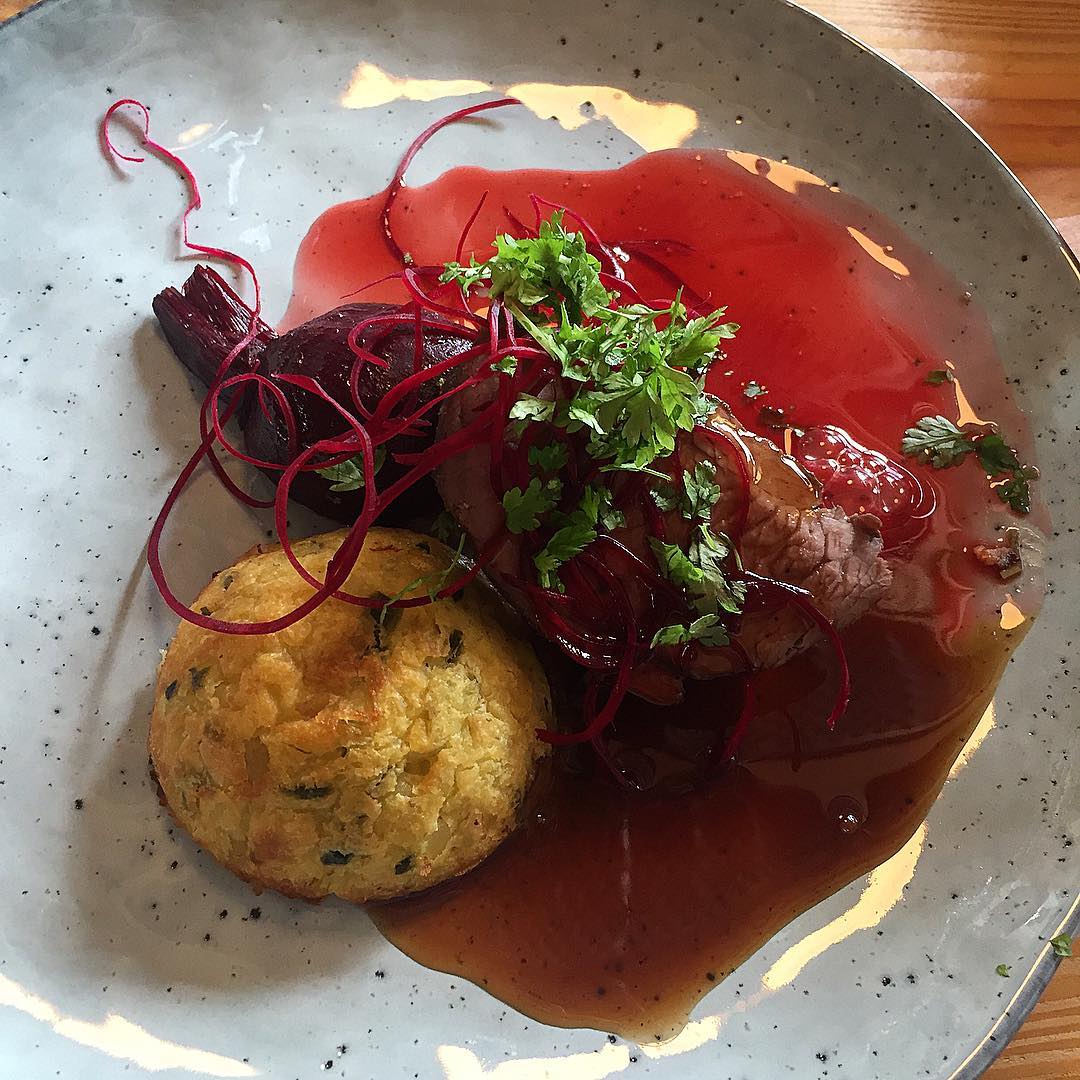 Filet of beef, potatoes, smoked bone marrow, beets
The festival menu's main course was no exception and came in the shape of a slow-cooked filet of beef from free-range cattle, baked beets from a local farmer served with a potato and smoked bone marrow timbale and a sauce duet consisting of greatly reduced glaze and beet syrup. The flavors, as always, were spot on with intense, rich beefiness mixing with a discrete herbal sweetness from the beets and a hint of smokiness offered by the potato timbale.
For my liking, though, the beef was a bit on the overdone side (while festival goers in general may prefer an internal temperature of 58C) and the timbale seemed a little dry, possibly from reheating. Having paid many a visit to Sdr. Bjert Kro in the past, I feel confident, though, that this was not owing to lack of skill or spirit, but rather the somewhat complicated logistics of keeping a somewhat temperamental dish at the ready for an equally temperamental and indeterminably sized crowd, few of which (if any) carried a reservation. Such a task is, after all, vastly different than cooking for a finite number of diners in the industrial-sized kitchen of a gourmet restaurant. And that is the very light in which this experience should be seen: The dishes, while obviously not as extravagant and meticulously prepared as those usually found on the a la carte menu at Sdr. Bjert Kro were miles ahead of what one usually associates with festival food and presented in a setting quite unlike anything ever seen before.
That being said, I was more than happy to see the dessert delivered absolutely spot on, beautiful and captivating. I've previously ranted about the tendency of pulling savory ingredients into sweet dishes but for once, I got the full picture.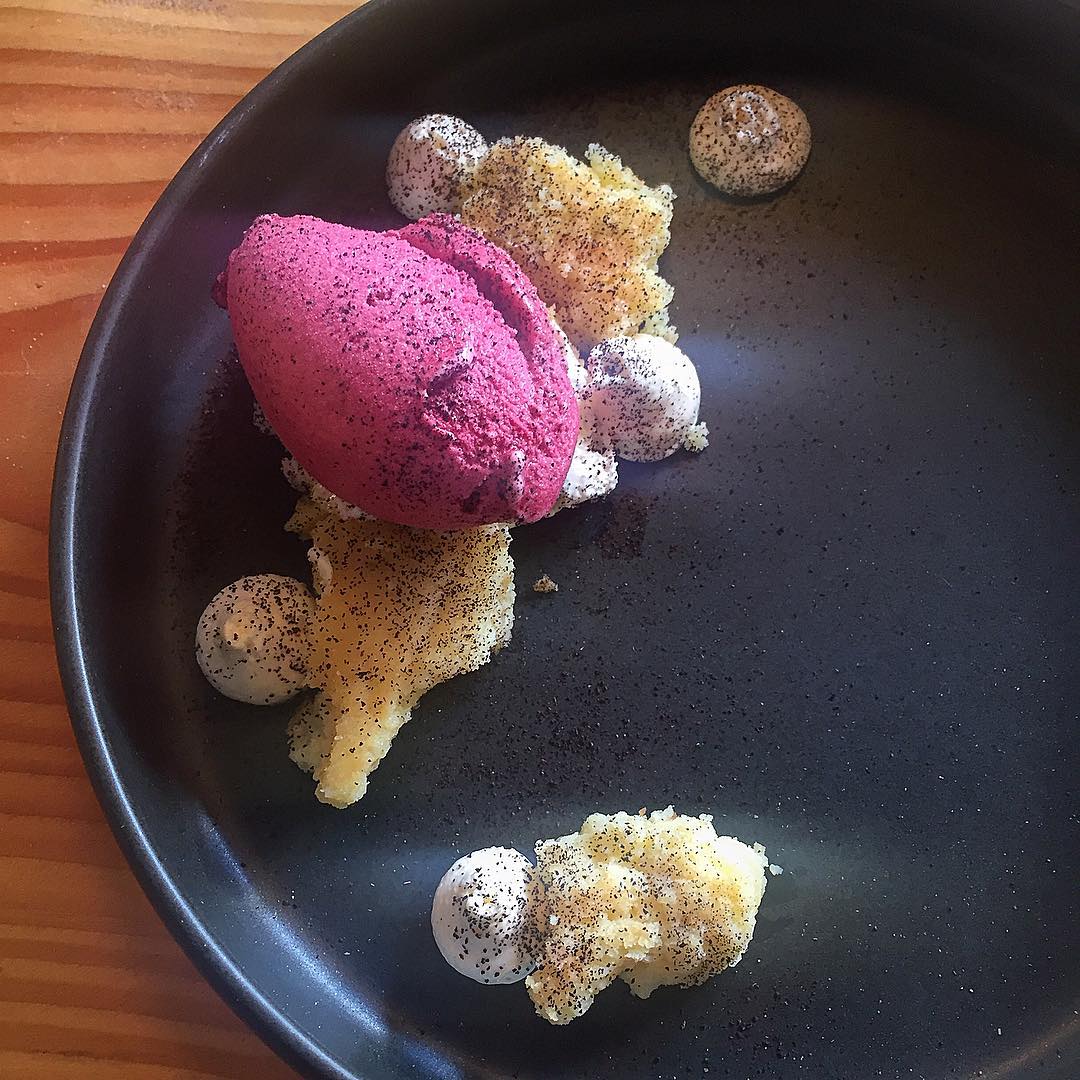 Beautiful, beautiful dessert!
Madværket's fluffy potato mazarine with white chocolate and a perfect quenelle of chokeberry sorbet was delectable: Not to sweet, not too tart, neither too light nor too filling – perfect for someone like myself who quickly find desserts cloying and overpowering.
The wine pairing, too, was spot on for me. Chateau l'Ermitage's quirky but iconic Le Muscat is sweet, very sweet, but never cloying and showcases an abundance of fresh fruit and a steely acidity to keep everything in check. It's a perfect match for everything from foie gras to strawberries… and potato mazarine, too, apparently! Who'd have thunk?
World famous cheeses: The best way to end a festival meal?
Reasonably full, somewhat intoxicated and quite happy, we leaned back in our seats to take in the feel of the place … Some took the time to Instagram a few moments, some chatted with the crew, others used the bathroom and someone made sure the rest of the wine magically disappeared. We all took a timeout in our own little ways until, collectively, we were able to answer the question "would you care for a bite of cheese?" with a resounding "yes, please!"
And what cheeses they were. Elmegaarden recently made national headlines when they refused to deliver cheese samples to the upcoming version 2.0 of the world's once best restaurant, Noma. If Noma wanted to sample the goods they could get off their asses and in the car for a visit… Which, apparently, Noma did!
Cheese and red wine? What's not to love? Photo credit: Malou Rotvel Pagh
The ruckus catapulted this micro fromagerie into the limelight somewhat to the dismay of those of us who have long enjoyed these hidden, cheesy gems. But I digress, what I'm getting at is that chef and restaurateur Rasmus Vemmelund has long maintained a great relationship with the fine people of Elmegaarden and as such have always served their cheeses whenever possible. Smukfest, obviously, should be no exception.
And so it came to be that my first ever festival cheese platter came to consist of three perfectly ripe, perfectly tempered AND world-famous cheeses paired with freshly baked sourdough, syrup-coated nuts and pickled green tomatoes…  Somewhat unorthodoxically but cleverly paired with a light, fruity and non-intrusive red wine from Chateau l'Ermitage.
Is this the new age of festival food, I wondered, as we thanked our kind hosts for a wonderful experience and slowly made our way out of the shade and into the beach party that had kicked off in full force outside at the banks of Lake Skanderborg. Caviar, oysters and scallops? Prime beef and local, organic produce from passionate farmers with a vision? Niche Champagnes and Pingus at DKK 10,000 per bottle? Apparently so!
Would I have thought it possible when some 13 years earlier, I was trying to keep my lunch down at Roskilde Festival? Would I have cared? "I don't know," I thought as I bought a round of beers for the guys and a Gin & Tonic for the gal, then smiled to myself… Because in that magical forest outside of Skanderborg, Denmark, for five short days per year, hand-built, temporary, fully stocked pop-up restaurants serving Caviar, oysters and lobsters cooked to order while Champange, crisp white wines and powerful reds flow freely IS the new norm.
And better yet, if that's not your thing (or within your budget), there's always the ridiculously complicated Gourmensch Asian-inspired hotdog, tapas fusion, fresh fish, Danish classics, a slur of burgers… And MORE! While 2003 Johan may not have given two fucks, 2017 Johan was ecstatic: with such food, such camaraderie and such a feel, who honestly cares that the musical lineup was supposedly the worst in years!
Epilogue: Queen, Wine, Lobsters and Jamiroquai – Darkness falls on Smukfest
"Hey, has anybody noticed that this is actually a music festival," asked one of the boys suddenly, "maybe we should try actually listening to some music?" – "Queen Machine is playing, I hear they're awesome," said someone else. "Will there be beer," I chirped, hopefully. – "Let's go find out," we agreed!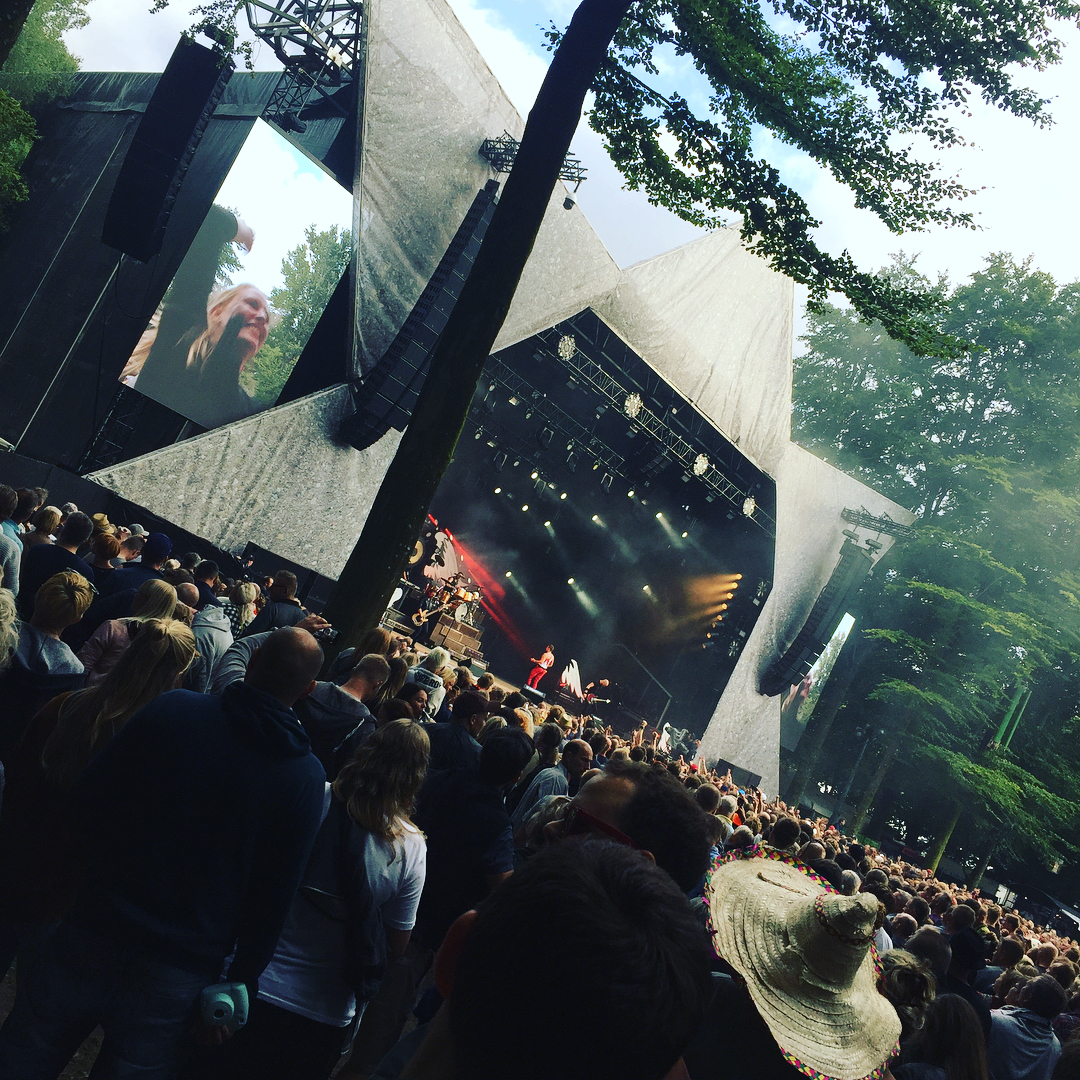 Queen Machine having a ball and throwing a major outside party at Stjernescenen
We walked slowly from the lake back through a patch of forest to Stjernescene (the Star Stage), one of the main stages, where as luck would have it Queen Machine, Denmark's premiere Queen cover band was in the process of throwing one hell of a party. We snuck in from the side and watched in absolute awe as lead singer Bjarke Beisner started hitting some of Freddie Mercury's signature high notes. These guys are awesome, we agreed. We need something to drink, we agreed.
And so it came to be that in search of drink, we stumbled up some stairs and crashed pseudo-randomly into S'vinbar, a giant raised platform of a wine bar overlooking the concert area below and boasting a wine card that would make many restaurants jealous.
"This is it, I'm home," said Martin and quickly procured a bottle of crisp, young Chablis and four proper wine glasses. Yes, at Smukfest, you can get proper wine glasses, the made of glass variety, for your wines. So that you may kick back in style and truly enjoy your wine as you watch the sun set over a sea of happy people bouncing to the tune of Under Pressure.
One bottle led to another and, eventually, a third and that brings us full circle to the beginning of our story in which boys talk about wine and women stare at the sky. Old friends, new friends and Michelin-starred chefs alike have dropped by for a talk. A lovely day at Smukfest is over, life on earth is good and it's nearly time to go home. There's only one thing left to do: it's time to find that damn lobster cooked to order any damn time of day!
Since first meeting up with Søren for a glass of wine at Smukfisk at the beginning of this story, Malou and I had joked about the prospect of sharing a lobster and a bottle of bubbles as a late-night snack. Because, honestly, who couldn't eat half a late-night lobster? Well, with the two of us, it's a thin line between joking about something and actually doing something. And like I said, who couldn't eat half a late-night lobster?
We say our goodbyes to the boys who have a late-night train back to civilization (well, Odense) to catch and head out on a quest for lobster. On our quest, we're joined by Malou's dear old friend Lars from grydeskeen.dk who had pulled an all-day volunteer stint at the festival. He's not too fond of the bottle of bubbles and lobster prospect per say on account of having to drive home but seems quite hooked on the concept of a glass of bubbles and a round of oysters.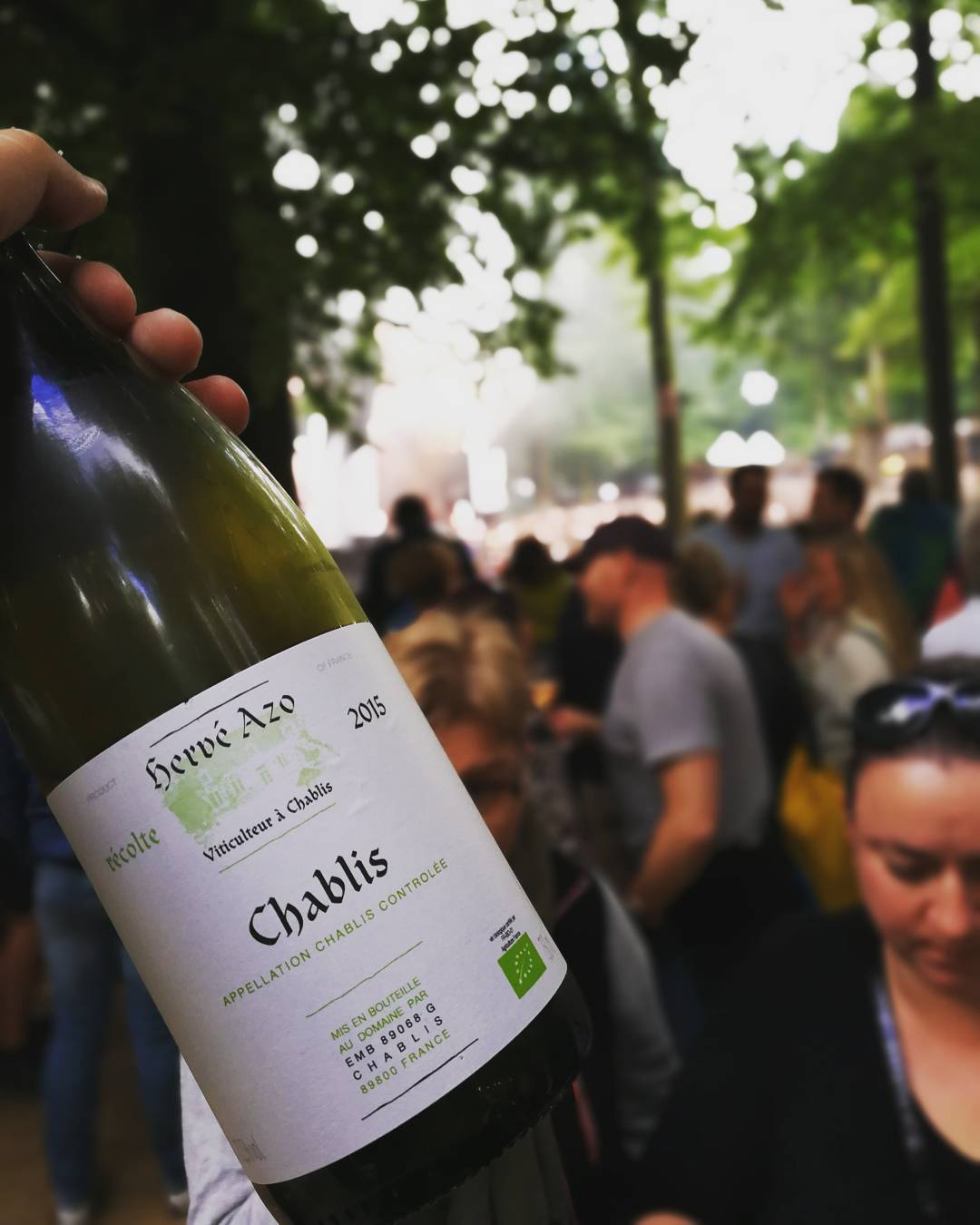 Chablis, rock 'n' roll and happy faces as the sun starts to set on Smukfest! Photo credit: Mads Vinfeld Andersen – via @madsvin_com on Instagram
So off we head toward Smukfest's main stage and Smukfisk, because Smukfisk is the sort of place where you can do a drunken walk-in at 10:30 PM, demanding: "Give me a bottle of bubbles, a fresh local lobster and half a dozen oysters – stat!"
… And not get kicked back out, mind you. Rather you will get your bottle of bubbles, your lobster and a half-dozen oysters – stat – that you can sit down and enjoy in a proper albeit slightly makeshift restaurant setting while listening to Jamiroquai performing a hundred meters or so away… Or things to that effect! That's just the sort of place Smukfest is – and thank Bacchus God for that!
Thank you, my friends!
Visiting Smukfest, if but for one day, was a wonderful, warming experience that I hope to have again some day. Thank you kindly to our friends at Madværket for inviting us along and showing us a great time, to Malou for offering me shelter in the days leading up to the festival while my house was under renovation, to Martin and Mads for playing and partying along, and last but not least to Lars for being an extraordinarily good sport and giving a couple of weary feet a ride home to Aarhus.