Home » Blog » Restaurant Reviews » Beginner's Guide to Caviar, Part I: Caviar Essentials / Tasting Caviar
SPONSORED CONTENT NOTICE: The Caviar consumed in this series was kindly donated by Lyksvad Caviar in exchange for an honest opinion. This post is in no way endorsed or paid for by Lyksvad Caviar. Words and opinions are entirely my own.
If you asked me what my ultimate luxury in life was, I would have to say Caviar. A treat so incredibly decadent and sought after that it is, in some cases, literally worth its weight in gold. A treat so incredibly rare and special that despite having a food budget that would make many people blush, despite having eaten at several Michelin-starred restaurants – some of them amongst the best restaurants in the world – I've only had Caviar maybe a handful of times in my life. And I remember every single time. Vividly.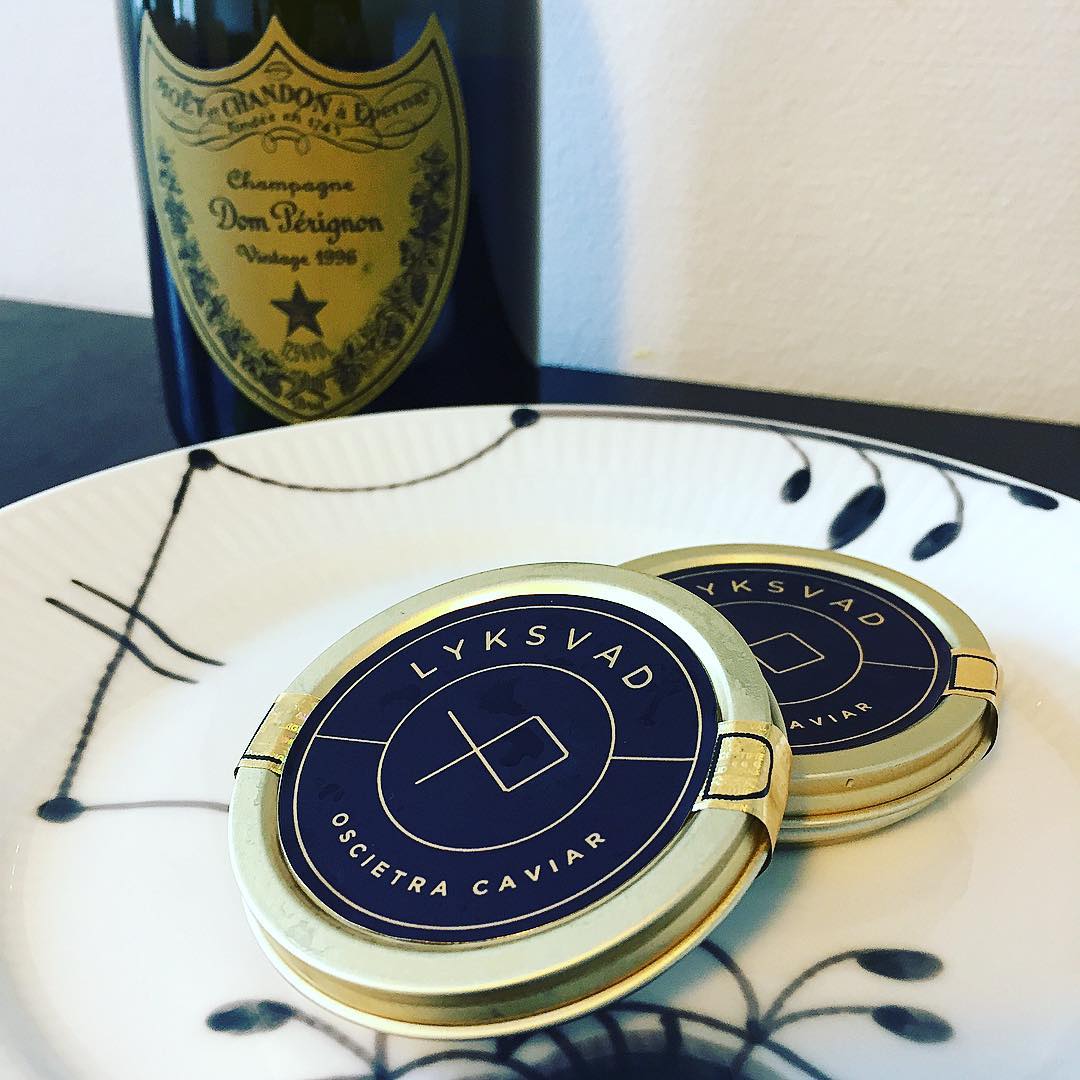 Caviar, without a doubt, is my favorite culinary pleasure in this world which is why I was incredibly stoked and humbled when out of the blue, I was approached by local, Danish Caviar producer Lyksvad, who asked if I would be interested in sampling their product in return for an honest opinion. "Does the pope wear a funny hat," came my reply swiftly, possibly raising a few eye brows in the process, but long story short, a deal was made in which I received a generous serving of their Osciestra Selection to use in any way I saw fit as snack servings for a luxurious private dinner I was planning for myself and my loyal friend and trusty proof-reader Tina.
This post and the following is the result of said agreement. This first part will cover the basics of Caviar: Where does Caviar come from? Why is Caviar so expensive? And, most importantly, what does Caviar taste like? We will, of course, also be tasting some local, sustainable Caviar from Lyksvad Caviar.
Part II will be a much more in-depth look into Caviar: How to purchase, store, serve and cook with Caviar. We'll even have a look at a curious but absolutely wonderful Caviar dish. But that's another post. For now, let's have a look at the beautiful, black gold that is Caviar:
Black Gold: What makes Caviar so incredibly expensive?
If we want to understand why Caviar has become such a ridiculously expensive commodity, we must first define exactly what caviar is and what it isn't. Caviar, first of all, despite best efforts from some producers to make you think otherwise, is not a generic term for fish roe.
Caviar, in its truest, simplest form is a term reserved for raw, lightly salted, unfertilized roe from a number of species of Sturgeon enjoyed as an immense delicacy all over the world. Now, fish eggs may not sound like that big or that expensive of a deal, and indeed roe from several fish species – cod, trout, salmon or lumpfish – are cheaply and readily available, but sturgeon differ from many other in two very important ways. First and foremost, they are extremely rare creatures, bordering on critically endangered, which obviously severely limits availability. Add to this the fact that sturgeon are extremely long-lived creatures and slow to achieve sexual maturity and you will start to see why timing and planning is also an issue in the hunt for black gold. Certain species of sturgeon can easily live to be 60 years old and may not reach sexual maturity before the age of 20 meaning that the chances of netting a female sturgeon with roe is relatively slim.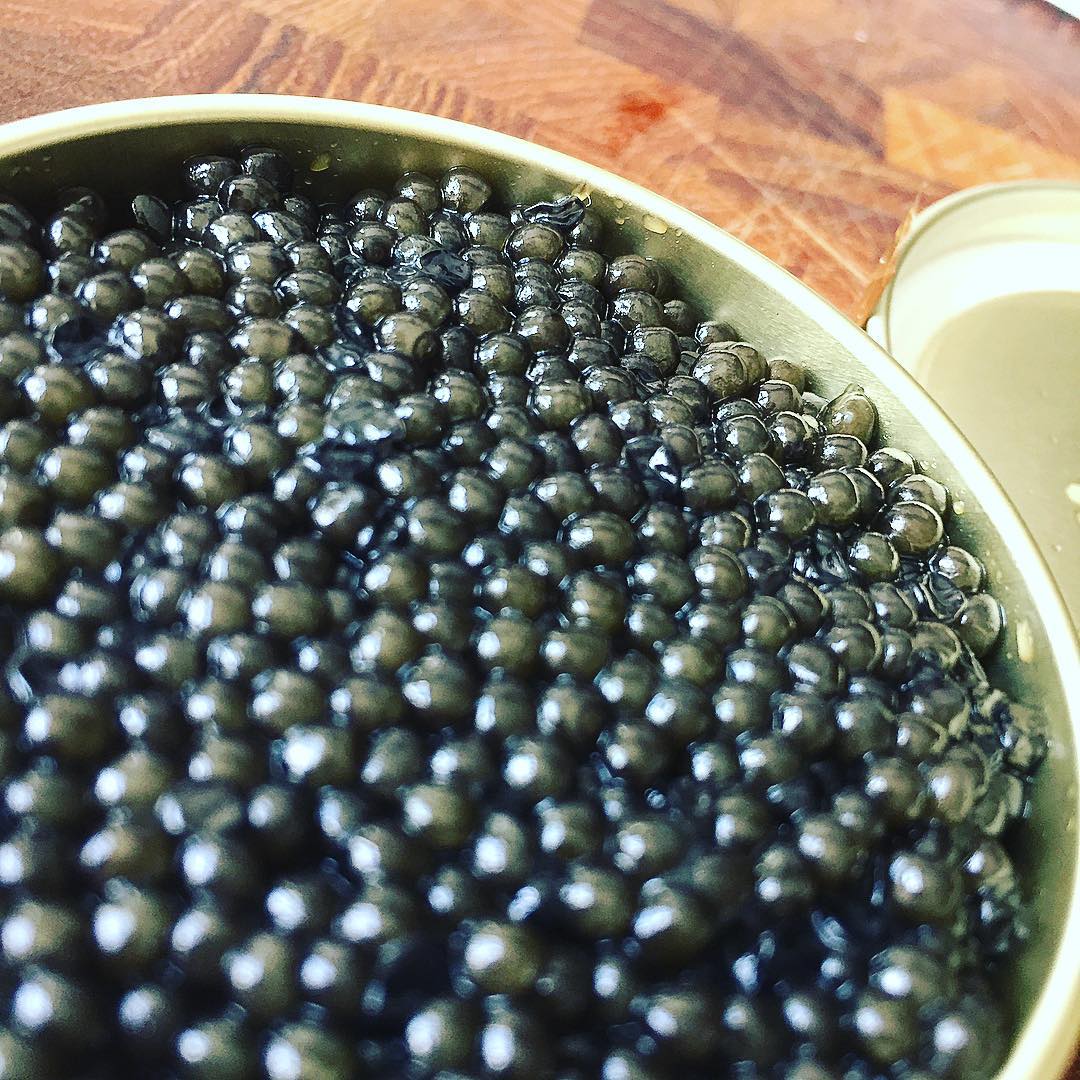 Caviar up close – you wouldn't think that these beautiful but unassuming little pearls would be one of the most expensive luxuries the culinary world has to offer…
And on the topic of critical endangerment and netting sturgeons, it bears mentioning that there are several, obvious pressing legal and ethical issues regarding the process. One does not simply net a wild sturgeon! Thoughtless over-fishing in the hunt for black gold, especially on the part of several former Soviet Republics, has rendered many species of sturgeon dangerously close to extinction in the wild.
The greed of man, essentially, has led to traditional harvesting and trading of roe from wild-caught sturgeon to be not only heavily frowned upon but has led to heavy regulation and even temporary full-on bans on trading in large parts of the world, causing a huge slump in the availability of traditional Caviar on the world market. This depressing fact, of course, raises a few questions: With demand and consumption not seeming to have gone over the past years, how is it that we still have a general availability of Caviar today? Poaching? Black market trade? Mafia-controlled distribution networks? Well, no – thankfully not – enter instead the concept of farmed Caviar:
In this day and age, a law-abiding would-be Caviar producer would have to, in one way or another, procure a number of live sturgeon from a trusted, authorized and sustainable source. He would then have to meticulously care for them and feed them for years on end in a closed, controlled and sustainable environment. Only then, after years of nothing but expenses, he would have to carefully harvest the roe of the female sturgeon at exactly the right time – before even starting to worry about such steps as processing, packing and shipping, all of which has to be done very quickly in very controlled environments, mind you, as Caviar is an extremely fragile, perishable commodity.
The process of ethical, regulated Caviar production is, in other words, an incredibly lengthy and incredibly expensive journey full of possible pitfalls leading to presumed payouts a decade or so down the line – if the quality of your end product even meets the expectations of your customers, that is….
And that, friends, is why Caviar is so expensive today: Because the source from which it comes is dying in the wild and because those seeking to be ethically inclined purveyors of this luxury item must invest years' worth of time, money and dedication into their business plan, all while putting in a heroic effort to help save or at the very least make no impact on the population of the great, mythical fish that provides their livelihood.
So let's now have a look at one of those small businesses that has – in the most unlikely of ways – made Caviar their family business.
Lyksvad Caviar: Sustainable, farmed Danish Caviar
On a winding country road just outside my home town of Kolding, Denmark lies an unlikely family business. On these beautiful tracts of land shortly before countryside becomes town and eventually city, lies Denmark's only Caviar farm, Lyksvad.
The focus of this, until now relatively unknown, family business is simple: to produce the ultimate luxury commodity at the best possible quality while leaving as little impact as possible on the population of the beautiful, mythical creature who lends its roe and its life to their business model.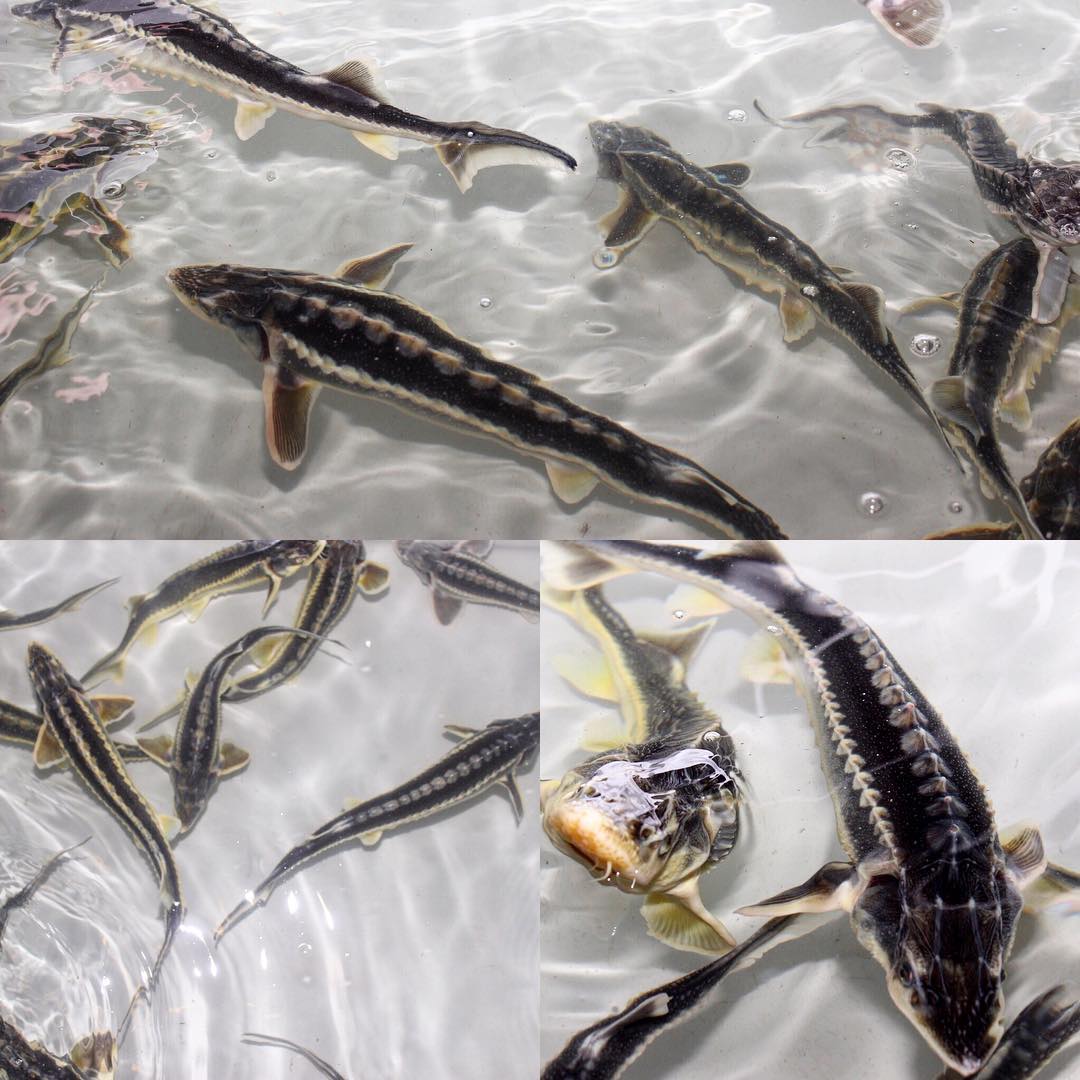 The Siberian sturgeon – the mother of of the world's most sought after delicacy. Pictured here enjoying life at the Lyksvad Caviar farm. Photo credit: Lyksvad Caviar on instagram.com
Here, in these unassuming surroundings, they meticulously and carefully feed and care for their sturgeon until the day inevitably comes where the roe must be harvested which, again, is done as gently and humanely as possible. Animal welfare, sustainability and the well-being of the population of sturgeon obviously means the world to Lyksvad – and so does the quality of their product. Everything here is done on site under strict quality control including such meticulous processes such as harvesting, salting, dosing and packaging.
Impressively, they even have their own hatchery on site, making Lyksvad completely self-sufficient and ensuring absolute control over every aspect of production and quality, while leaving absolutely no negative impact on the sturgeon population.
Such attention to detail, to quality and to ethicality; this I love and to see it expressed in such a degree from a local company makes me nothing short of proud and even baffled… Danish Caviar from a sleepy town on the outskirts of the country's sixth largest city. Who'd have ever seen that coming a few years ago? Not I! Bud I digress. What, then, does such a labor of love taste like?
Tasting Perfection: What does Caviar taste like?
So, what is it about Caviar that wind people up and warrant such huge sums exchanged for top-shelf Caviar? Well, let's not beat around the bush here, there IS indeed a certain, perverse hedonistic pleasure directly derived from consuming something so ludicrously expensive. But there IS also a whole lot more to it than that.
Caviar, much like its almost equally expensive earthy counterpart, the truffle, is one of the most intensely flavorful and unique taste sensations on earth. But in a much different way. Where the truffle is pungent and nearly overpowering in its intensity, Caviar is subdued, sensual and underplayed in its intensity and richness – and nothing like anything you've ever tasted before – or since. It's an initial burst of rich, briny, ocean-y flavors coupled with a mild sweetness slowly rolling into a lengthy buttery and nutty sensation that coats the mouth for several moments before offering a punch of umami tipping over into a refreshing and prickling salinity on top of a bed of minerals and a very slight seafood-like note.
More than that, though, it's also a sensational succession of mouthfeels, ranging from the initial impression of perfect little spheres which give way against the roof of your mouth with a satisfying pop before turning into a refreshing liquid which, magically, within seconds turns almost oily and mouth-coating, creating an incredibly long-lasting aftertaste that is nearly filling in its intensity and length.
Caviar taste test: Lyksvad Oscietra Caviar
In the case of our hero of the day, Lyksvad Caviar, their Oscietra Selection takes the role of beautiful, big pearls with an attractive brownish-black and grey hue. As they burst in the mouth with a satisfying salty pop, one pays special attention to the peculiar oily/buttery taste and mouthfeel that is, in the case of this Caviar, particularly overwhelming and filling, to the point of almost being too intense. The subsequent blast of umami also teeters perfectly on the edge of overwhelming. The result is an incredibly rich and filling Caviar sensation with a great mineral salinity provided by the addition of Læsø sea salt, the greatly adored hand-harvested national pride of Denmark which is to Danes what Maldon sea salt is to the British.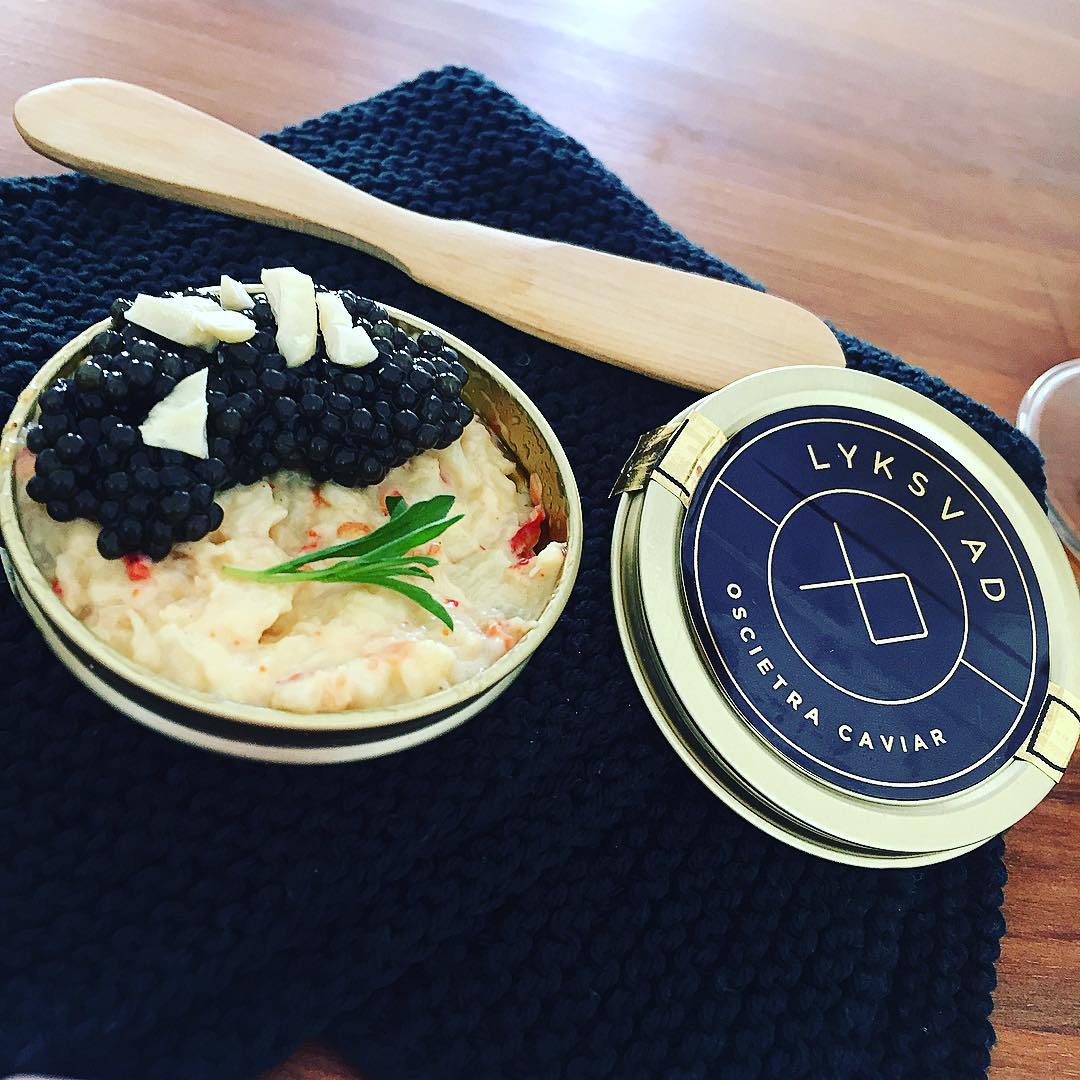 Caviar, lobster, mayo, cashews and a sprig of winter savory. Caviar make a great garnish for simple, luxurious canapes or small servings.
Owing to its richness and intensity, Lyksvad Ociestra Caviar is great for sampling on its own in relatively small portions but is also a perfect garnish for canapes or appetizers, especially when paired with such luxury items as lobster, truffle or scallops. Keeping the intensity and near overwhelming flavor in mind, small doses of Lyksvad Oscietra would even work as a flavoring agent in larger, more elaborate main dishes. Again, lobster comes to mind, or king crab, Dover sole, possibly even steak tartar or other primal, meaty dishes. Heavy, rich sauces like mayonnaise or hollandaise would also pair well with this fatty and intense Caviar, as long as you remember a crisp change in taste and texture to offset the oily intensity.
Pairing Caviar and wine: What to drink with Caviar?
A decadent, hedonistic ingredient such as Caviar raises some demands for the accompanying wine. Caviar never was and never should be an every-day experience and since you're up there spending big bucks for the food, you might as well cough up a few more for a wine of a certain caliber. Opinions differ wildly here and while I thoroughly enjoyed a mineral-laden Cremant d'Alsace with my Caviar at Restaurant Frederikshøj (ful review of the experience here), Caviar to me has always called for one thing: A full-bodied but not too opulent Chardonnay, preferably from the beautiful rolling hills of Burgundy or a well-crafted, well-rounded Champagne would be more than fitting.
During my last Caviar tasting, I had the absolute pleasure of sampling perfectly intense Oscietra next to a surprisingly youthful 1996 Dom Perignon and a Montrachet Grand Cru, both of which were (obviously) phenomenal matches. But less would certainly do. A "simple" Bourgogne Blanc from top producers (like Leroy or Leflaive if budget permits) would be a fine choice, as would a Premier Cru or Grand Cru Chablis with a few years to it, or a fruit-driven, zesty vintage Champagne from one of the better recent years like 2002, 2004 or 2006.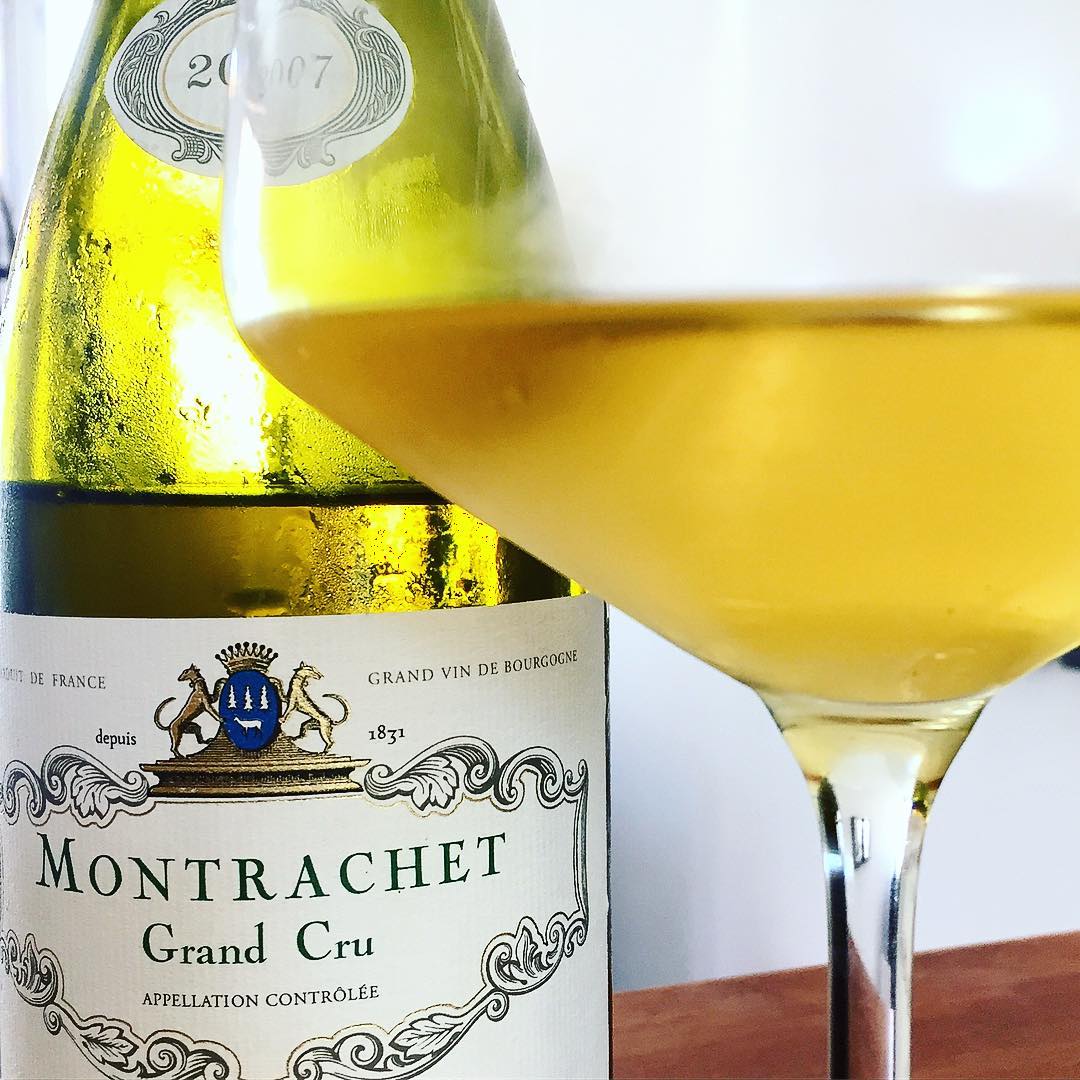 When serving Caviar, you need to dig deep in the cellar and find something particularly special and flashy. Less than Montrachet will certainly do, though!
Generally speaking, look for something crisp, straight-forward fruity, lightly sweet and not overly oaky for a perfect wine match. Caviar needs a bit of acidity to cut the richness, loves a hint of sweetness and a burst of fruit to accompany its inherent minerality and salinity yet despises heavily toasted oak as it masks its more delicate flavors.
Want to know more about Caviar?
Excited about Caviar yet? If you want to know more about Lyksvad Caviar, you can visit them, of course, on the world wide web. If you want to know even more about Caviar including types of Caviar, how to buy the best possible Caviar and how to serve it, stay tuned for part two of this mini-series on my favorite drug: Caviar.