Home » Blog » Restaurant Reviews » Frederikshøj: Denmark's under-rated Michelin Star Restaurant – A Review
"I may not understand food on the level that you do. Heck, I may not understand a lot of things. All I know is that Jews and Arabs share one true God… And that the guy cooking in there is a f'ing genius!"
Such were the words of our beautiful and charismatic, young Arab taxi driver as he dropped us off outside of Aarhus' highly acclaimed Restaurant Frederikshøj on a Friday evening in late April.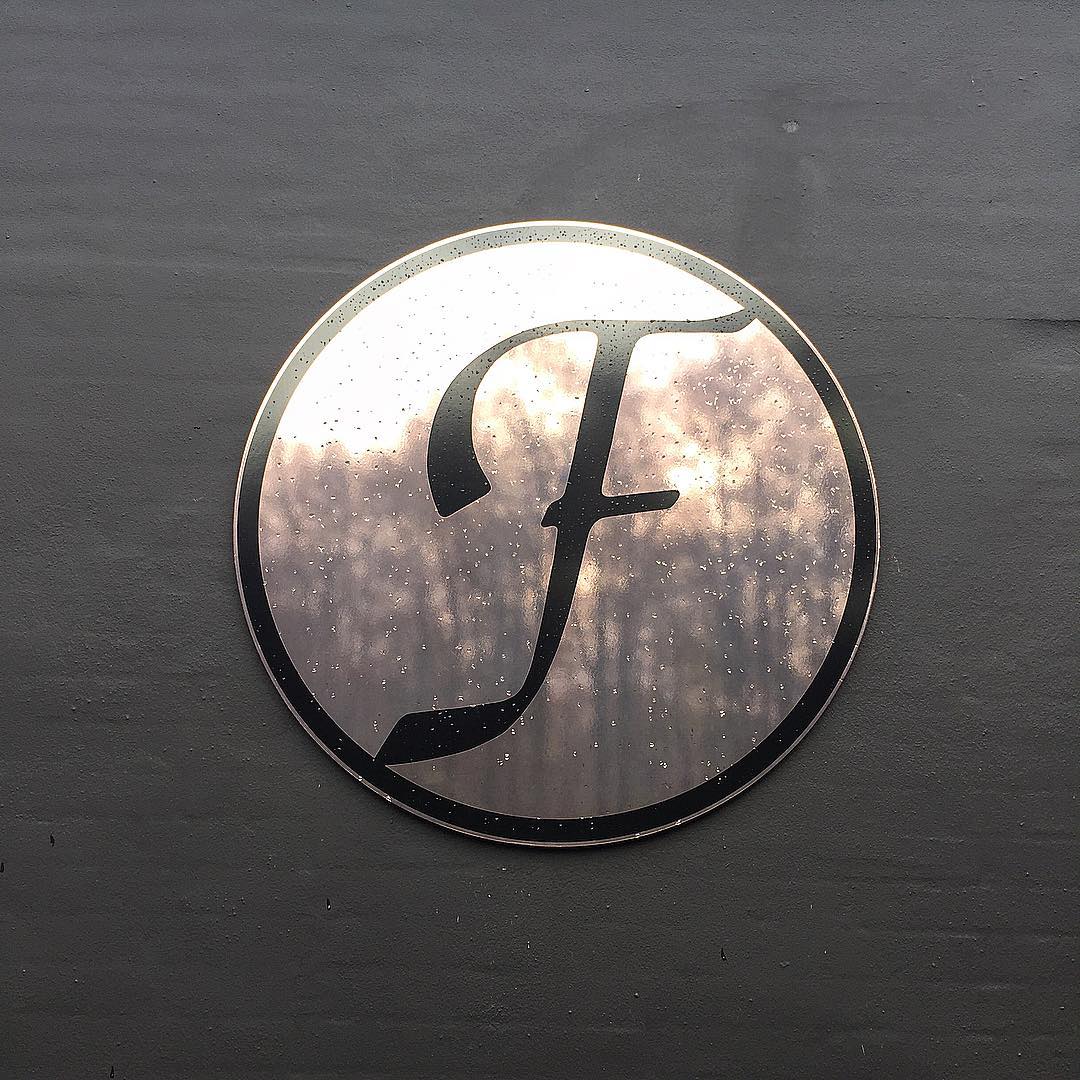 This sign on the wall welcomes you as you arrive… The cool exterior is in stark contrast to the vibrancy and warmth found inside.
While the first part of his statement may have caused controversy in some circles, the latter was soon to be cemented. Wassim Hallal, head chef of Restaurant Frederikshøj, is a genius! I can now truthfully testify to this fact after finally realizing a year-long dream to dine at his table.
Great expectations: An extremely hyped dining experience
I have a hard time recalling ever being as excited about a meal as I was when stepping through the doors at Frederikshøj. My "last supper" at Noma (review here) came close in terms of vorfreude, but instilled in me forehand more of a sense of anticipation coupled with expectation. Would I understand? With Frederikshøj, however, pure excitement and childish glee were the dominant feelings that rushed through my body leading up to the experience.
Chef Wassim Halla, without a doubt, is one of the most dedicated, uncompromising and hardest working, perfectionist Danish chefs – to date! Wrongfully predicted by many to earn his second Michelin star in 2017, chef Wassim Hallal has continued to operate his one-star restaurant with pride and zeal despite what must have felt like quite a slap to the face when the famous French guide announced in February 2017 that they maintained their one-star rating for the third year in a row.
Despite his obvious disappointment, Wassim Hallal has continued to produce some of the most attractive, beautiful and playful food, I've seen in the scope of Danish gastronomy and has continued to operate what many foodies have labeled the best one-star restaurant in Denmark. And I've been dying to experience his work.
In all truthfulness, dinner at Frederikshøj was an experience I've been longing to partake in for several years now and an experience that I've chased actively as of late, but a three-month waiting list coupled with busy schedules had hindered our great scheme several times over. But now my time had finally come.
Now, I, along with my bestest culinary playpal, Malou of Klidmoster.dk fame, would finally get to taste the dishes my eyes had so long ogled, finally get to experience the service that everybody was talking about and finally experience the decadent full sensory onslaught that was an evening in the capable hands of Chef Wassim Hallal at Frederikshøj!
The setting: Lavish luxury in gorgeous surroundings
Restaurant Frederikshøj lies beautifully nestled in the Marselisborg forest a few kilometers outside of central Aarhus. Housed in a somewhat unassuming, minimalist, modernist building, it is – on the inside – a setting of ultimate luxury.
As soon as one enters through the imposing glass façade, one finds oneself in a luxurious,  art-clad lounge and wardrobe area opening straight up into an open and spacious prep kitchen from where head chef Wassim Hallal and a number of cohorts oversee and orchestrate the complicated and daunting dance that is Michelin-level dinner seating.
Briskly escorted past the impressive display, one is taken to the main dining room, a spacious elongated room with panorama windows running the entire East-facing length of the room, offering stunning views of the forest outside as well as the Bay of Aarhus.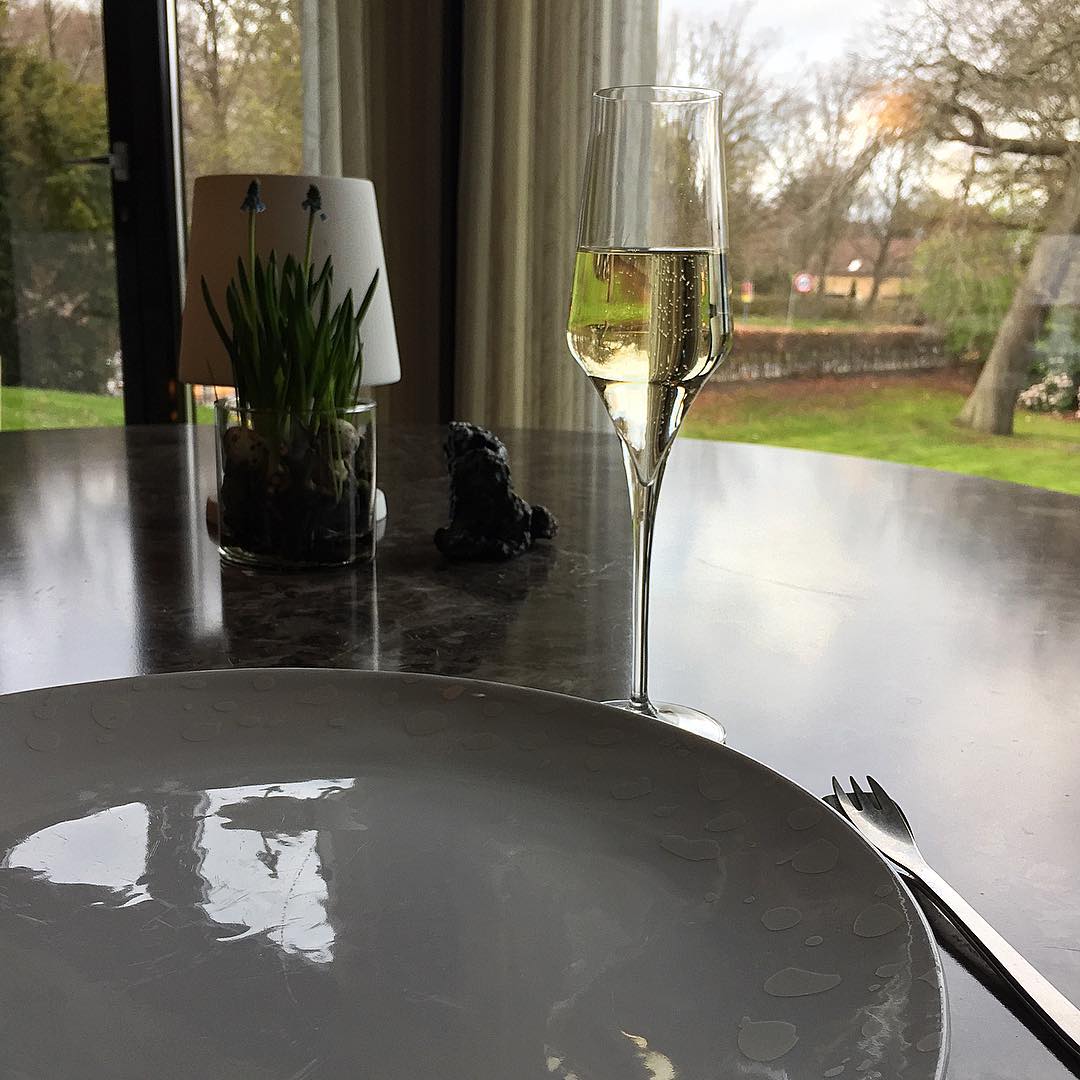 As for the dining room itself, it seems created in an obvious effort to match the beauty of Mother Nature's creation outside: Cool, luxurious, Nordic design is inherent in every detail – from the thick carpets on the floor to the walk-in wine fridges made of wood, glass and steel covering the walls to the insanely expensive and ridiculously beautiful, bare stone tables at which we were to enjoy our dinner. Even the lighting was masterfully orchestrated as a plethora of gorgeous dimmer switch-controlled copper lamps provided just the right amount of light throughout the length of the evening.
In such gorgeous, open surroundings, the general feeling throughout the meal was one of being at one with nature while at the same time being cradled in plush, comforting luxury. As a matter of fact, extensive invisible efforts such as time-consuming and expensive acoustic improvements, helped create a strangely detached atmosphere of being alone in the woods with your dining companion(s) and a plethora of exquisite servings. Even in the apparent cacophony of 11 tables being served around you while a wedding party 40 guests strong took place in the banquet room next door. But such, apparently, is the magic and incredibly beauty of Frederikshøj.
The menu: What to eat at Frederikshøj?
Frederikshøj is open for dinner only and guests are given a choice between three menus, all of which are aptly named "Frederikshøj Favorites":
A six course reduced menu with optional wine pairings.
A full-on tasting menu featuring Champagne, ten courses, wine pairings, coffee, and petit fours.
The Full Monty – an all-night experience featuring Champagne, fourteen(!) courses, coffee and petit fours.
Prices start at a modest reasonable DKK 995 (EUR 135) for six courses without wine and soar to a slightly less accessible DKK 3,000 for the full experience. The DKK 3,000 (EUR 400) price tag easily puts Frederikshøj in the upper echelon of Danish Michelin-starred restaurants in terms of price. Considering for a moment, however, that the relatively high ticket price buys you 14 high-quality dishes made using carefully sourced high-quality ingredients like caviar, oysters and top seafood not to mention snacks, petit fours and quality wine pairings… Such an elevated price point may still seem strangely reasonable – if only the quality of the food and wine matches one's great expectations!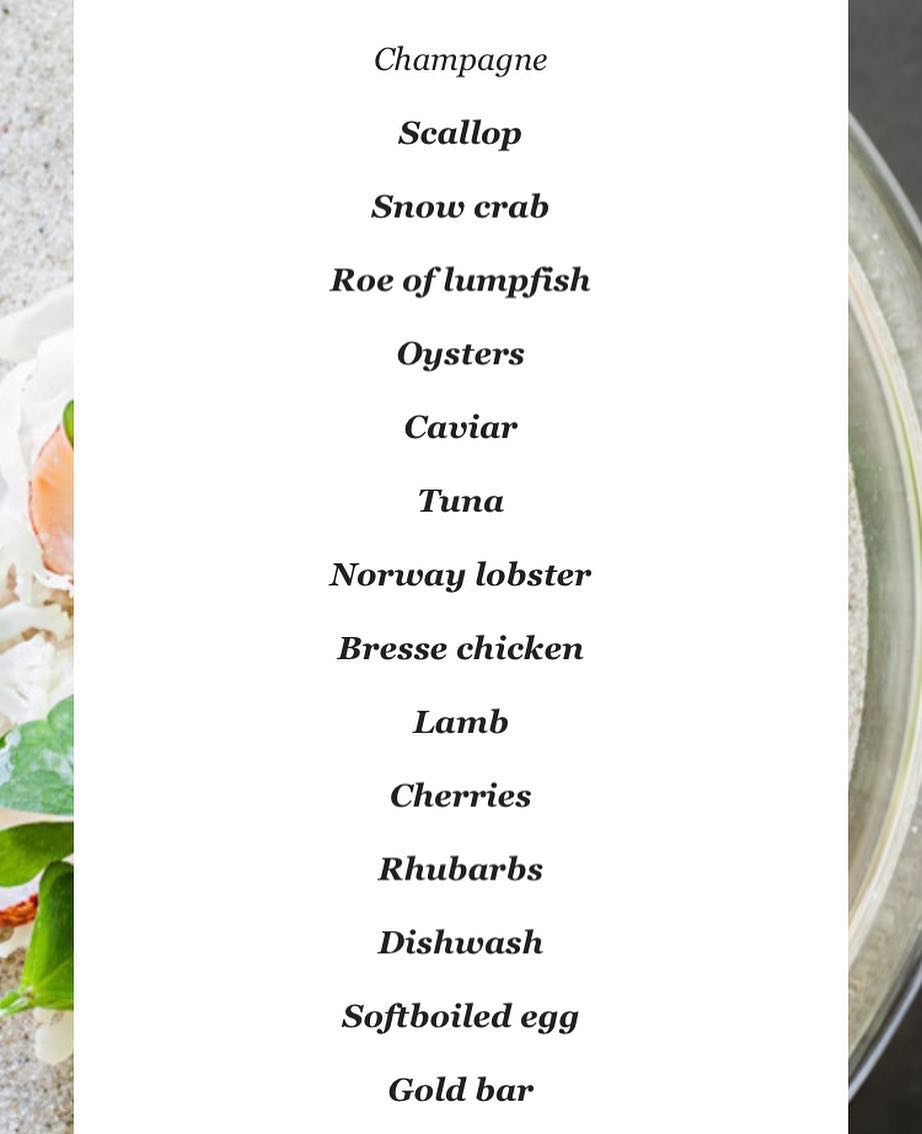 The full 14 course menu as we enjoyed it… No major spoilers given here…
And here's the thing. Whether your budget is a stunning DKK 3000 or a more "meager" DKK 995, you are absolutely guaranteed a full on sensory experience at Frederikshøj.
The philosophy behind the food served is deeply rooted in French Haute Cuisine: boldness of flavor, heavily reduced sauces and meticulous, multi-layered preparations. On top of this very classic bedrock sprawls a rock 'n' roll carpet of elements from New Nordic Cuisine, molecular gastronomy and a wide array of unique aromas, flavors and influences from international kitchens from China to Australia and everywhere in between.
You see, unlike many Danish Michelin-starred restaurants, Wassim Hallal and his staff are in no way dogmatic in their approach to cooking. There is no strict set of rules regarding origin or sourcing of ingredients, no ban on imported ingredients or strict reliance on a fixed array of local culinary techniques such as fermentation and preservation. Focus is on creating the best possible flavors using the best and freshest ingredients, and the best techniques. No matter the origin of said ingredients or the influences that shaped the dishes.
On the other hand, the food at Frederikshøj, is by no means as overly elaborate or slightly confusing without clear focal points as is sometimes the case with so-called fusion cuisine. In fact, it's by no means fusion cuisine as we know it. It's stringent, uniform in style and very, very perfectionist. It's, for lack of a better word, very Wassim Hallal: Dishes while intricate, exceedingly complex and stunning in preparation always follow a clearly defined line of thought.
With dishes bearing such names as "dishwash" or "soft-boiled egg" they may, in some cases, sound gimmicky or even pretentious in nature – but not so in reality. When dining at Frederikshøj, you can lay your money down, knowing fully well that focus is always on taste and presentation, never on gimmick and tackiness.
What should you eat at Frederikshøj? As for Malou and I, the choice was clear: "go big and go home!" And so, we went with the full tasting menu: Champagne, Snacks, 14 courses, coffee and petit fours.
Frederikshøj Favorites: The 14 course tasting menu
As so many other great things in life, the full menu at Frederikshøj begins with Champagne! More specifically, it begins with a Champagne selection. Where other great restaurants start you off with a glass of their house Champagne, possibly the privilege of choice between a classic dry Champagne or a Rosé, Frederikshøj went above and beyond by wheeling out a Champagne cart featuring a choice between a classic Brut or a Brut Rosé, both from carefully sourced small-scale growers/producers – or a glass of the iconic and spectacular Champagne Ruinart Blanc de Blancs at a mere DKK 75 premium per glass.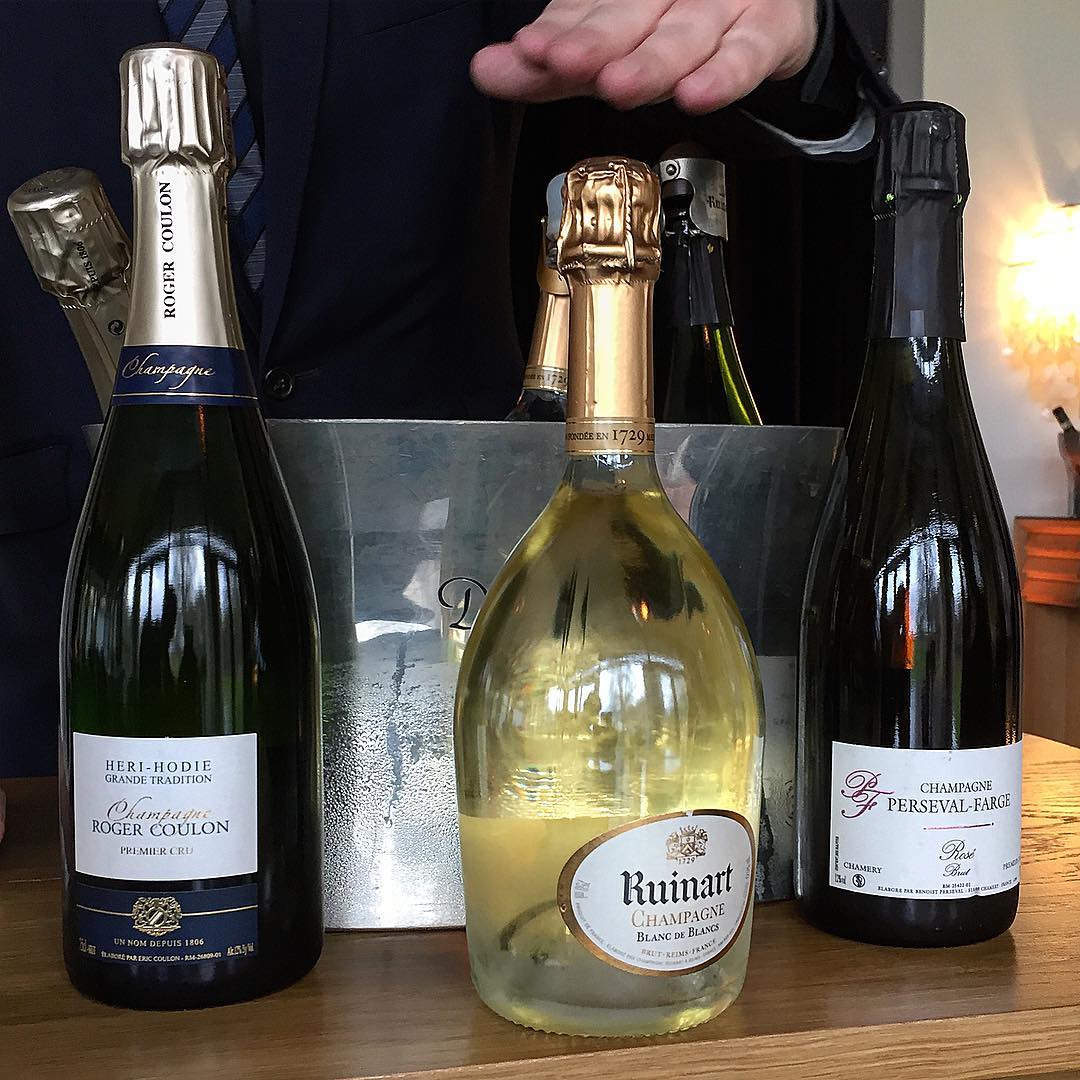 While usually a fan of smaller houses, this time we happily added an extra DKK 150 to our grand total for a couple of generously poured glasses of Ruinart and swelled in its freshness and classic, luscious notes of fresh fruit, white peach and sweet decadence as we waited for our experience to begin.
Mind-blowing snack serving
"I think I like where this is going," I barely had time to whisper before a barrage of snacks hit the table. On a plate placed in front of us, a silver egg hid a classic primal beef tartar, dusted with Arla Unika Havgus Cheese and a bit of horseradish while a small pedestal showcased a creamy lobster mousse wrapped in transparent tomato paper.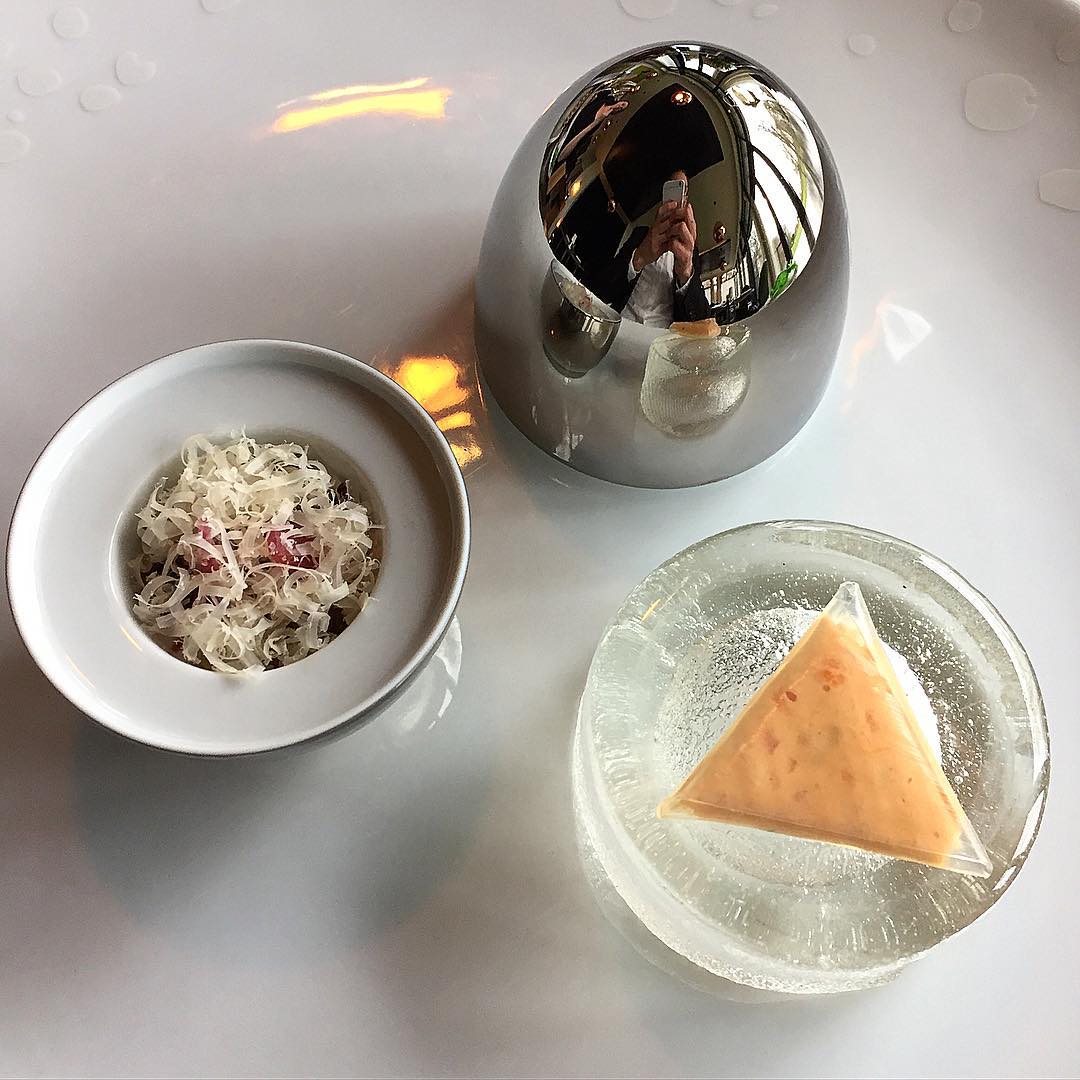 On our right hand side were three different textures of parsley (puffed crackers, mousse and powder) and in between us sat vinegar dusted crackers stuffed with snail porridge, deconstructed carrots in the shape of carrot crackers filled with smoked cream cheese then topped with edible dirt and greens. Perhaps visually most impressive of all, a bowl of pebbles housed two entirely edible pebbles made from a mousse of potato and smoked trout covered in an edible shell painted with ash and other magic to resemble rock.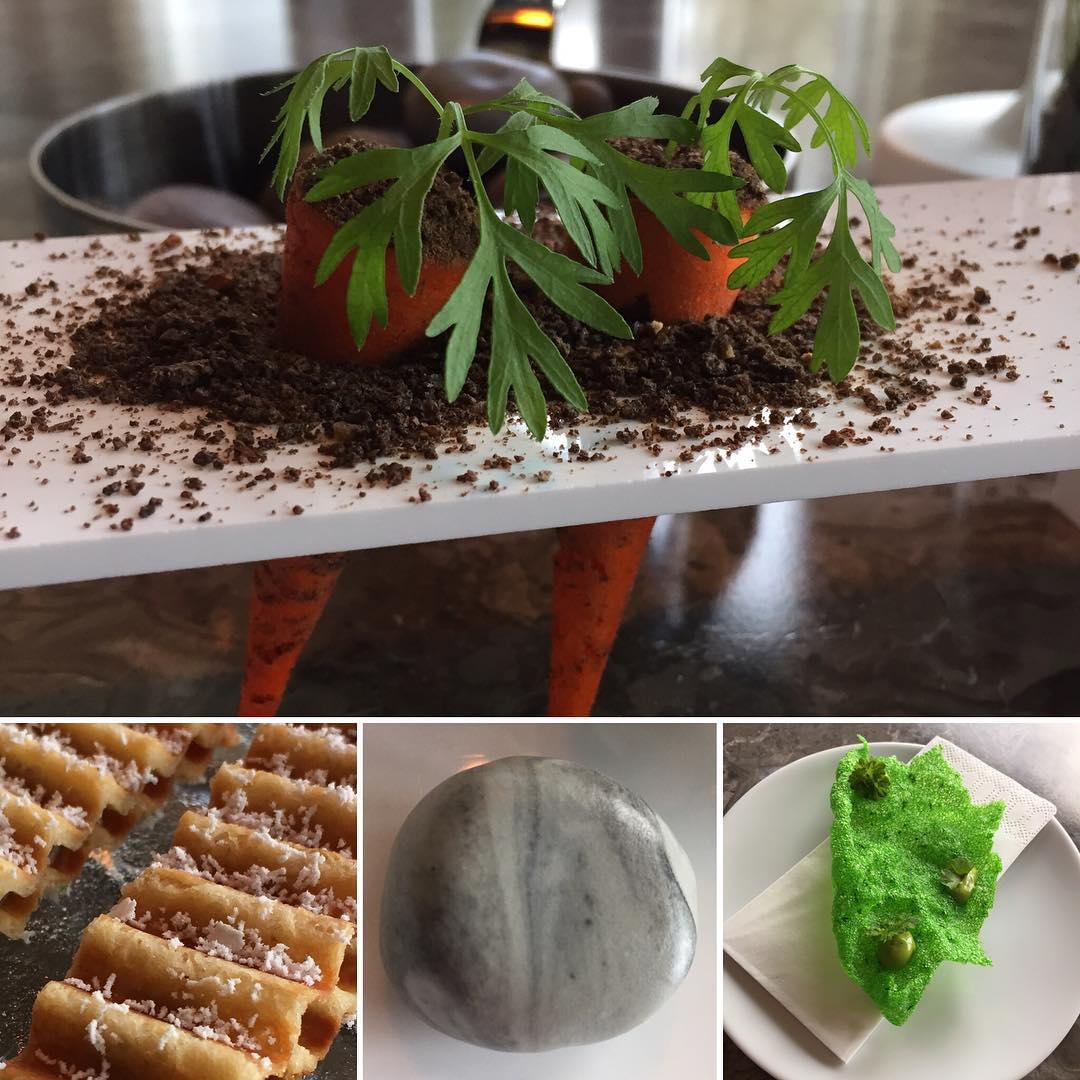 From the primal flavors and creamy textures of the tartar over the contrasts between crunch and softness of the carrots to the sheer intensity of smoked creaminess from the potato pebbles, all snacks were bursting with flavor and absolutely spellbinding in terms of technique. They showed both excellent, classic craftsmanship and balance of flavors as well as cleverly executed elements from the realms of molecular gastronomy. Essentially, we were being treated to a tour de force of intense flavors and contrasting textures wrapped in meticulous skill and perfect execution – without having even reached the first official dish on the menu.
"I could stop right here and probably be perfectly happy," I whispered to Malou as the focused wait staff cleared the remnants of our starter orgy within seconds of us finishing our last, precious bites. "And we are not even past the opening stages of the meal."
Trio of seafood starters
"You don't like natural wine? Boy you're in for a tough night," said master sommelier Søren Haumann with an ironic smirk as he poured our second wine of the evening, a low production Riesling Erster Gewächst from Weingut Mohr in Rheingau, then added with a wink: "I assure you, you'll have a lot of special wines tonight, all of them laced with sulfites and other good stuff!"
As it turns out, Søren, the good-hearted sommelier, had overheard me relaying for the 10,000th time my less than favorable perception of the wine pairings I experienced at Noma. In his own unique style, he wanted to ensure me that, unlike the funky, natural and unpredictable wines at Noma, the wine pairings served at Frederikshøj were classic, classy and predictable in the best possible sense of the word. And as if to prove a point, he started us off with a class example of a young, fruity and tightly expressive Riesling of which, being the only Danish importer, Frederikshøj consumed a sizeable portion of the 5000 bottles production.
To accompany such a rarity of a wine came a trio of seafood dishes in perfect succession and increasing intensity.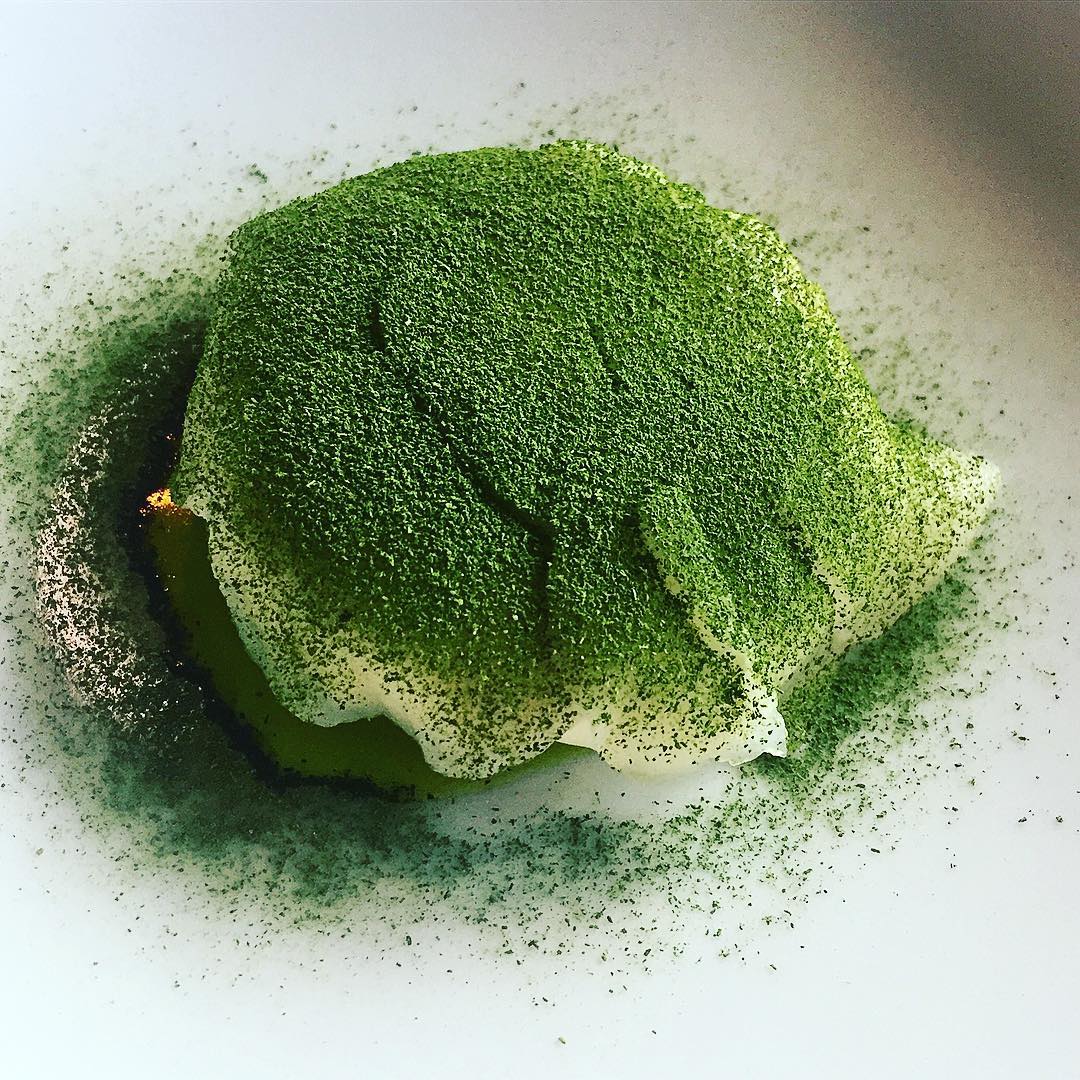 A perfect pattern of thinly sliced raw scallops, expertly dusted with dehydrated, powdered greens and carefully nestled on top of a perfect pattern of cucumbers on a shining, brightly green sea of dill oil.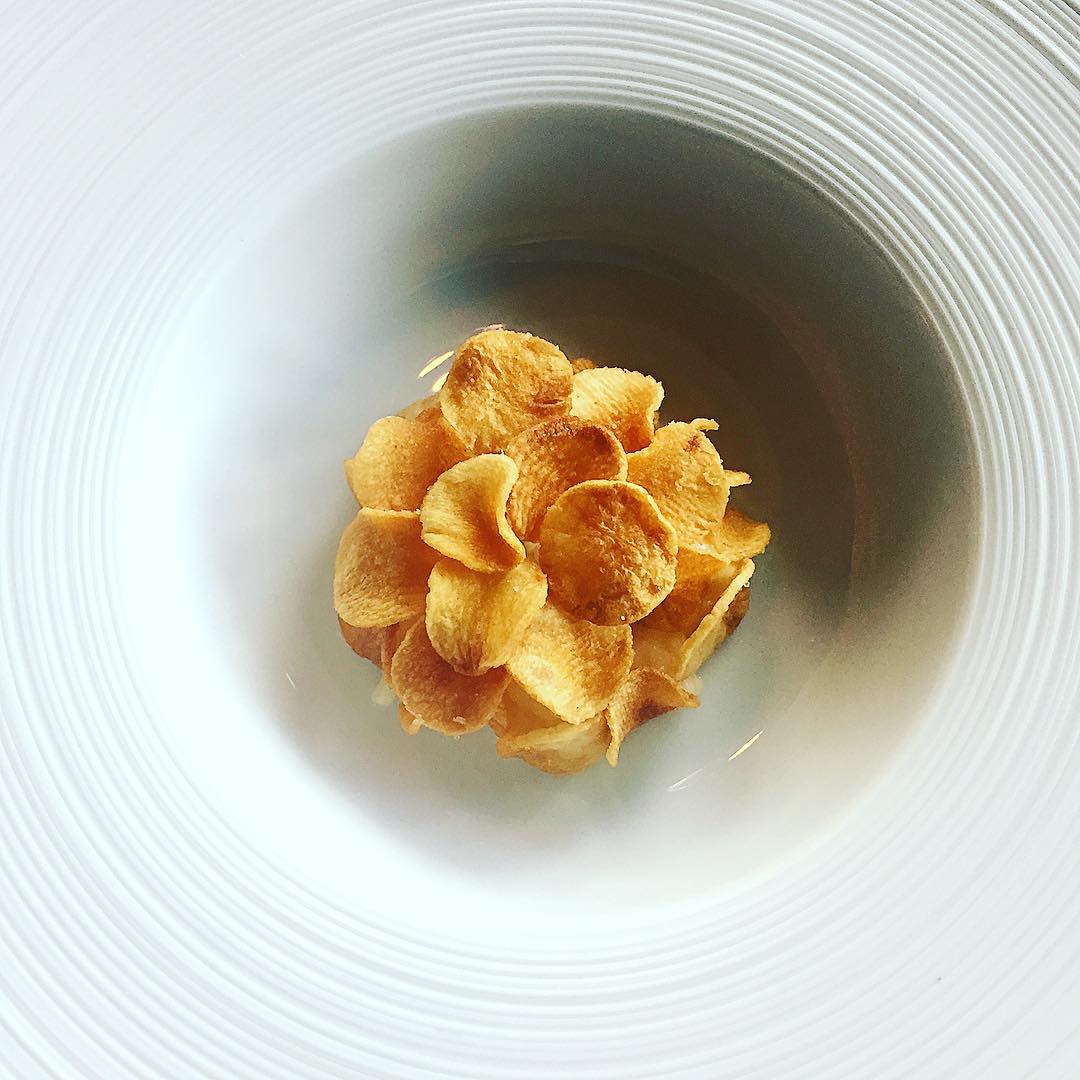 Jerusalem artichoke flan mixed with fresh, sweet snow crab and topped with brunoise (impossible small dice) of Jerusalem artichoke and finally decorated with meticulously plated slices of perfectly deep-fried Jerusalem artichoke.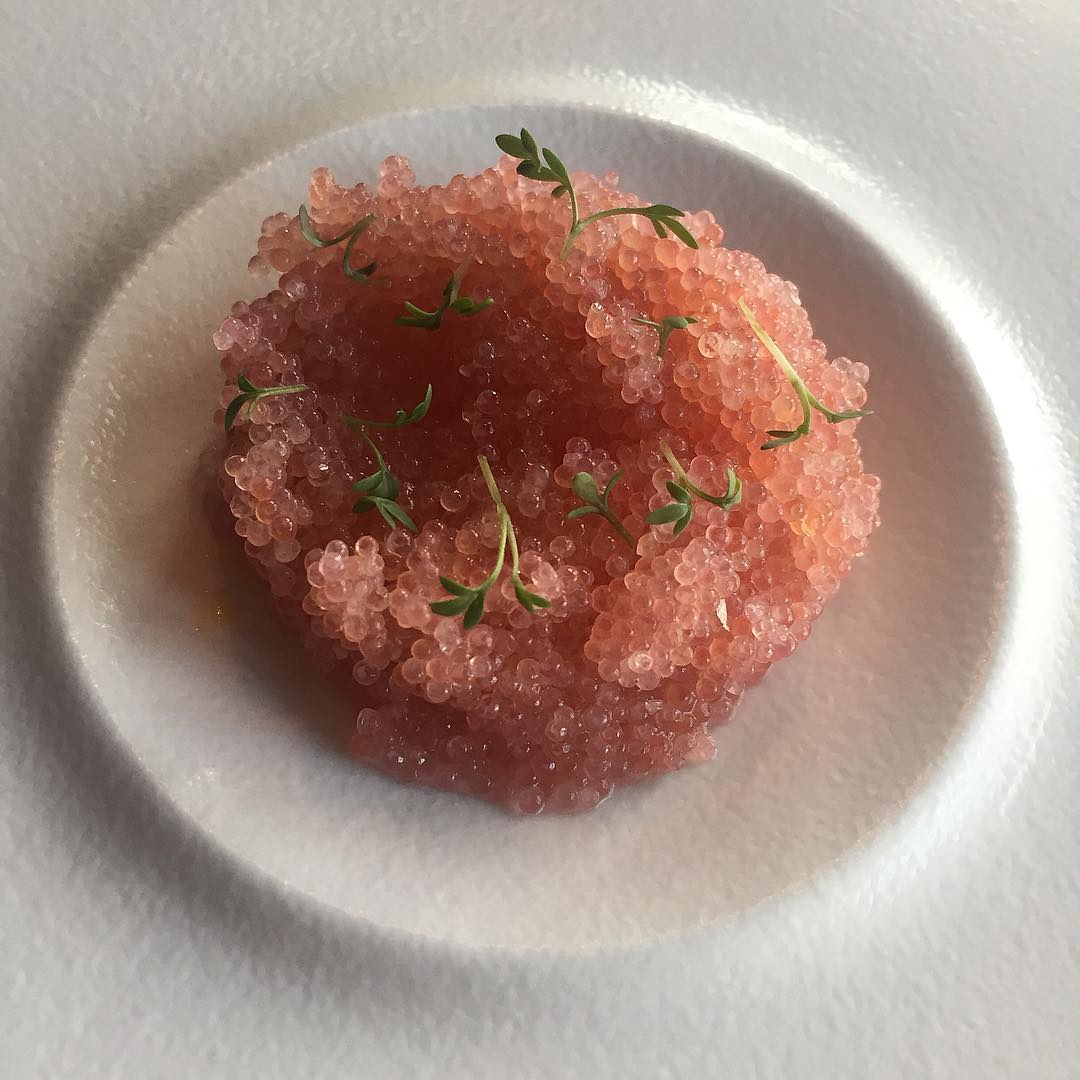 And, finally, brightly pink lumpfish roe draped over a salt and sugar-cured, lightly poached egg yolk topped with a luscious sauce made from reduced cream and French, white asparagus.
In an almost enigmatic attention to detail, the dishes – while seemingly simple – contained multiple layers of flavors, textures and presentation. What seemed like a relatively simple pile of sliced scallops lifted away to reveal a perfectly set dome of mousse nesting atop meticulously sliced and carefully plated pieces of cucumber swimming in swirls of dill oil.
What some Instagrammers jokingly referred to as cornflakes on top of the snow crab dish turned out to break away to reveal perfect brunoise of Jerusalem Artichokes sprinkled atop a perfect consistency flan dotted with snow crab for added sweetness and depth of flavor.
Even the seemingly simplest of dishes, poached egg yolk with lumpfish roe and asparagus, proved anything but simple as the cured egg yolk provided the only salty element of the dish, forcing the diner to channel his own inner three year-old, dig through the dish and break the lightly set yolk with his spoon in an other-worldly display of yolk porn to create a spectacular fireworks of flavors and textures.
Thus visually, texturally and flavorfully impressed and departing from a breathtaking set of seafood dishes, we reached the first natural plateau of the meal.
Gearing down with oysters and Caviar
"More bubbles," I cheered gleefully as our knowledgeable wine servant poured a slightly salty and surprisingly chalky Cremant de Alsace from Henry Fuchs made from 100% Pinot Auxerrois – the lesser known and oft-times overlooked Alsace grape varietal that is actually a sibling of Chardonnay. This curious specimen of a wine was to go with two additional seafood dishes meant to bring the pace down and offering us a chance to reflect and to digest, starting with another display in plating and technique:
A near raw purée of oysters served atop an edible "oyster shell" on a bed of brightly green, juicy and salty sea asparagus. A perfect little snack that we were slyly instructed to eat with our hands in whichever way we saw fit then worry about the mess afterwards. We abode. Happily. Then smiled to ourselves and one another as the last few rays of the spring sun danced across the sea outside while waves of briny oyster flavors and bubbly minerals from the hills of Alsace raced across our tongues.
As if the moment wasn't perfect enough, we were snapped back to reality (whoop, there goes gravity!) by restaurant manager Jeppe Lund who appeared tableside and, nearly snapping our flute glasses from our hands, asked us to get up as "Wassim demanded our presence in the kitchen." As it turns out, in a moment of perfect star-struckness, our fifth serving of the evening "Caviar" was to be served at a bar counter in the kitchen from the hands of the master himself. A master who, by the way, curiously and warmly asked about our thoughts and perceptions of the experience thus far and engaged attentively in conversation while still maintaining perfect control of his kitchen.
If I'm perfectly honest, the details of this gorgeous little dish consisting of a caviar studded mousse, cashew nuts and a brightly green apple gel escapes me completely to this day on account of serious sensory overload… I was in the kitchen of f'ing Frederikshøj sipping peculiar bubbles and eating Caviar from the hands of a Michelin-starred chef and personal hero!
Unparalleled intensity: Main dishes at Frederikshøj
A few, intense moments later, the charismatic restaurant manager returned to the kitchen and gently swept us away, leading us back to our table which was now being set for the "main" section of our meal. In front of each of us were placed two generous servings of bread: First, a bowl of crispy hollow-centered crackers perfect for scooping up ungodly amounts of the whipped butter and pumpkin oil-infused cream cheese put at our disposal.
Next, a compact, flavorful wheat bread perfect, we were told, for scooping the last drops of sauce off the plates. In a strangely fitting sort of way, this room for playfulness and informality were to become a perfect symbol of the enigma that is Frederikshøj: a place at once lush and luxurious and at the same time free-spirited, playful and innovative in a wonderfully childish sort of way.
As if daring us to play along, the next set of our meal included three excessively saucy main meat dishes seemingly intended to test our sauce mopping skills: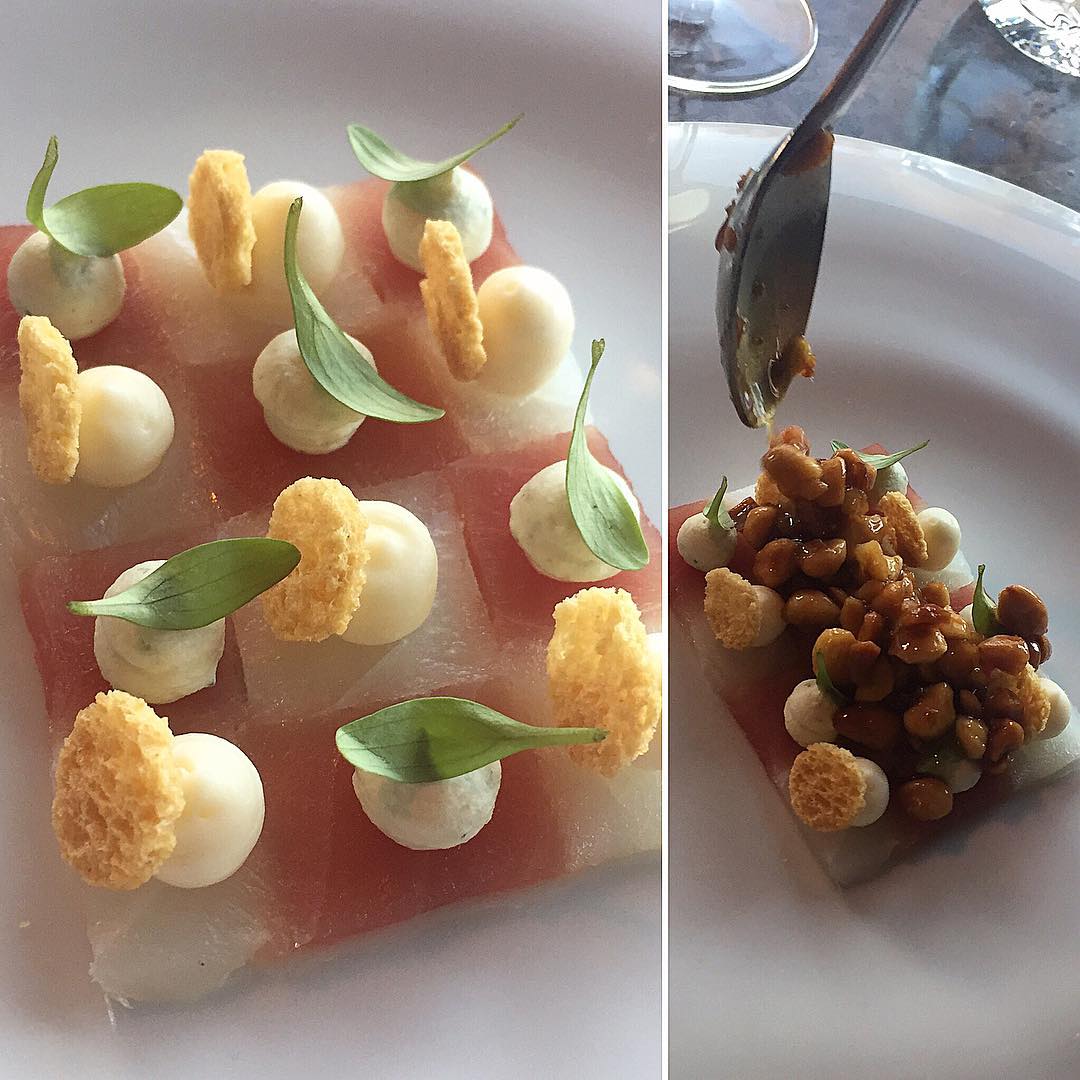 First arrived my absolute highlight of the evening, a new twist on a Wassim Hallal classic: the so-called "Chess board"; alternating pieces of cod and tuna, topped with small dollops of celeriac foam, croutons and baby cilantro shoots. Doused table-side with a fragrant sauce made from almonds, brown butter (referred to simply as liquid love), ginger and soy.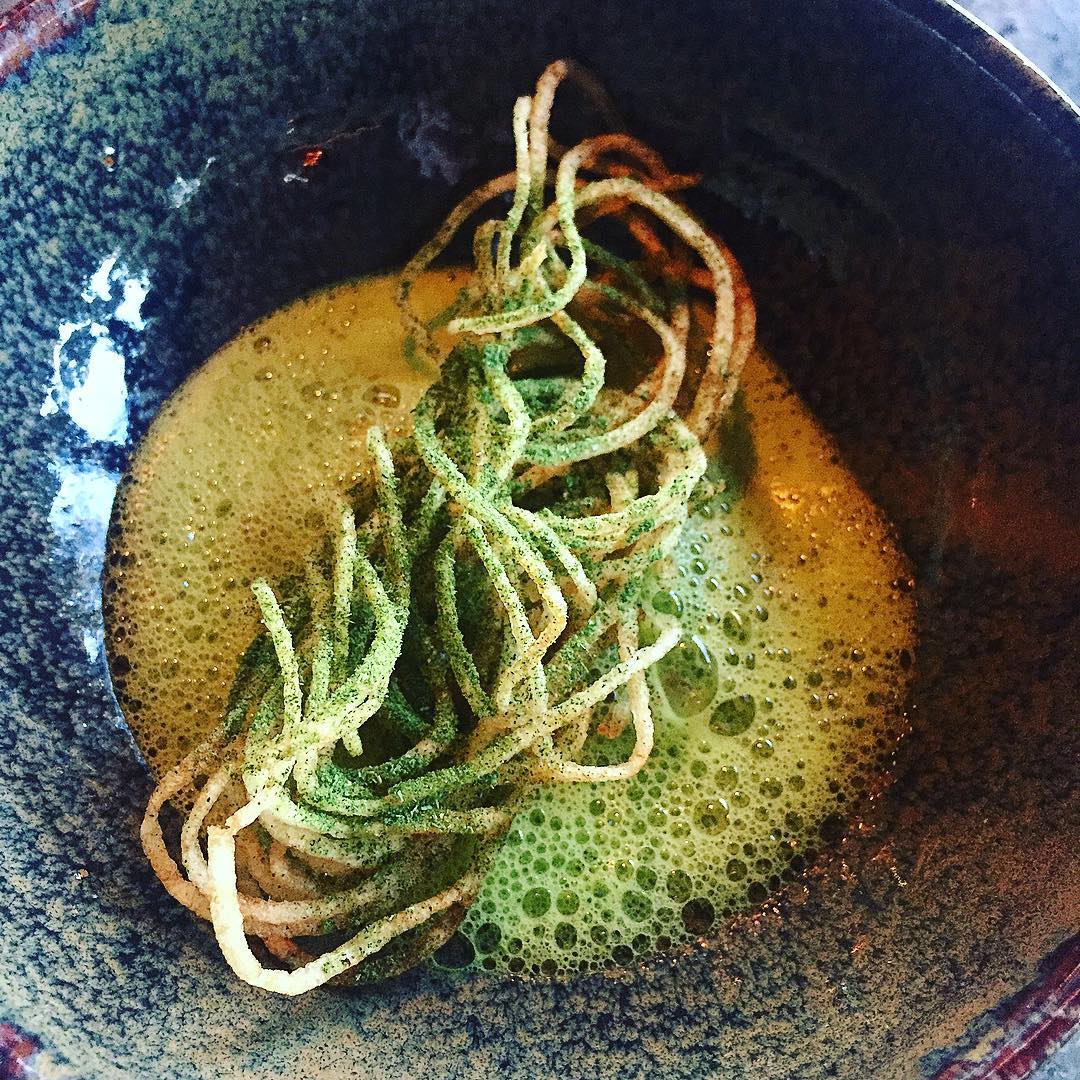 Quickly followed by a perfectly cooked, succulent and sweet Norway lobster swimming in a frothy bath of its own juices, concentrated into an intensely flavorful bisque. All of it topped with a bit of fried potato noodles for crunch and texture.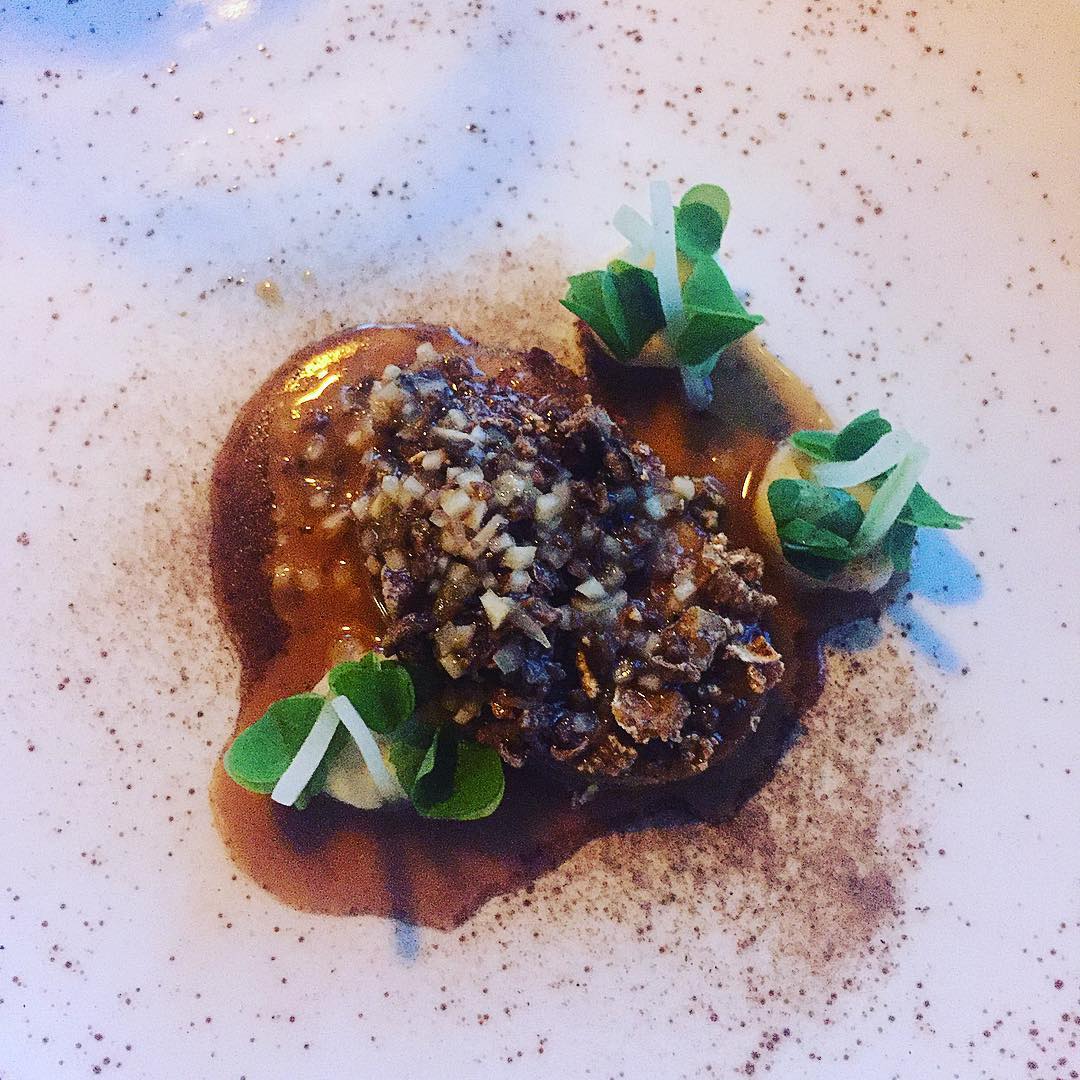 Next came incredibly soft and tender breast of Bresse chicken garnished with cock's comb slathered in an intensely flavorful sauce made from dark chicken stock. Unfortunately, while arguably the most intensely flavorful, most tender and well-prepared chicken I've yet come across on my culinary journeys, the beautifully prepared chicken, paired with an equally beautiful young and fruity Santenay Bourgogne Rouge from Bachey-Legros faded a little in appearance and taste in comparison to the absolute wonders that preceded it on the menu. Not that it was in any way a bad dish in its own accord, but how does one top perfection?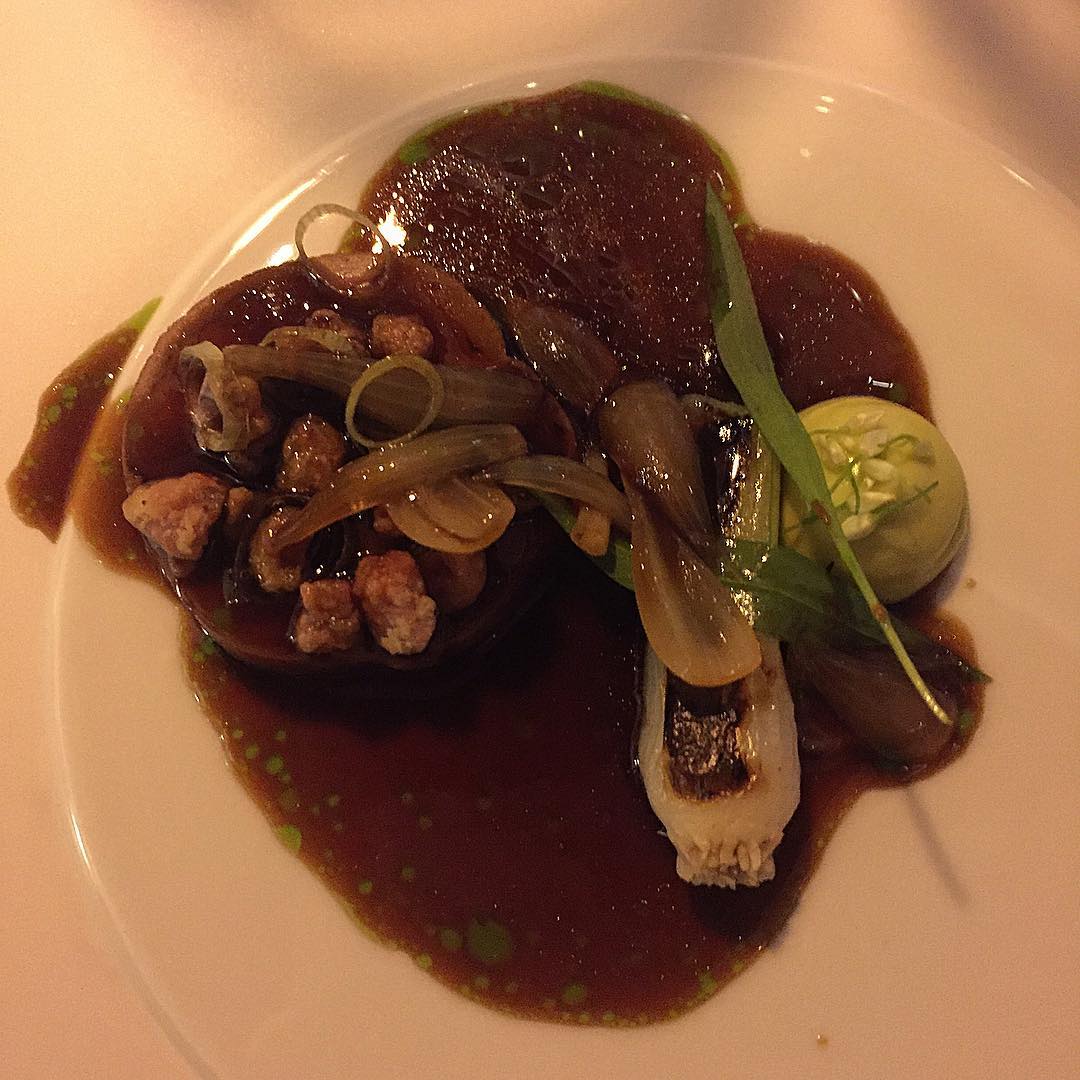 Lastly, the savory courses of the evening came to a perfect end with little pieces of slow roasted and meltingly tender lamb loin wrapped in lamb trimmings then dusted with puffed lamb sweetbreads and served with a variation of onions: grilled green onions, ramsons, onion purée all slathered in sauce made from a reduction of the roasting juices and caramelized shallots.
And yes, in case you're wondering, we did finish our bread and left no plate un-swiped. I am to this day not sure how, but it had to be done! How beautiful it is to visit a top luxurious restaurant and still be able kick back and let lose a little!
Desserts: An overwhelming display of skills and playfulness
"I don't know how to feel about this," I whispered to my lovely co-diner. "We've been through nine courses, with 14 total, that means we've got five desserts coming up!" – "Johan Christian Bruhn Johansen," she shot back: "You're a soldier, now man up and soldier through this!"
Long time readers will know that I'm not the biggest fan of desserts – hell, I'm barely a fan of desserts at all and given the choice, I'd pick savory dishes over sweet dittos any day. In that light, five desserts in a row seemed almost frightening to me. But heeding the word of my co-diner, and bearing in mind that desserts are usually the part of the meal where truly skillful chefs let loose and let their abilities shine, I soldiered up and dove head first into the sweet portion of the meal!
My fears, it seems, were largely unfounded. Not only were desserts at Frederikshøj beautiful, thoughtful and notably less sweet than could be feared, they were indeed playful, innovative and a massive display of skill, attention to detail and knowledge of ingredients, technique and textures.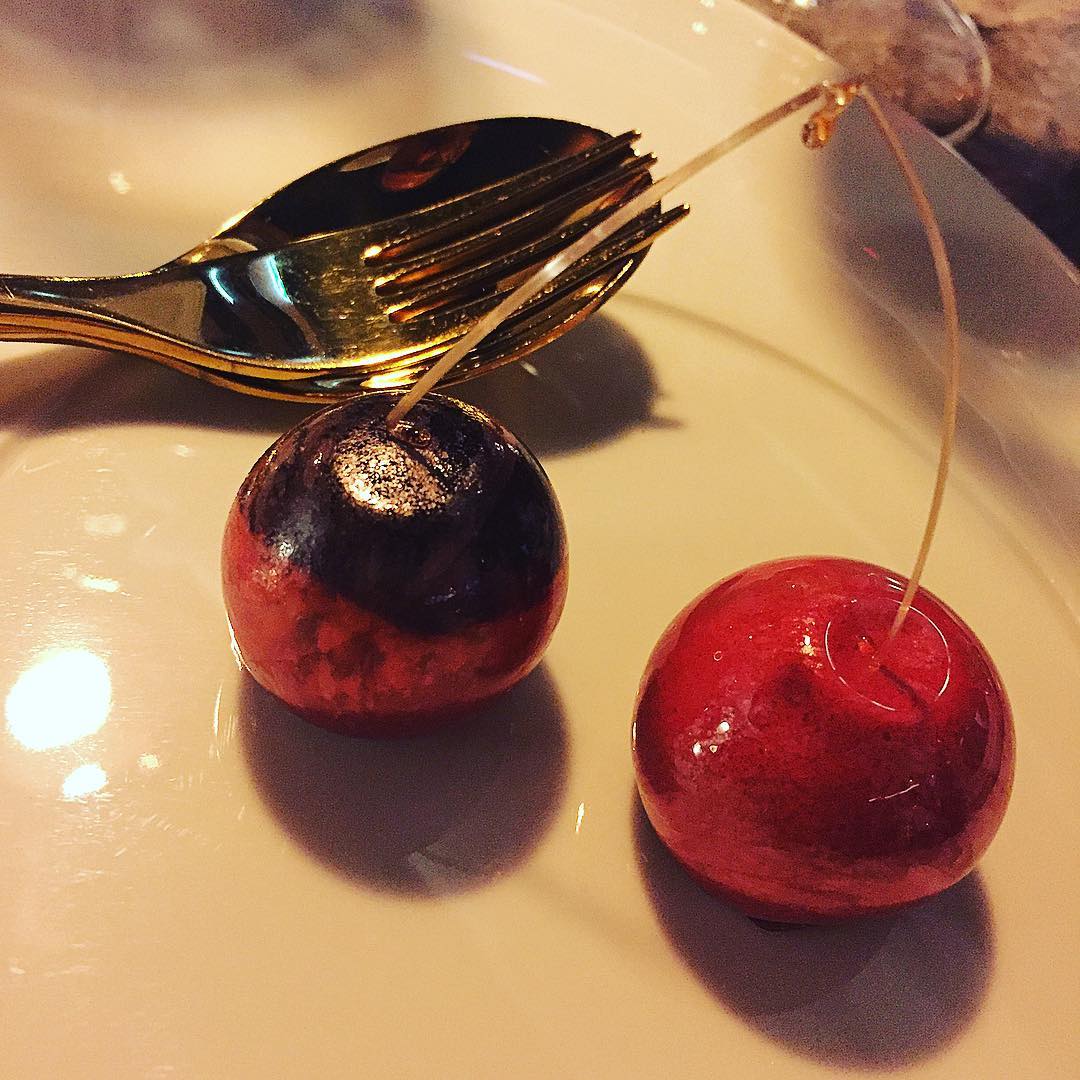 Our first dessert, "Cherry" consisted of two impossibly thin, clear, cherry-shaped sugar shells, one filled with cherry sorbet, the other with a mix of cherry mousse and chocolate. A gentle tap of the spoon cracked the outer shell and gave access to the tart, fruity innards which balanced gracefully against the sweetness of the shell.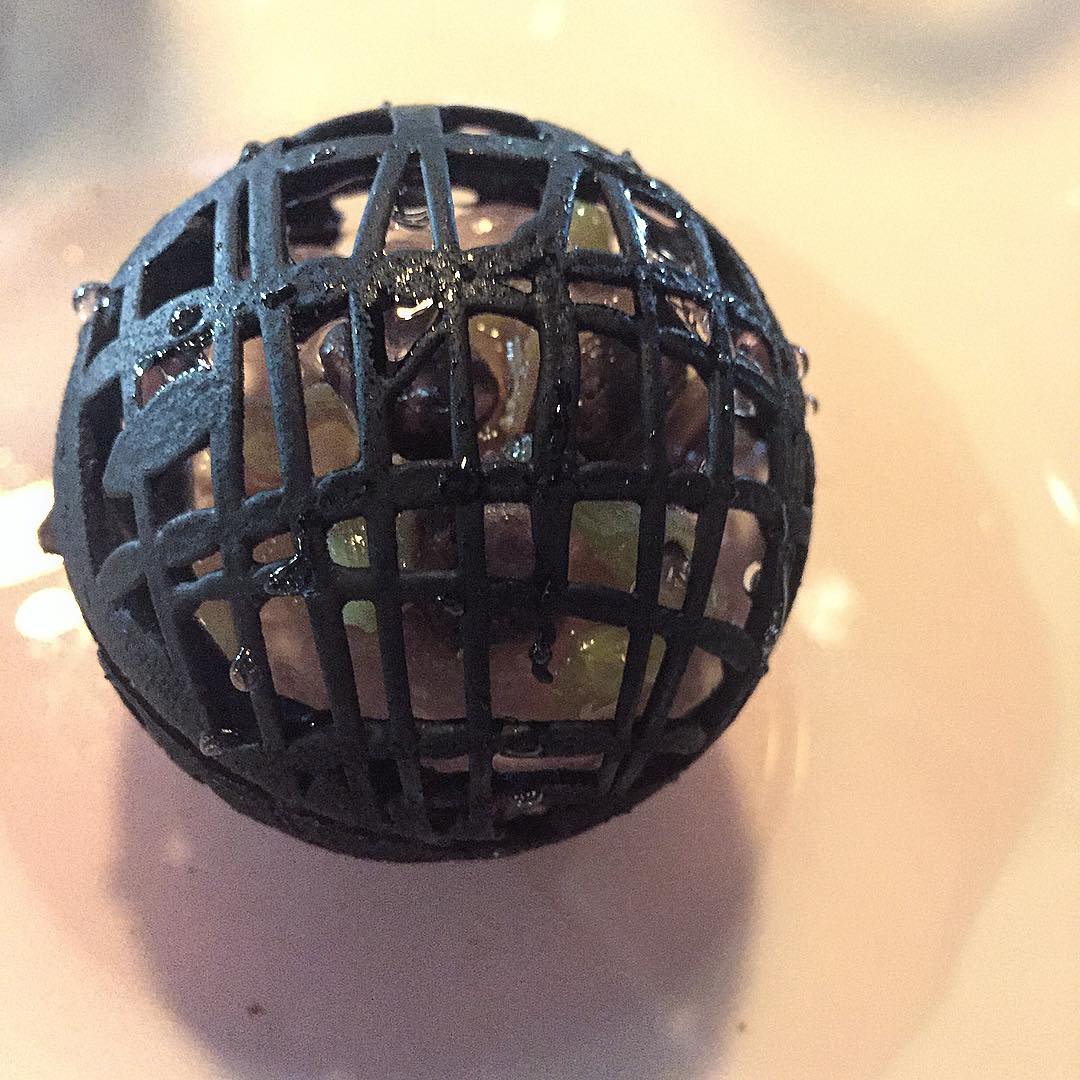 Wassim Hallal was obviously not playing around when it came to desserts as became obvious with the arrival of the next dish, "Rhubarb", consisting of a ball-shaped mesh of dark chocolate enclosing rhubarb in a number of shapes and textures, garnished table-side with a frothy vanilla-spiked rhubarb sauce. A borderline insane marriage of skill and flavor, the true genius of which only became apparent in the next serving.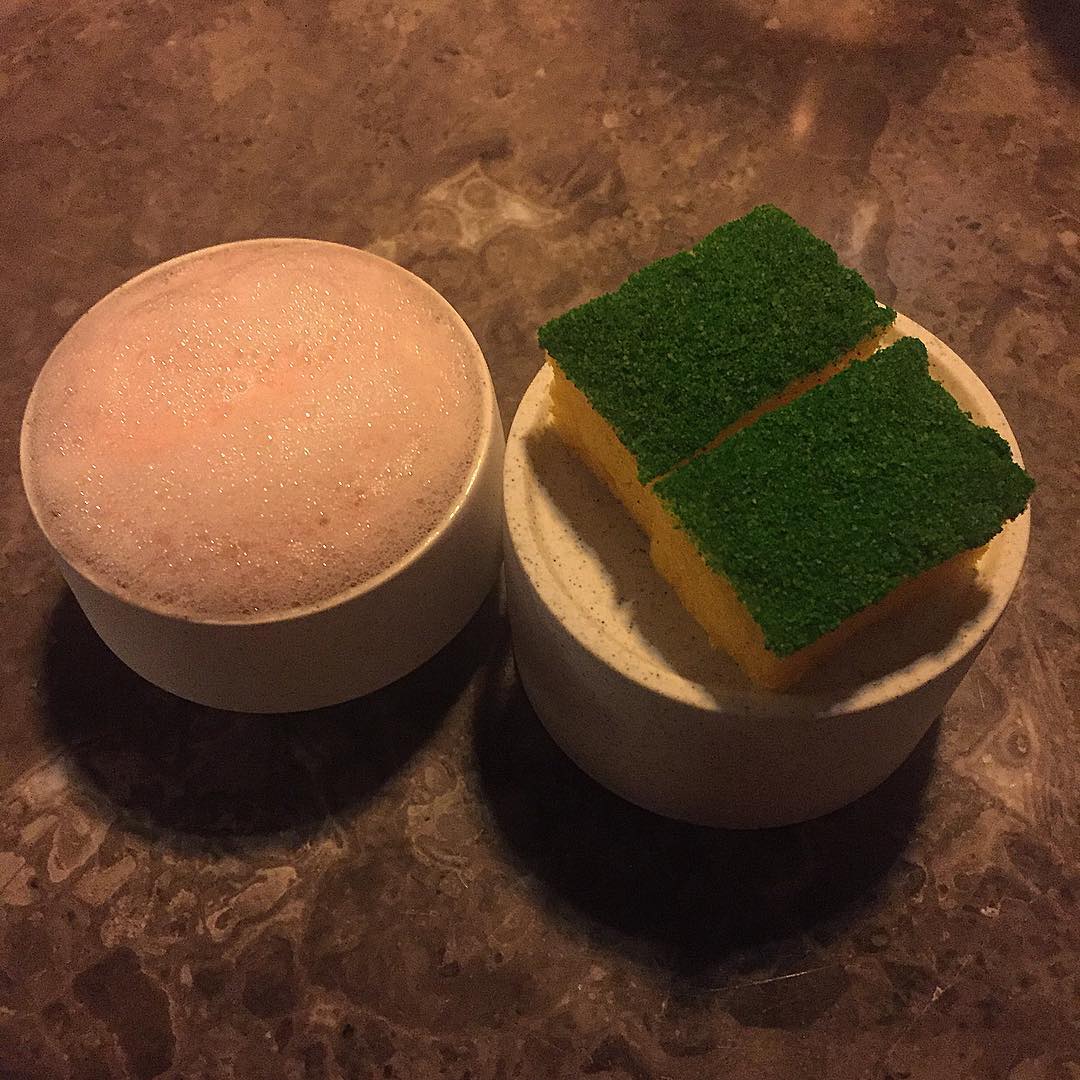 The follow-up serving "Dishwash" consisted of a relatively subtly-flavored and extremely airy sponge cake in the shape of a kitchen sponge which we were instructed to dip in a frothy cherry foam and then use to wipe any remaining rhubarb sauce from our empty plates. Simple, tongue-in-cheek and absolutely brilliant!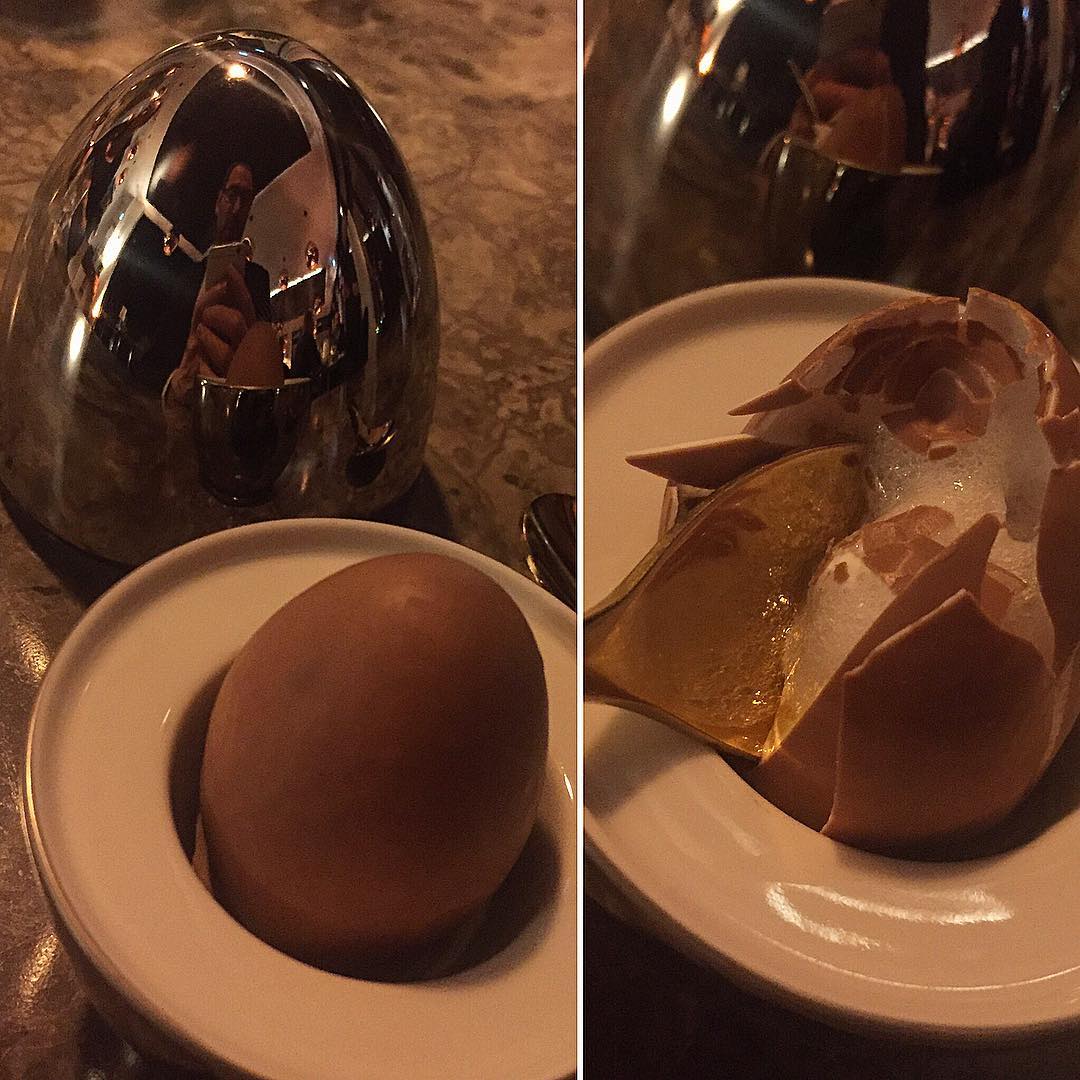 Not quite as brilliant, however as the next sweet onslaught on the menu "soft-boiled egg": the molecular gastronomy liking of an egg made from a thin milk-chocolate dusted sugar shell encasing a gently set coconut-flavored "white" set around a brightly yellow, runny, pineapple-flavored "yolk". Essentially a Piña Colada-flavored entirely edible egg. I may never have been a fan of Piña Colada but the planning and execution that went into this dish was in no way lost on me.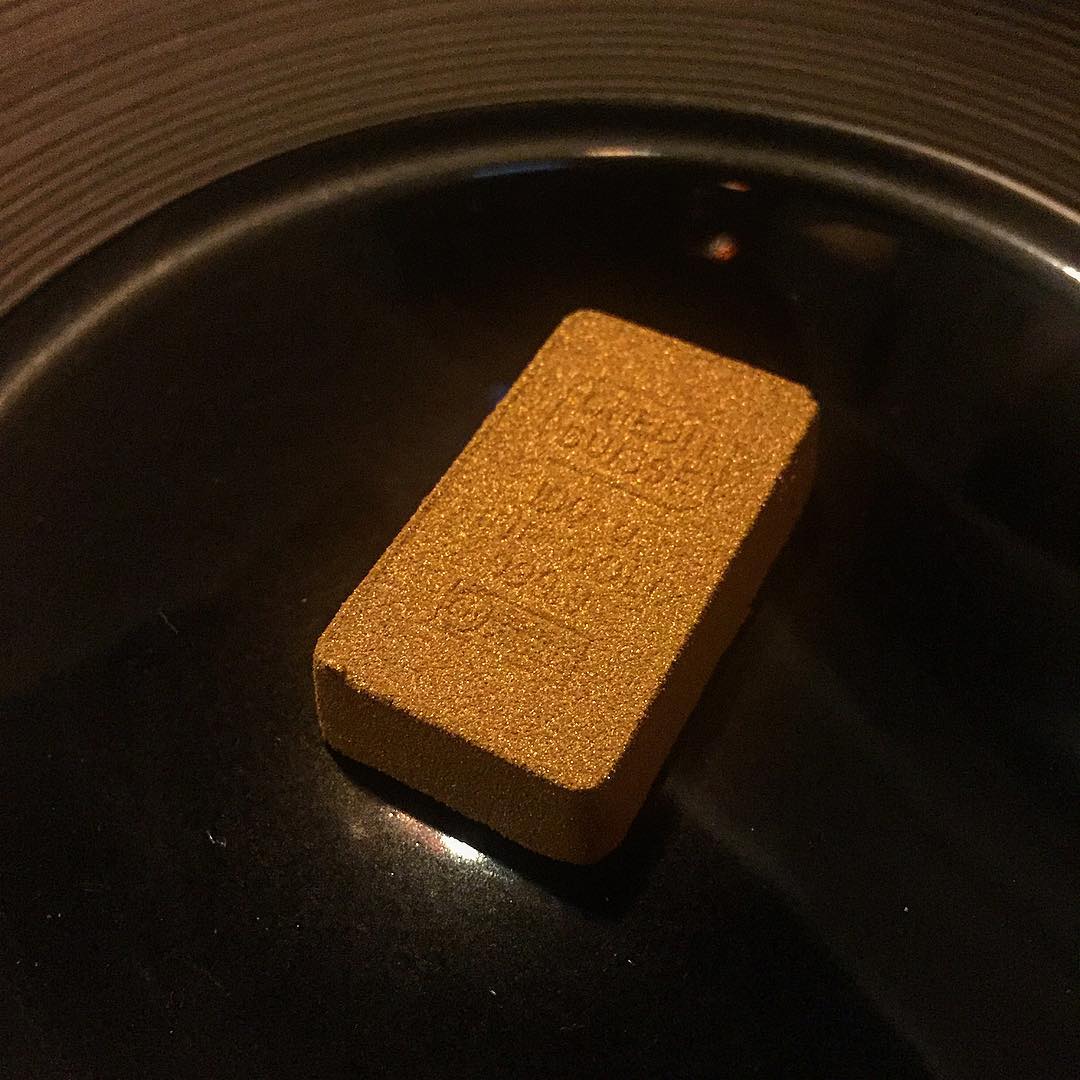 And neither was that of the next and final dish on the menu: "Gold Bar." Gold bar (Guldbar) is a classic Danish line of chocolate bars, wrapped in an iconic "golden" wrapping. Wassim's take on this classic, in his signature over the top fashion, consisted of plum-filled white chocolate cast into the shape of a miniature gold bar, then airbrushed with gold paint to finish the illusion. A decadent, little three-bite serving to round off an already perfectly over the top, decadent dining experience.
But wait, there's more… Let's take a minute, though, to appreciate the wine menu at Frederikshøj.
The Wines at Frederikshøj: Classics meets New World funk
Having invested some 3000 words in the food, the wines at Frederikshøj surely deserve a few words along the way. Whether opting for the wine menu or ordering of the extensive wine list, you'll find nothing but well-sourced luxury at Frederikshøj. Their wine selection, housed in temperature-controlled walk-in wine fridges, offers a varied and cleverly sourced selection between classic top wines and other more curious but equally exciting alternatives.
Gracefully, the wines are opened and examined for cork or other errors at a separate waiter's station before being poured into gorgeous and functional glassware from Luigi Bormioli tableside, thus ensuring the quality of the wine poured while relieving the customer of the arcane and somewhat awkward pre-tasting ritual.
For our visit, we opted for the wine pairings for our menu and were treated to a total of nine glasses of wine ranging from classic choices like Champagne Ruinart, First Growth Riesling and classic, red Burgundy to more curious but equally perfect pairings such as a perfectly oaked, fruity, full-bodied yet astringent and incredibly Burgundian Santa Barbara County Chardonnay from Au Bon Climat Winery (described by the sommelier as Leflaive without popcorn notes) and several interesting dessert wine pairings including a 5 year old Pineau des Chantres from Chateau de Beaulon made from unfermented grape juice mixed with cognac then aged for five years, and a ragingly acidic Australian noble rot-tainted Semillion/Sauvignon Blanc blend.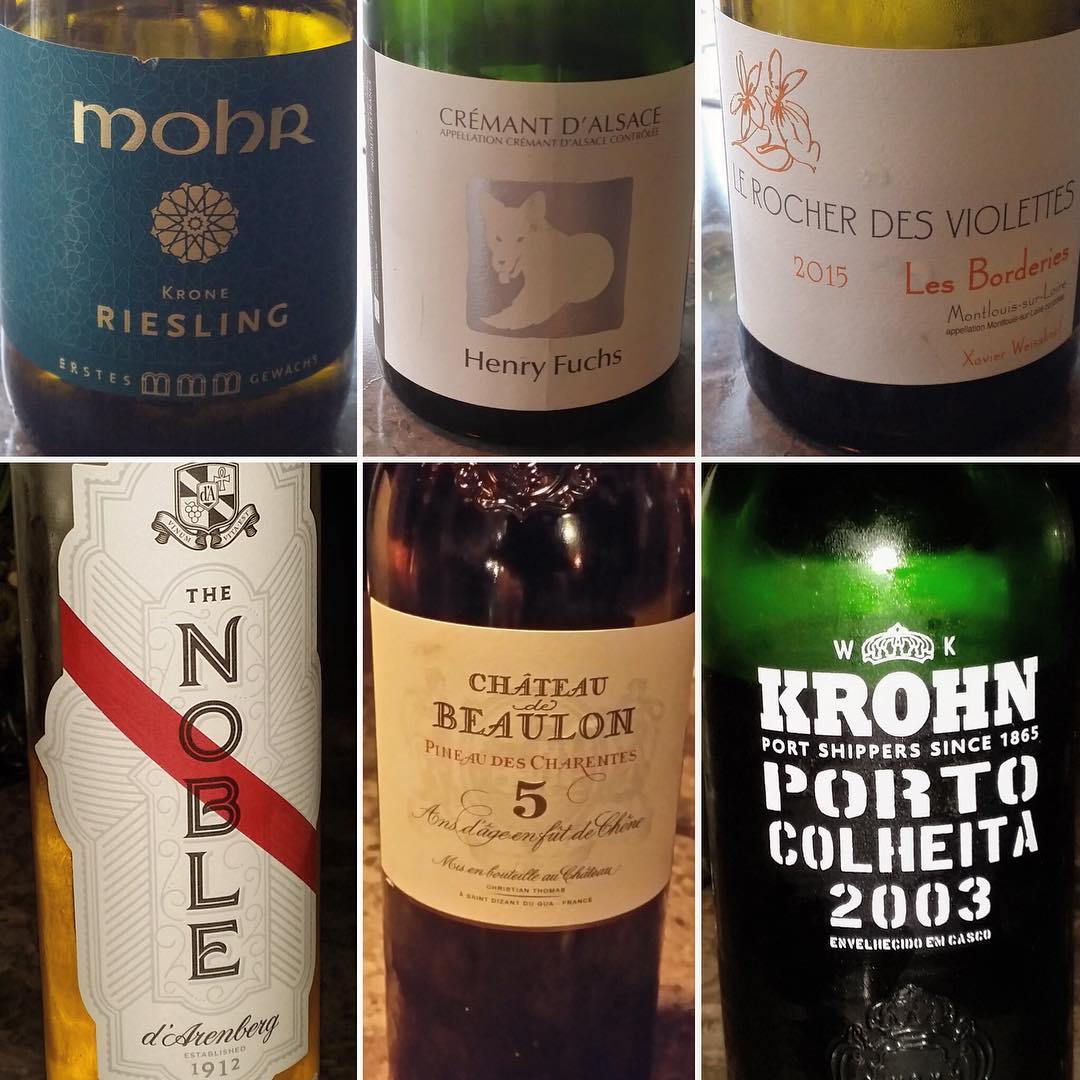 A few interesting bottles off the wine menu… Photo credit: Malou, Klidmoster.dk
All wines were masterfully presented by sommelier Søren Haumann who quickly picked up on my curiosity and fascination with wine and painted a perfect picture of each wine pairing including history, characteristics and reasons behind his choices, never skipping a single chance to throw in a humorous comment or snide remark in the process.
In more ways than one, the quality, variety and uniqueness of the wine choices easily matched those of the food, creating near perfect pairings as well as one of the most exciting, curious and downright fantastic wine menus I've ever consumed.
Icing on the cake: Coffee and Petit Fours
Indeed, Frederikshøj is a massively overwhelming experience in terms of food and wine. But here's a pro tip for you from Malou and I: If you're the sort of person who enjoys desserts, chocolates and sweets, you'll want to find some room even after the official 14 courses have been defeated. Take an extra trip to the bathroom, stall the waiter, time travel, do whatever you must, but make room. You *will* thank me later!
The full experience at Frederikshøj features both coffee (or tea) as well as petit fours. And not petit fours in a two meager chocolates to see you off sort of way. No, friends, the petit four experience at Frederikshøj is a concept so overwhelmingly complex that while intrigued, my brain refused to process more sugary treats. I will leave you therefore with a few words from my competent co-diner to finish the tale of what was our all-evening dining experience at Frederikshøj:
"In terms of petit fours, Frederikshøj offers a serious take on the sweet period to the culinary sentence that is their tasting menu. So, whatever you do, always say yes when offered coffee or tea to complete the meal: Only then will you see the trolley! The petit four trolley, that is! An entire trolley filled with a gobsmacking selection.
The selection consists, typically, of 12 (count them!) homemade petit fours and two kinds of ice cream lollies. After a lengthy presentation of the decadent selection, one is awarded free choice amongst the goodies subject to one's personal level of curiosity, appetite or manners. On this particular evening, I chose a varied selection: starting with 'After Eight-ish', i.e. cast dark chocolate with a mint filling, then a miniature cream puff the size of a quarter, a passion fruit marshmallow, French nougat, licorice toffee, another piece of cast chocolate with a creamy caramel filling and a miniature chocolate-covered ice cream lolly. Oh the joy, it was indeed a perfectly sweet, happy ending to what I now consider amongst the best meals of my life!"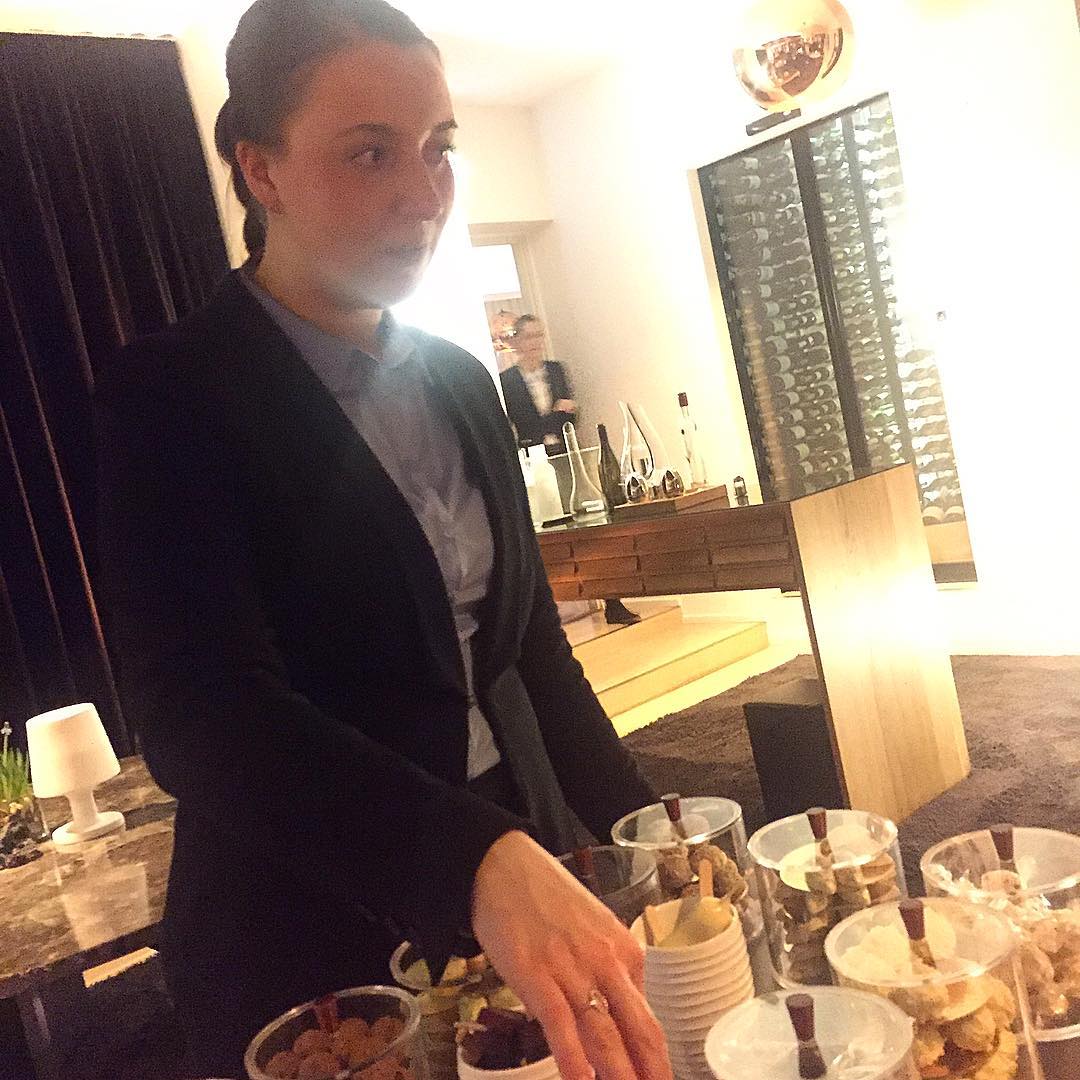 And, thus, with a little help from my friend, there we were… A couple of snacks, nine glasses of wine, fourteen courses, a mountain of miniature sweets and some six hours later, we were done, defeated and happily so. Never in my life, have I experienced such a full-on culinary assault of the senses. They mean well at Frederikshøj and don't want you to leave thinking that anything could possibly be missing. The portions are large, the wine pours generous, the amounts of butter, fat, salt and sugar borderline alarming. It's a generously and lavishly over the top experience in any way imaginable that draws you in, consumes you and leaves you in the lobby six hours later, stuffed, overwhelmed and beautifully tipsy and waiting for your taxi home.
As we stepped out the front door, back into the reality that was lightly rain-soaked Danish and onwards into the comforting warmth of a waiting taxi, we began slowly deconstructing and processing the experience to the strangely fitting soundtrack of a cabbie humming along to Elton John's 1973 masterpiece "Goodbye Yellow Brick Road."
Wassim Hallal – A Perfectionist and his crew
The tasting menu at Frederikshøj is easily one of the most wholesome dining experiences of my life. Unlike other tasting menus where portions sometimes start out as small bites and slowly warp into larger, more substantial and flavorful dishes, Frederikshøj is a beautifully relentless assault on the senses starting with the near-overwhelming snacks serving and ending in the mercifully small yet intense and heavy gold bar.
From start to finish, all portions are about the same size with equally intense flavors from start to finish, making the experience feel more like one continuous explosion of new and contrasting flavors than a naturally progressing meal slowly increasing in intensity and portion size. This breaks down to some extend the traditional "beginning to climax" dining structure of snacks, starters, desserts and leaves you with a continuous, perfectly timed flow of equally elaborate dishes in which no one single dish has been given less thought and attention on account of another. Such a menu is definitely the work of a perfectionist and it is masterfully executed!
That being said, though, Frederikshøj is by no means a one man show. A captain is nothing without his crew and in his seasoned crew, Wassim Hallal has created a dream team that has helped him reach for (and grab) the stars.
While absolutely gorgeous and incredibly satisfying on their own accord, Chef Wassim's intricate dishes would seem less complete unless accompanied by Søren Haumann's expert wine pairings and the bubbly attitude with which he presents and justifies his choices. In much the same way, the rapid onslaught of sometimes chaotically playful dishes would not nearly be nearly as mindblowing unless enjoyed in the beautiful and relaxed atmosphere created and overseen by long-time restaurant manager Jeppe Lund and his cast of beautiful people and kind souls.
In many aspects, the well-kempt appearance, elegance, posture and profound, attentive politeness of the wait staff mirrored that which I've bathed in and praised at other finer French-inspired establishments like New York's iconic River Café or New Orlean's Commander's Palace – coupled with a decidedly Danish twist of well-orchestrated warmth, humor and natural albeit perfectly gauged informality that felt every bit as heart-warming as that offered by their hipster chic counterparts at Copenhagen's Noma.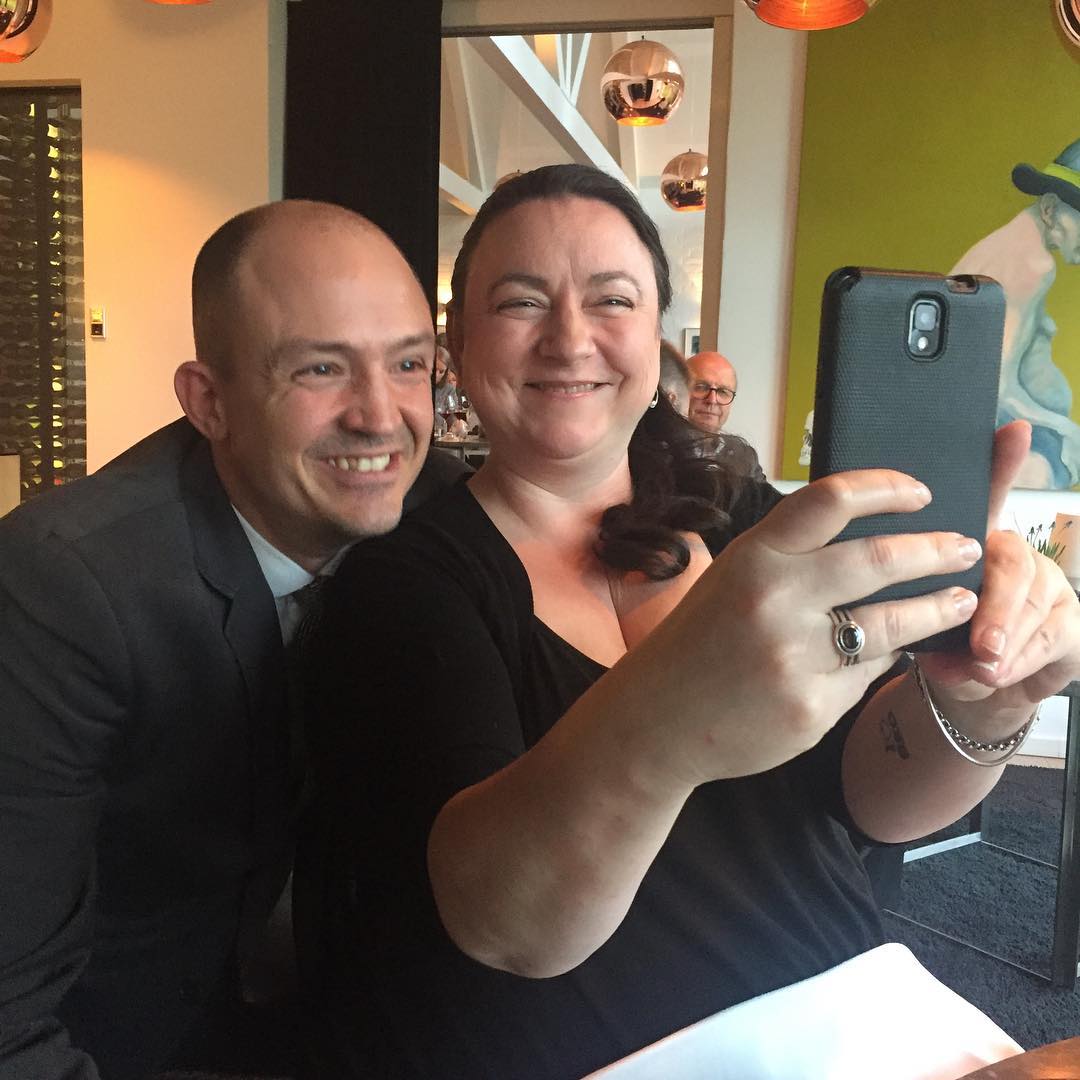 Luxurious through and through, but down to earth like no other. That is Frederikshøj! When, for example, is the last time a restaurant manager at a Michelin-starred restaurant dropped by your table for selfies?  
You'll find luscious décor, tuxedos, gloved hands and silver tablecloth brushes at Frederikshøj, but it's coupled with warm smiles, perfectly timed sly remarks and the occasional joke – some of them quite humorous, too! It's classic French meets Nordic cool with a touch of Danish hygge and it's a damn near perfect mix! Why only damn near? Because every damn night these guys are out there pushing the limit, every damn night every little cog in the clockwork that is Frederikshøj is wound just a little tighter. These guys (and gals) have reached the stars and every damn night, they reach a little higher.
Verdict: Is one Michelin Star enough for Frederikshøj?
The Michelin-star system is faulty and here's why… One Michelin star indicates "a very good restaurant within it's category" while two or three stars, respectively, denote restaurants worthy of a detour on your journey or the journey themselves. But what of the cases in which a one-star restaurant is not only very good within its category but at the top of its category if not amongst the best restaurants in the country?
With the city of Aarhus being hailed as the new culinary capital of Denmark and a great place to visit by such authorities as Lonely Planet and The Guardinan and countless others, Frederikshøj is certainly worth the small detour for gastro tourists – if not a large part of the journey itself.
The cuisine of Frederikshøj, quite simply, is at a level I have yet to experience at any other one-star restaurant in Denmark – or elsewhere in the world for that matter. Add to that a perfect wine menu, stand-out service, a unique setting and some of the warmest, friendliest service I've yet to encounter. Restaurant Frederikshøj, quite frankly, provided me with my overall best dining experience to date and belongs, in the eyes of this humble reviewer, in the top five of restaurants that this country has to offer.
DKK 3000 is *a lot* of money for a meal. No doubt. But with only one or two exceedingly small clinks in a perfect evening, the experience was worth every penny – and then some! How do you, after all, put a price tag on perfection? Frederikshøj spares absolutely no expense in creating the perfect menu, the perfect wine pairing and the perfect setting for their guests: None! And that certainly is worthy of a detour, if not the trip itself!
With culinary mad genius Paul Cunningham proving in 2017 that his off the beaten track location at Henne Kirkeby on Denmark's wind-swept west coast is worthy of a second star, then certainly so is the much less remote Frederikshøj. If there's but a bit of justice left in this world the sometimes berated Michelin Guide will realize the error of its ways and 2018 will (finally) see the birth of Denmark's next two star restaurant, Frederikshøj.