Home » Blog » Restaurant Reviews » Restaurant Review: Commander's Palace Restaurant, New Orleans
By golly, in my 30-some years, I reckon this may well be the BEST dinner I've ever had! – The words, as much as they might well have been, are not mine. Rather, they're the words of a somewhat vocal fellow at the next table over from us who throughout the evening had been so infatuated with his meal that he more than once, literally, took to singing its praise.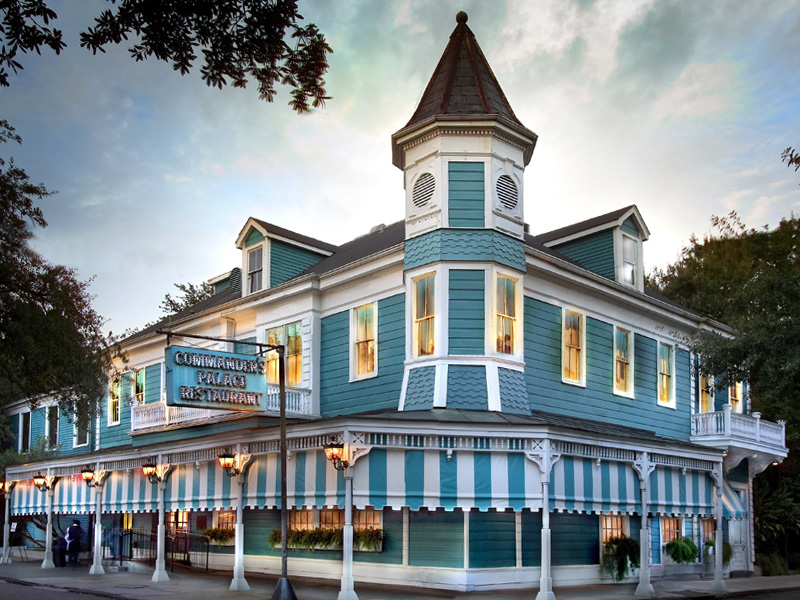 Commander's Palace in New Orleans. Photo credit: http://www.commanderspalace.com
It's Wednesday evening in New Orleans and my friend Zascha and I are at the well-reputed and absolutely packed Commander's Palace Restaurant, trying to find out what all the fuzz is about. What fuzz you ask? Well, while probably not known to many outside of the Southern US, Commander's Palace is somewhat of a household name in its hometown of New Orleans. The fact alone that on a Wednesday night in July well before 7 PM the place is so packed that I'm starting to feel lucky that I made a reservation two months prior to our arrival, should give some indication of the popularity of the place. A popularity that is, by the way, caused by the numerous awards and distinctions  rained down on the restaurant over the years:
Held by many as the best restaurant in the city of New Orleans, possibly even the state or the entire South, and a regular entry on most, if not all, Top 50 Restaurants in the US list, this is by no means an unknown institution in culinary America. Their Chef de Cuisine, Tory McPhail, holds a James Beard award as Best Chef in the South, while one owner, Ella Brennan, herself holds a lifetime achievement award from the same institution. The restaurant itself? It's a Culinary Institute of America Hall of Fame inductee, an 18 times Zagat Most Popular Restaurant winner, a three time Wine Spectator Grand Award winner and a slur of other titles as well. But it is really any good? That's what we wanted to find out and that's why, on a fateful Wednesday night in July, I decided to invite my very close friend of ten years out for dinner at somewhere a little bit special.
Southern hospitality at its best!
With a list of distinctions like those of Commander's Palace, you'd be excused to think that things may have gone a little to their heads down in New Orleans, but you'd be dead wrong! That more than anything was what struck us about the place. Well, I mean, after we had first arrived by cab and had the doors opened and held for us by a couple of doormen before eventually passing across the lavish mosaic-floored lobby through glass-insert wooden doors into the so-called formal dining room, waiters smiling and respectfully bowing their heads in greeting as we passed.
While there is no doubt we were in lavish settings and upscale surroundings where jackets are strongly encouraged for gentlemen and business attire for ladies a must, there's still an aura of warmth, friendliness, playfulness and fun about the place, the decor and, most importantly, the staff. They greet you with smiles, polite bows and the utmost of respect as they proudly show you to your table, where they'll seat you, then quickly size you up and start small-talking, making conversation, joking (if appropriate) and making you feel, well, entirely at home.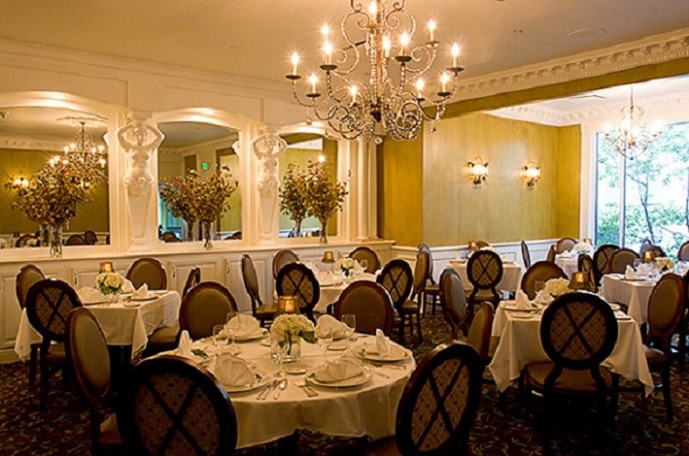 One of several dining rooms at Commander's Palace. Photo credit: http://www.commanderspalace.com
In no way did this homeyness become more apparent than when three people out of a party of four suddenly got up from a table next to ours. Immediately, the general manager – a woman in her best age who had been fling around the restaurant all night (a great plus!), smiling at diners, checking on tables and taking feedback – rushed down to the lone remaining gentleman at the table with a big smile, grand gestures and an "Oh my God, what did you say? What did you do?"… After which she politely struck up conversation until the remaining party guests returned and she excused herself to go about her business.
You and what army? If you're dining at Commander's Palace, or other top restaurants for that matter, expect to have at least 5 to 10 people taking care of you and making you feel comfortable through the experience. There will be people greeting you, people seating you, people taking your orders, people serving your food, people clearing your plates, people keeping your glasses filled and people serving your wine or introducing your food. This may seem overwhelming but it's all carried out with an aura of respect, friendliness and professionalism so that you in no way ever feel overrun or watched. It's all part of the experience and part of the pampering, it's also a great experience and one of the things that help make these expensive restaurant visits worth your money.
This level of homeyness and outspoken friendliness is a more than difficult balance act in fine dining. Where do you draw the line and in which direction do you want to swing? When is posh too posh and, on the other hand, when is friendly too friendly or imposing, or humor too inappropriate? At Commander's Palace, it took the staff a mere couple of minutes to come off as masters of balance, blending haute cuisine in posh surroundings with friendliness, warmth and humor. They want to be taken seriously as an upscale restaurant and they most certainly are because of their cultural impact, history and their food. But at the same time they obviously don't take themselves too seriously and leave room for fun, play and genuine warmth. It's like dining with close family or friends only while wearing a jacket in the sweltering New Orleans summer heat. And it's right up my alley.
The menu: What to eat at Commander's Palace?
But enough about the staff and surroundings for now, let's talk food! There's a lot of it to be had, and much of it is utterly exciting for a first time out of town visitor such as myself. The menu at Commander's Palace is decidedly Creole, a Louisiana-specific upscale style of cooking borrowing heavily from the French roots of the original Creole people, but also bearing marks of having been developed through years and years in a country far from home mainly by well-skilled African slave cooks using ingredients available locally as well as traditions and spices from their long lost home continent and other exotic places such as the near by Caribbean islands.
In other and more simple words, expect to see local Louisiana protein such as shellfish, seafood, poultry, even turtle along with local freshly grown vegetables subjected to elaborate French cooking techniques such as braising, reduction and simmering, then sprinkled with a lot of warming spices and in quite a few instances a liberal shake of Cayennne or Tabasco peppers. Oh, and there may well be a whole lot of deep-frying going on as well. The food here is neither unknown nor familiar, neither French nor New World, rather it's sort of everything in-between and then some… And it's very, very New Orleans!
Cajun vs Creole cuisine: If you've done any sort of research into New Orleans and cuisine, you may have heard about "Cajun" and "Creole" cuisines. Both are types of cuisine popular in New Orleans, both were perfected by settlers from far away, both are based on local ingredients as well as influences and techniques picked up along the way from the safety of home to a far away place called New Orleans. Creole food was perfected by the Creoles, New Orlean's original French settlers, whereas Cajun food was perfected by the Cajuns, French-Canadian settlers driven from their home country and eventually all the way to New Orleans.
What, then, is the difference? Well, very simply put cajun cuisine is country food and Creole is city food. Cajun is simple but tasty, creole food often elaborate but equally tasty. Cajun food is made with influences picked up by Arcadian settlers on their way from Canada to New Orleans. Creole food is made with influences from France, African slaves and the Caribbean. But it's much less simple than that, of course. It's a geeky subject that much has been written on. This piece included.
Sample menu from Commander's Palace, click to enlarge
The creole dishes at Commander's come in a range of shapes and sizes. There are a a small but luscious selection of reasonably priced à la carte appetizers and main dishes to go with the, brace yourselves my lovely female readers, separate dessert menu. There are also several three-course specials in the $40-45 range all featuring a choice of soup or salad, a main dish and a selection off the dessert menu.
If you're feeling particularly adventurous, decadent and famished, there is, of course, also the tasting menu: an ever-changing feast for the adventurous eater, appropriately named "Chef Tory's Playground". The six serving menu is available for a somewhat considerable down payment of $85 per diner with optional wine pairings available for another $50.25
Putting it shortly, there's a little bit for every diner and every budget at Commander's and it's all about making the right choice for the occasion. Since I had the pleasure of paying for our experience, I also had the pleasure of choosing the level of decadence. Which means (guess what?) the tasting menu… With wine pairings, thank you very much!
"Certainly," our smiling waiter nodded at my humble request and quickly disappeared towards the kitchen. We, on the other hand sat down and took in the view of the dining room and the guests around us. These counted both old money, new money, tourists such as ourselves, locals and even a large-scale family birthday party which in a somewhat unorthodox but strangely appealing way took place in the middle of the grand dining room amongst other guests such as ourselves.
A humble start to a great evening
Our grand tasting experience started with something as simple as a slice of bread. Lightly toasted and smeared with a compound butter of sorts. "Really? This is it?" I'll confess to thinking. "This is slightly underwhelming" is another thought that popped to mind. But my inner voices were soon silenced.
Commander's Palace being Creole in nature, the bread of choice was, of course, their take on the humble and vastly overlooked baguette – a bread so simple in nature that it's almost impossible to get right. But got it right, they did! Freshly baked, perfectly crusty yet with a melt in your mouth crumb. Wow. Just wow. I was confused about the serving at first, even feeling a little let down. But once I had a taste. Wow. Serve me a slice of bread like that as an appetizer, you cheeky monkey, and I'll play your game any day of the week! There's a firm belief in the restaurant business that you can say a lot about the quality of a restaurant by the quality of their bread. If this is true, and I think it is, there would be a lot of good to say about Commander's Palace!
An entire loaf of this phenomenal bread in it's plain, non-buttered form was, by the way, soon placed at our table to snack on during the length of the meal. In what I can only assume this to be some sort of wicked test. "Go on, try not to fill up on our gorgeous and delicious bread, we dare you!"
A wine less ordinary!
To go with our appetizer, we were served what was not only the first glass of the wine menu, but also arguably the best and most interesting glass of the evening. Being the proud owners of one of the finest wine cellars in the country allows Commander's Palace to pull out some pretty interesting wildcards every now and then and the 1992(!) Chateau Beaux Hauts Extra Brut RD Sparkling Wine from Russian River Valley was one such wild card. Yes, a 22 year old Californian sparkling white, how's that for getting started?
1992 Chateau Beaux Hauts Extra Brut RD – not a bad way to start an evening!
Champagnes very famously have a reputation for being extremely long-lived (if you're a millionaire, I hear 1976 is drinking really well right now), but not many words are spoken on the longevity of other sparkling wines. Could an American sparkling stand the test of time? The answer, in case you're wondering, is yes! Drinking mature wine, white wine in particular, will always be a matter of personal preference because the flavor and expressions that come with age are so far from their fresh, vibrant and young counterparts. If it's your scene, though, The '92 Beaux Hauts was phenomenal: extremely ripe apples, toffee, faded flowers, chalky dust, brioche and brown butter on a a still vibrant acidic backbone with still a faint trace of bubbles. Just the thing to carry us through the first real serving of the evening…
First serving: Truffled Egg Royale
I don't know what the hell I was expecting when I read the menu and tried to imagine the dishes, but this wasn't it. What was carefully put before us as the opening movement of a perfectly timed and executed onslaught of dishes was a hollowed out egg shell, generously filled with succulent Louisiana blue crab meat doused in a rich, truffled custard mixed with Chantilly cream (sweetened whipped cream), then generously topped with bowfin roe.
And we're off… Truffled egg royale!
Weird as that all well may sound, the combination was pretty much to die for. The richness and the sweetness of the cream complimented the natural seafood sweetness of the crab meat really well while the pungent earthy notes of truffle kept everything from toppling over into cloying sweetness. The roe on top offered their own little crispy sea-like pop, as these things should.
The only thing I wasn't too sure about was the egg shell serving, but as I kept finding little pieces of shell and cartilage amongst my crab pieces, I'm assuming there was some sort of link being drawn there. Oh, by the way, spoiler alert: I've just offered the harshest bit of criticism you'll hear from me in this review. It's all roses and declarations of love from here on.
The 1992 Château Beaux Haut, by the way, worked wonderfully with the sweetness of the crab and the richness of the cream. It cut through the richness when needed and lifted the many layers of flavors in the dish. We were off to a great start and with a pairing like this, and I was pretty sure good things were in store for us. For once in my life As always, I was not wrong
Second serving: Crispy Pork Belly & Oysters
"I'm not sure what it is about me and fine dining," I thought as the next dish was put before us. "It seems every other place I go to, I'll pick the menu with at least one item that scares me! At WD~50 it was the cow tongue and now… oysters?"
Actually, let me rephrase that. I don't know what it is with me in general (and I don't want your suggestions or feedback, thank you very much!) I'm not a picky eater and I've eaten a lot of really strange things over the years, even some that are often considered as strange and revolting as they are expensive; caviar and bird's nest included. Still, some things just seem naturally off-putting to me, for no apparent reason. One such things is oysters! They freak me out and turn me off, man!
I'd made a pact with myself, though, that if I were to try oysters for once in my life, it would be in New Orleans, preferably in a really posh setting and deep-fried if available. Well, enter Commander's Palace and Chef Tory's Playground! Thanks to the second dish on the menu, I learned that not only are oysters not scary or appalling if properly prepared… No, they're actually quite delicious in the hands of a star chef!
Deep-fried oysters? Don't mind if I do!
At Commander's Palace, the oysters arrived firm and tasty, deep-fried in a well-seasoned crunchy batter and plated up alongside a succulent and immensely flavorful piece of slow-braised pork belly. If pork belly sounds unappealing to you, just think of it as one of the most tender and flavorful cuts of pig and if that doesn't help then think of it as the part of the pig that when properly cured and smoked becomes the spice of life; bacon! Scattered seemingly randomly, but not at all so, across the rest of the plate were crispy fried noodles, radishes, spinach cream and splatters of chili flavored butter. Fat on fat action honestly never looked this good!
… And rarely tasted this well! The contrast of the crunchy oysters and the silky, succulent pork belly was a work of genius, especially when coupled with the intensely flavored spinach cream and chili butter that painted the plate. We were dining in Creole country and they were obviously not afraid to let the spices and the heat shine through, not even at this haute cuisine level! The onslaught of the chili especially may have been a little too much for some Nordic palates, but I for one adored it. This was posh cooking, but with attitude and edge. More power to you, Chef Tory!
The wine pairing, a 2011 Schloss Hallburg Silvaner Kabinett from Franken, Germany was proof that interesting wines can actually be made in little revered regions using much maligned grapes. Silvaner wines are usually considered a bit dull and simple because they lack the acidity, expressions and oomph of their more popular cousins such as the mighty Riesling. However, when grown in the otherwise overlooked region of Franken, Silvaner takes on an entirely new character and may actually produce vibrant and fruity wines with both mineral notes and sufficient acidity. As was the case of this particular wine which made it a perfect pick to compliment but in no way overpower the many different flavors of the pork belly and oyster dish.
Third Serving: Le Coup de Milieu – Saint 75
"Now guys, is the time for our mid-dinner cocktail," said one of our female waiters as an introduction to our third serving. – "I think I love you," I replied silently under my breath as miniature  cocktail glasses filled with bright green liquids were carefully and respectfully placed in front of us.
Mid-dinner cocktails? How's that for a palate cleanser? Photo credit: @zwatz on instagram.com
I've always been a fan of palate-cleansers: little fresh, often acidic and lightly sweet servings meant to clear your palate after one particularly intense dish and prepare you for the next onslaught. I've also as far back as I can remember (last Thursday, if memory serves) been a fan of craft cocktails… So a palate cleanser in the shape of a cocktail? What's not to love!
The Saint 75 is the Commander's Palace spin on an old classic the French 75 and is made with a refreshing mix of St. Germaine elderflower liquor, Tanqueray gin (still a personal favorite of mine), crushed citrus and basil syrup… Oh and topped with just a splash of bubbles to even things out! And yes, in case you're wondering, I'm pretty sure the Saint in the name is a tribute to the hometown heroes, The New Orleans Saints. From the dreadfully poor to the stinking rich, the love for these boys run deep in the veins of everyone in this city, including those working the kitchen and bar at Commander's Palace!
And a fine tribute it is. The sweetness of the elderflower along with the spicy punch of the gin, the citrus and the slightly surprising herbaceous notes of the basil combine into a strangely refreshing and utterly addictive cocktail that I could have easily enjoyed sipping in much larger quantities which, come to think of it, I suppose would have been a very, very dangerous idea. For the adventurous out there, though, it's on the cocktail list, full size!
But I digress. As much as I frowned the mere shot glass sized serving we received, it did its job just perfectly. It refreshed our palates, wiped down the excess grease from the pork belly and left us energized for the larger and more decadent servings to come.
Fourth serving: Crispy Soft Shell Crab
"I mean, they'll scale down the sizes of the portions according to the number of dishes served, right?" – Zascha asked me when we were first getting seated and I was persuading her into having the full tasting menu. – "Yeah, yeah, don't worry about it," I said at the time… Now, fast forward a few hours, and… "Uh-oh," I said as the fourth serving of the night landed in front of us. Things were growing bigger and more substantial on us, and we were not even at the main course yet.
Placed in front of each of us now was a large, whole, deep-fried soft shell crab carefully nestled upon a bed of perfectly seasoned grits (a Southern staple best not referred to as polenta) and paired with a side salad of beautifully ripe local heirloom tomatoes, avocado and fresh herbs.
Soft-shell crab and heirloom tomato salad, perfection on a plate!
Soft shell crabs, a rarity in these Danish necks of the woods, are simply crabs (blue crabs in this case) that have recently shed their old exoskeletons during growth and are therefore still, well, soft-shelled when they're caught, cooked and consumed. Usually available during the summer months, they're a short-lived delicacy owing mainly to the fact that they can be consumed whole with their shell still on. The gills, abdomen and mouthparts are mercifully removed, though.
The soft shell crabs at Commander's Palace come in pretty much the same way, shape and form as those served anywhere else in the South: dredged in egg wash, breaded in seasoned flour then deep-fried to at state of golden brown and crispy perfection. All you have to do is tug in! And while I'll admit that eating something that basically looks like a whole crab – shell, legs and all . kinda goes against my better judgment, they were absolutely divine: crispy and spicy on the outside while maintaining a sweet, juicy, succulent and flavorful shellfish interior. The taste of the accompanying tomato salad, by the way, was to die for: rich, creamy, sweet, sufficiently acidic, perfectly ripe and very, very summery. For all I knew, this was the main event of the evening, perfection on a plate, decadent beauty that could not be topped. Or could it?
The accompanying 2012 Foxen Californian Chardonnay, I'd really rather forget about. It wasn't bad as such, it just really didn't do anything for me. I had what remained of the Silvaner with the crab instead and had a much better time.
Fifth serving: Tournedos Rossini
"How does one top a dish like the one we just had," I wondered. How does one present the highlight of the meal (as any main course should be) when the highlight has clearly just passed? Well, if one's name is Chef Tory McPhail, one goes over the top with intensity and decadence by offering a new spin on the decadent classic Tournedos Rossini!
I'll go on record here. Never in my 33 years have I had a dish as decadently over the top as the main course we were served this particular evening at Commander's Palace… Never! Not in my life time! And I've had some pretty decadent stuff. I mean fuck it, I've cooked some pretty decadent stuff myself and thought pretty well of myself afterwards, but I've never done anything like this. For our main event of the evening, we were served thickly sliced, well-charred yet perfectly medium-rare tournedos of Black Angus beef nonchalantly draped across a healthy serving of very buttered and generously truffled mashed potatoes… Then decadently smeared with an almost over the top amount of silky, fatty foie gras-infused herb butter, sprinkled with perfectly sautéed chanterelles  (my second favorite mushroom) and slathered in an intensely reduced veal jus. By God!
Tournedos Rossini, a decadent masterpiece!
Words don't often fail me, but… Wow! We were dealing with a dish that was 50% fat, 50% umami, 50% decadence (hey, math is hard!), 50% over the top  and 200% over the top flavor explosion. And we were loving it, tearing into it in the most primal of ways! When eventually we paused, trying to put some words on the experience, the resulting conversation made little to no sense all while still making all the sense in the world: "I'm never ever eating mashed potatoes without truffles again… Ever," Zascha tried. – "You'll have to excuse me, I'm not paying attention to you, I'm having a major foodgasm over here," I stammered in reply. – "Truffles…" she attempted again, a little more dreamily this time. – "Yes… Truffles… and butter" I replied in a state of food-induced delirium. "I know," one of our waiters smiled knowingly at us, "they're so perfectly decadent"
And that, by the way, is something that could be said for the entire dish (or the entire meal for that matter). There was no subtle finesse, no lesson in restraint nor much in terms artistic beauty in this dish. It was a full on attack of bold flavor, excessive ingredients and decadence in a style and quantity that was by no means subtle. Over the top and perfectly decadent, in the most overpowering and charming of ways. I was in love!
A dish such as this naturally warranted a wine pairing of some size and concentration. We got that, at least on paper with the appropriately named 2010 Leviathan Californian Cabernet Blend that was poured to match our food. Even given a fair amount of time, I probably could not have found a better and more humorous name for a monster of a wine to match this monster of a dish. Made up of Syrah, Cabernet Sauvignon, Merlot and Cabernet Franc grapes, the monster was actually a surprisingly silky smooth and fruity drinking experience while still providing enough tannins, backbone and structure to match the heavy, fatty onslaught of flavors from the main course. The surprisingly persistent and powerful aftertaste, Zascha correctly pointed out, kind of overshadowed some of the beefy flavor components of the dish, but on the other hand it paired extremely well with the not quite so subtle truffle and chanterelle notes. The jury was a little split on the Cabernet blend, but I for one quite liked it.
Sixth course: Chocolate Molten
I'll be honest with you, dear reader, after the full on assault that was the main course, I wasn't hungry for dessert. Really. Not. Hungry. For. Dessert. Zascha, who being a woman should actually be in possession of a second so-called pudding tummy, was reeling too. But in no way were we  going to let these mere facts stop us! Not now that things were going so well! Luckily, though, we were allowed a bit of a breather after the main course as our desserts were prepared fresh for us. The wait we spent chatting with the friendly staff, placing coffee orders (decaf for the lady, full on black coffee for the junkie) and trying to muster courage and room for dessert.
Chocolate molten cake with pecan toffee – the decadence knows no bounds at Commander's Palace
When our desserts finally did arrive, it happened in the only flurry of slight confusion of the evening. Apparently someone had forgotten to pour our wines (2011 Thierry et Pascall Matrot l'Effronté: a passable but not utterly exciting sweet Burgundian wine) but when our head server of the evening arrived with our desserts, she decided to go ahead and serve them up because, as she said, "I wanted to get these to you while they were hot out of the oven" – smart girl, that! See, our desserts came in the shape of bleeding heart chocolate cakes and those wait for no man! They should be served straight out of the oven, wine or no wine, lest you run the chance of the center setting, which would be a crying shame!
Speaking of shame, there was no shame about the chocolate molten cake at Commander's Palace. Rich, decadent, sweet, chocolaty with a perfectly crumby crust and a perfectly moist, lush and slightly runny center. Competition take note, this here is the benchmark! I'm not a big chocolate cake fan, but this was phenomenal!
What I personally wasn't too crazy about was the pecan-chocolate toffee glaze that accompanied the benchmark cake. I've never been much of a fan of pecans and with the addition of chocolate, toffee and generous amounts of sugar, it all got a little (well, a lot) too much about three spoonfuls in. There was great flavor and great work put into the toffee, it was just too damn sweet. I'd have much rather preferred a bit of ice cream, or something acidic to cut through the richness. But that's just me, I'm not your average American.
Throwing in the towel
About one-third into our desserts it became evident. This just wasn't going to happen! And about half way through, we made it official: we were full! While we had eaten, eaten and then eaten some, the six more than generous servings had eventually gotten the best of us! We ate till we couldn't stomach another bite, then tried another three or four more and then eventually waved the white flag of surrender as the room started spinning around us.
"Everything alright?" one of our polite waiters asked as he noticed us sitting dead in our tracks for the tenth or so consecutive minute. "Yes," I replied with a frown, "but I think we're done!" – "Yup," Zascha agreed, "there's just too much food!" To this, our waiter just smiled politely and said with a wink: "Yeah, you've gotta come here pretty famished for the tasting menu. It's a lot of food! I think I can go and wrap these up for you, though, at least that way they won't go to waste?"
Even the doggie bags looks good here! Photo credit: @zwatz on instagram.com
"Could you? Would you?" We asked. And yes he could, yes he would. Commander's Palace may be a top restaurant with a strict dress code and a posh interior, but it's no posher than you can still get a doggie bag to go – and an elaborately wrapped one at that. That, I though, as a small army cleared up our plates, cutlery and glasses, is exactly one of the things that help define this place and make it special. The elaborate settings and great food mixed with an aura of friendliness, down-to-earth-ness and a lovely, homey feel. It's posh but not too posh, relaxed but not too relaxed. It's in a league of its own.
Commander's Palace: the conclusion
So, where does that leave us in our feelings towards this establishment? Well, if I haven't already babbled on too long, you may remember that at the beginning of this review, I quoted a diner at another table referring to his night at Commander's Palace as the best meal of his life. I'd be lying if I said what was true in my case: I've had far too many memorable meals for me to be able to say that with any amount of certainty. What I will say, though, is that Commander's Palace treated me to one of the most memorable and flavorful meals of my life.
I've eaten in (borderline) fancier surroundings, I've had (borderline) better service and I've had dishes in my life that were prettier, more extravagant and more well thought out. But I'd be hard pressed, even after giving the subject no uncertain amount of thought for a few weeks now, to pick out dishes more flavorful than the six servings I enjoyed that Wednesday night in New Orleans.
Who books a table at at "jackets preferred" New Orleans restaurant in the middle of a summer heat spell? This idiot! Photo credit: @zwatz on instagram.com
The servings at Commander's Palace were large – too large some would say, they were decadent and they were at times perhaps a little over the top or lacking in the finesse that you've come to expect from other top restaurants. But that's not so much words of criticism as it is words of praise. The dishes at Commander's do not pretend to be something they're not. They're just true, honest to God Southern-sized, Creole-souled, hip-hugging good eats with playful twists and a distinct focus on flavor and spice, served up in a lavish atmosphere with an aura of respect, decadence and Southern warmth!
As Zascha so thoughtfully put it a couple of days later: it was one of those surprisingly rare meals where even after a few days of soul-searching you could not point a finger at anything flavor-wise. Everything was just perfect and just right. Add to that a heart-warming, familiar feel of the place as well as the friendly and dedicated staff that made you feel welcome and appreciated despite of the obvious fact that you were dining in the belly of a very big and very well-oiled machine.
That's another impressive aspect about Commander's Palace. While you're clearly at a very large establishment capable of feeding hundreds of people at a time, you NEVER get the feeling that you're just another person in the crowd and that the food is run-off-the-mill. The (huge) staff is friendly, considerate and take their time to make you feel welcome and at home. The food is phenomenal, carefully plated and individually finished and seasoned. It's not till you pause to take in the frantic buzz of the crowd or take a look around at the sea of people that you realize you're but one amongst hundreds of other people, each of them enjoying a perfect meal and the perfect service.
Unlike the vocal fellow next to me, this may not have been the best meal of my life. But on my short list? Most definitely! Would I go back? Most definitely! As we got up with some difficulty and walked, nay staggered, our way back out the lavish dining room, saying our goodbyes to the polite army of staff, I couldn't help but think I'd just had one of the most memorable dining experiences of my life and one that would be difficult to top. Looking back now, a few weeks later, I know I was right.
Value for money? Tipping at a gourmet restaurant
It goes without saying that eating at the best restaurant in town – the state according to some, possibly the entire South for that matter, will never come cheap. But given the feel of the place, the quality (and quantity) of the food and the services offered, I felt in no way ripped off when we sank back in our chairs, stuffed and happy after a three-hour culinary adventure. And that's despite ending up with a bill that, tax and tips included, landed just shy of the $400 mark.
But speaking of tips: a few questions I've been asked quite a number times, by shocked Europeans especially, are variations of these: Are you really supposed to leave a tip at a US gourmet restaurant? If so, do you really tip a full 15 to 25 percent? Won't that make for a hell of a large tip?
Fair warning: If you're dining at top restaurants, you're gonna be willing to tip a hell of a lot more than this…
And, hey, guess what? The answer to all of those questions would be a resounding yes! My total for an evening of total decadence came to about $370 out of which the 70 or so was sheer appreciation for our small army of waiters for the evening.
A 70 dollar tip? But that's crazy! Well, look at it this way: In the US tipping it is not only customary to tip, it's also a sad fact that the good people of the service industry in many cases truly and honestly rely on your tips to make a decent living. We know this to be a fact from the places we visit on a more regular basis and usually our dining choices are based on what we can afford and what we want to pay for foods and services provided. And here's the thing, my friends: if you can afford a $300 dinner at top restaurant, you can probably also afford the extra 25% that you would otherwise fork out without question for exceptional service at any other establishment.
If you can't, you should probably go somewhere else for dinner because the treatment you receive at places like Commander's Palace at the hands of their small army of wait staff is nothing short of spectacular and well worth the tip! During our short few hours there, I counted at least two handfuls of dedicated, smiling and friendly waiters tending regularly to our table in one way or another. Let's leave that to sink in for a minute: ten people taking the time and energy needed to show us the best possible three-hour experience that they can. Now, you take those 70 dollars again, divide them by ten people, then divide again by the three hours spent fighting your way through a lavish tasting menu… That's, what? $2.33 per person per hour? An absurdly large tip by any means? I think not!
That being said, $70 is a large tip and $370 a rather large grand total, but you shouldn't let that keep you from visiting this New Orleans institution. There are plenty of good experiences to be had for much less money. With the three course specials, a couple could eat more than well at around the $100 dollar mark, skip a starter or a dessert and the price is even lower. What will remain the same, though, is the lavish atmosphere and the great, friendly service.
If you're ever in the area, treat yourself to a decadent night out. You'll be glad you did!
More top eats from around the world: In the last couple of years, I've been lucky to visit some pretty great places around the world. New York City's River Café and Munich's Rilano No. 6 amongst others. Even little Denmark's hidden gem, Restaurant Lieffroy, has been on the list. Check out all of my reviews from the past few years here.