Home » Blog » Restaurant Reviews » Dearest Noma: A Swan Song For The World's Once Greatest Restaurant
By the time you read these words, Restaurant Noma in Copenhagen is no more. At least not as we know it.
The iconic two-Michelin starred flagship of Danish cuisine, the three time best restaurant in the world, the shining jewel of New Nordic cuisine is by now nothing more than a legend, a sweet memory, a comforting anecdote and a tick off the bucket list for those of us fortunate (and affluent) enough to have dined there. Restaurant Noma, the arguably most successful and internationally renowned Danish restaurant concept forever closed its doors after final service on February 25, 2017.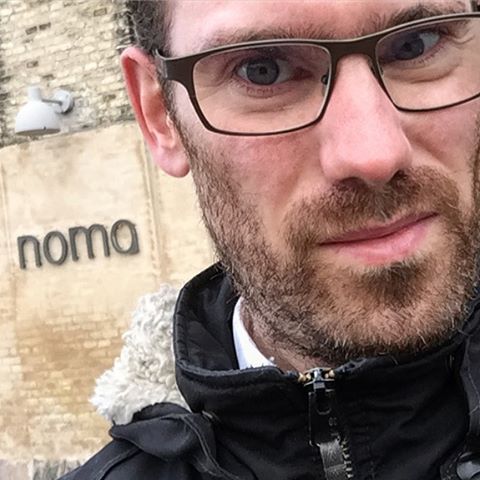 Dreams do come true! Johan at Noma
On Wednesday February 22, 2017, mere days before this landmark date in international gastronomy, I was fortunate enough to experience the then most sought after dining experience in the world: I dined at Noma. I dined at Noma through an incredible stroke of luck and the beauty of Social Media. More on that at the end of the post.
For now, friends, readers, fellow foodies, this is my swan song for what may have been – if not the world's best restaurant – then certainly the world's most uncompromising, famously hyped and flat out avant-garde restaurant. This is my eulogy for the famed lighthouse of Danish gastronomy. This is my attempt to formulate answers to the hundreds if not thousands who have since asked: What did you expect from dinner at Noma? How was it to dine at the world's most famous (and at times controversial) restaurant? And most importantly: Was it worth it?
Great expectations: What to expect from an evening at Noma?
Well, as far as expectations go, your questions are easily answered, my dearest friends: I tried not to have too many!
Honestly, with Noma having won international praise for defining and pioneering a whole new class of cuisine as well as being crowned best restaurant in the world three times over in the process, it's hard not to get ones hopes up. On the other hand, though, critics of Noma have done their part to play things down. Most noticeably, famous culinary innovator, molecular wizard and top chef Ferran Adria (in not quite so lewd words) called bullshit on the whole concept of New Nordic Cuisine on which Noma was built. And were joined by thousands of laymen and professionals alike, who expressed wonder or disappointment in the concept and the strict dogmatic approach that Noma has to cuisine.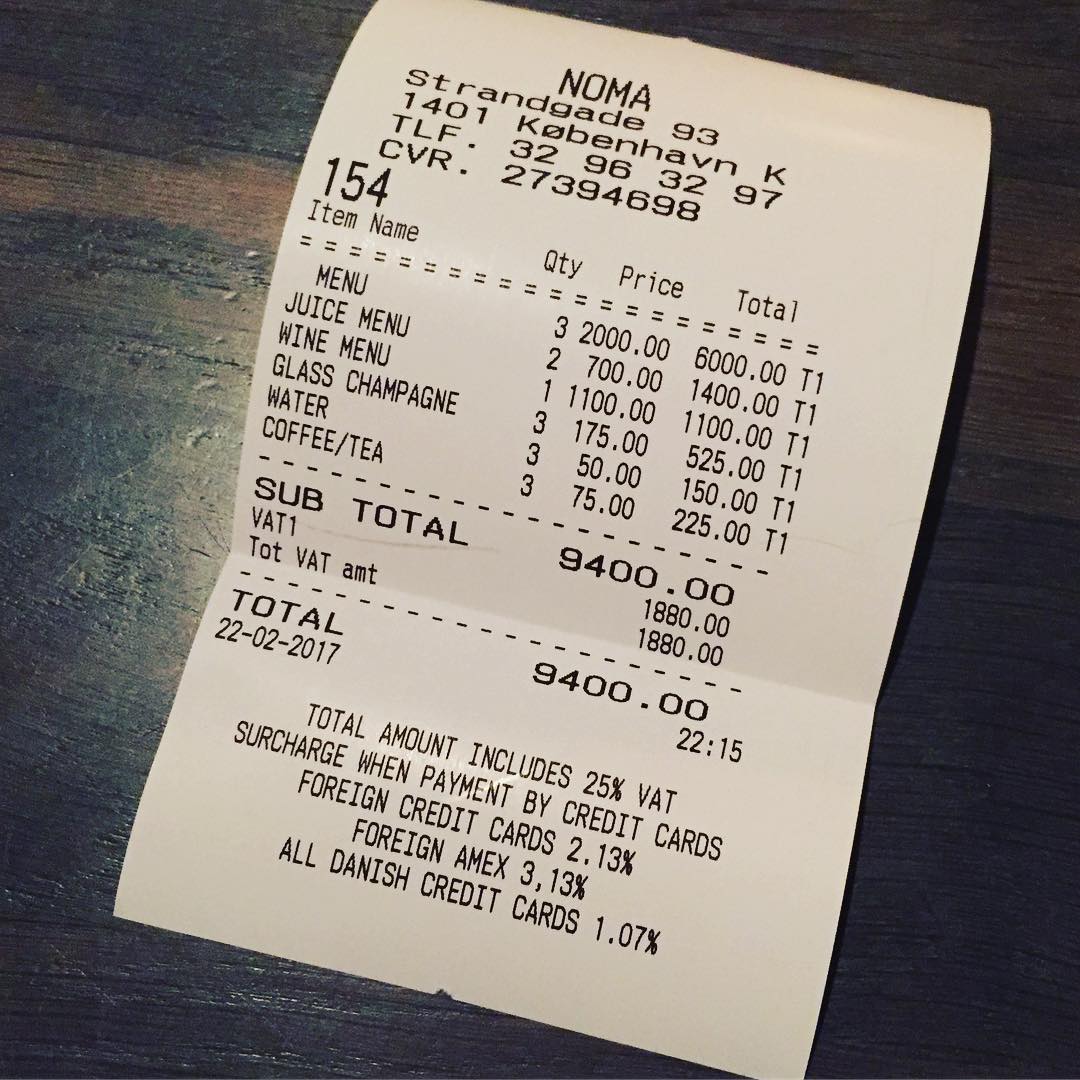 Was Noma worth the hefty price tag? The World's dying to know!
How does one prepare for an experience that is so hyped on one end and so heavily slammed on the other? Well, my approach was to not overthink, not get overly excited, turn my expectations down a bit and treat Noma as a once in a lifetime total experience. Dinner and a show rather than just dinner.
But how was Noma, then? Answering that is going to require a few more words. Thousands of words.
Noma was great food bordering on excellent
Let's get one thing out in the open from the very beginning: The food at Noma was not the best food in the world. It was neither the best I've ever had, nor the most original or the most beautifully presented I've ever seen! There, I've said it! The quality of the food served was generally very high with some dishes bordering on exceptional and a few falling surprisingly short of impressive and seeming more like a statement, concept or show piece than an actual delightful dish.
I'm by no means saying that the food was bad and that the dining experience was disappointing. What I'm saying, actually, is that the dining experience was such a massive sensory experience that it transcended the realm of gastronomy and taste alone. Dinner at Noma was more than a meal, it was a fully immersive sensory experience, an uncompromising work of art, a culinary ballet and a case study in planning, execution and service-mindedness.
Noma was excellent service in breathtaking surroundings
What sets a two Michelin Star world class restaurant like Noma apart from many other great restaurants throughout the world, is not only an exciting and innovative menu. It's every other aspect of the dining experience. The dining room, the ambiance, the level of service, the timing and the character of the place, it's kitchen and the front of house staff. The setting and the picture painted around the food are equally as important as the quality of the food itself. And Noma, like few, were masters of painting a setting and creating an atmosphere:
The minute we approached the restaurant on a cold and windy February evening, we were greeted outside by a staffer who extremely politely demanded to know if we were intending to dine that night and if so under what name. Upon uttering the magical words "Gregory", we were ticked off the magical list and ushered through the front door and into a small reception area. Here, a small army of kitchen and wait staffers some 20-30 people strong rushed forwards and greeted us with a sea of smiles, nods and a slur of "Welcome to Noma! Welcome! Thanks for coming!" in a plethora of accents from around the world.
Anyone who knows even a little about working in a professional kitchen knows that timing is everything and for so many people to abandon their stations to thank you for coming, is not only an amazing display of choreography – it's heart-warming, amazing and a little overwhelming.
Such was the ways of Noma, though, and the heartwarming, friendly and slightly overwhelming feeling stuck with us as we were led along the iconic dining room with the familiar view, lush décor and nearly 300 year old wooden beams that so many have seen on TV but so relatively few have experienced up close.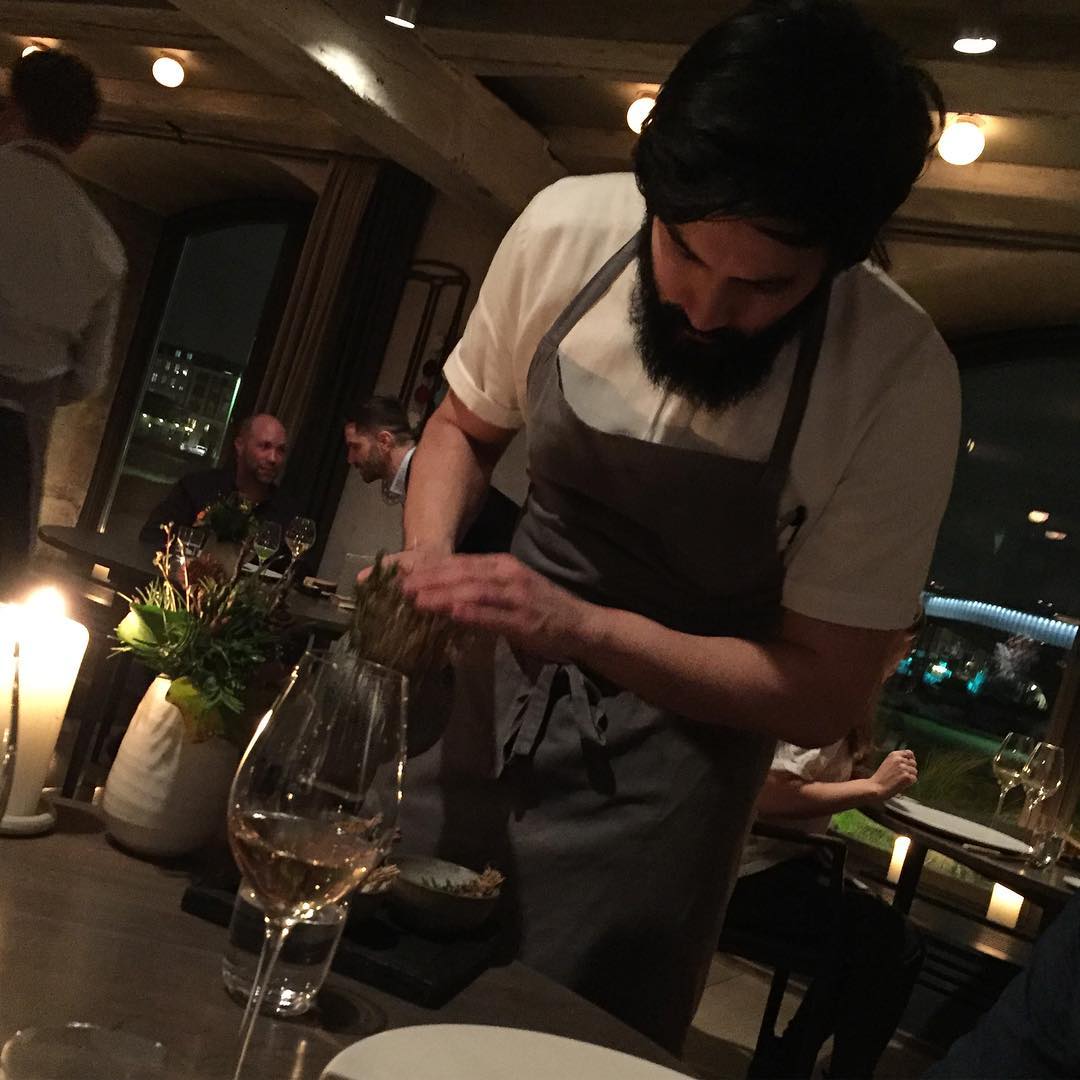 Start of Service in iconic surroundings
"I never thought I'd get to be in this space, never in my wildest dreams," whispered one visibly impressed co-diner, Seattle-based food blogger and foodie extraordinaire, Greg Kauwe, from nomnerd.com as our waiter led us to our table in the middle of the grand dining room with a slur of friendly, informal and immersive chatter spiked with a few jokes of varying quality. Thus pretty much setting the mood for the evening. The setting at Noma was lush and luxurious, but the vibe and the mood matched the official dress-code: casual.
"Something to drink to get you started?" asked the waiter against a wall of overwhelmed silence. "Uh? A glass of bubbles?" I eventually attempted. – "I hope by God you mean Champagne, not water," said the waiter, procuring a bottle of 2013 Goustan Brut Nature Champagne, and just like that we were off on a two and a half hour carefully choreographed but beautifully informal culinary ballet through the so-called New Nordic cuisine that had been pioneered in the very halls in which we were sitting.
Noma was a culinary experience and challenge: Anatomy of a meal at Noma
Our dinner at Noma symbolically began with a warming, welcoming hot towel for our hands and a hot drink to warm us up from the cold: a warm broth of cloudberries infused with pine, hay and lemon thyme. A potent, herbal concoction that seemed more like a cup of tea than anything else.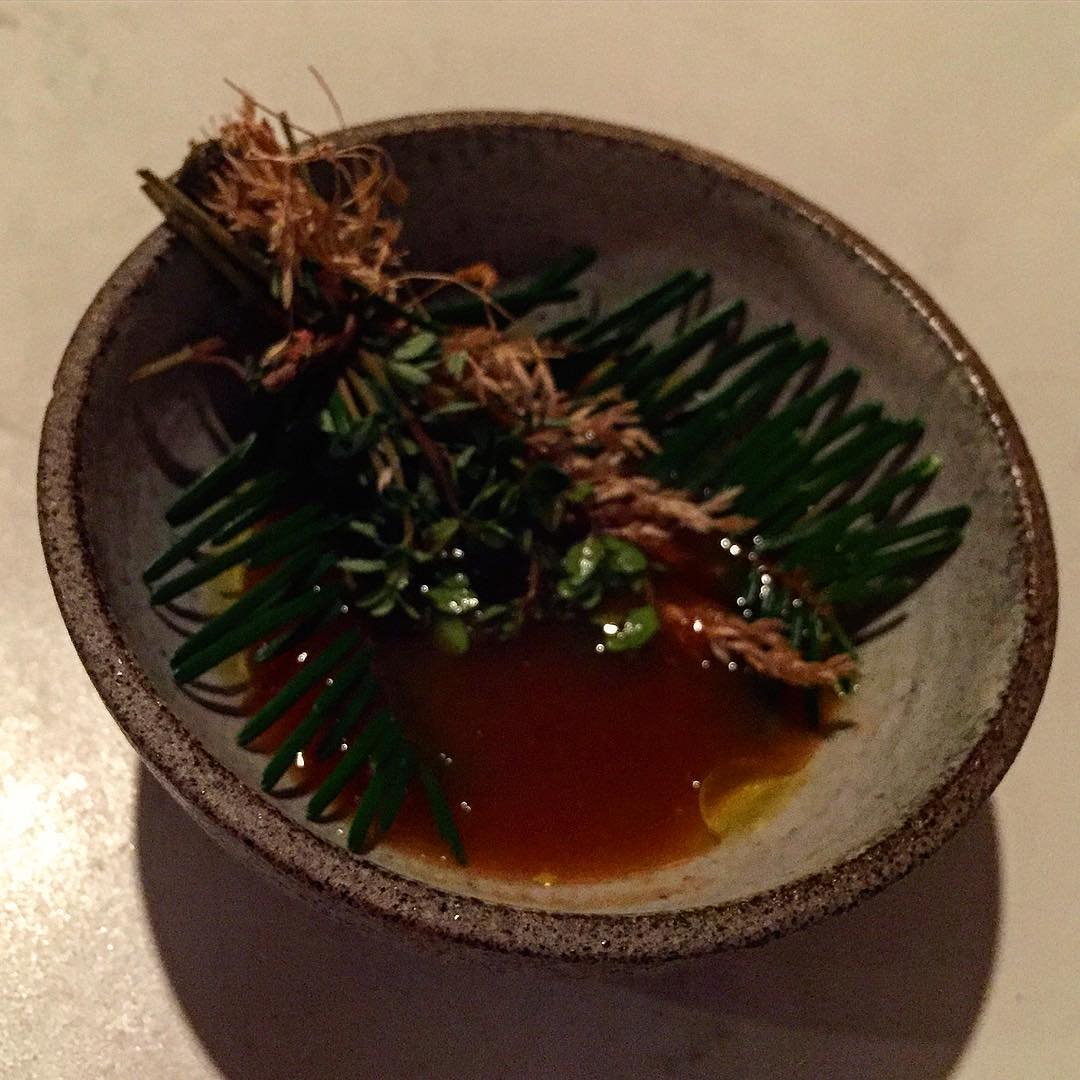 First serving: A broth of warm cloudberries – a thick, warming, herbaceous and slightly medicinal concoction 
While sipping our tea, a cook "casually" drifted by with a platter of live seafood filled with scallops, oysters, sea urchins and a largely unhappy looking king crab to offer a view of what we would be indulging in later.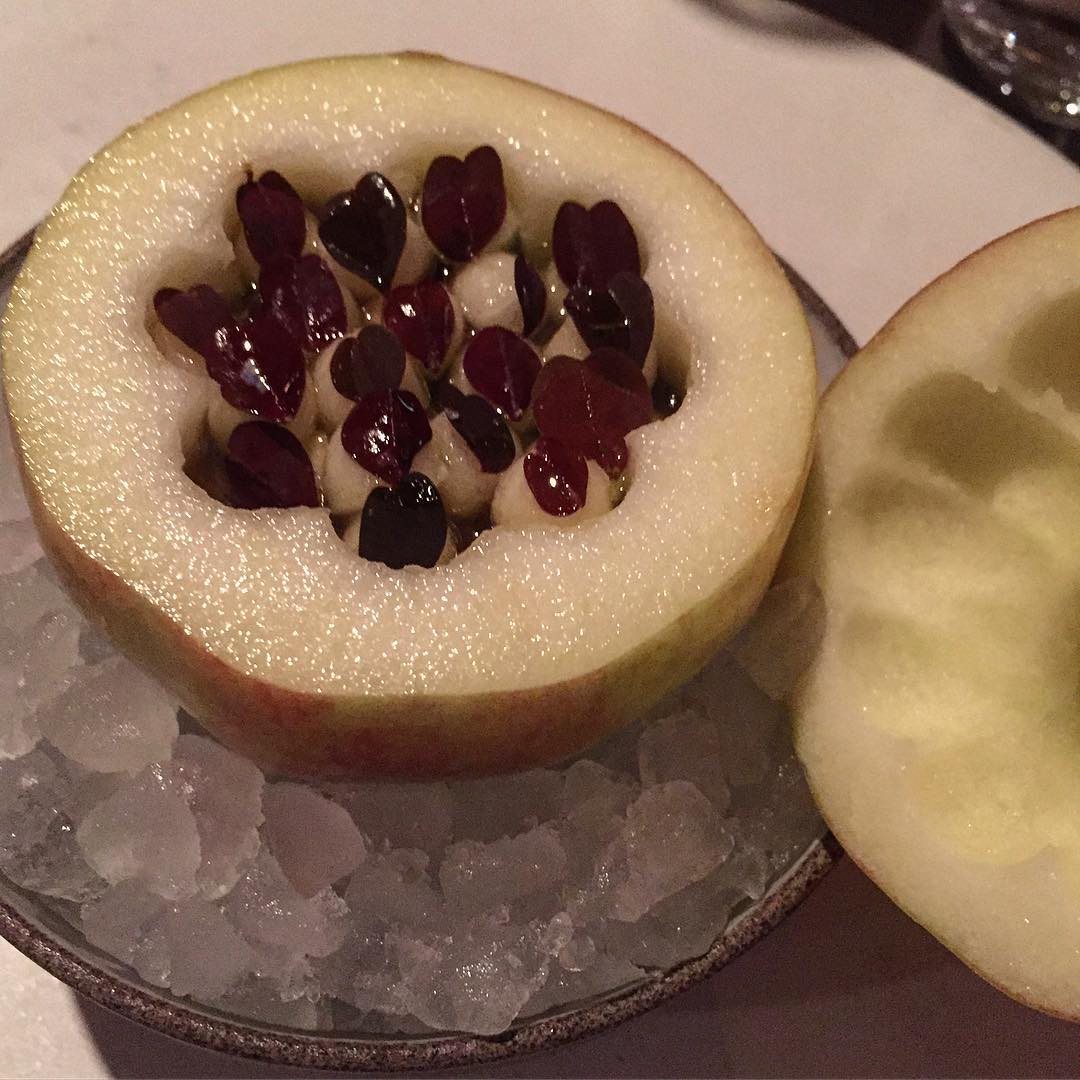 Second serving: Apple of the season – a beautifully presented fresh apple with spheres of apple marinated in a preserved juice of last year's apples.
Following this intermezzo came four snack servings in quick succession one of which included extremely flavorful and tender slices of the scallops that we had been presented alive not five minutes ago. All snacks, including an extremely beautiful Apple of the Season serving and one of flatbread made to look like twigs studded with sorrel and the now iconic Noma ants were vividly and passionately presented and explained to us by the kitchen staff who wasted no time and enthusiasm in trying to explain the elements of and philosophy behind their creations.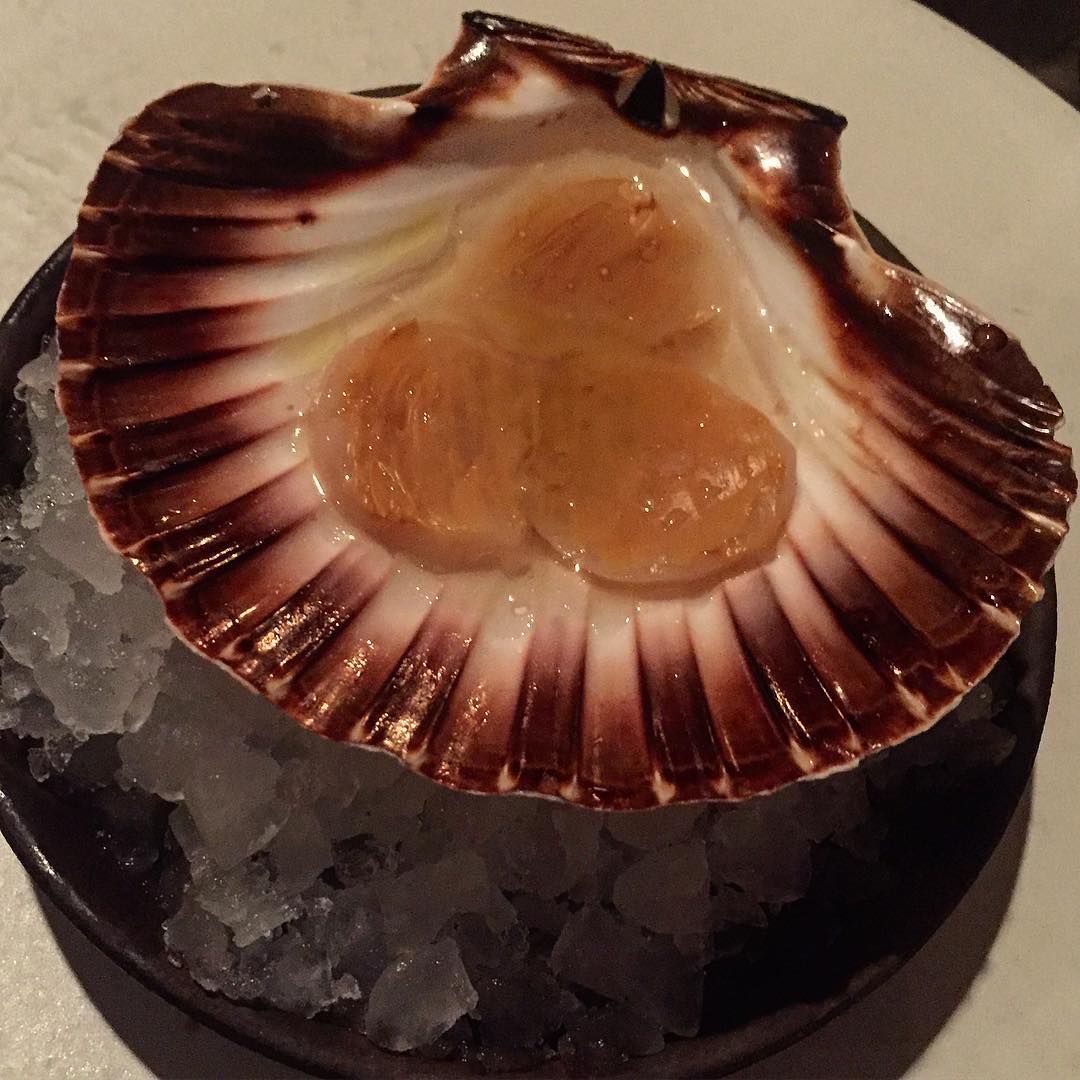 Third serving: Freshly sliced scallop – incredibly fresh, rich, sweet and juicy scallop, served raw fresh out of the tank.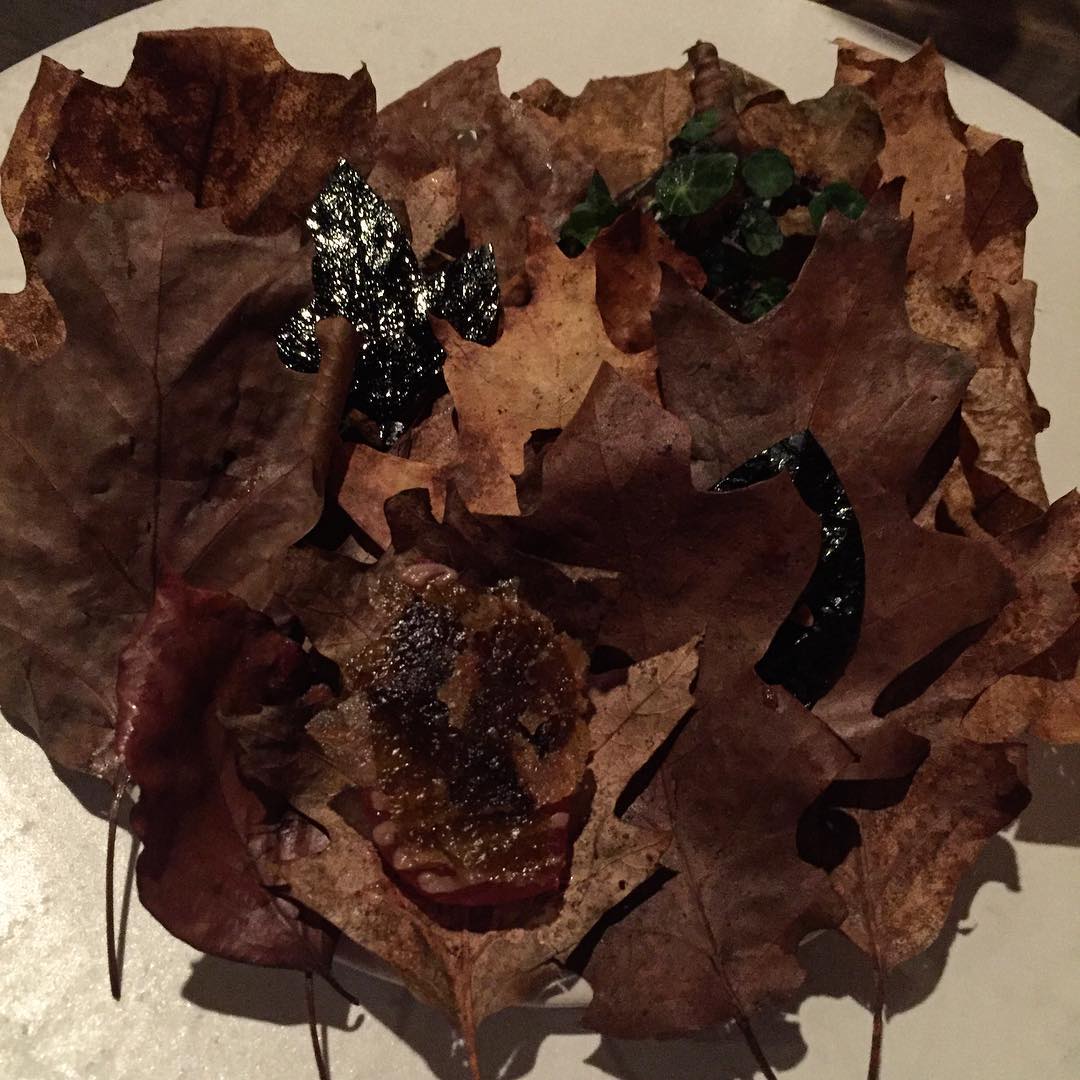 Fourth serving: A winter plate – winter leaves hiding four edible treats shaped as leaves: preserved pear with crispy duck skin, dehydrated blackcurrant, fermented garlic and flat bread shaped as a twig studded with sorrel and ants.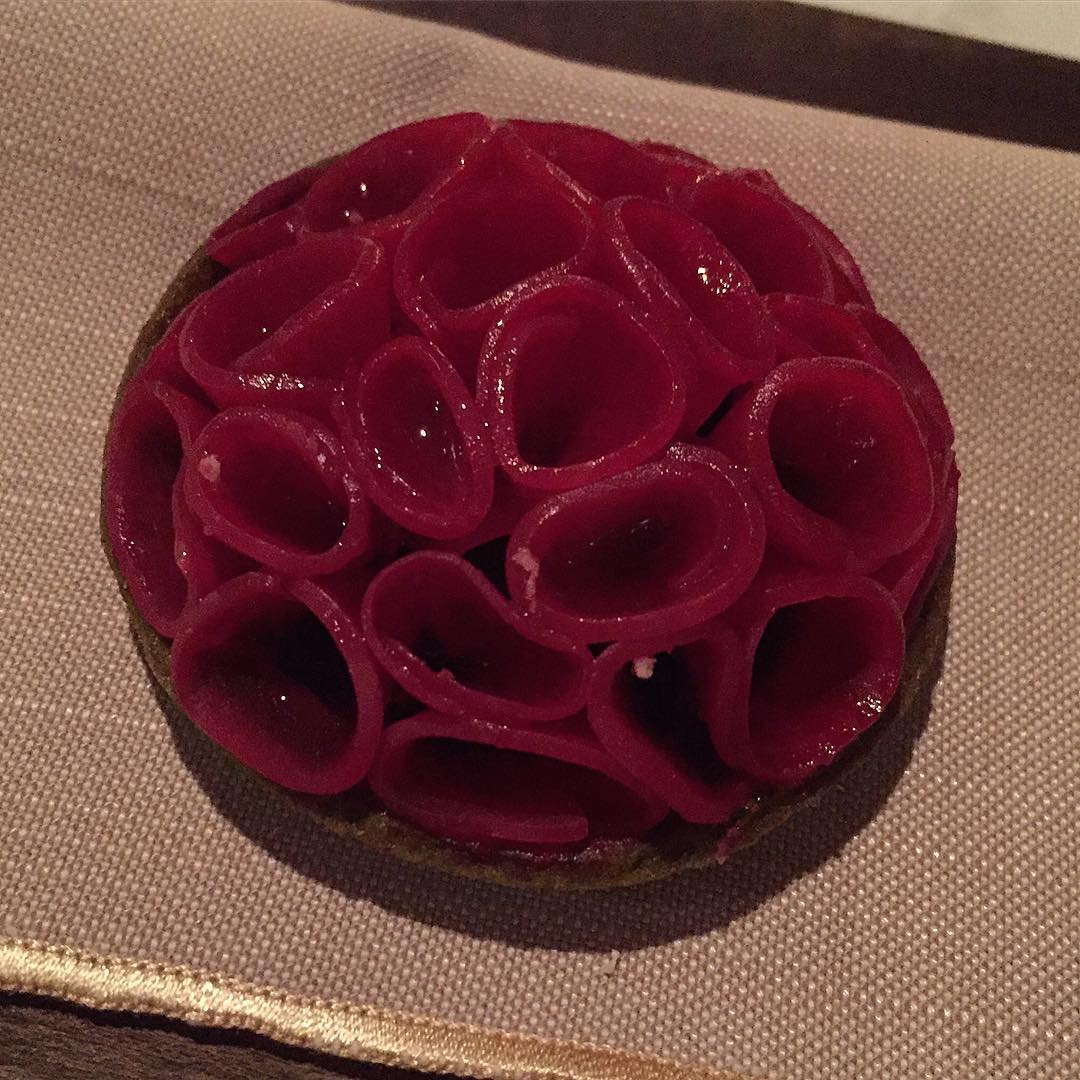 Fifth serving: Radish pie – Radish marinated in beet juice and horseradish, served on a savory shortcrust pastry. A lot of work had gone into this single, little serving – but sadly not a whole lot of flavor or salt.
After a well-orchestrated, quick serving of snacks, we enjoyed another small intermezzo in the shape of bread made from Noma's world famous sourdough starter. The bread, described by my second co-diner of the evening – chef, restaurateur and James Beard Award semi-finalist Jeremy Hansen of Restaurant Santé in Spokane, Washington – as a 70% hydration naturally fermented sourdough, provided a welcome, natural plateau in the meal. It allowed us a chance to breathe and select between wine pairings, juice pairings or just plain water as we moved on to the main portion of the meal: seven savory courses followed by three desserts.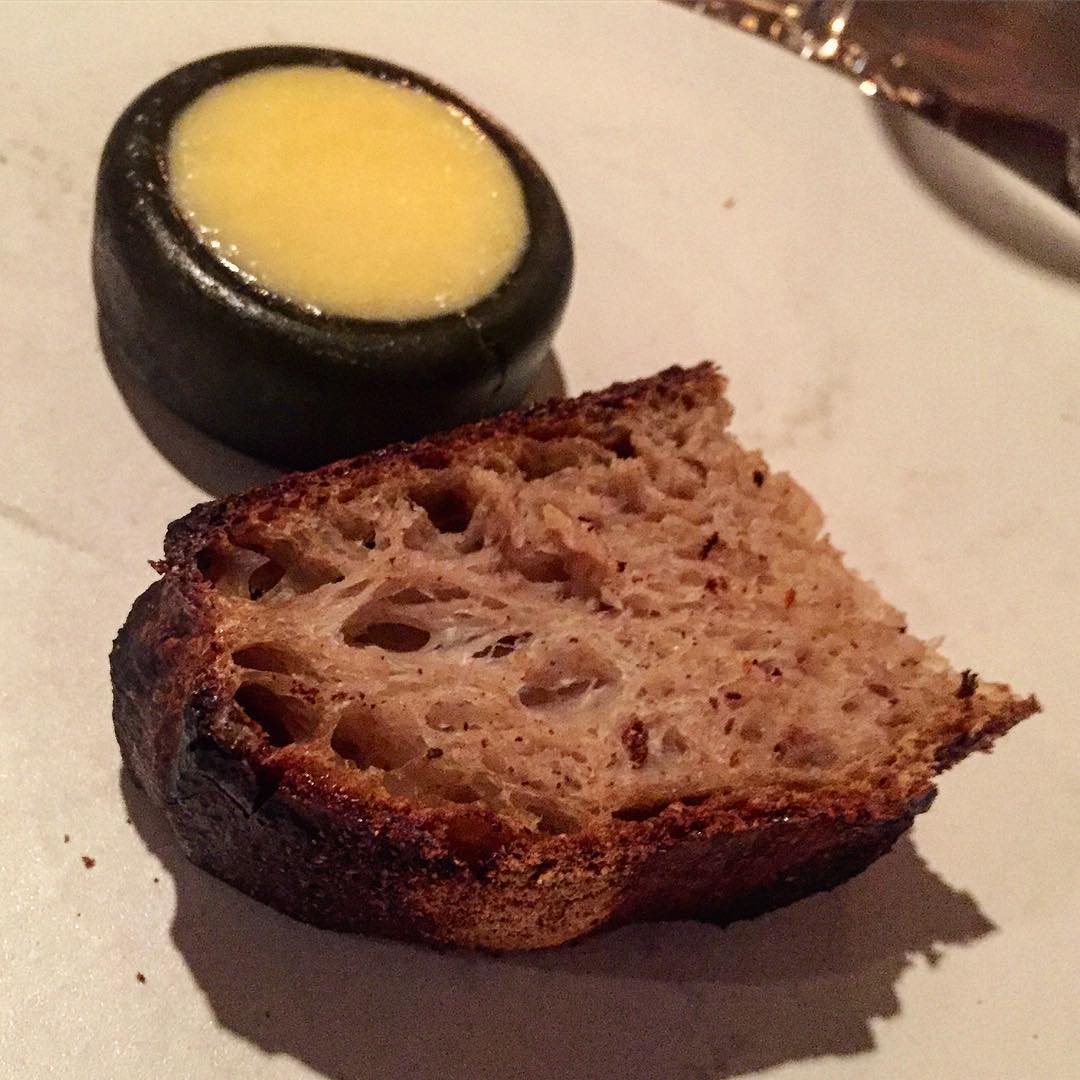 Sixth serving: Noma's incredible naturally fermented sourdough bread of Øland wheat and hull-less barley.
According to Noma co-owner and executive chef, Rene Redzepi, the height of winter is the height of seafood season in the Nordics and indeed four out of seven savory dishes contained seafood in either complimentary, unusual or challenging ways. Cooked oysters with broccoli stems and dehydrated greens provided sublimely fresh and bright complimentary flavors. Sea urchin wrapped in cabbage with fermented chanterelles, on the other hand, served to provoke and proved a real challenge in terms of texture and mouth feel. From the curious and unusual department, Icelandic langoustine poached in smoked butter with lavender and onion provide an unusual but decadent mix of creamy buttery sweetness with deep, perfumed, floral notes and charred crispness from the onions. Best of all, though, was the only decidedly unattractive dish of the evening: steamed king crab served in a rich, thick and creamy sauce made from egg yolk and smoked salt.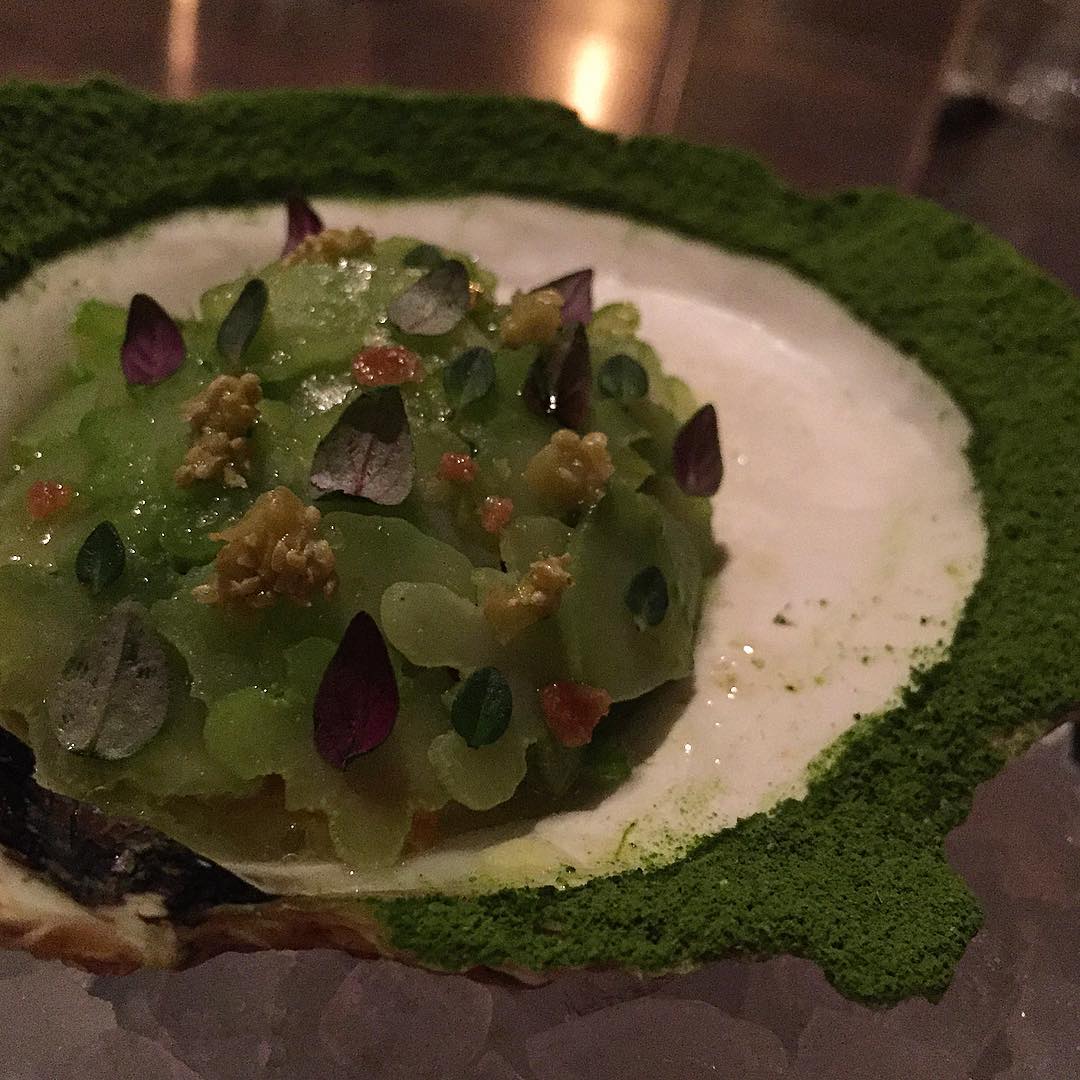 Seventh serving: Lightly poached oyster with broccoli stems and a powder of mixed greens. Incredibly fresh, salty, flavorful and rich little bite.
This level of playfulness, provocation and strict adherence to fundamentalist seasonal and locavore dogmas carried on throughout the meal. Where a regular tasting menu might have at one point contained a firm fleshed fish or white meat dish, this part at Noma was played instead by butternut squash served with barley and kelp.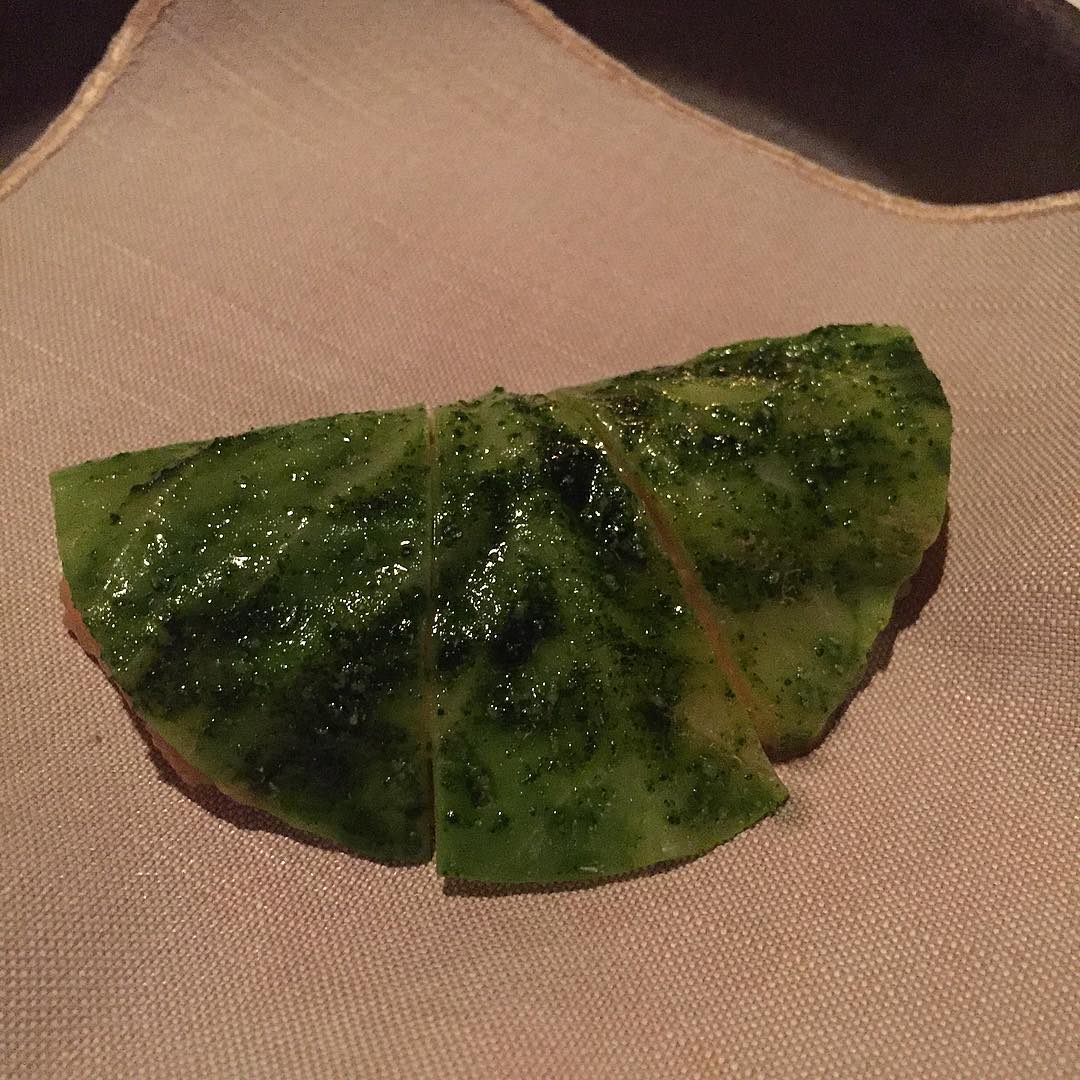 Eighth serving: Sea urchin and fermented chantereless wrapped in cabbage. I don't know how to properly describe the flavor of sea urchin other than different and completely not my cup of tea.
Even more curiously, though, at the very zenith of the tasting menu, we were treated to a proper set of steak knives and heavy forks, only to be served a rather curious display of wilted herbs and greens. The greens, it turned out, had been brushed with a scallop paste and then charred, giving them an aroma and taste almost, but not quite like, that of lightly charred steak hot off the grill. Clever, unusual, provocative. But that was Noma for you: you should expect the unexpected for reasons that were entirely their own.
What looked like a winter leaf was in reality a sweet and savory combination of dried plum and duck skin. An intensely umami-rich brown sauce was made entirely from cooked down vegetables. Vegetables tasted like meat and wheat tasted like chocolate.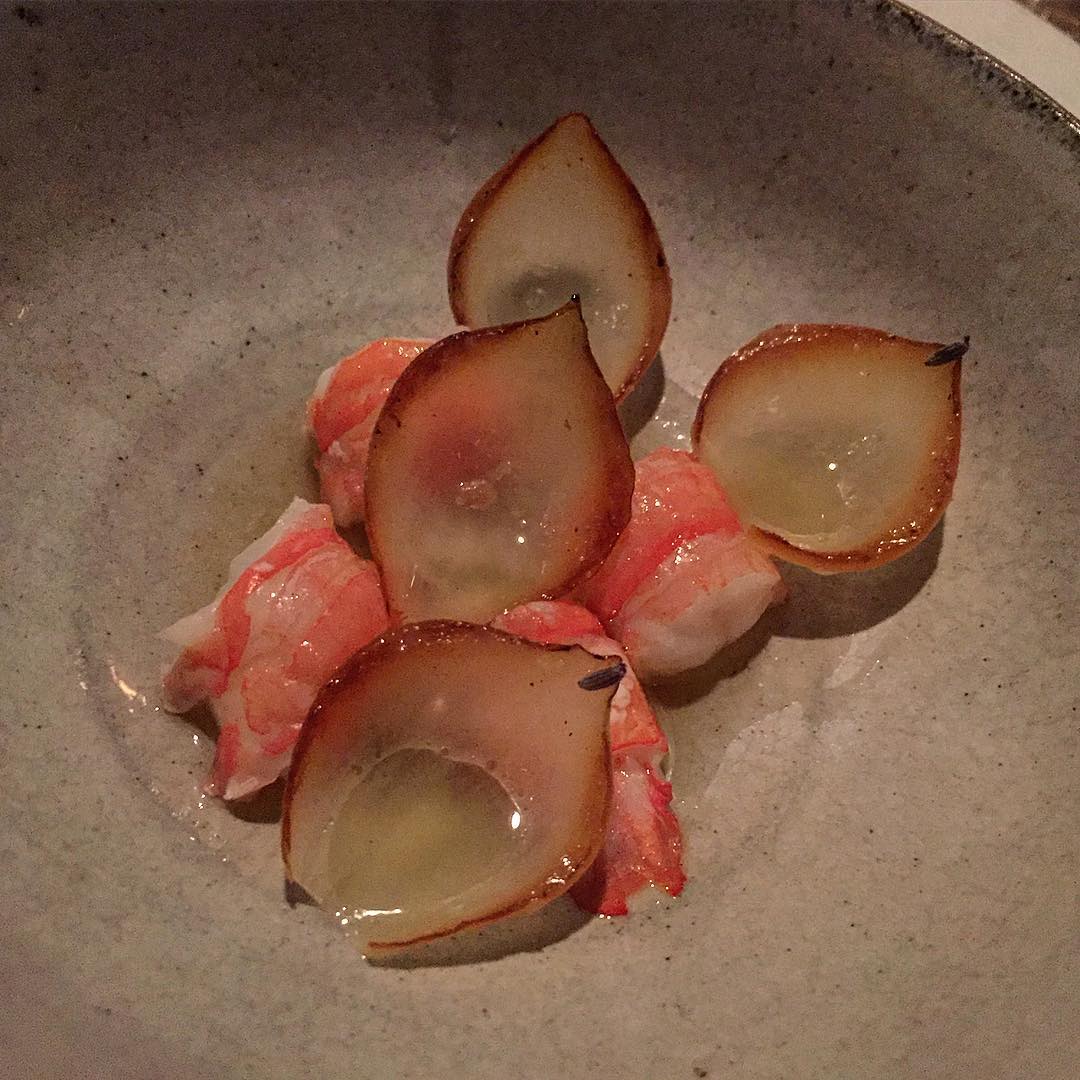 Ninth serving: Langoustine. onion and lavender – a study in simplicity and perfect combination of rich, sweet and floral flavors with a light smokiness to break the monotony. Fantastic!
Yes, wheat tasted like chocolate. As far as desserts went, all bets were off: A dessert of potatoes and plums contained a rich, sweet and starchy potato custard while the inherent nutty bitterness of plum pits along with sweetened, fermented plums were used to provide notes not unlike those found in Amaretto and marzipan. Wilder still, was a blackcurrant wood infused ice cream, covered in what looked and felt like chocolate but was actually roasted and processed konini, a type of wheat much more indigenous to these parts than the exotic cacao bean.
Throughout the length of the meal, the feeling of careful choreography and polite but informal service, we perceived when first entering the door, persisted. Used cutlery, empty glasses and finished plates were quickly and politely removed. Water glasses were topped as needed and new dishes flew seemingly effortlessly out of the kitchen with perfect timing – all at the hands of an attentive, knowledgeable and politely curious yet non-intrusive staff. When in a minor slip, two waiters bounced elbows causing a minor spill during a wine pour, our head waiter responded with a playful scolding of the most innocent party: "Marie? What have you done? Apologize to these fine gentlemen at once!" … Such was Noma. Lush and formal, yet with plenty of Danish warmth and humor to spare!
The objectives of the kitchen seemed clear: To deliver a new level of Nordic cuisine in completely uncompromising ways using only ingredients that could be sourced locally at any given time or preserved using natural techniques. To make dishes that seemed at once both incredibly simple yet at the same time a complex mesh of elements and underlying technique. Dishes that were at the same time familiar, yet not at all what they seemed and flavors that were familiar but achieved in totally unfamiliar fashion.
Flavors were more often than not purposely kept clean, crisp and natural rather than intense and deep as is often the norm. Sometimes to a point where apparently even natural flavor enhancers like salt were used sparingly or entirely left as to not mask the natural flavors of the subject on the plate.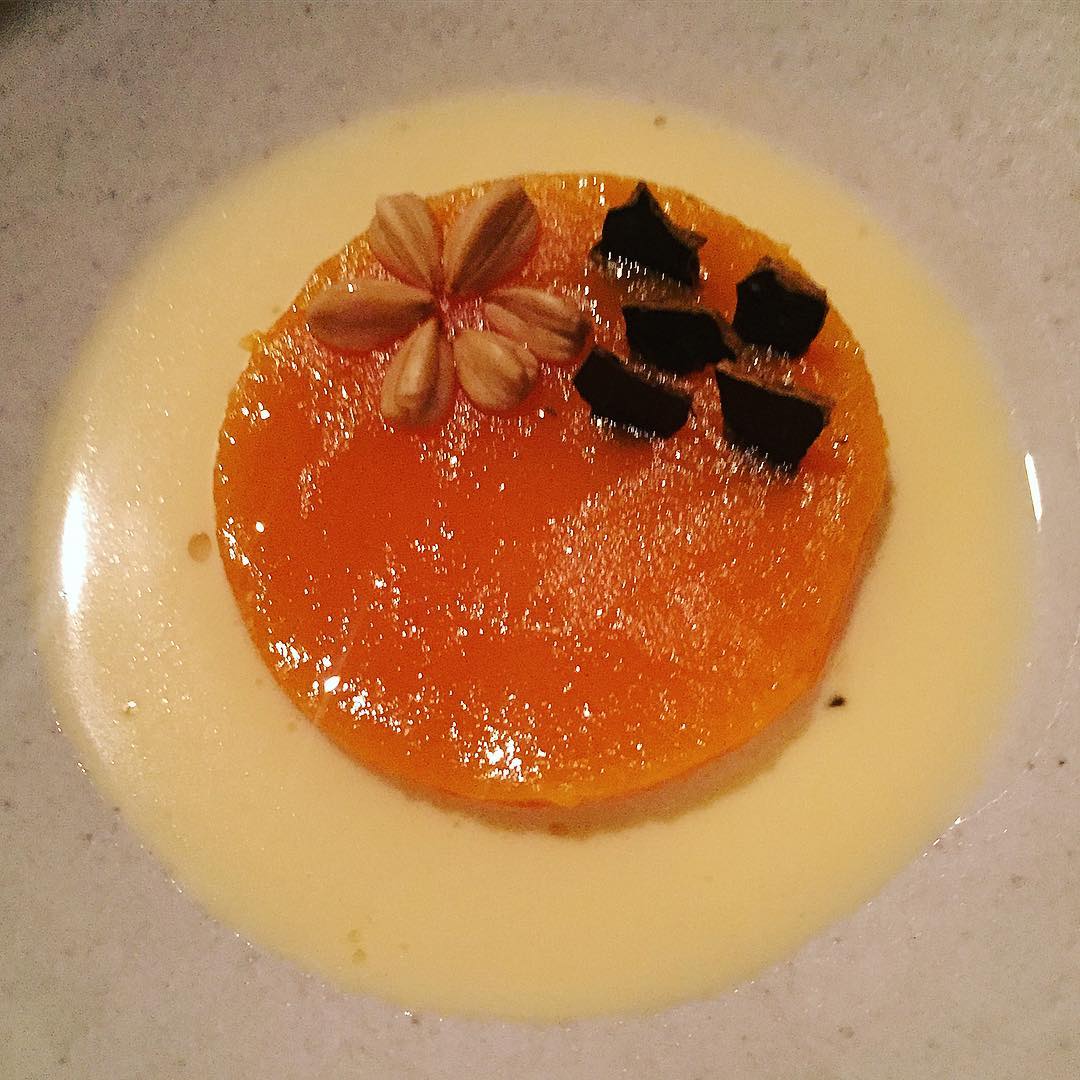 Tenth serving: Butternut squash and barley – This dish completely redefined the complexity and flavors of butternut squash. Unfortunately, it was served completely unsalted which made the dish appear unnecessarily bland. I've seen this dish pictured served with Caviar which I expect would lend salinity and massively lift the dish. Maybe Noma was holding back the Caviar for their now legendary final dinner service for such esteemed guests as Claus Meyer, Matty Matheson and David Chang – I don't know, but a drizzle of salt would have certainly elevated the dish.
In most cases, the kitchen succeeded in conveying its intensions. In some, like the langoustine dish, they truly excelled. In a few, like a gorgeously presented but absolutely tasteless and unseasoned radish pie, they fell dangerously and disappointingly short. In others again, you were left with the feeling that the philosophy and reasons were probably in place but that the dishes or the chefs either weren't explaining themselves properly or leaving too much to the interpretation of the guests.
And that made dinner at Noma both a pleasure and a challenge: a two and a half hour extremely professional and well-choreographed constant onslaught of visual, mental and sensory challenges, leaving you barely enough time to process one bite before being offered another by the extremely good-hearted, cheerful and enthusiastic staff. I'm an extremely curious eater and dinner at the world's once best restaurant initially generated more questions than answers and while all questions were gladly answered by the friendly and knowledgeable staff, answers often led to more questions of their own.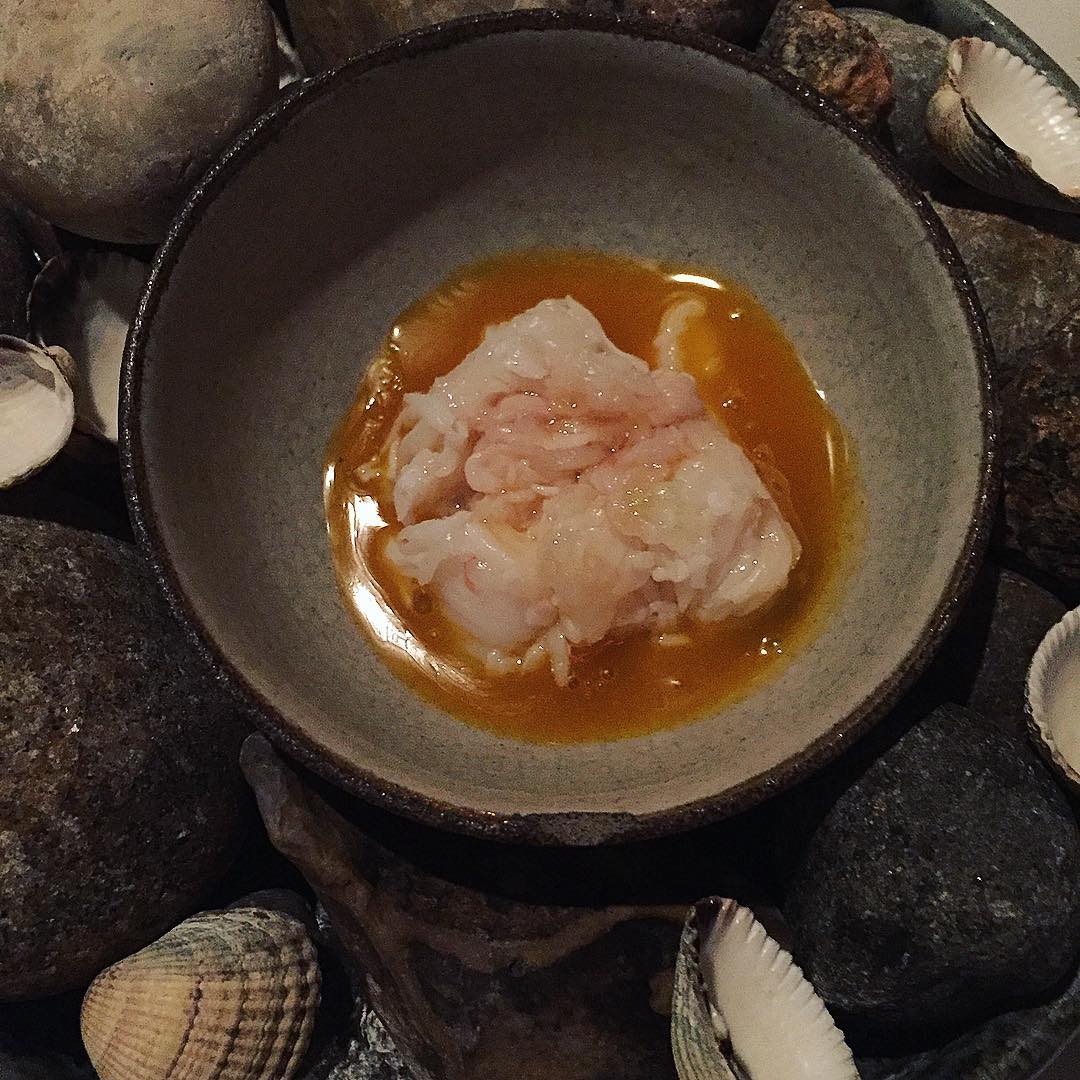 Eleventh serving: Steamed king crab and egg yolk sauce – not a pretty dish to look at, but the rich, buttery and creamy flavors of tender king crab laced with a thick, decadent sauce made from egg yolks  and smoked salt were spectacular.
Dinner at Noma took days for me to properly process and appreciate and while that certainly heightened the experience for a foodie geek such as myself, I fear it may have thrown off or even disappointed others. Hopefully, those who may have questioned the food will at the very least have appreciated the unparalleled ambiance and the service-level. Few restaurants in this world, even at this level create a perfect mix of luxury, casual playfulness, humor, pampering and timing quite like Noma did – the Noma family really were the perfect hosts!
Noma was a funky wine menu without compromise
As mentioned in the rundown above, a serving of sourdough bread served as a natural plateau in the meal, giving diners a chance to pick where to go from then: the juice menu or the wine pairings. My American friends, citing curiosity, went the way of the juice menu and I, somewhat against my better judgment, went with the wine pairings.
I'd heard various degrees of excitement about the wine menu, you see, from fellow foodies and professionals alike. Actually, just the day before my visit to Noma, I ran into Denmark's premiere wine blogger and all out good guy Frederik Kreutzer at a private master class and he quickly reminded me of his slightly luke-warm take on the wine, adding in his own humorous style that when a group of people who drink wine for a living leave their glasses curiously full, something's amiss.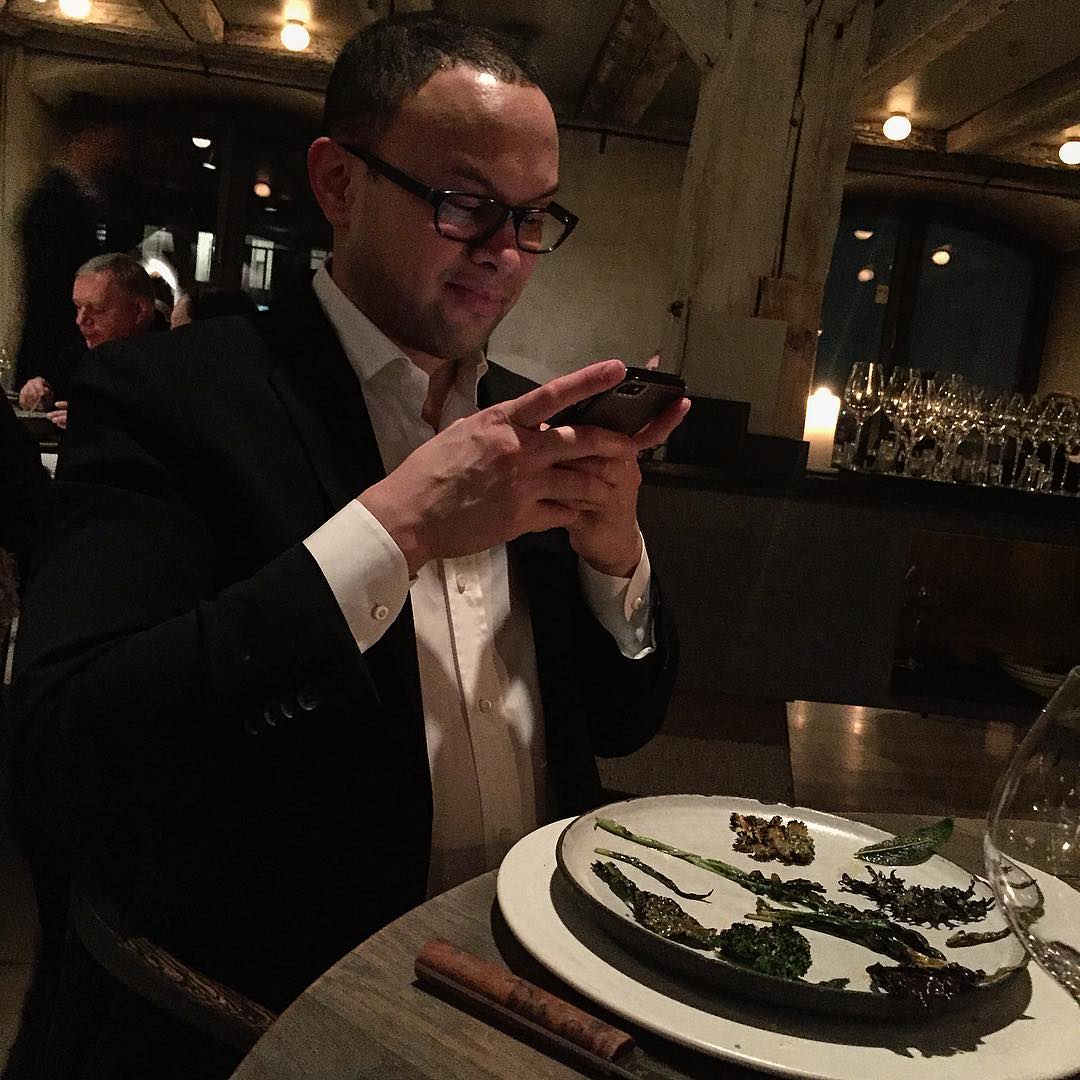 Twelfth serving: Charred greens with a scallop paste – leaves that tasted almost but not quite like charred beef hot off the grill. Another bit of Noma magic.
Anyway, fearing the ridicule of fellow food bloggers and followers alike, I went down the wine path and soon discovered that the wines at Noma were everything that the food was: funky, edgy and entirely their own. Noma obviously picked their wines for very specific reasons and from a firm set of criteria but unlike the food, the waiters came somewhat short in conveying their intensions and reasons. Leaving me, essentially, fending for myself in somewhat uncertain territory.
Our opening glass of 2013 Goustan Brut Nature was bone dry, reasonably complex, yet strangely developed for such a young wine. Much better was a 2014 Love and Pif Bourgogne Blanc served with the oysters while a 2015 Bianco Ajola Chardonnay from Umbria, cloudy in appearance, sour in smell and creepily acidic in taste seemed to clash with everything around it, including the butternut squash dish it was supposed to complement. Much better was a classic, bright and fruity 2010 Riesling from Weingut Odistal served from Magnum to go with the king crab and a 2008 Clos Bacchus from Jura which had spent six years sur lie before being poured to match the charred greens.
Thirteenth serving: Roasted mushrooms – Our main course was a "build your own cabbage wraps from roasted mushrooms and whatever was left in the fermentation lab" sort of ordeal. Almost tauntingly simple yet strangely entertaining and involving. Apparently not even the world's top restaurants like to waste food.
My ending salute of 2011 Auksinis "Tardif", a sweet but not cloyingly so dessert wine from Sancerre-Loire, should not have been poured at all and arrived in my glass a chunky, murky and muddy brown mass before being quickly removed by a horrified and apologetic waitress and replaced by a pour from a fresh bottle.
Following this switch, it did, however, prove a nice ending to a somewhat confusing roller coaster ride of a wine menu and a perfect match to a trifecta of desserts ending in a beautiful plating of reindeer moss coated in white chocolate served with dehydrated rye porridge filled chocolates served with a two Michelin-starred cup of coffee.
And with that, we were done – as abruptly and quickly as the meal had started. Together, my friends and I had conquered 16 dishes and some eight glasses of wine or juice in just over two hours. Stuffed full of food and impressions, we had nothing left to do but cough up the DKK 3000 – 3400 ($500) per person that dinner at the World's Once Best Restaurant will set you back… and, of course, to go on the tour!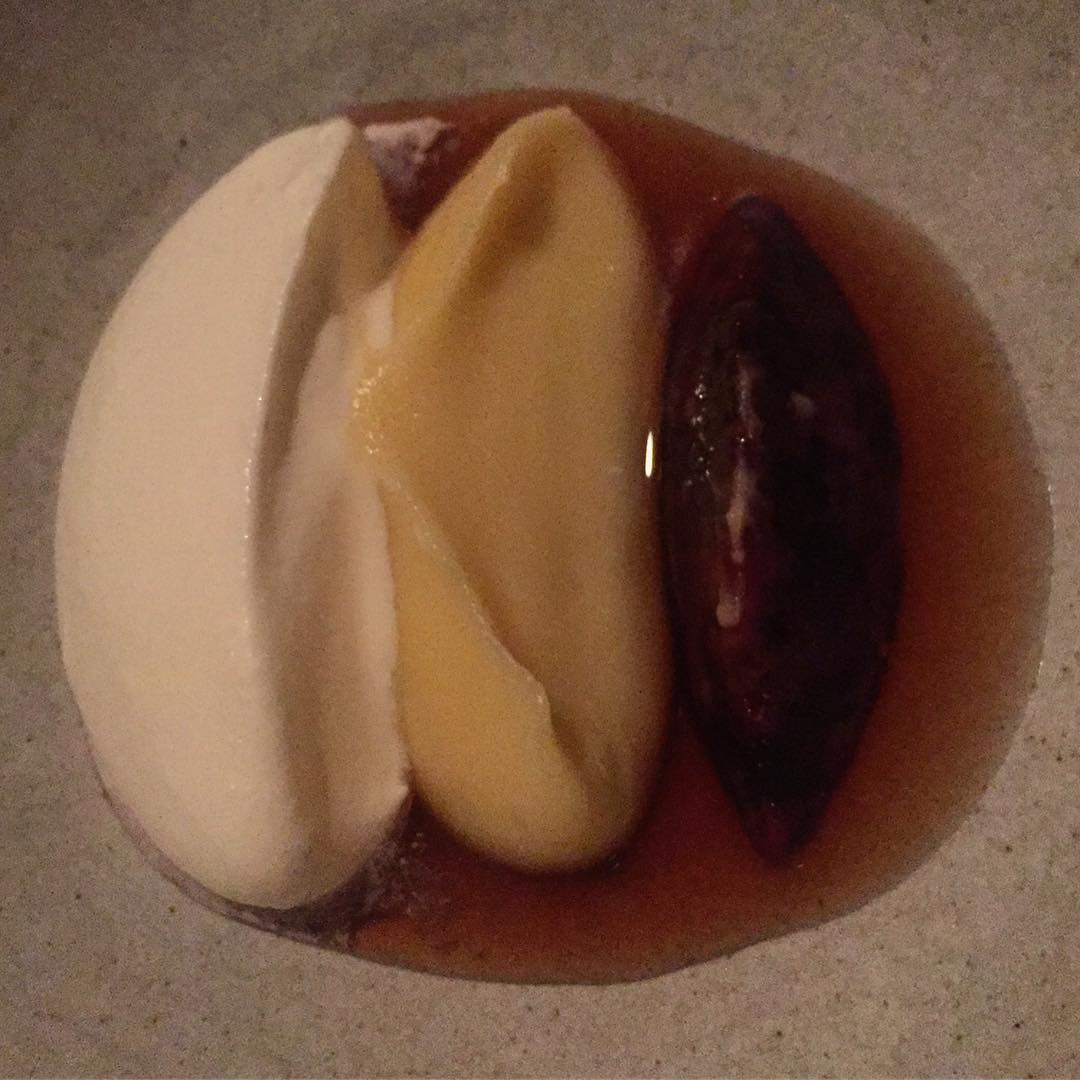 Fourteenth serving: A dessert of potatoes and plums – thick cream, a sweet purée of potatoes served with a plum jelly and a sauce made from fermented plums. The pit of the plums played an interesting part in adding an Amaretto-like note to the dish.
Oh, we didn't mention? That is right, every party at Noma got a 30 minute post-dinner tour of one of the world's most iconic kitchens – orchestrated not by a professional guide or a waiter but by a chef or kitchen staffer who actually knew his (or her) way around the kitchen.
Noma was a creative hive mind of unparalleled dedication: Touring the kitchens at Noma
One aspect that everybody mentions about Noma and one that I have come back to again and again throughout the course of this review is how well-choreographed, well-timed and well-orchestrated every part of the experience seems. It was, however, not before you embarked on the end of the line tour that you got a full grasp of just how perfect of an organic machine Noma really was.
"I hear you guys are from the Seattle area," said our guide for the evening to my American friends as he approached our table, "that's a funny coincidence, I'm from Seattle as well!" In reality, there was very little coincidence about the whole situation. Our waiter had asked us our home town at the very beginning of the meal. Noma being Noma and employing a staff of about a hundred people with nearly the same amount of nationalities, he simply made note of this seemingly random fact and matched us with the most fitting tour guide.
Our perfect match of the evening was Luke, an aspiring young chef from Seattle, who had uprooted his very existence and jumped across the water for a chance at an internship at Noma. And here he was now giving us a tour of a place that had meant the world to him on one of its last days of operation.
Crazy as that may seem to some, this was one of our key takeaways from the very enthusiastic and in-depth tour of the kitchens (of which there were three!) at Noma. Everybody on staff whether chefs, interns, dishwashers, waiters or something else entirely lived and breathed Noma and the ideology behind New Nordic Cuisine 24 hours a day. They were a team of artists and dreamers, of curious culinary inventors, many of whom had taken risks, traveled across the world or made sacrifices to be part of what was in their eyes (and in many others around the world) the world's greatest team.
One needed only to take a look at the pride in Luke's eyes as he walked and talked us through plating and prep kitchens, fermentation chambers, growth rooms, shellfish tanks and staff areas to realize the reason for Noma being an incomparable dining experience boiled down to something very, very simple: Each and every staffer showing unlimited pride and dedication in being part of the Noma family.
This pride and dedication has over the course of the last 13 years built a sort of creative hive-mind at the old warehouse at the dock in Copenhagen. This hive-mind has taken the foundations of New Nordic Cuisine built by Redzepi and turned them into an ever-evolving concept of their own. They've researched upon it, built upon it, played upon it and constantly brought in new ideas and cultural impact from their home nations around the world. Not for the sake of fame, money or personal gain but out of sheer curiosity, dedication and perfectionism.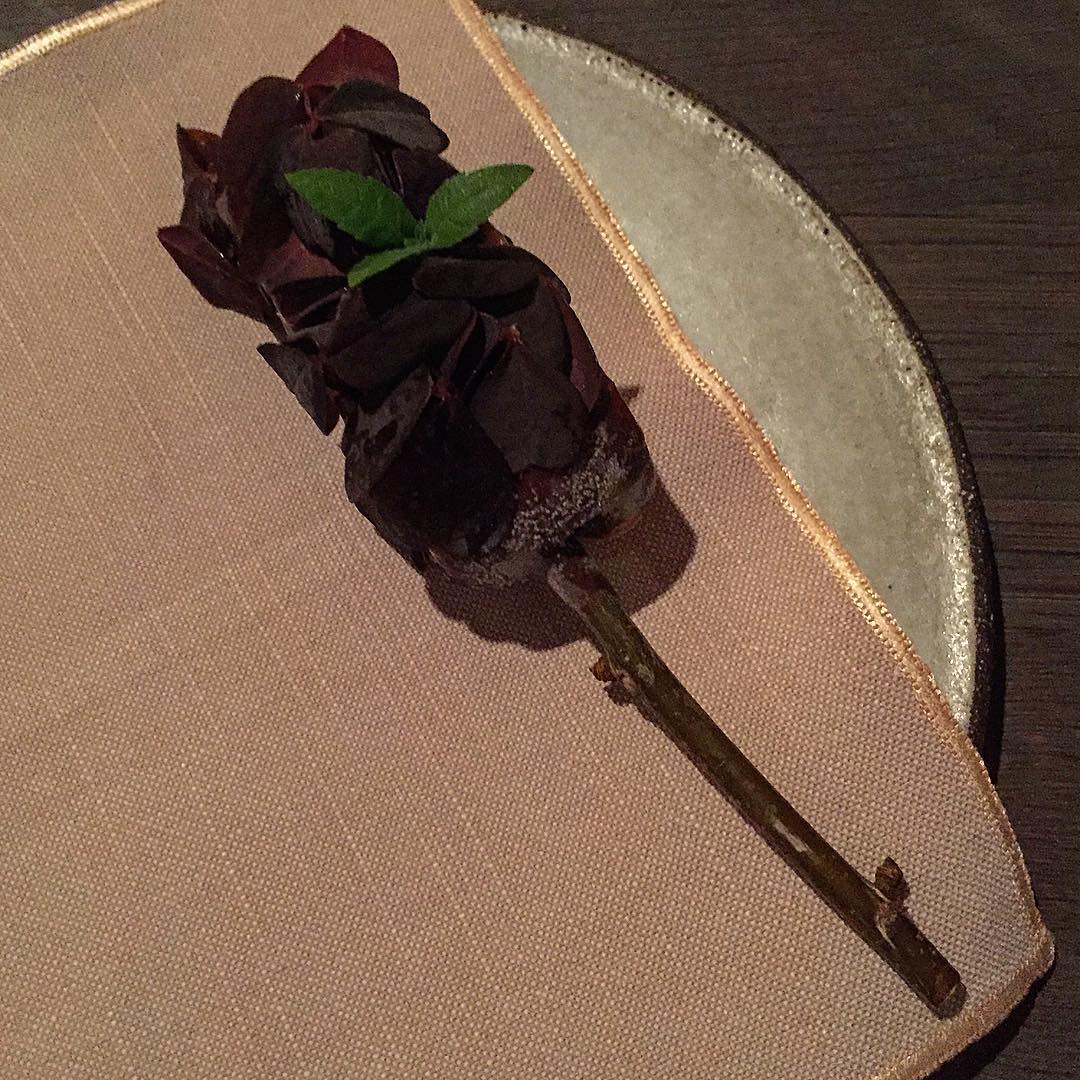 Fifteenth serving: Blackcurrant wood ice cream and roasted kohini – ice cream made from heavy cream infused with blackcurrant wood that had been draped in what looked like chocolate but was actually roasted kohini wheat. Incredibly complex and very attractive little dish.
If you ask me, Noma was a top class restaurant not because they were necessarily trying to make the world's best and tastiest food or provide top class service in effort to spin a buck. There was a business side to things, of course, as there is to any restaurant charging a $500 cover price. Yet, the Noma family were top class because they were constantly trying to innovate, better themselves, learn and play around all while, in the process, creating a warming, multi-cultural, welcoming and hospitable environment that translated into the warm, friendly service we received on the evening of our visit. And it took a tour of the kitchens at the hand of a guy named Luke from Seattle to make me realize this.
In the interest of constraint, I won't go into details here but if you want to see parts of the tour through our eyes, I encourage you to check out the video above that I shot during the tour. It was an absolute eye-opener for me and helped some of the magnitude of the experience to really sink in.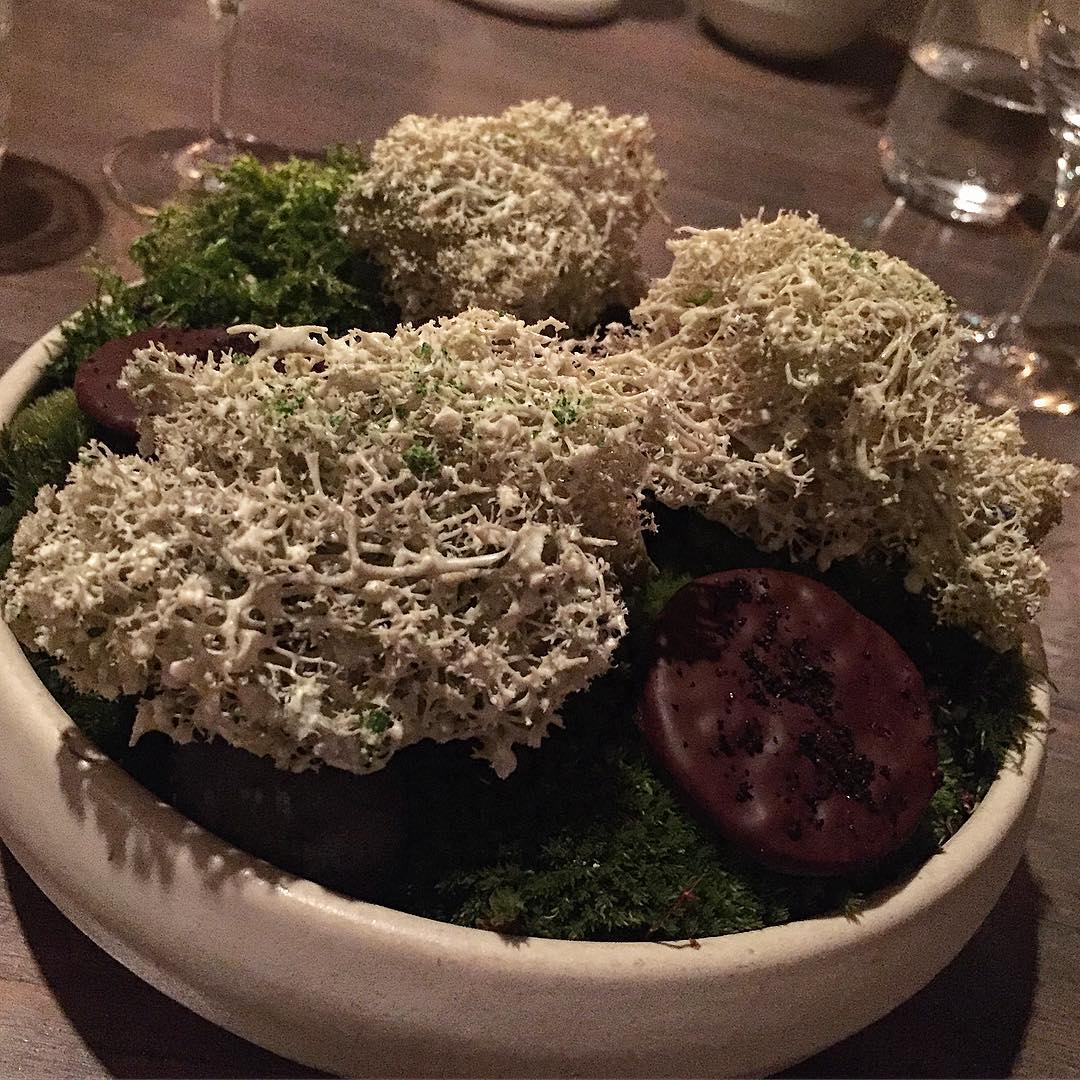 Sixteenth serving: Moss cooked in white chocolate with rye porridge filled chocolate. Edible moss provided texture rather than flavor to this chocolatey dessert while the biscuits contained a modern, molecular take on a classic Danish porridge made from rye bread and beer. The addition of chocolate seemed weird after the previous dish in which so much labor had gone into simulating chocolate, but it was a tasty treat none the less.
As we stepped back into the dining room after an enthusiastic tour of the premises, time had come to say goodbye after what had been our first and only visit to Noma. As a parting gift, we were handed a printout of our menus for the evening, which with Noma attention to detail, had been printed on the spot to reflect our exact choices of wines and/or juices for the evening. We were then handed our coats and in true informal and friendly Noma fashion ended up shaking hands with about half of the crew before opening those magic doors and heading back out into the black, rainy and incredibly windy Copenhagen night.
Was Noma the World's Best Restaurant?
It wasn't until we were walking rather quietly through the streets of Inner Copenhagen that I realized that what we had just been through had been one of the quietest, most contemplative restaurant visits I'd ever been through. Throughout the ordeal, all of us had spent many a moment lost in thought, snapping pictures, processing, taking notes, working through questions in our minds. On the way home together through Copenhagen, the air of contemplation continued.
Even as we said goodbye for the night, minds were racing and they probably continued to do so for all of us throughout the night. Even through the next day where our motley crew met back up for lunch and Aquavit at Copenhagen's legendary lunch spot Skindbuksen to regroup, reconsider and try to understand the experience that was Noma.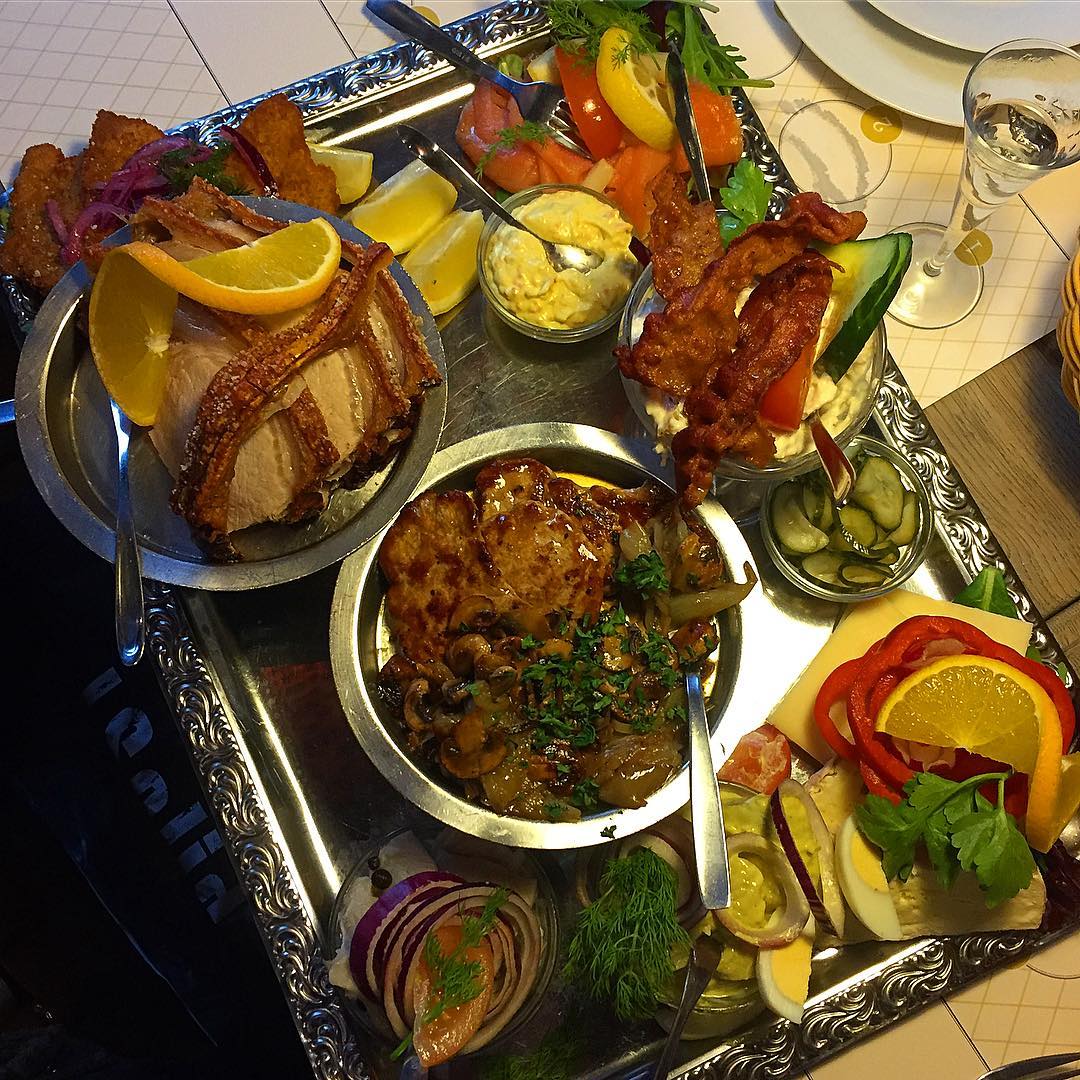 The other side of Nordic cuisine – discussing our experience over a very classic Danish lunch at Skindbuksen the next day.
Noma was absolute exclusivity and luxury in a completely casual manner. Noma was passion, playfulness and complete dedication under a very dogmatic set of rules. Noma was groundbreaking, revolutionary and the epicenter of an entire new culinary movement… But was Noma ever really the best restaurant in the World?
This is the most burning and oft-repeated question I have gotten over the last couple of days, and it's a damn tough one to answer. In the end, opinions differ from person to person so these are but the views of this culinary observer and not necessarily even shared by my co-diners that evening.
Was Noma worthy of all the hype it received? That most certainly depends on your expectations and perspective as a diner! I'm willing to bet that many casual diners will have walked away from Noma muttering in the words of my countryman Hans Christian Andersen: "… but, hes' got no clothes on!" and rightfully so, because the food at Noma was challenging, avant-garde and hard to comprehend. Yet, ironically, at the very same time seemingly very simple, fresh and clean in its expressions. The tasting menu at Noma was demanding and requires both thought and an understanding of the underlying philosophy. As stated some 2000 words ago, though, dinner at Noma was about so much more than just the tasting menu. It was an all-inclusive sensory experience meant to comfort, thrill, provoke and create room for thought.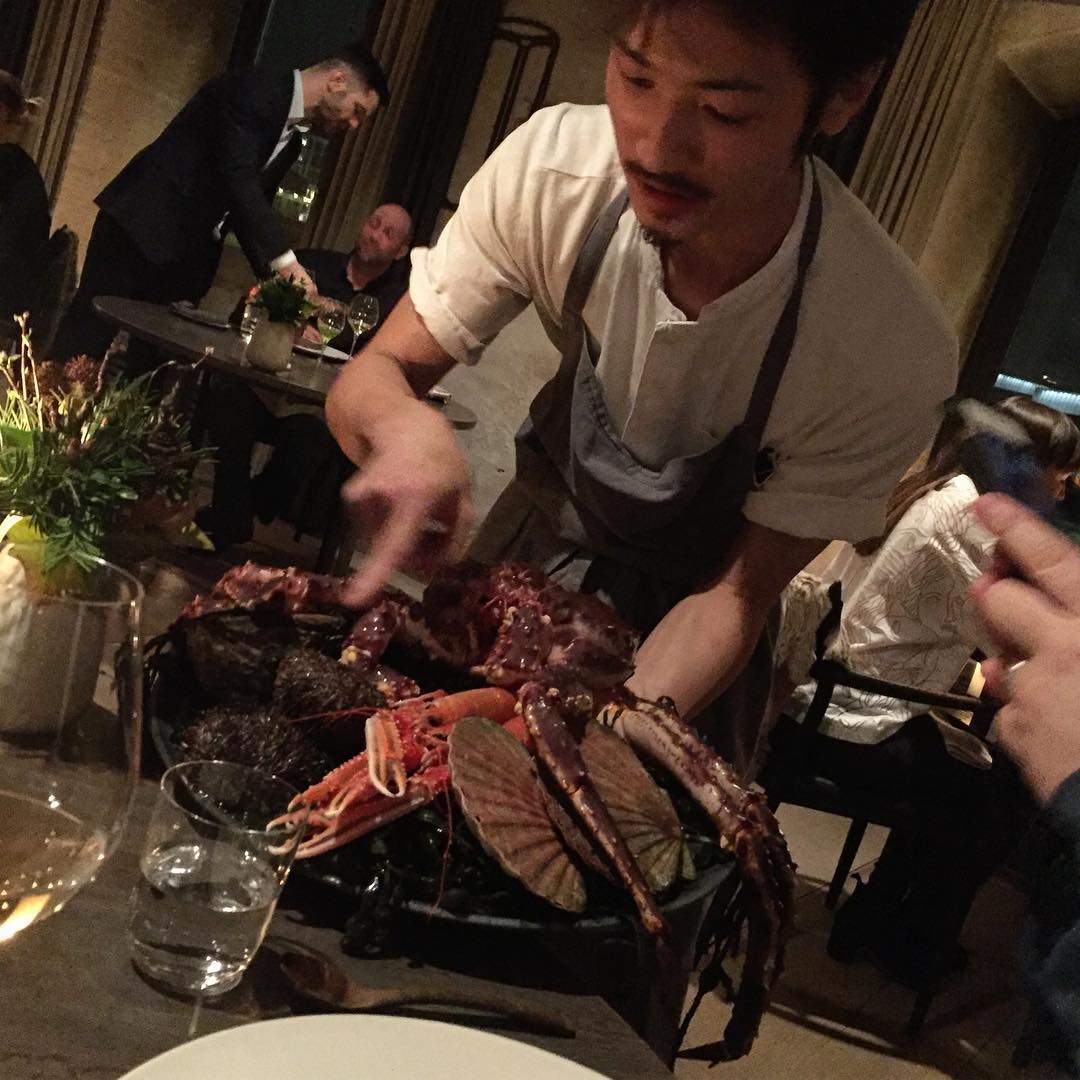 The experience at Noma transcended the food. It was the people, the dedication, the pride, humor and warmth coupled with attention to detail, perfect timing and great hospitality that made Noma so incredibly special.
To put it quite simply and quite bluntly: many, if not all of the singular components of the Noma experience; the food, the underlying preparations, the service, the plating and the timing… All of these components, in isolation, could have been done just as well by other top restaurants around the world. It is, however, the successful and near perfect combination of all these elements bundled with unique passion, ideology, innovation, a formidable esprit du corps and a truly remarkable combination of work ethics and playfulness on the entire crew… That sets Noma apart. This, in my mind, is what created the perfect storm that was Noma, the World's once best restaurant, at Strandgade in Copenhagen.
World's Best Restaurant? Let's call it World's Best Noma: A truly unique dining experience that I feel privileged to have undertaken despite the heavy price tag. A dining experience that had me leaving with more questions than answers, that spawned hours and hours of discussions and interpretation in the days that followed.
An experience that even now, as I'm getting ready to hit that publish button almost two weeks down the line, is still making me smile, still making me wonder, still has me ever so slightly confused, puzzled, intrigued and strangely proud to be Danish. To be from the nation that fostered such a world sensation and to have eaten there with friends who took the trip across the globe to be there.
Dinner at Noma was in no way a straight-forward or easy to digest experience, but fuck me was it special!
Noma 2.0: What does the future hold for Redzepi's "New Noma"?
Sad about missing out on the Noma experience? There may still be hope! In much the same breath that Rene Redzepi announced in 2015, that Noma would be closing by the end of 2016 (which turned out to mean end of February 2017), he announced that Noma, in some shape or form, would be reopening.
Since then, rumors and speculations have run rife and have to some extend been confirmed by Redzepi himself:
Noma as we know it is no more. But Noma will open again. Following a much hyped pop-up adventure to Mexico, Noma is scheduled to reopen on a new location in Copenhagen by December of this year – or when ready.
Redzepi's vision for a New Noma includes a new space in a graffiti-plagued building on the outskirts of another world (in)famous Danish location, the Freetown of Christiania. In this urban, cultural and alternative environment, Redzepi has plans to create an urban garden and restaurant with an even more dogmatic approach on locally foraged goods and seasonal items.
The transformation from the old Noma to the New was marked by a large party on Saturday xx February where staff and friends of Noma (including some very lucky bastard friends of mine!) gathered at the Strandgade location to tear down the world famous Noma sign, celebrate the metamorphosis and take a short walk to Noma's new location at Refshaleøen for drinks, food and discussions of things to come.
First glance at the rough outer walls that will house Noma 2.0 – Photo credit: Greg Kauwe (@nomnerd on Instagram)
What will the future bring for Redzepi's New Noma? As of right now, we can only guess but with a fired up Redzepi and crew set to improve on what has already numerous times been labeled the best restaurant in the world and a frantic culinary world watching, we can only assume it's going to be local, spectacular, uncompromising, challenging and extremely well-crafted with a stronger urban feel thrown in.
A Word of Thank You: How I bagged the World's hottest Dinner Booking!
Before I end this 5000 word epos, I owe a bit of a thank you. You may at this point be wondering how a humble food blogger from Kolding, Denmark ended up with the booking that every other foodie, celebrity and rock star in the world so desperately wanted – a table at Noma two days before final service!
For something this incredibly monumental, it all started very randomly one Monday morning at 6:25 AM when I woke up to a direct message from Seattle-based @nomnerd (aka Greg Kauwe) on Twitter: "Have you been to Noma?"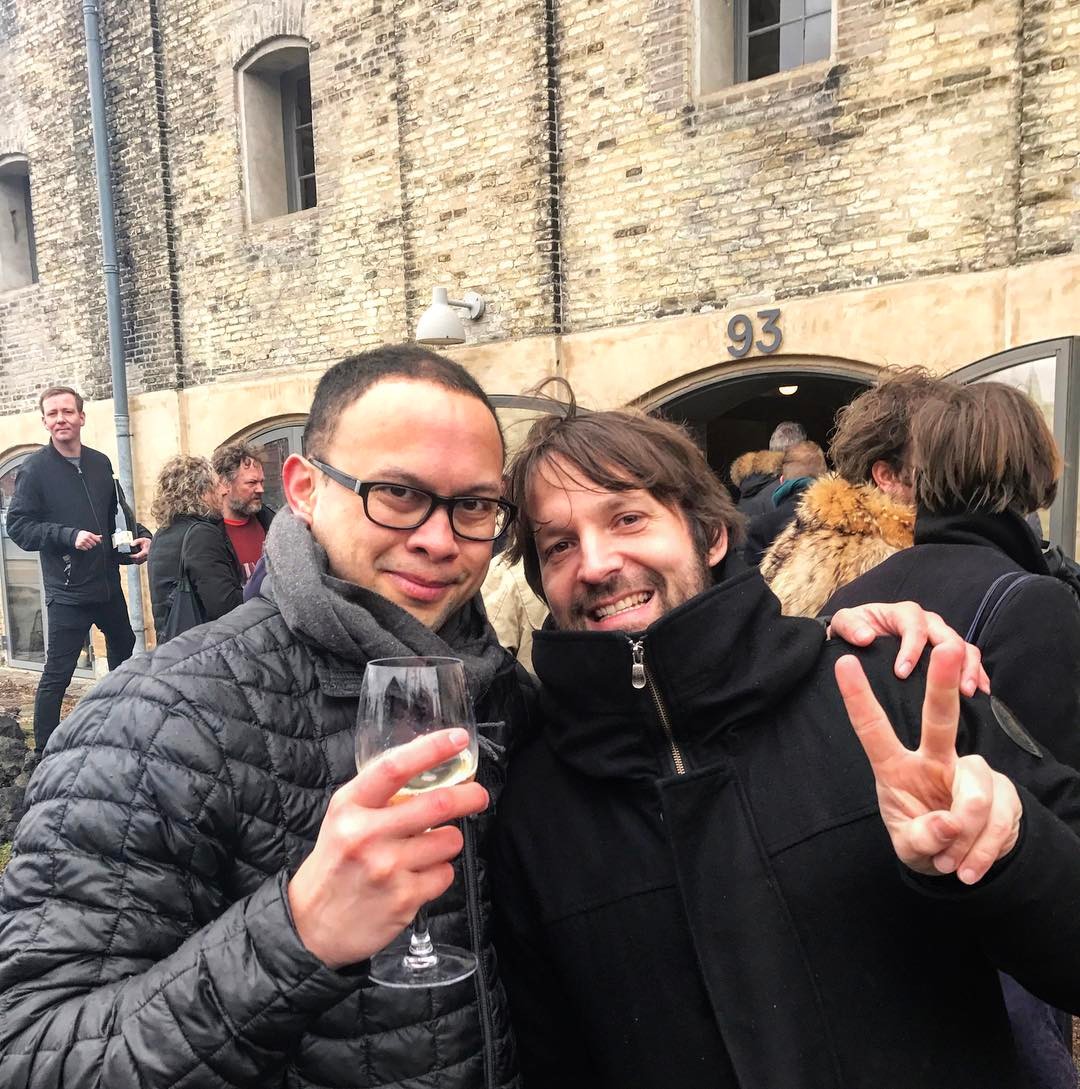 World-class chef meets world-class foodie. Thanks to these two guys for a once in a lifetime experience! Photo credit: Greg Kauwe (@nomnerd on Instagram)
As it turns out, my long time Twitter and Instagram buddy from across the world had stayed up way past his bedtime on the night the last ever bookings at Noma went up for grabs. By some insane stroke of luck he placed 150th in the random queue for reservations and ended up landing a table for three on February 22. He offered one seat to his friend Jeremy – chef and owner of Santé Restaurant (and a few other places) in Spokane, Washington – and in a humbling move offered the final chair to yours truly. I guess it's true what my friends once said: keep doing what you do, without compromise and with the heart – and one day the world will notice.
And so it came to be that on February 22, 2017, a Seattle-based food blogger and wanderer, a James Beard Award Semifinalist and a hometown hero walked into a bar the World's 5th Best Restaurant.
Thank you is but a humble word, but still… To Greg and Jeremy, thank you so much for letting me be part of this crazy adventure and allowing me to show you a few shades of my home country.
To the entire team at Noma, from the bottom of my heart: Thanks for the memories, the sense of confusion and wonder, the smiles, the dedication and the altogether unforgettable experience. You may not serve the world's most approachable food, but in doing what you've wanted to do without compromise or slack, you've made an entire world wonder… And that truly is something.