Home » Blog » Recipes » Sole Walewska: a new level of seafood decadence
I've not always been a big fish eater. I spent most of my childhood detesting most fish and most of my teen and early adult years finding fish courses dull at best. Only in the last couple of years have I discovered just how much seafood has to offer if cooked properly and I've grown to realize that seafood dishes can be as deliciously decadent as any other type of dish.
And speaking about delicious, decadent and seafood in the same sentence, let me tell you about a reasonably recent obsession of mine, a dish known as Sole Walewska; a dish I have come to fall into infatuation with as the seemingly most luxurious and elaborate marriage between seafood and decadence to date:
Sole Walewska, from what I've been able to gather, is named after Marie Walewska, Polish noblewoman and mistress of Napoleon Bonaparte himself. Whether she actually ate and enjoyed the dish regularly or if it's simply named after her, I have not been able to figure out, but whatever the connection, she must have been a woman of considerable class and wealth… or of wealthy lovers!
You see, the dish bearing her name, Sole Walewska, in all its preposterous glory, consists quite simply (cough) of steamed fillet of Dover sole served absolutely stuffed with lobster and truffles in a creamy truffle sauce. Quite essentially, it is the essence of decadence and pricewise it's absolutely trough the roof, making it the kind of dish that really shouldn't be made at home out of sheer fear of personal bankruptcy. Or, if you were to make it at home anyway, the kind of dish to save for a special occasion with friends or… Well, let's just say that if your intentions were a little less pure than mine were with my "date" of the evening, this would be the dish to reach for. Even a person who can't boil water will probably know that Dover sole is considered on of the finest and, consequently, most expensive eating fishes available, that lobsters – those lovable giant bugs of the deep – are not exactly the cheapest pick of shellfish around, and that truffles are basically worth their weight in gold.
In short, this dish is downright ridiculous, obscene and over the top, it's luxurious and flat out expensive! All of which, for some reason, seemed to me like perfect excuses to cook it up! Maybe I'm crazy like that, maybe I have a thing for decadence, maybe I had money to blow … I don't know! What I do know is that I've been aching to cook the dish for a while and when I finally did find the perfect occasion as part of my culinary reunion dinner with Tina, I set out to create my own perfect spin on the decadent classic.
How to forage like a boss
My quest to recreate the iconically decadent dish of my dreams started at my local fishmonger where I'd come searching for Sole and lobster. Fresh lobster, I was told when I explained my quest, was not to be had, but they did have some fresh, local langoustine which, for my money, is a much better choice anyway. They're expensive, but not that expensive, and on a good day the taste is quite similar to lobster.'
Sole, on the other hand, was available skinned and filleted for me on site. How much would I like, the guy behind the counter demanded, and a moment of sheer beauty ensued: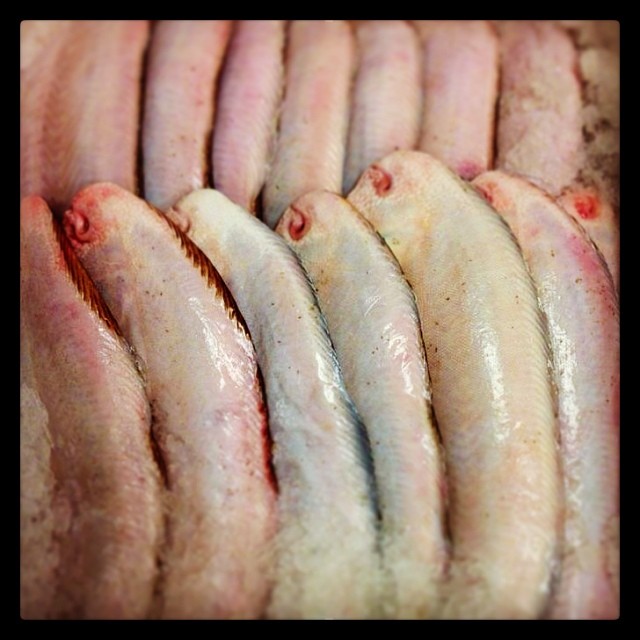 Dover Sole… Not much to look at, but the taste… The taste! Photo Credit: @oceananyc on Instagram
"I'll just have two fillets," I said, "and four large langoustines. I was really only looking to serve two people as a starter of a five course meal" … "Oh, really, two people, five courses, sole and langoustine?" he asked as he bagged and rang up my purchases, then added with a smile and a wink "that'll be $12, then!" – "I…," I nearly interjected, "that'll be all, then, thank you!," I said, leaving the store feeling flabbergasted, thinking something along the lines of "did he just hook a brother up?" – I knew fully well not to complain, though. Remember when I said in the beginning that people mistaking Tina and I for lovers sometimes works to our advantage? The guy, bless his fishy hands, obviously thought I was pulling out all the big shots, trying to score and wanted to make sure I got out to a cheap and easy start, bless him! Yes, I'll be the first to admit that I fully exploit the fact that my best friends on this earth happen to be gorgeous creatures of the female persuasion, but only for good!
Alas, Sole and lobster (or in my case langoustine) only make up two thirds of the Sole Walewska equation. And even with an easy, cheap start, I still had one major investment to make before my quest was complete. For this dish to be complete, truffles are called for. Lovely, pungent, little wrinkly balls of joy and decadence, with a taste quite unlike anything else on Earth. If you've ever had truffles, you know what I mean, if not, it's definitely something to try. If you don't have a local source for truffles, they can be found relatively easily online in both fresh and preserved form. Fresh truffles are undoubtedly the best and most extravagant choice, but they're also seasonal, extremely perishable and extremely expensive. If you don't feel like going all out f'ing crazy and blowing your life savings on fungi, preserved truffles can be had at a fraction of the price of their fresh counterparts and are still quite an experience, their somewhat tamer flavor can easily be boosted with a drop of truffle oil.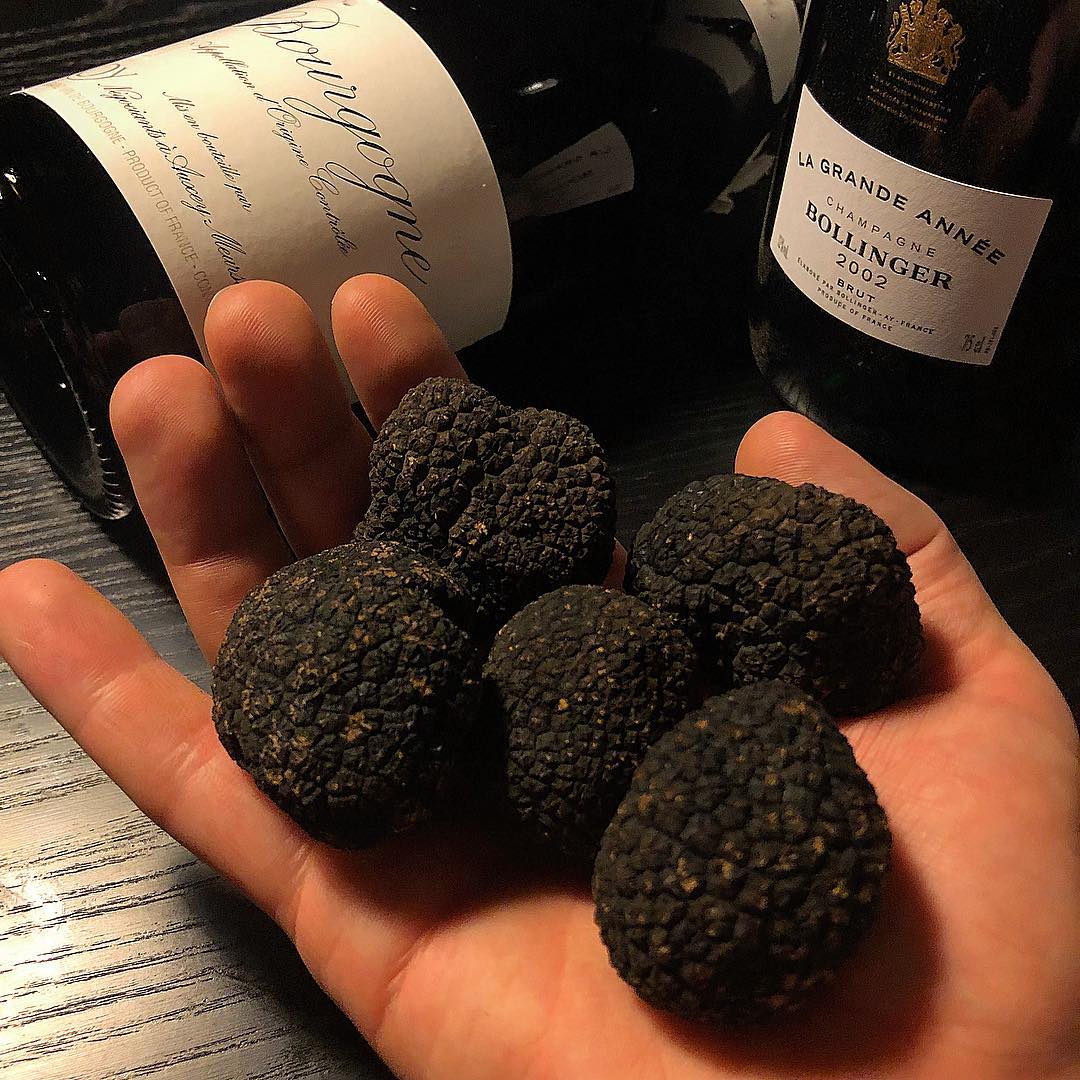 Truffles, glorious truffles!!
With fresh truffles luckily sadly not being in season at the time of creation of my dish, I had to go the cheaper and more convenient route of using preserved truffles. I managed to get hold of some beautiful slices of truffle preserved in olive oil which, at $1 per gram, were a bargain compared to fresh truffles. And ridiculously expensive compared to most other things in the culinary world, save maybe my final ingredient and personal touch… Saffron! That's right, "when in Rome," I figured. Having already splurged on Dover Sole, langoustine and truffles, and having even saved some hard-earned money in the process, I might as well go all in and add a touch of genuine Iranian saffron. So into my bag of purchases went a precious half gram of saffron. Y'know, all in the name of decadence!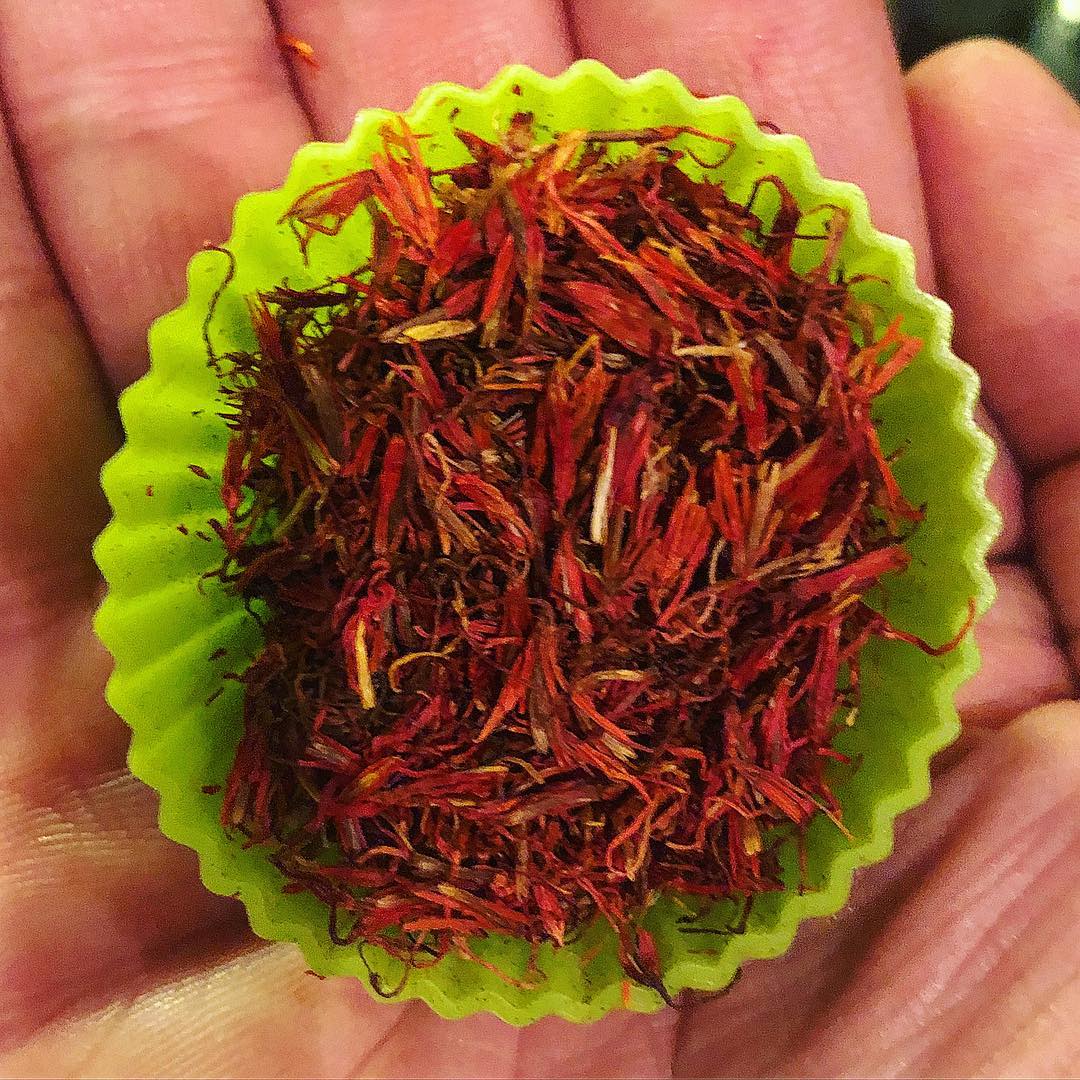 Saffron…
Saffron: Easily the worlds most expensive spice by weight, saffron is harvested from the stigma of Crocus Sativus, commonly known as Saffron Crocus. It is available either as dried threads or ground as a powder. What makes saffron so ridiculously expensive is not only the fact that the saffron crocus is notoriously hard to grow and reproduce, but also that saffron – due to the fragility of the crocus – has to be harvested by hand.
Production of a single kilo of saffron requires the picking of roughly 150,000 saffron crocuses, a task that amounts to roughly 40 man hours, not including processing and packaging. This labor intensive process puts the average retail price of saffron at around $5,000 per kilo or $5 per gram on a good day. More geeky info on saffron is available here.
My little insanely expensive goodie bag of four of the worlds more expensive culinary ingredients in hand, I made my way home – a little more carefully than I usually would – to start the creation of my perhaps most decadent dish to date.
Sole Walewska for the home cook
The process of cooking Sole Walewska is an at one time surprisingly easy and surprisingly long and somewhat tedious experience that I have tried to outline below. It does not involve any groundbreaking or particularly complicated techniques, but it's an interesting little challenge, I must say; not difficult per say, but it does involve quite a few steps. You really shouldn't let that scare you off, though. What you should be scared of is the ingredient list and the price tag attached to some of the stuff on there. If that hasn't sent you running off screaming yet, I say go for it! It'll be a nice, little learning experience and a dish to remember…
Sole Walewska… Deliciously decadent!
The only thing we have to fear is fear itself, and high heat: The only thing that can really and truly go wrong here is if you overcook the fish. Sole is a very delicate, moist and somewhat firm-fleshed fish, I'd much rather undercook it ever so slightly than risk overcooking it and end up with a firm, tough, bland yet ridiculously expensive fish fillet.
Go on, then, I dare you… Here, I'll even throw you the recipe. Give it a whirl and you'll be king of your next dinner party. I know I was! This monster of a dish may have taken close to two hours of total cooking time, but what does that matter when your lovely co-diner is blown clear away by the result?
Sole Walewska: a new level of seafood decadence
Dover sole, truffles, langoustine and saffron in one dish... What more could you possibly want?
Total Time
1
hour
15
minutes
Ingredients
For Sole Walewska:
Two fillets of Dover Sole

Four langoustine tails

shell on

10

grams

of truffles

thinly sliced

Two tablespoons of Noily Prat

or dry Vermouth
For sauce:
150

milliliters

of heavy cream

200

milliliters

of fish stock

One glass of good white wine

Two large shallots

finely minced

One clove of garlic

smashed

One carrot

diced

One leak

diced

One stalk of celery

diced

One bay leaf

A few sprigs of parsley

A generous pinch of Saffron

10

grams

of truffles very finely chopped

75

grams

of Gruyere cheese

freshly grated
Instructions
Opening movements:
Peel and de-vein the langoustine tails, reserve shells

Cover langoustine tails and refrigerate till needed

Grab a small oven-proof dish, large enough to hold two fillets of sole

Sprinkle bottom of dish with chopped shallots.

Place two fillets of Dover Sole on top of shallots, season generously with salt and pepper, add generous slices of truffle to each fillet, and fold fillets in half over truffles.

Cover dish with cling film and refrigerate till needed.

Preheat oven to 180C
Make sauce:
Heat a splash of oil in heavy bottom pot over high heat

When oil is nearly smoking hot, add langoustine shells, stir vigorously and reduce heat to medium.

After a few minutes, when shells are thoroughly heated through and heat has reduced, add shallots, carrot, leak, celery and garlic, and fry for a minute or two.

Add fish stock, white wine and a splash of water. Bring pot to a simmer and simmer for roughly thirty minutes, skimming any foam that rises to the top.

After thirty minutes, strain sauce base into a suitable container, add saffron and set aside.

Wash and wipe out the pot, return to heat, add two tablespoons of butter and let melt.

When butter is melted, add two tablespoons of flour and fry for a couple of minutes, stirring frequently. What you have here is a roux and it will thicken any liquid added to it.

Grab your container of sauce base and stir a few tablespoons into the roux. It will hiss and splatter and turn to a paste-like consistency, keep stirring.

Keep slowly whisking and adding liquid to the roux until you have a smooth, thickened sauce. The sauce will continue to thicken until it comes to a simmer at which point it will be at its thickest.

When sauce simmers, stir in 150 milliliters of heavy cream and ten grams of finely chopped truffle.

Simmer for a minute or so and slowly stir in cheese, mix till cheese is melted and thoroughly integrated.

Taste and season with salt and pepper. Keep warm on a back burner over low heat.
Prepare fish/langoustine:
Heat a few tablespoons of oil in a heavy bottom pan over medium-high heat

Remove dish with sole fillets from fridge, sprinkle with Noily Prat and slide into 180C oven for 5-7 minutes. Check for doneness after five minutes and continue cooking if necessary.

While fish is cooking give langoustines a quick stir fry in the hot pan, a minute or so per side.

Add a generous shot of Cognac to pan, toss quickly then evacuate langoustines from the heat, cover and let rest.

After 5-7minutes of total cooking evacuate soles from the oven, they should be firm but flaky and soft to the touch. Be careful not to overcook.

Strain juices from the fish into the sauce along with any accumulated juices from the rested langoustine tails.
To plate:
Carefully place sole fillets on plates, topping them with more slices of truffle and the lobster tails, add desired sides and garnishes then generously add sauce. Serve immediately.
Recipe Notes
If Dover sole is not available, or too expensive, other kinds of sole may be used. Talk to your fishmonger, he'll know what to use. Instead of fresh truffles, preserved truffles may be used, but don't settle for just truffle oil. You'll want the extra oomph and decadence for this presentation.
What to drink: An elaborate and extravagant dish like this calls for an elaborate and extravagant wine. A nice, white Burgundy would be traditional and for something like this, you really should break out one of the better bottles. We had a lusciously decadent 2009 Corton-Charlemagne Grand Cru by Henri Boillot and it was a match made in heaven!
Describing the indescribable
How does one adequately describe Sole Walewska? The easy way of putting it would be to say that one doesn't. It's sole, langoustine, truffles and saffron a plenty for crying out loud! It's a dish that's first and foremost rich, creamy and bursting with flavor. Sole, as it turns out, is an incredibly delicate yet intensely flavorful fish which blends well with the sweet, delicate seafood flavors of quality lobster or langoustine. Truffles, on the other hand, add a certain unique earthiness and a burst of pungency along with a little taste of heaven to the dish that's backed beautifully by the subtle oriental spiciness and mystique provided by that other ridiculously expensive ingredient, saffron.
Honestly, if you've never had truffles or saffron before, it's impossible to describe what this dish tastes like. Aside, perhaps, from heavenly in the strangest of ways. Tina eventually summed it up quite nicely: "This is sheer culinary genius. This is the best thing I have ever eaten. Bar none."
Sole Walewska: is it worth it?
In my every day job, the term ROI has become the new black. It's a simple concept, really, Return On Investment, used to evaluate whether a certain investment will pay off more than you put into it, thus becoming valuable.
Is Sole Walewska a valuable investment of your time and hard-earned money? Considering that even if you skimp on ingredients and hook up with a generous fishmonger, there's no way in hell you'll be churning out this dish for less than $50. And with that in mind, things certainly don't look too bright in terms of making a valuable return on investment. But it depends, of course, on what you define as a good return.
Whichever way you look at it, in the end, you'd clearly have to dwell in the ethereal realm of culinary emotions and feelings for this to genuinely feel like a worthwhile investment in any sort of way. Look at it this way: You can't from any rational perspective justify the costs of this damn dish. It's not doable! It has to do more than satisfy some basic need for a well-cooked source of sustenance. It has to justify some deeper need in you, a need to rise up within yourself and cry "look at me, I'm eating some of the most rare and expensive culinary items this world has to offer, I'm doing it on my own damn dime, with the people I love, I can't justify it, but damnit, we're worth it!"
If those sorts of culinary emotions is your thing, then give this dish a try. It'll easily be the most decadent, expensive and memorable dish you and your diners have had in a long time, if not ever, and you'd be hard pressed to find a more talked about and memorable home dining experience.
Go on, I dare you… Spend some money, have a hedonistic food orgy! Stay hungry, stay foolish!