Home » Blog » Restaurant Reviews » Review: Culinary Value For Money at Sdr. Bjert Kro, Kolding, Denmark
UPDATE, MARCH 2018: As of February 2018, Sdr. Bjert Kro has closed permanently due to lack of interest from the dining public. To see what the boys are up to now, check out my review of Bror Ditlev – Kolding's new fine dining venture.
In the beautiful hamlet of Sdr. Bjert (Sonder Bjaert) – just 10 kilometers from historic downtown of my beautiful home town of Kolding, Denmark – set between ancient trees, a village church and other small town hallmarks lies a hidden culinary gem in the shape of Sdr. Bjert Kro; a beautifully restored historic building and a perfect example of a dying Danish institution: the old highway inn.
Uh, yeah, okay. This appetizer should give you some idea of where we're going with this review, but stick with me, my story gets better!
Beautifully restored Sdr. Bjert Kro as seen from the highway
Rebuilding an inn: A young man and his dream
Sdr. Bjert Kro is the love child of twenty-something year-old proprietor Rasmus Vemmelund who, along with his girlfriend Svenja, took over lease of the inn some two years ago. The story goes that when the lease – which included a small hotel section, a café and (most importantly to this review) a gourmet restaurant – became available, young Rasmus jumped his nearly completed culinary apprenticeship to pursue his dream of operating an inn and becoming a restaurateur.
Pursuing his dream proved difficult, though. It took visits to five different banks, trust from a local philanthropist and a financial guarantee from his father to get the loan desperately needed to get into business. It then took another few years of backbreaking dusk til dawn labor to get the inn and restaurant up to desired standards of operation.
One can only imagine the sheer amount of work and dedication needed for a project like this but as Rasmus bluntly put it in an interview with a local TV station: "The time is now. When I'm 40, I'm not sure I want to spend my days going to bed at midnight only to get up for work at 6 AM the next morning. The time is now."
Hard work, as they say, usually pays off and today – after years of labour and dedication – the inn stands fully and beautifully restored on the corner location where it was first built back in 1855. In the kitchen, Rasmus, now accompanied by sous-chef  Mathias Madsen and a small but dedicated team, is starting to really make a culinary name for themselves and their business. Not only through the inn itself, but also through various pop-up ventures and a local culinary network, Madværket, created to help local producers, chefs and restaurateurs achieve amazing results in perfect synergy.
Granted, the above may all sound like a bit of a fairytale or at the very least a clever bit storytelling. But it's the honest to God truth, or as close as we'll get from the mouths of the people involved and that, honestly, does make you wonder. Could an autodidact up-and-coming chef and owner leading a small, dedicated team actually perform consistently on a high enough level to satisfy a couple of, shall we say, experienced and picky eaters?
Well, there was but one way to figure out… So egged on by countless recommendations from the likes of my proof-reader Tina, my wine pusher Kristian and most recently a formal recommendation in White Guide, I enrolled the help of my trusty friend, co-reviewer and fellow food geek Malou and made a booking at Sdr. Bjert Kro for a sunny Friday evening in late July.
Transportation: Getting to Sdr. Bjert Kro
Sdr. Bjert Kro lies a good few kilometers from Kolding's historic city center so transportation by taxi or other means is advisable if all members of the dinner party are to partake in the enjoyment of wine or other shenanigans. Public transportation, it turned out, is hit or miss in the evening hours, but Taxi service is fast and cheap. And so, with that in mind and owing to my expert grasp on transport logistics and familiarity with the taxi booking system and wait times (ahem!), we arrived at Sdr. Bjert Kro some 25 minutes early for our 6 PM booking.
SEE ALSO: MALOU'S REVIEW OF SDR. BJERT KRO (IN DANISH) AT KLIDMOSTER.DK
We killed about as much time as we could, walking about outside and taking a few obligatory pictures, then ventured inside to announce our arrival at the reception area. "I know we're, uh, a bit early," I started out apologetically, but was politely interrupted by our host and waiter for the evening. "Oh, no problem at all," he replied. "How about we sit you down, set you up with some snacks and a glass of bubbles, and let you have a look at the menu?"
Not really the sort of people to start a diplomatic crisis before even seeing the menu, we agreed to the suggestion of our host and followed him into the beautifully restored main dining room. Here we were offered a window table offering us a view of the surroundings and the meticulously restored dining room that was true to the original style of the building albeit lovingly modernized.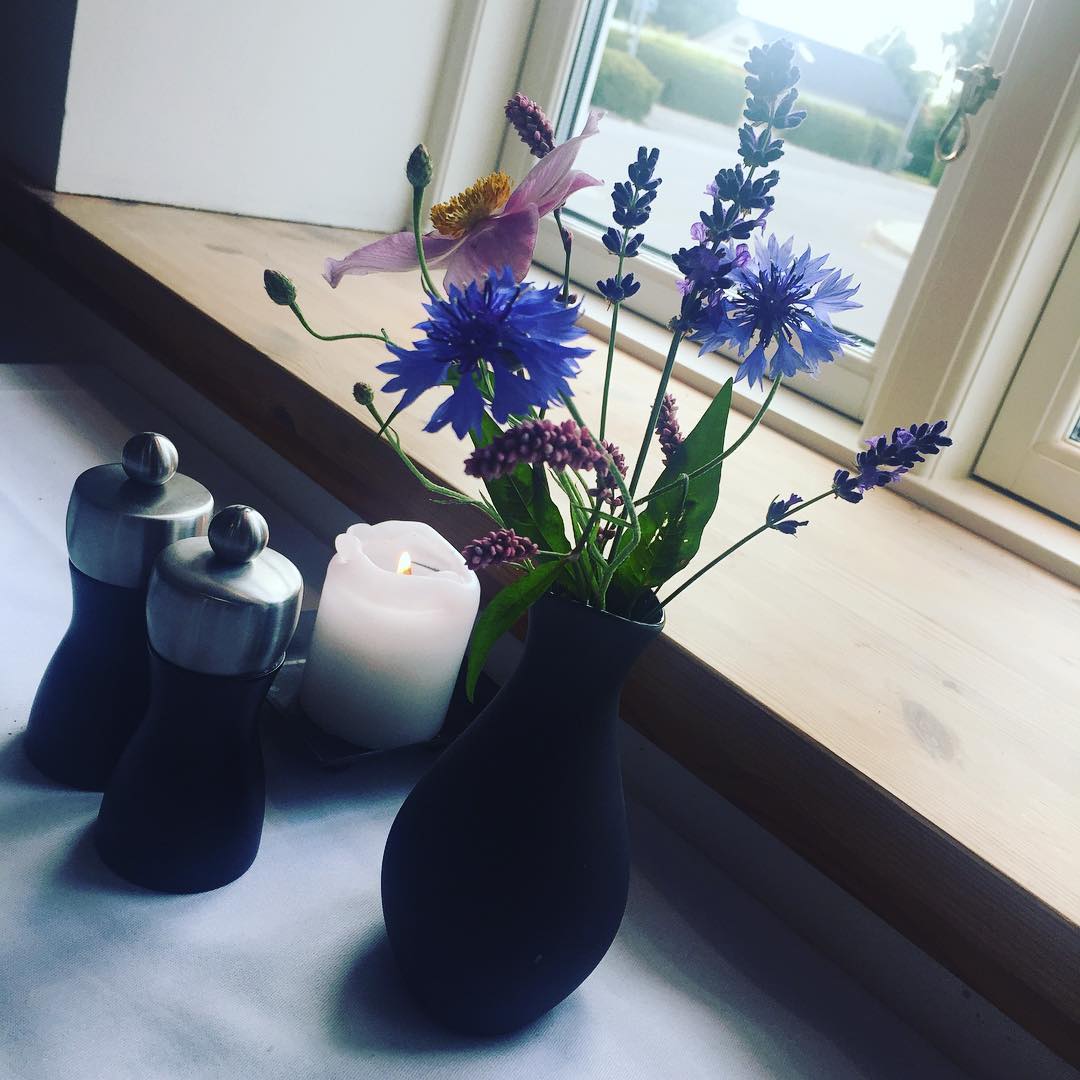 They even picked flowers from the garden for us.. Awww…
We were then swiftly treated to a generous pour of bubbles, a menu to browse through and a small selection of snacks to keep us company.
Amuse: Snacks from our local terroir and bubbles
To ease us through the complicated menu selection process, we were served a selection of crisp vegetables from the inn's own garden in the shape of a brass bowl containing baby radishes, sugar snap peas and tiny, crunchy beet root shoots. All edible in their entirety, meant to be eaten with your fingers and served on a New York style "schmear" (i.e. a lot!) of tangy, creamy goat's fresh cheese with a dusting of dried pork on top to add salt, depth and umami. A clever, unpretentious and wonderful starter.
On the side was a delightful and interesting crunchy element in the shape of a rock bowl of lightly smoked hazelnuts, which were absolutely wonderful and intriguing but, our waiter was quick to admit, obviously not from the inn garden.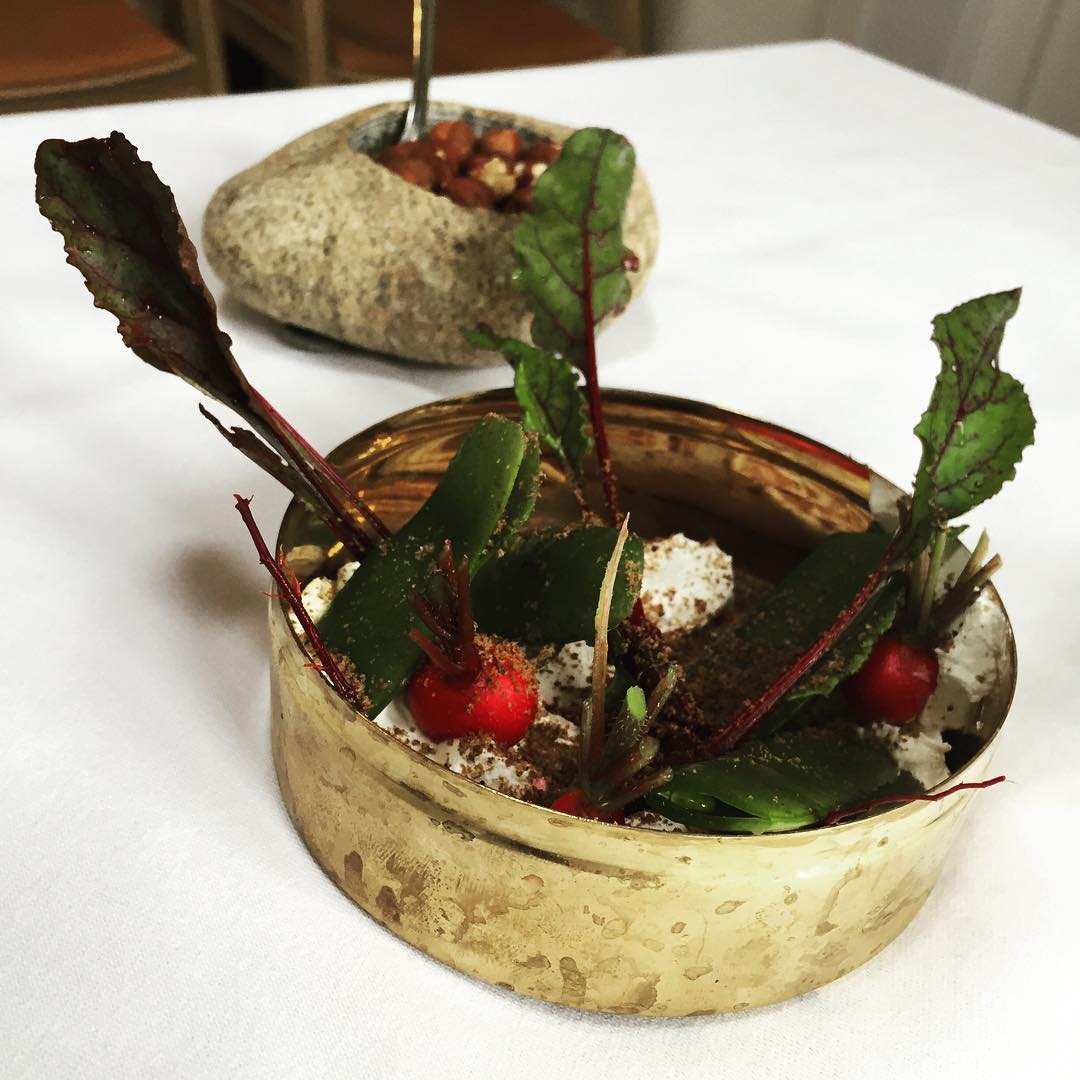 To accompany our snacks, we were served a fresh and vibrant glass of Cava bursting with floral notes, white peach and minerals. A light, refreshing but surprisingly complex glass of bubbles that played well with both the crunchy fresh notes of the vegetables and the dense, fatty and smoky notes of the hazelnuts.
The snack serving, simple and informal yet interesting and tasty, served not only as an appetizer but also to underline the culinary intention of Sdr. Bjert Kro: That ingredients should be as fresh, flavorful and local as could be, organic whenever possible – but first and foremost flavorful and of the best possible quality. As our waiter pointed out to us at this very start of the meal and numerous times throughout the evening: We strive to use local, organic ingredients whenever possible but don't shy away from imported ingredients if it makes for a better dish.
We approved wholeheartedly of the gesture and intention, then devoted our attention to the menu.
What to eat: The Menu at Sdr. Bjert Kro
The dinner menu at Sdr. Bjert Kro is delightfully simple. First and foremost it holds a small selection of a la carte dishes encompassing six slightly revamped classic dishes. If classic grub is not really your scene or you would rather jazz things up a bit, the inn also offers a so-called Universe Menu, a full tasting menu including snacks and bubbles, five full courses, coffee and sweets.
The Inn Universe menu changes monthly to reflect the changes in season and the best local produce available at the time and is jaw-droppingly reasonably priced at DKK 600 per diner – or DKK 1000 with suitable wine pairings for all five dishes.
In the realm of upscale Danish gastronomy, this is almost shockingly cheap and having already enjoyed the snacks and bubbles portion of the menu, we decided to stick to our guns and soldier on through the entire menu, with wine pairings of course.
"Very well," said our waiter with a smile and returned within minutes with a cleverly devised bread trap.
Bread trap: Freshly baked sourdough with whipped butter
The word bread trap was coined by myself and fellow diners to describe the fateful move in which some restaurants kick off a major meal by serving bread so incredibly tasty that you as a diner are in danger of eating your fill in bread alone before reaching the end or even the half way mark of your meal. And by golly, the bread trap at Sdr. Bjert Kro was a thing of rustic beauty, the likes of which I've not seen since dining at Commander's Palace a few years back.
Beautiful airy, crusty and flavorful, sourdough pulled straight from the oven and served warm with a whipped combination of butter and browned butter. The incredibly fresh and aromatic bread, our knowledgeable waiter informed, us was done almost to a bake-off like concept in which the bread was kneaded, portioned, leavened and then partially baked and set aside till needed. Whenever an order for the Universe menu chimed in, the pre-baked bread would be thrown into a piping hot oven and given a few minutes to warm through and crust up – ensuring that all diners could experience the sheer joy of eating freshly baked bread straight from the oven. Clever, amazing and oh so fragrant and flavorful.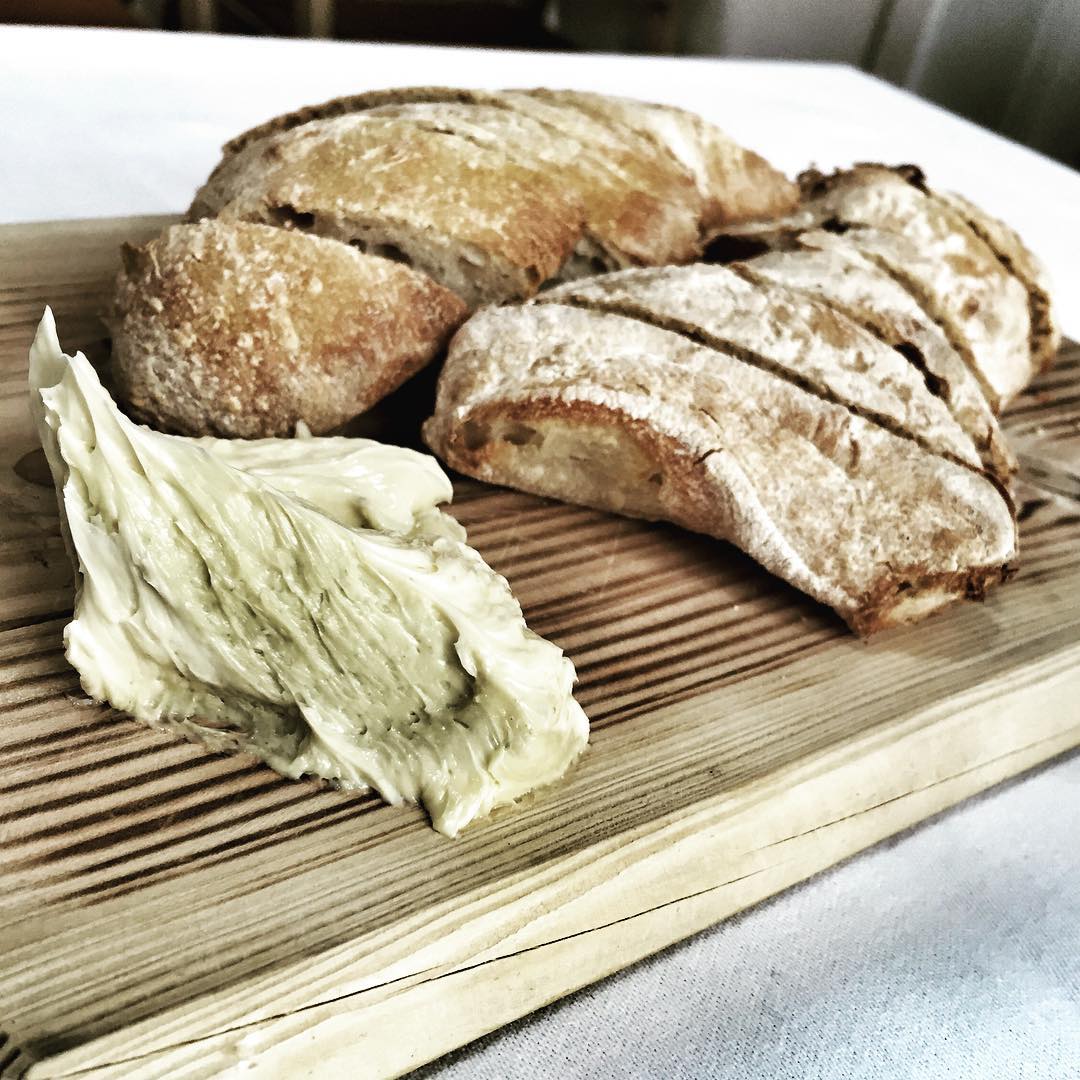 Absolutely addictive and very filling sourdough bread
In fact, you get to wondering why some restaurants offer up a jaw-dropping variety of breads when a single kind, when done this well, is more than enough. Excitedly, we moaned, groaned and stuffed ourselves with far larger quantities of bread and butter than advisable while waiting for the kitchen to conjure up the first real dish of the evening.
First serving: Salted scallops and poached turbot
Men descriptions at Sdr. Bjert Kro are nothing if not short and they quite leave you guessing as to what to expect: Will the dishes be simple or complex? Made of few ingredients or many ingredients? Which preparations are used? It's a guessing game that is both fun and frustrating.
As it turned out, the menu merely hinted at the main ingredients of a dish and in some cases the preparation methods. The dishes themselves contained far more components than described, each of which were often complex preparations of their own but used in a beautifully simplistic overall expression of complex and deep flavors.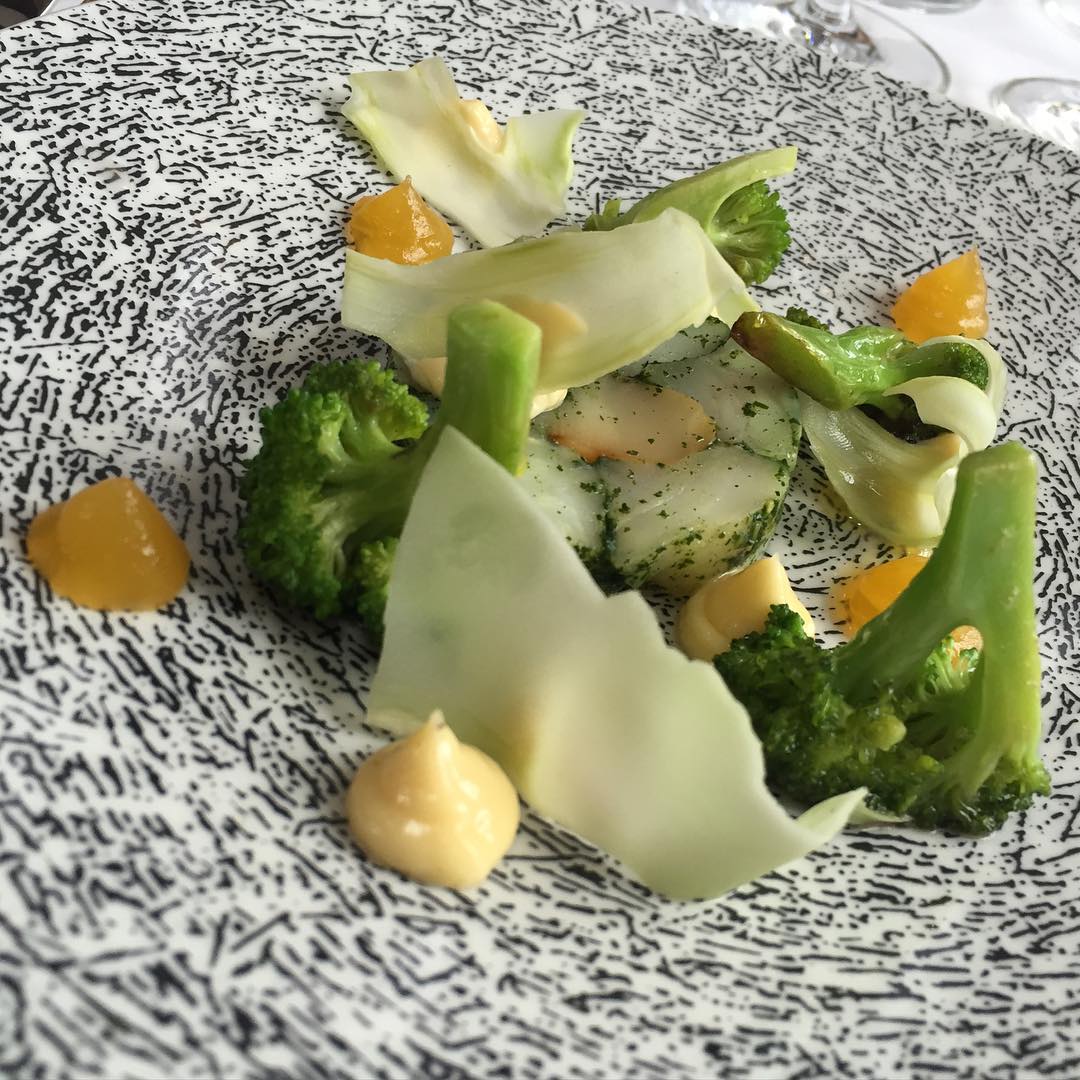 A beautiful case in point would be the first dish of the evening: salted scallops and poached turbot. The title, it turned out, covered a beautifully poached piece of turbot surrounded by salt and herb cured scallops, pressed together and cut into the shape of a beautiful little medallion. Served with steamed broccoli, a lobster emulsion (mayonnaise, really)  and a wonderfully balanced sweet and sour carrot and sea buckthorn broken gel.
The dish, aside from being visually appealing, was a formidable opener from the kitchen: A perfect balance between tender, mild scallop and poached turbot that seemed incredibly meaty and almost smokey in comparison. The heavy, creamy texture and roasted shellfish notes of the lobster emulsion added depth to the dish while the sweet but tangy sea buckthorn gel cut through the fatty and silky textures of the seafood, lifting the dish without taking it over the top in terms of acidity. Bravo!
Accounting for allergies: Substituting like a boss!
As it happens, my co-diner on this culinary adventure is incredibly allergic to scallops, something we had of course informed about upon booking. We were told then not to worry and that substitutions would be made. Come serving time, our waiter informed us that the chef thought the scallops an integrated part of the dish and rather than just leaving them out, he'd opted instead to create an entirely new dish replacing scallops and turbot with locally smoked salmon and the lobster emulsion with a green herb or avocado ditto (we forget!).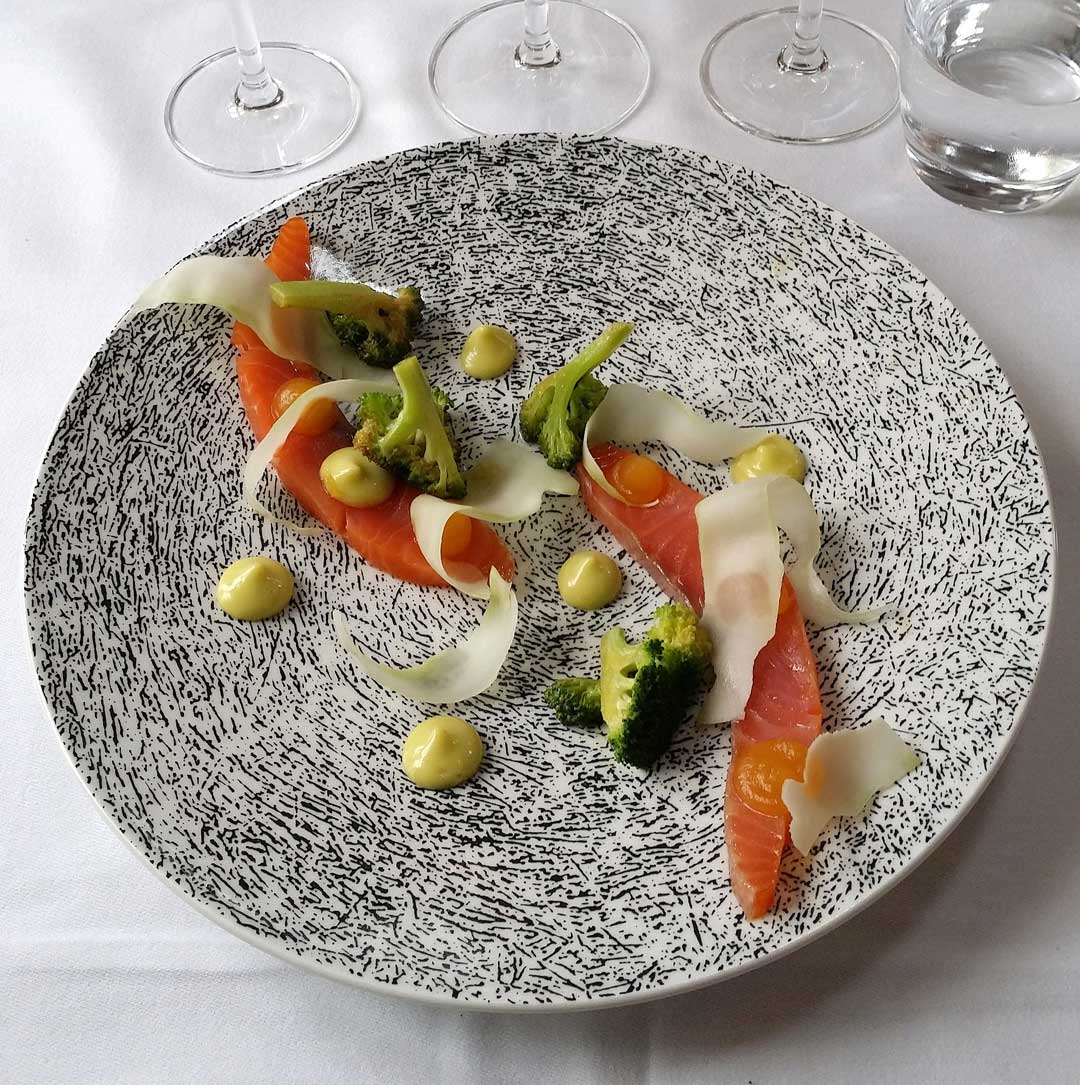 Photo credit: Malou, Klidmoster.dk
Unbeknownst to the kitchen, my co-diner is probably the world's biggest fan of smoked salmon and thoroughly enjoyed her substitute dish. Not more so, though, than she agreed to offer me a taste of her absolutely gorgeous smoked salmon. A favor I would have returned by letting her taste mine, but once again, I really don't want to be held responsible for the death of one of Denmark's premiere food bloggers. And so, we each stuck to a dish of our own, but shared the same wine for our first courses: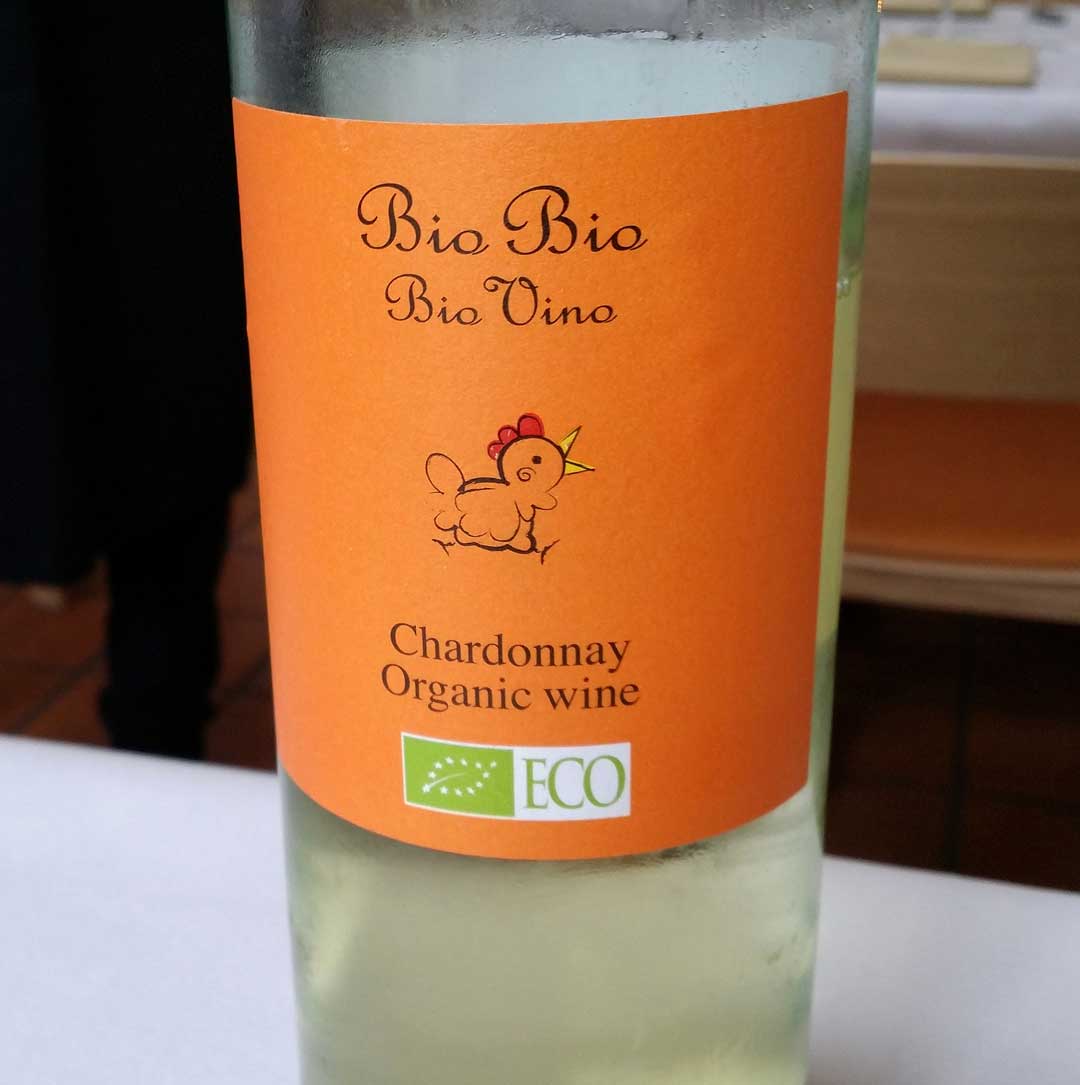 Photo credit: Malou, Klidmoster.dk
A nicely subtle and fruity Italian Chardonnay, very appropriately titled Bio Bio Bio Vino. It not only set the scene for what was to be an organic and largely biodynamic wine menu, but also posed the age-old question: Do biodynamic production methods really make a difference? Well, to give you the same answer that I gave my co-diner that evening: I'm not sure!
I don't honestly give a flying what not about the spiritual elements of biodynamics, but in my book biodynamic growers often produce some pretty exciting wines. Whether this is owing to careful studies of moon phases, astrology and virgin sacrifices or the simple fact that more thought and attention is given to the production processes, I don't know. But more often than not, it just works, as was the case of this nice and fruity but not terribly complex prime example of an Italian Chardonnay.
We were merely getting started, but already things were looking up. The first course of a tasting menu should be light in texture and flavors as to not overpower things to come and with their first course, the kitchen delivered just that without skimping on flavor and complexity in any way. Well done, home team! We eagerly emptied our plates and waited with great anticipation for more to come…
Second serving: Monkfish cheeks and chanterelles
Expectations and perceptions can be funny little things indeed. When I first read the evening's menu, I had quite a hard time imagining just how one would go about pairing monkfish and chanterelles. Yet, the delicate and fragrant dish that made up our second serving turned out to be another study in simplistic beauty:
The plate set in front of us contained a whopping four elements: beautifully fried monkfish cheeks, equally beautiful chanterelles, pickled onions and greens. At the table, the dish was finished with a pour of intensely fragrant and flavorful consommé that elevated the aromatic characters of the dish off the scale, sending us drooling like a pair of Pavlovian dogs.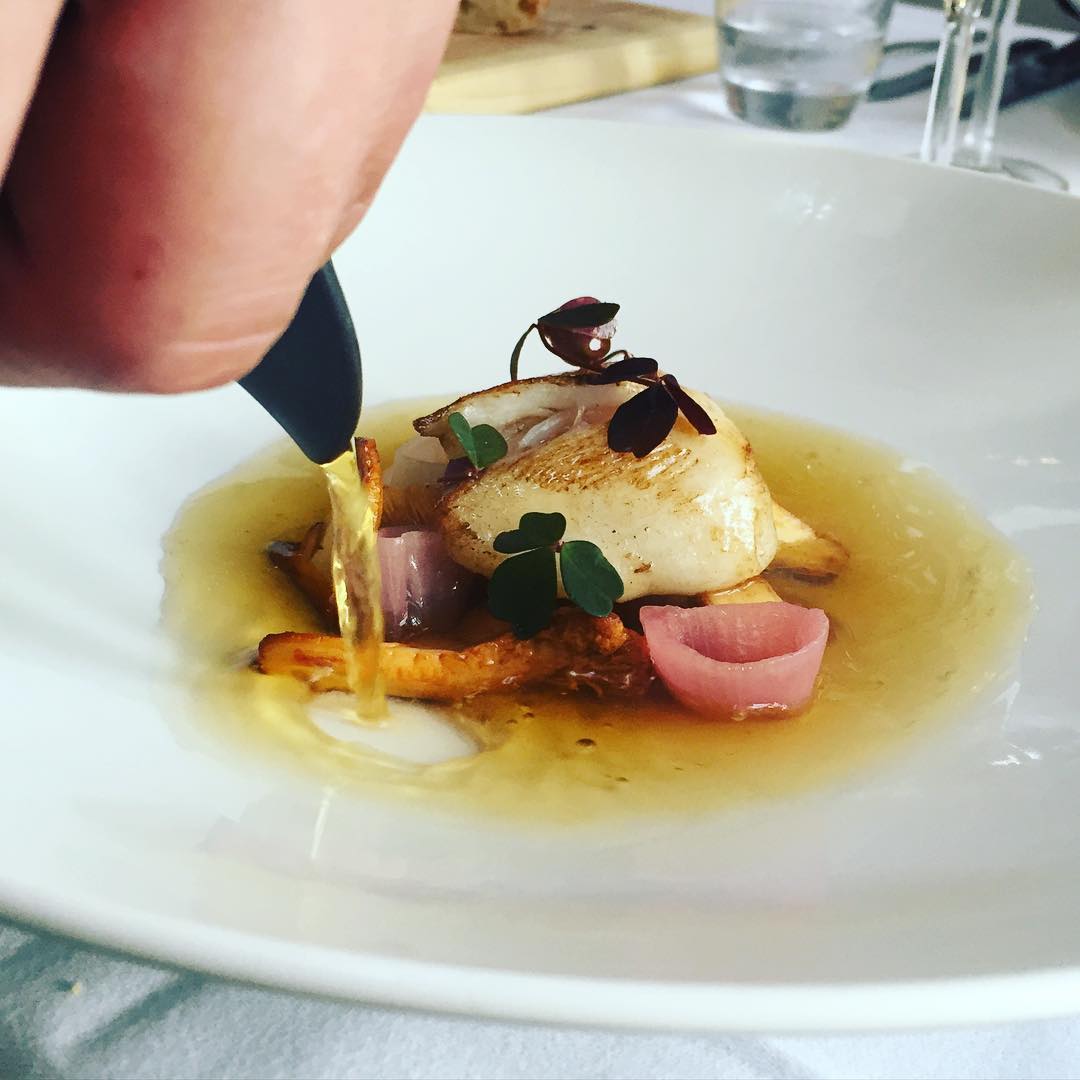 Patiently, we waited for our competent waiter to proudly describe the dish before digging into a display of umami richness like few others. Who knew that so few ingredients could hold so much flavor and aroma? An incredibly intense and meaty display with layers upon layers of flavors, intensity and depth. Actually, had it not been for the delicate, flaky texture of the cheeks and the rather obvious use of the word fish on the menu, I could have sworn I was eating not fish but rather delicately raised free range chicken. The dish was that meaty, intense and flavorful. Monkfish cheeks? I'm a fan!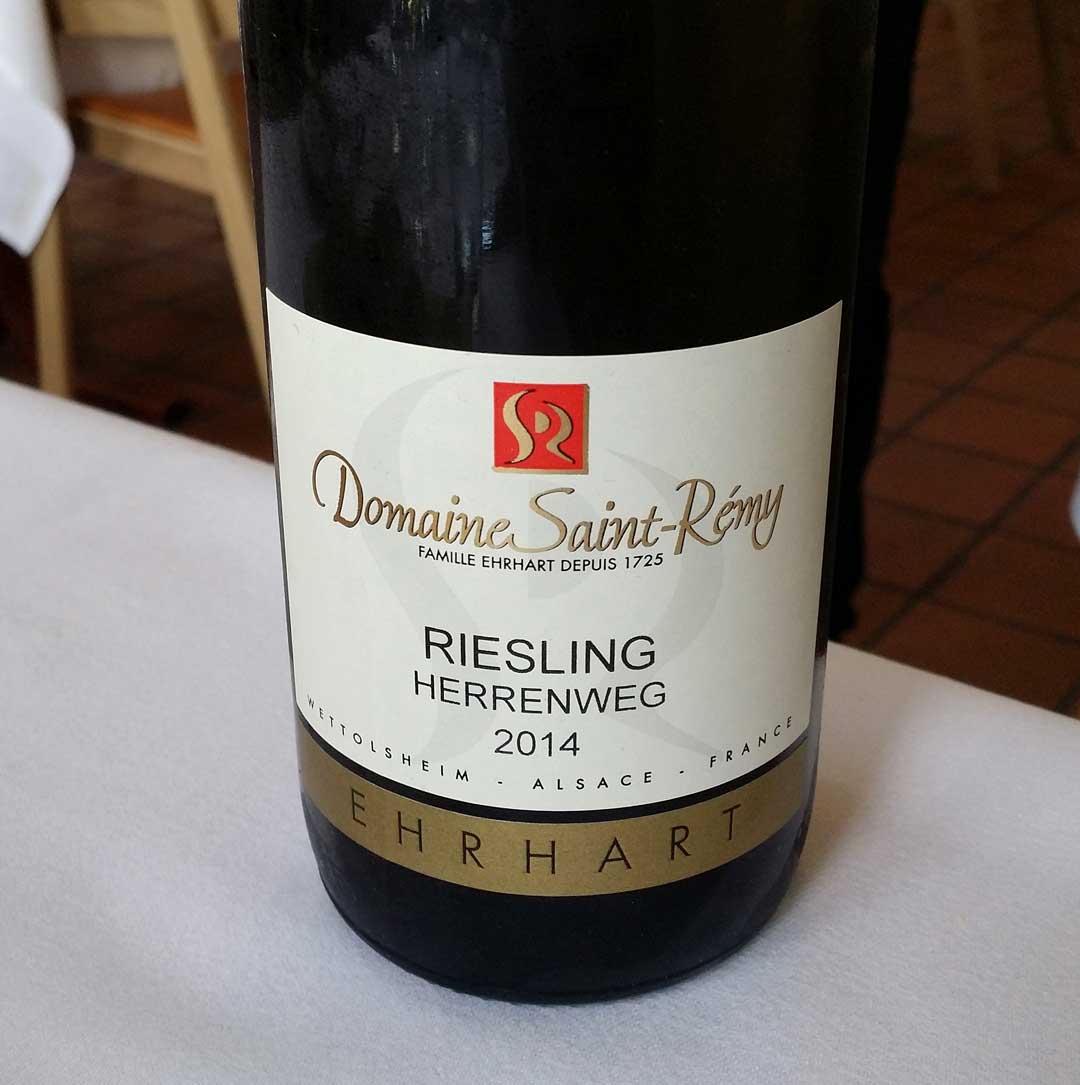 Photo credit: Malou, Klidmoster.dk
Oh, and speaking of fandom. The wine pairing for this dish, I happily noticed, was a personal friend of mine: Domaine Saint-Remy's amazing Riesling Herrenweg that I usually buy in bulk from my childhood friend and wine pusher Kristian and end up consuming way too fast.
What I particularly love about Domaine Saint-Remy's wines is that while not necessarily long-lived, they develop quickly and with incredible richness and depth. The 2014 Riesling, for example, had all the sweet floral fruitiness and prominent acidity that a young Riesling needs, yet was already showing subtle aged notes of rubber and petroleum. That, believe it or not, is a good thing when it comes to Riesling, and a perfect match for the intensely aromatic and very meaty fish course. Things were livening up at Sdr. Bjert Kro and more favorites were soon to follow…
Third serving: Corn and summer truffle
"Uh, I think you forgot the corn," were the first words out of my mouth when the third dish, entitled simply corn and summer truffle, landed in front of us. "Naw, don't worry," our waiter shot back, tongue in cheek, "it's in there… Somewhere!" – and indeed it was.
In a hollowed stone set in front of us, a mountain of freshly shaved summer truffle hid a healthy scooping of sweet, creamed corn, topped with roasted sweet corn kernels, bacon bits and, of course, summer truffle. Simple yet absolutely decadent and intensely fragrant.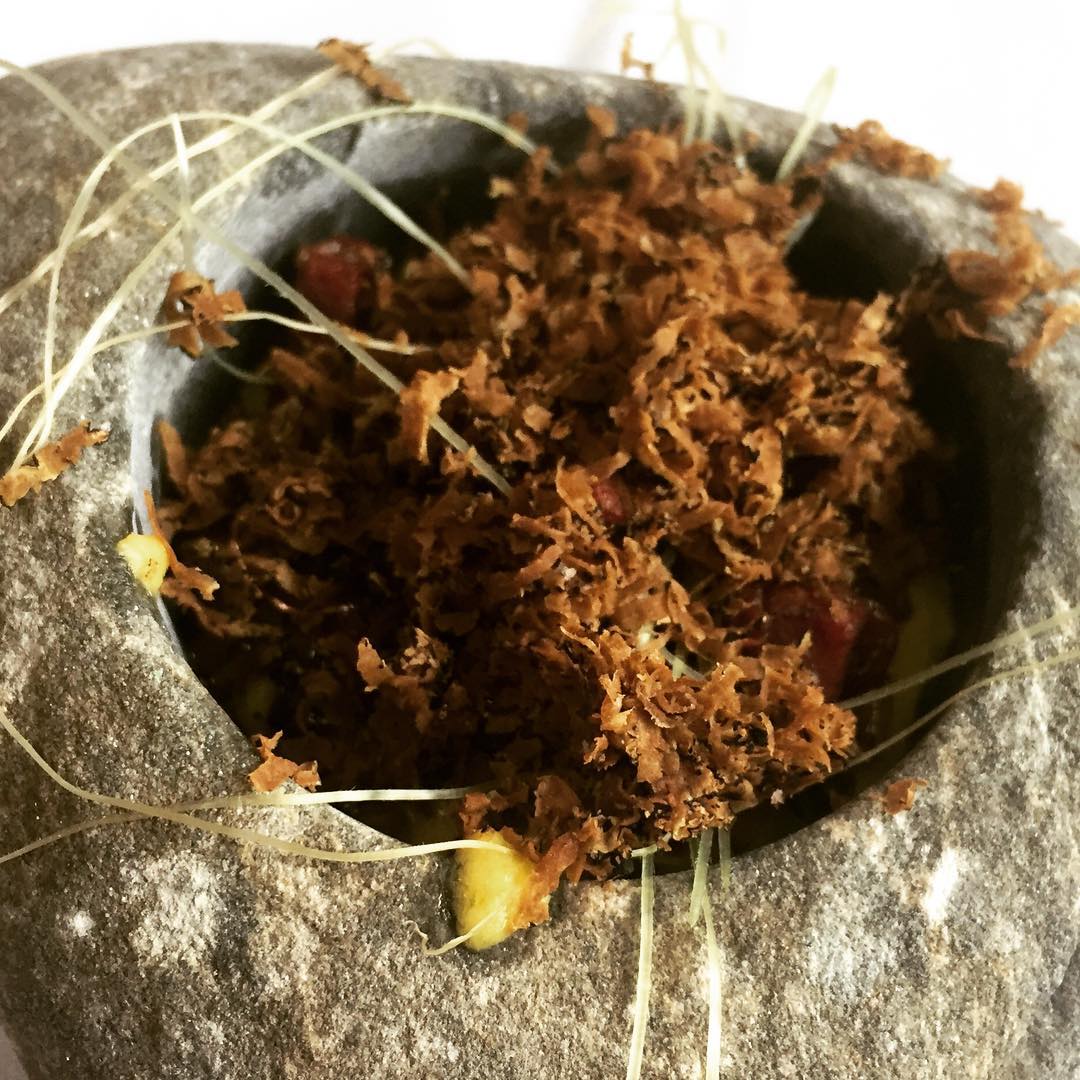 Simple as it was, the intentions behind this dish were wonderful and innovative with the sweetness of the corn and the smokiness of the bacon playing perfect partners to the lovely floral funk of summer truffles – one of my absolute favorite smells in the world.
I've had my fair share of summer truffle this year (poor Johan!) and I particularly enjoy seeing the absolutely decadent ingredient paired with humbler ingredients in new and interesting friendships. Which is why I was all the sadder to notice the only real flaw of the evening in this dish: The sweet corn kernels had been fried a little too hard and long, probably in an effort of lending a smokey, charred note to the dish. A clever move of good intent, but one that commands absolute precision. In the case of my dish, some kernels had been given a little too much of a char, leaving them with a slightly bitter, burnt note rather than a desirable smokiness. That being said, this was one of very few minor clinks in a beautiful evening and an otherwise extremely interesting dish with an even more interesting wine pairing.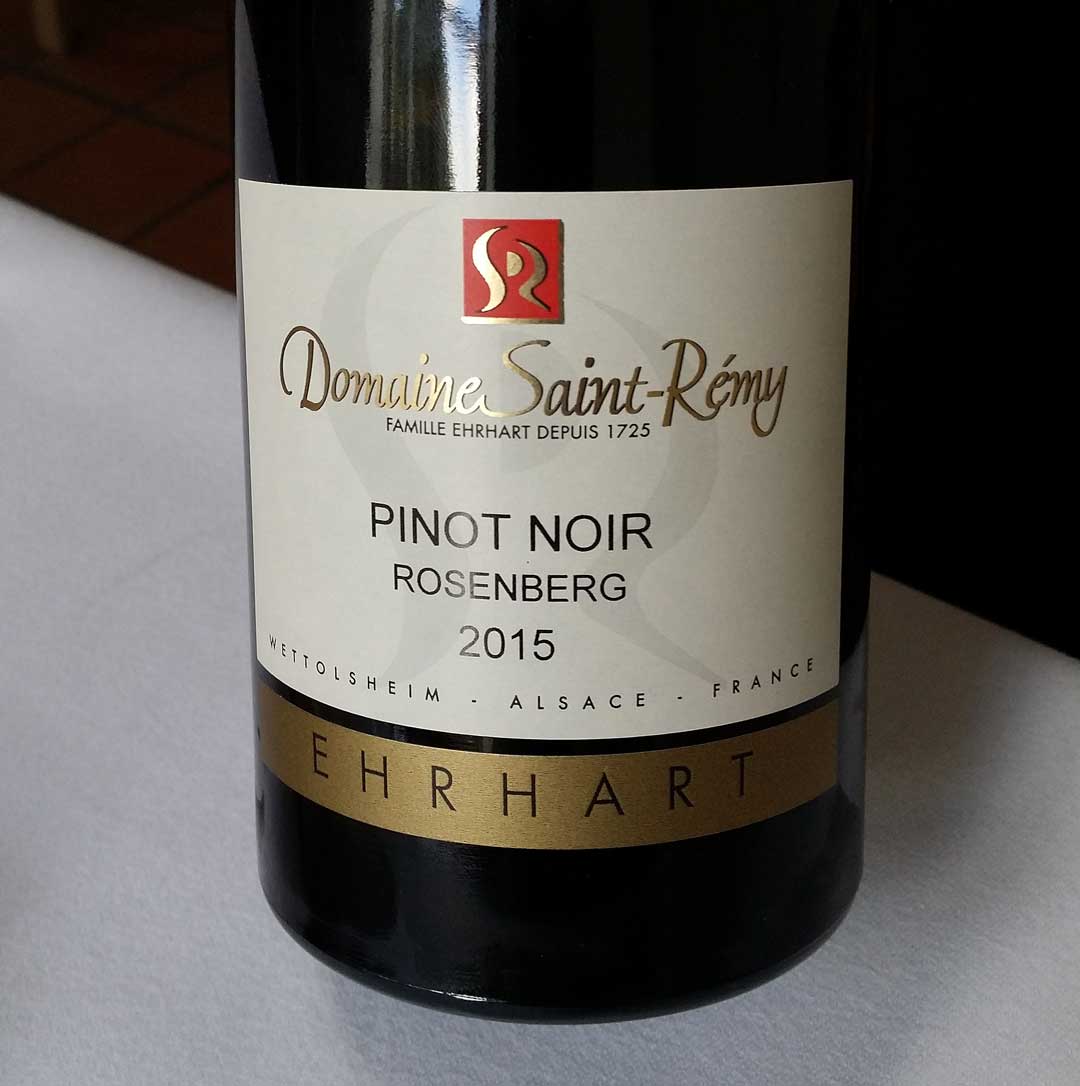 Photo credit: Malou, Klidmoster.dk
"Who pairs sweet corn and Pinot Noir?" was my first thought when another familiar wine bottle landed in front of us. "Isn't it a bit young?" was next in my trail of thoughts. Having been harvested less than a year ago, the 2015 Rosenberg Pinot Noir also from Domaine Saint-Remy is about as young and light as they come, but still bursting with fresh, ripe red fruit, a light sweetness and funky notes akin to those of a damp summer forest floor. Tasting the wine and dish in unison, it quickly became clear that these very foresty notes were the cause of the pairing. They intertwined perfectly with the summer truffle while the sweetness and ripe berry notes suited the sweet corn perfectly. A surprising yet very interesting match and a wonderful, young Pinot that is, apparently, an absolute favorite amongst customers.
I sat back, enjoyed the pairing, surroundings and company, and wound up having completely forgotten about any minor flaws by the time the next dish arrived.
Fourth serving: Veal shank from Solkær Enge
"Now, here is our local veal from Solkær Enge," said our waiter, beaming with pride, as he carried the main dish to us. Solkær Enge, to those not in the know, is a local wetland area which plays home to not only a wildlife sanctuary but also to dedicated producers of free range cattle from whom Sdr. Bjert Kro carefully source their veal and beef.
And they source it well, I might add. The piece de resistance of the evening consisted of ridiculously tender and flavorful veal shank that had been carefully braised at low heat to fork tender perfection while still maintaining intensity and flavor. It was thenserved in a reduction of the braising liquid with a sprinkling of cowberries and lemon thyme. On the side, a gorgeous and perfectly burnt carrot.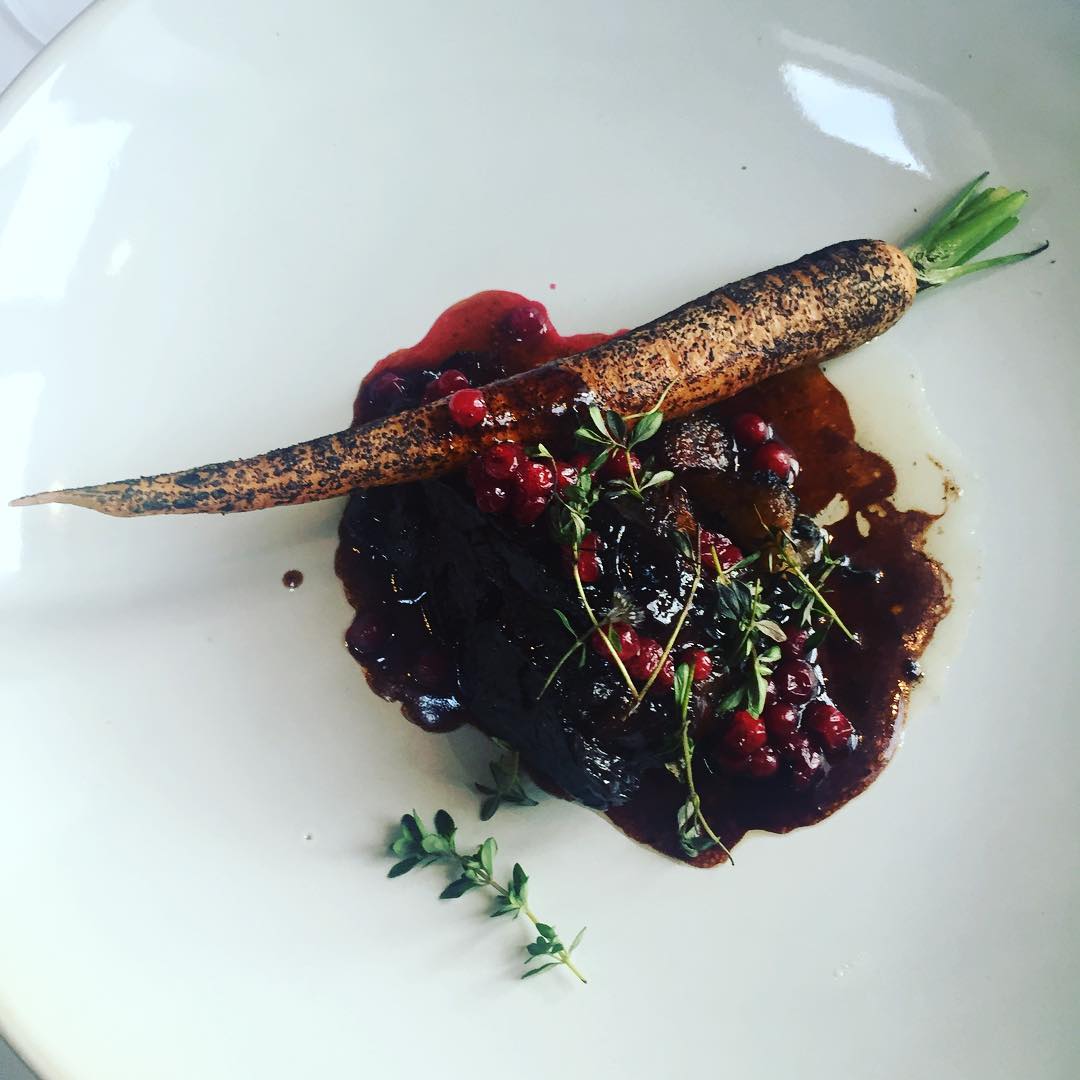 Why burn a carrot? One friend remarked in a comment on Facebook. Elementary, my dear Fraser, because it caramelizes the natural sugars in carrots and creates a sweeter, deeper, much more complex flavor suitable for rustic, intense, powerhouse dishes such as this one. And by suitable, I really mean perfect. Initially confused by the lack of a starchy side dish, we soon found the sweetness and burnt notes of the carrot a perfect match for the intensely flavored sauce – and the meat so flavorful and filling in itself that sides became superfluous.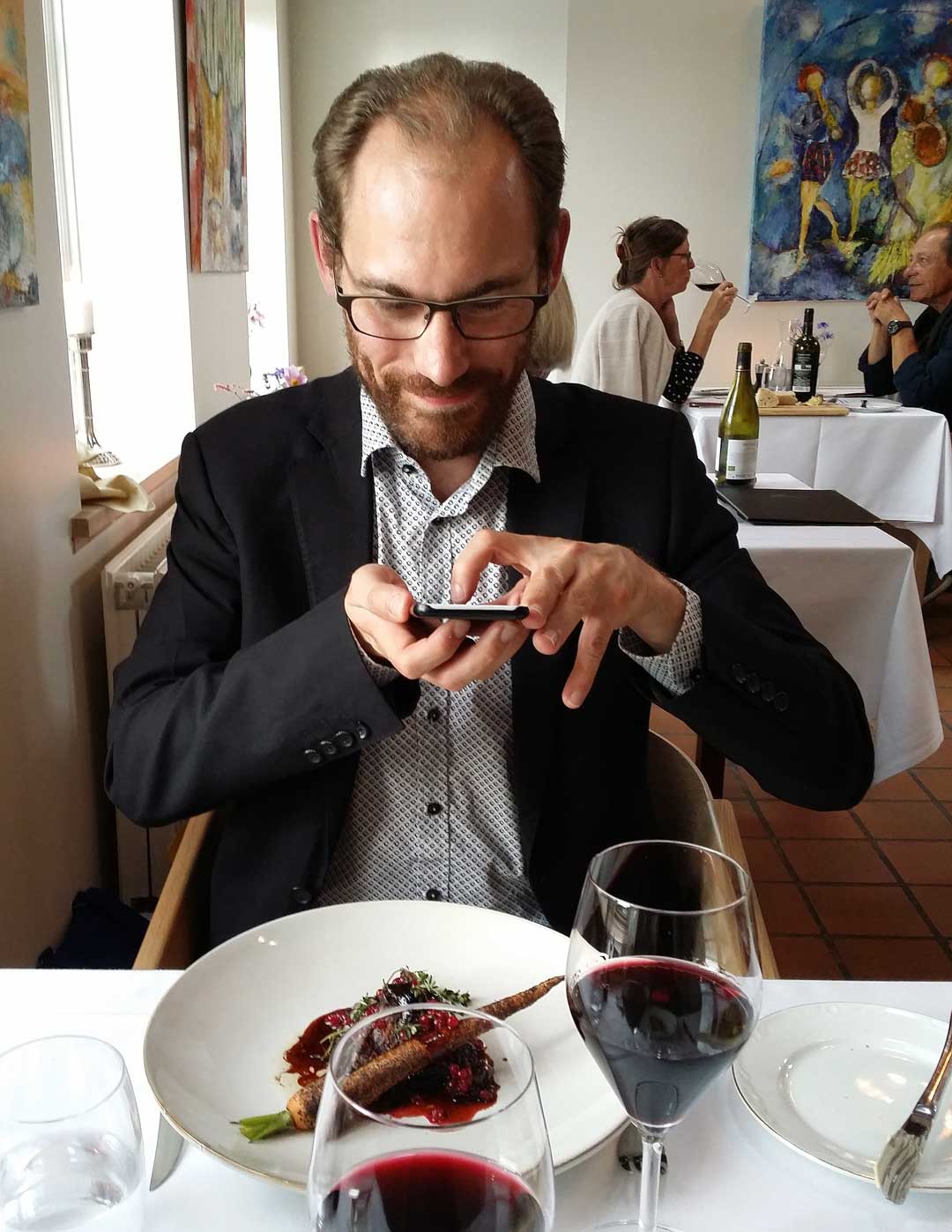 A very happy Johan in his natural environment! Photo credit: Malou, Klidmoster.dk
As a matter of fact, I obsessed so wholeheartedly over the dish that I barely noticed the wine pairing – a 2012 Ribero Del Duero – that I can only assume was a perfect match. Well, I did notice it, but not until after our thoroughly emptied plates had been removed and tragedy struck!
Ode to the waiter: The unsung hero of gourmet dining experiences
Apparently, as we were sitting there talking in a post main course bliss, a fly had decided to commit suicide in one of our glasses. Our waiter, who at this point was busy single-handedly servicing more than a handful of tables, noticed the tiny fly out of the corner of his eye in passing and resolutely removed our glasses, brought us new ones and poured each of us a new, generous glass.
"Listen guys, I'm really sorry about that. How about you just sit back and enjoy a little more wine," he said, "I haven't actually instructed the kitchen to prepare your desserts just yet, I thought we'd just take it nice and slow, let me know if you need anything, ok?"
And that brings us to an oft-overlooked role of any fine dining experience. The role of the waiter who is often confined to a position close to that of a bass player in a rock n roll band: the person who is secretly tying the show together but also the person you don't always notice unless he's off beat or lighting himself on fire. And that's a shame.
I've been served by many competent waiters in my life and I've also seen several ways of keeping track (or not keeping track) of the natural progression of a meal. Some may have been a little too rushed, some a little (alright, a lot) too slow, but seldom have I seen a single person keeping such good and intuitive track of his guests' dining experience as our waiter on this particular evening. He gauged us perfectly and set the perfect progression of the meal – neither too rushed nor too slow – all while being thoughtful, entertaining, full of joy and, quite honestly, having his hands full with the rest of the dining room. And for that, he deserves credit!
Fifth serving: Sugar snap peas and sour berries from the garden
When our waiter – the unsung hero of his trade – again on his own accord and again with perfect timing, decided that we had kicked back long enough, he set the table for what was to be the most anticipated and most dreaded dish of the evening: dessert!
Dreaded, I said? Yes, indeed. I always get equal parts intrigued and nervous whenever I see mention of one of those New Nordic desserts pushing elements from the savory kitchen into the dessert kitchen. Reading a dessert menu stating simply sugar snap peas and sour berries from the garden, this evening was no exception.
Hiding behind the name was a brightly green milk-based ice cream made from sugar snap peas served with a selection of sour berries and a sprinkling of strawberry meringue. A visually appealing piece that sadly failed to strike a note with us.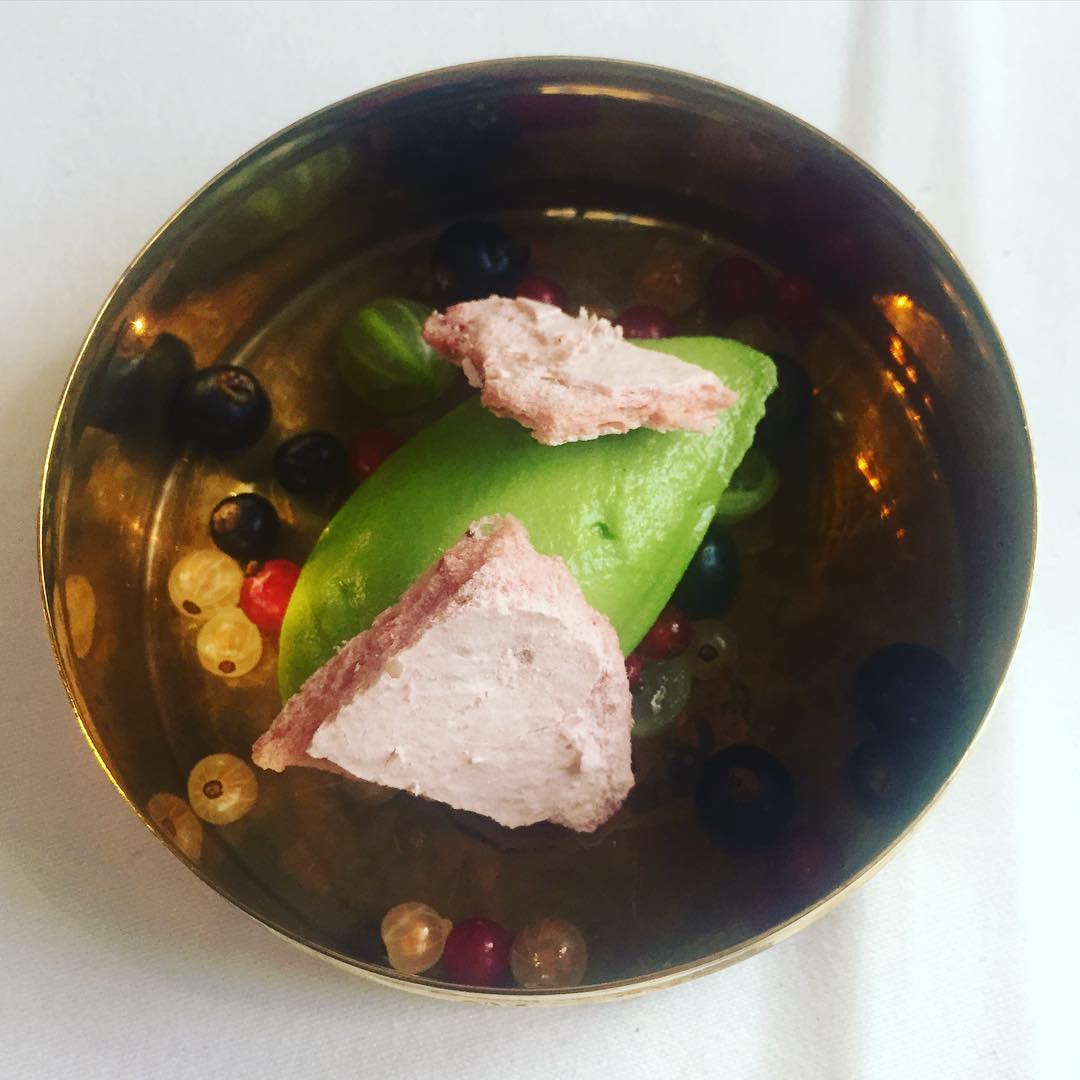 And I wanted to like it, I really did. For its boldness, playfulness and its throwing caution to the wind. But alas, the ice cream while gorgeous in color and absolutely perfect in texture was neither sweet nor savory but offered mainly a green chlorophyll-like flavor while the berries seemed decidedly sour and lacked a sweet ballast. The overall impression, on my palate, was a confusing, sour dish that lacked balance. I would have loved to see a secondary flavor element on the ice cream in the shape of herbs and/or citrus and a bit of sugar, while a little honey or syrup would have probably done the berries well. The sweetness of the (excellent) meringue, in my mind, did little to counteract the sour and grassy elements of the dish… Or maybe I just didn't get it.
"I enjoyed the playful elements of this dish," I said, sipping the 2010 Alsace Pinot Gris Grand Cru wine pairing thoughtfully, "but I'm not sure I get it," I eventually finished – " Sad to end a perfect meal on a note like this," my co-diner who was obviously not a fan of the combination, chimed in… And as if they'd been listening, the kitchen popped up with another piece of culinary magic to whisk our sense of worry and disappointment away.
Sixth serving: Coffee and sweets
Following the interesting, albeit challenging dessert serving, we were offered a choice between coffee and tea. I went with the inn's excellent coffee and Malou, who by no means shares my buzzing caffeine addiction, chose an Earl Grey tea instead.
To accompany our coffee and tea came a much more classic dessert offering in the shape of an æbleskive; a Danish classic that is essentially pancake batter cooked into a solid sphere shape with a light and fluffy interior like that of a popover. However, unlike traditional æbleskiver that are usually served plain with jam and sugar on the side, these sported a hollow interior that had been injected with a molten chocolate filling and were served on a bed of Crème Anglaise (vanilla custard). Simple, sweet, comforting.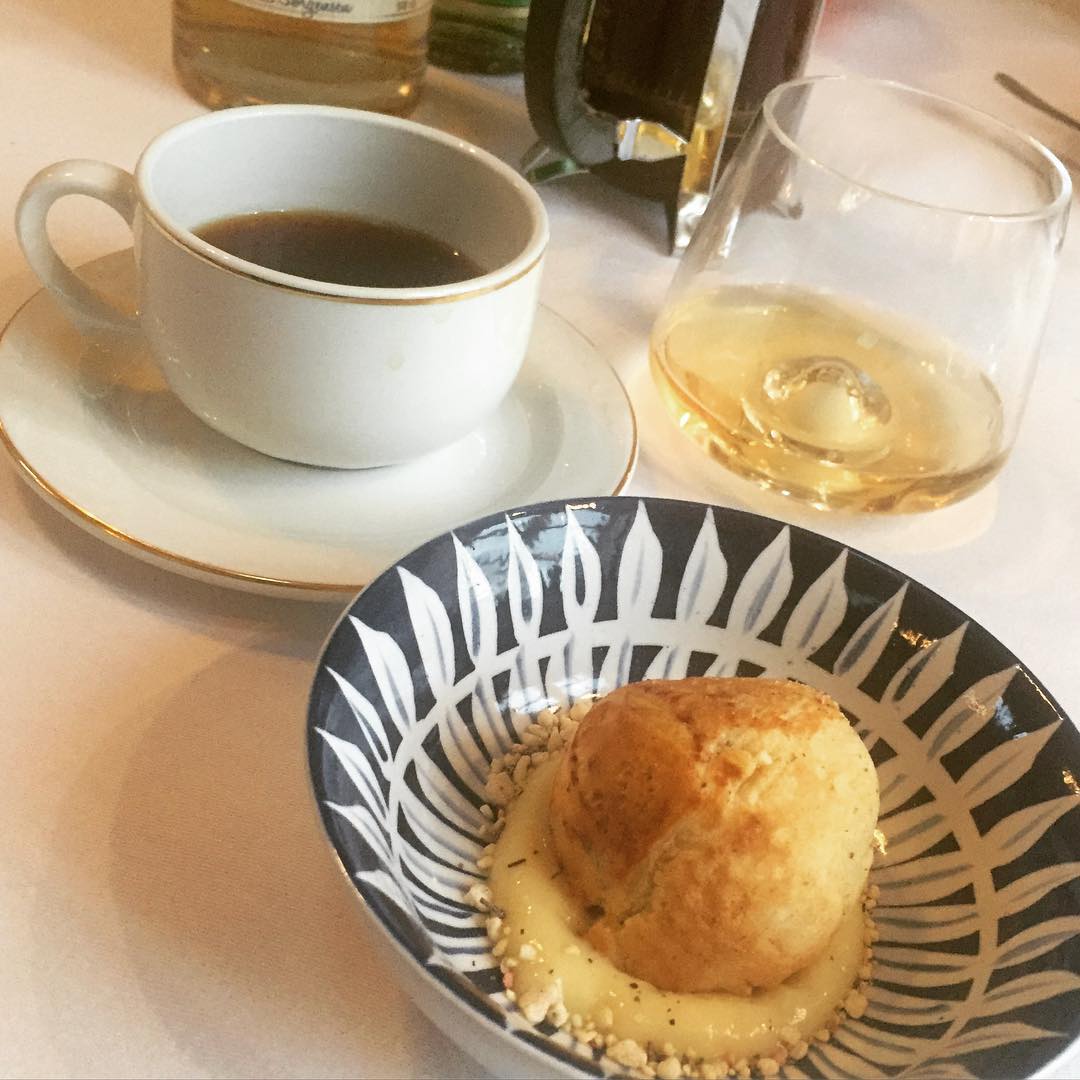 We added a very reasonably priced pour of whisky and bitters from the well-stocked drinks trolley and sat back int the fading evening light to reflect quietly upon a near perfect evening full of great surprises and only very minor letdowns.
Or, well, we reflected long enough for me to look out the window, notice the near dusk gloom and realize that the hour had struck 10 PM (and then some) and that the dining room had been virtually deserted. We had been dining at a perfect pace for five hours, completely immersed in the experience without feeling like time ever moved too fast or too slowly.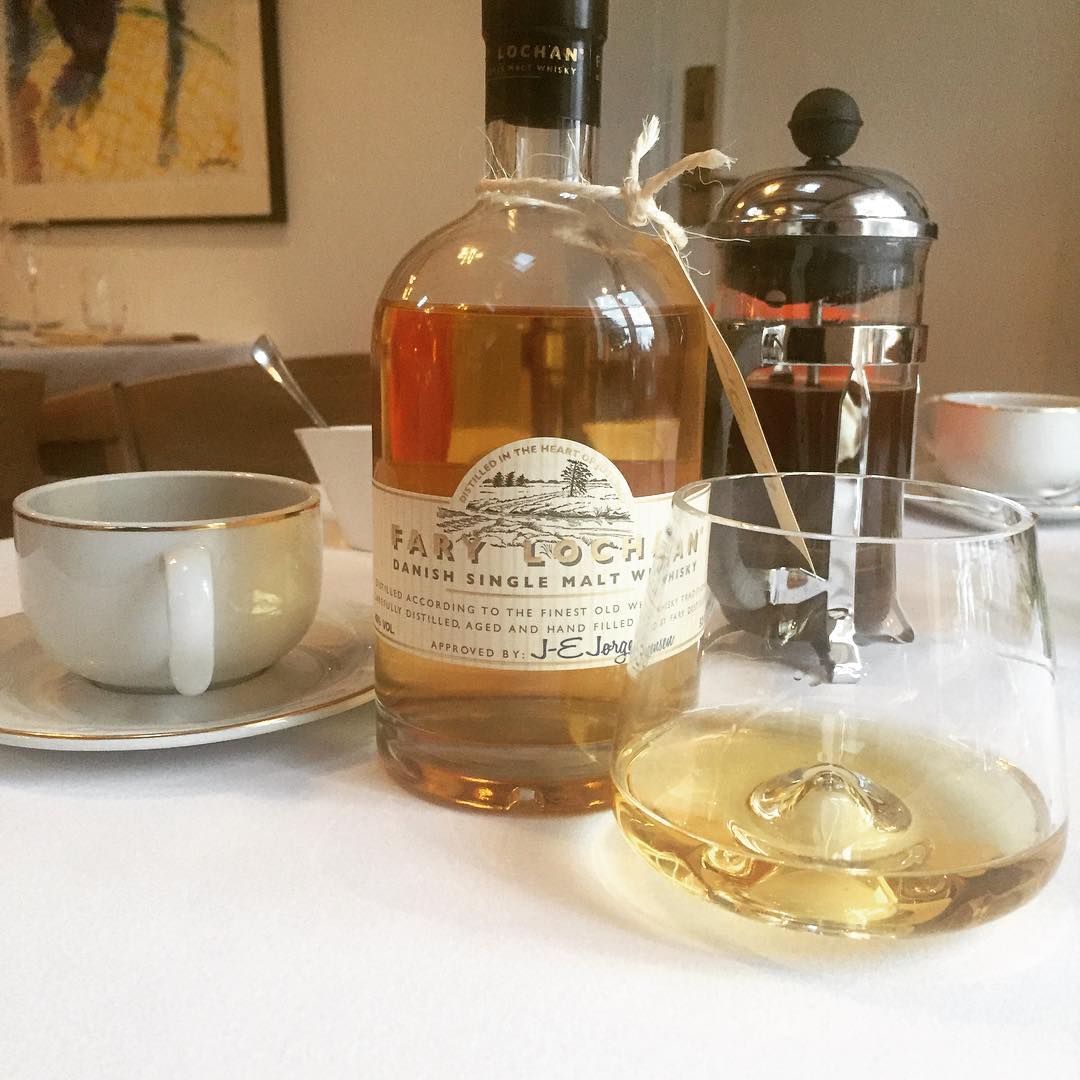 I called upon the waiter and chatting happily despite the late hour, he rang up the bill, answered any questions we might have left and even treated us to a quick tour of the wine cellar on our way out – a perfect treat for the likes of geeks like me.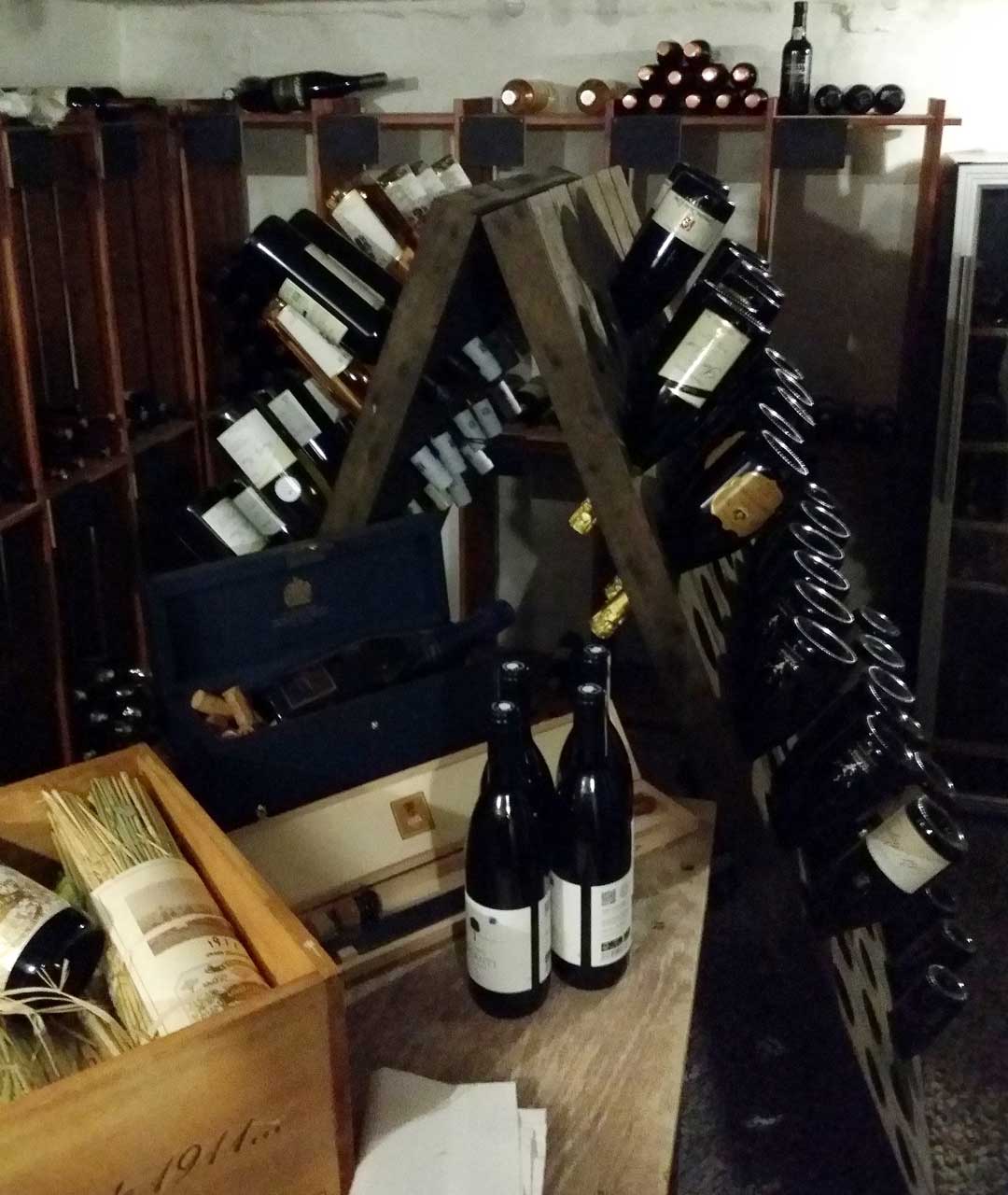 Surprise visit to the wine cellar. Is that a 2002 Cuvée Winston Churchill I spot? You're making me not want to leave! Photo credit: Malou, Klidmoster.dk
We eventually, almost reluctantly, made our goodbyes, promising to return and caught a cab back to downtown Kolding where I played host to a goodnight glass of Champagne and some further reflections upon a largely surprising and overwhelming culinary experience.
Value for money: Why eat at Sdr. Bjert Kro?
Of good reasons to eat at Sdr. Bjert Kro, there are many. First and foremost, the are expertly prepared with attention to detail and a high level of quality throughout the entire process from the sourcing of ingredients to prep, cooking, plating and serving.  They are fresh, simple, beautiful, predominantly local and largely organic. Emphasis is put on chosing quality over organic dogma, but great thought is put into being organic, sustainable and conscious in everything the kitchen does, they promise.
Throughout the full Universe menu experience, we encountered onle a single mistake in preparation and one dish that simply failed to strike our fancy (opinions may differ, that is the beauty of fine dining!). To find food at this level prepared with this level of attention to detail and at such a (relatively) low price is frankly flabbergasting and – I shan't hesitate to use the favorite word of my Southern Danish brethren – extremely great value for money!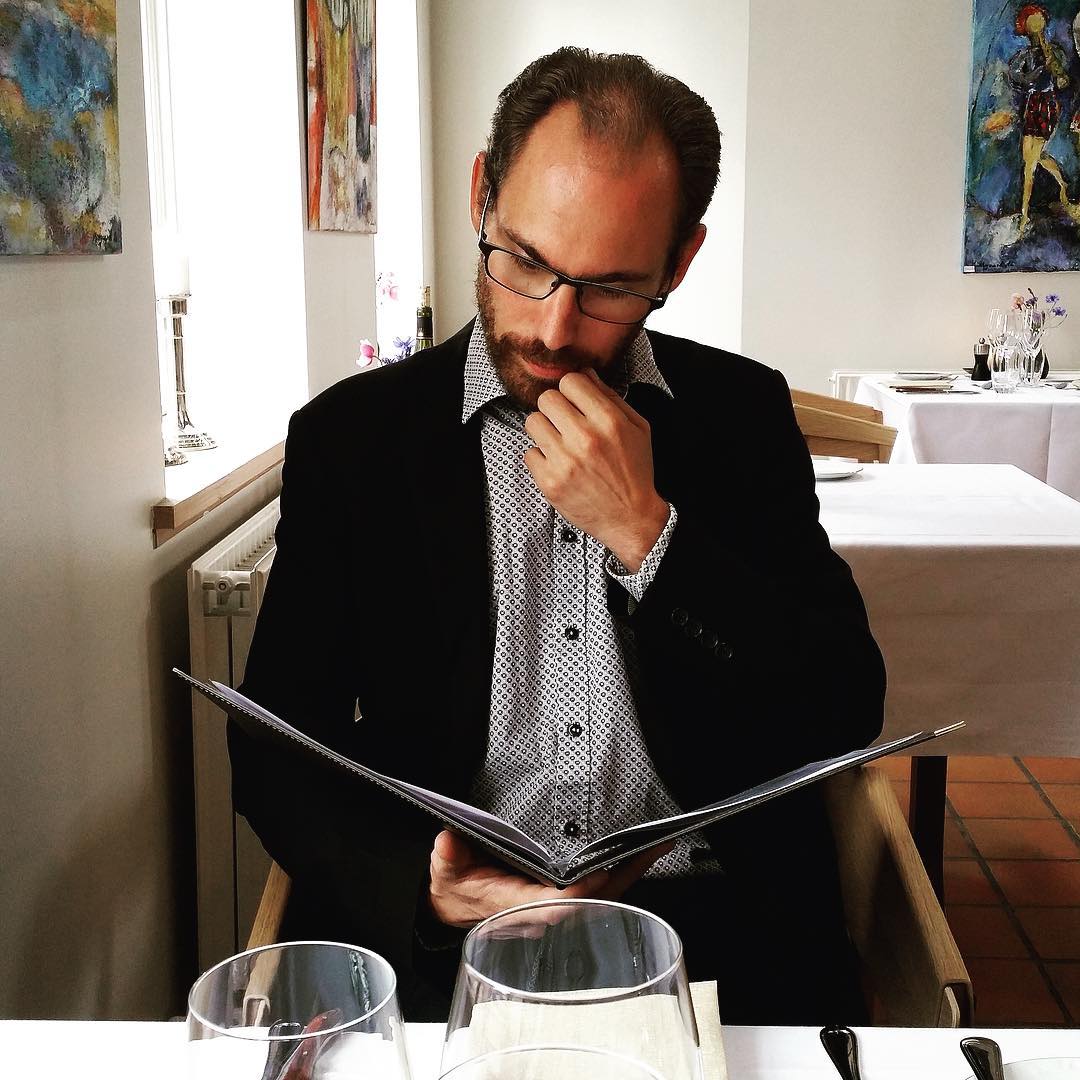 Sdr. Bjert Kro? The Johan approves! Photo credit: Malou, Klidmoster.dk
The Universe Menu at Sdr. Bjert Kro is exciting, challenging, surprising and price-wise a right steal compared to other restaurants at this culinary level throughout the land. That is, mind you, even if you throw in the added cost of a Taxi to and from downtown Kolding (about DKK 175 each way) so that everybody may take advantage of the thoughtful wine pairings.
If I'm honest, I once thought there weren't many (okay, make that any) places near Kolding worth the expense and effort for a gourmet food snob. Horribly ignorant and slightly arrogant, I know, but I'm writing this a corrected and humbled man. With the level of skill and dedication displayed by the boys (and girls, lest we forget!) at Sdr. Bjert Kro and by the network of creative and innovative young chefs, farmers and producer to which they belong, it seems that I may have to eat my words. Or better yet, start eating at more local gems!
Thank you, Rasmus and friends, for getting the ball rolling, we shall be back!