Home » Blog » Restaurant Reviews » Bror Ditlev: The Fine Dining Revolution Kolding Has Been Waiting For
"Smell that? That's turbot! The smell of cod cooking is much more like that of a fish being fucked in the ass by a pig!" the rather perplexing culinary metaphor was delivered over a glass of beer by the strangely charismatic local food wizard Rasmus Vemmelund.
Black truffles… Kolding's new fine dining establishment is off to a pretty good start!
He was talking to my co-diner to be, Emelie, over the backdrop of Pink Floyd's masterpiece "Another Brick in the Wall, Pt. 2" on the night before the much-anticipated opening of his fine dining restaurant, Bror Ditlev… And, incidentally, it was right around this time I was really starting to wonder just what the hell I'd gotten us into…
We were at the opening reception of Volkerts Fylke, a new venue space in the heart of my home town of Kolding, Denmark with room for concerts, events, social dining and even a small fine dining space, Bror Ditlev (literally: Brother Ditlev), named after one of two brothers who built and operated the old factory buildings in which we were gathered. The bar was open, the beer was flowing and in the kitchen, prep had just started for the first evening of service. An intense smell of turbot stock filled the air and Rasmus, in his own unique style, was trying to explain not only the concept they had been working on, but also the subtle differences between fishy aromas.
Bror Ditlev: Local, organic fine dining with a down to earth feel
Bror Ditlev, in a nutshell, is the brain child and a dream of three young local talents: Executive chef Anders Stokholm, Restaurant manager and sommelier Mark Schmidt Dam and co-owner slash culinary master of disaster, Rasmus Vemmelund, who in his own words, serve mainly to keep things grounded, offer a helping hand where needed and ensure the use of a sufficient amount of butter.
An intimate ordeal, Bror Ditlev offers a total of five tables for a maximum of 20 diners per evening and service is run entirely by the three young gentlemen: Mark expertly oversees the restaurant and takes care of service and wine pairings, 22-year-old prodigy chef Anders Stokholm oversees the kitchen while Rasmus, the most seasoned in the bunch, helps on both sides of the door, lending a hand with plating and quality control when needed and helps out with service as well.
Focus is on local, seasonal and organic ingredients but the approach to cooking is more French than Nordic with a distinct focus on intensity of flavor through use of classic culinary techniques and a healthy dose of butter and salt.
Bror Ditlev: A well-hidden gem in an industrial setting
Bror Ditlev lies well-hidden within the old Volkert's Factories, a former industrial complex at the heart of Kolding, and were it not for a strategically placed sign pointing down a crooked alley between massive red brick buildings, you might well miss it. Walk a little closer, though, and lanterns will guide your way through a side door into a foyer made of stone, glass and wood. Here, you will find yet another slightly less non-descript door leading to the inner sanctum: the small but jaw-dropping 80 odd square meter gem of a modern Nordic dining room which on the day of our visit was still giving off the faintest whiff of a new coat of paint.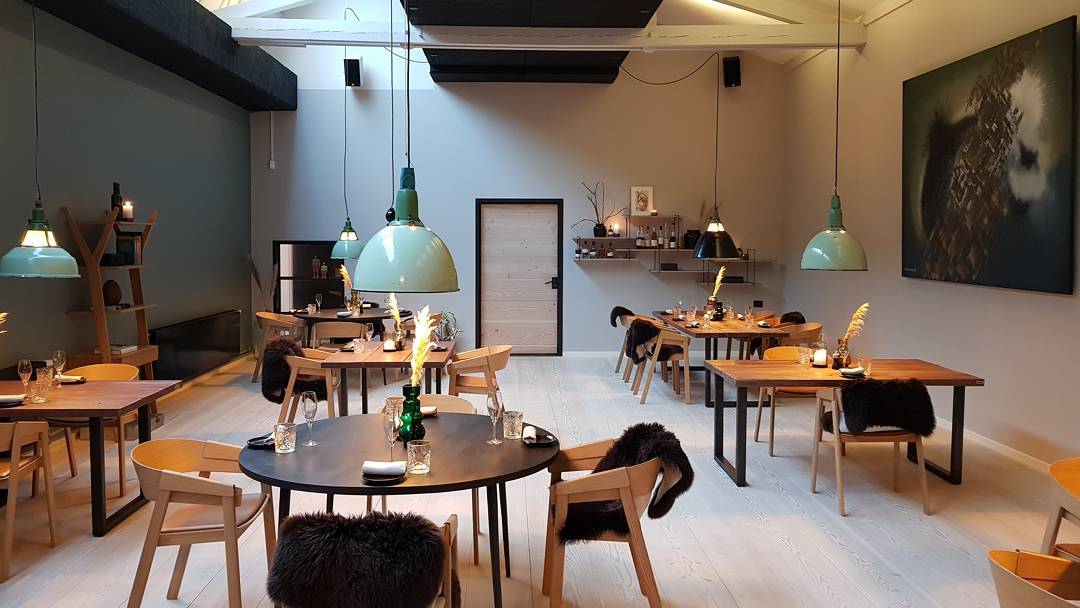 The interior of Bror Ditlev is a study in Nordic design perfection- Photo credit: @brorditlev on Instagram
Here presides Mark, one of the unsung heroes of the restaurant trait who, in spite of his 23 years of age, is a seasoned, professional and accommodating host. The sort of person who will greet you with an aura of calm, friendly professionalism, yet measure you up quickly and not shy away from a snide remark or piercing joke if he deems it fitting for the occasion. In other words, the sort of person I wouldn't mind being served by any day on the week. Behind a small row of windows on the far wall, the unmistakable tall frames of Anders and Rasmus can be seen strolling around the semi-exposed kitchen, keeping track, plating or prepping. Every now and then an attentive head will pop down into view to either scan the room or add detail to one of the dishes that are being plated within view of the lucky diners.
As we arrived at 6:30 on opening night, the pressure was on and Mark was the first to admit it: "We're a little nervous," he whispers truthfully but confidently unmarked as he greets me at the door. "As well you should be," I told him with a reassuring pat on the shoulder as he managed to seat us minutes prior to the arrival of a party of ten(!). Chef Anders Stokholm had another approach to nerves, showing a nearly stoic calm in the kitchen with only the rapid scanning movements of his head giving off a vibe of slight trepidation. Rasmus, the seasoned restaurant rat, is about as cool as they come. "Naw, we've got this!" he assures us (and himself) with a hint of a chuckle as I enquire about his nerves.
The menu at Bror Ditlev: No a'la Carte – Go big or go home!
For what it's worth, choosing from the menu at Bror Ditlev is simple business as your choices are limited. Completely gone are the a'la carte choices and you're faced instead with two simple menu options: The "not quite so bombastic" offering of snacks, four courses and petit fours and "Our Universe", a tour-de-force experience stretching across 13 servings: 3 snacks, bread, six courses and petit fours. Wine and juice pairings are available for both menus, as are Champagne for your snacks and coffee at the end for a small premium.
Adhering to my usual mantra of "go big or go home," we opted for the full universe menu. "Champagne with the snacks?" asked Mark rhetorically, and off we went on what was to be a five-hour dining adventure.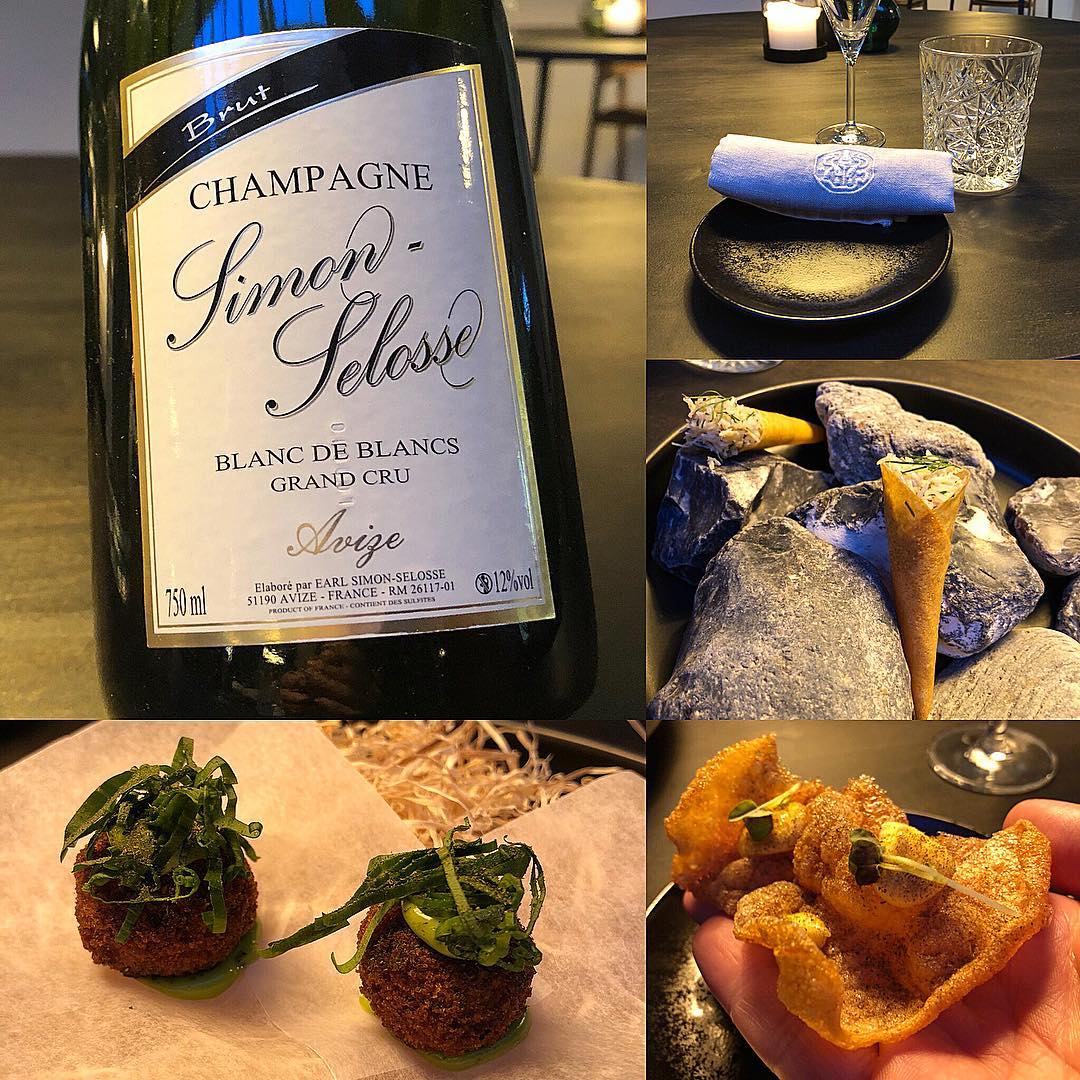 Snacks and Champagne… Off to a good start on night one!
The sensory onslaught of Bror Ditlev started with a trifecta of beautiful snack servings: a crunchy wafer filled with sweet crab meat, creamy olive oil and fragrant dill followed by puffed chicken skin with an intense mushroom mayo and a crispy ball of deep-fried BBQ pork topped with ramson (wild garlic) which, despite the so-called Siberian cold sweeping the country, is apparently in season. All flavors and textures were beautifully matched by a glass of crisp, fruity and lightly oxidized Champagne Blanc de Blancs Grand Cru from Simon Selosse sporting a wonderful blend of fresh and stewed apples, flint, a mere kiss of sweetness and a perfectly balanced underlying acidity.
Next came the chef himself with a small stroke of genius of a bread serving: perfect little disks of single serving naan-style breads, perfectly flaky and airy, brushed with olive oil, sea salt, sesame seeds and dotted with small dollops of purslane emulsion and fresh herbs. A word of gratitude should be expressed here for keeping the servings mercifully small as to keep the eater from overdoing his job and filling up on bread. Something I have been known to do with bread this perfect.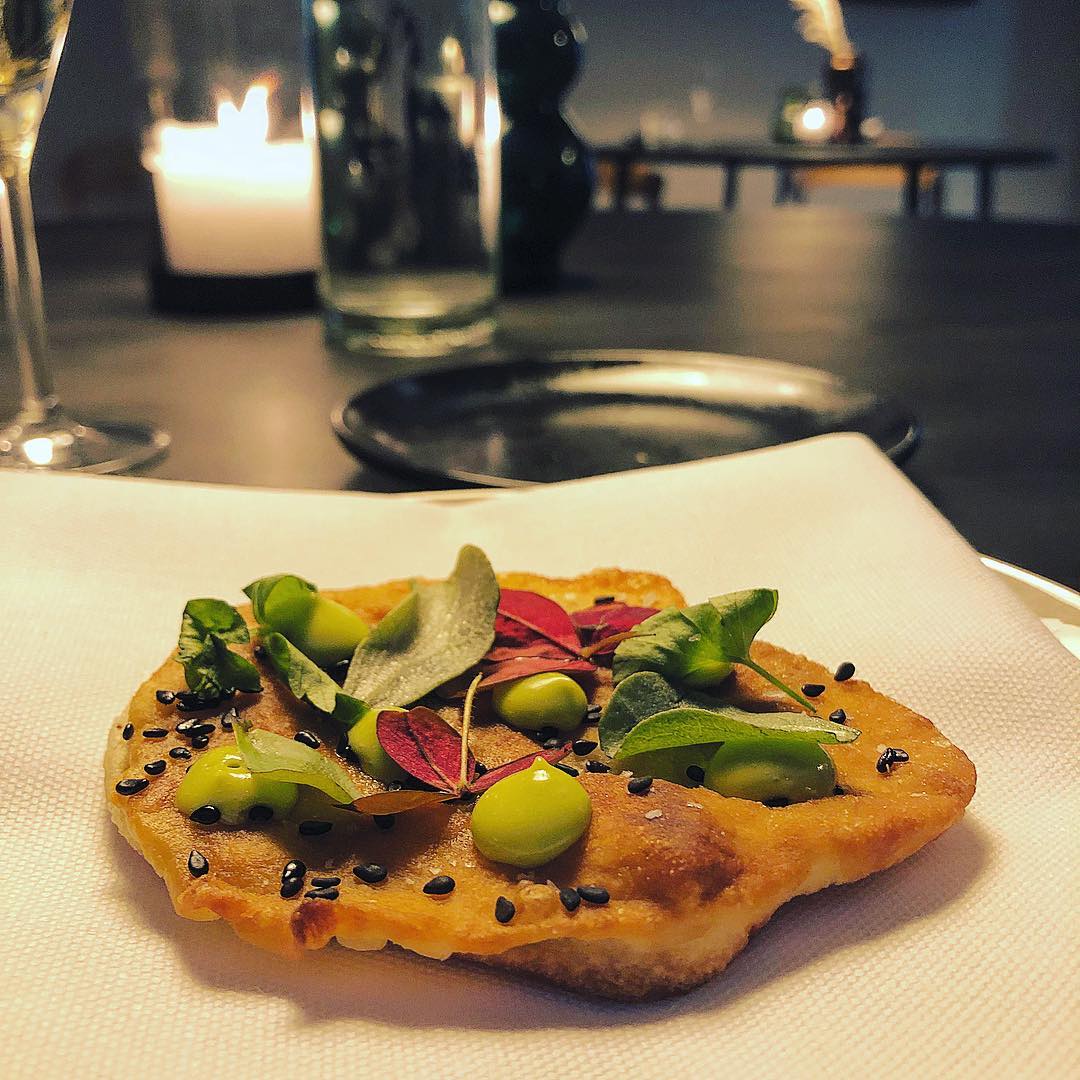 A bread serving? A work of art? Or both?
And then, after a short pause and a few more sips of Champagne, the kitchen kicked into full gear both in terms of flavor and playfulness: Seemingly disproportioned on a couple of large plates arrived one of the most unassuming dishes of the evening: Small pieces of crispy apples marinated in what turned out to be provocatively acidic apple juice. Much to our bemusement and with no particular ceremony or fanfare, these were then dressed tableside by Mr. Vemmelund himself in a luscious, velvety and fragrant sauce made from turbot stock, Champagne, "entirely too much butter" and a salty element provided entirely by a most luxurious mix of lumpfish roe, trout roe and, be still my heart, black gold: local, sustainable sturgeon caviar from nearby Lyksvad fish farm.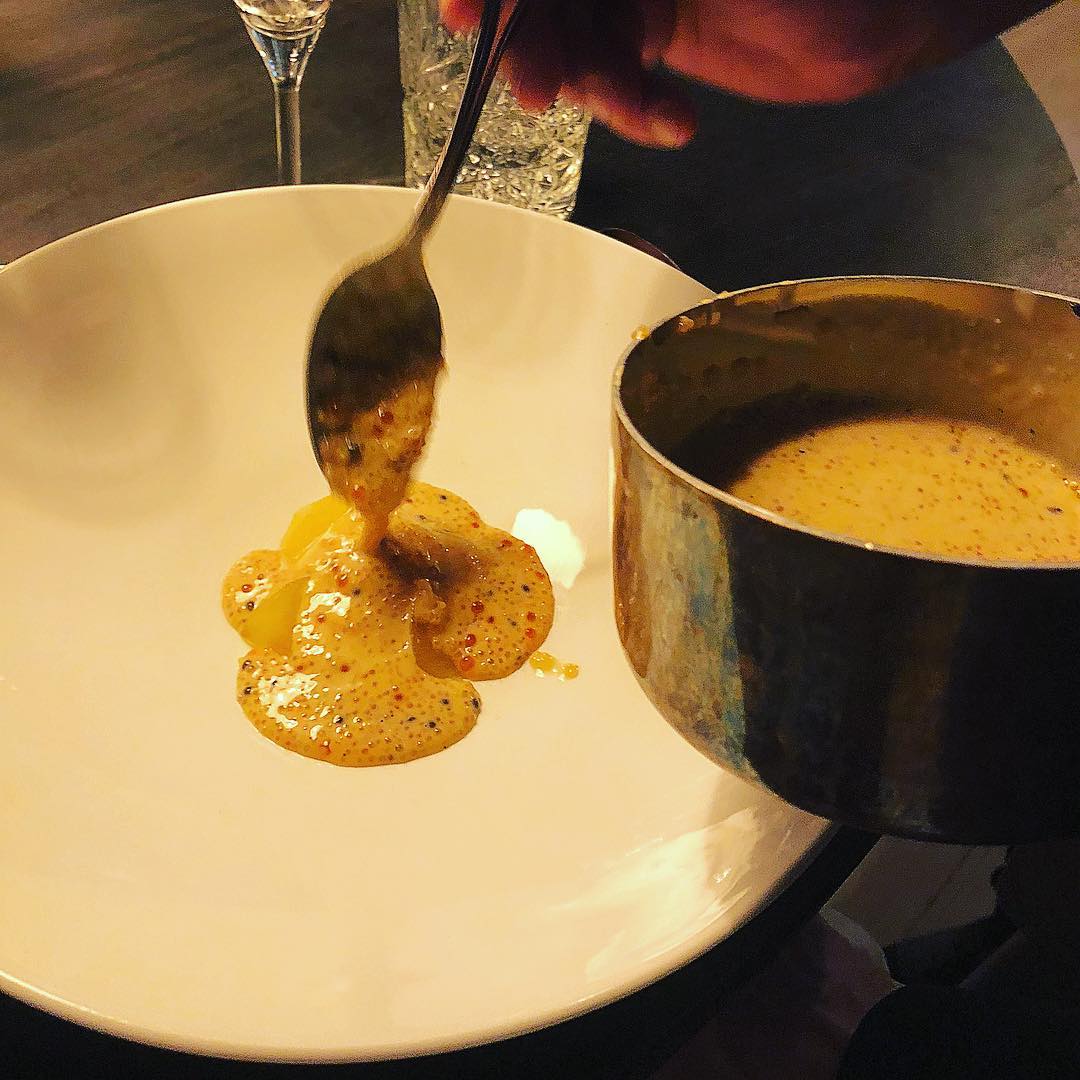 Marinated apples… Oh and turbot, Champagne, caviar and some other stuff…
While maybe not the most photogenic of dishes, believe you me when I say that every bite is an explosion of flavors of ocean, champagne and decadence wrapped in a rich, velvety and intensely buttery mouthfeel that was pierced mercifully and beautifully by the intense acidity of the apples and the bone dry Weisser Burgunder from Rieger served on the side.
Gazing at my co-diner, I smiled as a small tremor ran through her body with every first few bites. I felt exactly the same. One dish into the menu, we were witnesses to a sheer demonstration of force: the kitchen was definitely not afraid to use bold flavors and not afraid to use exquisite, expensive ingredients for the sake of their intensity and power rather than their bling factor.
A Seasonal intermezzo of New Nordic early Spring flavors
And then, just like that, the pace changed again. Where the snacks and the first dish on the menu were full of power and brute force, our next order of business was a study into simplicity and beauty. A medallion of barely cooked cod topped with slivers of cauliflower, almonds and chervil then hit with a sauce made primarily from homemade almond milk and almond oil.
Cod, cauliflower, almonds… In simplicity lies perfection!
Confusing at first, the simple, delicate flavors of the cod were a somewhat stark contrast to the intensity of the dish before it, but an expert complimentary wine pairing of an aged and oaked Chardonnay served to elevate and accentuate the crisp, clean flavors of not only the cod but also the almond topping. With this dish, it became clear that the kitchen mastered not only the power and intensity of the French kitchen, but also the cleaner, subtler flavors of the highly seasonal Nordic kitchen – and that their man on the floor fully mastered the arts of contrasting and complimentary wine pairings as a way of either subduing or elevating the natural flavors of the dishes served. Two facts that was further cemented in the following dish.
Beets and Burgundy
"I don't know about you, but I've about had it with beets for the season," I whispered to my co-diner as we spent a few quiet moments sipping wine and waiting for the next dish on the menu entitled 'beets'. – "But if there's a place and a time to get excited about beets, it's probably here and now…" And then a signature red burgundy goblet landed next to me, instantly sparking in me that sense of excitement.
"I've just had to remind Rasmus that we were serving red burgundy with the beets," said Mark, his air of nervousness completely gone. "he, too, is terribly excited!"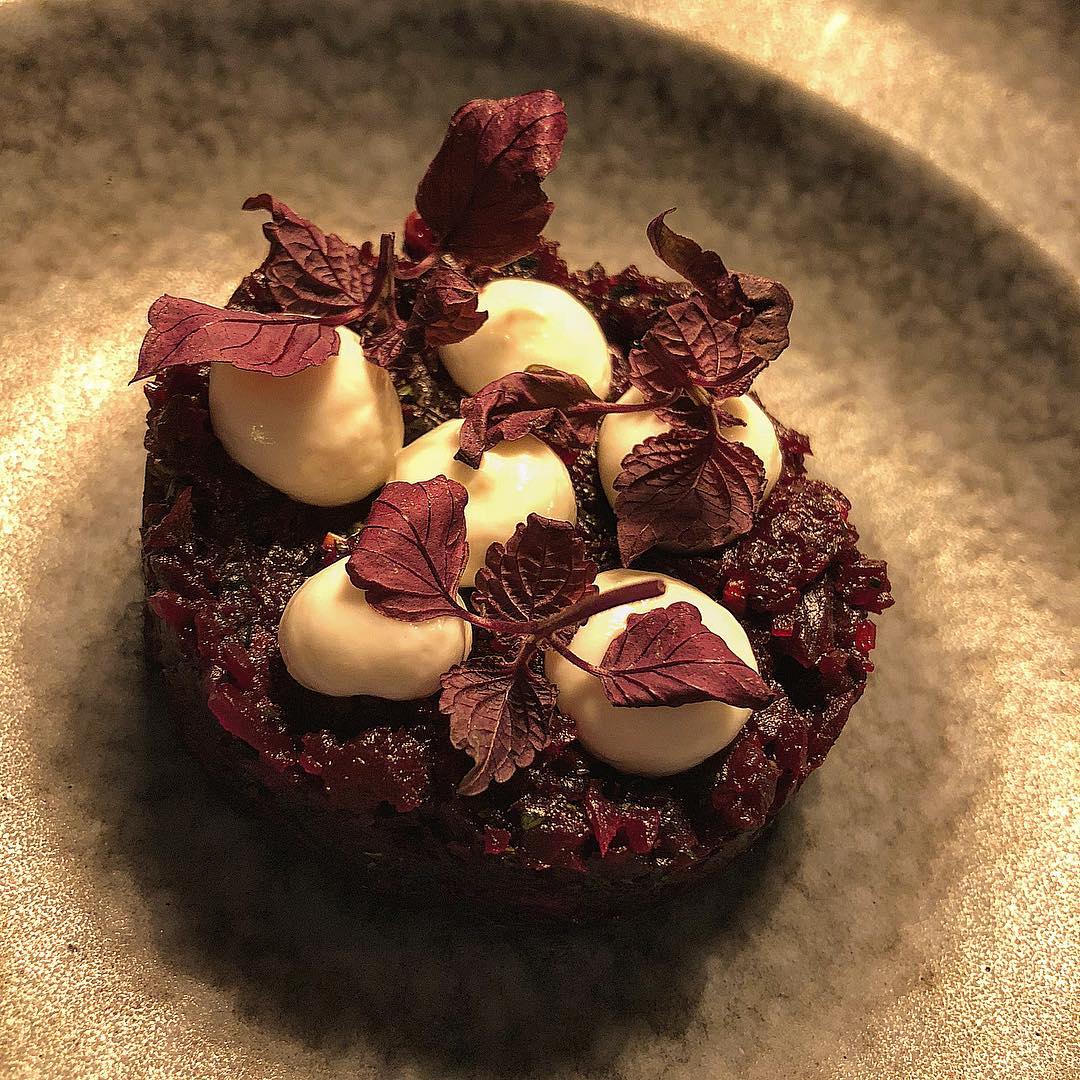 Alright, I guess I'll have one more round of beets this season…
And I could see why. Initially the combination of a young, bright and fruity burgundy paired with a simple yet beautiful concoction of perfectly cooked chopped beets, cress and an intensely fragrant horseradish mayo might seem a little strange…  But there's a certain inherent earthiness and underplayed fruity sweetness in cooked beets that is somehow beautifully mirrored in the underlying "forest floor" notes of light-boned fruity pinots from the rolling hills of Burgundy. As a result, we were treated to a spring-like fruity/floral overall expression somewhere in the realm between savory and sweet, meaty and vegetable-like, subtle and sweet with a perfectly balanced acidity from the wine and a sharp bite from the cress and horseradish to kick things up a bit: A perfect example of a seemingly simple dish that through thought, consideration and a perfect balancing of quality ingredients coupled with an expert wine pairing became much more than the sum of its parts.
A tour de force of truffles
After a few lighter dishes, Bror Ditlev returned to their study of intensity in flavors and aromas. Our main dishes of the evening came in the shape of perfectly cooked breast of guinea fowl, stuffed with an intensely seasoned mince of guinea fowl and sweetbreads served with a side of pickled onion layers expertly wrapped around a purée of truffles and garnished table-side with an intense, rich and sticky brown chicken stock and a very generous shaving of fresh, black truffle.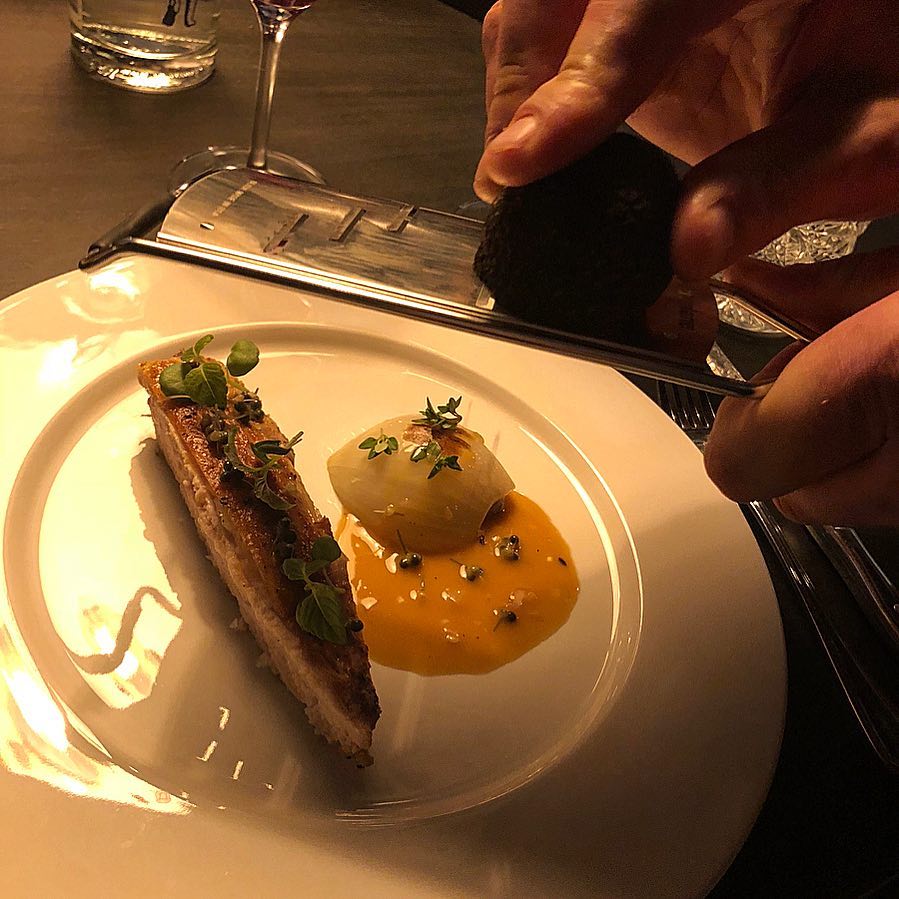 My favorite ritual in the world…
A nearly punch-you-in-the face aromatic dish with bold flavors to match, but also an exercise in control over ingredients and carnal desires: The thing about truffle is, you see, that it's such an intensely pungent and aromatic ingredient that one can quite easily overpower a dish by adding layers and layers of truffle. The real magic in working with truffles, therefore, lies not only in achieving a perfect balance of the amount of truffle used, but also in creating intense, deep complimentary flavors and aromas that can play along with the truffle.
Even with something along the lines of a quarter of a truffle going into each dish, perfuming the air around the entire table with that wonderful, pungent, earthy and primal truffle aroma that is so easy to love and so hard to describe – the predominant flavors were not of truffle. They were of intense, rich poultry, of slow-roasting and caramelization, of chicken skin and creamy sweetbreads… Of all the natural flavors inherent in the dish, intensified and reduced in a cauldron of dedication and hard work, then layered in an air of truffle aromas and beautifully kept in check by the zingy bite of the onion.
As the dish sat there – paired with a 2012 Saint Émilion Grand Cru Classé from Chateau Fonroque sporting a wealth of fresh fruit and prototypical Bordeaux power and a lightly musky, earthy note to match the generous amount of truffle in the dish – it became, by quite a margin, my favorite dish of 2018 so far.
Michelin-star worthy dessert
"How are we doing on fullness," inquired Mark as he walked amongst the tables, starting to own his domain, the dining room… I considered for a moment waving my beautifully woven napkin as a white flag in response, but managed something a little more intelligent about being as full as one should be after such an assault. My response was expertly interpreted and the kitchen further slowed down their pace for the delivery of the last two dishes of the evening: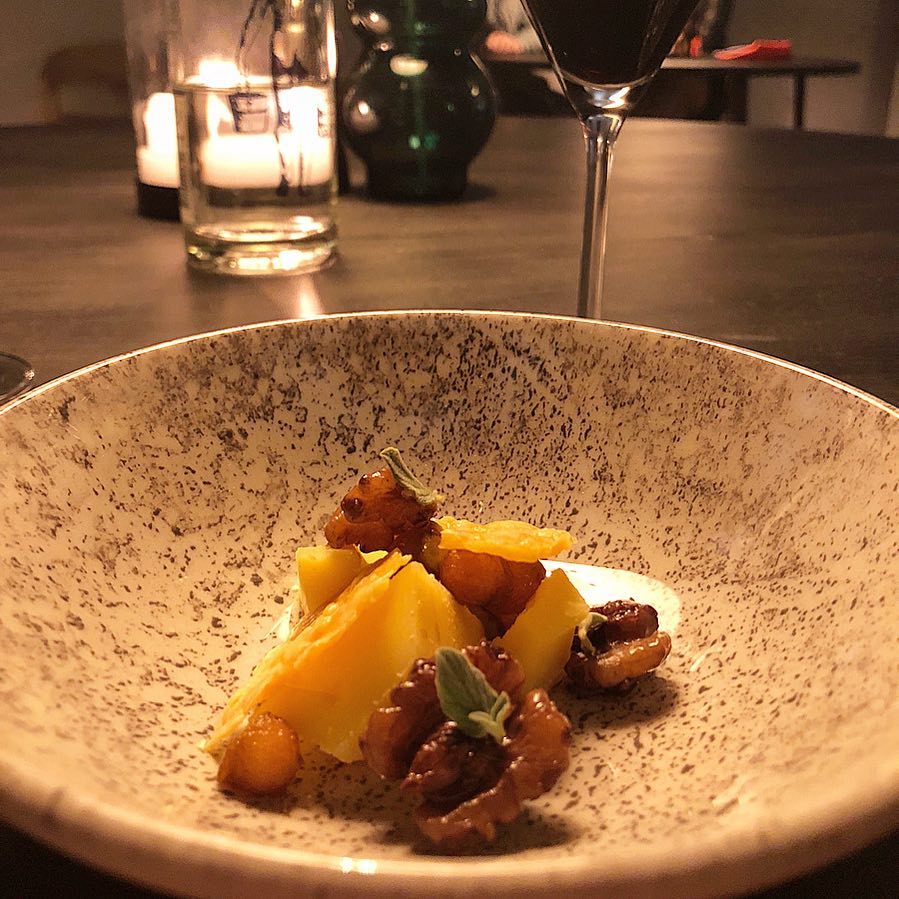 It's not exactly a cheese course as we know it, it's not exactly rocket surgery… In the suble details lie perfection!
First, a hugely gratifying, no-nonsense and somewhat familiar pairing of tempered chunks of well-aged vesterhavsost, a Danish equivalent of Parmesan, coupled with fried cheese, pickled walnuts and pears – all topped off with a few baby sprigs of oregano for entirely unexpected and surprising floral and herbaceous dimensions. It was, essentially, perfect in a familiar yet surprising kind of way, but then this happened…
Your "basic mazarin cake" as it was so humbly introduced to us, meticulously decorated with hazelnuts, crackers and lemon verbena served beside a perfectly textured ice cream made with tonga beans resting on a bed of caramel and hazelnut pralines and topped with a shiny pool of lemon verbena oil. Our dessert was an absolute work of art with flavors to match its beauty.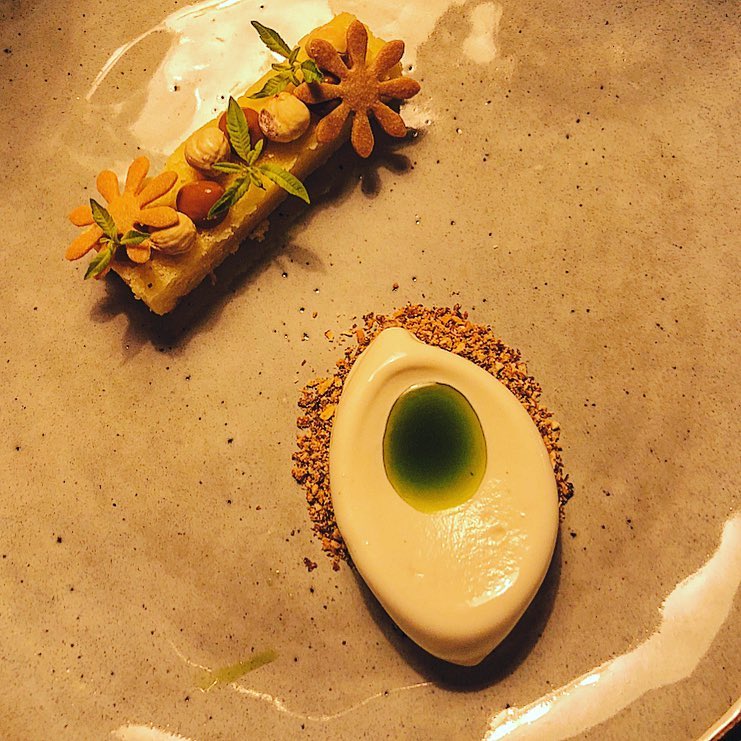 Wow… Just… Wow!
"Just so you know, I'm having a hard time not scoffing this down in about two bites," my beautiful and patient co-diner informed me as I busied myself taking picture upon picture of the plate in front of me. One bite in, I would have to agree… It was the perfect dish: so beautiful you didn't want to eat it, so flavorful and perfect you couldn't help yourself. Nothing more, nothing less. Just sheer dessert perfection the likes of which I have rarely seen, even on my increasingly frequent visits to various Michelin temples around the world.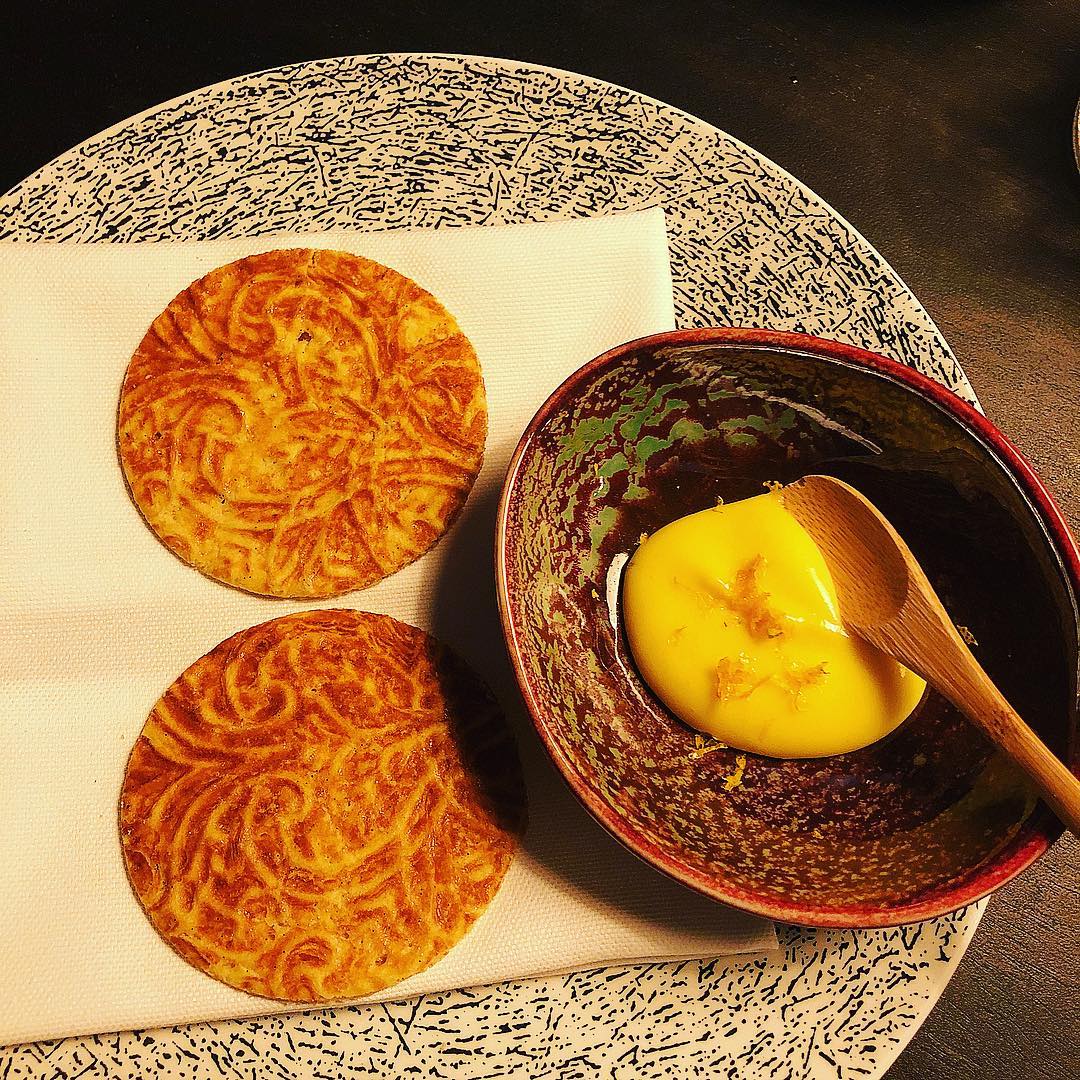 The Southern Dane in me is a very happy camper…
Reeling in our chairs and stuffed with emotions, we rounded off the sensory assault with a couple of lightly roasted cups of coffee from Holy Bean and a cocky spin on a Southern Danish classic that would have had my late grandmother weeping with joy: thin, crispy cookies known as "gode råd" (good advice) that get their peculiar pattern from being cooked stove top in a special waffle iron all served with zingy lemon curd dotted with freshly shaved lemon zest. Followed completely unnecessarily (but much appreciated) by two smaller petit fours: a white chocolate ganache with white sesame seeds and an artisan twist on Ferrero Rocher, gold-dusted chocolate with a creamy hazelnut and cocoa filling.
We had done it. And we were about done for. They treat you well at Bror Ditlev.
From the ashes of an adventure rises the Phoenix of a Dream
As I sat there, full beyond full, I was transported back a few months to one of the more bitter sweet moments of my culinary adventures. You see, that night was not my first night of meeting with Rasmus, Mark and Anders:
It's January 27 and we'd reached the end of the road for another of Rasmus Vemmelund's adventures; the dream of running an old highway inn on the outskirts of town. A project known as Sdr. Bjert Kro. (original review here) The project flunked, not out of lack of heart or talent on behalf of the crew but out of lack of visitors and we're now enjoying the last night of service. I'd gathered a few foodies for the occasion and we're going down in style. Mark, not even fully done with his formal training at this stage, is running the floor, and he is on fire – as is Rasmus who is overseeing the kitchen and general alcohol consumption amongst guests and crew alike.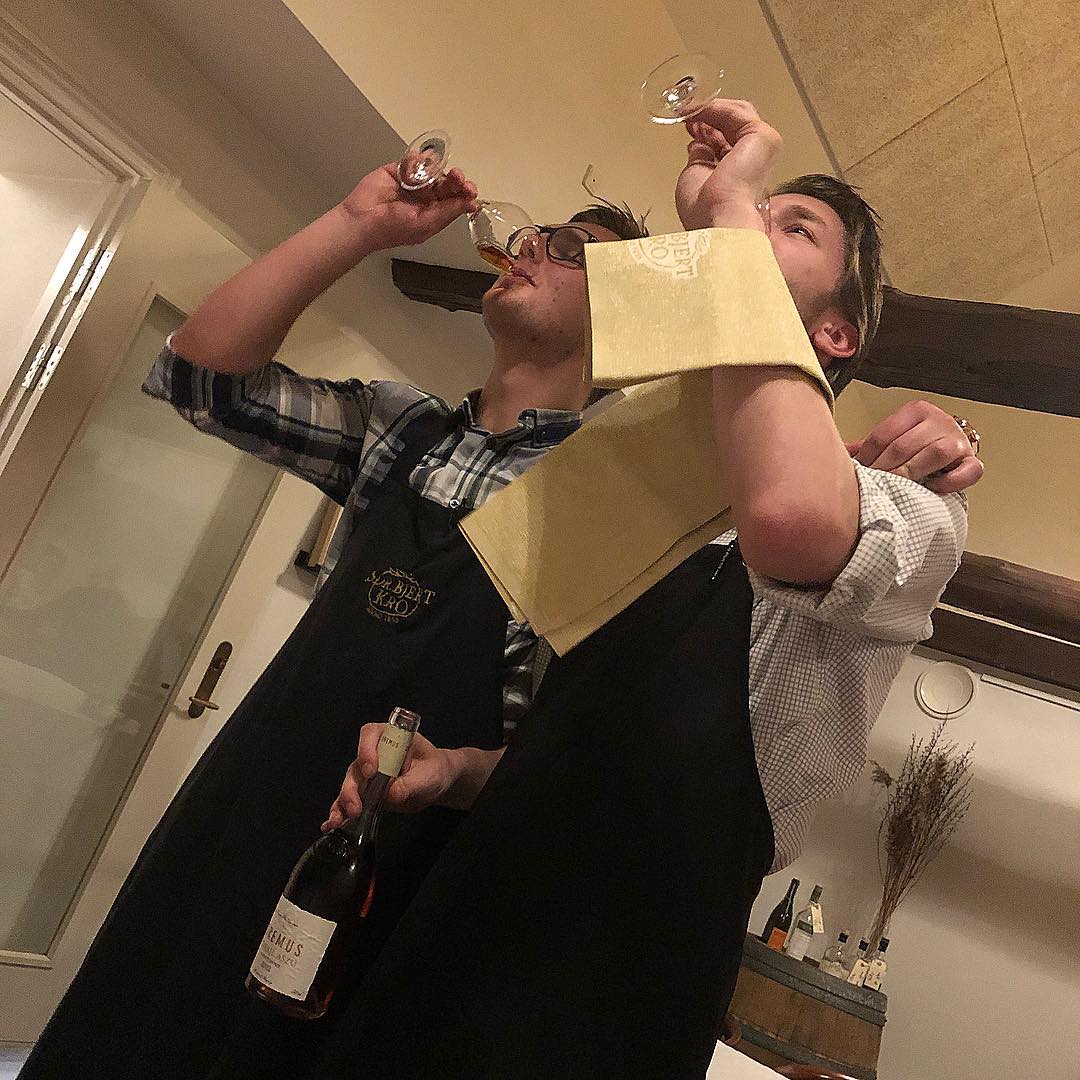 Mark (right) and Anders, two of my very favorite dorks at the last night of service at Sdr. Bjert Kro!
Everything was in a state of controlled chaos, some of the best bottles in the cellar was opened for the occasion, we laughed as Mark put himself in charge of quality control of everything from 2006 Cristal to 1984 vintage port, but deep down we're all a little sad. Sad that this dream, this team that was only just coming together would not be allowed to live. But such are the realities of the culinary world today. You can't live off a few dedicated diners alone, if the locals don't show up, the adventure ends regardless of your best intentions. Many would be devastated but Rasmus and crew soldiered on. On the ashes of their adventure, they spawned a dream: Volkerts Fylke: A new space, located not outside of town but in the middle of town. A space for live concerts, parties, events, social dining, and perhaps – the rumors started flying – even a space for fine dining.
As we drew closer to opening day, a new follower suddenly appeared on my Instagram profile: @brorditlev and a week or two later, the news broke: As part of this new common space, Kolding would get its first fine dining restaurant, spearheaded by Rasmus, Mark and Anders – the latter of which had been headhunted for the occasion.
Their mission? To start over, build a new dream upon the ashes of Sdr. Bjert Kro and put Kolding on the gastronomic map of Denmark. And now, a few weeks and a hasty, well-timed booking later, here we were, ready to inspect their hard work.
Have they succeeded? For now, the short and simple answer is: yes! Bror Ditlev is the fine dining alternative that Kolding has been needing, but it's something else first! It's a small, intimate playpen of three incredibly young, incredibly hard-working talents for whom fresh, local, seasonal produce are equally as important and meaningful as expensive imported truffles. And herein lies one of the major strengths of their approach to fine dining. The understanding that a beet, given the right treatment, is as valuable as a black truffle.
From a fine dining perspective, it's surprisingly easy to base a menu around loading caviar upon lobsters and garnishing everything with foie gras, truffles and edible gold, essentially creating a DKK 3,000 (€400) meal. Few chefs do that really well, for others the result ends up looking sadly nonchalant and cocky as they wonder when their Michelin stars are coming?
It is eternally more difficult to take such luxury elements and let them play second fiddle to other flavors, textures and appearances, forcing the diner to truly appreciate the taste that lend the ingredients its price, not the value or the concept of the ingredient as such. At Bror Ditlev, you will find all the luxury ingredients needed to create a fine dining experience: champagne, caviar, turbot, truffles and all, but in moderation and used with thought and purpose. You might also find a delicate tartar of local beet on the menu, placed somewhere between a caviar and a truffle serving yet given entirely the same level of attention and respect, including a thoughtful, organic wine pairing. And this, in the mind of this reviewer, is where the use of luxury ingredients in fine dining goes from drearily nonchalant to absolutely meaningful.
Alright, granted, you will find a fair and natural amount of nonchalance and cockiness at play at Bror Ditlev, especially when it comes to service and deliberately underplayed presentations of dishes. We're talking young men in their twenties, after all, but it's a well-measured cockiness deeply rooted in incredible skill, service-mindedness, attention to detail and a profound respect for the ingredients.
For those of us lucky enough to have experienced the strange and fascinating adventure that was Sdr. Bjert Kro, Bror Ditlev will be a lot like coming home after some time abroad to find that our estranged teenage brother has grown and matured in strange, wonderful ways while still maintaining some of his adolescent playfulness. For those not so lucky, the adventure starts here with the dream of three young men to leave their mark on modern fine dining.
Whichever group you belong to, I feel strangely confident, however that you will feel at home with Mark, Anders and Rasmus at Bror Ditlev and that you will leave feeling you got your money's worth. And then some:
Our evening grand total, including Champagne, snacks, six courses, six glasses of wine, two bottles of water and a couple of cups of coffee, amounted to DKK 1,500 (€200) per person. Not an inexpensive meal by any stretch of the imagination but still well within the mid-price tier of Danish fine dining alternatives.
For our investment, we were treated to an all-night bombardment of expressions in terms of aromas, flavors and composition. We sampled several of the most expensive ingredients money can buy, experienced the intensity of flavors that only classic cooking techniques, time and patience will produce, and we relished in thoughtful wine pairings and expert service.
Of mistakes there were truthfully few: one snack seemed a little dry in the core and the caviar dish proved a little difficult to eat in a civilized manner – a triviality that was corrected at the very next serving of the dish after our opening our mouths. Of minor issues in timing there were also a few, all of which could, and fairly should, be written off to the fact that we visited on opening night along with a party of eight and one of ten(!) and that the crew of three were still getting their bearings.
Give them a few days to get settled and the world will join me in saying that they're going to get far! They're young, dedicated and hungry – and they've got their entire professional lives ahead of them! Their names will be heard on the grand stages in the future, but now is the time to visit them where it all starts and enjoy an alternative, intimate and memorable fine dining experience and incredible value for money.
Epilogue: Tomorrow I'll write…
As I finish my trail of thoughts, the dining room has nearly emptied behind us and the kitchen has quietly and effectively shut down. I excuse myself briefly and slip quietly into the kitchen, partially to check up on the crew, partially to steal a hug from Rasmus' beautiful chef girlfriend Karen who I noticed has returned from her shift at nearby Restaurant Haraldskær to show her support… Possibly steal a beer, too, while I'm at it!
As I enter, it's clear that any remaining feelings of nervousness and dread has left.  Several open bottles from the evening's wine menu has made it into the kitchen and they're celebrating. Rightfully so. I get my hug and my beer and relay the short version of my 3000 words above to the team who listen attentively and happily. As I do, I can't help but feel an immense sense of pride and happiness myself. Well done, friends.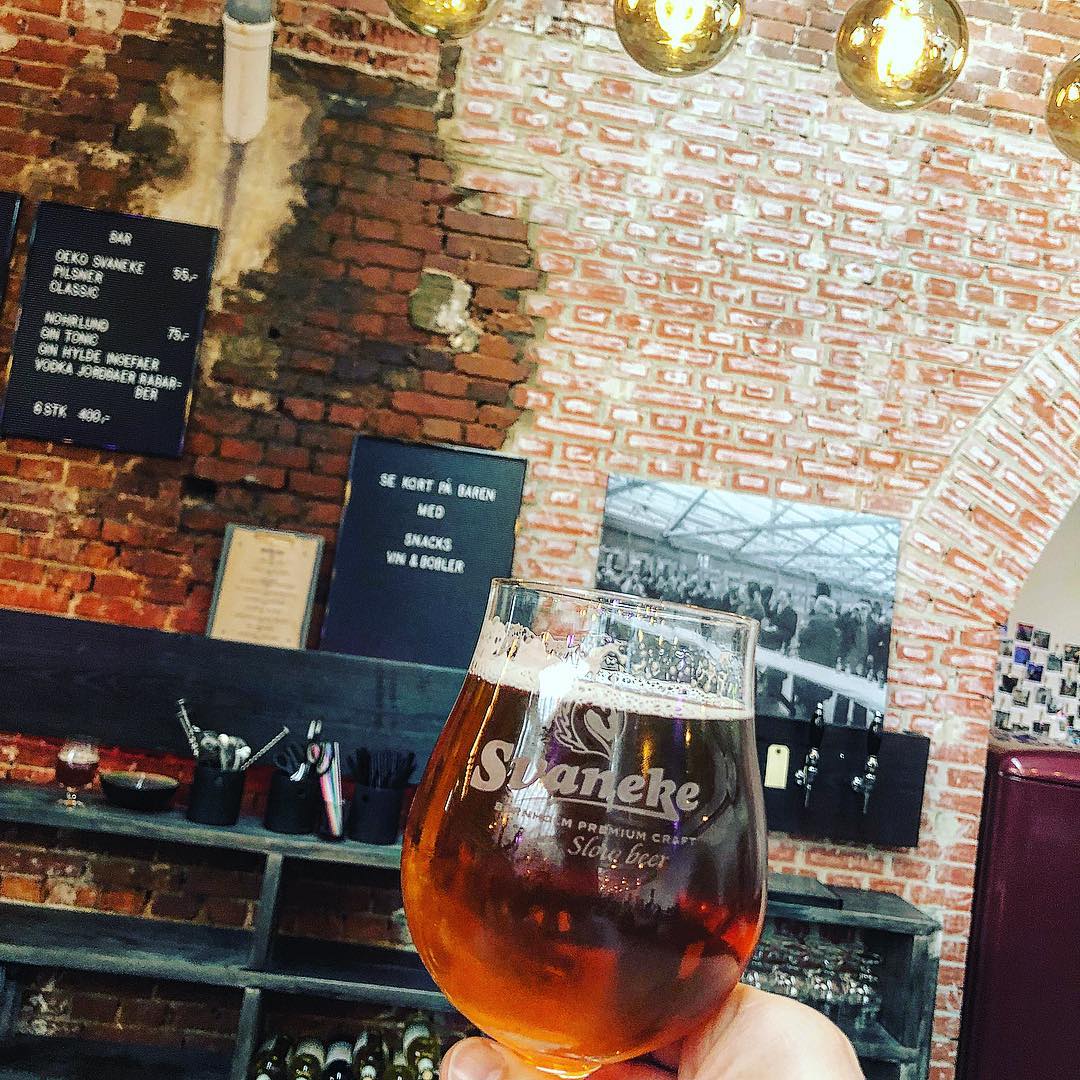 Raising a pint of organic beer to a job well done… Awesome guys, keep up the good work!
In a spur of the moment ordeal, I'm invited to join them for drinks out on the town, but I think better of it. Binge drinking with chefs and restaurant workers is a competitive sport and I'm already reeling. I'm full like I've only ever felt once before and the seven or so generous glasses from the wine menu are starting to take effect.
Instead, I play the part of the responsible gentleman in his late 30's. I pay the bill, say my goodbyes, walk my date home safely, hug her goodnight and turn homewards. For a minute I pause, intending to turn around and go join the boys at the nearby pub. I think better of it and head home instead. I kick open the door, pour myself a glass from an open bottle of Riesling and plop down on the couch with a notebook, intending to jot down a few notes from the evening.
Instead, I fall asleep almost immediately in an uncomfortable position and start to dream vividly. I dream of things that were. Of things to come. Of Caviar, truffles, zesty Champagnes, earthy Saint Emilion Grand Cru Classés and of sauces that smell nothing like a pig fucking a fish up the ass. I wake up a few hours later, back aching from the less than optimum sleeping conditions, stomach still full, the raspy beginnings of a hangover bubbling in the back of my throat. I smile to myself happily and go to bed… Tomorrow I'll write!