Home » Blog » Restaurant Reviews » Aarhus Central Food Market: A Foodie's Paradise in Downtown Aarhus
In the weekend of October 1st and 2nd 2016, a staggering 10,000 people (and then some!) dropped by Sankt Knud's Torv on Aarhus' main shopping street for the long-awaited grand opening of Aarhus Central Food Market.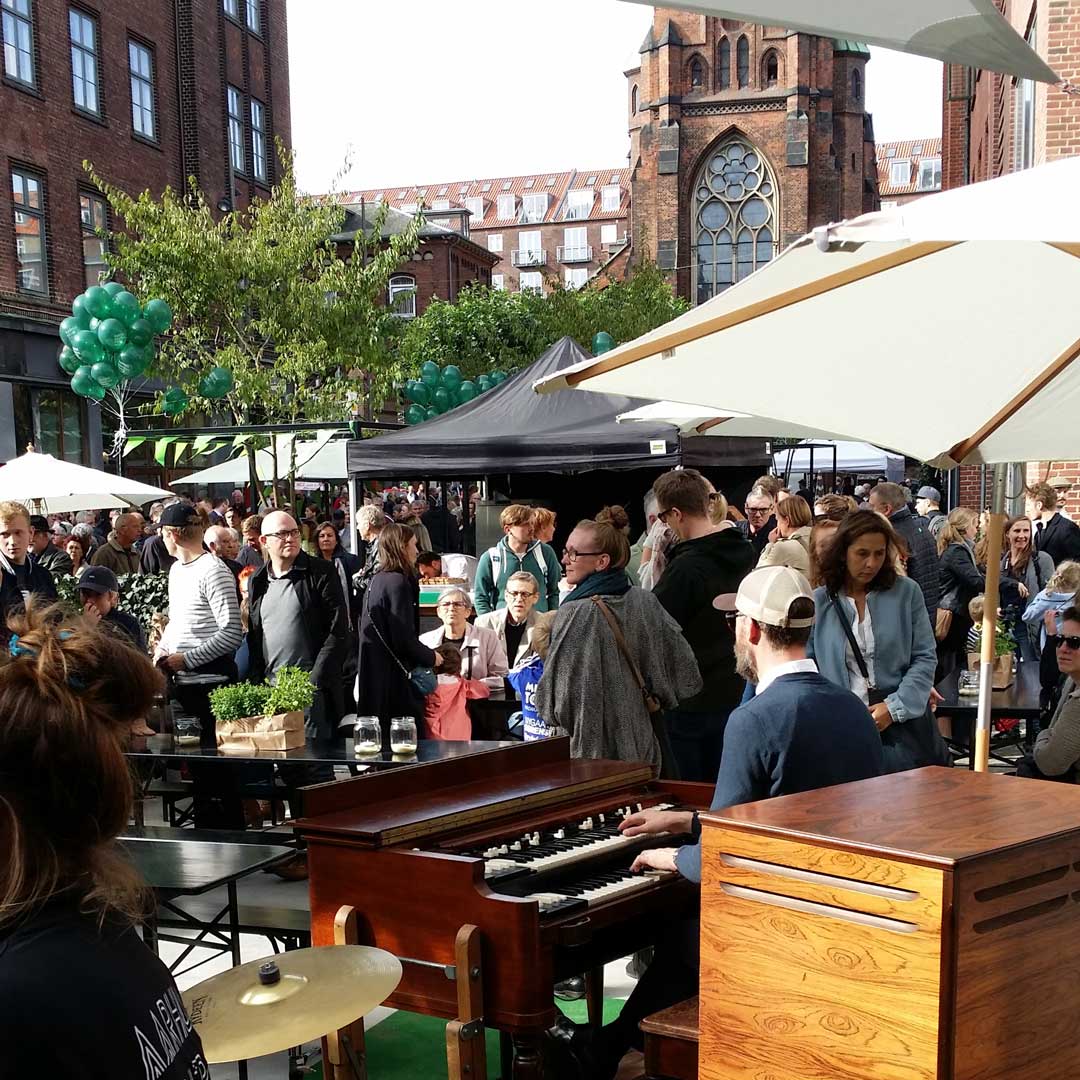 10,000 strong! Thousands of people wait in line for the opening of Aarhus Central Food Market. Photo credit: Malou, klidmoster.dk
For months, blogs and social media had been buzzing with news and rumors about Aarhus' upcoming culinary institution and hopes and expectations were visibly high amongst the thousands that gathered on the square in the hour or so leading up to the opening.
As the crowd congregated and carpenters, electricians and project managers scrambled frantically to complete every remaining task in time for the grand opening, I joined a select crowd of bloggers and journalists for a pre-opening food walk of the hallowed halls that house the city's new food market.
The beautiful people! Bubbles at the Foodie Bar to mark the opening of Aarhus' newest food market
The food walk took place exactly one hour prior to the official opening and offered a unique taste of things to come in a city that is quickly becoming my home away from home. It also offered a unique chance to talk to the restaurateurs, shop owners and project managers who had poured their heart and souls into creating a Food Market in the center of Aarhus.
A central one-stop mekka for food lovers
Before we go any further, let's start with the question on everybody's lips in the days prior to the official opening: Just what is Aarhus Central Food Market? Is it a market as the name suggests? Or is it more of a food court or street food market? Well, long story short: it's all of the above… And then some!
Aarhus Central Food Market is, quite simply, a one-stop resource for food lovers, conveniently located in the heart of the city. It's a place where you can grab an affordable bite (or two) to eat along a beer, a glass of wine or a cocktail to wash it down if your heart so desires. But, more importantly, it's also a place where you can go to grab quality food products to bring home to cook and consume in the comfort of your own home. It's even the sort of place where you can also buy the utensils to prepare or cook said food products. Perhaps uniquely, it's also a social institution with a large communal dining area, plenty of seating, lots of bar space and a large stage capable of hosting everything from cooking demonstrations to concerts and performances.
It's an ambitious package of twenty very different and specialized tenants crammed into relatively close quarters of some 700 m2 of combined shopping, dining and recreational space. It's a unique and beautiful package, too, for two very specific reasons that quickly became evident from talking to organizers and tenants during our press tour.
Reason the first: Each and every tenant was hand-picked from a short list by the organizers of Aarhus Central Food Market – based not on simple monetary calculation, but on the quality of their products and on how well they'd fit into the concept on a whole. You'll find no franchises, chain restaurants or soulless, processed junk food here. You'll find proper restaurateurs, cooking everything from scratch and honest shop owners selling quality niche products of superior quality.
Reason the second: Each and every tenant is in on the project with his (or her) heart, soul and unlimited dedication. Walking around Aarhus Central Food Market in the calm before the storm, one feeling was shared by every tenant or restaurateur, we talked to: Excitement! Each has his or her own dreams of what the place could be and a very established idea about how to personally contribute to making Aarhus Central Food Market a great stop for foodies.
In a way, Aarhus Central Food Market looks and feels a lot like the iconic Torvehallerne food market in Copenhagen: It's just as bright, modern and stylish – but it's also smaller, more laid back, more tightly controlled and with a more profound general focus on quality and diversity. Where Torvehallerne sometimes feels like a hap-hazardly thrown together coalition of shops and restaurants, Aarhus' new food market seems a much more carefully crafted and controlled organism composed of vastly different but complimentary tenants working in a strange kind of symbiosis.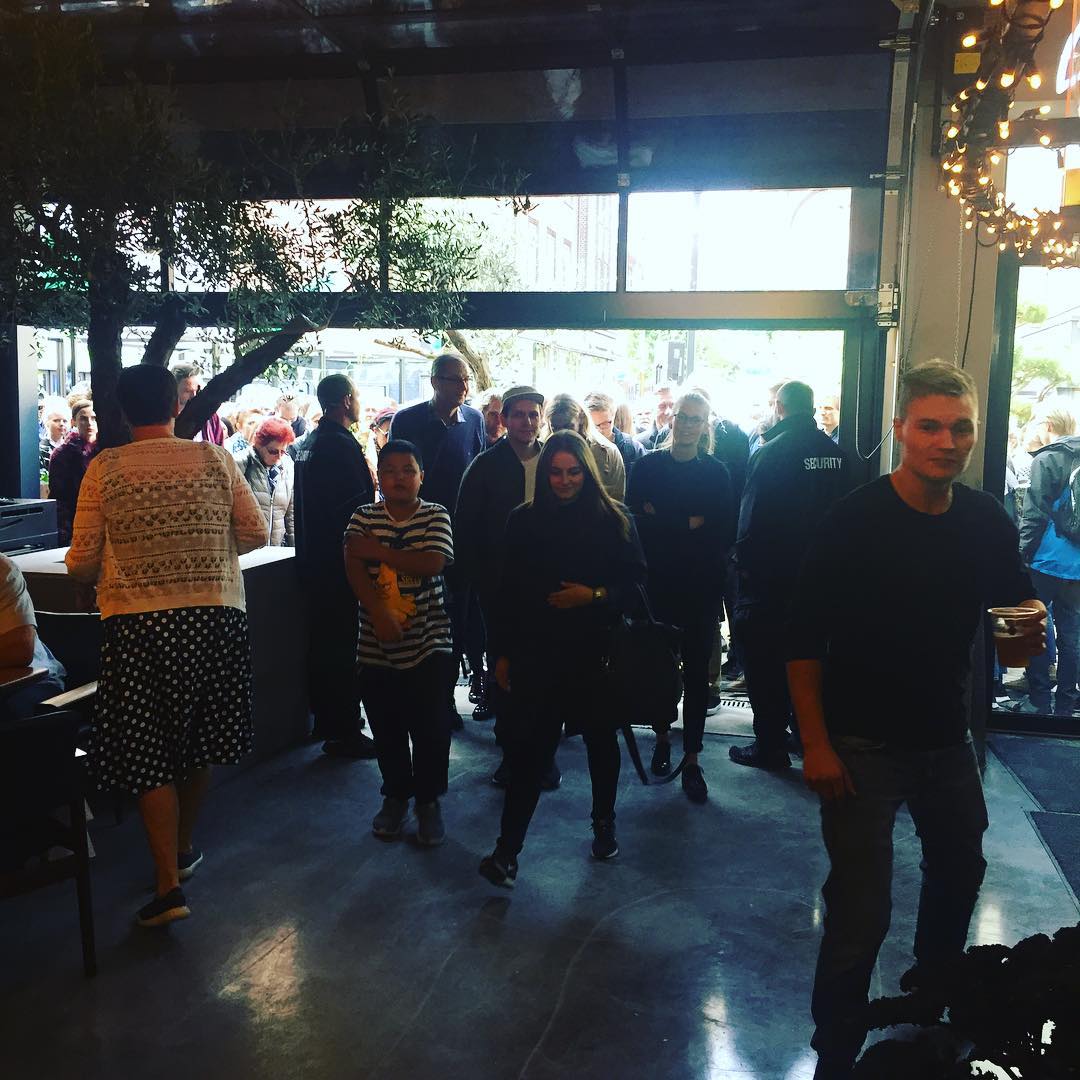 Doors open! The first of 10,000 visitors to make it inside for Aarhus Central Food Market's grand opening
From Dung, a young Vietnamese entrepreneur who dreams of making authentic 70's style Banh Mi sandwiches using his mother's recipes, over star chef and TV personality Jesper Koch who left an incredibly successful family venture to try something new – an Asian fusion street kitchen stall known as Bangkoch… All he way to Jesper's brother, Michael, who has set up a shop a few stalls down with authentically Italian Pomodoro, and dreams of a new and better world in which hip, young Danes come to market on food crawls: an upscale culinary version of the infamous pub crawl in which numerous cuisines are sampled over the course of one afternoon or evening.
In their own way, each and every person we talked to had an intensity about them and a desire to deliver the best they possibly could, not only when it came to their own product, but also when it came to shaping Aarhus Central Food Market as a whole. Hours upon hours could have been spent listening to dreams and ideas, but we had but one and decided to make the best of it and take in as much as we possibly could.
Recommendations: Five things to eat at Aarhus Central Food Market
If you are looking for great eats at Aarhus Central Food Market, the options are too numerous to go into details. From a New Nordic spin on porridge at Grød and traditional Danish open faced sandwiches at Kählers Take-Away to gluten-free raw food at Ren&Stærk by way of Asian street kitchens, vegetarian options, gourmet tapas and sushi, Aarhus Central Food Market's food court has just about every culinary desire covered – at very reasonable prices.
Here, in no particular order, are a few personal favorites from the exhaustive food offerings:
First things first: Have a drink at the Foodie Bar
Walking in from the bustling square outside, the first obstacle you'll hit is the Foodie Bar. Crafted after a Spanish role model, the large, circular bar features a selection of beers, premium spirits (mainly Gin by Danish gin darlings Njord) and a wide array of bubbles ranging from Cava over Prosecco to Champagne.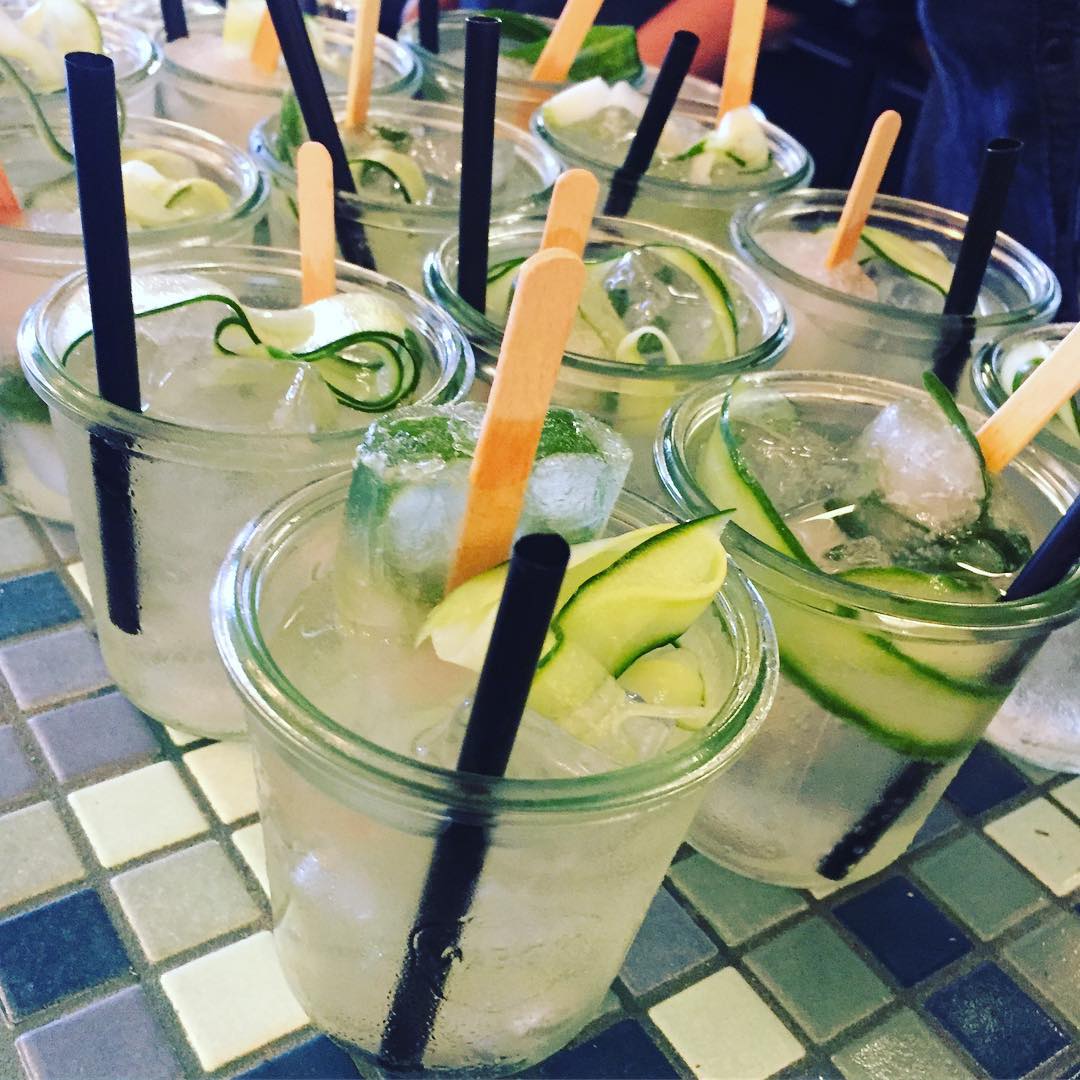 Gin & Tonic with G&T popsicles at the Foodie Bar
Do yourself a favor, grab a glass of house Cava or one of the expertly made Gin & Tonics and take a minute to acclimatize and get ready: either seated at the bar or one of the nearby tables, or simply grab your glass and go for a stroll. They put the bar at the entrance for a reason, it's the perfect way to wind down and prepare yourself for what lies ahead.
Hot ducks and modern tapas at l'Cobert de CANblau
Bearing left at the Foodie Bar will take you to the main food court area and almost straight to l'Cobert de CANblau, the little brother of CANblau, an Aarhus tapas institution. l'Cobert de CANblau was one of the surprising and most hyped names in the days leading up to the opening and their snack offering on opening day did not disappoint.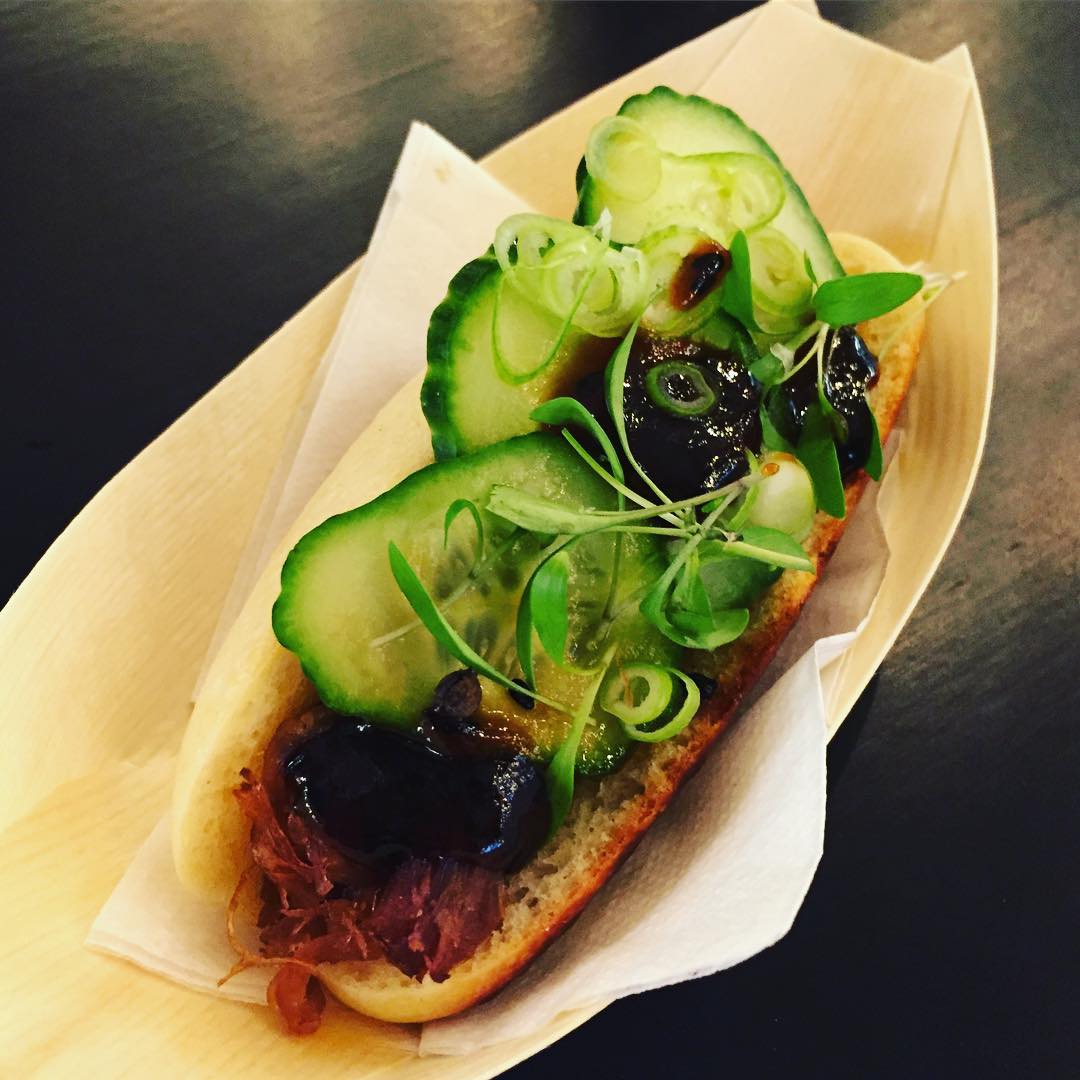 Hot Duck! Hot, spicy, filling and gorgeous!
This, ladies and gentlemen, is the hot duck: a hotdog bun stuffed with confit duck, slathered in a hoisin/sesame sauce and topped with citrus pickled cucumbers, cilantro shoots and spring onions: an explosion of deep, dark and spicy European-Asian fusion flavors served by a Spanish-inspired tapas kitchen in a uniquely familiar hotdog-like wrapping.
Like many offerings at the food court, it may well be fast food, but at the same time it's adventurous and exciting quality food full of flavor and attitude.
Nutty Asian-fusion street food at Bangkoch
If citrus pickles and confit hot ducks aren't crazy enough for you, head down to the opposite end of the food court and visit star chef Jesper Koch's newest venture, the aptly named "Bangkoch."
In his spin on a Thai street kitchen, Jesper combines traditional South-East Asian elements with classic Danish and New Nordic elements. One example were his tongue in cheek Koch's Balls: An Asian-inspired meatball with a soy and ginger broth served over spicy slaw topped with deep-fried pork crackling and pea shoots. A part Danish, part Asian flavor bomb and a perfect combination of spicy, sweet, salty and sour with an umami punch to boot and an interesting combination of textures ranging from soft to chewy and crunchy.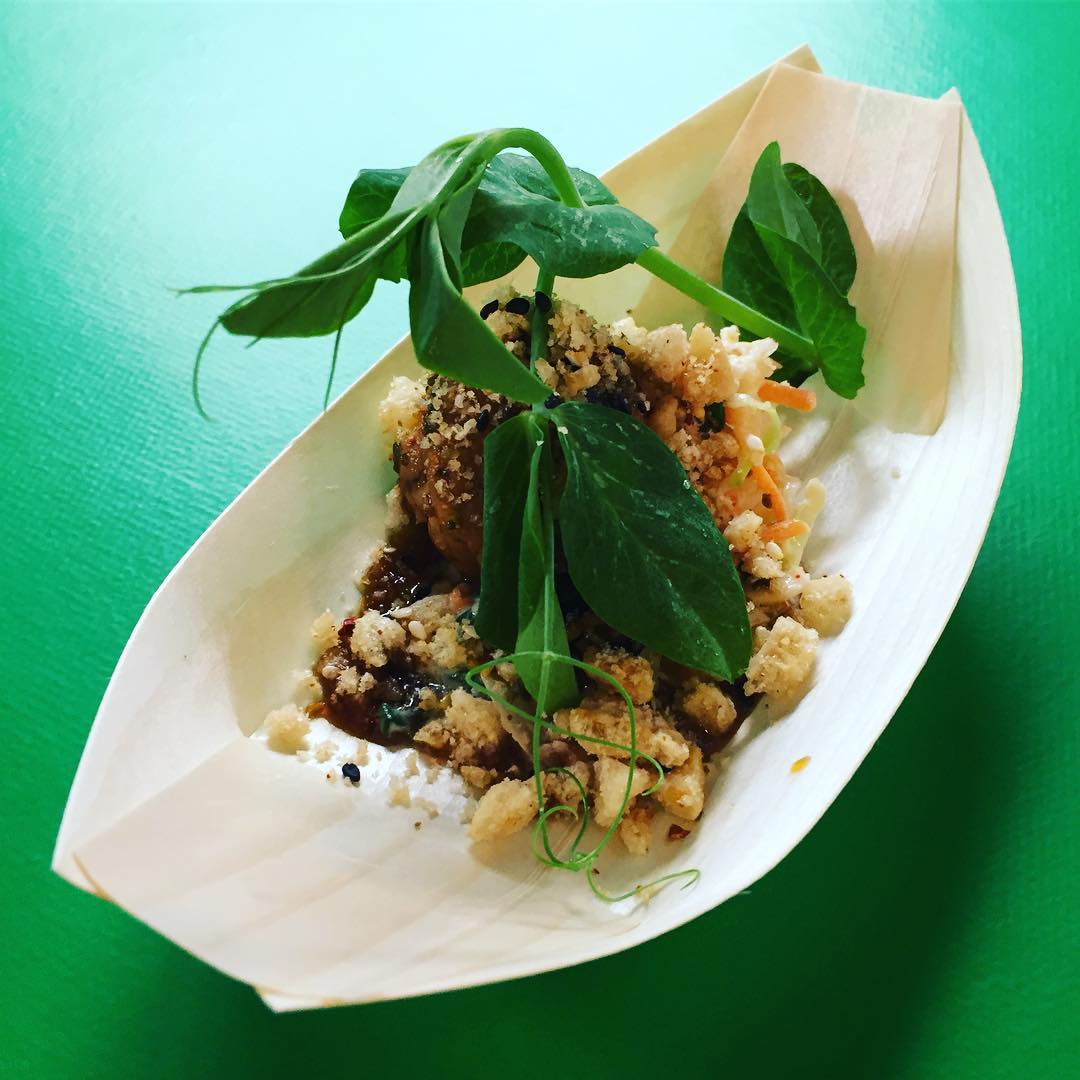 Koch's balls – soft and spicy!
More so than anything, it was an onslaught of flavors and a sheer demonstration of force and intention. The ethnic stalls at Aarhus Central Food Market do not dumb their dishes down to suit western palates, they offer a full on explosion and intensity of flavors. With his spicy balls (pun intended), Jesper Koch delivered my personal highlight of the day and I'll be more than excited to make a return visit to see what else he can come up with.
Cheap Authentic Banh Mi and Iced Coffee at Banh Mì de Taste Mì
Maybe fusion isn't really your scene? Maybe authentic street food is more like it? If so, by all means skip the modern madness and head straight to Bahn Mì de Taste Mì. Here, you may sink your teeth into a reasonably authentic, tasty and ridiculously affordable Vietnamese Banh Mì sandwich made by charming Vietnamese entrepreneur Dung Von from large crunchy baguettes, stuffed plenty of fresh and pickled vegetables, lots of spice and his mom's secret recipe for marinated pork. Chicken and veggie options are also available, but really, grab the pork! Be sure to also grab a perfectly brewed Vietnamese iced coffee made with strong coffee and sweetened condensed milk on the side (or their excellent lemonade option) for a full on Vietnamese experience.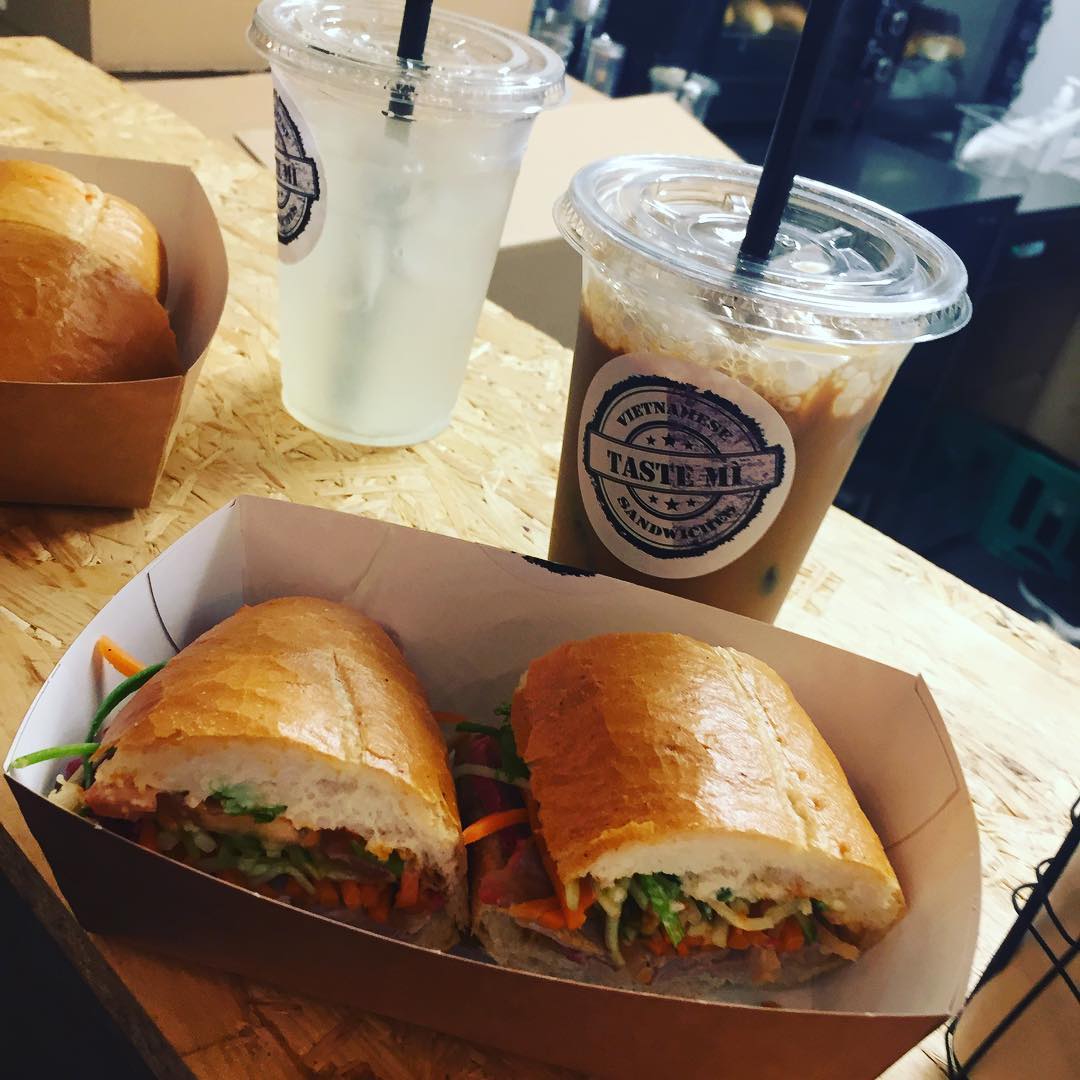 Is this the best value for money at Aarhus Central Food Market? Quite possibly!
Priced at a very reasonable DKK 45, the Banh Mi de Taste Mi sandwich is easily the most affordable meal at Aarhus Central Food Market and certainly one of the best and most filling as well.
Classic Italian comfort food from Pomodoro
As adventurous as we have become, there are days when Asian street food, fusion dishes or inventive tapas offerings just won't cut it. Days when all you need is good, old-fashioned comfort food. On days like those, Aarhus Central Food Market has you covered as well.
Head to Pomodoro, for example, for a fix of superbly cooked, filling and comforting Italian antipasti classics, filling pasta dishes or a hearty tiramisu for dessert. Pomodoro, Italian for tomato, is the brainchild of Lasse and Michael Koch and the simplicity of the name reflects the simplicity of the food: Few quality ingredients treated with love and respect are turned into flavor-bursting classic dishes such as Pasta Carbonara or Pasta Pesto Basilico e Pomodoro.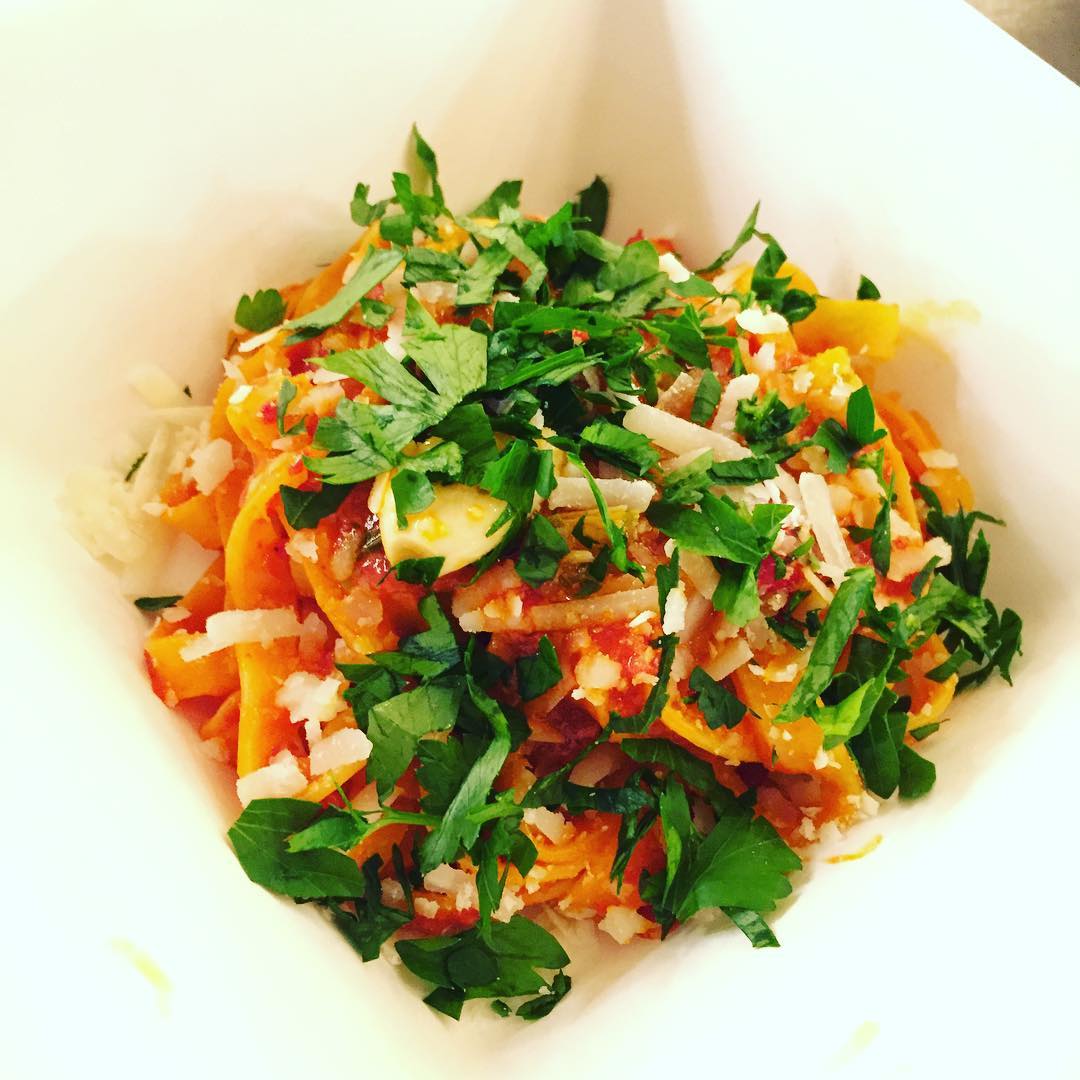 Perfectly cooked pasta from Pomodoro
We sampled a rocking Salcissia Aglio Peporoncino e Olio (Sausage, garlic, Olive oil, grilled peppers, chili and parsley) and it was wonderful: a zingy, spicy and flavorful sauce bursting with sweetness and punch coating perfectly al dente pasta topped with freshly grated cheese and fresh herbs. Not a bad ingredient in sight, all of them treated with proper care and sold at a very reasonable price. Classic, beautiful and comforting!
Perfect Belgian waffles from Liège
I'm not much of a dessert person, but I realize that most of you are, so I asked my food blogger colleague Malou from klidmoster.dk for an opinion on the traditional Belgian waffles from the very appropriately named Liège waffle stand. The words that came out of her mouth, however, as she grabbed one and bit into it, made absolutely no sense. Not because she was being her own rambling self, but rather because the waffles were so transfixingly good she completely lost the ability to communicate.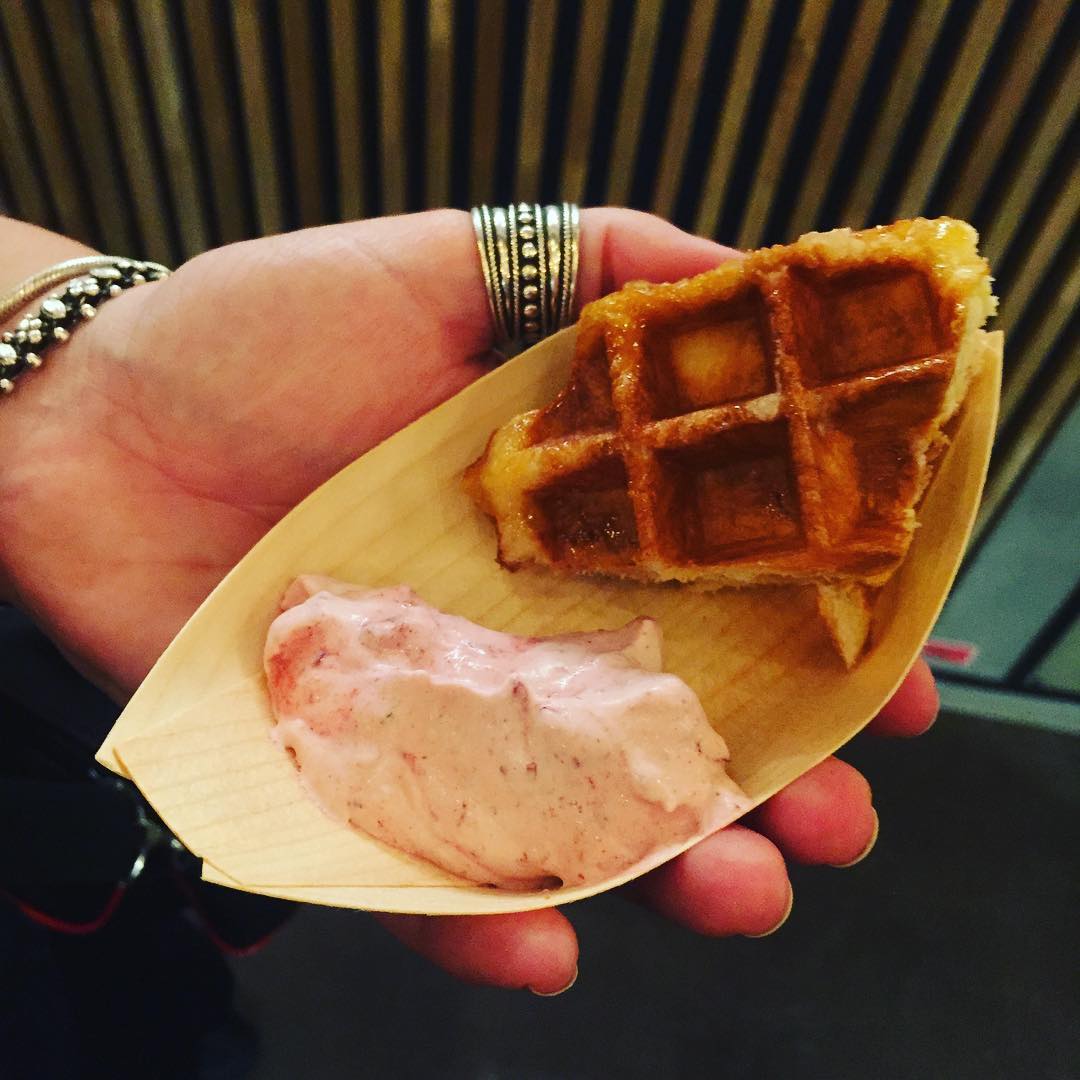 Amazingly enough, I managed to convince the lovely Malou to hold still for a picture before eating the waffle she so desired.
I think what my lovely assistant would have wanted to tell you was something along the lines of: If you want absolutely perfectly cooked spongy Belgian waffles with a crunchy, sweet, caramelized exterior, then head to Liege. They really do them better than anywhere else in town!
Your favorite not on the list? Let's hear about your favorite bite at Aarhus Central Food Market it in the comments section below!
But wait, there's much more to Aarhus Central Food Market than great dining options!
Top produce and delicacies at Aarhus Central Food Market's shopping street
If you'd rather dine at home than eat out, you'll find an impressive array of fresh ingredients and prepared food options at Aarhus Central Food Market in the special section known as the Shopping Street or Main Street. The small but carefully picked selection of shops offers everything you need to produce a high class meal at home. From Caviar and Lobster over Prime Rib to raw milk cheeses for dessert. You can even find gear with which to prepare your hand picked ingredients at the Foodgear Shop and a beer to keep you hydrated through the process at Mikkeller's Bottle Shop Aarhus.
As far as food goes, Knebelgodt Øko Deli offers an impressive mix of superb cheeses and charcuterie while Landmad's impressive space offers some equally enticing cheese and charcuterie options and adds a small (too small, some would argue) selection of organic vegetables and various canned goods to the mix.
Most impressive of all shops, however, is the gorgeous selection of incredibly fresh and tasty fish and seafood offered by Havnens Fiskehus City. Central Aarhus has long missed a quality fishmonger but has now gained one in the form of a direct pipeline to Havnens Fiskehus' original location at Aarhus harbor, supplying ocean fresh fish and seafood options to satisfy your every need at more than reasonable prices.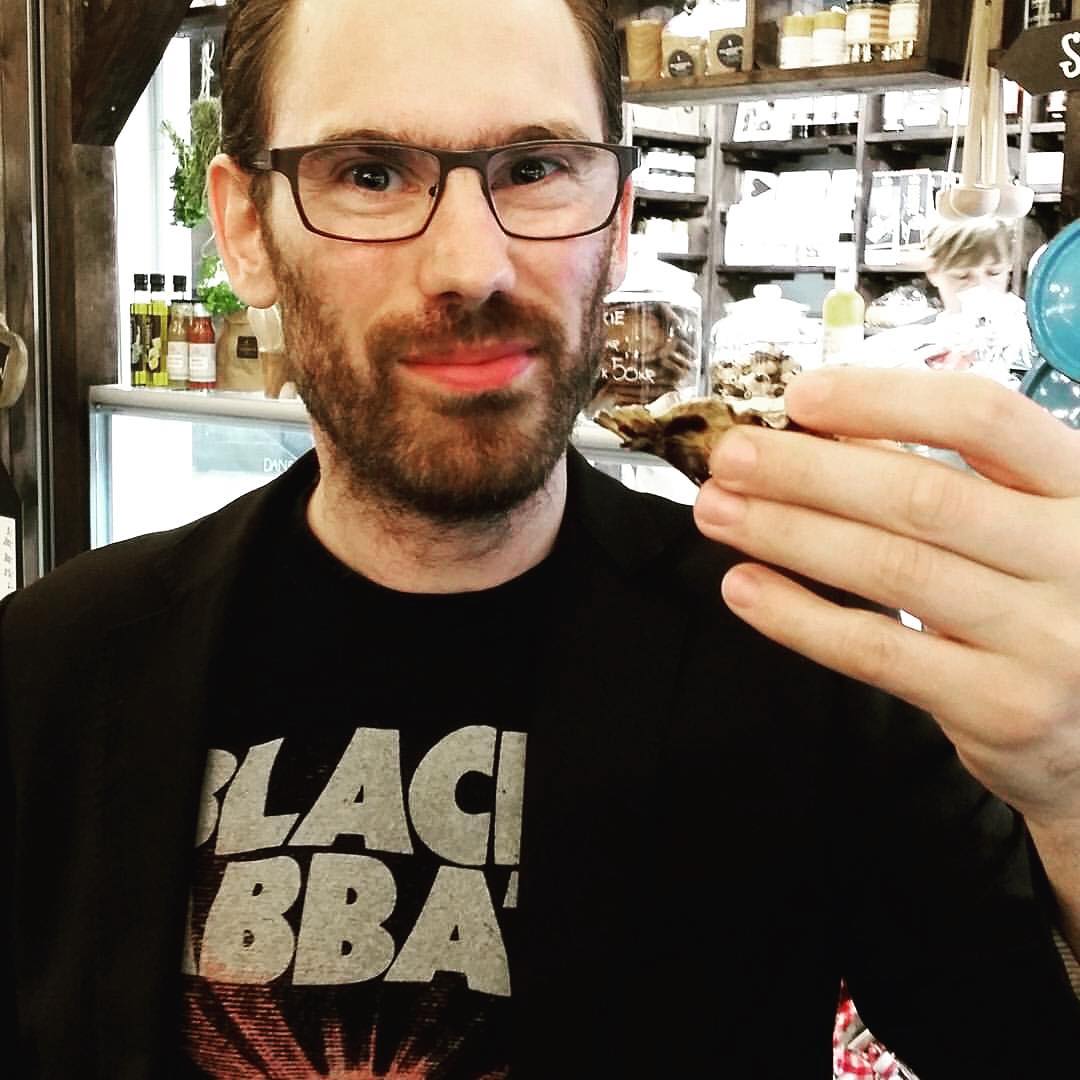 A very excited Johan about to sample live oysters from Havnens Fiskehus City. Photo credit: Malou, klidmoster.dk
If land critters are more of your cup of tea, Guldrummet right next door is your go-to option. Guldrummet (Literally: the Gold Storage Room) is a venture by Danish meat processing giant Danish Crown. The term "Guldrummet" used to refer to a special dry aging area of their facility in which prime cuts of beef were expertly dry-aged for use in upscale restaurants. With their new venture at Aarhus Central Food Market, they now supply the same quality of meat to regular customers willing to fork out an extra buck for top cuts of meat.
At Guldrummet, you'll find classic, gorgeous and flavorful cuts of beef and pork at quite reasonable prices considering the quality of meat on display. And the selection, to say the least, is mouth watering.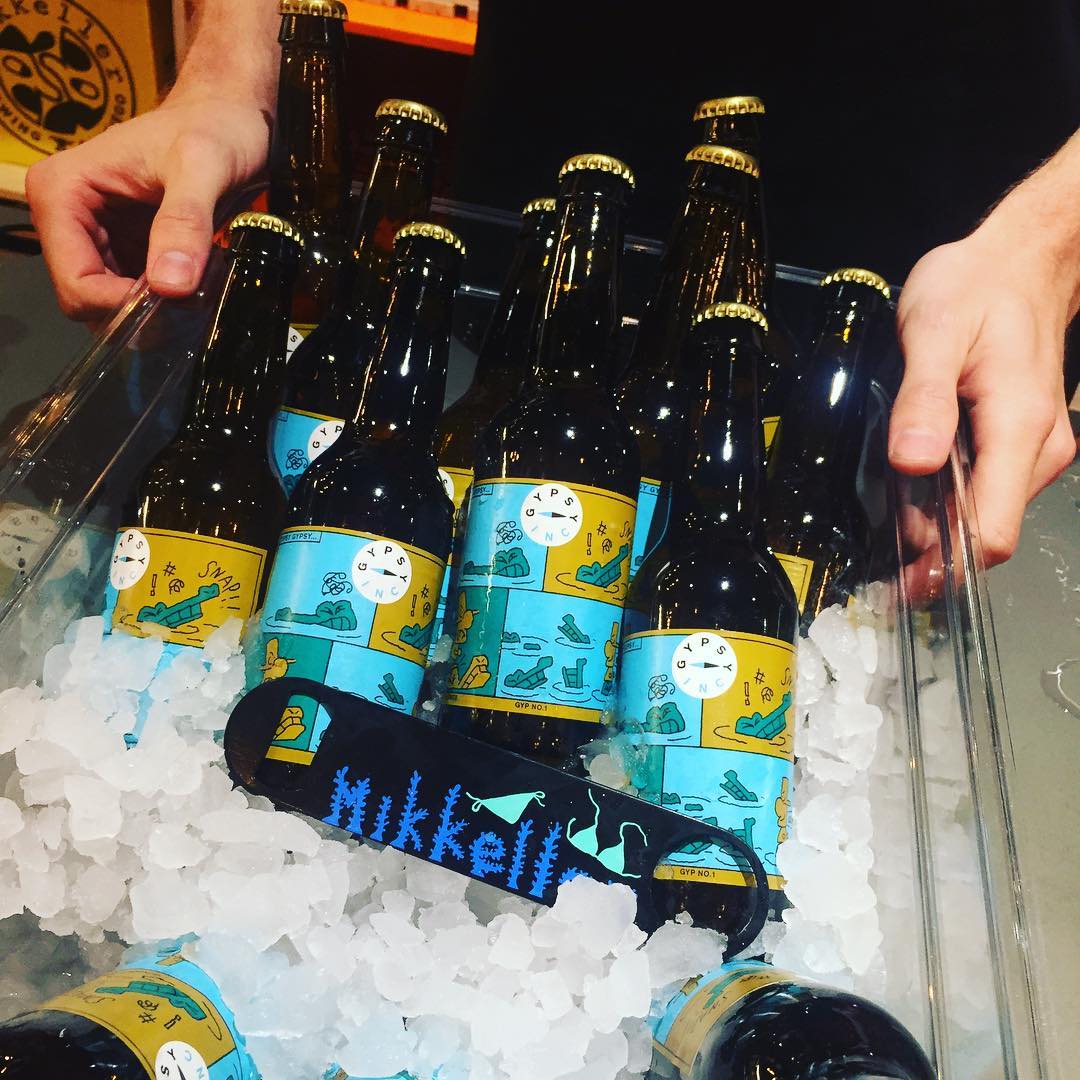 How's about a beer?
With a well-stocked bar, exciting dining options and a plethora of exciting and tasty ingredients to take home for dinner, it should come as no surprise that I'm pretty excited about Aarhus' new culinary institution. But what will the town make of it?
A bright future for Aarhus Central Food Market?
What does the future hold for Aarhus Central Food Market? Culinary interest amongst citizens of Aarhus has never been greater and in a way that spells both good and bad news for Aarhus' newest food market. If not for the surge in interest, the dream of a central food market could never have come true. However, an increasing interest also spells greater competition and a more quality conscious audience.
The past year has seen the opening of a plentitude of new restaurants along with a semi-permanent outdoor street food market at Kulbroen as well as the much hyped Aarhus Street Food Market which is still coming together indoors at the old bus garage. Add to that a few weekly farmers markets around town and various pop-up markets now and then, and one starts to wonder: Does that leave room for yet another trendy food market? A market that after being open for a mere two days have already signed the lease on additional space and announced plans for expansion?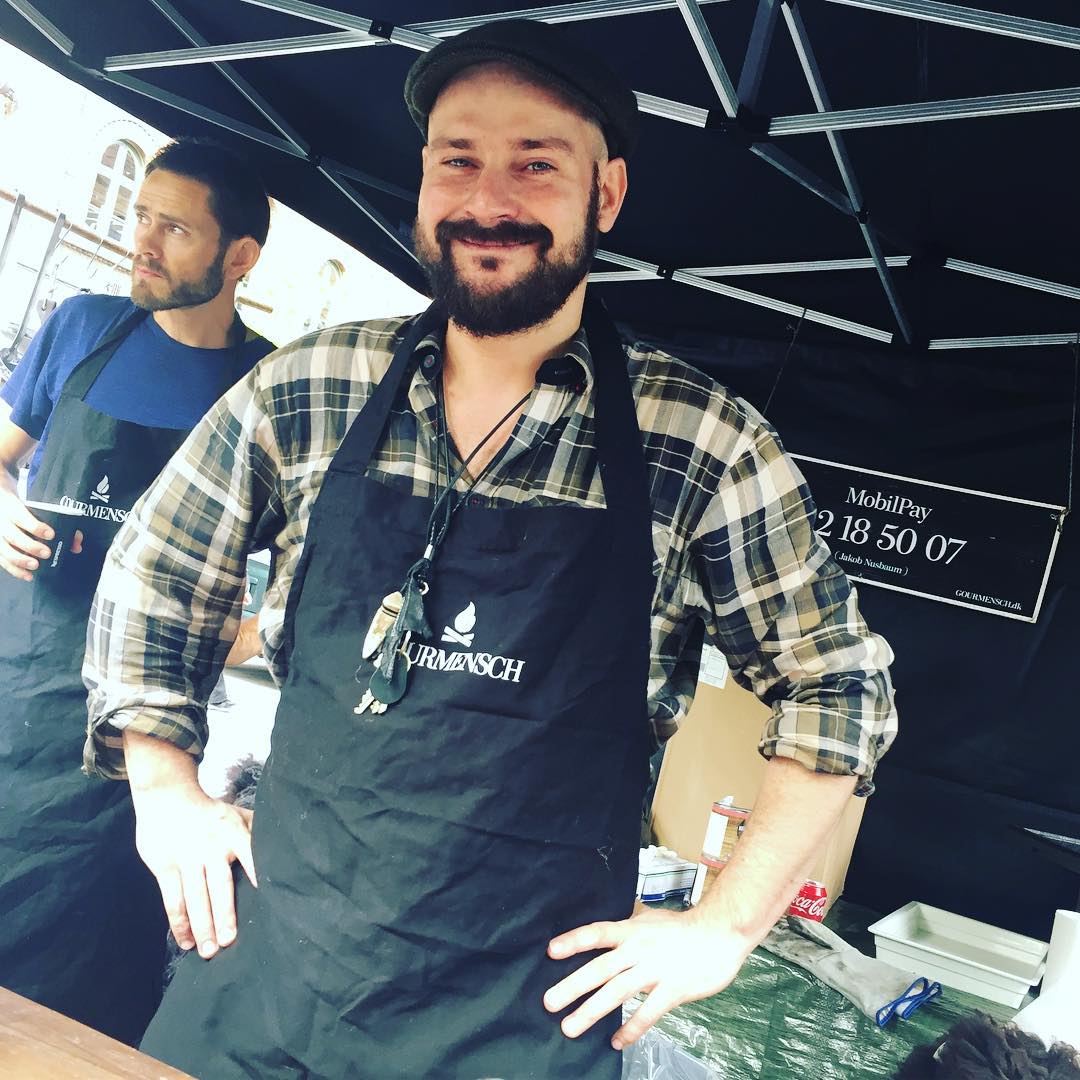 Jakob GOURMENSCH Nusbaum, a smiling proponent of Aarhus Central Food Market on opening day. Will the smile stay on? I think so!
In the mind of this culinary observer: Yes! There is room for yet another food market and even in a world of fierce competition, Aarhus Central Food Market will succeed and here are five reasons why:
Five reasons why Aarhus Central Food Market will be a success
Okay, no need stating the obvious here, I'm visibly excited about Aarhus' new food market, but the more I think about it, the more confident I am that Aarhus Central Food Market will be a success. And here are a few very good reasons why:
1. Perfect location
It's hard to find a better location for a food market. Located on one of the busiest shopping streets in the country mere minutes from a giant transportation hub, Aarhus Central Food Market offers both locals and tourists easy access to cheap, affordable lunch deals, a quality cocktail or great food to take home.
2. Extraordinary dedication
I've been to many food markets all over the world, but nowhere have I felt the same level of dedication, the same esprit du corps, as I did on opening day at Aarhus Central Food Market. Organizers and tenants alike are absolutely dedicated to what they do and to the sense of community already blossoming at Aarhus Central Food Market. They're in it to give it their all, and to the visitor that translates into consistently great food, great service and great culinary invention.
3. Consistent quality
One subject that I've hit upon again and again is quality. The products offered at Aarhus Central Food Market, be they meals ready to eat or produce to take home, are of consistently superb quality. They're produced with quality and attention at mind, are often organic and are sourced carefully and responsibly. Aarhus Central Food Market will be a place where the good people of Aarhus and visitors alike can expect to find consistently great food at reasonable prices.
4. Fair pricing structure
Quality has its price and granted, Aarhus Central Food Market does not offer the lowest prices in town, but nor do they ask the highest. What the tenants one and all offer are products of consistently superb quality at very reasonable prices. DKK 45 for a freshly made Banh Mi sandwich is shockingly cheap, DKK 70 for a freshly made quality pasta dish or clever Asian fusion is more than reasonable. Pit that against a sad DKK 50 stack of fries from Aarhus Street Food and you can probably tell where I'd rather go. The general price to quality ratio at Aarhus Central Food Market is staggering and it's a place where you could go with less than DKK 100 on your pocket and wind up full and happy. Add another hundred and you can easily add a drink and a dessert to take home to the budget.
5. Reasonable opening hours
Aarhus Central Street Market is open Wednesday – Sunday, 12 noon -7 PM. While some find such limited hours strange, it may actually work out in their favor. First of all, limited hours allow busy tenants, such as the star chefs and restaurateurs involved, half the week off to focus on other projects, creating in turn (hopefully), an increased focus and dedication to their Central Food Market ventures during opening hours. Secondly, limited hours allow customers to explore Aarhus Central Food Market during it's opening hours but also leaves time to explore other restaurants and food markets during off-days and evenings. By not pursuing an aggressively dominant position, Aarhus Central Food Market may essentially not have to compete with others for visitors but can instead invite would-be competitors into a stage of peaceful co-existence and mutual benefits.
In conclusion: Summing up Aarhus Central Food Market
In a city that has already seen its fair share of culinary innovation, Aarhus Central Food Market represents a new and welcome hub for quality conscious foodies and a great refueling station for hungry locals and tourists alike. On a busy gastronomic scene where ventures open and close daily, Aarhus Central Food Market still manages to provide a fresh breath of air simply by being the closest thing to a perfect permanent food market the city has seen.
You may not personally care for all the options Aarhus Central Food Market has to offer, but you can't deny the fact that they're all defined by two common factors: superb quality and unlimited dedication! No congregation of tenants is complete without a lowest common denominator and while other food markets throughout the land and indeed the world may have money or personal as the lowest common denominator, at Aarhus Central Food Market it's something else entirely, something much more important: quality!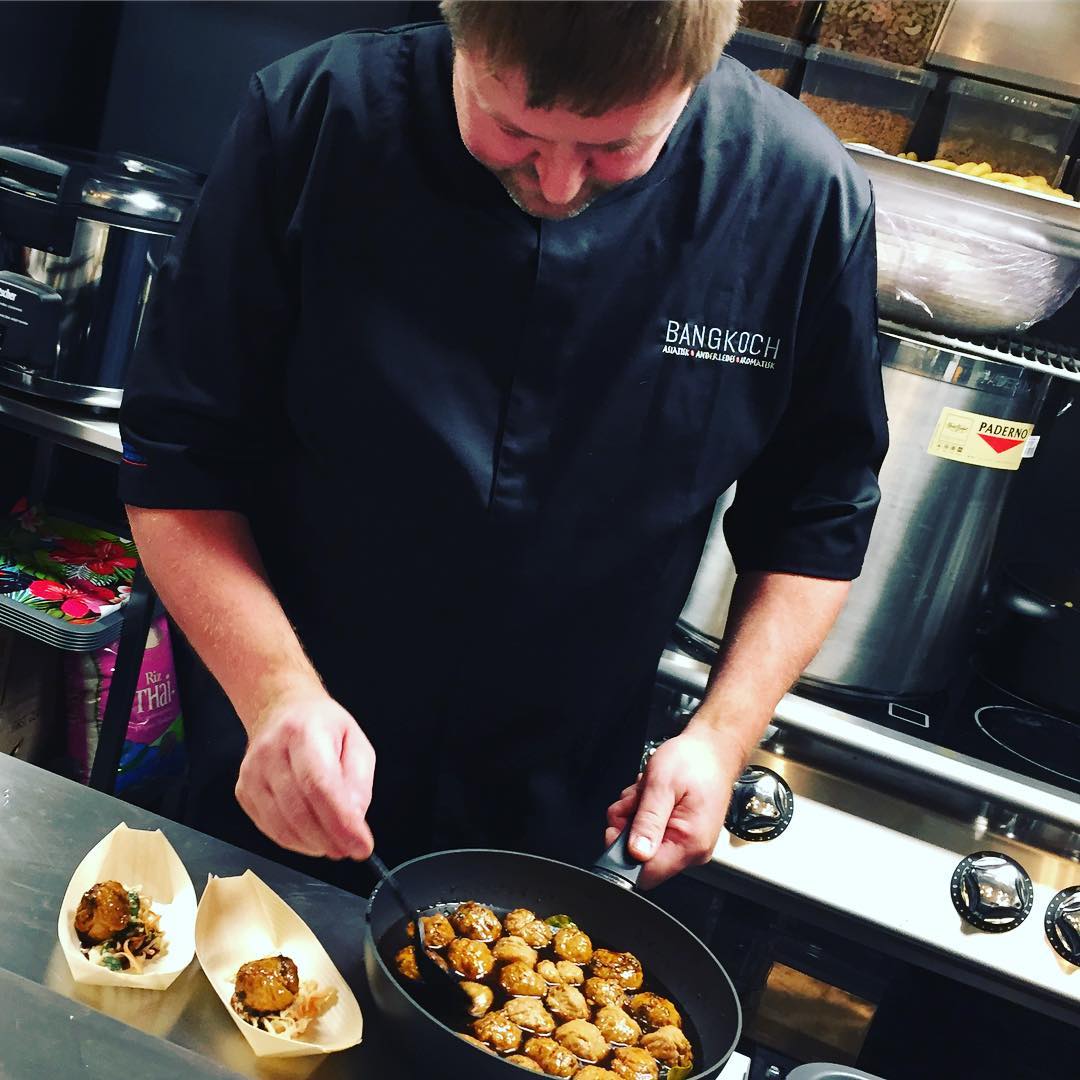 Jesper Koch – one driving force behind Aarhus' new food market… And a pretty good chef, too!
Aarhus Central Food Market succeeds in offering quality first in everything that goes across the counter: From a single cup of coffee over a simple Belgian waffle and a humble Banh Mi sandwich to the top fusion cuisines from leading players like CANblau and the Koch brothers. It's a quality level and uniformity seldom seen anywhere else and a key reason to success for this new culinary venture.
Aarhus Central Food Market brings together humility, flashiness, quality and affordability, wraps it up in a modern timeless setting and dumps it as a fresh breath of air on an already bustling culinary scene. With 10,000+ visitors in two days and a host of rave reviews already under the belt, the question is not whether Aarhus Central Food Market will be a success, the question is how big of a success and whether they have the logistics and stamina in place to handle the success.
Aarhus Central Food Market – location and opening hours
Aarhus Central Food Market is located on Aarhus' main shopping street, a mere two minute walk from Aarhus central station.
Aarhus Central Food Market
Sankt Knuds Torv
8000 Aarhus C
Opening hours: Wednesday – Sunday: 12 noon – 7 PM