Home » Blog » Restaurant Reviews » Restaurant Review: Memphis Roadhouse BBQ, Aarhus Denmark
"I think this is the beginning of a beautiful friendship" – those words were recently said about yours truly in a post on a small scale Danish food blog no one has ever really hear about (yeah, right!). Those words, however, may as well have been said by yours truly about Memphis Roadhouse, a curious piece of Americana, set smack dap in the middle of Aarhus, Denmark.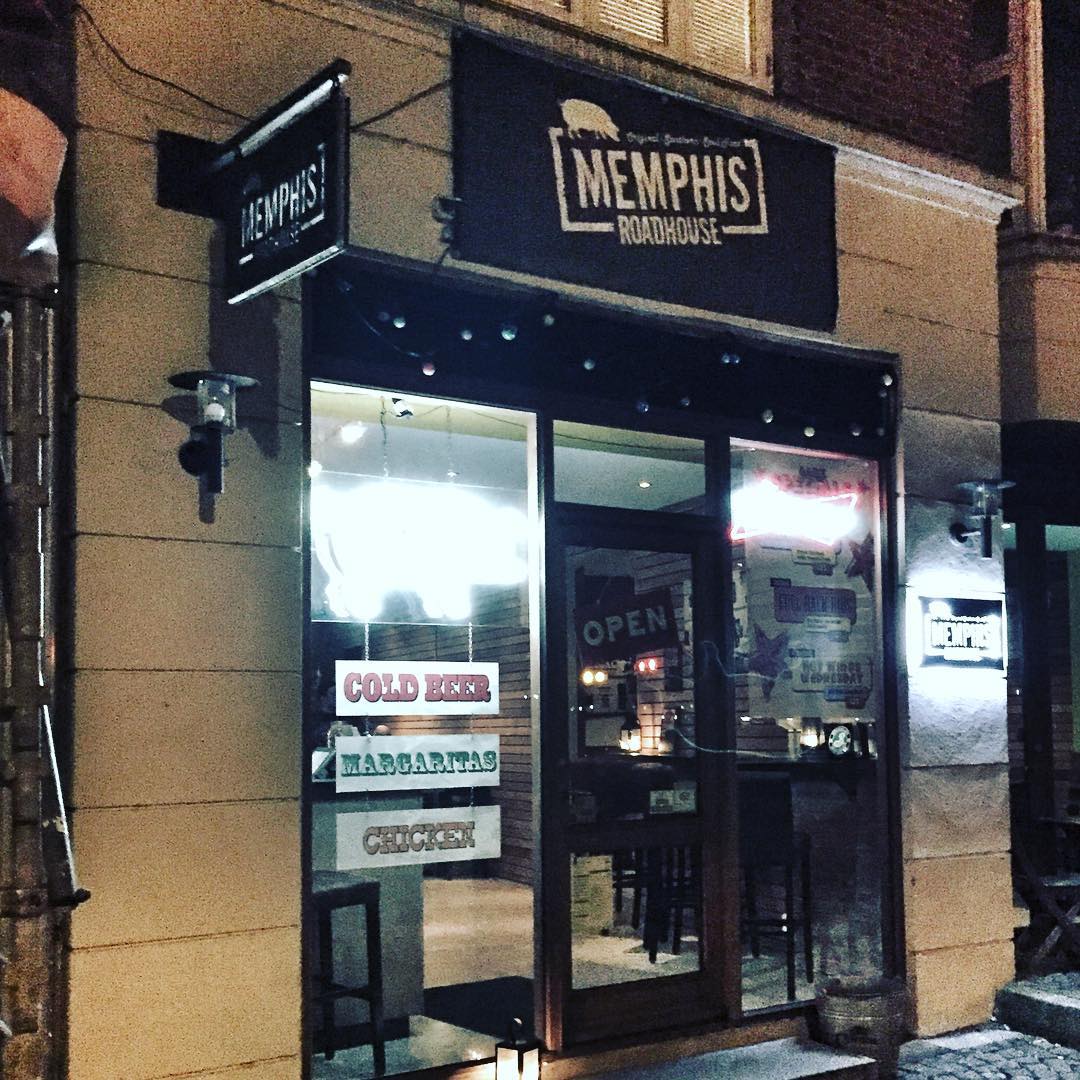 Memphis Roadhouse – Grainy, gritty, cool… Authentic… Aarhus BBQ?
Memphis Roadhouse is the brainchild of owner and pitmaster Chris Buus Lombardi, an honest to God Yankee from Philadelphia churning out honest to God Southern BBQ and comfort food in a manner that might well have caused some concern down below that Mason-Dixon line… Had it not been for the fact that he's doing it in a place that no one down South has ever heard about: a quaint Danish town called Aarhus! Confused? Bewildered? I know I was, but read on and all shall be revealed.
I first learned about Memphis Roadhouse from my newfound foodblogger friend and partner in crime, Malou, and she, too, is  responsible for a desire to visit and review the place that has burned in me for some time now. You see, through getting to know her and sharing culinary ideas and misadventures over the past four months or so, I realized a thing or two:
First and foremost, I realized, she is clearly obsessed with flavor, full of crazy ideas and always coming up with new stuff. I mean, for the love of all things holy, the chick comes up with about ten new concepts a day some of which, thank God, never see the light of day while others do. I realized too, however, that about every waking moment she's not busy saying something along the lines of "Hey, I came up with a new concept involving herring and lemon curd," she's busy blabbering about a place called Memphis Roadhouse, her last trip there and what she ate and drank during said visit.
The constant yapping spurred in me a morbid level of curiosity. I mean, it was clear she loved the place – but exactly why and to which extend, I wasn't really sure. Grilling her a bit on the subject, I discovered that she had eaten at Memphis Roadhouse a mind boggling 150+ times over the course of the last four years! A realization that left me full of shell shock, wonder… and ideas! I've got to figure this out, I thought. What exactly is it that drives an adventurous eater to return to the same place a staggering 150+ times? And why is it, I wondered, that she's still this obsessed and excited with the place?
Add to this the fact that I'm an avid BBQ junkie and the stage was set pretty much set for another restaurant review. And so, as a follow-up to our first culinary meet-up which took place at the Michelin-starred Gastromé of all places, I insisted on two things:
1) Take me to this Memphis Roadhouse of which you speak!
2) Please let me try everything on the menu!
Now, to say that my demands spurred concerns in the poor girl would be a bit of an understatement. Firstly, she was genuinely concerned that my vow to taste the entire menu would, in fact, be the end of me. But more importantly, she was scared stiff that I, the self-proclaimed BBQ aficionado and tourer of Dixie, would dislike the food and not approve of her obsession. No, really, true story. Maybe it's the dedication, maybe it's the geek in me, maybe it's my obsession with flavor and authenticity, I don't know. But the poor girl was worried. Worried that I wouldn't be satisfied. Worried that I'd scoff at the food. Worried that I wouldn't understand her go-to place.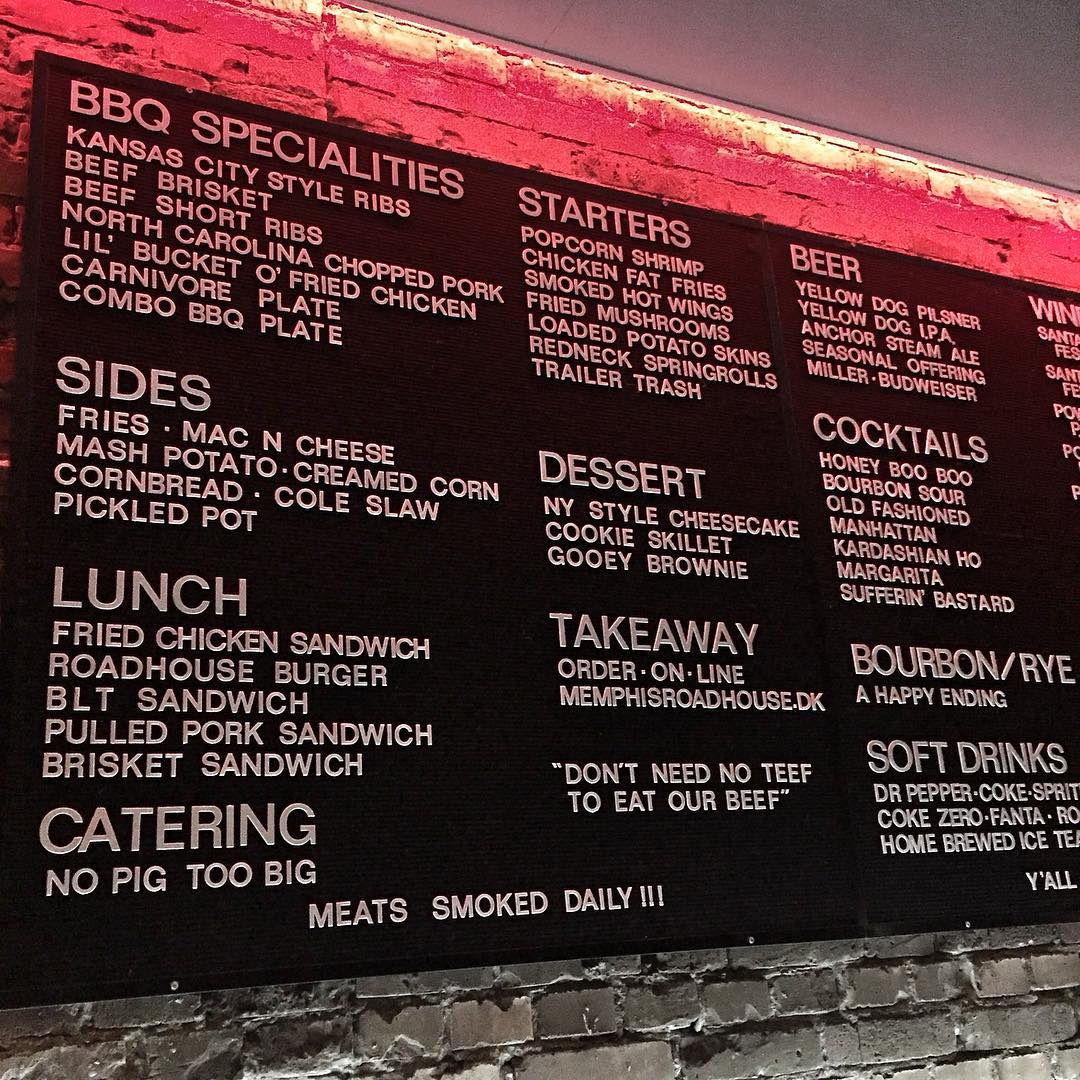 Memphis Roadhouse menu… I want one of each! Or maybe not!
Not wanting to let fear keep me from BBQ, I assured her I'd jump at the experience with an open mind and eventually, she gave in. Together we tore a Saturday night out of the calendar, grabbed each other by the hand, downed a shot of moonshine and took off for what would be Malou's 158th visit to Memphis Roadhouse… and my first.
Look and feel: Malou, I have a feeling we're not in Kansas anymore!
Memphis Roadhouse is located in Aarhus' trendy city center. Right between the main shopping street and the touristy hip "restaurant" quarter by the brook running through town. In short: well within the epicenter of tourist traps and overpriced eating experiences. A top-shelf location, but not one I'd expect for a supposedly reasonably priced, humble and homey eatery. But location, it appears, can be deceiving and inspecting the place from outside upon arrival, it certainly didn't look much like its posh, overpriced neighbors. Rather, it looked the part: humble, homey and plastered in signs of every nature. I can do this, I said and pushed onwards through the door.
"This is definitely where I parked my car," I exclaimed as I walked in the door and spotted as the first thing a bottle of Tito's Vodka sitting proudly atop the house bar along with an impressive collection of bourbons, rye whiskeys and artisan gins. "Yeah, rumour has it they have one of the best stocked bourbon selections in town," Malou said. "And Tito's," I murmured longingly before the buzzingly energetic staff swept us up in a welcoming embrace of chatter and laughter that seemed equally reserved for regulars and newcomers alike, and guided us into the belly of the beast that is Memphis Roadhouse.
Well, beast is probably the wrong word. But how does one adequately describe Memphis Roadhouse? A few words that comes to mind are stylishly beat up cool! Warm wood, exposed brick, tacky decor, cheesy menu board and all. Very rough around the edges, very warm and homey… Sort of like a true, sleazy Southern BBQ joint transported to Williamsburg. Only in a really cool way, not a hipster cool kind of way! Yeah, that's about right. Add a loud soundtrack of Southern Rock and Contemporary Country woven on top of the banging of pots and pans from the open kitchen and you're about there. Memphis is buzzing and loud, so loud actually, that we had to kindly ask your waiter to turn the music down just a hair – which he promptly did.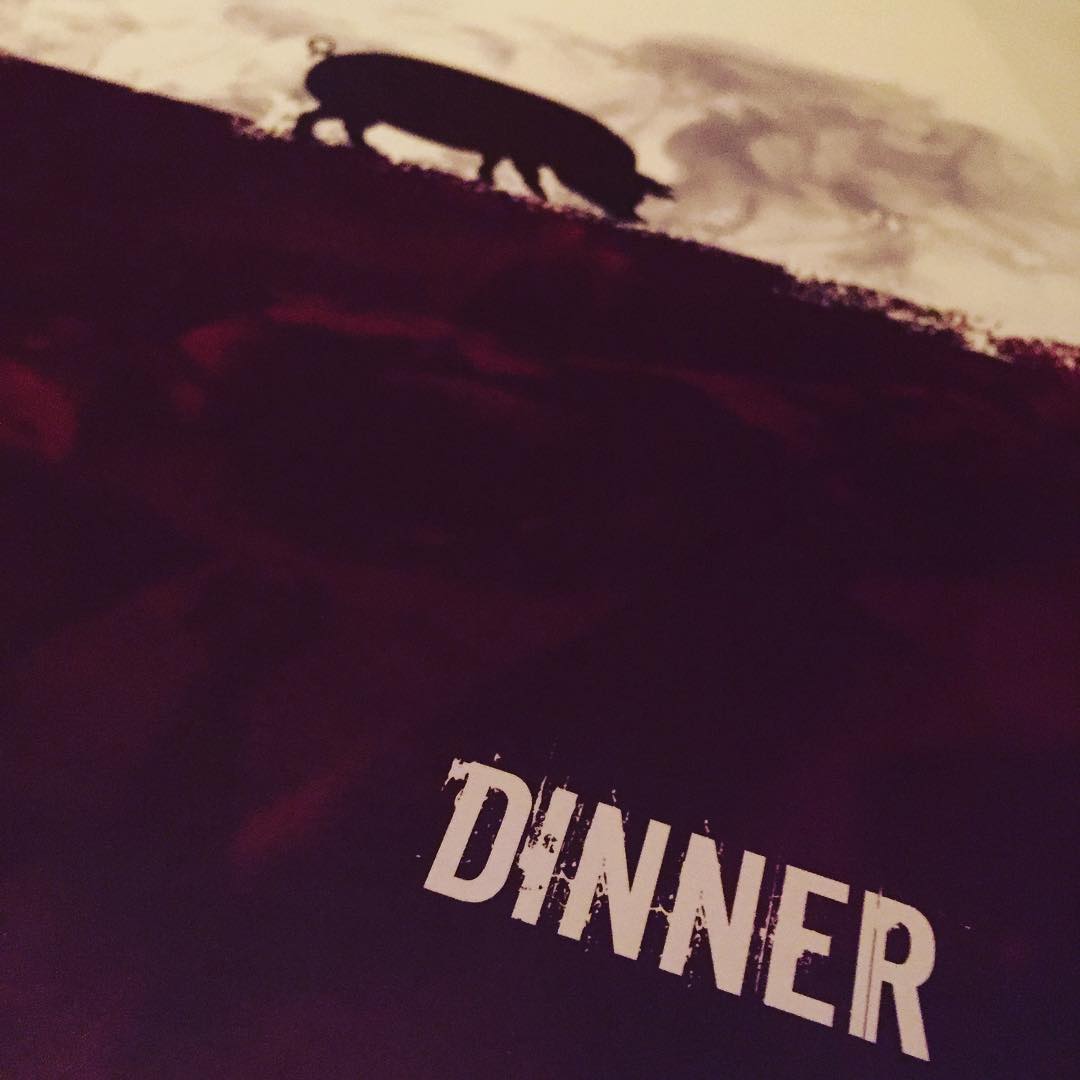 The dinner menu… Mmmm… Smoked pig!
"I like it," I said when we could actually hear one another over the music, and my timid date for the evening breathed a little easily for the first time since we set out on our quest. Then our menus arrived amidst a whirlwind of more friendly chatter, laughter and jokes. "I like it even more now," I said as my eyes darted immediately to the cocktails section of the menu. Pre-dinner cocktails are a great, American tradition after all, and me being considered by many an honorary American, who am I to question the ways of my people?
Drinks with a punch: The Cocktail Menu at Memphis Roadhouse
Fans of American cocktail culture will feel pretty at home at Memphis Roadhouse, the menu features a couple of exciting twists on classics such as the Margarita, the Old Fashioned, Pimm's Cup as well as a selection of long drinks including a variety of Gin and Tonics. Being an equal fan of Whiskey and hot peppers, I quickly opted for the diabolically twisted Ancho Old Fashioned while Malou played it safe and went with the, uh, old-fashioned Old Fashioned. Both were absolutely well made and packed the expected feisty punch of a quality bourbon mixed with a dash of bitters and a little fruity sweetness. Mine, of course, also packed the tingling warmth and smoky, fruity earthiness of a well-balanced dash of Ancho chili. Small stroke of brilliance there and a right steal at DKK 70 considering the generous hand that poured the Bourbon.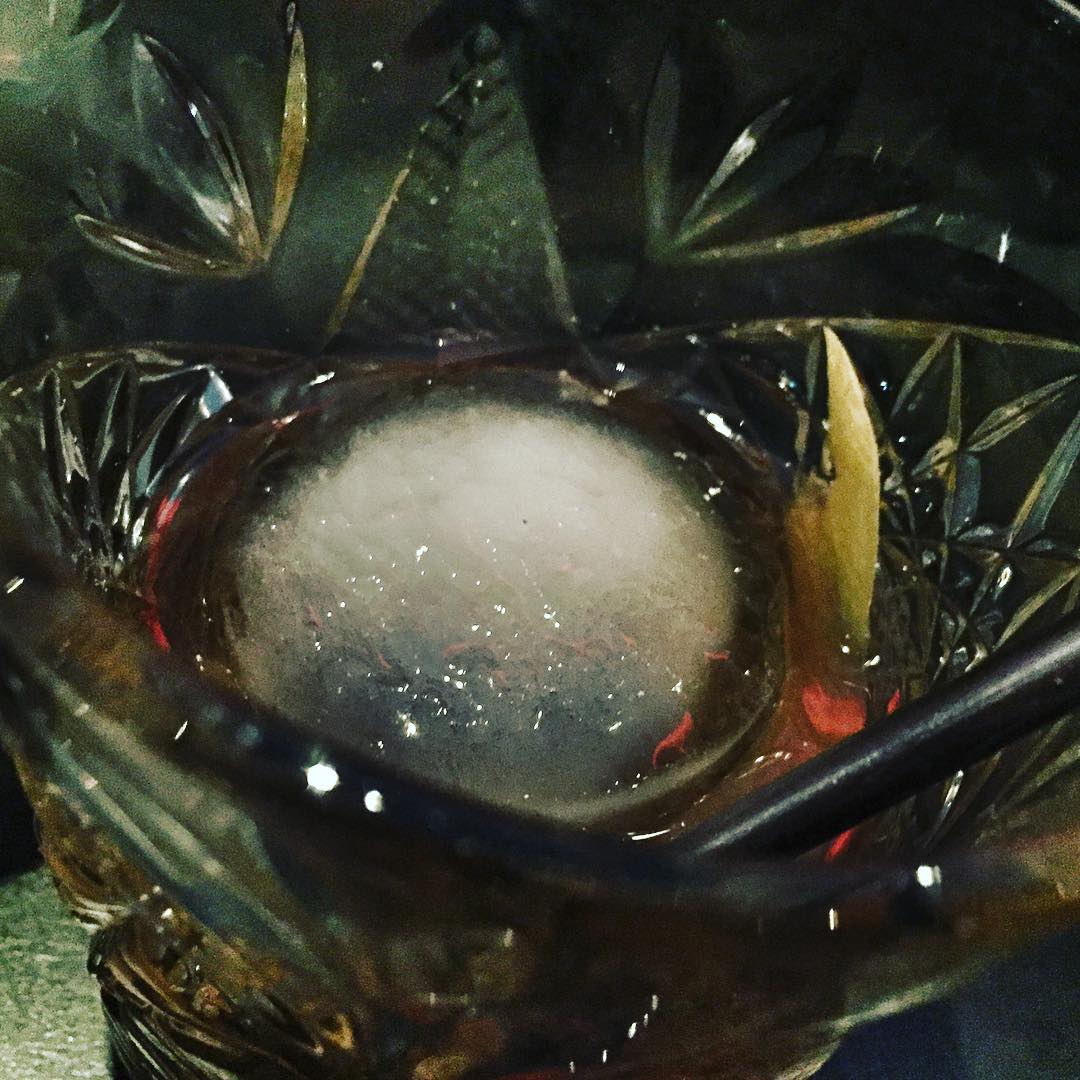 Ancho Old Fashioned at Memphis Roadhouse – I'm a fan!
Pleased with our selections, we returned our attention to the menus, ordered a few beers for our meal – the house favorite, Yellow Dog Pilsner, for the lady and a bottle of seasonal Pale Ale from Flying Dog for yours truly – and turned to the subject of starters:
White trash galore: Starters at Memphis Roadhouse
Pouring over the starters section of the menu, I echoed my sentiments of earlier: "I want one of everything" to which my co-diner echoed her sentiments of earlier: "sweetie, you'll die!" As a feasible compromise between happiness and self-hurt, we decided to each order one starter and share the spoils. And because I'm pretty much a spoiled bastard, I got to pick our poison. Teary eyed, I glanced over the menu, waving goodbye to such Southern classics as loaded potato skins, smoked hot wings and chicken fat fries before eventually settling on the two most white trash sounding items on the menu: "redneck spring rolls" and "trailer trash", both of which arrived swiftly and both of which probably warrant a bit of explanation.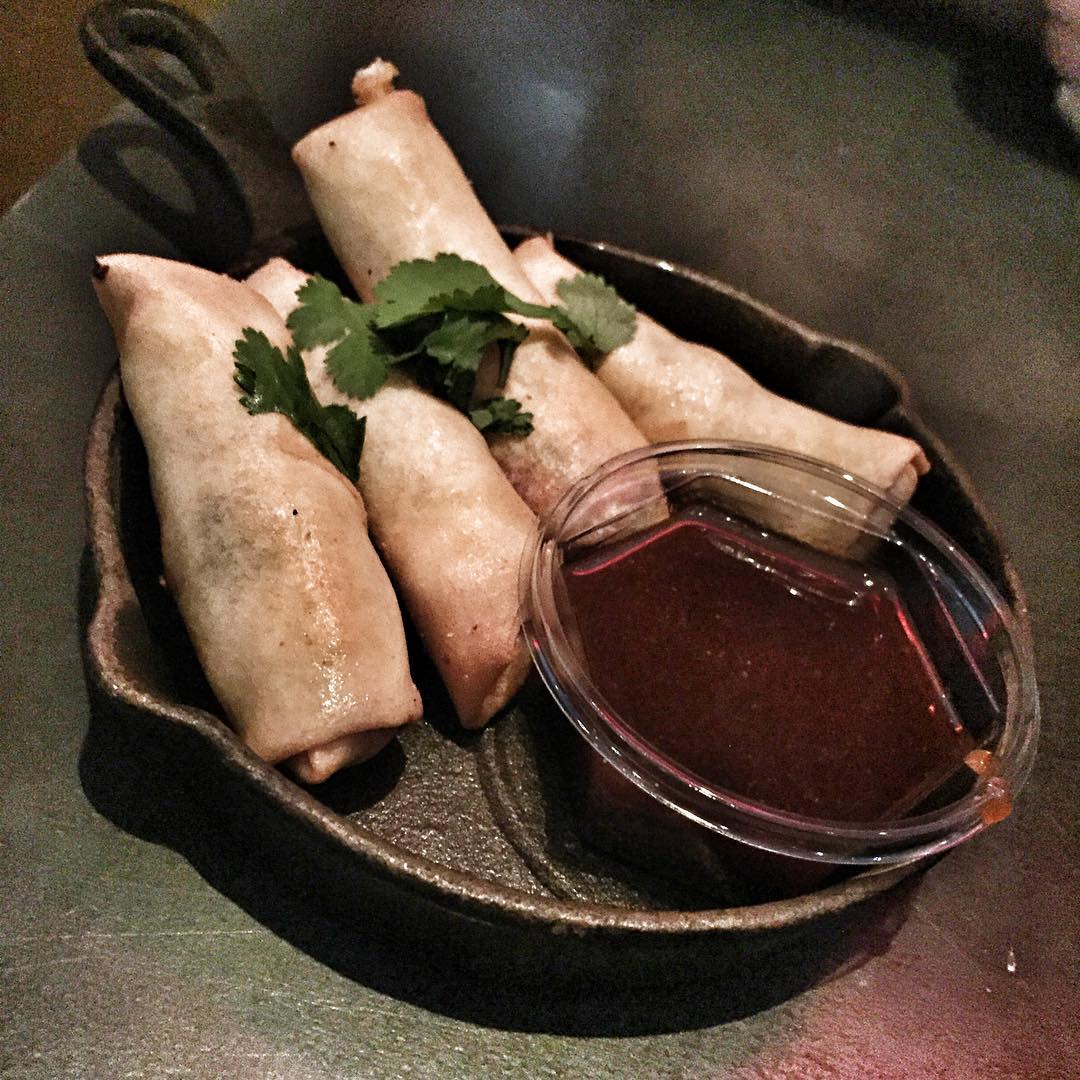 Redneck Spring Rolls… A highlight of the evening!
Redneck spring rolls, essentially, is a maniac's take on spring rolls: deliciously tender BBQ beef brisket and vegetables all rolled up in a spring roll wrapper and deep-fried to golden, crunchy perfection then served up with what was referred to as BBQ teriyaki dipping sauce. Try as we might with promises of fame, fortune and rewards of other nature, we could not get the friendly waitstaff to disclose the secrets of the sweet, spicy and smoky dipping sauce, but it was definitely a highlight of the evening when consumed along with the redneck spring rolls as a super crunchy, perfectly sweet and sour, smoky, hot and fiery completely crazy yet absolutely adorable Asian-Redneck fusion snack.
The trailer trash, on the other hand, was the house version of a no less outrageous but certainly more familiar and classic American snack favorite: Frito Pie! To the uninitiated that is corn chips smothered in spicy chili and a small mountain of cheese, all served in a single serving corn chips bag with a healthy spooning of sour cream and pickled jalapeños galore! Yes, I'm perfectly aware how bizarre that sounds, but just think perfectly balanced, meaty chili with just the right amount of sweetness and spice, topped with creamy, sharp cheddar, sour cream and jalapeños, then offset by a soft crunch from the chips and a subtly spicy maize flavor. Doesn't sound all that crazy now, does it? Not to me, anyway, and the Memphis Roadhouse version succeeded in completely taking me right back home to my home away from home and oddly fond memories of eating far trashier, far messier versions of the dish directly out of luke warm fritos bags.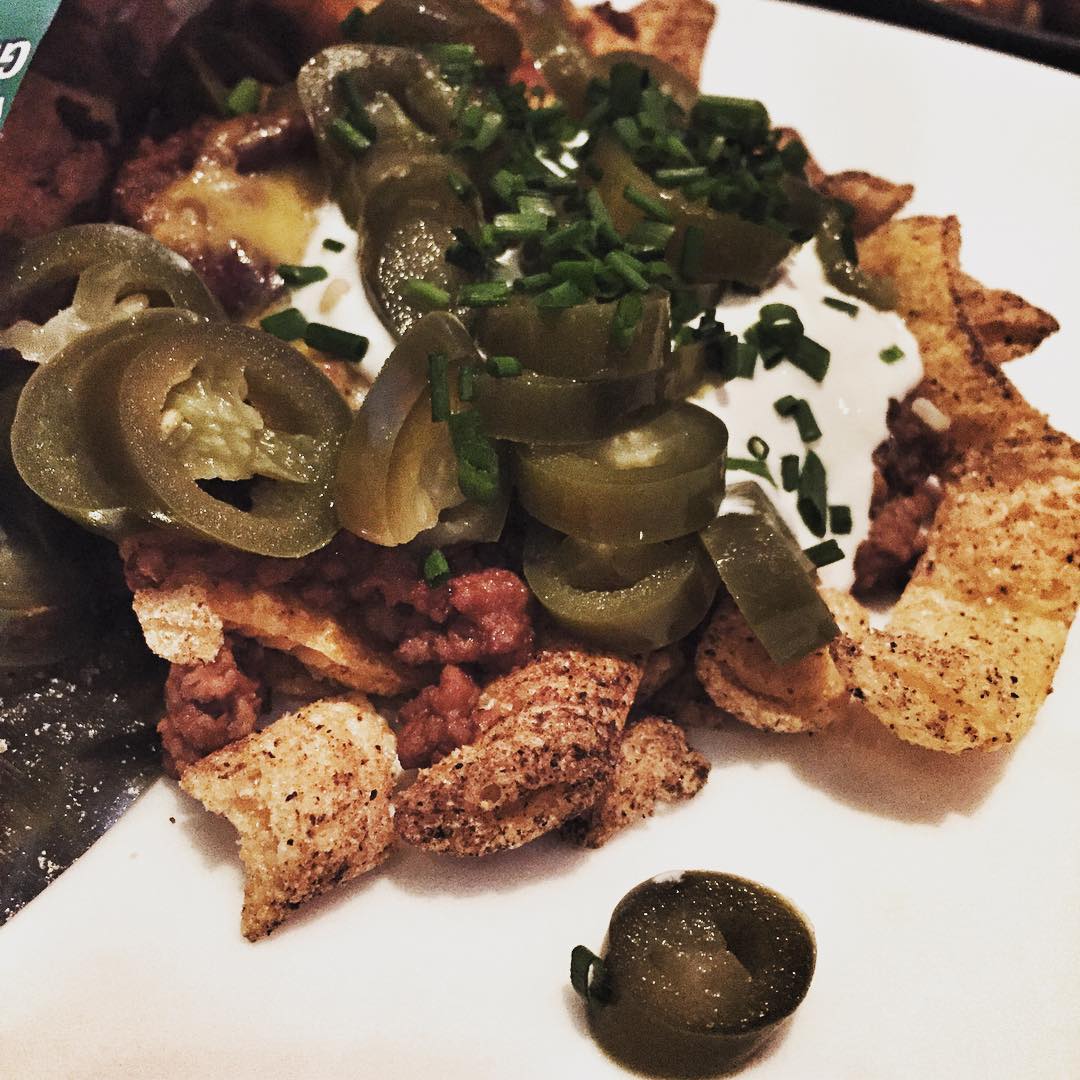 Trailer Trash at Memphis Roadhouse. A Frito Pie by any other name!
Only, the version I had that evening in Aarhus was far more wholesome, far more balanced and far better executed than any version I remember eating in the States. Heck, it even arrived on a plate… The madness of it all! This was guilty pleasure and comfort food on an entirely new level, I was starting to seriously warm up to the concept of Aarhus style BBQ and then my blind trust was put to the test…
Pickleback Shots: My Memphis Roadhouse Initiation
By this time in the meal, as I had still not complained about the food or authenticity of the place and had even gone so far as to take one of the dishes in defence, my co-diner finally relaxed to a point where she saw it fitting to initiate me in a proud Memphis Roadhouse tradition: pickleback shots! I know, as if BBQ brisket spring rolls and chili cheese corn chips weren't outrageous enough, our next item on the menu before heading to our main dishes were a house speciality: a round of straight up bourbon shots followed by a chaser of pickle juice placed in front of us in sets of three by a broadly smirking waitstaff… Talk about a palate cleanser to be reckoned with!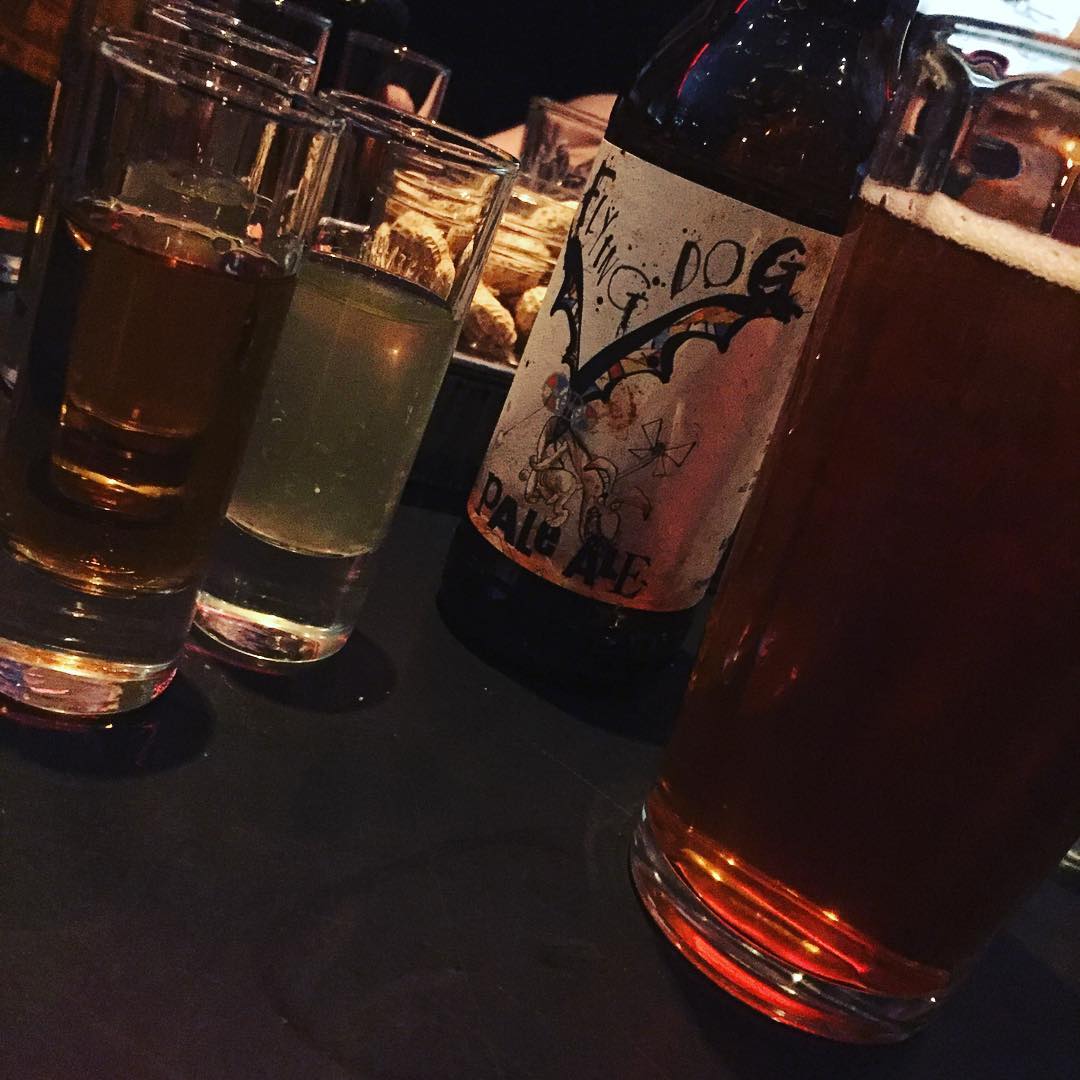 Pickle Back Shots… I, uhh, okay!
Pickleback shots, or gherkin water as they so affectionately call them, have apparently become a staple amongst Malou and her friends when visiting Memphis Roadhouse and since I'm not really one to step down from a challenge, naturally, they had to play an important role in my inaugural visit as well. With drawn breath and eyes closed, I faced my demons, tilted back my head, downed the whiskey, chased it with a shot of pickle juice… And… As with so many other strange combinations in this world, it just sort of worked. Don't ask me how or why, but somehow, someway, the saltiness and acidity of the pickle juice cancel out the burn of the whiskey while the mellower notes in the whiskey keep the raging acidity of the juice in check making for an over-all surprisingly enjoyable experience sort of akin to drinking a surprisingly complex and oddly intoxicating sweet cucumber relish. Madness! But again, apparently, such are the ways of Memphis Roadhouse. And, apparently, as we would see when ordering our main dishes, there's method to the madness and real seriousness and talent behind the playfulness.
Where there is smoke, there is meat! BBQ Classics at Memphis Roadhouse
Memphis Roadhouse offers the entire palate of BBQ meats done in a variety of styles. From Texas Style beef brisket over Kansas City Style ribs to North Carolina Style chopped Pork, beef short ribs and the eternal favorite Southern Fried Chicken… Add to that selection of classic side dishes, a smokehouse burger brought forth by popular demand and an ever-changing special to keep the regulars guessing, and you ought to have a little something for everybody's taste. If you're feeling adventurous or exceedingly hungry, there's even a combo platter featuring your choice of two kinds of meat and one side – or the even more generous carnivore platter featuring three meats and two sides.
With five kinds of BBQ meats on the menu, and my co-diner obviously growing tired of hearing the words "… but I want everything on the menu," our mission seemed clear: Malou, bless her heart, broke the cardinal rule of never enabling the Johan and ordered the combo platter featuring chicken and beef short ribs, a personal favorite of her. I, on the other hand, opted for the carnivore platter featuring my personal favorites: North Carolina Chopped Pork, Beef Brisket and Kansas City ribs. For sides I went with a couple of soul food favorites: Mac 'n' Cheese and cornbread while my friend, the pickle monster, went for the pickle pot: an assortment of pickled vegetables. Both of us received an obligatory serving of coleslaw.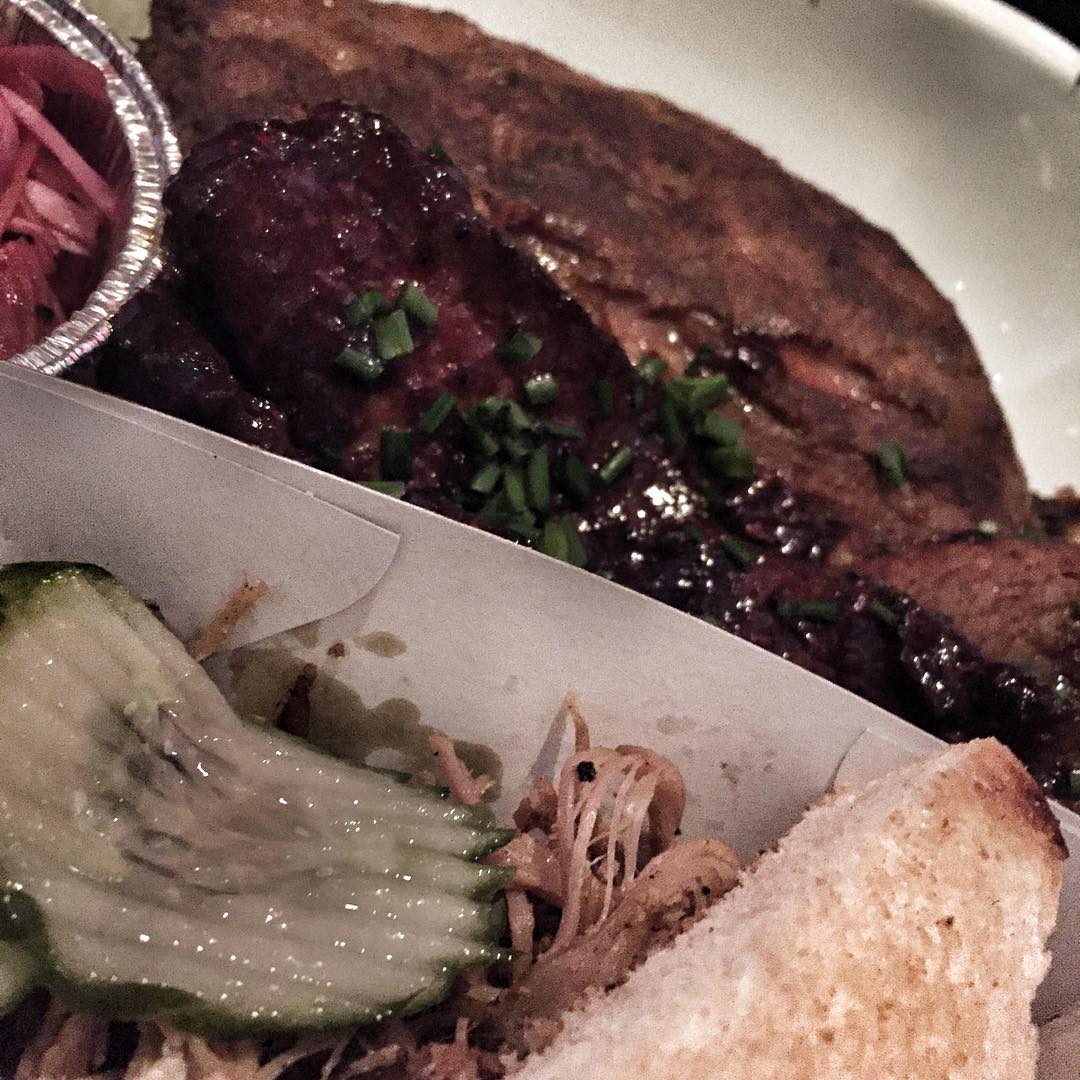 Chopped pork, beef brisket, ribs… Life on earth is good!
Try as we might, we unfortunately failed in ordering EVERYTHING off the menu, but we did succeed in feeding me all main courses (save the burger) as well as a sizeable portion of side dishes. We also succeeded in amassing a ridiculous pile of food, completely exhausting the table space between us… But again, I'm a firm believer in forming a nuanced opinion of the places I review and remember, dear reader, I do these things so you don't have to! And with those words in mind, I dove into the biggest pile of meat, I've seen this side of the Atlantic!
"Well," my still slightly anxious co-diner demanded after a while of pigging out… "What do you think?"
Well, what does a self-professed BBQ aficionado think about the food at Memphis Roadhouse? Aside for the very obvious fact that there's a lot of it, the word well-prepared comes to mind. I can honestly say that all meats I sampled that night were cooked low and slow to pretty much perfect texture: the pork shoulder ranked amongst the juiciest and most fall apart tender I've ever had, while the Kansas City Ribs were fall of the bone tender with just enough resistance and bite to make a true aficionado happy… And that's not exactly an easy feat! Especially not while preparing lip-smackingly succulent fall-apart tender short ribs on the side along with perfectly sliceable, perfectly juicy brisket. What I'm trying to say here is that BBQ is not just about taking different cuts of meat and cooking them forever. It's about knowing the difference between different cuts of meat, understanding which texture and mouthfeel is most desirable for each cut, and knowing exactly how long and how hot to cook each to achieve these results. As far as timing doneness goes, the pit master at Memphis Roadhouse more than earned his stripes on the evening of our visit!
As for the fried chicken? I hear from trusted sources it's the best in town, I know Malou holds it in high regard, and me? Best in town…? I can't say! All I know is it was moist and flavorful on the inside, crunchy and spicy on the outside – in all honesty, it was about as good as any southern fried chicken I've had. Including Sylvia's World Famous Fried Chicken.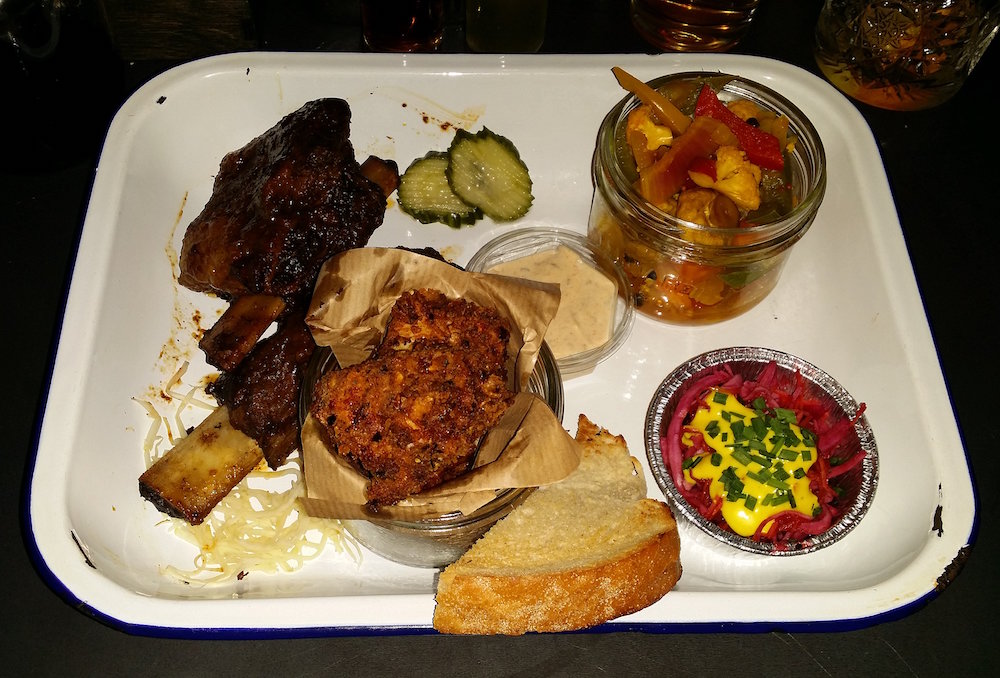 The teensy combo platter – Beef short ribs, fried chicken, pickle pot. Image credit: Malou, klidmoster.dk
As far as flavor goes, the smoke flavor at Memphis Roadhouse was kept on the subtler side compared to some "authentic" Southern joints, I've visited. But this seems understandable. First of all, an inner city location doesn't offer the options of outside smokehouses or open pits that I've seen in the south and secondly, smoke flavor is a very personal thing and I'm simply not sure inner-city Danish palates are tuned quite the same way as those of rural North Carolina or Tennessee. Some like it bold, others prefer a more subtle approach, what matters most is that the meat is perfectly cooked, full of flavor and has distinct smoke aromas: Memphis Roadhouse's BBQ on the day in question had all of the above. It was BBQ on a level where everybody could eat along happily and that, essentially, is what comfort food is all about. Same goes for seasoning: from the sweet yet tangy-hot maple-horseradish rub on the short ribs over the hot and smoky chipotle-based brisket rub to the light cajun-influenced rub on the pork, the flavors were bold, interesting and playful. Yet kept on the light side as to not completely overpower the flavors of the meat and the smoke.
Not that powerful flavors are missing at Memphis Roadhouse. Not by a long shot. Final seasoning and flavor adjustments are simply left in the hands of the diner, so to speak. Through table-side access to a number of housemade sauces spanning pretty much every regional BBQ style: from a North Carolina Vinegar Based sauce over a Kansas City-style tomato based sauce to a strangely appealing South Carolina mustard-based sauce. The variety of sauces allow the diner – either under the watchful guidance of the waitstaff or through personal trial and error – to put his own unique twist on the meal. All house sauces sampled, including the infamous "For Helvede" Habanero-based hot sauce, were well-balanced, well-made and true to their own particular style, with the North Carolina vinegar-based variety being a personal favorite. If the "For Helvede" (Danish for God Damn!) sauce isn't hot enough for you, rumor has it that a hotter selection may be available upon request. I suggest sticking with the house sauces for a better, more perfectly balanced experience, though, that allows you to enjoy the subtle qualities of the meats served without burning your tastebuds clear off.
Pure Capsaicin Extract Hot Sauce… I can't handle this? Bitch, please!
Speaking of subtle qualities, I think we can all agree that while meat is the essence of BBQ, no full-on BBQ experience is complete without side dishes: the extra little unnecessary onslaught of carbs to make your food coma feel complete. The pickle monster across the table had mainly incoherent little happy things to say about her pickle pot while my cornbread took me right back to some of my earliest, fond soulfood memories. The Mac 'n' Cheese was a little on the dry side but quite honestly still better, more cheesy and more flavorful than many I had on my trip through Dixie. The obligatory slaw? It was bold to say the least, made from multiple kinds of cabbage and a dressing lightly seasoned with hints of caraway seeds. I thoroughly enjoyed the extra little kick but I suppose it's not for everybody.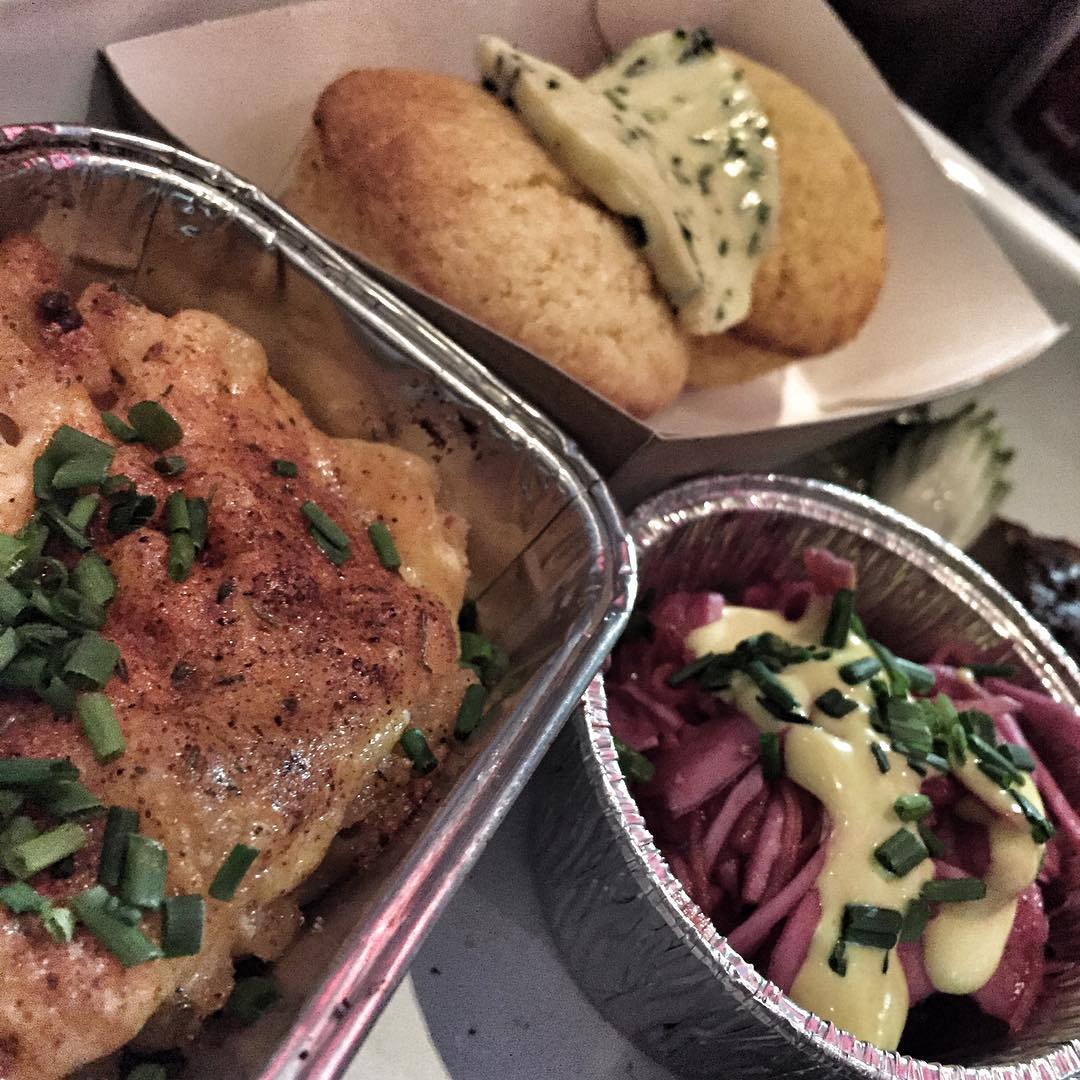 Comfort food is the name of the game at Memphis Roadhouse: Mac 'n' Cheese, Corn Bread and Slaw
"…. And that's about the gist of it," I finished my thoughts on the matter… "Phew," my now thoroughly relieved co-diner exhaled. "Another beer?"
And so, more delightfully drinkable Yellow Dog Lager was had and more piles of food, too. They mean well at Memphis Roadhouse, and the servings are gracious. So gracious that well into my main course and half way into Malou's, I ran into a strangely unfamiliar situation: I was full! So full, actually, that for the the third time in my 35 years on earth, I threw in the towel and asked for a doggy bag.
"Not a problem," our waiter smiled, swept away our plates and returned promptly with our humble leftovers wrapped up in a neat little package. "There you go," he winked and added an "oh, and just in case" before dropping a couple of dessert menus on the table.
Liquid Dessert: The Bourbon Menu
Now, I'm not the hugest dessert person in the world, but neither am I one to back away from a challenge, and I'd love to have given you this humble food geek's view on dessert according to Memphis Roadhouse. But while my heart holds a special spot for American over the top dessert concoctions, I knew deep down I couldn't. Even if pouring over the small selection of desserts, every inch of my soul was screaming for the New York Style Cheesecake – my dessert world kryptonite – I was simply… Full! Congratulations, Memphis Roadhouse, you broke the Johan!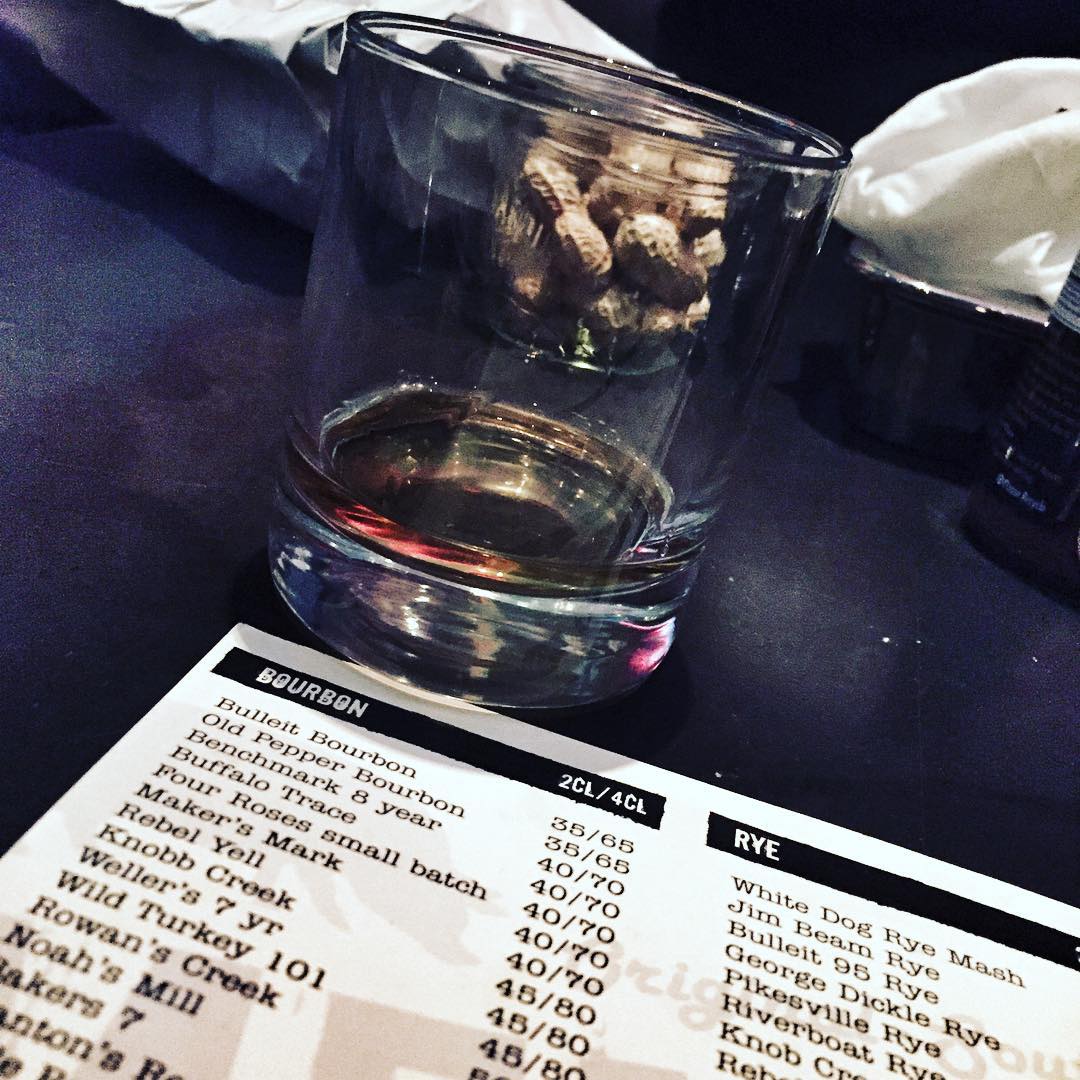 Bourbon… It's dessert… Of sorts!
Instead, our post-dinner food coma was spend studying the rather impressive array of bourbons, ryes and gins available, even sampling a few, including my old friend George Dickel Rye Whiskey, all while chatting away, possibly ordering a few more beers, laughing with the staff and regulars, trying to sum up in words the experience that was Memphis Roadhouse:
Memphis Roadhouse in Conclusion
To sum up the food at Memphis Roadhouse in words would be a seemingly straightforward task: Good, wholesome, homemade comfort food with a twist! Well executed, affordable and (ful)filling.
To sum up the experience that is Memphis Roadhouse is going to take a few more words.
I set out on this quest with my blogging partner in crime to answer a relatively simple question: what makes a culinarily curious food blogger return to the same spot some 160 times? The answer, strange as it may seem, is probably not the food. Well, let me rephrase that: it's not only the food! It's the comfort factor of the great comfort food equation: the familiarity, the people, the drinks, the mood, the music and the feel. Make no mistake about it, the food at Memphis Roadhouse is good, it's decently priced, plentiful and full of love and soul. I left that night, however, with the strange realization that for once this restaurant experience was not only about the food.
In reality, I realized, I'd come to Memphis Roadhouse not so much for the food. I'd come to Memphis Roadhouse first and foremost to explore a culinary institution, obsession and home away from home of a foodie friend. I left overwhelmed and not the least bit disappointed with what I'd seen in terms of vibe, soul, funk, playfulness, service and, well, downright Southern hospitality. And I left with the understanding that Malou hadn't come to this place 160 times for the awesome food alone, she'd come here for the vibe, the people, the homey comfort. What I failed to undestand was that Memphis Roadhouse is a pretty rare institution by Danish standards: a place where you'd want to return, where everybody knows your name, where you're one of the locals and WANT to be one of the locals, where the food is always good, the beers always cold and the food has enough soul to actually make you want to eat it again and again. Therein lies the reason for the many visits. I get it now.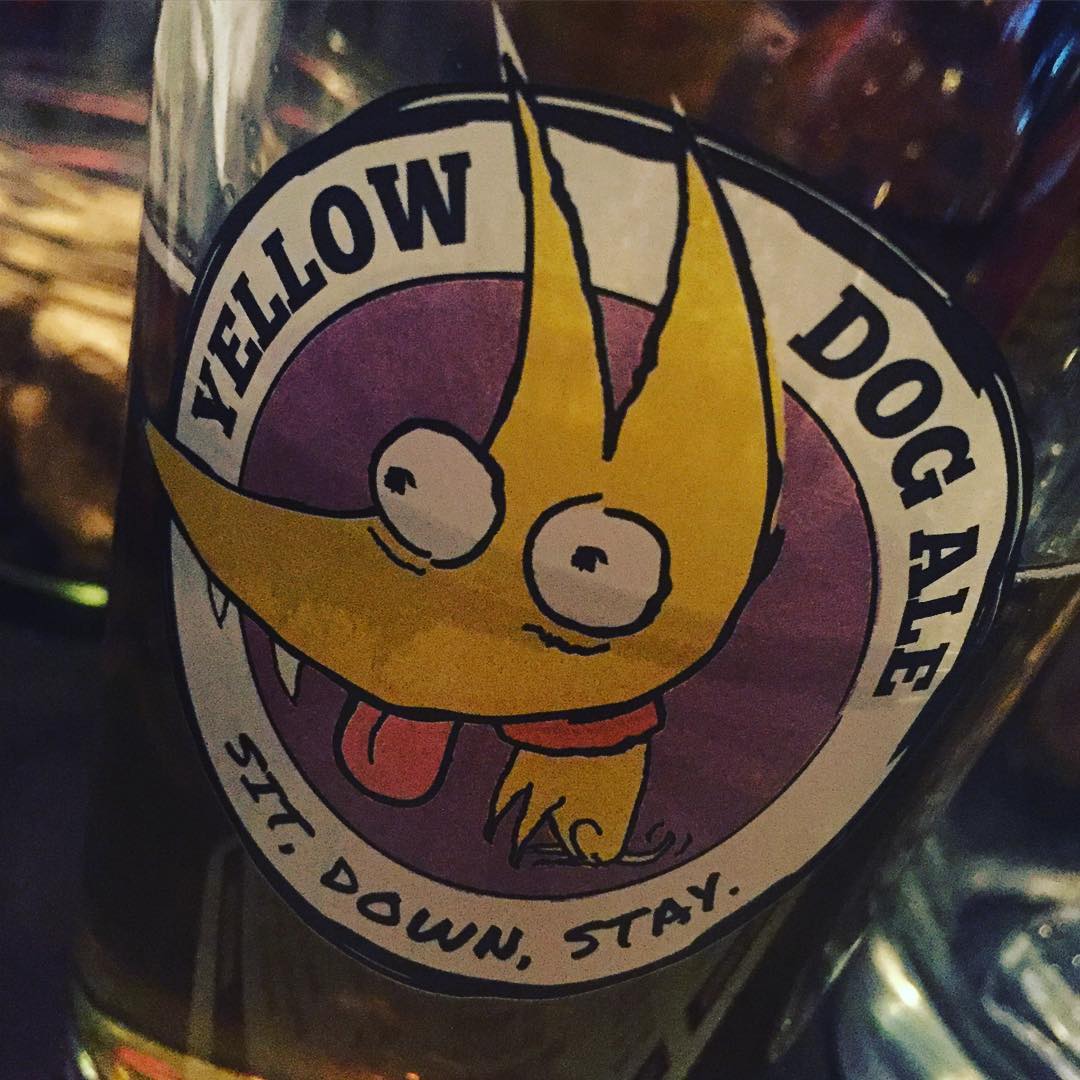 Beware of these, they're drinkable… And available by the pitcher!
That being said, though, I also came forth with another mission, the intention of answering the burning question: Can a white boy from Philly living in Aarhus, Denmark, create good Southern BBQ? The answer to that question is: in his own adorable way, yes he can! In more ways than one! Memphis Roadhouse is not one dogmatic take on BBQ. It's an adorable mashup of BBQ styles, attitude and playfulness, and if you come to Memphis Roadhouse looking for decently priced large servings of good, honest to God comfort food, I hardly think you'll be disappointed. The prices here are comparable to – or cheaper than – those of soulless chain restaurants churning out mass produced garbage, only the food at Memphis Roadhouse is actually original, tasty, playful, well-made and served with a bit of smoke and attitude.
If you're only looking to dine comfortably at Memphis Roadhouse, DKK 300 (a reasonable price of a cafe visit or a large restaurant main dish in this day and age) will buy you a starter, a main and a beer. This in reality should be plenty for most eaters and if not, the Combo Platters surely will be. Looking to start a party? Add a cocktail for starters, a couple of insanely easily drinkable draught beers, and maybe a few pickle bag shots, and you've got the perfect start for a night out on town. Go on, let lose, they won't mind. In fact, they want you to. Memphis Roadhouse isn't meant to be some fancy pants place. It's meant to be a place where you can kick back and enjoy the contemporary country playlist, the setting and the largely energetic and downright crazy waitstaff all while downing a few cold ones and sinking deep into meat-drunken happy buzz land.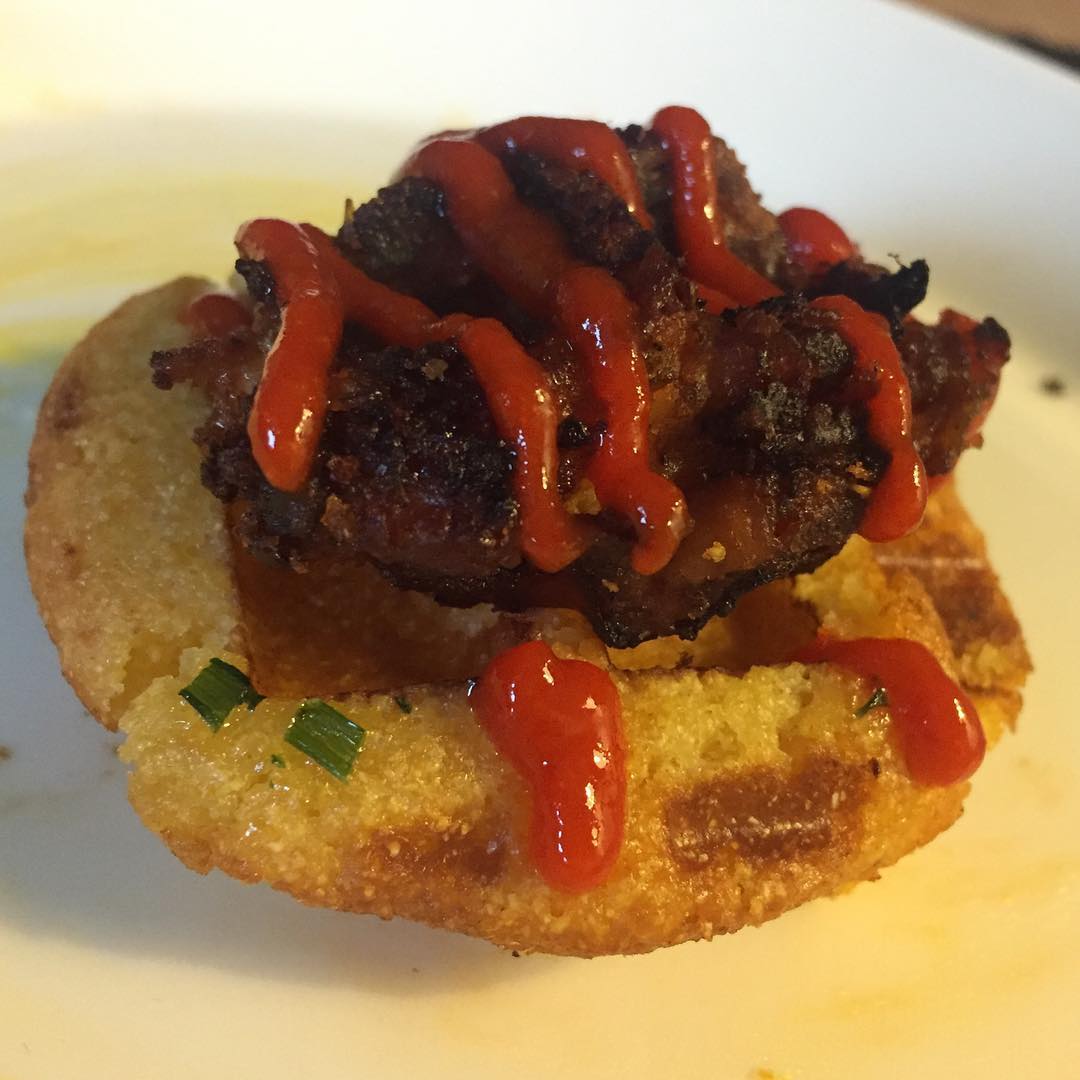 Putting the doggy bag to good use – chicken and waffled corn bread! This is what happens when you let food bloggers play with leftovers.
Thank you, Memphis Roadhouse for treating me well during my first visit. I have a feeling this will be the beginning of a beautiful friendship!