Home » Blog » Restaurant Reviews » Aarhus Street Food: A Street Food Revolution Epicenter
A revolution is taking place in the city of Aarhus, Denmark, and it goes by the name of Aarhus Street Food.
In a city already overflowing with culinary options and gastronomic landmarks, affordable, fast and deliciously exotic food for people on the move has found a new niche. In fact, Lonely Planet, who just ranked Aarhus amongst the top culinary destinations in the world, cites the bustling street food scene amongst the reasons for favoring Aarhus in front of a myriad of cities. Indeed, street food is big in Aarhus and the ever growing yet sometimes anarchic movement has now gained a center and a common footing in a very aptly named project: Aarhus Street Food.
"Welcome,  my friend," the sign beckons!
Aarhus has long had its fair share of visiting and semi-permanent food markets and farmers markets, but it wasn't until the opening of Aarhus Street Food that the good people of Aarhus found a permanent fixture for their diverse street food needs.
Aarhus Street Food: A General Overview!
Aarhus Street Food opened in August of 2016 in an old bus garage at the heart of downtown Aarhus, a few minute's walk from the Central Train Station. The area, in which the new street food market lies, has, how shall I put it, yet to see full gentrification and stands a curious mix between old and worn and new and modern. Curiously, much the same can be said about Aarhus Street Food.
Within this big, open-floored building, perched under a dusty skylight ceiling between naked concrete walls, an ever changing and ever-growing group of foodies have created a new epicenter for their common interest: cheap and diverse, quality food served up simply and quickly for people on the move. The name street food may be slightly misleading here as we're actually talking an indoor space occupied by permanent food stalls, bars and plenty of seating space, but the city's new popular attraction do mimic most aspects of a traditional, ethnically diverse street food market or food truck stop.
Scattered throughout the huge, open, industrial space are about 30 food outlets built entirely to their individual creator's desire: Some are made from repurposed freight containers, some from wooden frames, others again are regular food trucks, old hotdog stands or carnival booths. As is often the case with the lesser regulated food market scene, some outlets are fancier than others but each have a vibe and feel of their own, creating a delightfully unique and non-conformist display of character, an aura of warmth and sense of creative and culinary creationism within an otherwise very cold, industrial and bare setting.
This potent mix of pioneer spirit and food culture make for an interesting contrast to the barren industrial feel of the neighborhood and building which Aarhus Street Food calls home. In all honesty, it looks and smells a lot like Copenhagen's highly successful street food venture, but promises to be entirely its own and the locals absolutely adore it. Is the food any good, though? And where would a foodie get his fix?
When to visit: If you're not into crowds and rubbing shoulders, know this: Aarhus Street Food, like most food markets get packed on weekends! Expect the place to get increasingly crowded from 4 PM Friday and onwards through most of the Saturday. Weekend nights are packed and rowdy, weeknights less so.
What to eat at Aarhus Street Food: Five perfect lunch or dinner suggestions
On my most recent visit to Aarhus, my food blogger partner in crime Malou and I took a stroll through the food market that has recently been crowned "Best Experience in Town" by AOA magazine. Our objective? To find the best things to eat at Aarhus Street Food, and here now are the suggestions we came up with, listed in no particular order.
Super BAO: Traditional Chinese Steamed Buns
At the heart of the market, in the smallest of places, you'll find Super Bao. A cozy little booth where zen-like chefs without much regard for the hustle and bustle outside meticulously and carefully prepare Asian specialties with care and attention. While pan-Asian dishes such as ramen soup, wontons and spring rolls are available, the name of the game here is the Chinese specialty Bao: soft steamed buns stuffed with a spicy meat filling, in this case pork or duck. We grabbed the pork version featuring succulent, buttery braised pork swimming in sticky sweet and spicy hoisin sauce marinade topped with kimchi and herbs, and they were just wonderful. Spicy, sweet, sour, salty and succulent.
At DKK 35 a pop, these medium sized bites aren't exactly cheap, but neither are they outrageously expensive. From a price vs quality standpoint, they're well worth the price, but if that still seems a lot, get this: At Super Bao, DKK 85 will buy you the value meal, featuring two bao buns (pork and duck) plus two crispy spring rolls and two wontons. That, my friends, is value for money!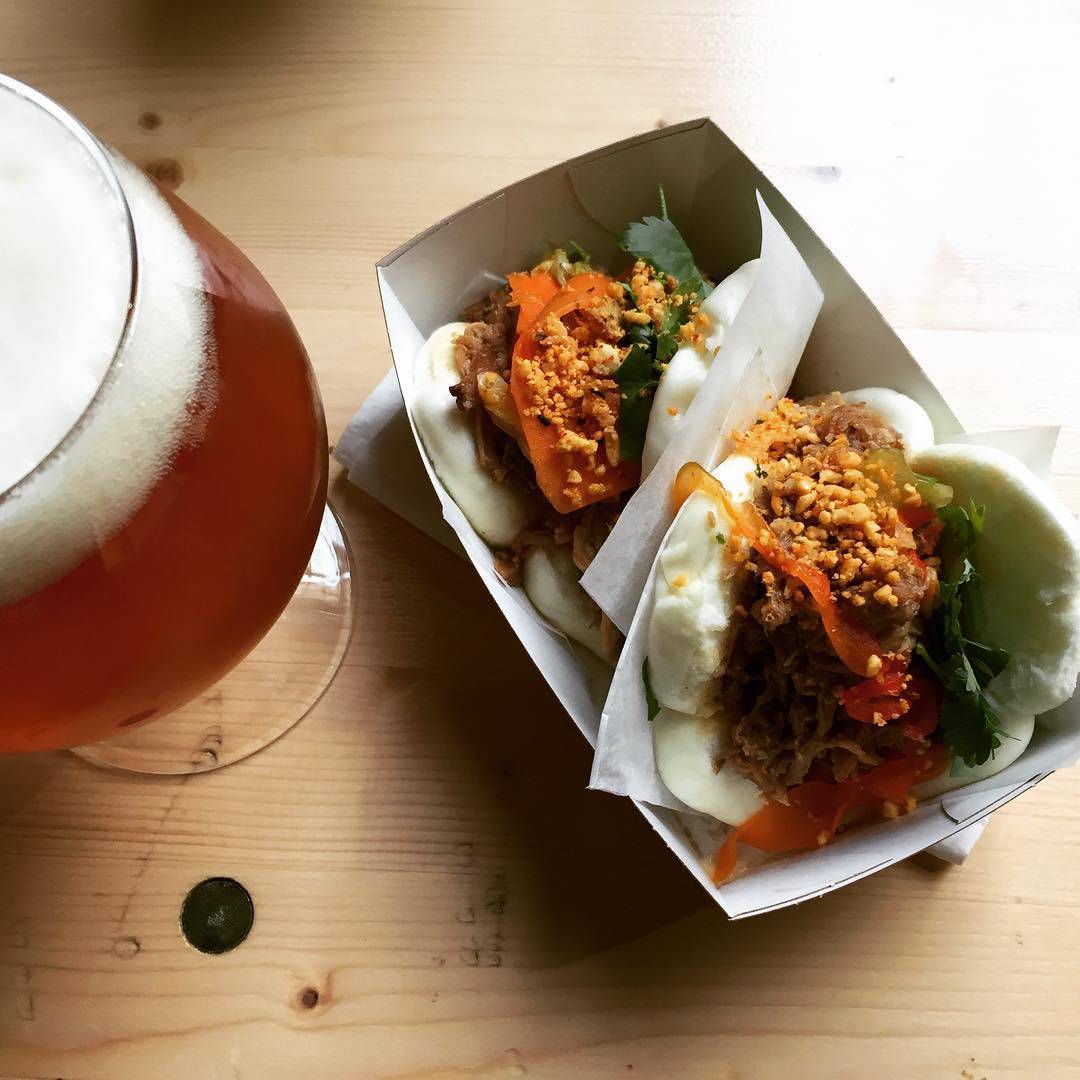 Steamed buns and beer… All is well…
Pro tip: As bao buns are steamed as part of the cooking process, they are bit soft in texture throughout. If textures in a meal are important to you, add a bit of peanuts and seven spice mix from the condiment bar – or order the combo meal featuring spring rolls and wontons for added crunch at a very reasonable price.
American Street Kitchen: Rock 'n' Roll Street Food
Food is key at food markets, but character a close second, and at the very aptly named American Street Kitchen, we found the most outspoken, loveable and downright crazy crew of the day. The menu looked simple enough, featuring a small array of American street food, diner and comfort food classics such as bacon Mac 'n' Cheese, curly fries, hot wings and hot dogs, but everything was well-made, well-presented and it was the enthusiasm, humor and glow that brought us home.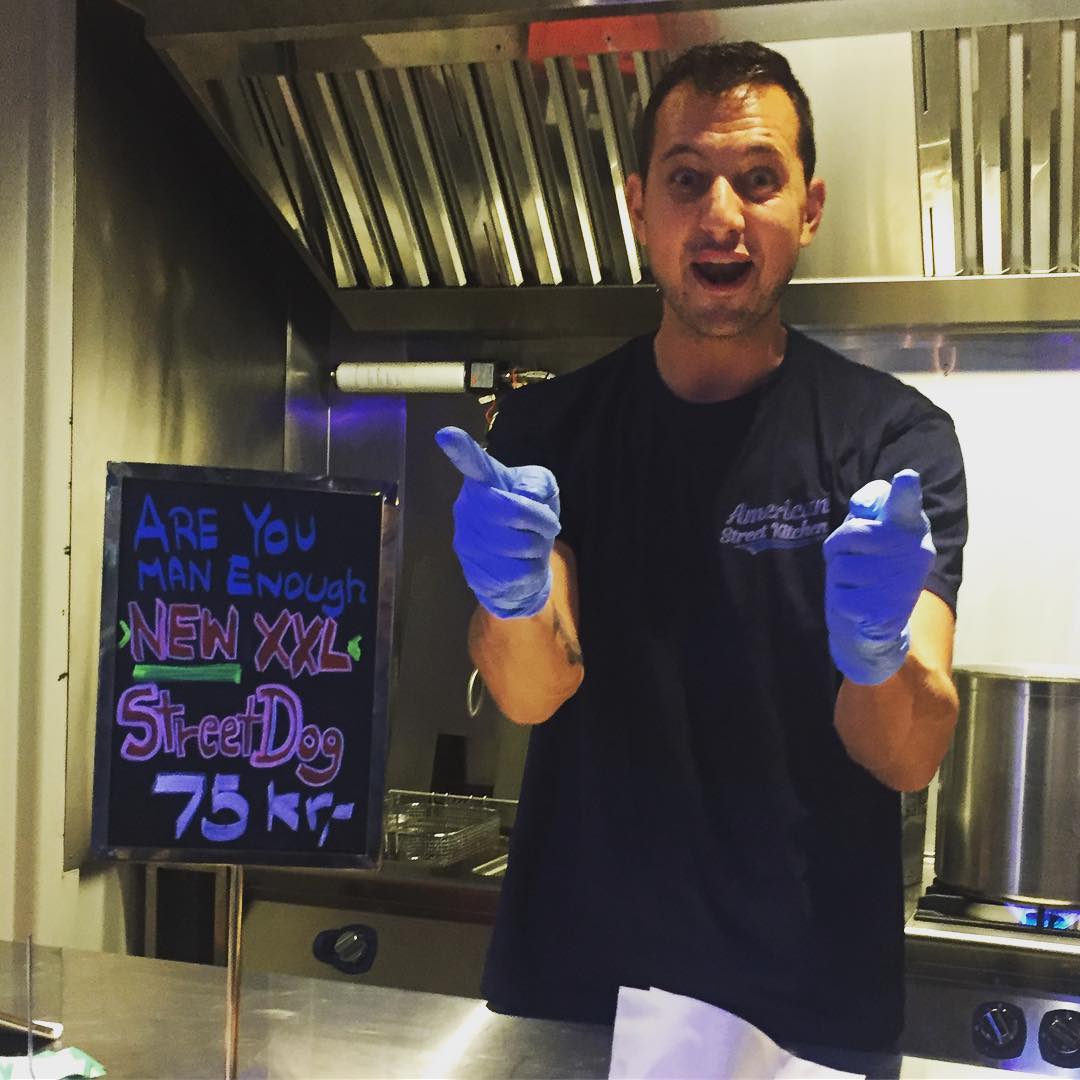 Some people just get terribly excited about the length of their sausage…
Their Mac 'n' Cheese looked comforting as can be, the wings red and hot, but what really caught our eyes were the hot dogs: not very street like at all in character, but rather opulent, artisan and tantalizing looking. The setup featured a brioche bun stretched to the breaking point by a prominent 150-gram frankfurter made to order by a local butcher. Also in the mix were caramelized onions, a mustard dip and spicy/sweet BBQ sauce.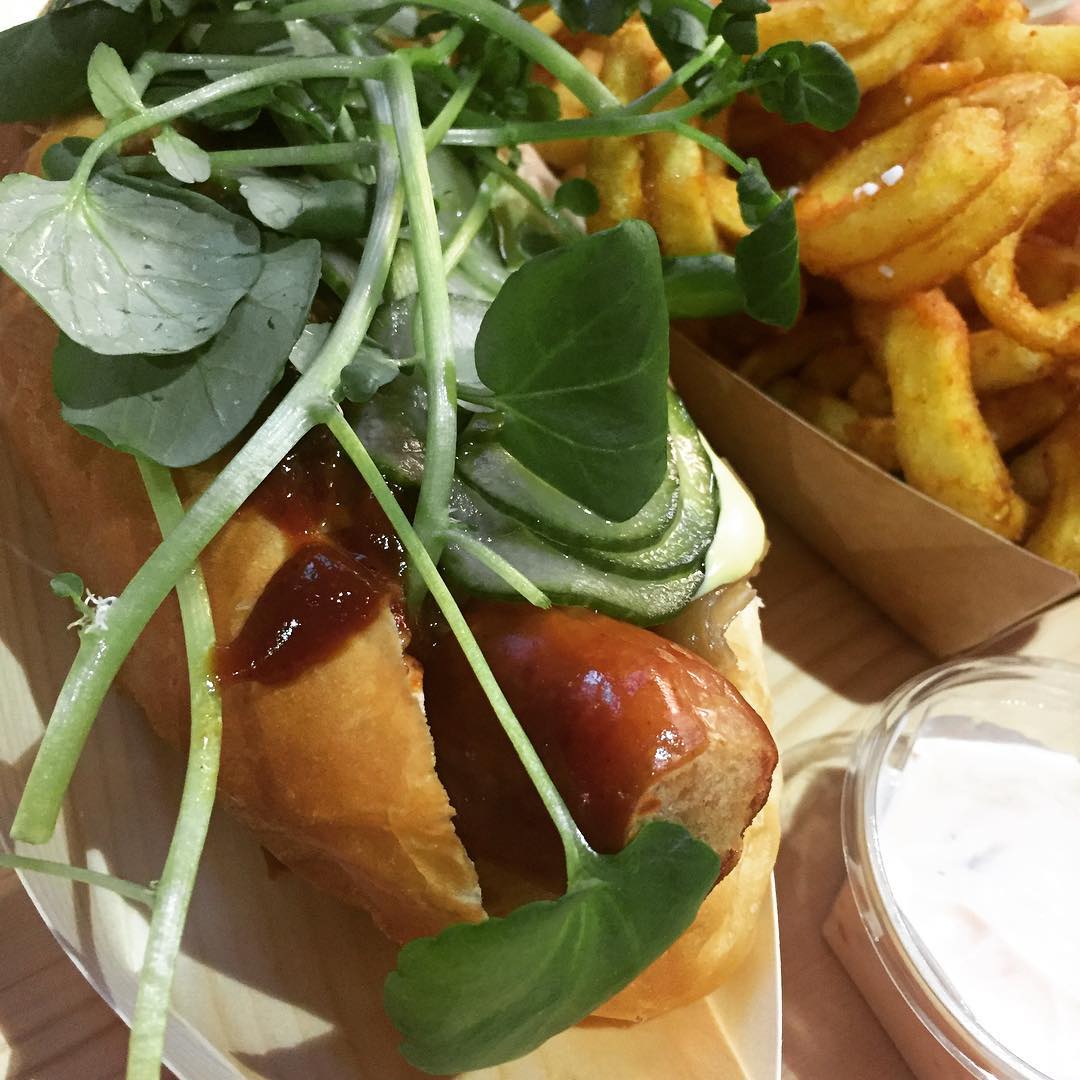 A work of art, really, and a dog to remember: the sausage was meaty, succulent, spicy with a perfect snap (that's what she said!) and clearly a quality product. The brioche bun soft and buttery to the point of melting in your mouth. The onions, mustard and BBQ sauce deep, sweet and spicy in flavor while pickled cucumber slices added a hint of much needed crunch. My only wish, really, was a bit of vinegary zing to the mustard.
But still, even at DKK 60, the American Street Dog is a recommendable and substantial meal. Add some spicy curly fries and chili mayo and you're about ready to start singing "Take Me Out To The Ball Game".
Pro tip: Grab a knife and fork from the counter. Eating a hotdog with utensils may not be manly, but it's fucking difficult and messy for bearded monkeys such as myself to do it hands on.
Mormors Køkken: Tear-jerkingly nostalgic Danish comfort food
In the pursuit of new and exciting street food flavors, we often forget the familiar and local. Mormors Køkken (Granny's Kitchen) is here to put an end to this sad tendency.
From a well-lit modern kitchen, Mormors Køkken serves honest to God Danish classics. Tarteletter, chicken and asparagus in cream sauce served in puff pastry cups and Boller I Karry: pork meatballs served over rice in a sweet and spicy cream sauce flavored and colored with curry powder. Though basically full from just consuming the mother of all hotdogs, I tried the tarteletter on for dessert and not only were they well-made, tasting and comforting, they were exactly like my late grandmother would have made them.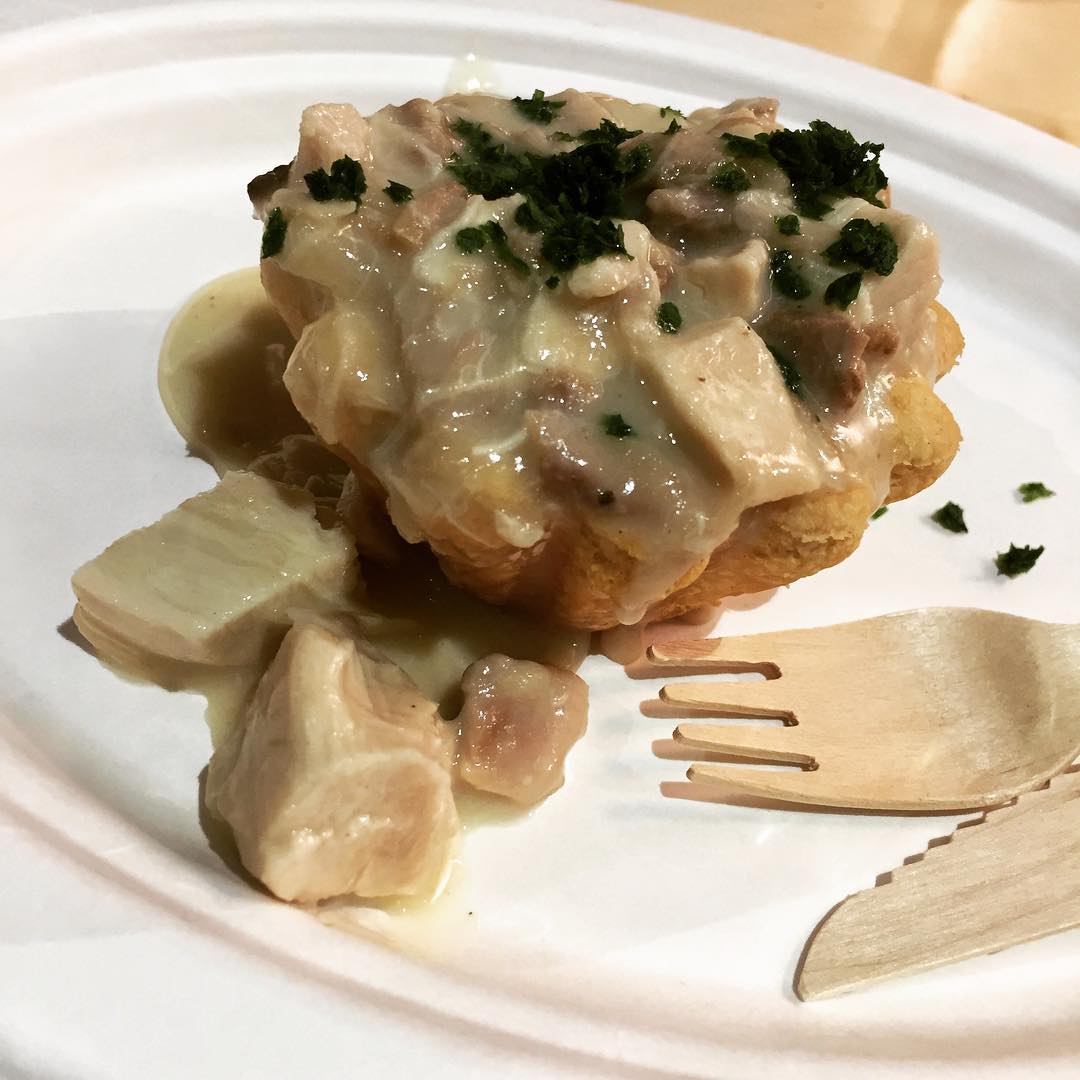 While waiting on the meal that was to bring fond memories to my mind and a tear to my eye, I chatted with the owner of the stall and he promised more classic dishes would join the menu. He would not disclose to me which dishes exactly other than saying that Danish rice porridge would be a Christmas special.
Granny's Kitchen is a welcome classic breath of air in a sea of bustling ethnic diversity. Try them on for traditional Danish comfort food just like Grandma would've done it. Yes, that was a major cliché, but it's also the damn truth!
Bánh Mì Bandits: Rogue Vietnamese Sandwiches and awesome salads
It's no secret that I love Bánh Mì Sandwiches, the quintessential Vietnamese street food consisting of a crusty baguette traditionally filled with marinated meats, crisp and pickled veggies, salad, herbs and spicy sauce.
In an impressive two-story structure, featuring a large kitchen, ample counter space and even a roof-top terrace complete with tables, chairs and colored lights you'll find Bánh Mì Bandits, a champion within its field and hailed far and wide as purveyor of the best Bánh Mì sandwiches in town, if not within the region.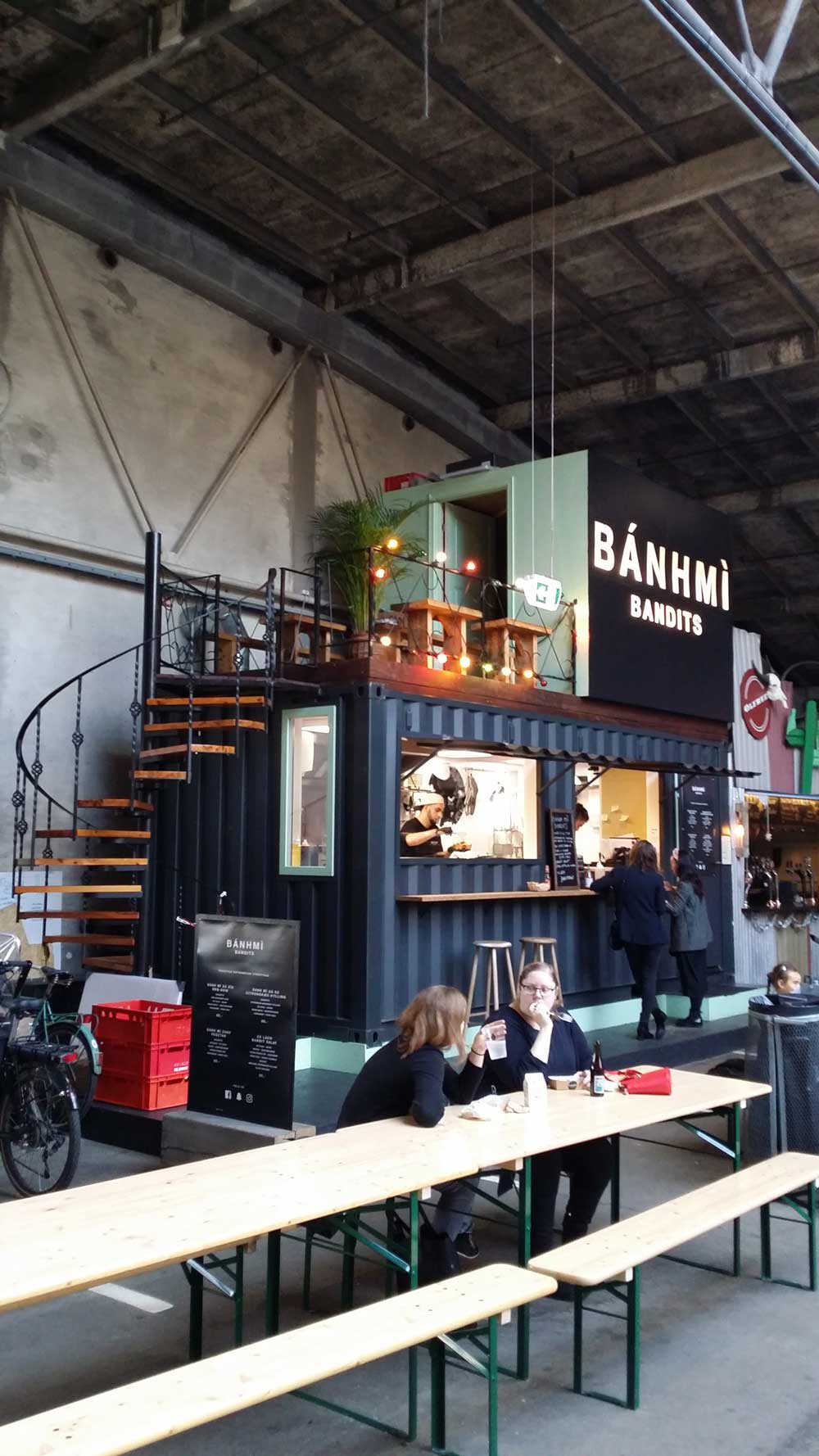 Bánh Mì Bandits – Photo Credit: Malou, Klidmoster.dk
With that in mind, when first visiting Bánh Mì Bandits, we did in fact not have sandwiches – we had salad! Now, calm down, bear with me, my story gets better: more specifically, we had instead the Bandit Xá Lách, a Bánh Mì served salad style; without bread but with plenty of greens and vegetables. Why deprive the Bánh Mì of its signature element, the baguette? Well, in a strange kind of way, it makes sense, and not just from a narrow LCHF perspective. But from a taste and texture standpoint as well. By removing the bread, focus is turned instead to what is really important in a sandwich – and often sadly overlooked in the Kingdom of Denmark – the filling and the taste and textures thereof.
BBQ pork, pickled carrot an daikon, cucumber, cabbage, ginger and peanut dip, hoisin sauce, cilantro and chili… In a lot fewer words: pure awesomeness!
The salads from Bánh Mì Bandits may well offer the most perfect marriage of taste and textures found at Aarhus Street Food: they're spicy, sweet, sour, salty, crunchy, soft, fresh, vibrant and crispy – in EVERY bite. They call it a salad, but in reality it's a meal in its own (even without the bread) and a complex work of art.
Haters don't believe me? Go on, try it! Or go old school and add bread. Bánh Mì Bandits easily offer one of the best tasting and most complexly seasoned Bánh Mì experiences in Denmark – bread or no bread!
Grilled Cheese: Perfectly decadent cheese melts
Great things often come in humble packages. For decades, one of my favorite comfort foods has been the humble grilled cheese sandwich – the simplest of sandwiches featuring generous amounts of cheese slowly melted between two slices of bread as white as snow, then fried in plenty of butter on a hot griddle.
Imagine my excitement, then, when I discovered the Grilled Cheese Food Truck at Aarhus Street Food. They serve one thing here – grilled cheese – only their version is anything but humble! Their standard cheese melt, for example, features a blend of three cheese (including mozzarella and Vesterhavsost, an aged, Danish Parmesan-like cheese) for a perfect combination of melting factor and taste.
Regular ol' decadence not good for you? You can go bold and add Sucuk sausage for an additional DKK 10 or go off the chart and add truffle, portabello mushrooms and pickled onions for DKK 20. There's even a confit de canard version in the making! We're probably talking slow death by trans fats here, but it's a beautiful fucking way to go!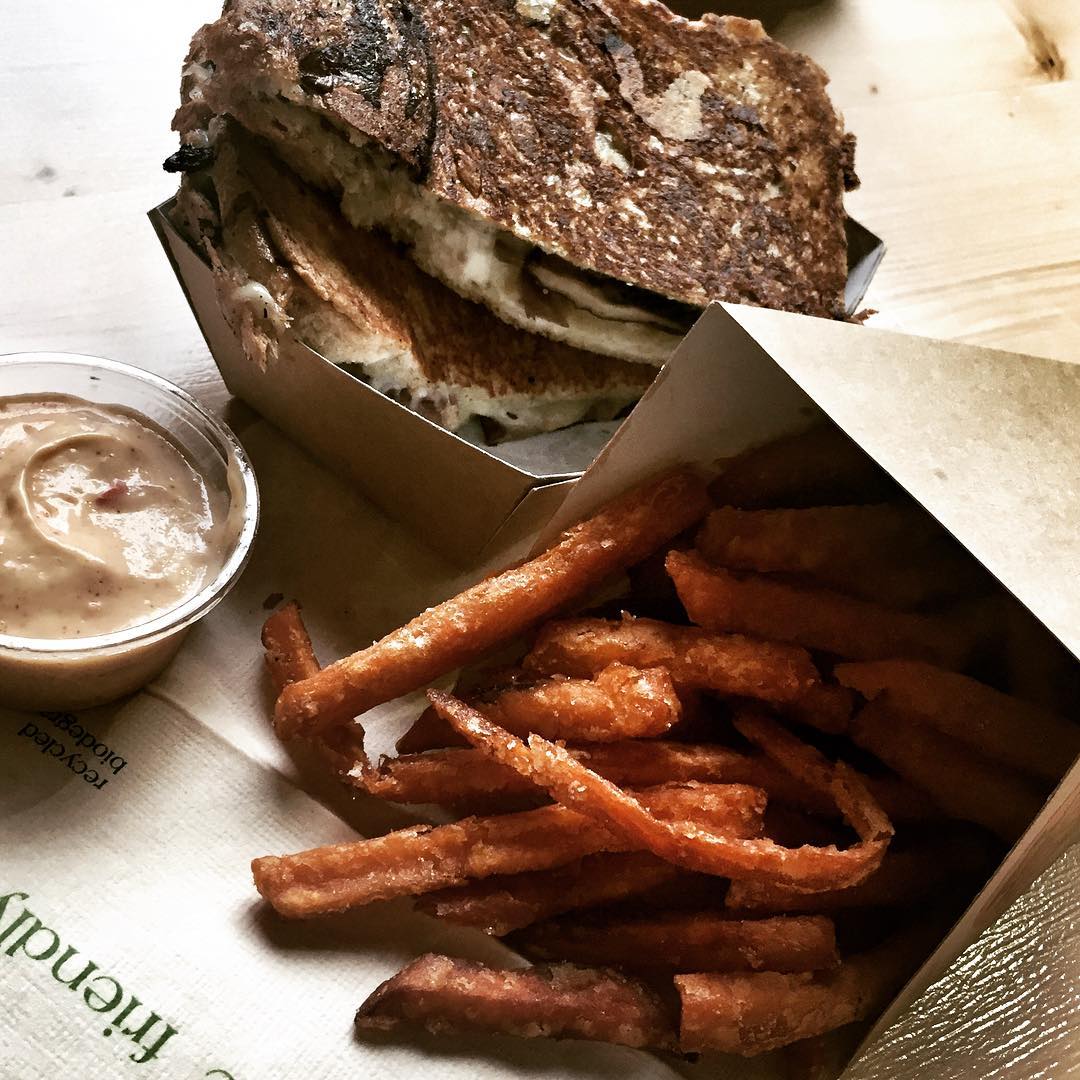 Cheese, butter, white bread and fries… It's the world's most gorgeous heart attack waiting to happen!
Butter, white bread and cheese not enough to give you a heart attack? I highly recommend snagging a side order of sweet potato fries. They're hands down the best I've ever had; perfectly soft and fluffy in the middle with a superb caramelized and crunchy exterior. They're DKK 40 per (generous) serving but well worth the price – as is the warming but not unbearably hot Habañero mayo served on the side.
A full value meal at Grilled Cheese will set you back DKK 100-120, but it's a substantial meal that will bring you to your knees if consumed alone or could easily be shared by two people.
What to drink at Aarhus Street Food? Wine, beer and cocktails a plenty!
If you're looking to wet your whistle, the watering holes at Aarhus Street Food are plenty and diverse. Walk straight in the front door and the first thing you'll notice is the main bar serving up off-the-mill Danish lagers, sodas and water. Look to your left and you'll see the cocktail bar (open only during peak recreational hours), serving up spirits, cocktails and long drinks.
Bearing right from the main bar will take you instead to the wine bar, serving up wines at street food friendly prices and onwards to my favorite of the lot: Ølfred, a proper beer bar serving at least 15 various beers on tap and even more by the bottle. The choices are numerous here, the service warm, friendly and smiling. Best of all? A pint of freshly poured quality ale on tap will set you back 50-60 DKK – a fair price by Danish standards.
And fair is the key word here. Drinks are not extraordinarily cheap at Aarhus Street Food but neither are they exceptionally expensive. It should be noted, too, that if you buy your drink from either the wine bar or Ølfred, you'll get your wine or beer poured in a proper glass that heightens the drinking experience, not some nondescript plastic cup. Nice touch, guys! When you're done with your drink, simply return it to the counter or one of the "Glass stations" scattered throughout the dining space, or go order a top-up.
Price, quality and selection at Aarhus Street Food: Too expensive?
Heading into Aarhus Street Food for the first time, I was wary about prices and what to expect. One of the main pieces of criticism voiced by early reviewers was a notable difference in quality and price from stall to stall, with some items being labeled as downright offensively expensive. It would appear that in the time leading up to my visit, though, food vendors have listened and adapted to these very vocal cries of "bah, humbug!"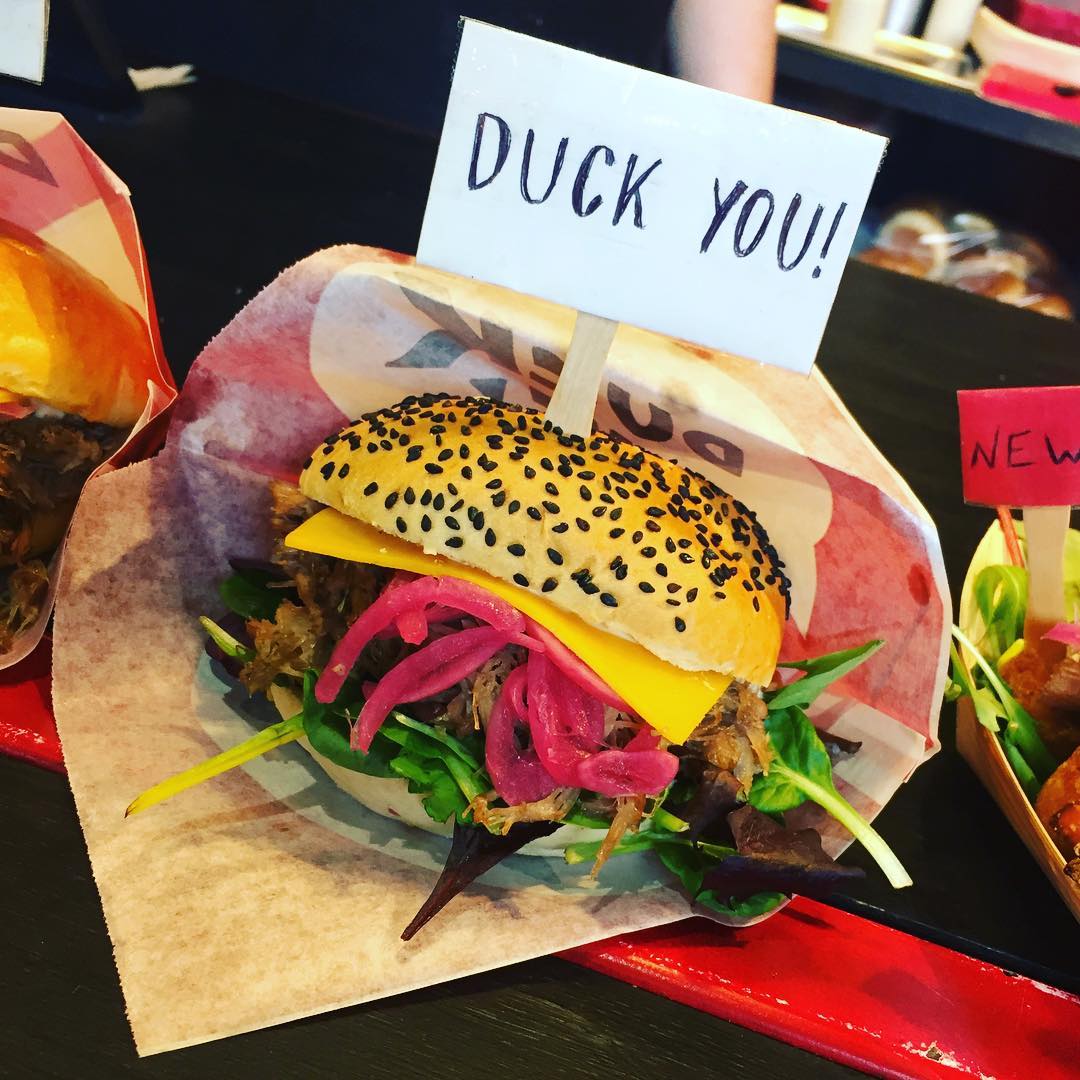 Well, Duck You, too!
While DKK 80 for a burger and an additional DKK 50 for a symbolic serving of duck fat fries from "Duck It" is certainly appallingly expensive at a "street food market", I found prices to be generally acceptable and fair. Every stall in sight offered at least one food item at DKK 50 or less and full, substantial meals could be had everywhere at prices ranging from DKK 60 – 120. This, in my book, is a perfectly reasonable price in a major Danish city and the portion sizes we encountered walking around the market seemed if not always substantial then at the very least fair.
And what of the general quality? The university student in me would point out some issues in the size of the empirical evidence, I'm about to present, so let's avoid overly hasty conclusions and state instead that in a matter of two days, we managed to seek out seven different meals from an equal amount of vendors. Of the options we tried, quality of dishes ranged from good to exceptional. While we passed on a couple of stalls that looked either unappetizing or had offered us a bad experience at a different outlet, there were plenty of exciting choices left for second, third and fourth visits including Afro-Caribbean fusion, fish n chips and Thai street food – to name but a few.
Visiting seven out of an ever-growing number of food stalls is obviously not enough to form an overall opinion, but it's enough to safely establish a general feeling of quality and to conclude that I want to go back for more… Aarhus Street Food has me hooked!
Aarhus Street Food in conclusion: A tale of two food markets!
When, in a past article, I shared my thoughts on Aarhus' newest food market, Aarhus Central Food Market, which opened not long after Aarhus Street Food, I asked the question: Does Aarhus really need another food market? The conclusion back then was a resounding yes. But now, having frequented both markets, how do I feel about my original conclusion?
Not surprisingly, much the same! Aarhus is a bustling city with a large and diverse foodie population. And the beauty of this setup is that Aarhus Street Food and Aarhus Central Food Market cater to two entirely different segments within this larger group: Aarhus Street Food is large, buzzing and industrial. Aarhus Central Food Market is small, cozy, and (for lack of a better word) sophisticated.
With no intention of neither generalizing nor sounding too snobbish, Aarhus Street Food is for Joe Average Foodie looking for an affordable, quality meal and a drink (or seven) in an at times rowdy setting. Aarhus Central Food Market, on the other hand, is for the quality obsessed foodies, those looking to hide away from the hustle and bustle of Aarhus Street Food, those interested in knowing the history and heritage of the produce they consume and those willing to pay a little extra for restaurant-like quality and may also be looking for meat, fish or produce to prepare at home.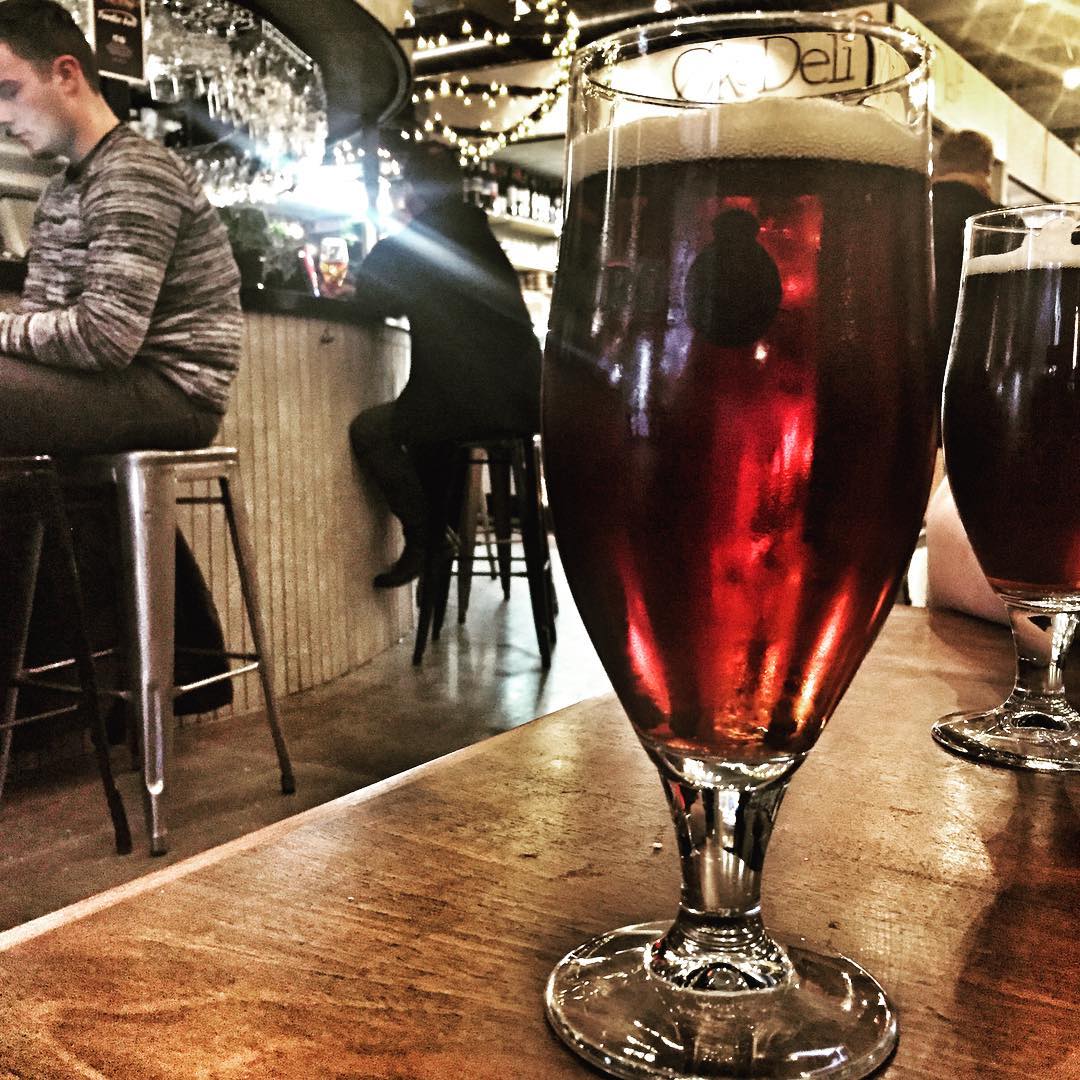 Don't worry, Aarhus Central Food Market, we still love you! Look, here's us having a beer at the Foodie bar after reviewing Aarhus Central Food Market!
There is nothing wrong with either of these demographics. In fact, I regularly pledge allegiance to either of them depending on mood, company and other factors as well. As a result, I welcome and believe in this multiple market setup for the better of the city, the vendors and the foodies of Aarhus alike – and I will continue to support both for as long as they continue to provide new input, new experiences and new great eats!
Can Aarhus support two food markets or more? For as long as they remain this different and exciting in their own unique ways, hell yes!
Aarhus Street Food – Location and Opening hours
Find Aarhus Street Food at: Ny Banegaardsgade 46, 8000 Aarhus C
Monday – Thursday: 11:30 AM – 9 PM
Friday – Saturday: 11:30 AM – 10 PM (Bar till Midnight)
Sunday: 11:30 AM – 9 PM