Home » Blog » Restaurant Reviews » Review: Restaurant MellemRum, Aarhus – Dining Between Spaces
[dropcaps type='circle' color=" background_color=" border_color="]B[/dropcaps]y now even our international friends should have noticed that the restaurant scene is buzzing in Denmark. We've got the world's supposed best restaurant, we've got our fair share of Michelin stars, we've even coined the term New Nordic Cuisine to describe our unique way of cooking.
Still, when most people think of Danish gastronomy, they think of one place: Copenhagen. And that's a bit of a shame, really, because culinary Denmark has so much more to offer. Take our second largest city, Aarhus, for example: Home to about half a million people, more specialty wine and food shops, bars and cafés than you can throw rocks at, and – as of this year – three Michelin stars! Yup, in many ways Aarhus is a lot like Copenhagen on a slightly smaller, sometimes more laid back, scale. And one thing Aarhus shares with Copenhagen (aside from top class eateries and Michelin stars) is a growing number of mid-priced restaurants where surprisingly good food and wine can be had a surprisingly reasonable prices.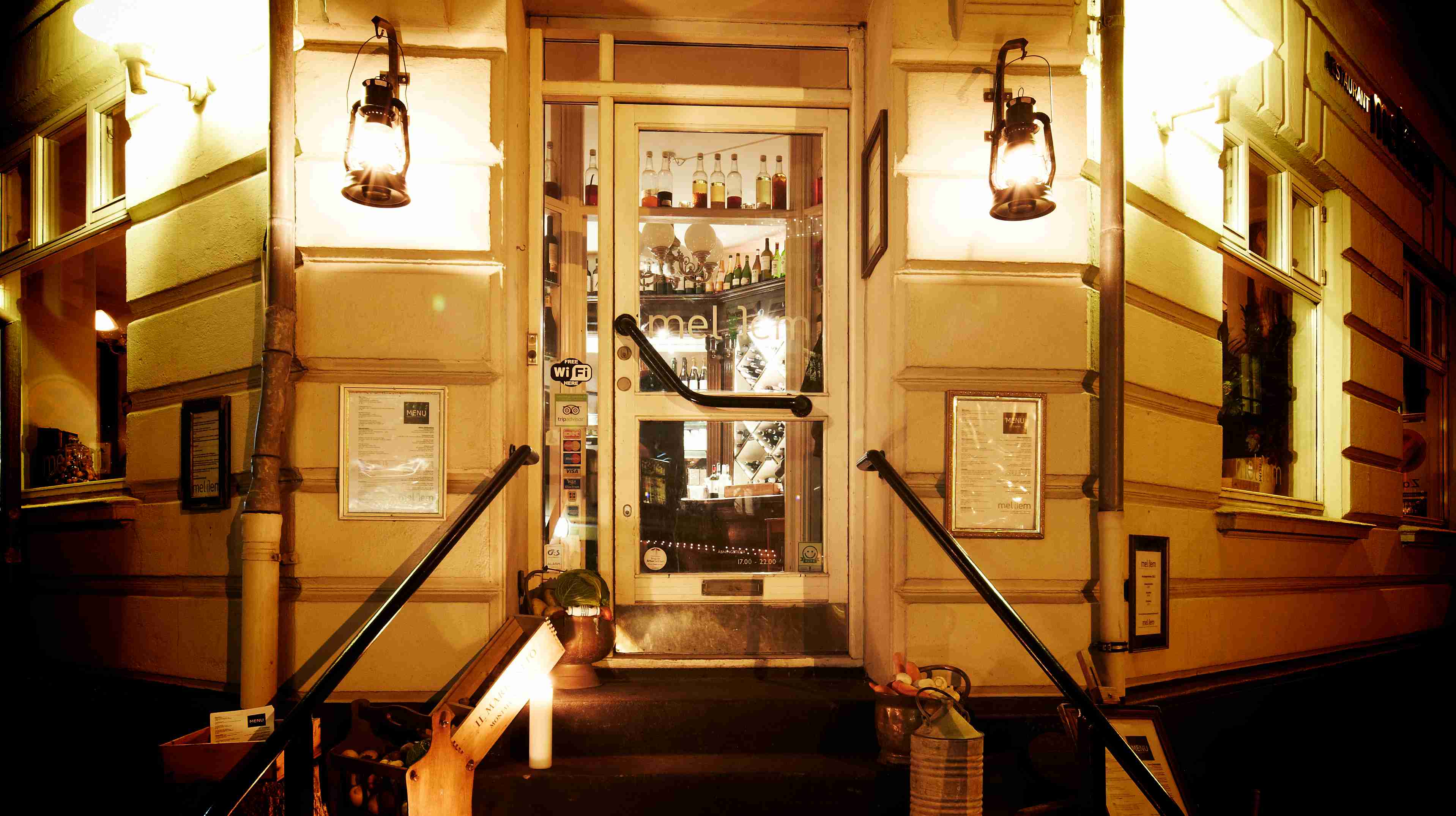 Restaurant MellemRum, as it's supposed to look on a good day! Photo credit: restaurantmellemrum.dk
One such Aarhusian (is that a word?) place, rumour has it, is Restaurant MellemRum: a 60 odd seat restaurant located near the city center that I would have never heard of, had I not spend some time taking an online marketing course with one of the owners a few years back. Already a budding foodie back then, I took notice of my new acquaintance being a restaurateur and we kept loosely in contact via Facebook over the years. I kept telling him that I ought to check out his now reasonably hyped venture, and I kept not delivering on my promise – until the Easter weekend of 2015, that is, when I had a meeting just outside of town and figured it a  damn shame if I not drop by on my way home and finally have a look at things with my own, snobby eyes.  The final kicker was a five course DKK 300 mini tasting menu with optional wine pairings that Restaurant MellemRum had put together for Easter. Five dishes and five wines for DKK 600, this I'd have to see!
This post details my journey through a five course tasting dinner at what some consider to be a rising star on the second largest dining scene in Denmark. It is also my ode to dining off the beaten track and trying something outside of the epicenter for a change. But first: language lesson, ladies and gentlemen!
MellemRum: What's in a name? And a location?
Mellemrum is the Danish word for space. As in the empty space between the 4000 odd words making up this post. In English, the word space serves a double meaning as a name for a physical space, in Danish, this is not quite the case. The literal Danish translation and meaning of the word is more along the lines of "between spaces" or "separator". And that, my friends, is the clever logic behind the naming of the restaurant. The owners strive for it to be a safe, comforting space between spaces; somewhere you'd go between say the work space and home space as a safe refuge to relax, have a few bites to eat and a glass of wine (or five!).
When it comes to doing just that, Restaurant MellemRum is conveniently located in the center of Aarhus, about a ten minute stroll from Aarhus Central train station, set amongst other restaurants, bars and dodgy dives in a place called Fredens Torv (Literally: Square of Peace). Fredens Torv is a beautiful setting, I'm sure, it was, however, thoroughly missing an aura of peace and tranquility when I visited as the entire block and many surrounding streets were dug up for some sort of renovation work. Add to that fact that the facade of the restaurant was under renovation and you'll forgive me for saying that initial impressions were a little, uh, underwhelming. Looks, can be incredibly deceiving, though, I assured myself as I walked through the front door and into the complete antithesis of the outside world.
From out of the cold, deserted and torn up street, I entered directly into a warm, crowded and neatly buzzing dining room that could easily, had it not been from the absence of a large central bar, been mistaken for a larger pub in Central London. The locals or those in the know, it seemed, were not deterred by the carnage taking place outside. And that, honestly, was about all I had time to think before I was approached by a smiling head waiter who took my name and showed me to a table near the door, neatly overlooking the entire buzzing dining room.
Seconds after being seated, I was offered an aperitif and a few snacks to get settled, both of which I gladly accepted. A few minutes ticked by and a chilled white wine cocktail had made it to my table. Lovely, I thought. Good speed, I thought next.
Dining Solo at MellemRum
Now, to be honest, I'd had my weird feelings about dining alone immediately before heading in. Granted, it's something I've often done when on business or when I crossed America on a solo trip back in 2003. Usually, though, it's been the two courses and a drink kind of experiences, not a full tasting menu with wine pairings that I had planned for the night. Would it feel weird, would I seem weird, would it be as enjoyable as if I had someone to share the impressions with? I honestly didn't know heading in.
Chilled white wine cocktail, perfect for a warm early spring evening
If the waiter thought my undertaking strange, he certainly didn't let it show. Rather, he, most naturally, pulled out the empty chair at my two person table, sat down, looked me in the eyes and struck up conversation, giving me a quick intro to the menu and asking how and what I'd like to eat. I told him that I would very much like the full easter menu with wine pairings, he said most certainly, then continued on his route to attend to his other tables with the same amount of care and genuine interest. It was a small one minute gesture that made a world of difference in making me feel welcome, appreciated and as part of a crowd rather than just the odd food blogger eating alone and Instagramming his food. And as it turned out, it was a gesture that was not only reserved for me.
This is nuts, I had time to think as I was left to myself and my drink. Overlooking the restaurant, I counted a nearly full house and only three front of house staffers on duty. Dishes were being rushed forth steadily and plates, glasses and what have you were cleared frequently. Still, every member of the wait staff found it in them to treat every customer with as much time, respect and friendliness as was needed to make them feel like the center of the evening. Whoever schooled these people in time and stress management needs a hug and a f'ing medal! I could have quite honestly spent some time contemplating and appreciating this fact, had I not been rudely (I kid!) interrupted by the arrival of my snack serving:
Snacks: Salted almonds, rice paper wrap and sour cream pork rinds
Snacks at Mellemrum arrived in the form of three individual servings, plated individually on a wooden plank. Right at hand were a Danish restaurant evergreen, salted almonds, flanked on the left by a pretty, little spicy rice paper bite which sort of reminded me of an Indian samosa only lighter, softer and less greasy.
Spicy rice paper wrap… Like Indian samosas, only feather-light and better!
On the right, a small stroke of genius: a Danish classic, pork rinds – puffy, crispy, deep fried pork skins seasoned with sour cream, dill and onions. To fully understand the wonderful weirdness of this, you'll have to understand Danes. Most of us, at least those my age, grew up on two kinds of snacks: pork rinds and sour cream and onion chips. And while for most, like me, it's been a while since the last fix, most Danes will have some sort of happy food memory associated with either of the two. For me, I was instantaneously brought back to Mississippi of all places and a hot, damp, summer afternoon in the summer of 2014 where during a stopover at a general store, I crashed in a rocker on the porch with nothing but a drink and pork rinds in hand.
Sour cream pork rinds, a memory-enducing snack!
For a short half hour that summer afternoon, I was in absolute heaven, and the snack serving at MellemRum brought me back to that happy place. This stray synaptic connection in the mind of the Johan was of course unknown and unintentional to the good folks at MellemRum, but it sure made my evening and I'm sure many other happy pork memories have been had over this particular snack.
Pork Rind Heaven, Onward, MS, summer 2014
I, for one, zoned out a bit, but was soon pleasantly awoken by the arrival of not one, not two, but three bready bites to further boost my appetite.
Bread: Three ways!
Bread at MellemRum, on this evening came in three shapes and forms. A standard focaccia, a dark loaf made using burnt malt and lastly a particularly delightful brioche, a slightly sweet, airy and soft French type of loaf made with ungodly amounts of butter. To compliment the bread selection came some fresh butter, a green herby mayo and a humus dip heavily spiced with warming, Indian spices.
Three types of bread and spreads. A little more than I could possibly need and I'm strangely okay with that!
All choices at hand were obviously freshly prepared and bursting with flavor with the brioche and mayo being clear cut favorites of this food blogger. Ah, and in case you're wondering: yes, you can eat extra butter on brioche. It's sinful, but good!  I had a large amounts of food still coming, though, so with bread being in plentiful supply, I stuck to the first rule of restaurant dining (never fill up on bread, however awesome it is!) and waited for my first real dish to arrive.
First course: Easter egg surprise – roe, eggs, croutons and beurre blanc
I'm reasonably sure the Danish restaurant code contains a bit of written unwritten law dictating that whenever possible, you are, as a restaurant owner, obliged to add lumpfish roe to your menu during the short late winter/early spring peak season. And Restaurant MellemRum, I'm happy to report, follow suit. My first dish was delivered to me as a heated bowl containing croutons a pile of fresh, beautifully pink lumpfish roe and a swirl of Beurre Blanc. On the side, my waiter carried a whole egg and a small ramekin. He introduced the first part of the dish, then without a word carefully cracked the egg on the ramekin.
Before I could even start to utter a what in the world, the egg was cracked open over the serving plate to reveal a perfectly poached egg, that elegantly bounced onto the plate and settled to one side. I was then instructed to use a spoon to crack the yolk, mix and eat. Clever that.
Lumpfish roe, a Danish spring classic.. This time in an eggs and eggs variation!
With this first serving also came my first wine of the evening. The people at MellemRum, I'm reasonably sure, source their own wine and they apparently do so with a bit of an attitude. The wine pairing for the first dish was a Sauvignon Blanc which wasn't an entirely surprising or controversial choice. What was a bit surprising, though, was that it was not a crisp, acidic and grassy New Zealand style Sauvignon Blanc. It was an organic Spanish Sauvignon Blanc from Bodegas Latúe, richer, mellower with more body and noticeably less acidity. Weird at first, but strangely compelling given a bit of time and certainly an interesting match with the flavors of the dish – some so than anything the cress that adorned the top.
It may be blurry, but even so, few things in this world are sexier than runny egg yolk!
The rich, decadent combination of butter-fried croutons, creamy egg yolk, lightly acidic beurre blanc and pop in your mouth lumpfish roe is one that doesn't need much in the way of explanation or comments. It does, however, need a fair amount of salt and unfortunately the kitchen seemed to have overlooked this crucial fact on this particular evening. And this, quite honestly, with the attention to detail delivered across the line dumbfounded me more than anything. How does one meticulously plate something so beautiful and then forget about the salt?
Moving on, though, I forgave the busy kitchen staff in about two seconds when my next dish arrived…
Second course: Salt-cured salmon, kohlrabi, buttermilk and dill
My second dish arrived in pretty quick succession and was brought directly to me by a member of the kitchen staff who had helped prepare the dish. Having kitchen staff help deliver meals is, by the way, another miniature stroke of genius on the part of Restaurant MellemRum: not only does it take a bit of a load off the front of the house, it also helps you connect with the food and the experience in a totally different way to have it brought to you by someone who has helped prepare it and is visibly proud of his work.
This perception of pride in his work was cemented by the fact that my friend from the kitchen, picking up on my culinary interest I'm sure, proudly ventured into great details to explain the creation of this next dish and it's finer details:
Few times in my life have I not wanted to destroy dishes by eating them. This was one such time!
On my plate, I found two beautiful trimmings of salmon, served raw but perfectly cured in salt, sugar and spice for a firmer texture and a lot of flavor. On top of said salmon trimmings were dollops of herb mayo, quick pickled slices of kohlrabi, several shades of cress and black specks of what I was told with no lack of enthusiasm and pride, were dehydrated cucumbers.
To compliment the salmon, a modern New Nordic Classic: brightly green dill/herb oil mixed with buttermilk to create a purposefully split and largely psychedelic-looking sauce. Evil voices will tell you this trick is largely overused in Danish kitchens, I am however still taken aback by the visual aesthetics of this simple trick. Basically, what I had before me was, in my book, a simplistic work of art that had obviously taken a borderline insane amount of work and attention to detail to produce. And these sort of things please me. As did the flavor.
Following the under-seasoned starter, this dish definitely delivered the most flavorful experience of the evening. The fish, firm, salty, brimming with umami and spice being complimented beautifully by the tangy, herby sauce and various shades of richness and acidity from the mayo, the kohlrabi and the herbs. I'm not the biggest of fish fans but I could have eaten nothing but this all night and be well pleased. And I'd eat it again any day. Quite gonestly, the only more wholesome fish experience I ever remember having came from the hands of a Michelin-starred chef in New York City. Well done guys!
The wine pairing came in the shape of my first rosé of the year, a Colheita Rosé again from Spain and again a largely atypical specimen with (I'm guessing) a little bit of age, structure and finesse to it rather than just thin, straight up fruit. Comparisons could be made to a French Lirac, but it wouldn't really be fair to either. Suffice to say, it was good. For a rosé, it was very good.
It was in the process of contemplating rosé I suddenly looked up to realize again just how absolutely buzzing the restaurant was. At this time, the place was absolutely overflowing with every seat in the house occupied and people still pouring in from the street, being treated to a glass of bubbles while they waited for tables to clear. Still, and quite surprisingly so, the three waiters on duty were not only keeping a straight face, they were actually smiling, nodding, joking about and keeping their cool, taking the time needed to service their customers, without slowing down or losing control or time in any noticeable way.
The abandonment of guests in the face of unexpected pour-ins is something I've slammed much finer establishments for in the past and as such I couldn't help to smile and raise my glass for the little guy as I sat there watching the small staff stay cool in the face of a very busy night. So enjoyable was the spectacle, indeed, that I didn't even notice the slightly longer wait between courses two and three… Or maybe I was just unknowingly counting my lucky stars, that it was not yet time for the main event…
Third serving: Lamb two ways, carrots and ramsons
When my third serving of the evening arrived out of the kitchen with just as much pride as the previous serving and carried by the same staffer, I must confess to feeling a bit apprehensive about the situation. Why? Well, here's a fun fact, I'm not terribly big on lamb, that's why! Why then, would I order and eat a menu that has lamb as the main event? Well, partly because I like a challenge, partly because it's the traditional thing to do. And you're crazy to mess with tradition, right?
In Denmark, as in most other places I would imagine, tradition demands that Easter lamb be served slow-roasted with ample amounts of rosemary, flavorful glaze based on the juices, garlic and the last remaining winter vegetables like carrots and other roots. And you're crazy to mess with tradition, right? Well, the good people at MellemRum aren't crazy. Much.
Their Easter lamb did come slow roasted, in two different forms (neck and shank if I'm not mistaken), it also came dressed with rosemary and a flavorful glaze. There were carrots, too, flavorful ones at that. But what of the garlic? Well, in an old Nordic tradition meets New Nordic tradition, the role of the garlic was played by a drizzle of oil made from ramsons, better known as wild garlic. This made for a more mild and herbal garlicky flavor that blended well and not too aggressively with the other powerful flavors from the glaze and the vegetables. But what you really want to know is this non-lamb-loving Dane's take on the lamb, right?
Lamb done two ways with carrots, glaze and ramsons oil.. Quite good for a lamb dish! 😉
Well, the lamb itself was cooked to succulent, tender perfection and to my surprise was neither too lamb-like nor too covered in rosemary for my enjoyment. It really could have used a heavy pinch of salt, though. I entertained for a minute the thought that maybe the saltiness of the sauce was supposed to be counterbalanced by the succulence of the meat, but whichever way I looked at it, the meat tasted bland to me and I'm pretty sure that wasn't the case. Eventually, I gave up and asked my waiter for some salt which he promptly delivered. A few sprinkles of the fine Maldon sea salt he sourced for me, sufficiently elevated the dish and made it shine far more than it did in the beginning. So much so, that I'd go so far as to call it memorable – and that's pretty big for me when it comes to lamb.
The same could be said for the wine, by the way, a 2009 slightly unusual Italian blend featuring both Barbera, Nebbiolo and Cabernet Sauvignon. Showing all the tannins of Nebbiolo and all the cedar woody components of Cabernet, it seemed an odd match and a little overpowering on its own but with food mellowed considerably it became oddly fruity and enjoyable and, well, memorable, something I don't often say about Italian wine. Boy, they sure know how to pick them at MellemRum!
Speaking of picking them, MellemRum recently landed a new head chef, Mikkel Laursen, a former chef at some of the most famous eateries in Denmark. Mikkel is a chef that likes his Nordic Cuisine, and as a result has apparently been shaking things up a little since arriving in early 2015. If hints and nods had been made at New Nordic cuisine in earlier dishes, the lamb dish included, the fourth dish of the evening could easily be considered an all-out homage to the New Nordic way of cooking.
Fourth serving: Artisan cheese, fennel, dill and malt
"Have you heard of Arla Unika?" my kitchen staffer friend asked me as he placed another small piece of art in front of me, then slumped down to introduce my fourth dish. He was talking, of course, about Danish dairy giant Arla's line of small-batch artisan cheeses, and as any food blogger worth his salt, of course I had which I promptly told him. He nodded and smiled in a we'll-keep-it-short-then fashion: "This is their Krondild cheese," he told me with no uncertain amount of enthusiasm, "flavored with dill seeds, we whipped it light and airy and topped it with fennel, more dill and some crispy malt. Please, enjoy."
If I told you this was a cheese course, would you believe me?
"Oohkay," I thought, and dug in, once again with a bit of reservation. Nordic cuisine is one of those things that have me torn. Sometimes it makes a new and odd kind of sense, sometimes it's just weird for the sake of weird. On this particular evening, though, with this particular dish, it made perfect sense. Arla Krondild is a white mouldy cheese with a brie-like twang and a pronounced herbal note from the dill seeds. Combined with the more herbal and slightly cooling notes from the poached or marinated fennel and the slightly sweet, crispy malt sticks, it reached some odd form of perfection as a dish that was part cheese course, part palate cleanser and part pre-dessert. It was at one time full of depth and refreshing, mild and tangy, delicate yet memorable. It's not a dish for everybody, I think, and I'd forgive the haters for hating, but on this particular evening at this point in the meal, it suited me very, very well.
As did the wine pairing: German Riesling Feinherb from the unfortunately named winemaker Geil. In the fascinating world that is German wine classifications, it was stuck somewhere between a Kabinett Trocken and a Spätlese. To those thoroughly confused by German wine classifications, that would mean reasonably dry yet with a pronounced sweetness and a fair whiff of acidity. Not as pronounced an acidity as you get with some Rieslings (sadly!) but still a noticeable prickling on the tongue. A lovely if slightly simple glass. If ever I had a problem with this wine, it would merely be that it reminded me that I have yet failed to find popular support for my motion to ban white wine served straight from the fridge. I know it's what the public wants, but dammit, it's not right.
German lesson of the day: Geil (n), cool and/or horny!
Luckily, and unbeknownst to me as I sat warming the glass in my geeky little hands to coax some more impressions out of the wine, I would soon have far weirder wines to contemplate.
Fifth serving: Mango sorbet, passion fruit, chocolate truffles and all things good
"Your last wine of the evening is a naturally sweet French wine made from Grenache Noir grapes," said the smiling young waitress who had apparently taken over my table, quickly followed by a "no, no, it's really good, here, try it" and a small test pour, leading me to believe that my gaze must've replied something along the lines of "what the ?"
Naturally sweet Grenache Noir wine… Wait… What?
She was right, too. It was good. Sort of like a young fruity port loaded with prunes – in a really good way! I sipped, nodded, she poured and all was well for a while, until dessert arrived. It wasn't that there was anything wrong with the appearance of the dessert. It was the most beautiful dessert spectacle I've seen since visiting the famous Lieffroy's in Nyborg. What threw me was just what the good people at MellemRum  had decided to pair with the already decidedly funky red dessert wine. Sprawled out before me on a plate was a beautiful mess of perfectly churned mango sorbet, diced mango poached in vanilla syrup, chocolate truffle, passion fruit puré, crumble, herbs and what have you. A visually stunning masterpiece, but a pretty odd pairing for a red wine! "This will be interesting," I thought as I digged in and zoned out…
Dessert at MellemRum was nothing short of a work of art. Period.
"How was it?" the smiling female waitress demanded as I emerged again. "I'll be honest," I said, "not in a million years did I think this interesting mesh of conflicting flavors would work, and paired with a red wine, too… But it did, beautifully!" – "I know," she smiled and hit the nail on the head, "there's just so much going on on the plate, so much acidic and fruity zing that it never once turns heavy or overly sweet. I love it, and I'm not even a dessert person!"
"A girl who's not a dessert person," I quipped, "now I've indeed seen everything… I think I'm gonna need a cup of coffee!"
Coffee: Putting the Rum in MellemRum
Coffee at MellemRum, it turns out, comes in many ways shapes and forms: from your standard black over milk foam creations, to the trusted Irish variety. Whichever version you chose, it comes freshly brewed to order using quality ingredients. If you opt for the Irish variety, know that it comes served in a tall wine glass and that Whisky is poured at the table from what I assumed from a distance was a 5 liter bottle of Jameson's. Tradition, I heard, demands that the drinker says "stop!" when he's pleased with the amount of Irish in his coffee and that the only safe word the waiter knows when pouring is "STOP!"
Not feeling particularly suicidal on the evening in question, I opted for a regular black coffee and a side pour from the rather lengthy digestif card. Out of the sufficiently large and surprisingly non-standard selection, I chose the only Rhum Agricole (link) on the menu, mainly because I dig the unusual dry style. As my luck would have it, my selection of choice had sold out not terribly long ago but what happened next was another testament to the friendly, homey feel of Restaurant MellemRum. My waiter who had helped me feel welcome at the beginning of the evening rolled up the drink trolley, pulled out a chair, sat down with a glass and said something along the lines of: "I regret to inform you that your drink of choice is sold out. I would recommend this as an alternative as it is in the same dry style, but for your reference, here are a few notes on each of our selections."
In the immortal words of George Jones: Well, hello darlin'! – Drink trolley at MellemRum
He then proceeded to take the time to walk me through the available choices and offered his personal opinions on the options. He turned out to be quite the rum freak himself and actually in charge of stocking the rum section of the drinks trolley. The resulting conversation was friendly, enlightening and heartwarming – as was the rum I ended up consuming along with my coffee. In the end, the conclusion of my visit ended up feeling a lot like the beginning of my visit, a surprisingly friendly, warming chat between friends where the staff happily took the time needed to make you feel right at home and welcome, no matter the time of night or their personal stresslevel. I had come full circle. And with that in mind, I asked for the check with a smile on my face, happily paid my dues and upped and left my dining experience at MellemRum. I'd come. I'd seen. I'd eaten. Well.
Summing up Restaurant MellemRum
I stumbled into Restaurant MellemRum from the unassuming facade at around 7:30 PM, not knowing quite what to expect or how to feel dining alone. I stumbled (slightly more so) out some 4 hours later, full but not pressingly so, happily buzzed but not to a point that enshrouded the experience or dampened the tastes and expressions. I was a couple of hours wages poorer, but a great, friendly and personal dining experience richer.
I'm not saying that as a person who vaguely knows one of the owners, I'm saying that as a person who paid his way and got his money's worth – and more. To sum up: the food at MellemRum is meticulously prepared, filling, bursting with flavor and at times downright beautifully presented on the plate. And it's brought to you at the hands of a great, friendly bunch of people who are visibly thrilled with what they're doing for a living and seemingly want nothing more out of their job than to make you feel at home and show you a great time. Add to that some more than reasonable prices at this gastronomic level and you start to understand why some locals chose MellemRum as their space between spaces.
… And with all that said, MellemRum, please let's never have to speak about this seasoning issue ever again, okay? All MellemRum needed on this beautiful spring evening was a little more salt! That being said, I'll happily be back any day! 🙂