Home » Blog » Restaurant Reviews » Quick Pick: Den Blå Café, Kolding, Denmark – Kolding's Original Café
Does this world really need another French-style brasserie? To be perfectly honest, those were my very first thoughts when news broke that seasoned, local chef Kristian Fogh had taken over the helm at Den Blå Café (Literally :The Blue Café), a 28 year old institution in Kolding's dining and night life scene.
Scenes from a lunch visit to Den Blå Café: Bubbles, eggs, steak tartar. Photo credit: Malou Rotvel Pagh, Klidmoster.dk
In taking over Kolding's oldest café, which had long held a reputation of being a better watering hole and night spot than a venerable eating spot, Kristian had a plan. A plan of turning the menu upside down. Out with the old café classics like nachos and brunch platters, in with a new, French-inspired menu dotted with brasserie classics and a selection of Danish evergreens. Now, let me be clear here, there's absolutely nothing wrong with shaking up the familiar and bringing in new ideas. What got my alarm bells ringing was the fact that brasserie food has been done a million times over across the globe with varying results, most of them bordering on dull. Could Kristian possibly do better than the millions before him that tried and failed? Yes, echoed the rumors across town.
Having heard many an encouraging word from friends and fellow foodies, I threw my personal reservations aside and decided to put this new concept to a test – several times over. I first visited for birthday brunch with my fellow food blogger and awesome friend, Malou. I subsequently dragged 12 lovely female co-diners (it's a hard-knock life) along for a stress test of the pris fixe dinner specials as part of my loyal ally Tina's bachelorette party. I then, finally, grabbed my walking buddies Emelie and Malene (whom you may remember from such culinary adventures as Eating Scotland and Eating Central Europe)  by the hands and knocked back a quintessential classic, the café burger, and a few beers on a sunny and hellishly busy Saturday afternoon in early June.
In short, I ate at The Blue Café three times in an equal number of weeks. I ate every major subgroup of the menu; French, Danish and classic café fare. I ate at different times and under very different circumstances. And not once was I the least bit disappointed.
Exploring the menu at Den Blå Café
As far as brasserie classics go, the new menu offers them all: from Croque Madame over beef tartar to steak frites bearnaise. For our first visit, we dug into two personal favorites: Egg Royale for the lady; smoked salmon on brioche with a poached egg and zesty greens (DKK 125/€16) – and, for the gentleman, steak tartar; heartily seasoned, raw, ground beef served with a raw egg yolk, fries, aioli and equally zesty greens (DKK 125/€16). We exchanged bites, notes and opinions over a crisp, fruity and very reasonably priced bottle of sparkling rosé and were, quite frankly, surprised.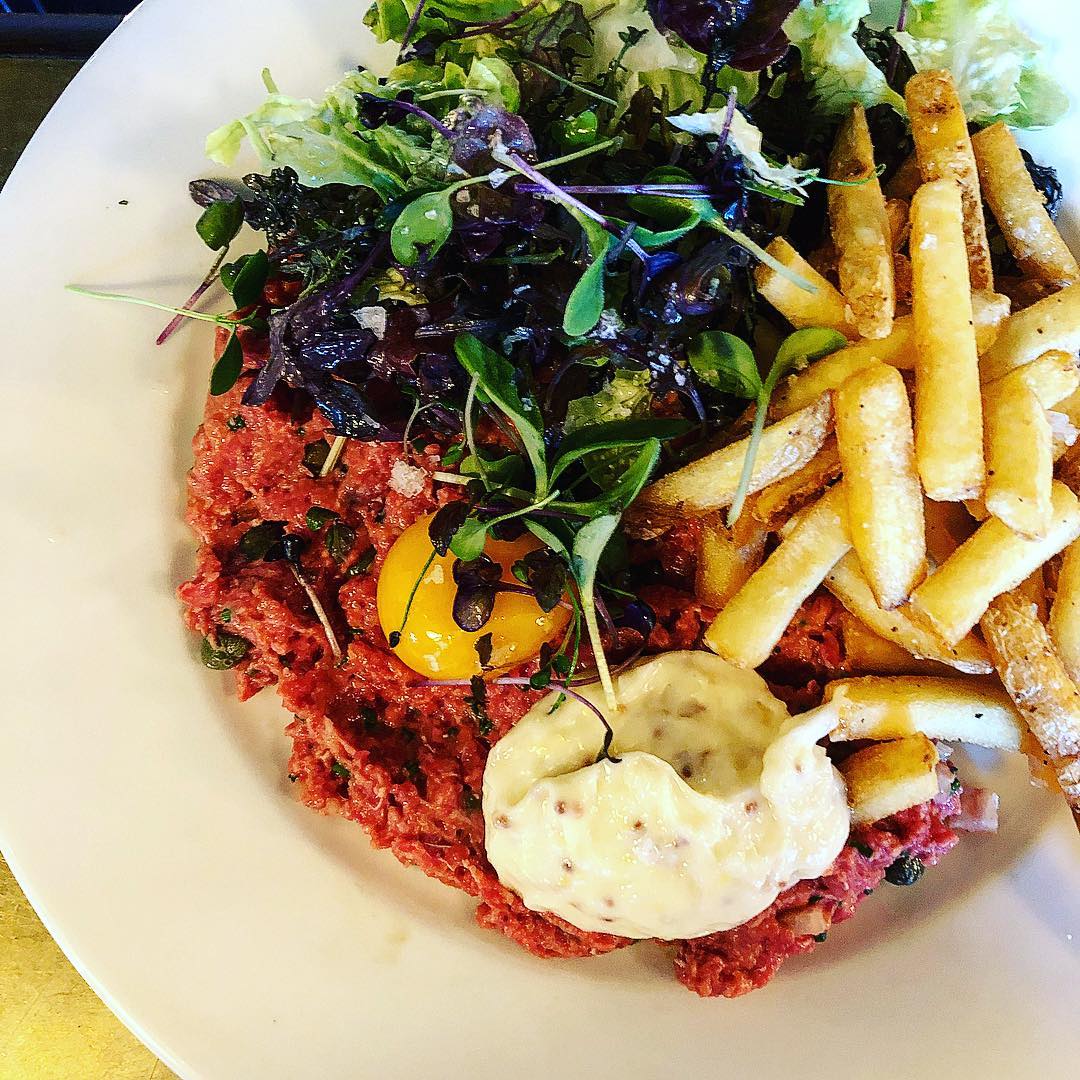 I don't think I've ever seen this big a mountain of boldly seasoned steak tartar for such a small price. The boys in Blue mean well!
The menu selection may have been predictable, but the flavors were not! They were vibrant, intense and spot on bordering expertly on the very edge of over-seasoned. A simple yet perfect example is the house vinaigrette: tongue-curlingly acidic on its own, it serves as the perfect counterbalance to the creamy depth of a well-seasoned beef tartar or the silky fattiness of salmon, egg and perfectly whipped Hollandaise creating an over-all intense but perfectly balanced whole lacking neither in flavor nor attitude.
We left from our first visit thinking, essentially, that we had underpaid for our meal. A meal of this quality at this price in a prime location at the heart of a major Danish city seemed a joke – of the best possible kind!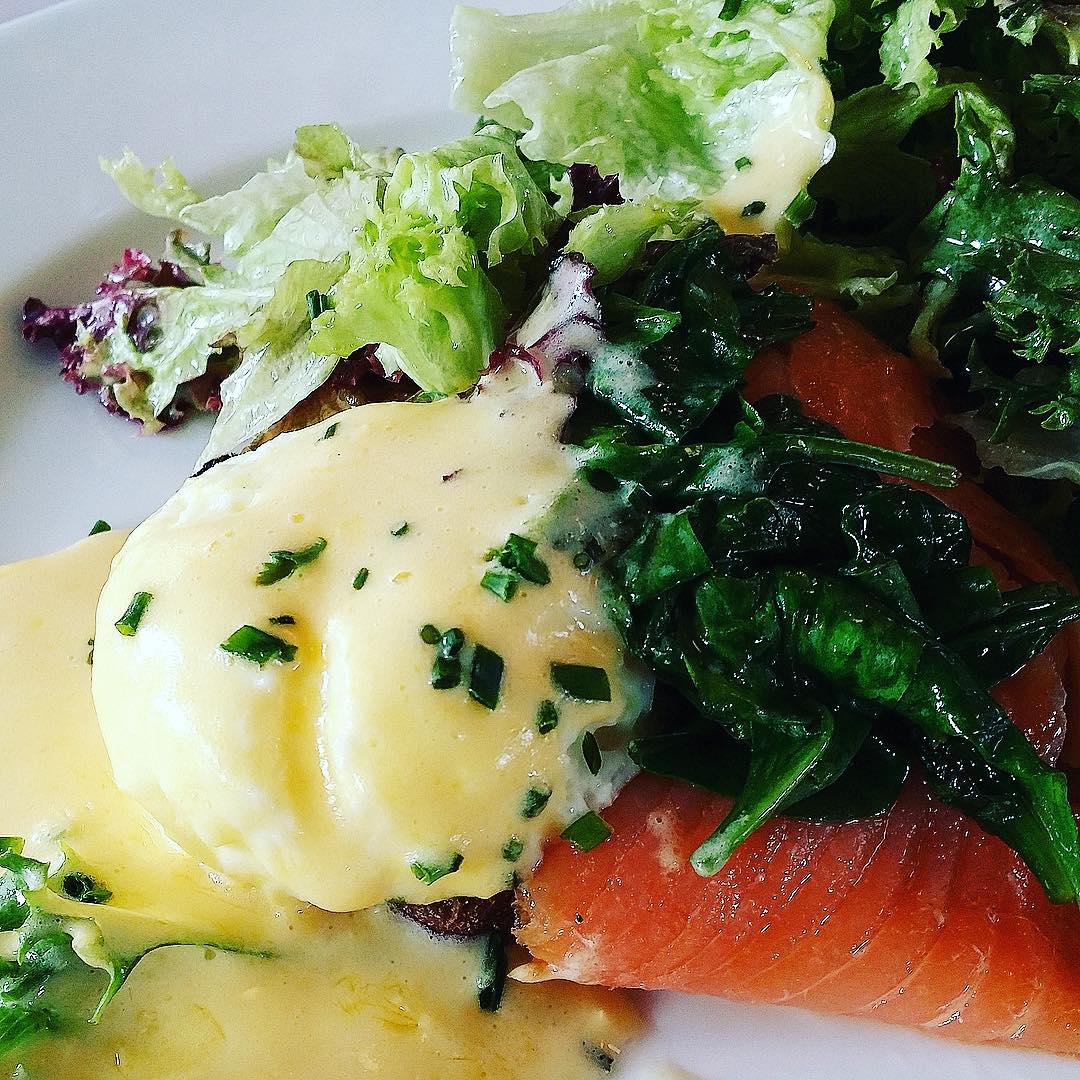 The salmon-obsessed co-diner was particularly happy with this quality smoked salmon topped with an expertly poached eggs and slathered in the creamiest of Mother Sauces, Hollandaise.
Hearty Danish Classics with a twist
On the Danish side of the menu, you'll find familiar classics skillfully executed and served with generosity and playfulness: A classic open-faced shrimp sandwich (DKK 100/€13), an affordable starter at many lunch spots, here came so loaded that it served as a full meal of its own and shocked several unsuspecting guests from Copenhagen one table over who, out of fear of going hungry, had also ordered another hefty Danish classic: "steak from Paris" – hamburger steak on toast with egg yolk, pickled beets, raw onions and capers (DKK 125/€16).
Much the wiser, we stuck to a single dish each when exploring the pris fixe daily specials inspired by the classic Danish kitchen: Our "Catch of the Day" (DKK 175/€23) comprised a once classic now sadly overlooked option, hake, cooked to flaky perfection and served with the quintessentially Danish combination of steamed fresh asparagus and new potatoes, all swimming in a rich, French-inspired emulsion of mussel broth and white wine.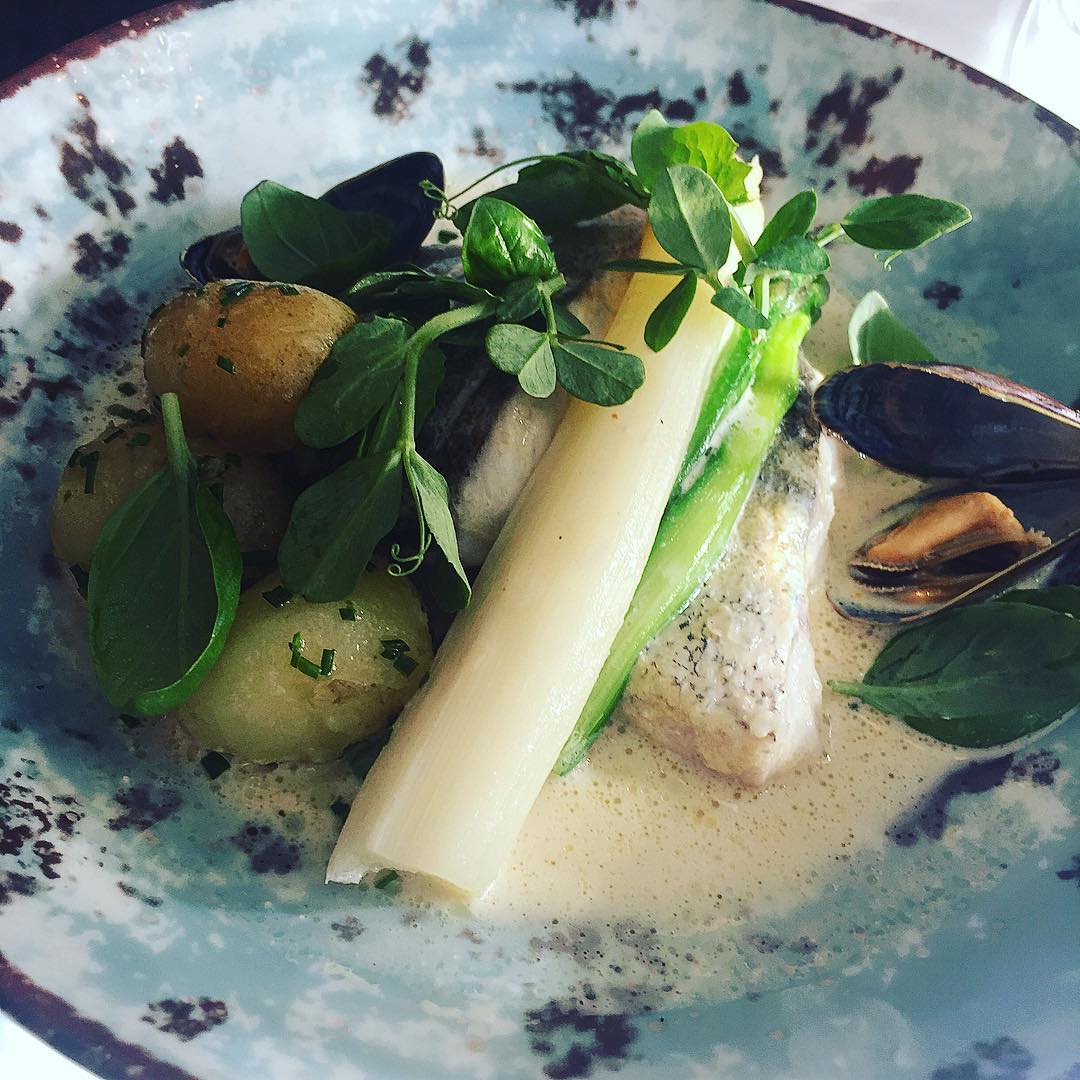 France meets Denmark in a perfect harmony that is at one time fresh and vibrant yet intense and powerful.
For the carnivores, the meaty special (DKK 175/€23) comprised another Danish classic, summer venison – a generous piece of saddle and a heavily seasoned venison meatball – served with new Danish potatoes, carrots, green peas and a hearty sauce made from butter and roasting juices: simple, hearty, comforting, familiar and once again bursting with flavor in a way that would have made my late grandmother proud. For a French brasserie, they do Danish comfort food classics well here and even succeed in throwing a few elements from the classic French kitchen into the mix.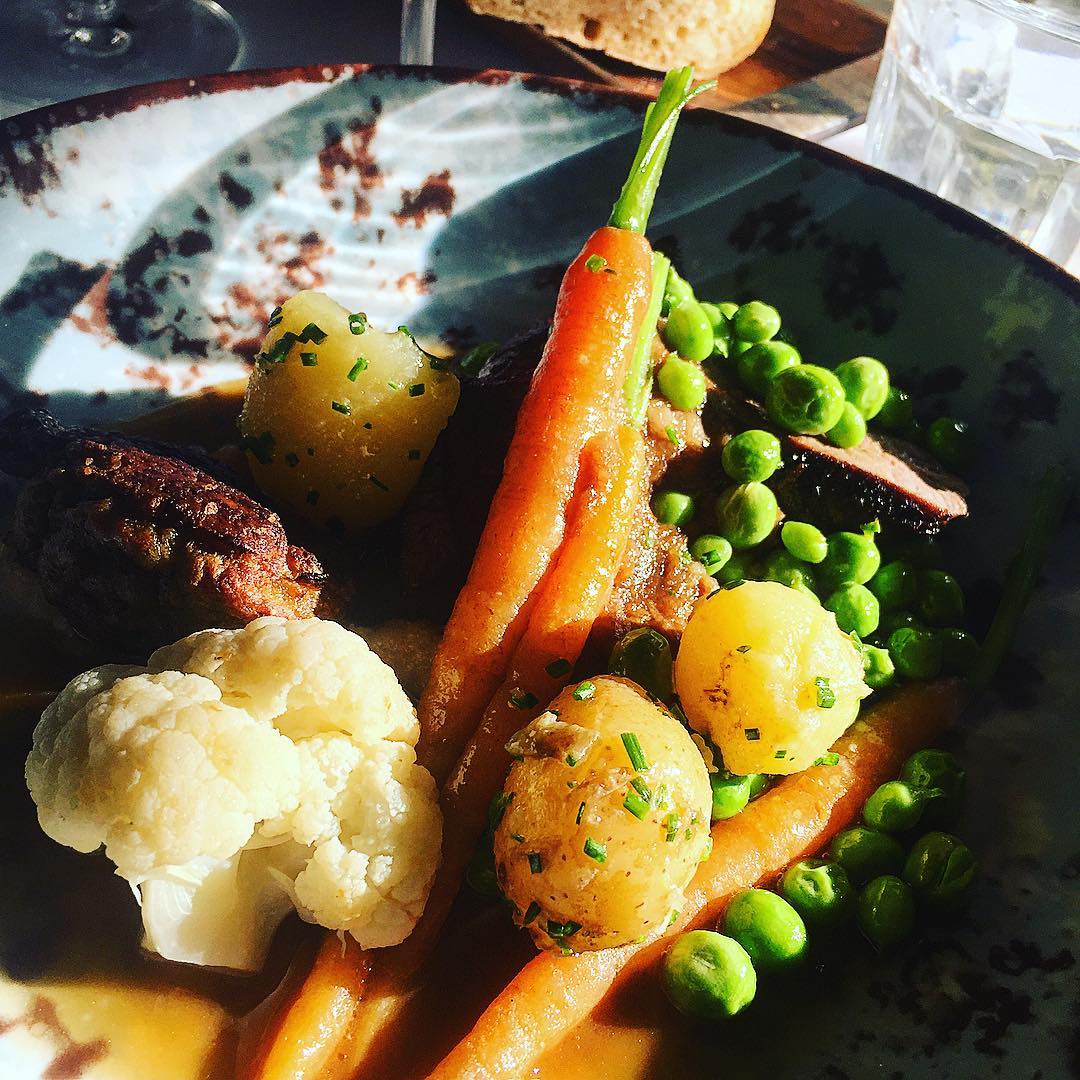 Leave it to Danes to get excited about humble summer spuds and garden veggies but simple as it seems, this is one of the most spot on early summer dishes I've had in a long time!
Speaking of combining elements, even the obligatory Café  Burger (DKK 145/€19) that comes predictably executed in millions of eateries around the world, showed both character and class. At the Blue Café, focus was entirely on the expertly cooked (yet sadly under-seasoned) juicy patty of quality beef. Other elements such as the brioche bun, sweet onion compote and floral basil mayo merely sang accents to the glory that was the beef. As for extra flash or confusing elements, there were none. Just an honest to God juicy burger served with a small mountain of perfectly crispy double-cooked fries and a zingy, intense, fruity and spicy/sweet homemade tomato ketchup.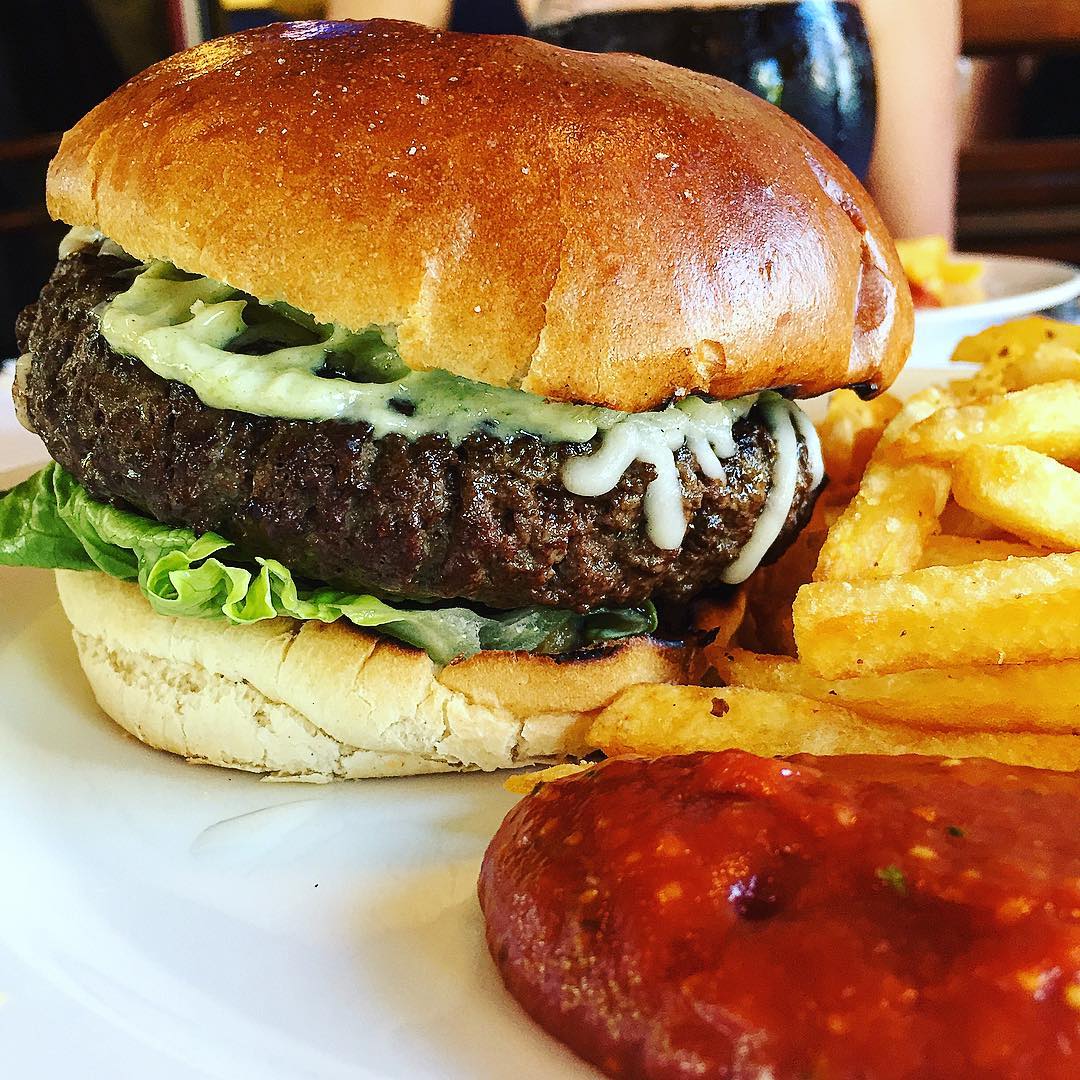 Even the least exciting sounding dish on the menu, the dreaded café burger, is done with attention to detail and fresh, quality ingredients.
In short, The Blue Café achieves something rarely seen on the café circuit. They combine two remarkably different food cultures, French and Danish and adds a sprinkle of Americana with neither seeming at all overlooked, underdone or out of place. But even better than the food, perhaps, is the mood and character of the staff.
Come for the food, stay for the mood
On three separate visits, we were met with nothing but big smiles and service-mindedness. The staff is chronically attentive and polite. Smiles are big and heartfelt and spirits are bursting with enthusiasm and can-do spirit even when things get crowded and orders start flying at a hellish pace – something that will happen at this Kolding institution: When the sun is out and the reasonably priced beers, wines and drinks are flowing, people show up in hordes!
Fear not, though, things move fast here, even during a visit at the crowded intersection of lunch hour and beer o'clock on Saturday. Within a minute, we were shown a table and a menu, a few minutes later a waiter popped by to let us know that things were a bit pressed but that he would be with us in a few more minutes – a promise he kept and less than 15 minutes after arrival, a bottle of bubbles was on the table. Followed, not long after, by restaurateur and head chef Kristian Fogh who on this, the busiest of days, was personally serving and checking up on the quality of his dishes.
"Do me a favor while I'm out here," he notably asked a gentleman at another table, "cut through that steak and let me know if we agree on the doneness?" – absolute top class!
Unlike many other establishments, The Blue Café does not buckle under the weight of its own success, it thrives! The staff merely put on a bigger smile and run a little faster, naturally and seemingly unforced led on by a proprietor who after years of jumping from place to place seems to have found his safe home, and that is the sign of a thriving working environment.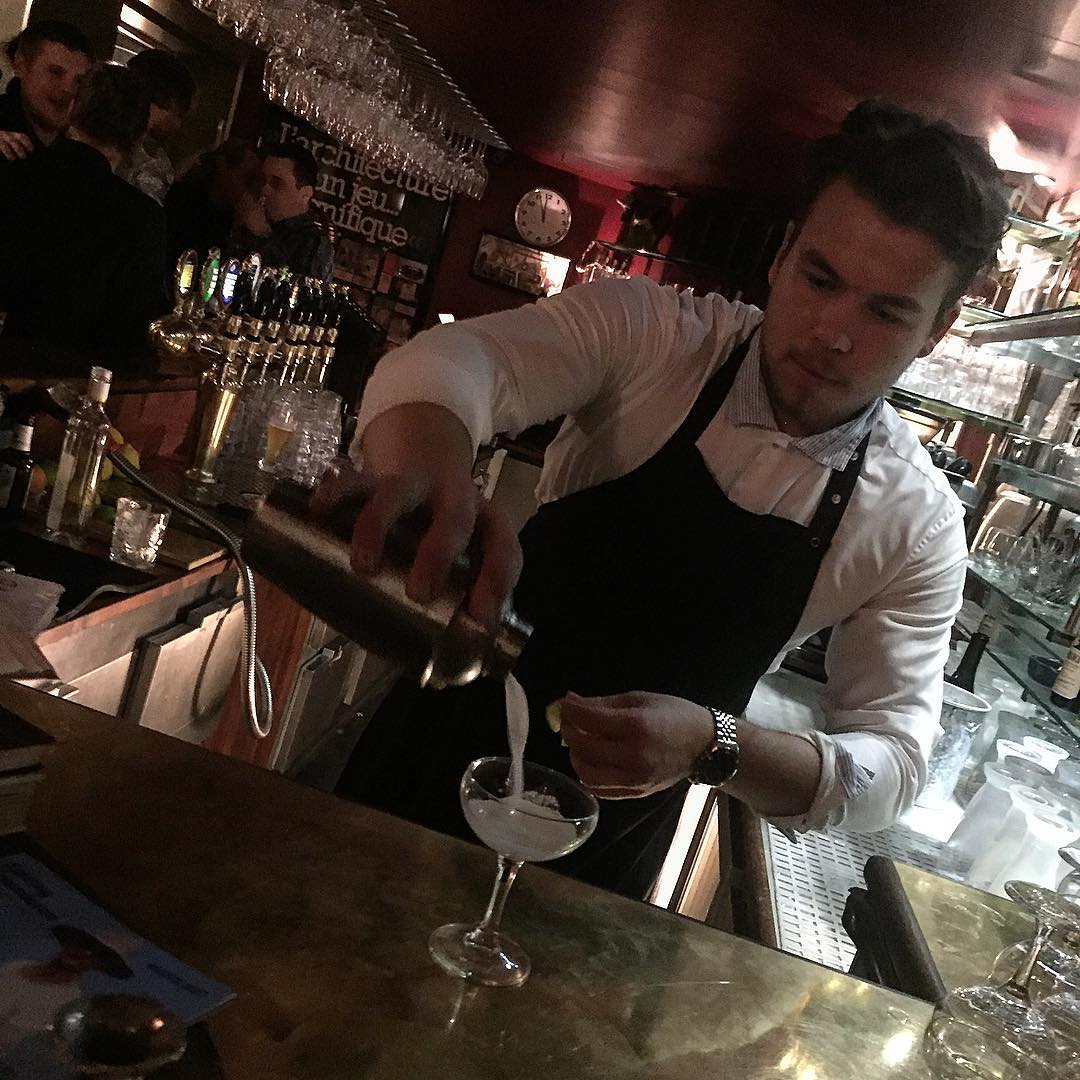 The crew is the heart and soul of Den Blå Café. Even at 1.30 AM smiles and attention to detail are still in place.
Den Blå Café: Does this world really need another French brasserie?
Does this world really need another French brasserie? In the case of The Blue Cafe, yes, very much so! What the world doesn't have a need for is another indifferent French brasserie and thankfully, we're far from indifferent here.  At this iconic Kolding landmark, they're now doing things differently and with personality. They're pulling off classic dishes, simple in composition but complex and powerful in flavor and technique with an intensity and balance rarely seen in these necks of the woods.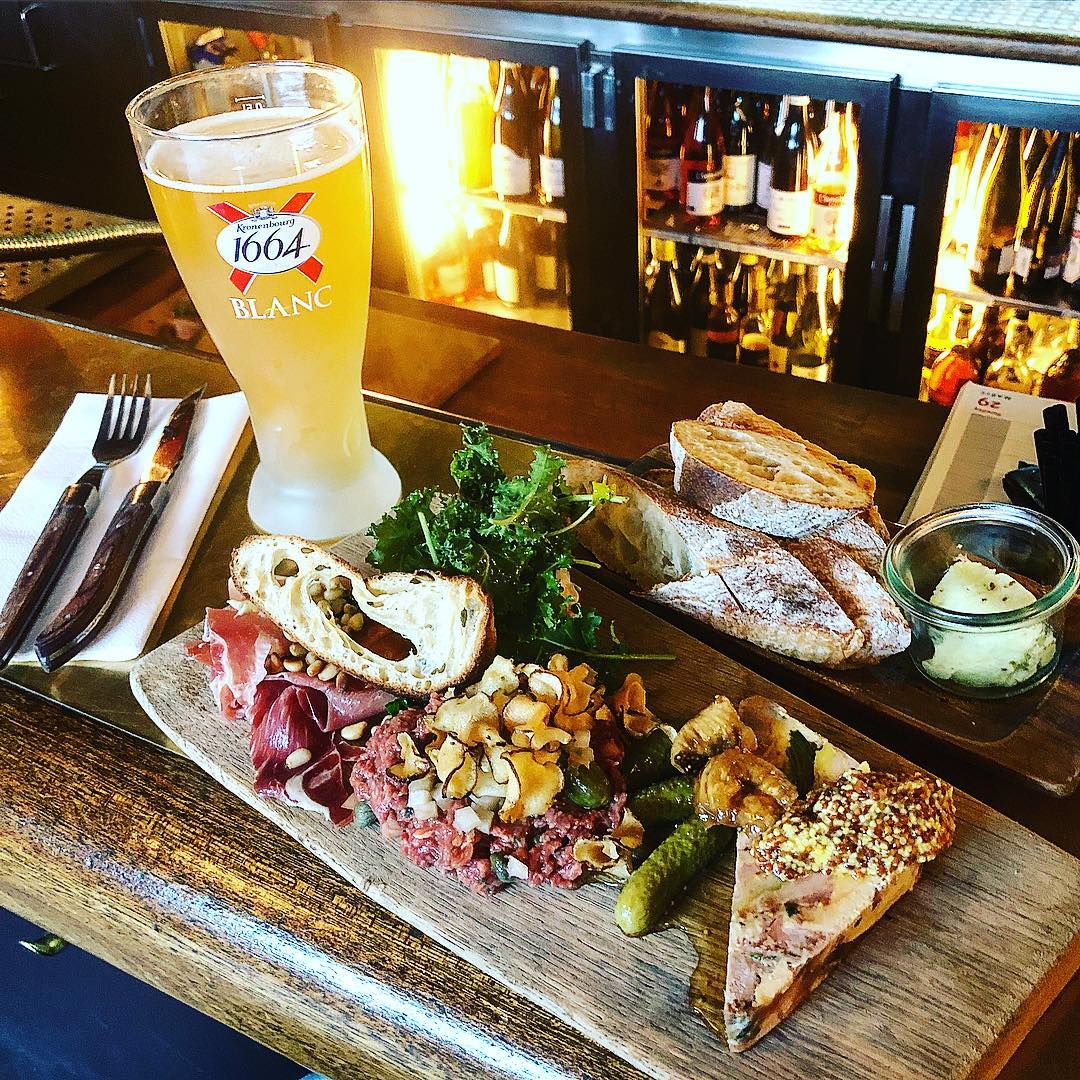 A little bit of everything – a French take on a combo platter… It's all good, it's all very good!
Head chef and proprietor Kristian Fogh obviously loves the combination of salt, intensity and spice mixing with carefully crafted, naturally complex flavors and he's not afraid to let his love shine through in his dishes – from the relatively simple lunch fare to the more complex daily specials off the evening menu.
Thankfully, this love for flavor and zing applies not only for the French-inspired dishes but also the more classic Danish dishes. Dishes that are historically simple and sparingly seasoned, in the hands of the boys (and girls) in blue become flavor bombs drawing on traditional elements from the French kitchen such as patience, reduction and generous applications of cream and butter to achieve a new level of hearty comfort.
In twenty-five words of less, this new incarnation of the Blue Cafe is: Hearty and affordable dishes with a twist, bursting with flavor, served with a smile and a sprinkling of attitude at extremely reasonable prices. A filling and flavorful lunch dish will set you back less than a pizza or main dish from the borderline questionable Italian eatery across the street. A two course dinner for two plus a 1 liter carafe of quality wine, on the other hand, can be enjoyed for well under DKK 700 (€93), a steal at this level.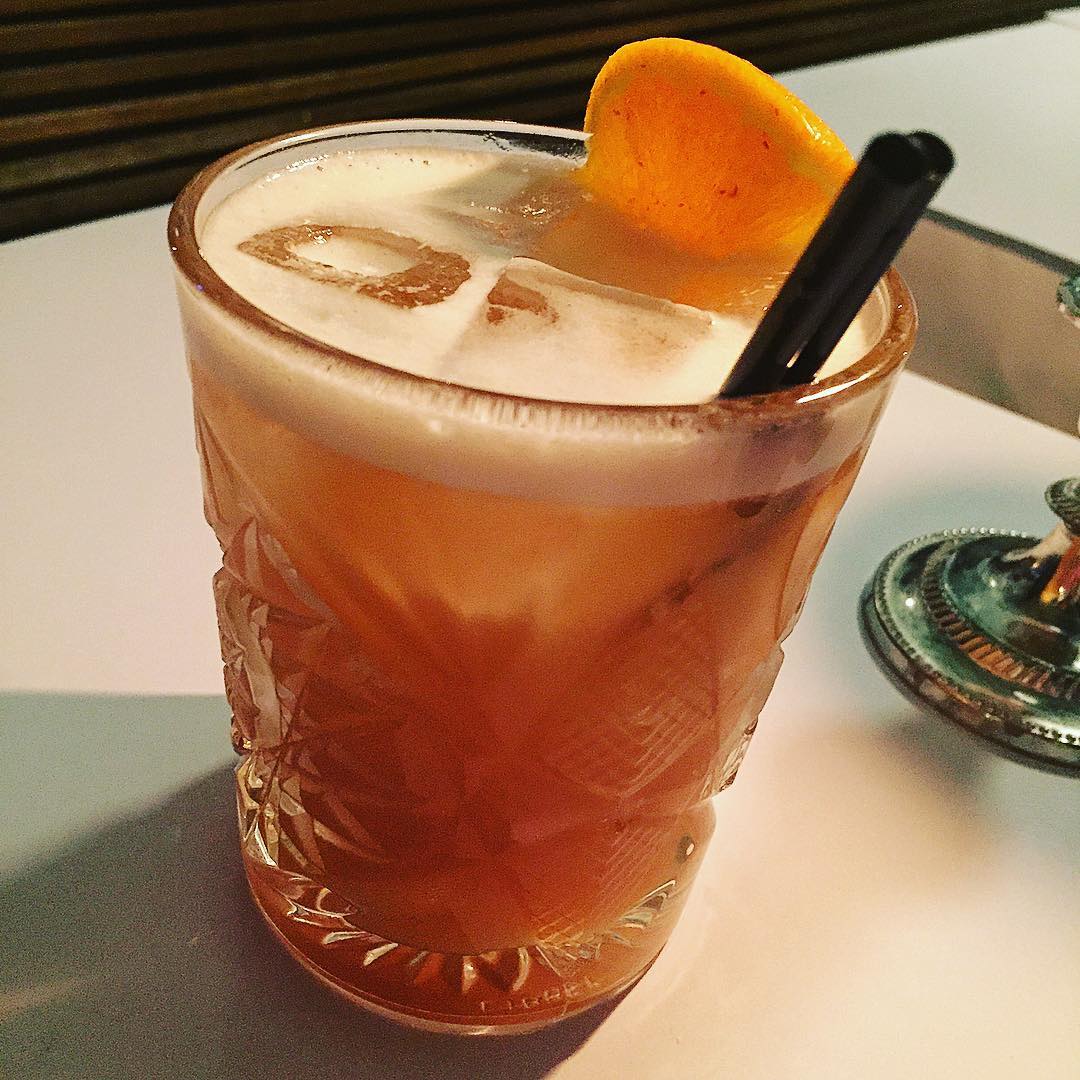 I asked the bartender to surprise me and he came back saying "this is my take on a Mai Tai using the ingredients I had at hand." – I like this place!
Oh and pro tip: If you're here for dinner anyway, stay for drinks. They pour a pretty hefty Gin & Tonic, a mean French 75 and a classic Moscow Mule or White Russian at the bar – and on weekends, they continue doing so well into the wee hours.