Home » Blog » Wine & Drink » Classic Cocktails: French 75 Champagne Cocktail
Let me tell you a story about what has quickly become my favorite cocktail: The French 75 – a perfect blend of four simple, albeit somewhat decadent ingredients: The crisp, herbal bite of gin, the vibrant, bubbly freshness of Champagne, a juicy acidic punch of fresh lemon and a whiff of sweetness from a hint of simple syrup. Nothing more and nothing less is what makes up a 100+ year obsession of mixologists around the globe and a perfect tipple that is at one time both fruity, floral, acidic, crisp, spicy and… Bubbly!
A Johan's take on a French 75 Cocktail – Photo Credit: Malou from Klidmoster.dk
Today's post is all about this mother of decadent cocktails: it's history and origins, the composition of a French 75, the best Champagne choices for a French 75 cocktail… And a few notes on how to take this already decadent cocktail completely over the top – Johan style – using a Champagne a little out of the ordinary! Now, where should we begin? Well, as is the rule around here, we'll kick things off with a bit of history. Eager to get shaking? Then jump directly to the recipe!
History of the French 75 Cocktail: What's in a name?
French 75? What an odd name for a cocktail… And then, again, not really! Rumor has it, you see, that the oddly sounding name French 75 was given to the potent mix of gin and Champagne as it was said to knock you back like a blast from the 75 mm Howitzer field gun used by French soldiers during World War 1. I'd like to shake the hand of whoever made that comparison, or whatever is left of said hand. Ahem, I digress. Anyway, whether such a comparison was ever made, this theory ties in well with the fact that the drink gained massive popularity in the time of and immediately after the first World War.
Some sources attribute the invention of the drink (and many other) to Scott Harry MacElhone, owner and proprietor of Harry's New York Bar in Paris who may well have given the cocktail it's iconic name in the mid 1920's, but passes credit for its invention to Macgarry of Buck's Club in London.
Harry's New York Bar – Photo Credit: Wikimedia.org
Still, the French 75's conceptual home may be neither London or Paris, but somewhere else entirely. Some sources mention Charles Dickens serving a gin and Champagne concoction to his callers as early as 1867 while others accuse other noble gentlemen, the Prince of Wales amongst others, of enjoying similar concoctions at much the same time.
This puts the birth date of the French 75 (or at least the proto-French 75) Cocktail about half a century before the rediscovery and popularization of the drink (which – by the way – in the Harry's Bar version is said to have contained Grenadine, Absinthe and other questionable ingredients) in the World War I era, and nearly an entire century before the Cocktail is first thought to have been mentioned by its current name in The Savory Cocktail Book in 1930. Incidentally, that means the cocktail, in one form or another, may have already been over 150 years old by the time I first caught wind of it on a fateful night out in New Orleans.
Johan and the French 75 Cocktail
I first came upon the French 75 Cocktail as a mid-dinner cocktail during a wonderful evening of enjoying the lavishly decadent tasting menu at Commander's Palace, New Orleans in the company of my beautiful friend, Zascha.
Even in a sea of completely over the top dishes featuring soft shell crab, oysters, caviar and truffles to name but a few, the vibrantly sparkling, sweet, tart and perfectly balanced cocktail made from Tanqueray Gin and Champagne stood out like a shining beacon that left quite an impression on me at the time. "This I've got to try at home," I thought, and eventually forgot all about it.
Until very recently, that is, when at the height of the gin craze sweeping the country, the iconic drink reentered my mind and I started looking for an occasion to pop a bottle of Champagne and put my own, little twist on this most classic of cocktails. The occasion finally arose when I was paid a visit by my friend, culinary play pal and fellow super foodie Malou who just happens to be one of the biggest fans of this humble blog. I had promised to cook Malou dinner to show her that I could actually cook, not only write entirely too many words about cooking. For my showcase dinner, I wanted a Champagne cocktail like no other to kick things off and I wanted to use a Champagne that would also match the first couple of dishes, so the first thing I did was to ask myself the not so simple question: Just what is the best Champagne for a French 75 Cocktail?
What is the best Champagne for a French 75 Cocktail?
The world is full of sparkling wines and, as we well know, not all that sparkles is Champagne, You've got your Cremants, Cavas, Prosecco, American sparkling wines and then some. But only the noble, fine, in my mind superior, and at times ridiculously expensive sparkling wines made to strict specifications in the Champagne region of France may call themselves Champagne. And Champagne, the real stuff, is the bubble of choice for a French 75. Do you have to use Champagne in a French 75 cocktail? No, not technically. You could opt, for example, for a good Spanish Cava or an inexpensive French Cremant, but you would miss a lot of finesse and depth in the final drink, not to mention all the decadence. In other words: if you're going to make a drink as powerful, decadent and steeped in history and tradition as the French 75, I firmly believe that you owe it to yourself and your guests to do it properly and use real, honest, French Champagne.
But which Champagne should you pick? Good question! Most French 75 drink recipes call simply for "Champagne" while some are as helpful as to call for "dry Champagne". And in that subtle difference is your first cardinal rule of the French 75 cocktail: Use a dry Champagne for the purpose, or Brut as they're labeled in French. So far, so good. Now what? Well, from here onwards is where things get tricky.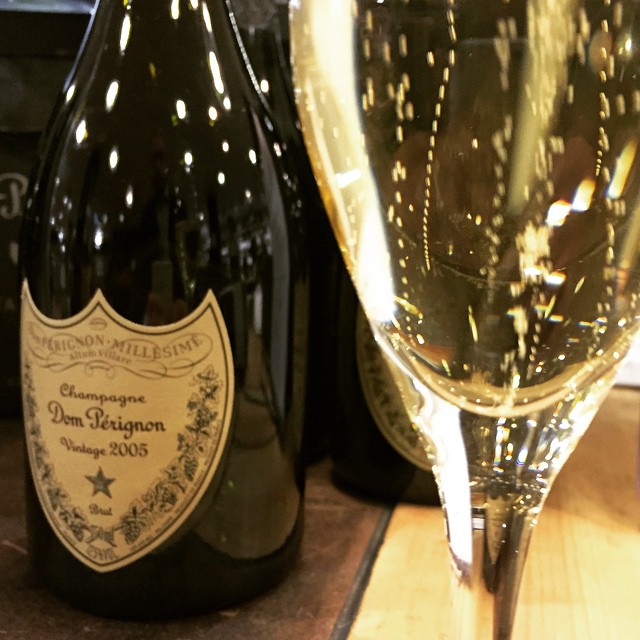 What's a good Champagne for a French 75 cocktail? Well, this particular bottle may be overdoing it…
Assuming that you are, in fact, using real Champagne in your French 75, here are some very basic pointers: First and foremost, the choice of Champagne depends entirely on the impression you're looking for in your final drink. Champagne is made from three different grapes: Chardonnay, Pinot Noir and Pinot Meunier. Of the three, Pinot Meunier is considered mostly a mixing and balancing grape while the two others, Chardonnay and Pinot Noir, are usually considered the soul and characteristics of a Champagne. Most Champagnes are a blend of two or three of these grapes and the main player (usually either Chardonnay or Pinot Noir) in these blends greatly affects the characteristics of the wine and, hence, the resulting drink.
Champagne blends are incredibly complicated affairs, but if I were to try to put it very simply in very general terms, here's what I'd tell you:
For freshness and crispness, go with Chardonnay! Champagnes with a high percentage of Chardonnay are usually lighter, more fresh, acidic and vibrant. Typical tasting notes include citrus, white flowers, minerals and tropical fruit. For the ultimate lick, look for the words "Blanc de Blancs" on the label. Blanc de Blancs Champagnes are made from 100% Chardonnay grapes and are, as a result, incredibly lively, intense and acidic in their expressions.
For depth and red fruit notes, go with Pinot Noir! Where Chardonnay brings acidity and freshness, Pinot Noir brings depth, a certain roundedness and clear notes of ripe red fruits as well as a very light tannic bite. The higher concentration of Pinot Noir in the blend, the more pronounced the red fruit notes become and the more powerful the wine. Generally speaking, of course. A Champagne labeled Blanc de Noirs is a white wine made exclusively from dark skinned grapes and is found at the entirely opposite side of the spectrum from the Blanc de Blancs.
For fun and unpredictability go with an aged vintage Champagne! Here's a fun fact about Champagnes: they're incredibly long lived! And they'll change character in strange, fascinating ways over the years. With time, Champagnes will start to lose their primary floral and fruity notes in favor of secondary notes of cellar funk, brioche, umami, vanilla, coffee, cream and mushrooms… To name but a few! They will maintain their crispness and acidity for years (even decades) but seem much more mature and thoughtful in their impression. Aged Champagnes can be an acquired taste, but for those in the know, an aged Champagne can add extraordinary depth and powerful, creamy notes to, say, a French 75 Cocktail. Or any other Champagne cocktail for that matter.
What is a vintage Champagne? And what is the difference between a vintage and a so-called non-vintage Champagne? Those basic questions and more are answered in my post on Dom Perignon 2005.
But… How do you know which grape is predominant in a given Champagne? Simple: do a bit of research! Most brands will state the composition of their wines or at the very least state the predominant grape – either on the bottles or on their websites. Still confused? Honestly, just go with a bottle you know and enjoy. If you enjoy it on its own, chances are you'll enjoy it even more jazzed up in a fancy cocktail.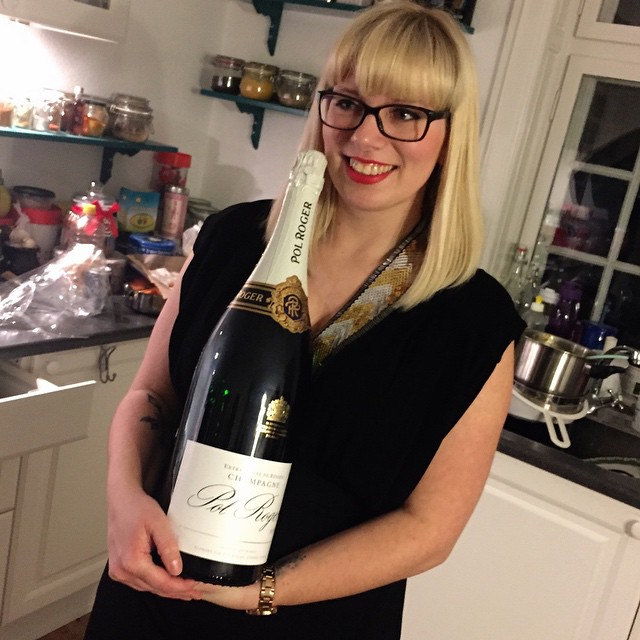 Here's my beautiful friend showing a fine Champagne choice for a French 75… In just the right bottle size!
Me? For my latest choice of Champange for a cocktail, I went the vintage way… And slightly over the top in the process… You see, as mentioned earlier, I had my friend and culinary play pal Malou over for dinner a month or so ago. Malou is a die hard gin hoarder lover and knows just about everything worth knowing about the stuff. She knows very little about Champagne, though, and has long begged me to educate her on the subject. Well, what better way to get started, I thought, than to mix her favorite thing in the world – gin – with my favorite thing in the world – vintage Champagne – in a decadent cocktail based on the iconic 2002 vintage of Bollinger's La Grande Année…
Wait! Stop the presses!
If you know more than just a little about Champagne, you'll know that 2002 has been deemed by many the best Champagne vintage since 1996 and that Bollinger produces what is considered by many one of the better vintage Champagnes – even in not so great years. What, then, inspires a person to shake up cocktails with one of the arguably better and most hyped vintage Champagnes of the past two decades? Uh, well, first of all this guy doesn't know the meaning of the word restraint, and more importantly. I wanted to see how it was doing. I happened to buy quite a few bottles of the 2002 vintage a while back, you see, and a visit from a quality conscious fellow super-foodie seemed the perfect reason to find out how the 2002 vintage was performing 14 years post harvest… All while getting a chance to mix up a completely over the top take on the French 75 Cocktail. Before we get around to mixing, though, did you really think we'd miss the chance to share some impressions and take a few tasting to offer you a miniature review of Bollinger 2002 as it's performing in 2016, 14 years after harvest? No, of course not… Here, have at you!
2002 Bollinger La Grande Année: Review and Tasting notes
Bollinger's La Grande Année is made from different compositions every vintage, but usually Pinot Noir dominates over Chardonnay. With a mix of 60% Pinot Noir and 40% Chardonnay, the 2002 is no exception. This pinot heavy blend makes for quite a powerful, more full bodied wine with robust flavors and a creamy mouth feel: a style that is typical for Bollinger whether we're talking vintage Champagnes or not.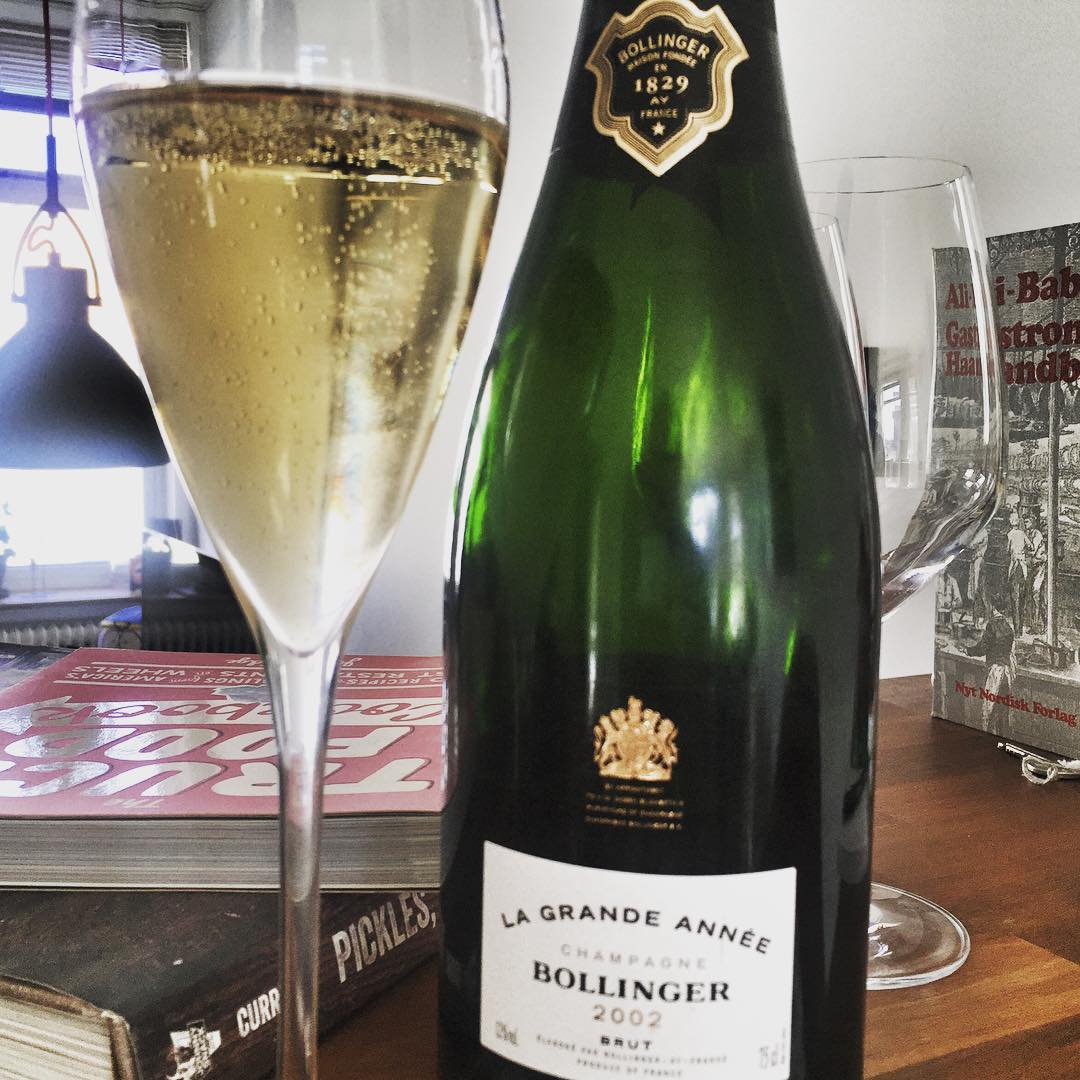 Bollinger La Grande Année 2002 – she's a beauty!
In the glass, the color is a beautiful faded yellow leaning on gold with no advanced signs of aging. The mousse is powerful at first but quickly settles into a very pleasant display of little streams of small bubbles slowly rising to the top of the glass.
On the nose is where this wine first begins to show signs of age and finesse. It's fruity and floral yet with distinct underlying funk of yeast, butter, brioche, roasted nuts, coffee and cocoa.
In terms of freshness, vibrancy and raging acidity you wouldn't expect this to be a 14 year old wine. But such is the way of vintage Champagnes, they're incredibly long-lived and rarely show signs of their real age and maturity. However, after 14 years the primary fruity notes are starting to gently fade into secondary notes that mimic those of the nose: coffee, cocoa, brioche and a pleasant umami fungal punch. There are notes of gunpowder, too, spice and wet rocks, but no real minerality to speak of.
Mouthfeel is pleasantly creamy, rich and thick with the small, soft bubbles adding a playful and welcome element to an otherwise quite powerful wine.
A solid effort, indeed, that is aging quite well. When I tasted this only two years ago, it seemed rough and slightly out of balance. It's coming together now and drinking beautifully. I suspect this would drink beautifully for the next decade though I doubt my remaining four bottles will keep that long.
93 Points
But will it make a nice French 75 Cocktail? And which gin should we use? Let's find out, shall we?
The Ultimate French 75 Cocktail: 2002 Bollinger La Grande Année & Tanqueray Gin
So, uh, fair word of warning here. As I mentioned earlier, I created this drink for a special occasion and hence, the specifications may be a bit over the top for some. While I do encourage you to give this extravagant version a try, I'll accept that not everybody shares my eccentricity. Don't worry, I've got you accounted for as well! Now, I call this the ultimate French 75 Cocktail, but in reality it's based firmly on the official IBA (International Bartender's Association) specification of the French 75 cocktail, only using a particular kind of gin and a spectacular bottle of Champagne.
I don't know nearly as much about gin as my guest, but I know what I like. For my gin, I originally wanted to use the spectacular Tanqueray No. Ten Gin  for the purpose as I find it to be one of the cleanest, crispest most pure expressions of gin on the market made solely from juniper and a few other botanicals with a lovely addition of citrus from fresh citrus fruit used in the infusion.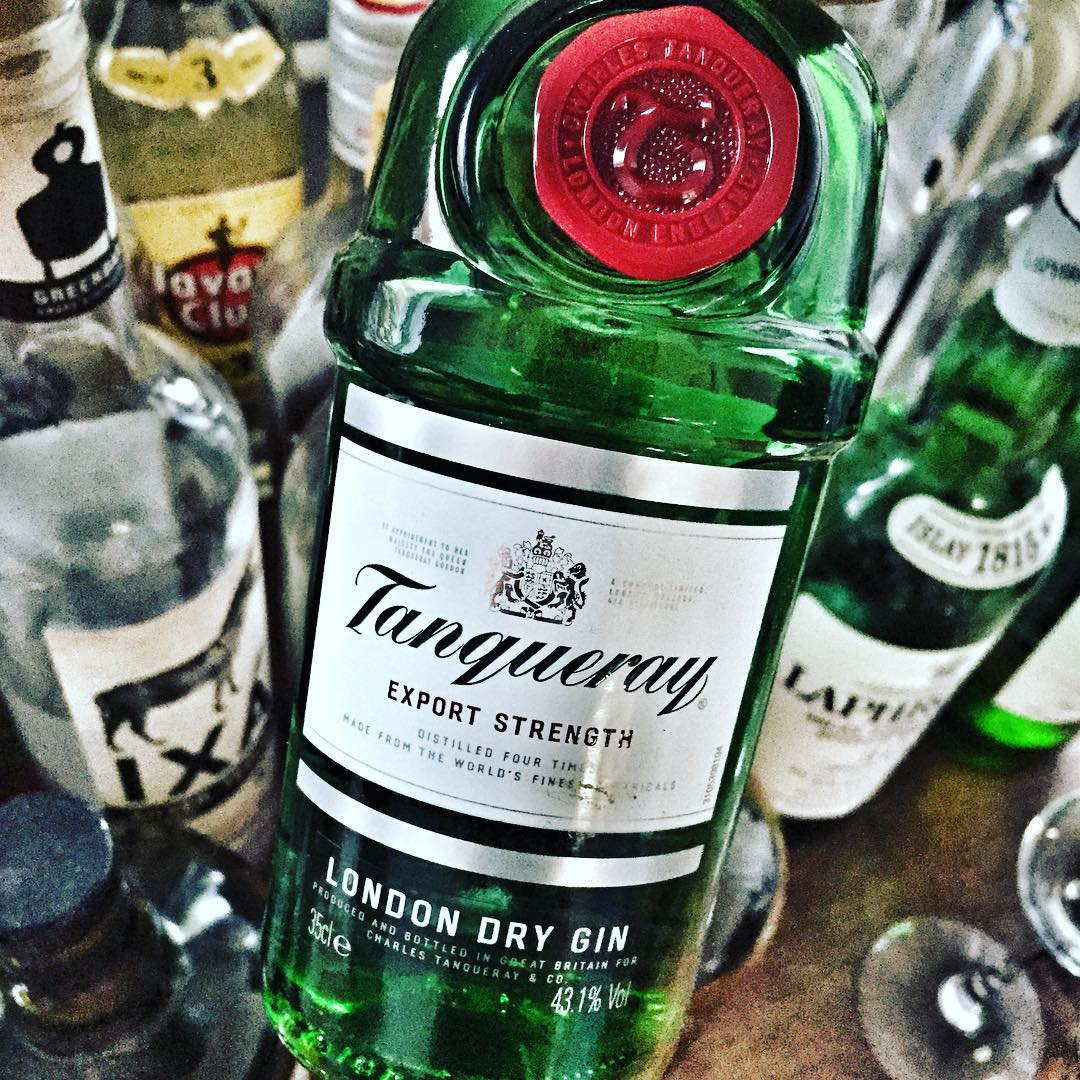 Tanqueray – *the* perfect gin for a French 75 Cocktail?
However, I couldn't find a bottle for sale in the time frame, so I went with a slightly more middle of the road Tanqueray London Dry Gin which is every bit as clean and crisp as its big brother, but lacks some of the citrus notes and finesse of it's much more expensive premium counterpart. If you own a bottle of Tanqueray No. Ten, I'd encourage you to use it, if not, Tanqueray London Dry Gin fills the gap very well indeed.
Not a fan of Tanqueray? While Tanqueray Ten is, in the eyes of many, the perfect gin for the job. My gin expert friend, Malou, suggests substituting The Botanist or Beefeater Gin for an equally wonderful crisp, zingy and pure gin experience. I personally would also like to recommend a local favorite. Copperpot Gin from Trolden Distillery in Kolding, Denmark. But that's another post!
As for Champagne choices, if a Champagne price tagged at upwards of $100 per bottle in this day and age seems a little steep for you, feel free to substitute Bollinger 2002 with the same amount of your favorite dry Champagne. Or other sparkling wine if working on a tight budget.
What matters here is that you make this most awesome of cocktails, not so much how you go about doing it. I don't mind if you screw around with this recipe. In fact, I want you to. Just remember that if you do and come up with something amazingly awesome, I'd love to hear from you in the comments.
Ultimate French 75 Champagne Cocktail
A decadent twist on the classic French 75 cocktail using Tanqueray Gin and Bollinger 2002 Vintage Champagne
Ingredients
3

cl

Tanqueray Gin

1.5

cl

Freshly squeezed lemon juice

0.5

cl

simple syrup

6

cl

Bollinger 2002 La Grande Année Champagne
Instructions
Add gin, lemon juice and simple syrup to a shaker along with a handful of ice

Shake vigorously for about ten seconds to combine

strain into a chilled Champagne flute

Top with chilled Champagne
The Ultimate French 75? A Few Thoughts
Wow, Johan, that's one hell of a drink, I hear you say, and indeed it was… But was it worth the hefty price tag? Well… Uhh…
Short answer: Yes, definitely! Slightly longer answer: Umm, it's complicated!
The majority of Champagne cocktails I've had have been fresh, vibrant, acidic, sparkling and… Youthful! The Bollinger French 75 was, too, but mainly owing to the crispness of the gin and the lemon juice. The 14 year old Champagne added some acidity, too, of course, but in a more subdued manner along with a mellow creaminess and underlying complexity that you don't get with younger non-vintage Champagnes. The fizz was slightly less pronounced as well, making for a more sophisticated, rounded drink than your average French 75. It's an entirely different expression of a classic cocktail but one that is best suited for people who enjoy the added complexity that an aging bottle of Champagne provides.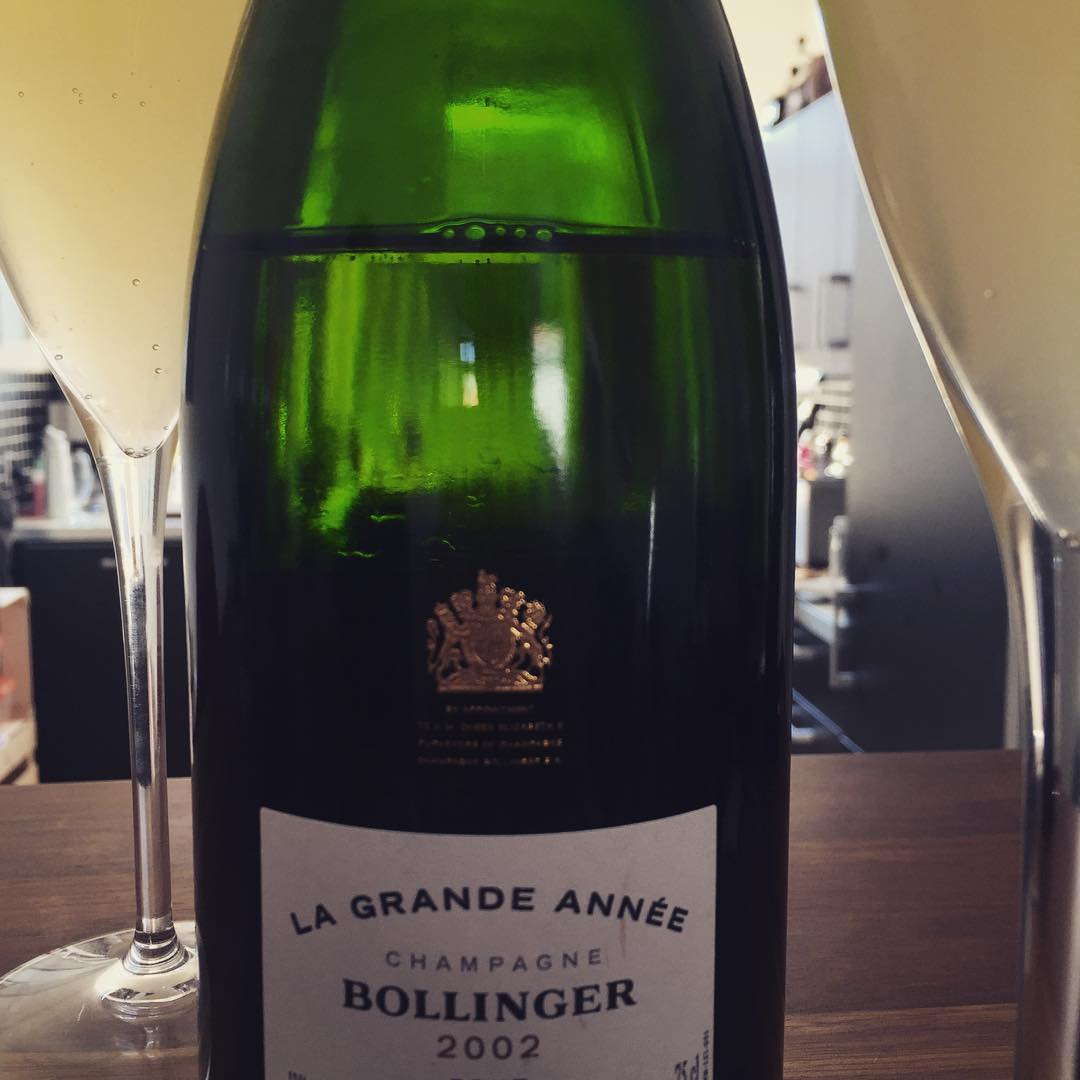 Up close and personal with the Vintage Bollinger French 75
Was it worth the $100 or so that you should expect to drop for a bottle of Bollinger 2002 in this day and age? Put it this way: If you were making a large number of drinks for a large number of people, probably not. For that one special drink for a select group of people? Probably!
In this case, I was popping the bottle anyway for a number of reasons: to satisfy my curiosity, to please and educate a friend, and to use it as a wine pairing for a couple of dishes… Worth it for me? You bet! Worth it for the guest of honor? Well, judging by the numerous happy sounds escaping my human guinea pig and the absolutely breathtaking dinner she cooked for me when I paid a return visit a week ago. Uh, I'd say I pretty much nailed it.
Whether jazzed up or not, I hope you give this classic cocktail a shake. And do let me know what you think!