Home » Blog » Restaurant Reviews » Copenhagen Restaurant Gems: Krogs Fiskerestaurant – Danish lunch with class
"It's not usually like this," restaurant manager Michael Pedersen assures me. For a moment, I think he's referring to the obvious absurdity of the situation: the bulky looking security guards perched outside, "drinking coffee" or the almost painfully aesthetic, young, regal-looking, Asian women sharing the near-empty dining room with me… He then continues… "Never this quiet for lunch… Damn football game!" – "Oh," I offer.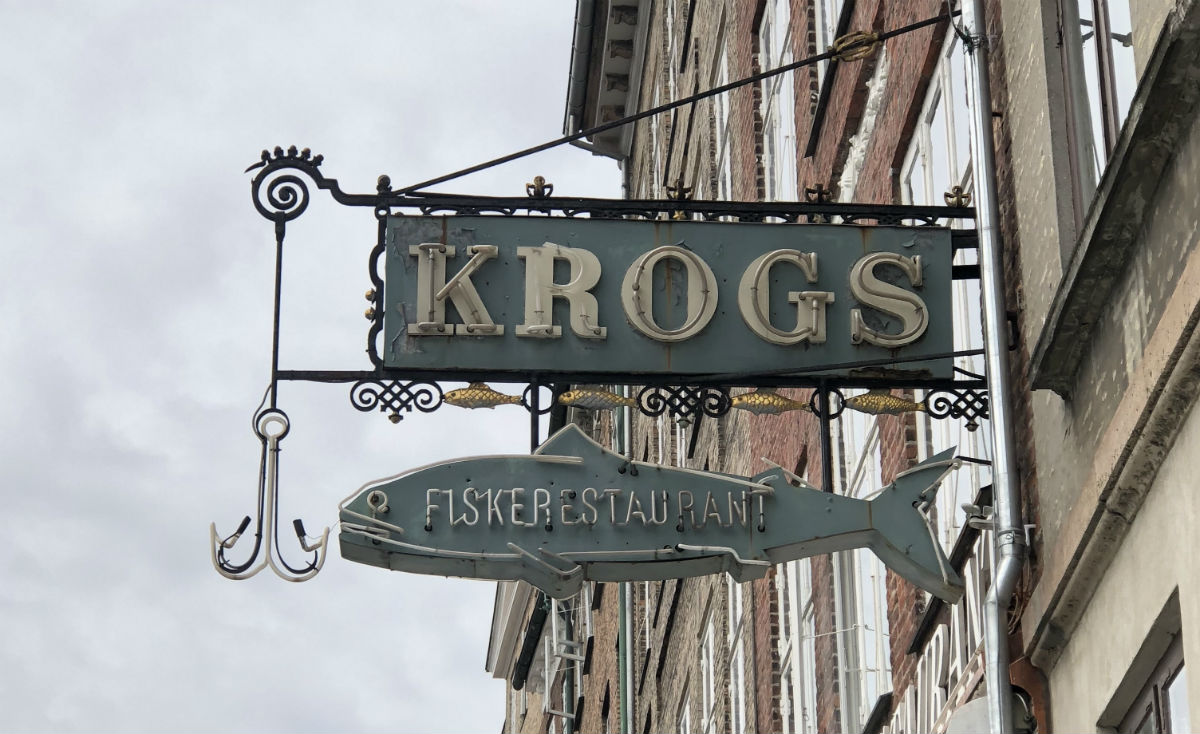 I'm whiling away an early lazy Saturday afternoon at Krogs Fiskerestaurant (Krog's Fish Restaurant), a 100+ year old institution of fish, seafood and classic Danish fare of the upscale variety located near the seat of Parliament at Gammel Strand in Copenhagen.
In what might be described as a classic Johan moment, I am nearly alone in the exquisite dining room joined only by restaurant manager Michael, his trusty waitress and what appear to be a couple of younger, well-guarded members of the Thai royal family operating under false names getting a taste of classic Danish cuisine a few tables over. One dines in fine company as a food blogger, but rarely in that of royals. Nevertheless, that seems to be the case for this humble food blogger on this particular day.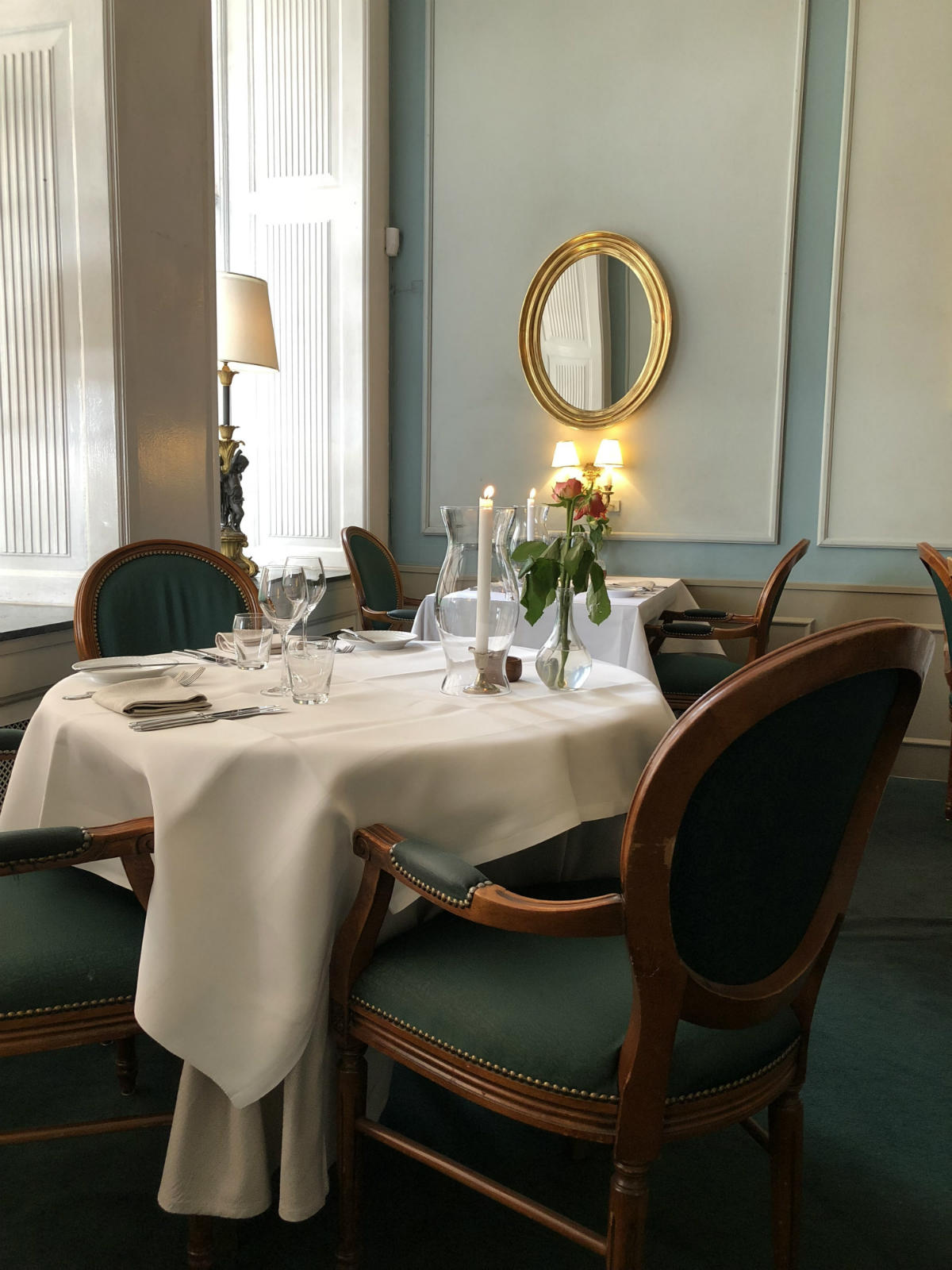 You can't script moments like this, let alone make them up. But if I were to, I couldn't have picked a much better place than Krogs Fiskerestaurant. With its high ceilings, old windows, carved wooden panels, stucco ceilings, starched tablecloths, fine dining ware and plush wooden chairs, the dining room has all the vibe of a Copenhagen mansion from centuries past. A setting quite suitable for the reception of foreign dignitaries, I should think.
Champagne and Oysters: Saturday afternoon perfected!
And my starter choices match the setting… From the somewhat expansive oyster selection of the menu, I've chosen three small and beautiful Fine de Claire oysters that arrive perfectly fresh on the half-shell served over ice with a wedge of grilled lemon and a dipping sauce made of vinegar and shallots. Classic, timeless perfection, especially when paired with a generous glass of freshly popped Gosset Brut Excellence Champagne. At Krogs, perfection like this will set you back DKK 250 which, if not exactly cheap, is certainly not expensive given the location, the history and the quality.
And my Fine de Claire on the day are perfect: incredibly fresh, small, light, briny and full of subtle flavors of shellfish, sea, minerals and salt. Perfect little one-biters that can be savored and enjoyed without too much chewing or thought. The perfect beginner oyster, if ever there was such a thing. A gateway drug into the wonderful world of oysters, if you will.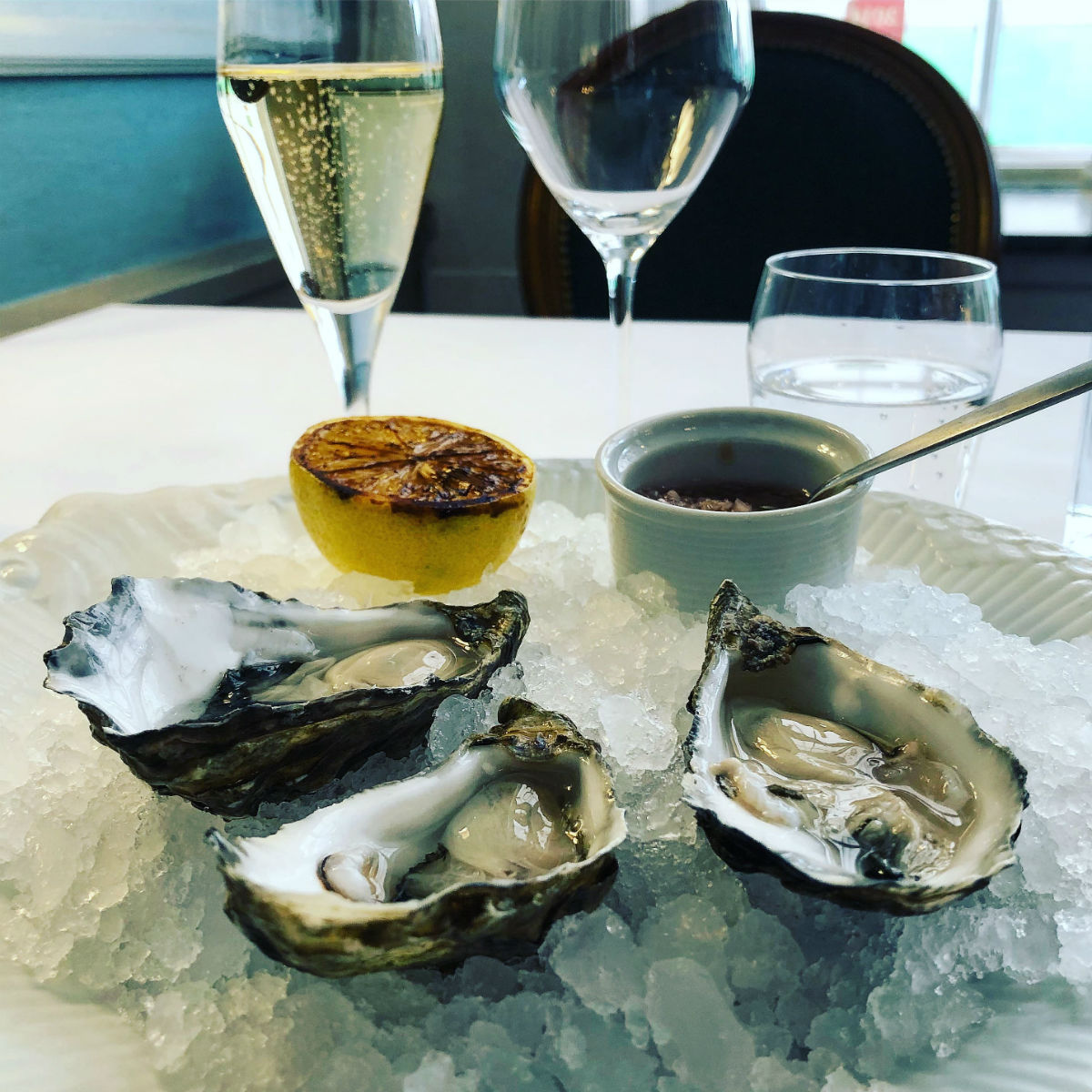 The accompanying Champagne is classic perfection as well: with it's strong primary notes of citrus and fruit dancing on top a medium to well-bodied backbone, it offers a perfect backdrop for the briny oysters and a perfect start to the meal. Every Saturday should start with oysters and Champagne, I muse to myself and revisit the menu for other exciting and slightly more filling lunch options.
After a few "everything looks good" moments, I end up going a bit more humble and classic for my next move and order an absolute Nordic classic: pickled herring with the works. To go along, I order a craft pilsner from Braunstein and a tipple of quality aquavit. Tradition demands. A wonderful thing, tradition is.
The subtle beauty of pickled herring
Now, if you are a non-Northern European native, allow me to briefly explain the concept of pickled herring. You take raw herring filets, lace them in salt to draw out moisture, then stick them in a brine of vinegar, sugar and spices and allow them to mature for up to a few weeks before consuming, preferably with large amounts of beer and aquavit. Sounds unappetizing and sort of an ugly mess, doesn't it?
But believe me, it's not. Think of it as an elaborate, Nordic type of sushi: Tangy, rich, salty and firm to the bite. The herring at Krog's is anything but: beautifully plated, topped with capers, pork crackling and sour cream. Served with the wonderful Danish staple that is rugbrød (sourdough rye bread) and plenty of butter it's more of a work of art than a piece of raw-pickled fish. And the taste is undeniable… Rich, intense, briny, deeply acidic, slightly sweet and slightly oily.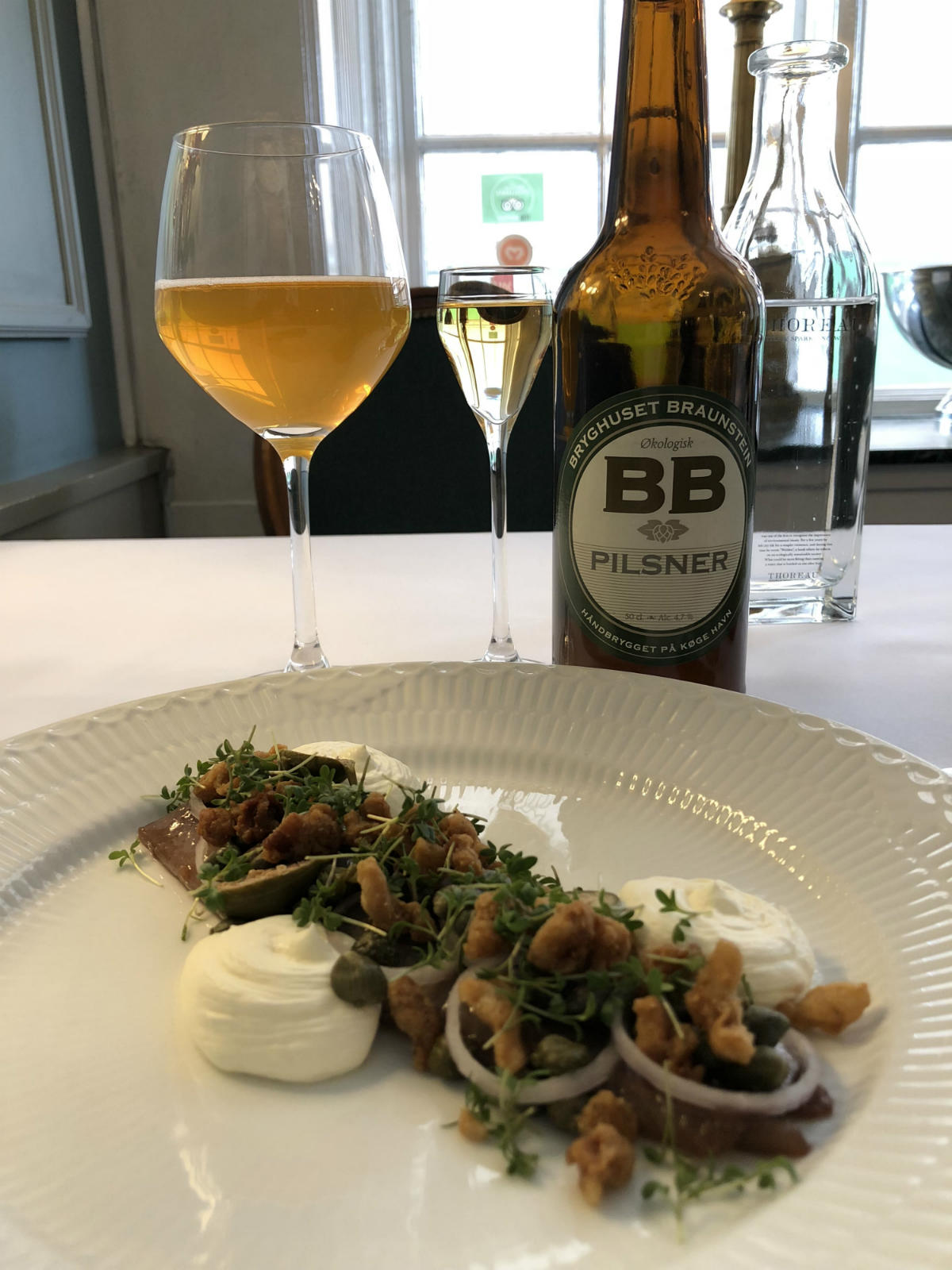 "How is the herring," asks Michael as he casually drops down in an empty chair at my table. "it's pretty spectacular," I offer. – "It's the best I've ever had," he corrects me with a smile, "fatty yet firmly textured, full of bite and taste," he adds as if reading my mind; "it's the absolute best we were able to source!" – Now, let's pause for a minute to appreciate the sheer beauty of this statement: "the best herring we were able to source!" Really? Who goes through an elaborate sorting process for a product that is essentially salted, pickled and aged only to be drenched in technically overpowering ingredients like capers and onion? Who but Krogs?
I'm willing to bet a lot of restaurants in a lot of towns would have forfeited the search and simply gone with the first and best affordable quality alternative offered, thus saving both time and money. But not in Copenhagen. Not at Krogs. The pickled herring at Krogs tastes of herring, not just of the sweet and sour pickling brine that is usually the dominant flavor of pickled herring. It has texture and bite, too, not just a mushy softness that is known from cheaper alternatives. It is, essentially, the best I've had: fat, firm, flavorful and filling.
Steak tartare: Raw food done right!
Thus encouraged, I traverse further into traditional, nostalgic and slightly controversial Danish lunch culture with what I consider the king of lunch dishes: steak tartare – thin shavings of raw meat stirred with mustard, pickled cornichons, shallots, capers and raw egg yolk into a soft and velvety, intense mix of primal, beefy, umami richness. Raw food in its purest, finest form!
Steak tartare was one of those iconic dishes from my childhood in the 80's that all but disappeared in the salmonella crises and foodborne illness scares of the 90's and 00's but has now made a comeback in a plethora of often extravagant and artistic variations – a trend I am only entirely too happy to observe and partake in.
"I don't know if you mind," Michael, the friendly neighborhood restaurant manager asks (rhetorically, I presume), as he arrives with my plate of casually arranged but beautifully simplistic raw beef, "but we traditionally offer our treasured diners a shaving of truffle with their tartare." – "I don't believe that I do," I reply and am thus treated to one of the most beautiful displays in the restaurant business as fragrant, fresh truffle én masse is grated onto my lunch… Who, after all, am I to mess with tradition?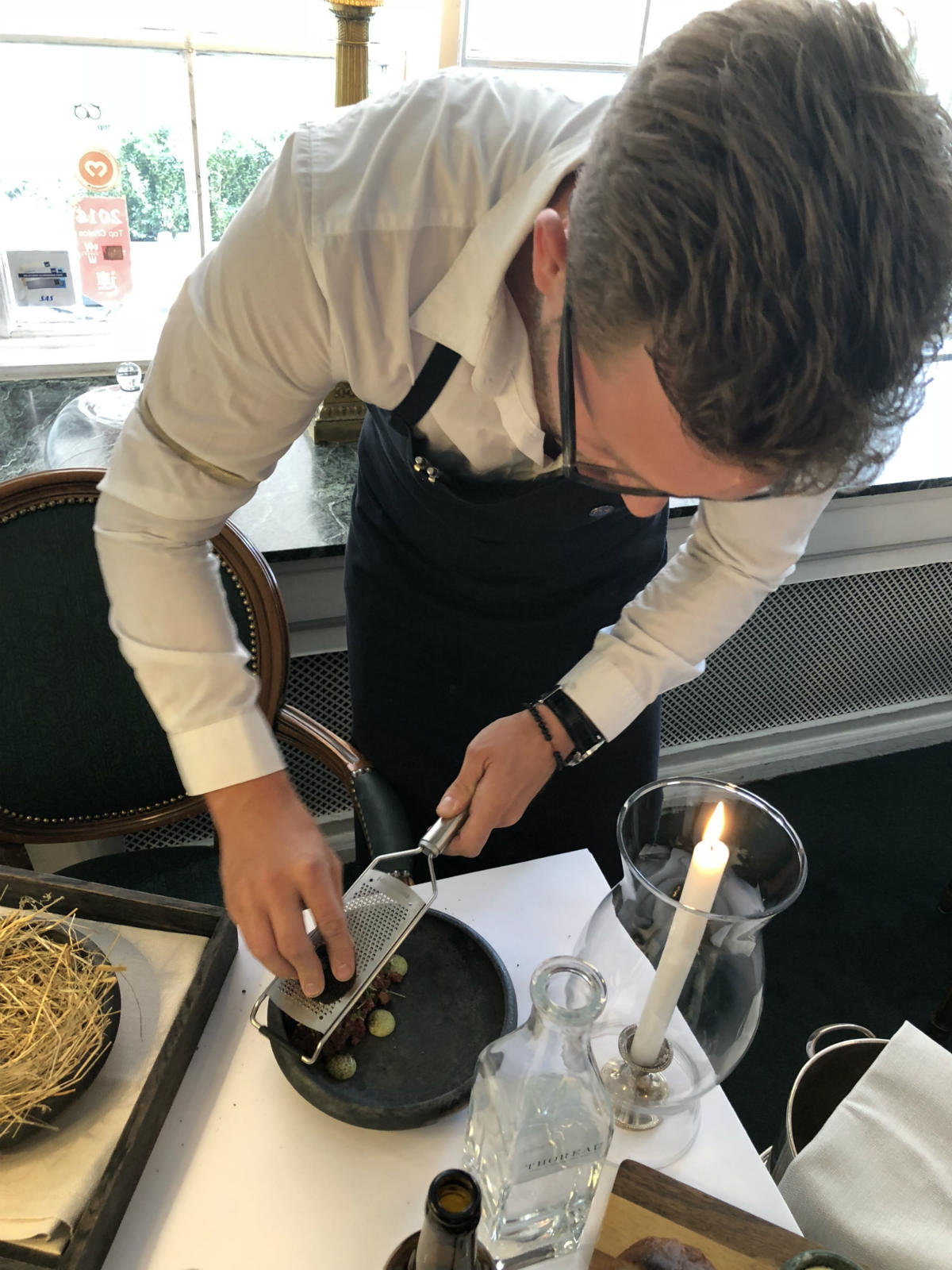 The resulting dish is an absolute beauty with a clean focus on the velvety softness of the beef; its primal, sweet and intense flavors wonderfully lifted by creamy egg yolk and masterfully accented with a hint of Cognac, a perfect dosage of acidity a light grassy bite of cress plus that deeply sexy and completely inexplainable funk of a heavy hit of summer truffle.
"We'd like to be alone," I mutter and close my eyes for a second and zone out eating comfort food par excellence to the aromatic tune of truffles, and crisp bite of pilsner. As I regain my bearings many happy bites and moments of happiness later, my plate is mysteriously licked clean and I'm coming down from a serious umami high.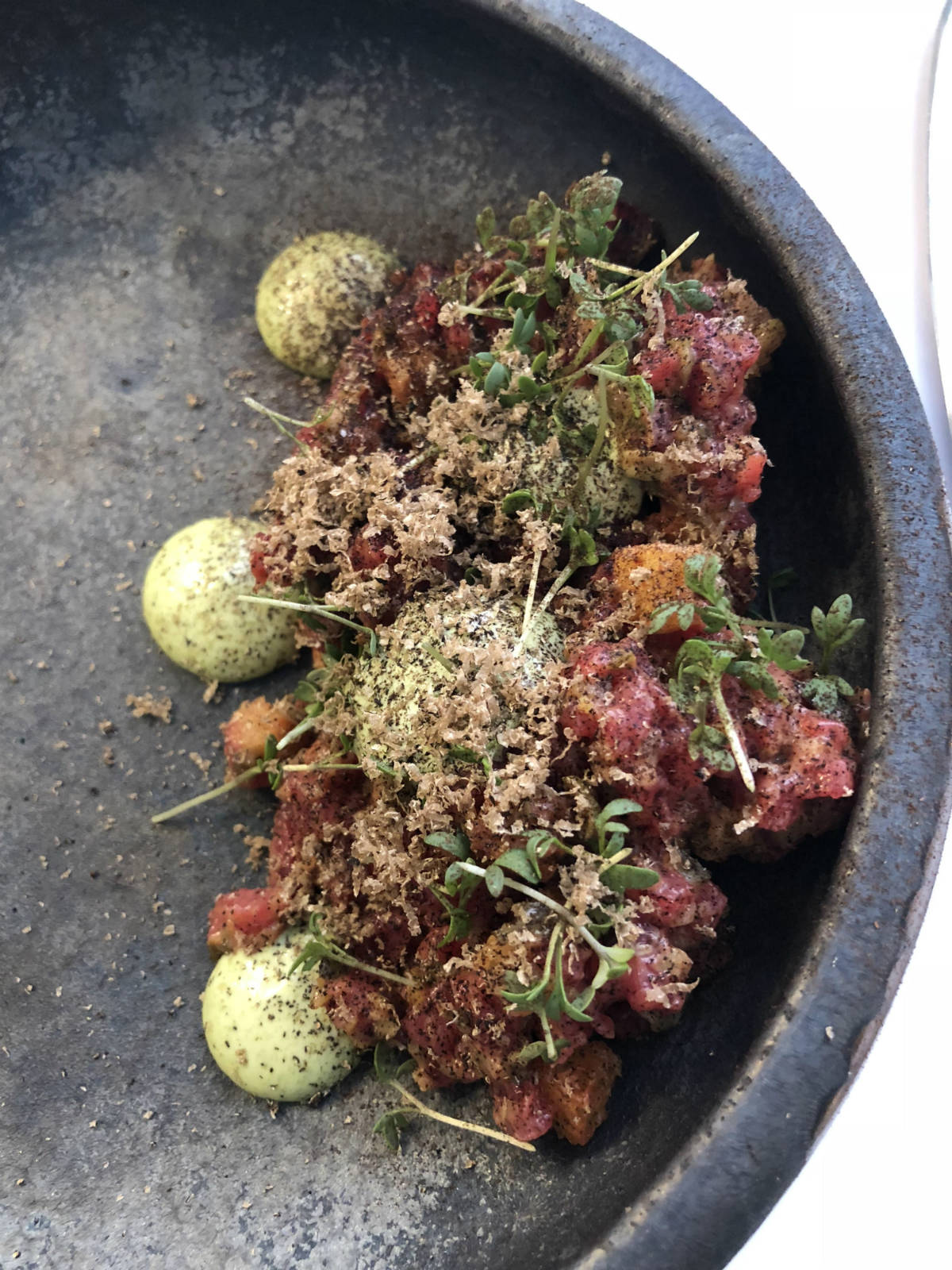 As I look around, I realize that the once empty dining room has changed and come to life: Gone are the mysterious princesses of the east, replaced by a party consisting of three generations of the same family enjoying a Saturday lunch of shellfish and white Burgundy in one end of the room and a married couple in the autumn of their lives by the window sharing a more humble lunch of herring and beer while bickering playfully in the way that only a couple can after a lifetime full of love spent together. Standard clientele, I presume, thinking to myself in the same breath that I'd be pretty happy with a standard clientele such as this.
Desserts that would make my grandma proud
"This. Right now. Is the perfect moment. I don't want to leave," I'm thinking, and luckily, I don't have to as – in a weird twist of fate – nostalgia comes to my rescue. I've been handed the menu for the fourth time that day and am musing on the topic of desserts as I traverse the pages. Not really hungry, not really sure I'll be able to find something. Then my eyes fix on a few magical words that would spur a swarm of memories, warm feelings and nostalgia in most Danes: Danish apple cake! – "Apple cake," I tell the waitress dreamingly – "of course," she smiles warmly.
Apple cake, essentially, is a pretty silly name for something that is really an apple trifle topped with whipped cream and crumble. Never the less, such has been the name of this dish since the days when my late grandmother was a child, probably before then even. And who am I to argue? If it's always been like this, it should remain like this. Tradition demands. You don't mess with tradition. Not at Krogs!
Speaking of my late grandmother, she would have instantly approved of Krog's take on apple cake – or "old-fashioned apple cake" as they call it over here in modern, fashionable Copenhagen – consisting of a slightly sweet and tangy classic apple sauce with hints of baked apples, lusciously topped not with whipped cream but rather a vanilla custard and studded with crumbled bits of Danish macaroons to break the silky textural monotony of soft on soft then topped with edible flower petals. Once again, tradition meets playfulness in a way that would hardly insult the generations of yore.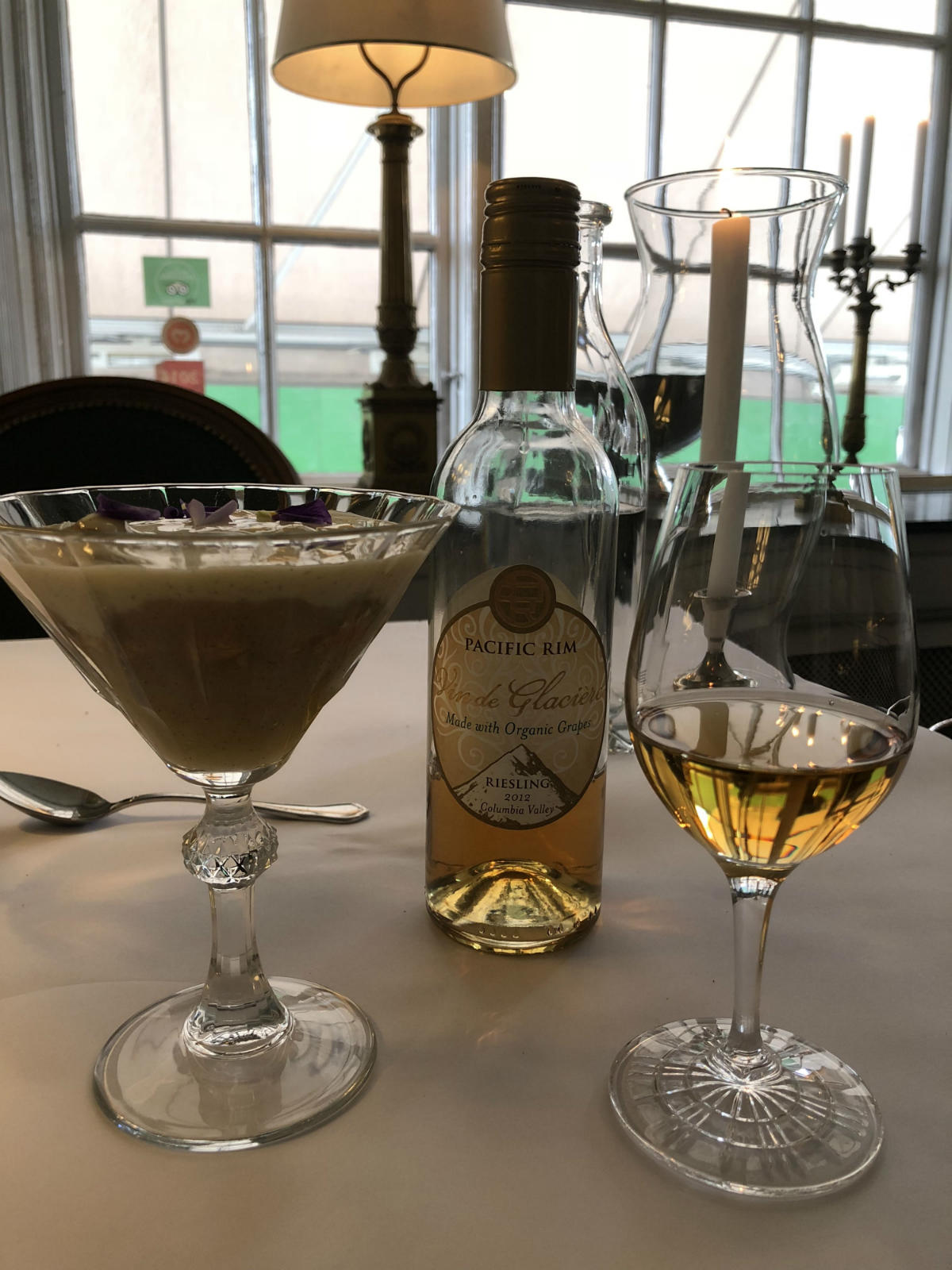 My grandmother would have demanded black (filter) coffee to go along with this work of art, I settle for the closest Copenhagen equivalent: Coffee Americano, nicely roasted, perfectly balanced and not too pungent, served – as with a nod to my comments about my grandmother – in a classic blue-tinted cup of Danish china.
It being Saturday, I'm treated to a coffee-alternative as well in the shape of a Pacific Rim 2012 Riesling "ice wine" overflowing with aromatic floral aromas and intermingling notes of stewed fruits and juicy tropical ditto all kept in check by a racy and well-timed acidity. Grandma, I'm sure, would have found this a strange cup of Bailey's, but for all intend and purposes the Riesling offered a perfect and wonderful complimentary pairing to the sweet and acidic apple dessert – much unlike her favorite dessert tipple. Sorry, grandma!
Krogs Fiskerestaurant: You had med a Champagne and oysters
I finish my dessert and my wine slower than needed, much slower, taking in the sights and sounds. Gazing through a beautiful early afternoon haze of Champagne, beer, aquavit and Riesling, I cast one last look around the dining room. The classic furniture, the warm décor, the immaculately clad service staff and the vintage maps of Danish oyster patches on the wall… All while listening to the chatter of several generations of locals getting their fill of Danish comfort food. "I like it here," I think to myself, "I really, really like it here."
Krogs, to me, is the perfect mix between upscale and laid back, posh yet homey and comforting, old-fashioned yet comfortingly new school. The dishes are a fascinating mix between classic and modern, offering new interpretations of classic dishes with respect for tradition and taste. Words like flavor and quality are definitely a priority in the kitchen, as is respect: Respect for taste, respect for diners and respect for the near hundred-year-old tradition that is Krogs Fiskerestaurant.
Lunching and dining at this level, unfortunately, never comes cheap – and nor should it! At Krogs, however, it doesn't exactly come expensive either. Reasonable is the word that pops to mind. Portions are reasonably sized, reasonably priced and reasonably authentic while still reasonably innovative. It's bang for the buck in the mid-tier lunch range – a safe bet for traditional fare with a modern vibe served with a smile.
In a city of numerous questionable lunch spots, Krogs is a place I could easily see myself coming back to. Be it for Champagne and oysters, perfectly textured pickled herring or beef tartare smothered in truffle… Either will do… You had me at Champagne and oysters!
I don't want to leave, I think to myself again. My phone buzzes. "I don't mind if you tell everybody that I'm a Thai princess and you're my bodyguard. It'd be a shame not to take advantage of the situation," reads the message from a new acquaintance I'm meeting for drinks later. "I have to leave," I think. "But I will be back… Saturday in Copenhagen, you're my kind of jam!"
Missed part one of our series of great Copenhagen Restaurant Gems? Visit Christianshavns Færgecafé here! Hungry to try out Krogs? You'll find them here:
Krogs Fiskerestaurant
Gammel Strand 38
1202 Copenhagen K