Home » Blog » Restaurant Reviews » Copenhagen Restaurant Gems: Christianshavn Færgecafé – A Hidden Treasure
On the far end of Copenhagen's sometimes beloved sometimes loathed shopping street, Strøget, lies one of the most iconic tourist spots in all of the world; Nyhavn!
Nyhavn in Copenhagen. Photo by Maksym Potapenko on Unsplash
Known for its spectacular old houses, great views, cold beers and traditional Danish food, it is one of the most photographed, beloved and touristy spots in Copenhagen – and one of the most crowded and overpriced. But is it just a tourist trap? Is Nyhavn worth the trip? Sure, in some ways.
Nyhavn is a must see from tourists from all parts of the world and all walks of life and, to be perfectly honest, few are the Danish men my age who do not have fond memories of kissing a beautiful girl under the iconic facades after one too many (exactly the right amount, some would argue) of those overpriced beers.
But as far as feeling the true spirit of Copenhagen, tasting the food and drink, feeling the vibe, there are far better places and, as luck would have it, one such magical place takes you right through the iconic setting of Nyhavn.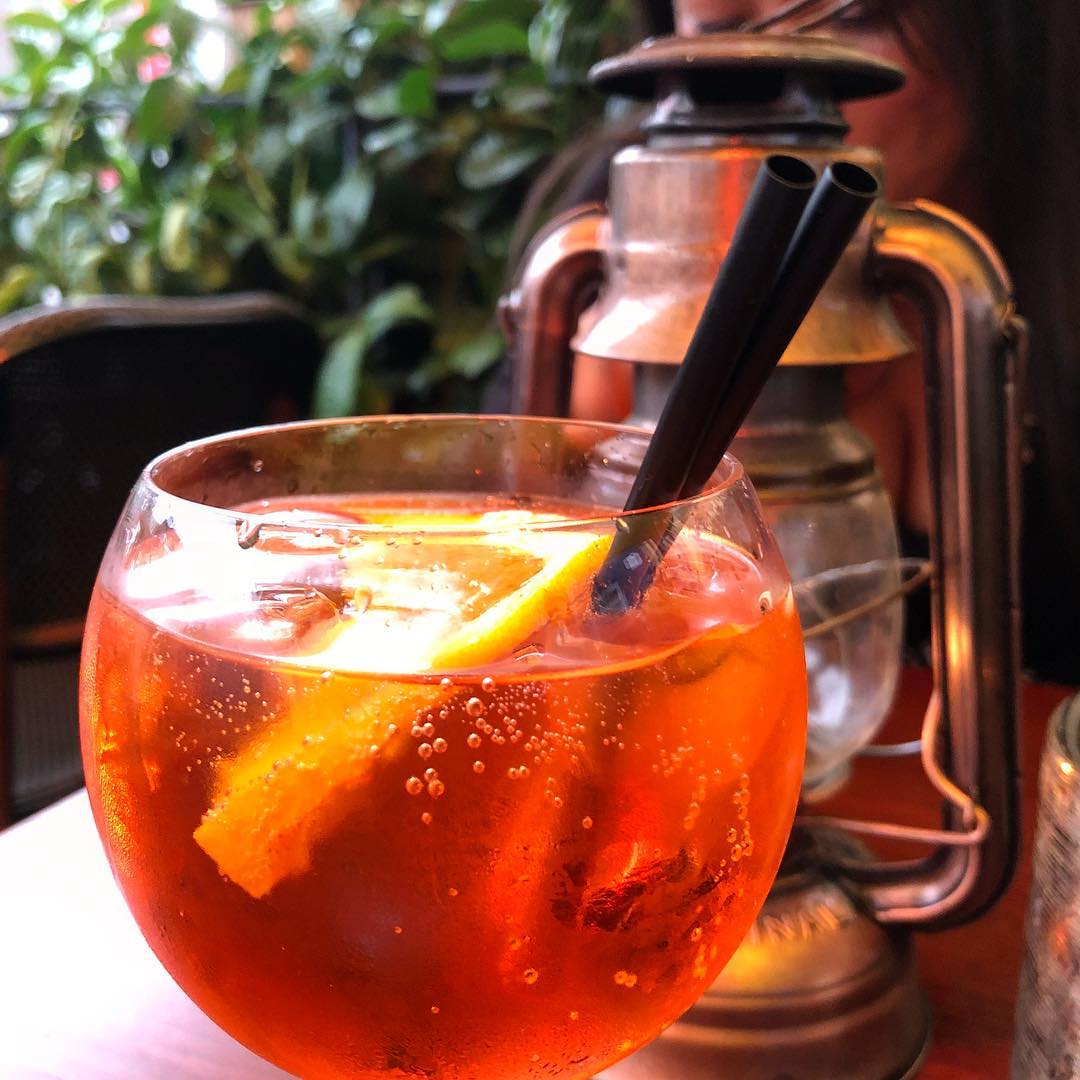 Okay, so, good times are to be had at Nyhavn, but that's another story…
Take the Metro (or stroll) to Kongens Nytorv and make your way onwards to Nyhavn. Once here, do what the locals do. Stay on the right side of the channel away from the iconic restaurants and take in the stunning views and hordes of pleasantly drunk tourists as you stroll on. Gaze back lovingly as you pass across the new bridge at the end of the harbor and enjoy some of the, admittedly, most stunning views of the city. Take your time, then finish crossing and you find yourself in Christianshavn, one of the up and coming boroughs of the city and former home of the world's former best restaurant, Noma.
Actually, one of the first places you will see when crossing over is Strandgade 93, former home of NOMA now Restaurant Barr; an institution in its own right under the skilled command of Thorsten Schmidt. Relish for a moment in the fact that you are standing on the site of a culinary revolution, but know that revolution is not the goal of our journey, nor is new Nordic cool. Au contraire, mes amis! Comfort food, homeliness and classic Danish warmth is the destination, so pause for a moment at the scene where it all started, then turn right past Noma's famous Michelin-starred little brother 108 and continue in what a drunken fool would call a reasonably straight line until you hit the water and a peculiar sight emerges.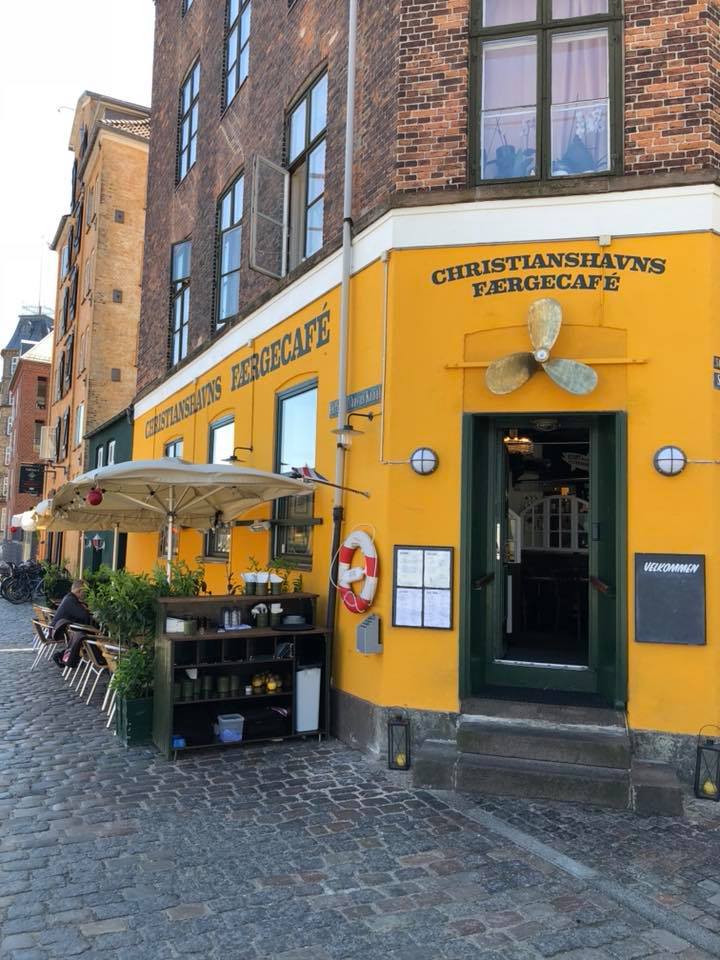 Christianshavn Færgecafé looking particularly pretty on a sunny Wednesday afternoon in late May
On the edge of the water where Strandgade meets Wilder's Canal, an (admittedly enthusiastic) stone's throw from Noma's original location, you'll find Christianshavn Færgecafé (Chirsitanshavn Ferry Café). In itself a beautifully restored, ochre-colored building dating back a couple of hundred years or so, the look and feel of the place is, perhaps surprisingly, not exactly a rare sight for Copenhagen. What is rare, though, is another sight that meets you on the way. In the canal, moored by the side of the main building, you see, lies nothing short of a beautifully restored vintage Swedish passenger ferry.
"My chambre separée extraordinaire," beams owner and Erik Frandsen as he greets me, noticing my mixed look of equal surprise and fascination at the sight of his life's work and dream.
I'm here on a bit of a whim to interview Erik about his dream of turning an old, run-down, dive bar into a beautiful, classic, Danish lunch restaurant, about his means and reasoning for somehow expanding this newfound restaurant with a ferry cum dining space and about his greatest passion in life; classical Danish schnapps-making, and last but not to ask the pressing questions: Dishing on homemade schnapps on the deck of your own private ferry? Really? Why?!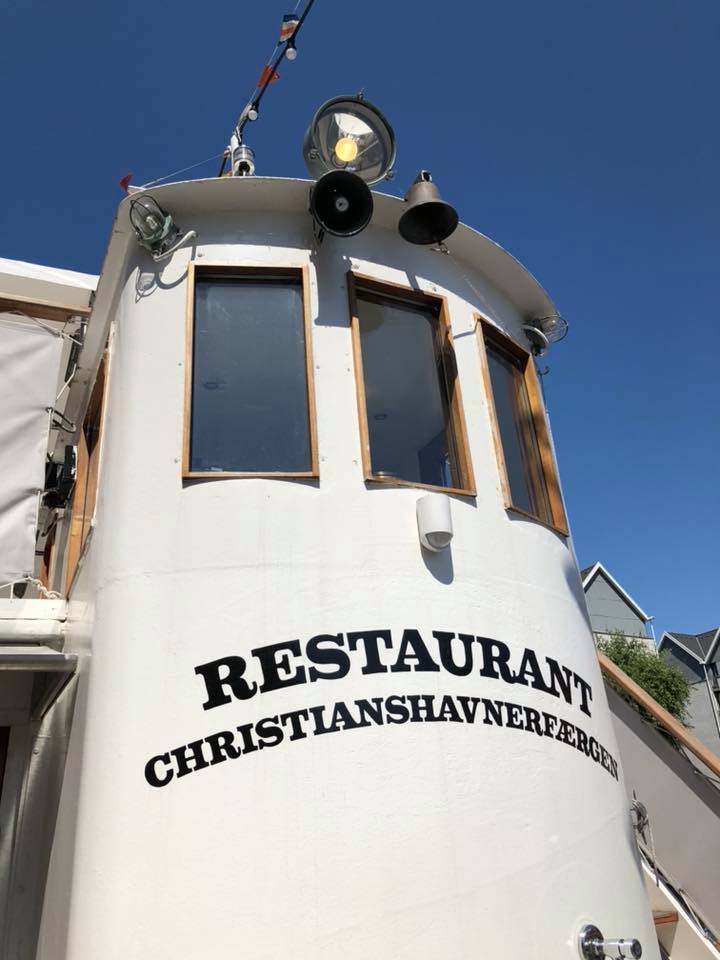 There she is, the vintage ferry, his pride and joy in all her beauty…
"Did Anne tell you to come," he asks in reference to my newest and most beautiful colleague over at my home away from home, Gastromand.dk, (yeah,sorry boys) and preferred local fixer, Anne Køster, as we walk inside the main building and he starts grabbing bottle after bottle and mason jar after mason jar from the shelves, all filled with highly potent infusions. "She's such a wonderful lady," he grins with all the affection in the world, "I usually do what she says as well, it's easier that way! So, let's talk spirits!" It's 11:30 AM on a Wednesday morning in Copenhagen and despite a somewhat lengthy Champagne-tasting the night before, it's no rest for the wicked Johan!
Christianshavn Færgecafé is a treasure trove of homemade schnapps
We're diving straight into Erik's greatest passion and one of the things that makes the place unique: schnapps! The nearly lost art of infusing flavors of any combination of plants, herbs, berries and/or spices into a clear, odorless alcohol. In a world, where tradition and craft at times seem all but forgotten, Erik proudly makes and serves about 30 different homemade varieties.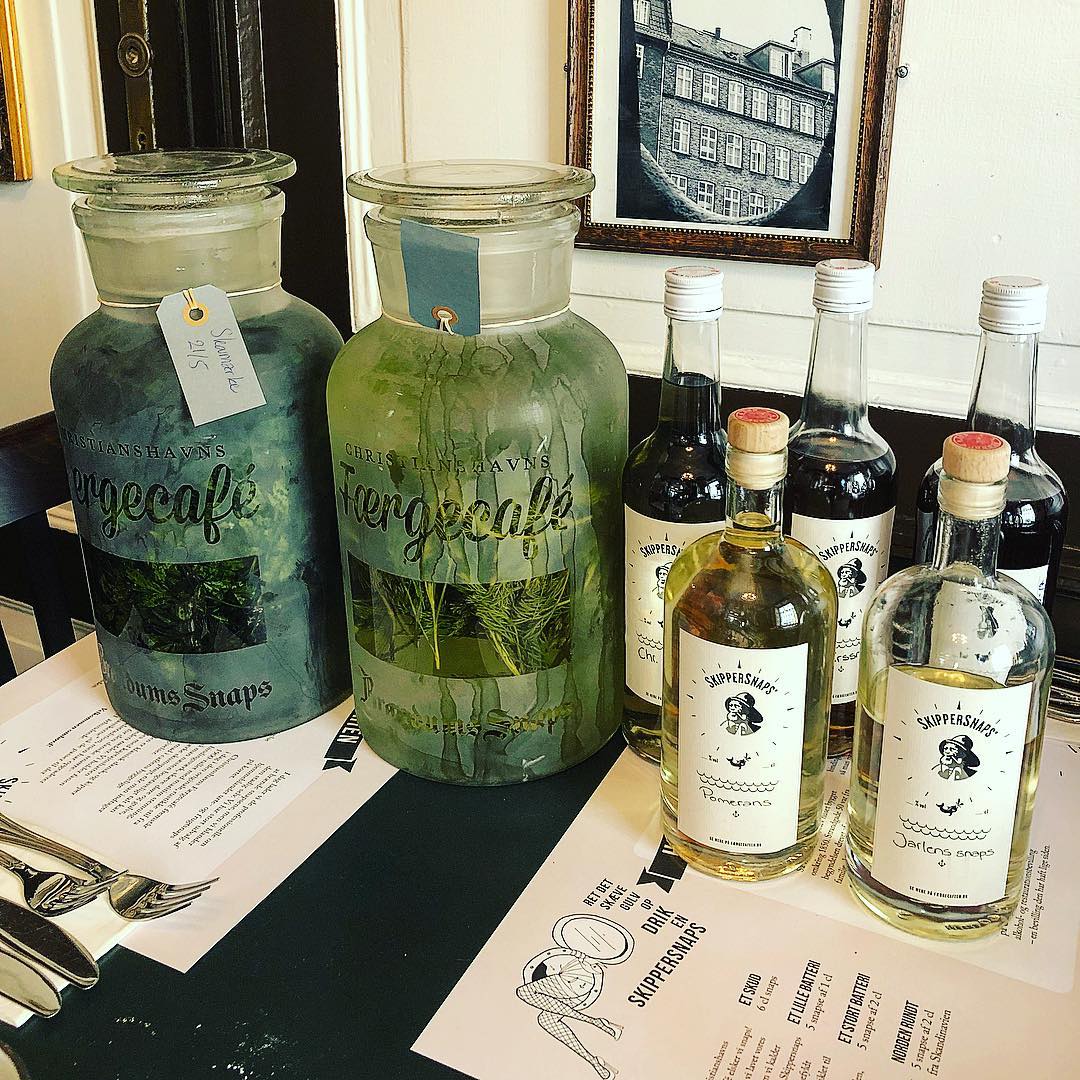 Happy Wednesday morning to me!!
His selection ranges from his sweet and floral Christianshavner Urt made with tarragon and fennel, the Bearnaise of schnaps – he calls it, over various sweet fruity concoctions made with blackcurrants or cherries to bitter extractions of wormwood or dandelion and even his sucker-punching take on a classic aquavit, flavored with caraway seeds. And for a second I'm afraid we're going to sample them all as Erik starts pouring samples while talking like a waterfall.
He speaks like a true entrepreneur: enthusiastic, fast and all over the place – and is, at the same time, the perfect gentleman and host. Several times over, our talk is interrupted by Erik throwing a wink and a complimentary pour after female Swedish senior citizens who are, for the first time in maybe 40 years, reduced to a bunch of giggling school girls.
Our story starts around schnapps, techniques, flavors and ingredients, but quickly warps into the realm of philosophy and thought. About taking over a sooty and grimy, completely run-down dive bar with the dream of transforming it into the polished gem we're sitting in this sunny afternoon, about the hours and dedication needed to make dream reality, about doing what you want to do and loving what you do.
At some point between sampling two different expressions of citrus infusions, Danish lunch perfected lands in front of me: a piece of simple, fried plaice with a topping of homemade remoulade sauce. Falling apart tender, fresh, juicy, yet coated in crispy, butter-fried goodness and served with a fatty yet zingy toping and a bite of herbal goodness, it shows that they do more than just spirits well here. "Great isn't it," says Erik with no amount of modesty as I take a bite and sigh, "it's the freshest in the city!"
"This, this is a perfect example of what we're trying to do," he continues. "We're not trying to do Michelin-styled food here, *we're just trying to do *well*". I don't particularly care about appearance and plating, I just don't want to eat things that don't taste good, I don't want to serve things that don't taste good. And I don't want to make bad schnapps!"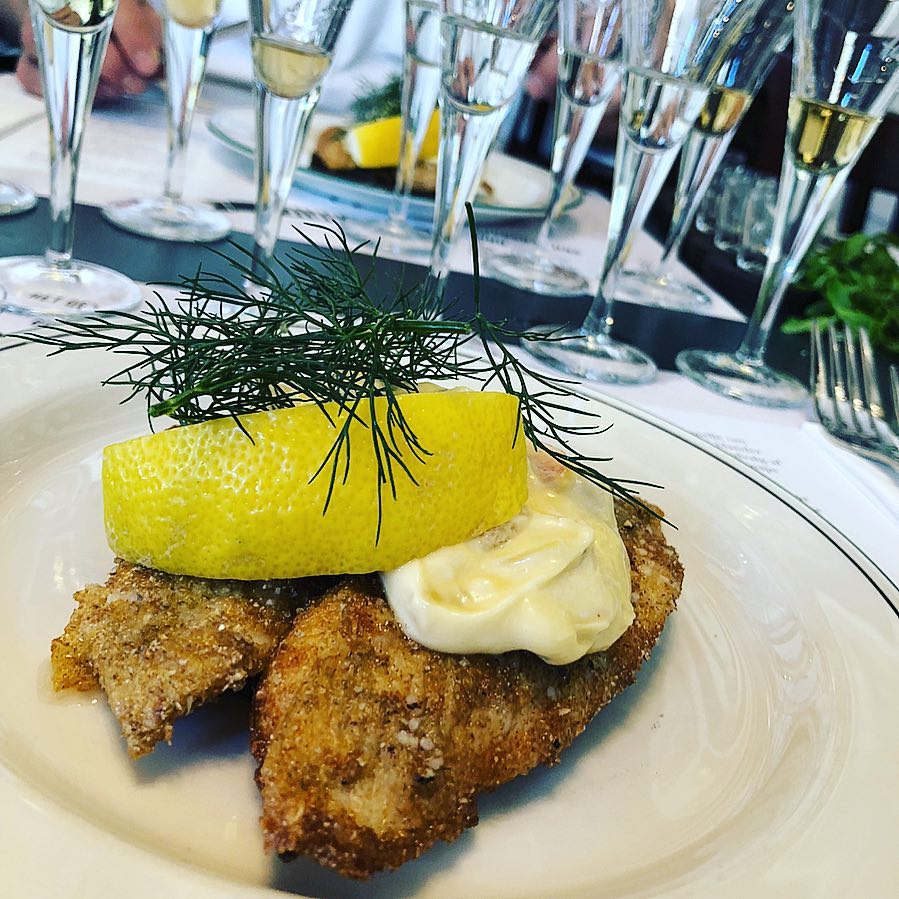 As if to prove a point, he opens a mason jar of work-in‑progress sorrel-infused schnapps. We smell and sample it directly from the jar. "Nearly there," says Erik, "just one or two more days of steeping before filtering." – I take his word for it. Erik starts, checks, quality controls, filters, thins out and ages all of his batches. Everything is done by look, smell and taste. And everything is spectacular.
We move on to sample several more takes on citrussy schnapps to determine a perfect match for the plaice in front of me. Food and schnapps go hand in hand and at this wonderful place in time and space, food and schnapps parings is a thing – and I'm absolutely loving it!
Christianshavn Færgecafé: Nothing like it in Copenhagen?
55 minutes into the ordeal, my head is swimming, not (entirely) from drink but from complete overload of information, sensory perception and enthusiasm. "I need to show you the boat," Erik says matter-of-factly, having clearly talked himself on fire. And off we go to inspect Erik's pride and joy: the perfectly restored old Swedish ferry moored right outside the restaurant.
"You probably won't find a more interesting location in Copehagen," he beams with pride as we walk across the top deck which casually seats about 20 outside diners to the bown and down a flight of stairs to a smaller, more intimate dining area. Here we run into a party comprising the ladies that Eric was pouring samples earlier. "The booooys are back," they swoon in their native Swedish tongues as we dash by for a quick look at the covered main cabin used exclusively for private parties and events, and down a ladder to the cool engine room which holds Eric's stash of maturing spirits.
As I lie there, on my knees in the belly of an antique, decommissioned Swedish ferry with a man I've only known for about 55 minutes, inspecting this year's production, agreeing on the facts of life, bouncing ideas back and forth and talking about the importance of eating well, drinking well and enjoying life, I'm inclined to agree with his sentiments of earlier: "You probably won't find a more interesting location in Copenhagen!"
I hit my head on the way out back into the Copenhagen summer sun, barely noticing it myself. Vintage Swedish ferry engine rooms were not made for my 180+ centimeter frame. "Listen, you should come back," Eric says, apologizing profusely for his shortness of time as we make our goodbyes, standing on the dock, my head throbbing from impact," there's so much more to see and experience and I only had so little time in which to do it!"
Excellent AND traditional Danish food
Fast forward a couple of weeks and I'm back, sitting on the top deck of Eric's pride and joy, nursing a hint of a hangover from the night before. I'm here for the food this time, not the schnapps, but somehow a flight of five favorites have made it onto the table as a bit of a lunch time pick-me-up. It just seems the thing to do around here. Also in front of me is "The Sailor's Small platter", an epic (and ironically not exactly small) display of four Danish lunch favorites: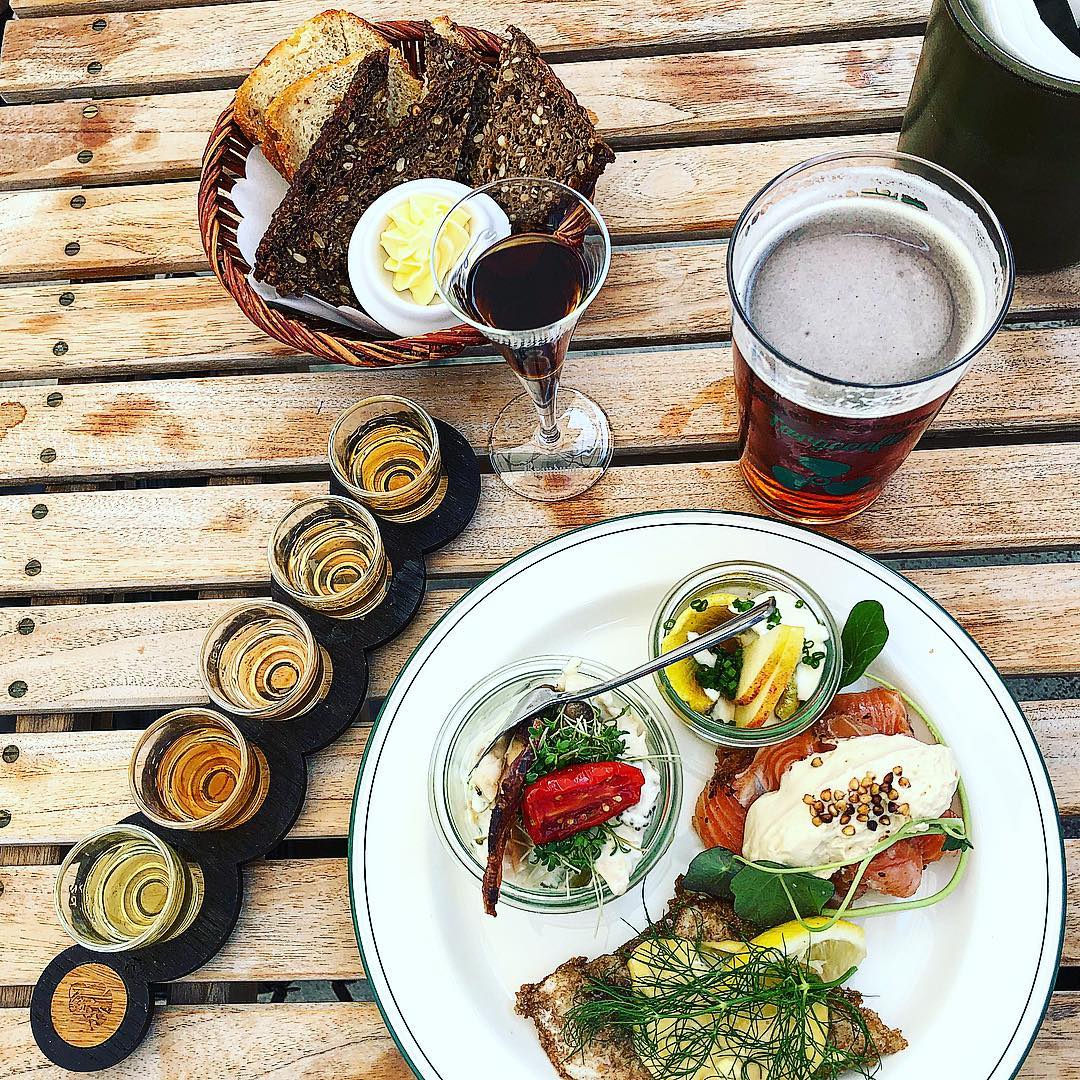 "The Sailor's small platter" … Uuuuh-huh!
Sweet, sour and spicy cured herring in a mild curry sauce. Soft, fatty, chewy and succulent topped with apples and onions. A bite of heaven, any Dane will tell you, but something you'd have to try for yourself to believe.
A few slices of silky smooth, slightly sweet, wonderfully fatty and meaty smoked salmon with a topping of sweet mustard sauce.
A small filet of fried plaice equally as beautiful and as wonderful as the one I had weeks earlier.
And last, but certainly not least, a classic Danish chicken salad made from chunks of tender, poached chicken, mushrooms and asparagus in a mayonnaise and sour cream dressing topped with crispy bacon.
All served up with two types of bread: classic, white bread and authentic, Danish rye bread – both delivered fresh by a local bakery and both of absolutely excellent quality.
And it's all wonderful: tasty, fresh, traditional, comforting and ampleful in size. The food at Christianshavn Færgecafé is not rocket surgery, it's just traditional, Danish food done well and delivered without bells and whistles. As such things should be in the mind of this reviewer.
Erik is there, too, sitting across from me, listening to my tall tales from the night before and being his own cheery self. "I've got this idea for you," he says for the third time in about 20 minutes: "you should write a guide to off-the-beaten-path spots in Copenhagen, the places that tourists otherwise never hear about! It would be totally awesome!" – "You know what, I think you're right," I barely manage to counter as the eternally busy entrepreneur zooms off to take care of whatever the day has in store for a restaurateur and master schnapps-blender.
As I sit there, soaking in the early afternoon sun, finishing my lunch, my second beer and my generous flight of schnapps, I chew carefully on every bite of food and every word of Erik's. "You know what? I should write that guide," I reason to myself. "In fact, I should write a number of guides, starting with a guide to this strange, crazy, off-the-beaten path place that is Christianshavn Færgecafé in all its crazy splendor! I must tell Erik! Where the fuck did Erik go?"
"He's in the ice cream parlor, I believe," says one of the waiters, referring to Eric's newest addition to his canal-side emporium, a small ice cream parlor located next to the main building in the ground floor of what is slowly and steadily turning into a combination of Eric's main office and an additional storage space. "Oh, right, the ice cream parlor," I muse… Because schnapps and ice cream. Why the hell not!?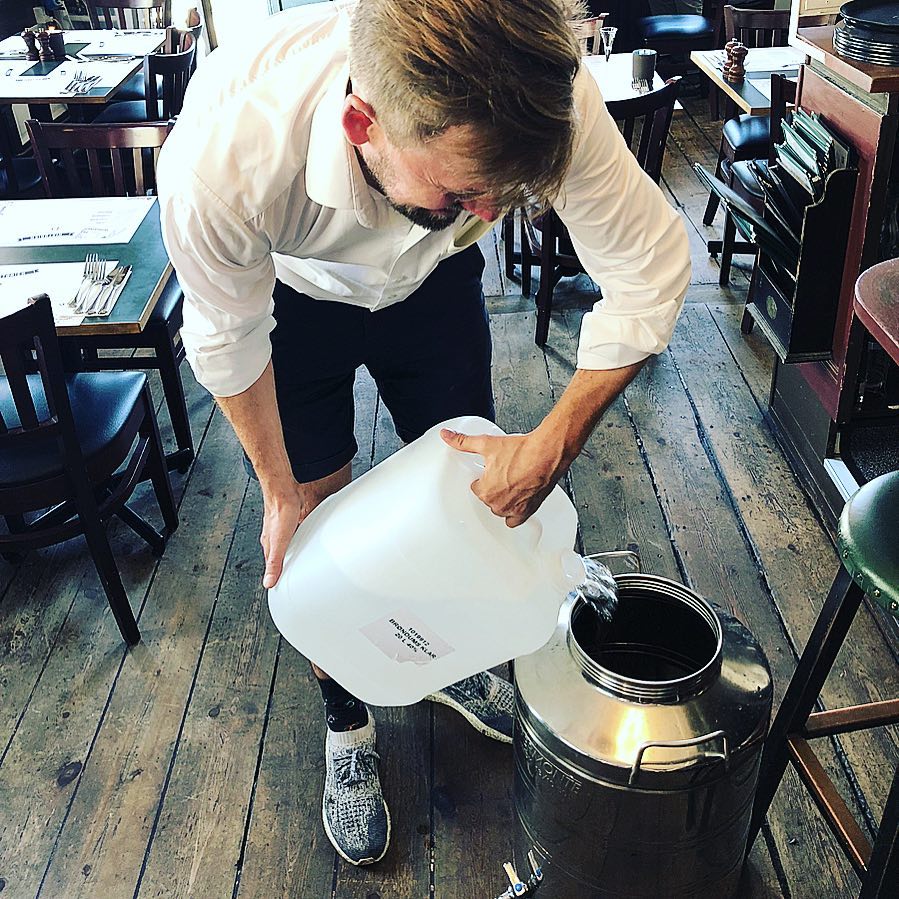 Erik making schnapps by the bucket-load, it's just the way he rolls these days!
As it turns out, I do manage to locate Erik in the very back of his ice cream parlor, undertaking activities that on one hand seem entirely strange, yet on the other hand, entirely normal: his time split equally between serving ice cream cones to tourists and locals of all ages, and between thinning out, tasting and bottling a few of his latest creations while listening to Danish schlager hits from the 60's and 70's on a small Bluetooth speaker.
"Need a hand," I hear myself asking to my own surprise and slightly drunken stupor, and suddenly I'm part of the fun, tasting, bottling, singing along to tunes no one in my position would ever admit to knowing the lyrics to… Because apparently that's the sort of thing you do around here! Get caught up in hot, surprising yet strangely appealing mess of attitude, weirdness and truly classic Danish hygge and comfort.
And get caught up, one has a tendency of being which sufficiently goes to explain having to make a somewhat hasty exit from my extended second lunch session at Christianshavn Færgecafé. "I'll write this story," I remember myself thinking as I make a dash for my homebound train in the now not so early afternoon sun. "I'll write this story, if I can somehow do justice to the strange phenomenon that is this hidden gem."
Thank you, Erik, for being a most gracious host, a lover of life, a wonderfully complex human being and a sacred keeper of the lost art of schnapps-making! SKÅL!
You'll find Erik and his boat at:
Christianshavn Færgecafé
Strandgade 50
1401 Copenhagen K