Home » Blog » Wine & Drink » Review: 2011 Gardarèm by Marrenon – World's Best Syrah?
Gardarèm, they say, is ancient Gallic for "We keep". It's also the name of the, supposedly, best Syrah in the world. Most importantly, though, it is the culmination of a journey for your's truly.
It's no secret. I've drunk a lot of wine throughout the years… Much of it good, some of it bad, if I'm honest, and some of it absolutely extraordinary. I started out learning the ropes as a young, poor student, sucking down supermarket reds from such places as South Africa and Australia. Then, as luck would have it, I reconnected with an old neighbour cum wine merchant, who started walking me through a steady progression of quality niche wines from boutique producers, primarily from France, ranging from affordable and easy-drinking to the not-quite-so-afforadble and not-quite-so-forward.
Over the course of our friendship my passion, understanding and budget for wine has grown exponentially. It's been an amazing, inspiring, educational and very expensive ten odd year journey and today, I consider my wine guy not only a friend, but also a mentor who never ceases to teach me something new and exciting in the world of wine.
However, the subject of my post today is not entirely something new and exciting. Rather, it's another old friend: one of the first producers my friend introduced me to and one I have kept coming back to over the years. It's about a "little" French undertaking called Marrenon and a "little" something they did called Gardarèm.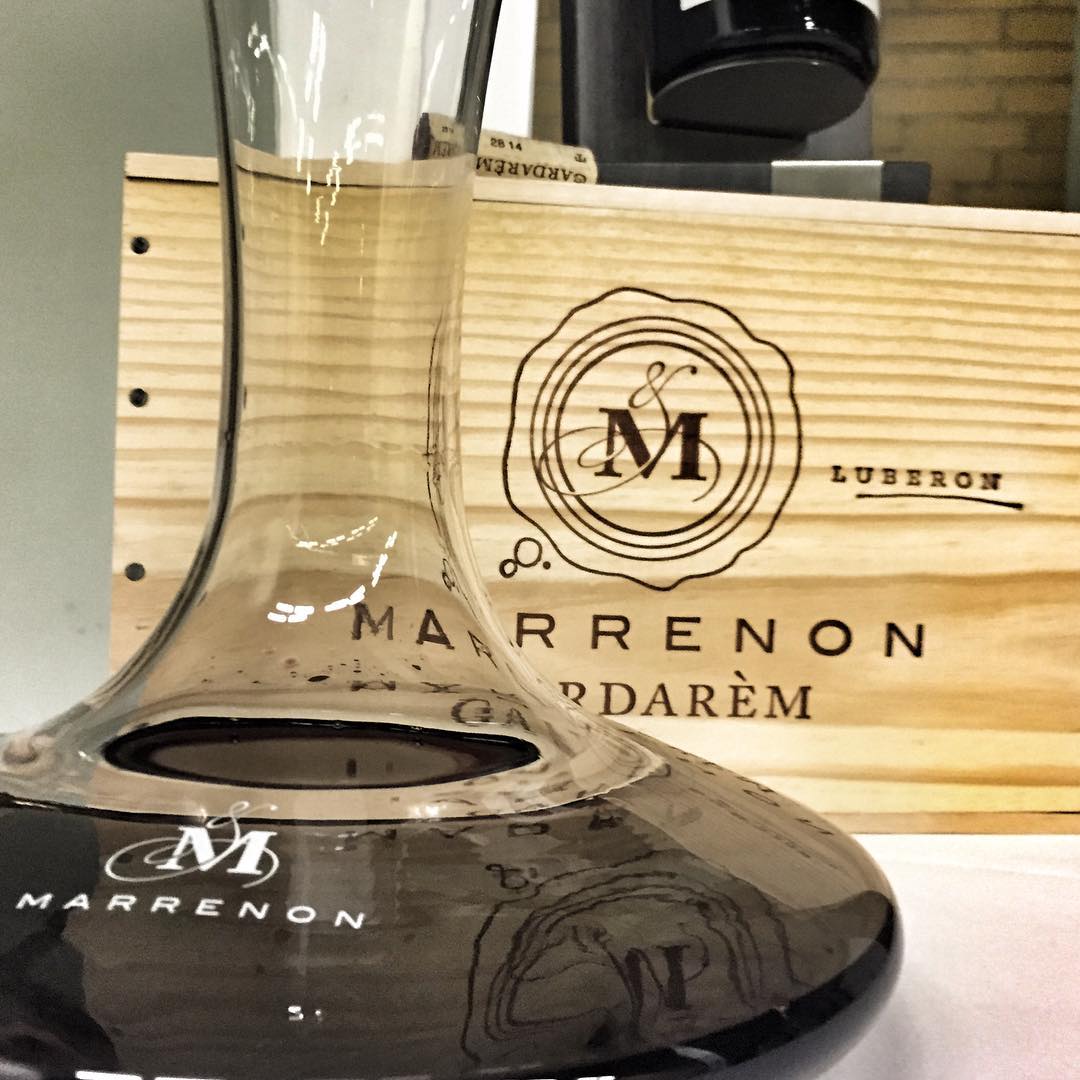 Marrenon Wines – The Company that I shouldn't particularly like?
Funny thing is, though… As a self-proclaimed wine snob and lover of life, niche wines and all things rare, Marrenon – in theory – is the sort of company I really shouldn't like anymore. They're a huge negotiant business based out of Luberon drawing on grapes from a 1000+ producers and producing wines at a sometimes mind-boggling volume. The thing is, though, they do it *really, really well*, employing strict selection, quality control and complicated, lengthy production methods to produce a large range of wines with truly unique characters and expressions, ranging all the way from the ridiculously affordable to extravagant, rare and carefully crafted masterpieces.
More on Marrenon? For more info on Marrenon, their unique approach to large-scale winemaking and my infatuation with their wines, please feel free to check out my Marrenon Winemaker's Dinner post from 2014 which covers the company and their wines in much more detail.
Gardarèm: A legend is born?
One such supposedly rare and carefully crafted masterpiece is the subject of our post today: Gardarèm! Marrenon's near mythical flagship product bound in storytelling and lore, crafted from selected vines from three minuscule parcels in the hills of Luberon, France and produced, aged, bottled and distributed with the utmost respect by the wonderful people at Marrenon who treat it as nothing short of the utmost that their plots can produce and as an absolute tribute to their region and heritage.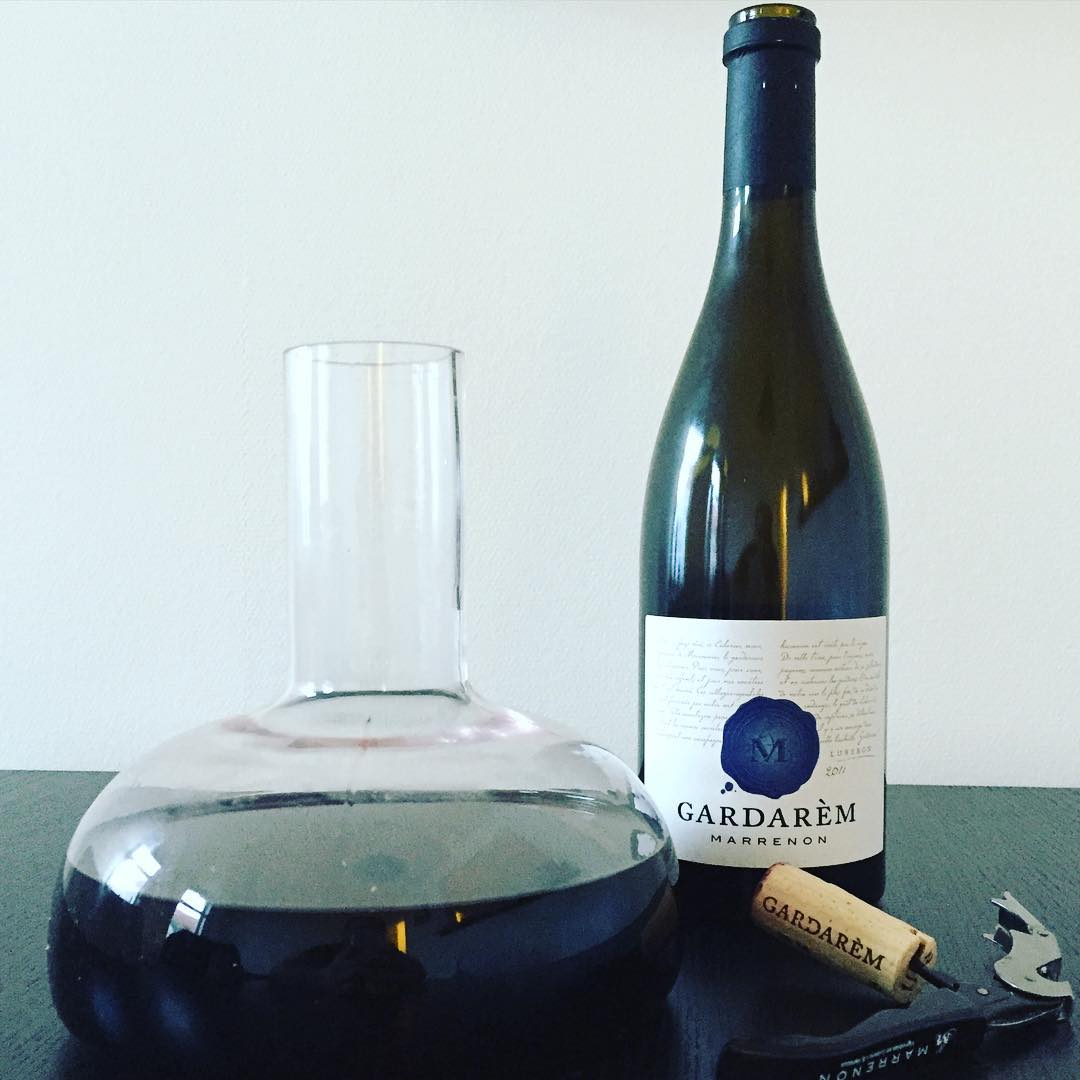 Gardarèm – supposedly the best Syrah in the world? Well, we'll see!
Yup, they've set the bar of expectations pretty high for their top wine down in Luberon. But don't just take their word for it. Gardarèm is nothing short of a legend of it's trade, having scored consecutive gold medals in the prestigious Syrah du Monde competition over the past four years, even nicking the title as "No 1 Syrah in the World" for their 2012 vintage at this year's show (2015).
Allocated in strictly limited quantities and retailing at around DKK 400 ($60) per bottle, Gardarèm is clearly intended as a special occasion wine for the few and the lucky… And indeed that is the feeling with which it has been poured at the few select tastings where I have previously been lucky enough to be offered a small sip of previous vintages. But is Gardarèm really worthy of the hype? In order to find out, I decided to create my own special occasion by inviting a few lovely young ladies over for an early Thanksgiving dinner and a glass of the mythical stuff. The only thing I asked in return? That they provide their honest thoughts and notes for the purpose of this post. And so, without further ado, here is what we found.
LET… HER… BREATHE! Even after four years in the bottle, Gardarèm 2011 is only just coming out of her infancy. It's starting to blossom but it needs air to do so. Marrenon suggest you decant it at least three hours prior to serving to let it breathe, I added a few hours to that and served it from large, wide glasses. For which it rewarded me by growing increasingly complex and powerful over the evening. If you're lucky enough to get your hands on a bottle, let it breathe before tasting. You will thank me later.
2011 Gardarèm: A Review
As far as appearances and packaging go, Gardarèm is breathtaking to say the least. Delivered in a cardboard gift casing if one so desires, the first one notices about the heavy-set bottle is the beautiful label, containing the Marrenon seal logo, the Gardarèm name and a poem in French professing the winemakers' love of their ancient land of Luberon, its rolling hills and its wines. Gardarèm, they state, is their ultimate declaration of love to the region in which they live and breathe. It's a labor of love, so to speak, and a seemingly impressive one at that.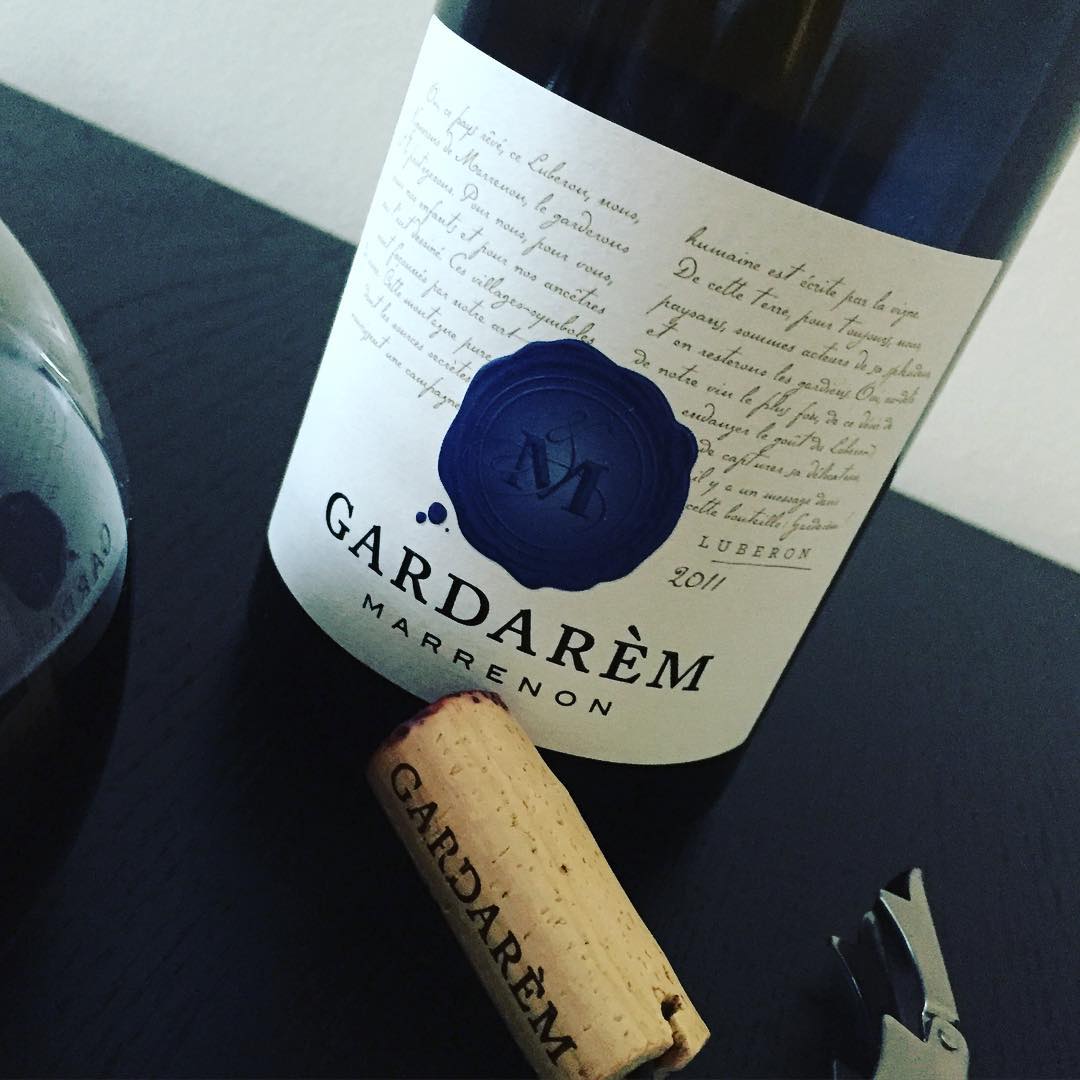 Well, if nothing else, the label of this thing is surely a work of art
In a strange sort of way, it seems almost a shame to tear the foil off such a beauty, yet after popping the cork with a rather satisfying loud pop, the wine pours a wonderful deep purple almost blackish tint with an immediate onslaught of sensory bombardments that only seems to grow as the wine aerates in its decanter.
Nosing Gardarèm
The first that pops to mind when swirling the glass and breathing in deeply are intense dark fruits. Imagine yourself in the forrest on a late fall day, sniffing almost overly ripe blackberries off the brambles with that sweet, earthy smell of slightly decaying leaves as a surprising but not unpleasant backdrop. Add to that a mix of blackcurrants, boysenberries and ripe cherries, and you're just about there.
Trailing the ripe fruits are classic, almost Cabernet-like cedar wood mingling with a profoundly noticeable but absolutely integrated spicy and smokey oak note. Evidently, 100% new French oak was used in the ageing process and it shows through on the nose in the most beautiful and controlled of ways. One could (and one did) sniff this forever, but merely sniffing would be a shame.
"This wine is my favorite dish in the world!" – Thomas Alcayaga (@madetmere), Danish food blogger brother in arms – madetmere.dk
Tasting Gardarèm
On the palate, the darker fruits step a bit into the background and give way to sweet cherries and raspberry notes. But that's far from it. Gardarèm literally screams terroir as well with mineral, flinty notes from the rocky plots powering through the fruit along with a clean-cut and extremely well-integrated acidity and another whiff of smoke from the oak. The tannins are as powerful as one would expect from a wine aged in new oak, but blend so well into the powerful mix of fruit and minerality that they become barely noticeable to the point where they would only be sorely missed if they were not there. Putting it in as few words as possible (which is never easy for me), the density, structure and complexity of this wine is nothing short of breathtaking.
The minute-long aftertaste is all about warmth and spices in a straight forward yet surprisingly elegant manner which doesn't so much leave you craving another sip as it leaves you contemplating the one you've just had. This is a wine built for reflection and it will reward your patience. While immediately pleasing from the first sip, it will not only reward the drinker who pauses and searches his or her mind for expressions, it will also continue to evolve in the glass over the course of an evening, releasing little bursts of added complexity and flavors as the hours roll by. If you can manage, save a glass for the next day. Trust me, Gardarèm likes air and time!
Score: 93/100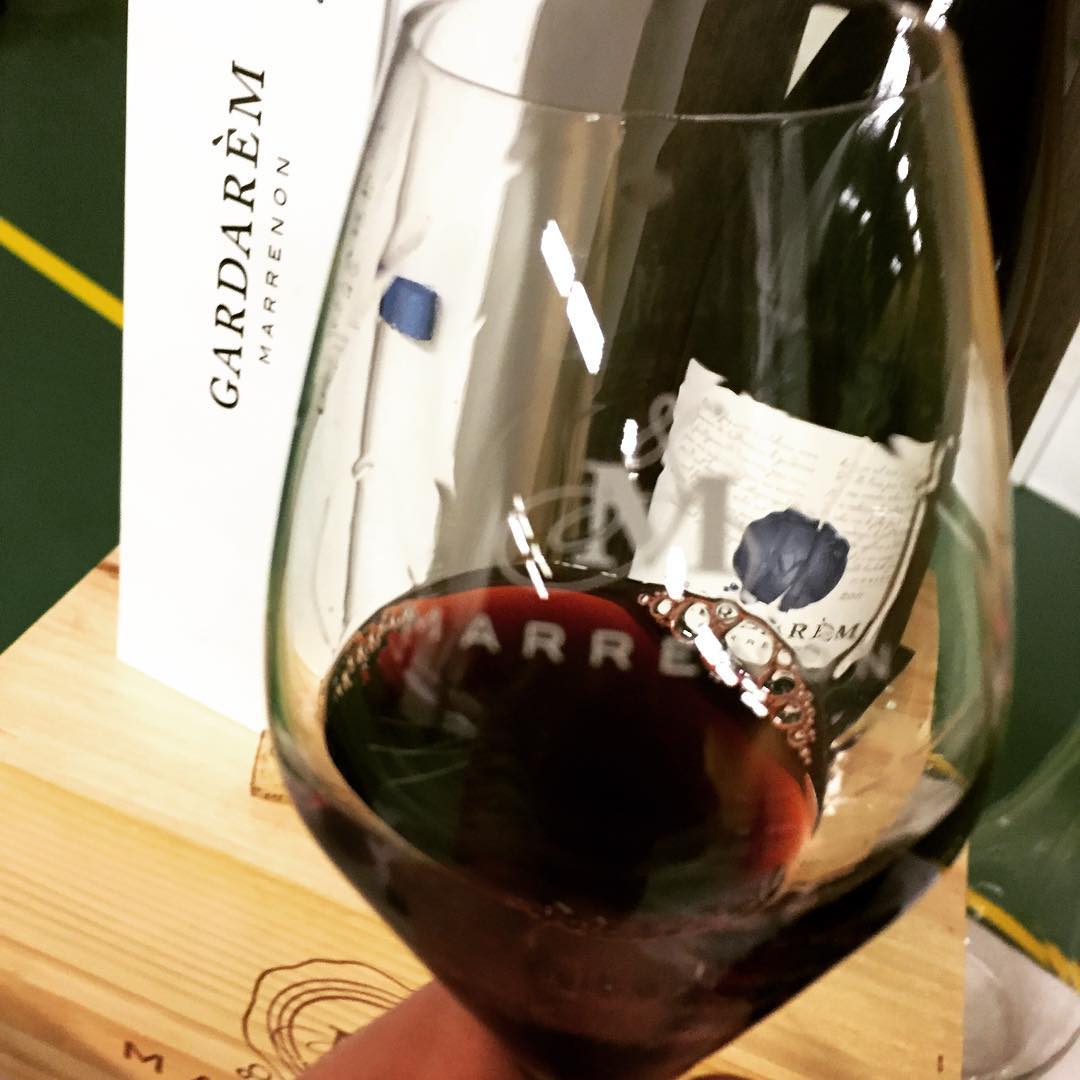 A closer look at the color of Gardarèm – from a previous tasting hosted by vestergaardwines.dk
Gardarèm: The Best Syrah in the World?
Is Gardarèm the best Syrah in the world? Well, I wasn't present at the Syrah du Monde tasting, nor am I capable of saying entirely how representative it was, so I haven't really got the frame of reference to say. Is Gardarèm the best Syrah I've ever had? Absolutely! You see, the thing about Syrah is that while a wonderfully fruity grape, it is, for better and for worse, often times also a pretty one-sided grape. It does fruity notes really well, but lacks complexity and backbone, many people would argue – this geek included. Making Syrah shine on its own takes skill, serious skill! As a result, Syrah is a grape most used for blending – unless, of course, real fruit bombs are desired.
The lovely people of Australia, for example, discovered years ago that the warmer and sunnier the climate, the more ripe, fruity and jammy the wines produced become. Since then, fruity warm climate Syrah, or Shiraz as they call it Down Under, has been a booming business loved by many and kinda frowned upon by those of us who like a little more than blackcurrant and pepper notes in our wines.
In Gardarèm, on the other hand, Marrenon manage to take the desirable fruity notes of the Syrah grape and elevate them by manipulating external factors. Through careful selection of plots, vines and grapes, a carefully supervised production process, plenty of new oak and the addition of a small percentage of Grenache for structure and backbone, they manage to give the Syrah the complexity and character it so desperately needs and in doing so, they've created a surprisingly complex effort and what *may well be* the World's Best Syrah. It's certainly one of the world's most atypical and interesting Syrahs and one that I am happy to have shared with friends, despite the rather heavy price tag…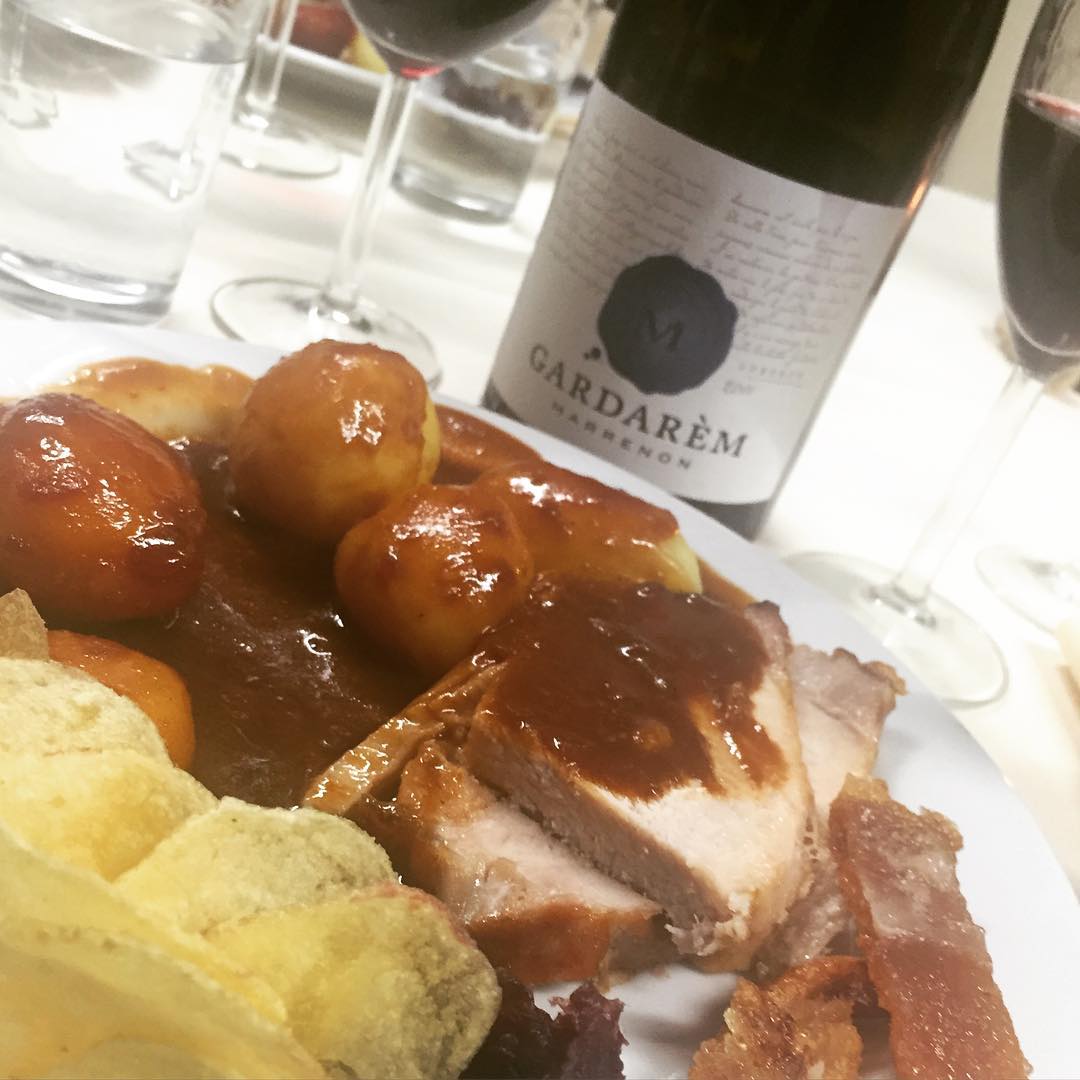 Looking for a wine for those heavy winter dishes or christmas menus? Gardarèm… Just saying!
Now, if you'll excuse me, I'll go back to trying to teach my girls to drink something at no more than half the price tag of this behemoth!
Gardarèm is distributed in Denmark by Vestergaard Wines. For distributers in other parts of the world and more info on Gardarèm and Marrenon's other wines, go to marrenon.com.
Please note: This review is NOT endorsed, paid for or requested by Vestergaard Wines nor Marrenon. It came into fruition by simple curiosity on the part of this idiot and a desire to share a special wine experience with the people he loves.