Home » Blog » Restaurant Reviews » Copenhagen Restaurant Gems: Motley – a Nørrebro Love Affair
JANUARY 2020 UPDATE: MOTLEY HAS (SADLY) CLOSED INDEFINITELY. THIS LOVE LETTER IS KEPT MERELY FOR PERSONAL AND SENTIMENTAL REASONS
The best things in life happen by some degree of luck and chance. Of this, I am certain. Be it a chance meeting on Nørreport Station leading to Champagne and summer romances, an Instagram post leading to me becoming part of Denmark's premiere food blog gastromand.dk, or a beautiful pirate blonde stumbling upon an obscure, nerdy food blog and pulling me deeply into the Copenhagen foodie scene – Champagne, Schnapps, wonderful people and all… The best things in life come down to some degree of chance and odd twists of fate, including the subject of this love letter…  
On old friends and chance meetings in Copenhagen
In the particular twist of fate that forms the base of this love affair, I'm in Copenhagen on a stopover from a cocktail event in Stockholm that I covered for Madsvin.com. On a whim, I decide to catch an early dinner at one of my old haunts, Grisen Grill Bar at the Lakes in Copenhagen's Nørrebro borough…
I've got something to tell you, she whispered seconds after this picture was taken… And thus began a culinary love affair… Grisen is the sort of place that only a Dane would probably fully understand but that the entire world would appreciate. A bonafide greasy spoon serving modern spins on classic Danish junkfood in a hip atmosphere. But that's another review. What's important in this context is that on this cold, late November afternoon, I'm sitting there waiting on one of their signature dishes, a Danish gravy burger with all the trimmings. As I sit there, waiting idly and impatiently, in from the cold bursts owner and personal friend Katrine. "Oh my God," she cries, almost throwing herself at me. "What the? How? When? How are you?!" – and words to that extend. We then proceed to catch up with one another's lives for a while, warmly and completely unrushed. "I need to show you something," she finally says, "we've done a thing!" With that she grabs an intermediate menu and places it in front of me. "Motley," it says at the top, "Eatery and Bar." Dish of the day, it continues, followed by a little list of smaller dishes, an impressive selection of cheese and a wine list. "We serve a dish of the day," she explains "hearty, homemade and full of love and butter. We do cheese as well, primarily Danish cheeses from small producers. Wine and drinks. Sometimes we throw a party and dance on the tables…" – "Come," she adds in the sort of voice that women use to give you the illusion of free will and having a choice… "Please? I need to show you!" – I immediately start to wonder how badly I really need to be up for work 200 kilometers out west at 6 AM the next morning.
Motley: Eatery and Bar – at first glance
"How long are you in town for," she asks. – "Oh. About two more hours," I say. – "You need to drop by for a glass of wine… Like, right now! Eat up," she continues, "I'll show you!" And just like that, I'm gulping down the contents of my plate and a pint of beer in a matter of minutes. We gather up our coats, walk out the door and a few blocks down the street, chatting and cracking jokes.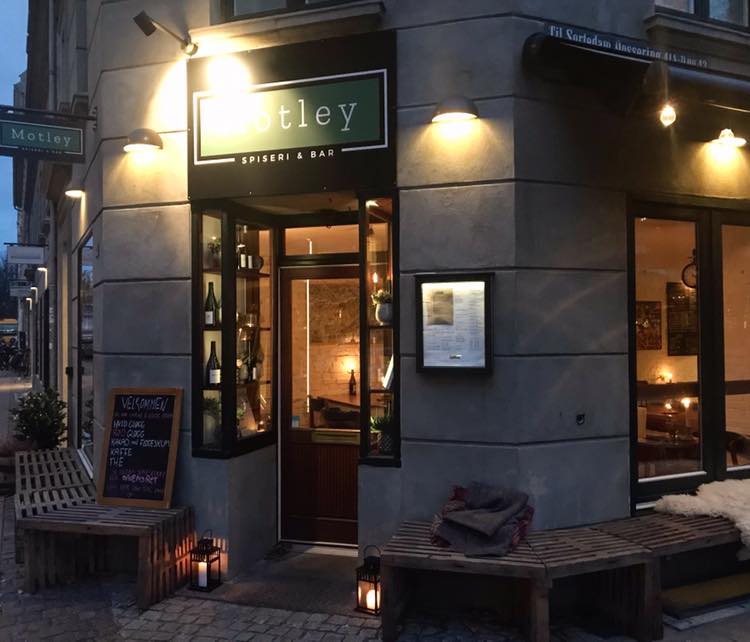 Photo Credit: Motley We eventually find ourselves at a cozy corner location on Ryesgade in Copenhagen's Nørrebro borough. A bit off the beaten path but not much. Motley, the sign above the corner door says. The place looks quaint and lovely, like something that was once a small grocery store or a bakery in the days when corner stores were still a thing. "Isn't this the part of town where they usually shoot people," I ask jokingly, "doesn't look all that unwelcoming and dangerous to me!" – Katrine shoots me a smile and a slur of surprisingly foul language and pushes the door open. As we burst out of the darkness of Danish fall and into the small, dimly lit dining room and bar area of Motley, her character changes completely. She speaks and moves at a million miles an hour, bubbly, enthusiastic, dying to explain.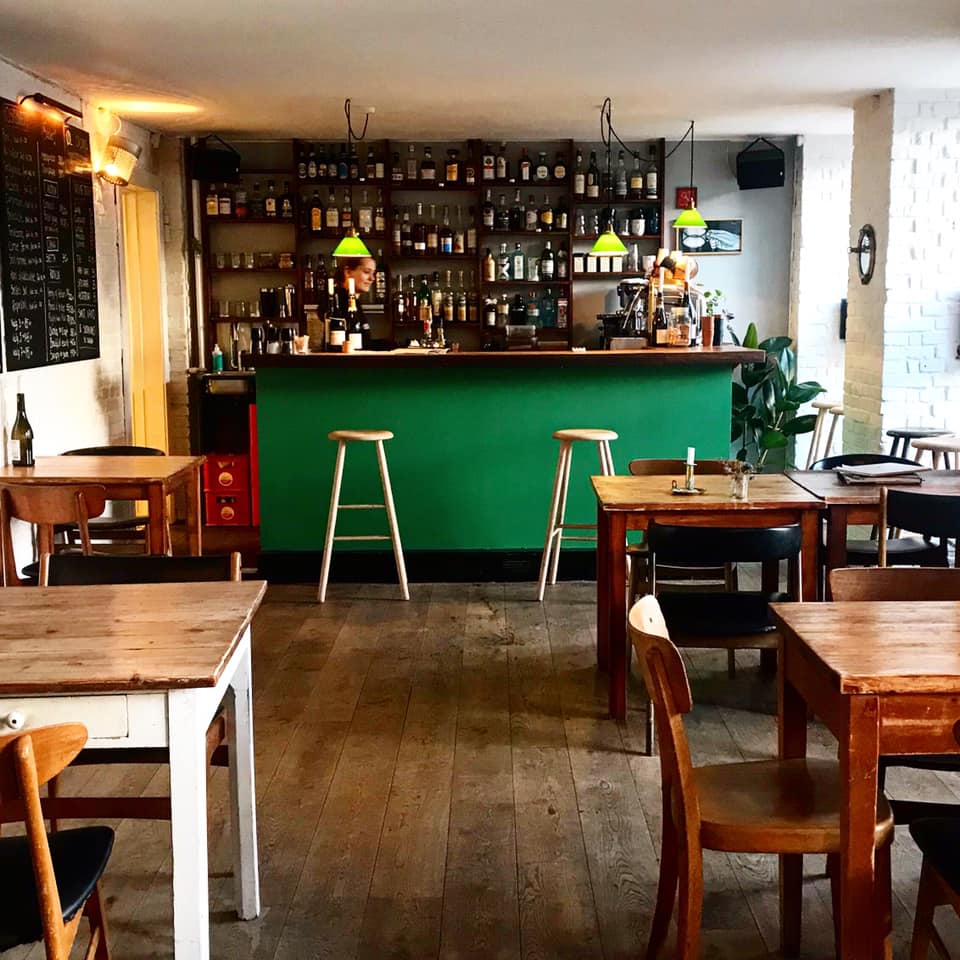 How I love this interior… Photo Credit: Motley In a matter of minutes, she's had me meet all of the staff, poured me a glass of silky and sexy "Bread & Butter" Pinot Noir, shown me her latest flea market finds from around the country that serve as decor and given me a kitchen tour. Slightly overwhelmed at the prospect of having met someone faster, louder and more excessive than myself, I walk to the bar, grab a stool and sit down. Immediately she's there, right next to me with a small plate. "I want you to try this," she says, "it's our own, local bread served with artisan butter from a small producer. It's the best butter in all of Denmark." I take a bite and my world stops in its tracks. Never in my life have I had butter like this. Never have I tried anything this tangy, fresh, creamy, rich salty and perfect in its simplicity. "Fuck me," I utter in complete disbelief, realizing immediately that's a very inappropriate thing to utter straight into the face of a woman. "… that's one of the best things I've ever had," I manage to finish my sentence. – "I know," she says and smiles, again, as she sits down and starts flipping through a cookbook on the bar counter. "Have you ever heard of this dish," she asks, pointing out an obscure stew of Mediterranean/Middle Eastern origin the likes of which not even I have ever seen before… "I want to put it on next week's menu. It just sounds so interesting, don't you think?" – She smiles, broadly, her eyes shining brighter than a thousand suns with excitement and hope… and at that very moment, I'm completely and utterly love-struck. Not with the beautiful woman in front of me, but with this new place and her dreams for it. I want to stay, but I have to leave. "I'll be back. Soon." I promise as I hug her goodbye. – "That's a promise, you know," she replies, "you'd better!"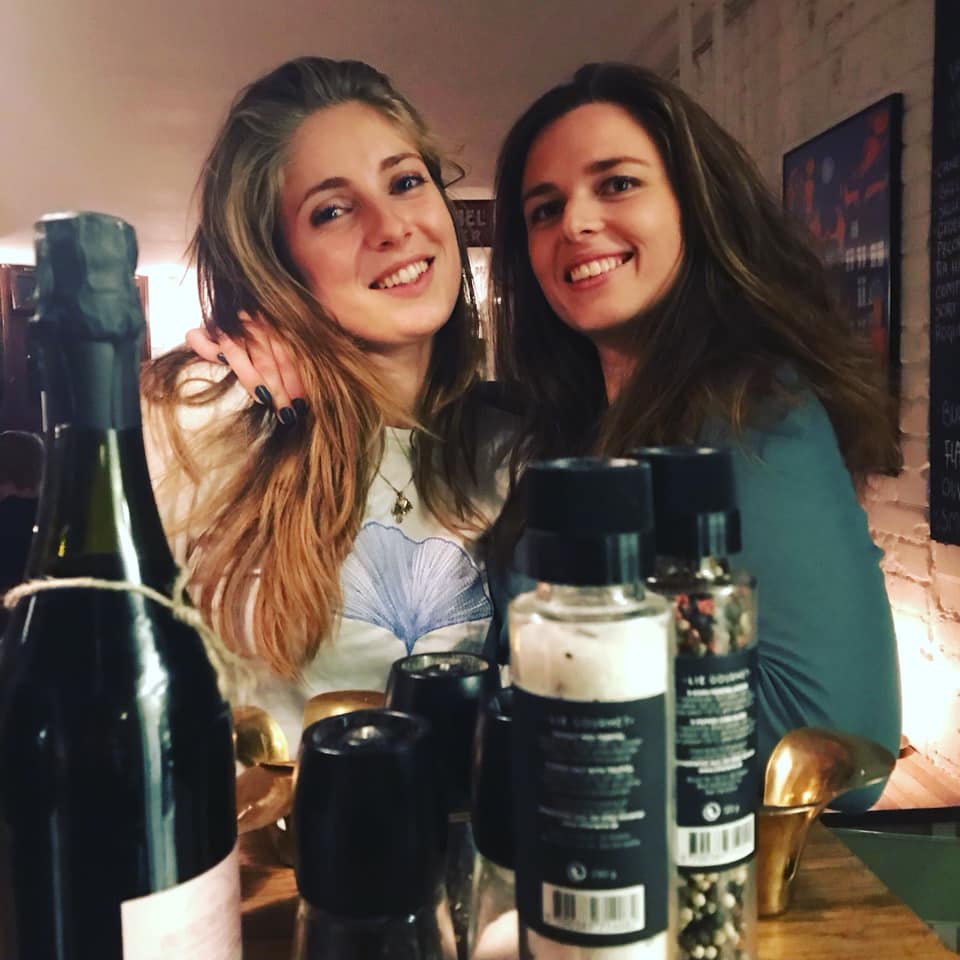 A glance behind the bar at Motley… Come back soon? I… Err… Okay!!! Photo Credit: Motley Fast forward a few hectic months and I'm back, tracking those familiar steps from Nørreport Station along the Lakes and down Ryesgade to Motley. Once again, it feels like a bit of a detour from the more buzzing areas of Nørrebro, but it's a few hundred meters that are well worth straying. I'm joined not by Katrine but by my co-diner Martin, a young, gentle giant who despite being in his mid twenties is already a seasoned rat in the restaurant and hospitality business.
Motley: Smiles, small plates and wines at incredibly fair prices
Arriving back at Motley on a dark, dreary, somewhat wet, somewhat cold and definitely stormy typical February evening in Copenhagen feels a lot like a warm, welcoming hug. If ever you've struggled to understand the Danish concept of hygge, this is it: The rugged, white walls, wooden floors and interior, dimly lit by small an elaborate array of cleverly unmatched laps and candles offer a surprisingly warm and hearty setting, perfectly jotted with artwork and trinkets picked up from a multitude of trips to flea markets across the country. As we enter, we are greeted warmly by Julie, our waitress for the evening, who quickly lays down the house rules: "Here's some stuff to look at," she informs us informally but by no means impolitely, laying down the menu, the list of daily specials and the drinks card, "have a look-see and feel free to order at the bar whenever you feel like it!"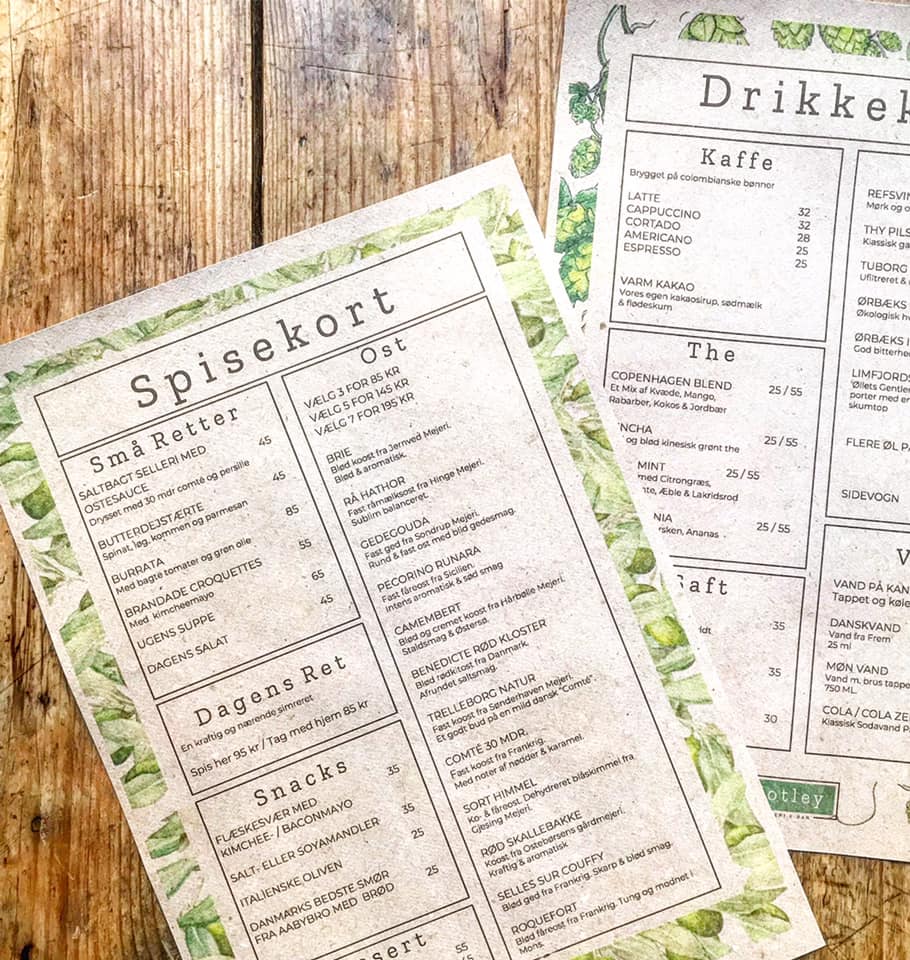 The (ever-changing) menu… Photo credit: Motley "She's new, but she's cool," whispers Katrine as she emerges from her spot in the kitchen to greet me with one of her trademark warm hugs. – "Be nice," whispers the co-diner between his teeth. – "I *am* nice," I shoot back between my teeth as I make my way towards the bar… "Bubbles to get us started?" The wine menu at Motley offers two choices and let's be perfectly honest here: the fruity-forward yet balanced, subtly complex and incredibly well-priced Champagne. Les Vignes de Montgueux from Jacques Lassaigne at DKK 500 (EUR 67) is an easy upsell for Julie over the DKK 250 (EUR 33) bottle of sparkling, funky, unfiltered and by no means uninteresting Chenin Blanc that is also on the card. "Do they always put the boss behind the stove when the food blogger visits," the co-diner asks as I return with a bottle of Champagne. – "My life has its perks," I joke, sending a warm thought to the woman in the kitchen, knowing fully well how spoiled I am. Having mused a bit over the wonders of Champagne, we get down to business, starting with deep-fried pork cracklings with tarragon mayo from the small plates portion of the menu, a nod to Motley's sleazy cousin Grisen just around the corner. Crispy, salty and fatty, they're the perfect start to the meal, bested only by Motley's home-baked bread served with the now famous butter from Aabybro creamery that I fell for on my first visit a few months before. Knowing full well what to expect, I kick back and watch the co-diners face contort in equal parts amazement and sheer joy as he takes his first bite. "More," he says simply. "Need more butter."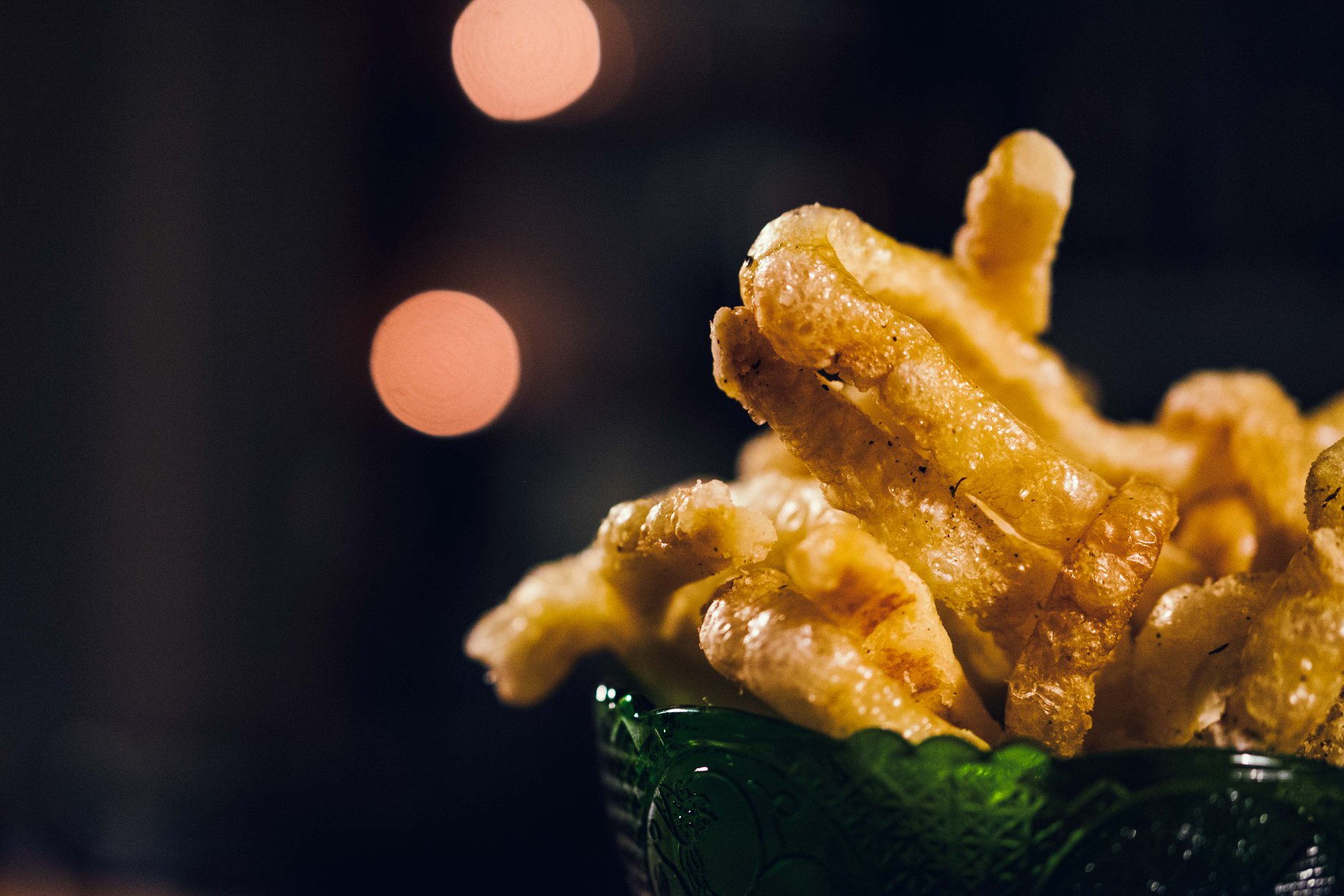 Crispy, fried pork rinds… Be still my beating heart! Photo Credit: Grisen Grillbar Then an all-out assault of small plates from the menu hit: First creamy, fresh, gooey, oozy and downright sexy burrata cheese drenched in olive oil of which epic love poems of their own could be written. Followed, in quick succession by crispy brandade croquettes made from deep-fried coalfish and potatoes, a crispy puff pastry pie with Parmesan cheese and, finally, the most perfectly simple, most perfectly prepared salt-baked celeriac root slathered in a rich and decadent cheese sauce.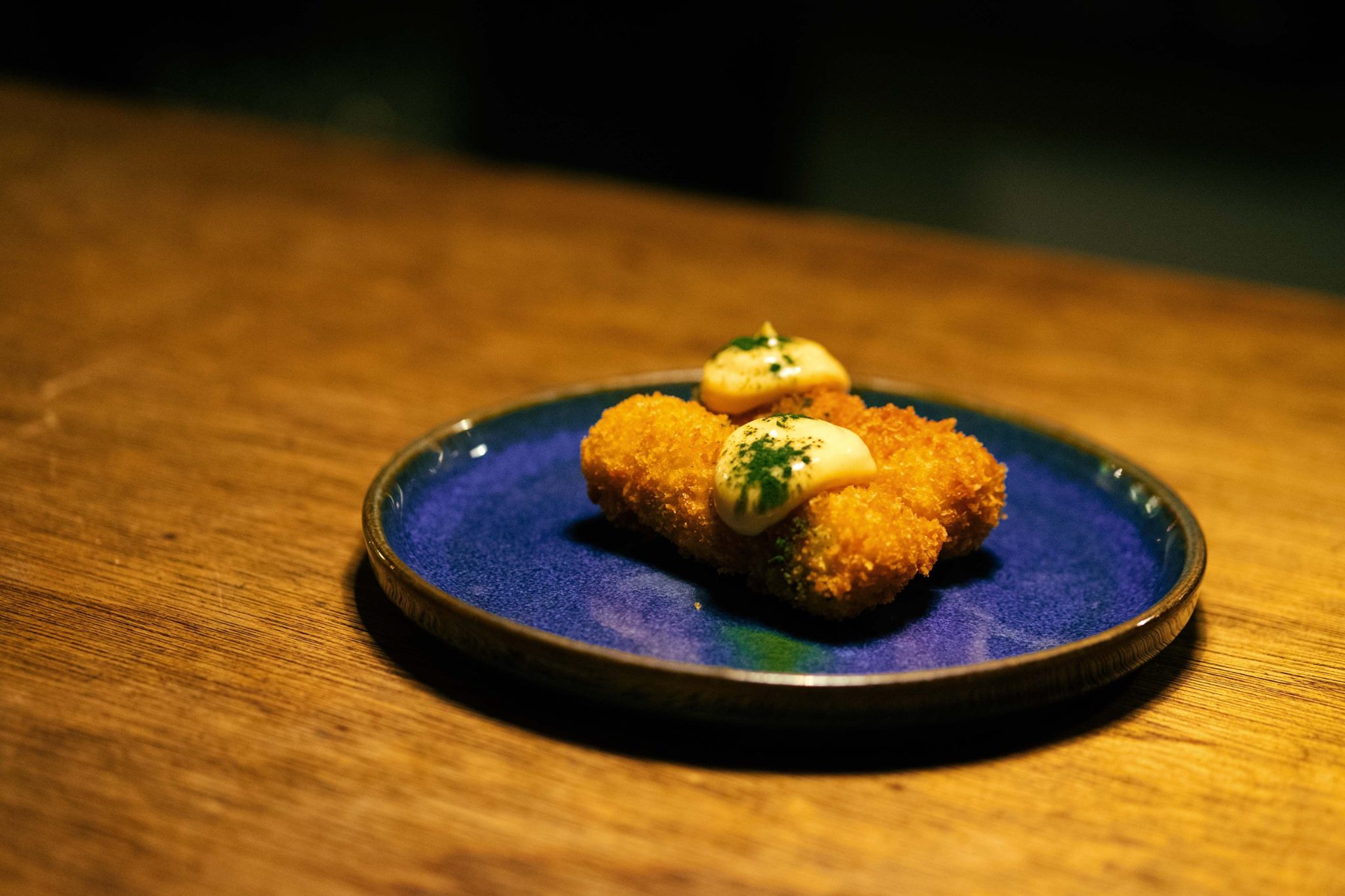 Fried brandade croquettes made from coalfish and potatoes… Photo Credit: Motley In less than an hour, we cruise at break-neck speed through elements of Danish, French, Italian and even Spanish cuisine at a pace and a level of execution that leave us gasping for air. No particular type of cuisine or strict set of rules apply here. The small plates at Motley share no common characteristic other than being simple in form, preparation and number of ingredients yet deep in flavor, easily shareable and well-priced at around DKK 65 (EUR 9) per plate.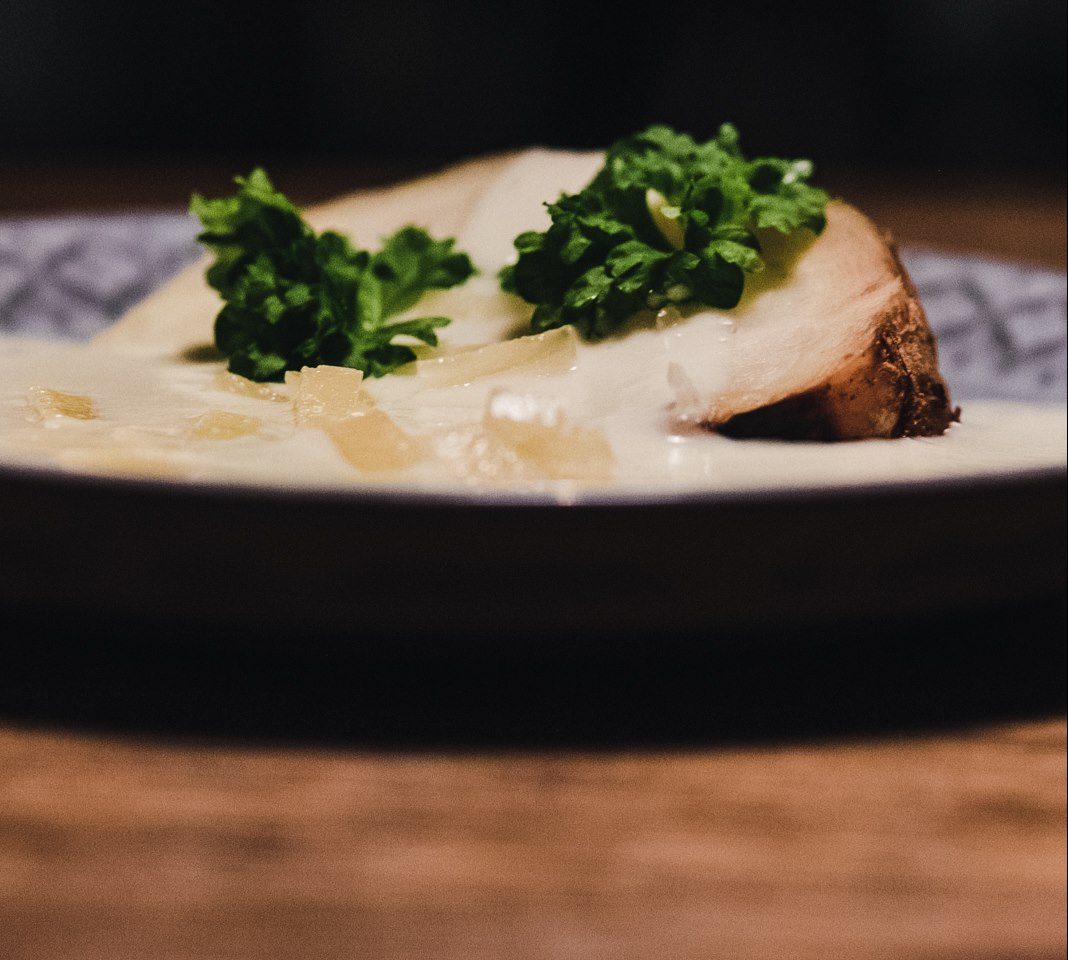 Salt-baked celeriac in rich, decadent cheese sauce… Simple, classic, beautiful… More than a month down the line, I still dream of this… Photo Credit: Motley
Motley: Dish of the day is the deal of the day
After a quick breather and a brief exchange of thoughts and feelings, we launch into the defining factor at Motley: Their dish of the day! For many, this will be the cornerstone of their meal. The DKK 95 (EUR 12.5) special changes daily, is a great option for returning visitors and features everything from braised pork cheeks over osso buco to hearty and purely vegetarian favorites like dahl. As luck would have it, on this the day of the visit of two professed carnivores, the dish of the day happens to arrive entirely vegetarian in the shape of a beautiful textbook ratatouille featuring toothsome slices of squash and egg plant in deep, rich, slightly sweet tomato sauce seasoned with Mediterranean spices like marjoram and rosemary and served with a mountain of Parmesan and a side of perfectly cooked potatoes… "I don't know what to make of this," I think to myself, "nor what to say." The vegetarian dish of the day is simple, authentic, fragrant, tasty, filling and affordable… And something as simple as the potatoes on the side are, once again, perfectly cooked and perfectly tasty. Making, essentially, a few pieces of celeriac and potato some of the more memorable bites of a wonderful evening full of flavor and spices. How does a carnivore defend such a statement?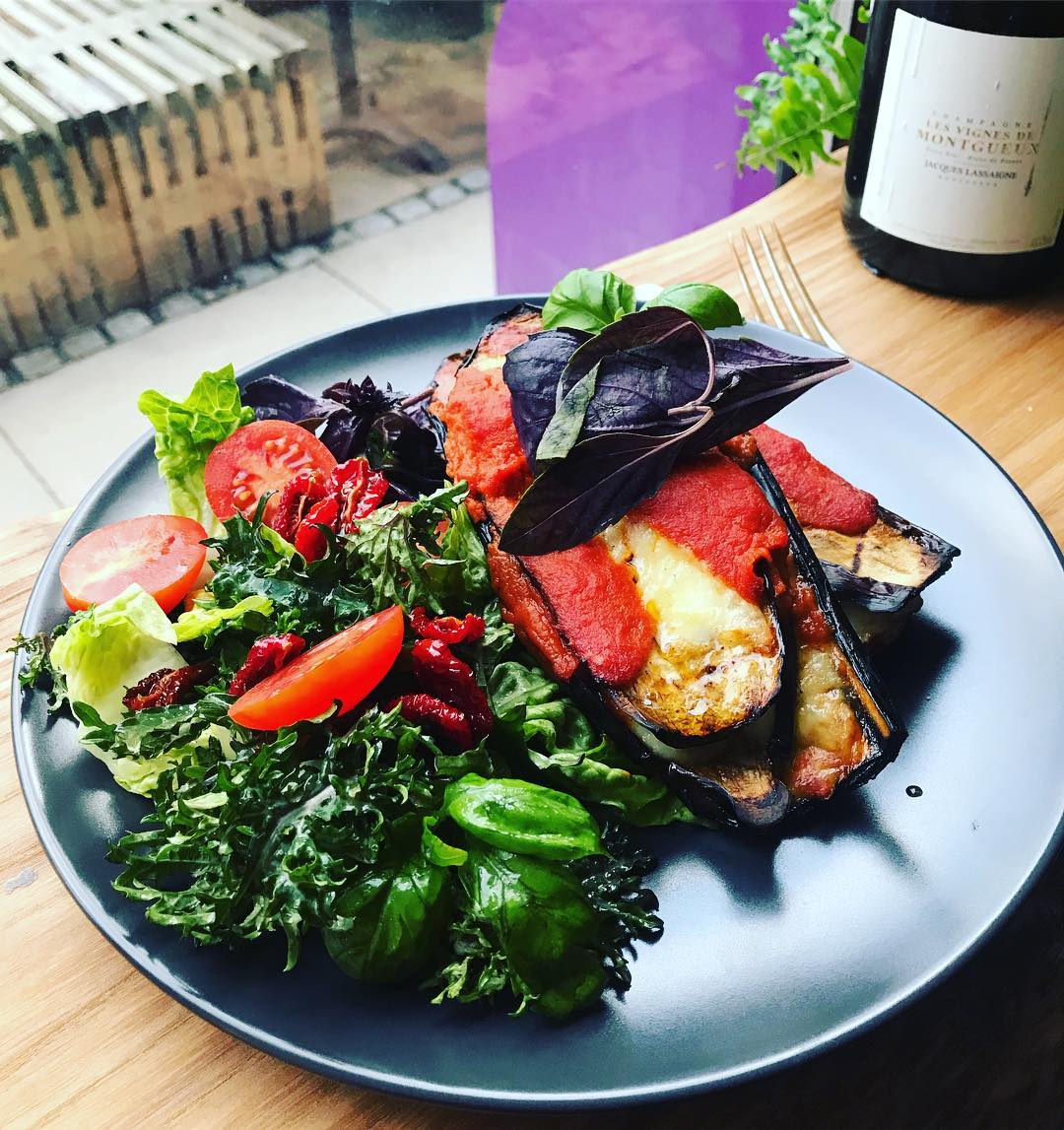 Vegetarians are welcome at Motley, too, pictured here is one of their fresh and fabulous vegetable creations… Photo Credit: Motley "Fuck it," I think to myself, "just roll with it!" … The food is great at Motley, whether animal or vegetarian in origin. Motley isn't about a specific type of food, it's about a dedicated approach to cooking and to making the most out of a few, flavorful quality ingredients. It's about the people, the laughs, and the constant playfulness that spawns an ever changing menu of simple, deep, satisfying flavors. These are the thoughts that run through my mind as I bask in the moment and in the wonderful company. The company which, by the way, has been brightened further by Katrine, the boss of the kitchen herself, who joined us for the main course and a passionate discussion about red wine… There was an incident, you see, in which I tried to order a glass of the house Bread & Butter Pinot Noir, only to have Julie the waitress rise to the occasion and claim that her personal favorite, the Right Hand Man Shiraz, was a much better choice. Rather than spawning disagreement or starting a bar brawl, the co-diner wisely suggested we try a glass of each and drew our own conclusions… And now here we are, in the company of the owner, deciding that there are no real losers at Motley, only winners. The Bread & Butter Pinot displays an almost ethereal yet complex fruit-forward sensuality with plenty of red berries and a whiff of toast, vanilla and underlying complexity. Not exactly Burgundian in character but certainly not prototypical of it's Napa Valley origin either. The Right Hand Man, on the other hand, is a much deeper, more intense and completely straight-forward fruit bomb showing all the hallmarks of an Australian-inspired Shiraz from the Central Coast of California. Which is better? Being a sucker for Pinot and wine memories, for me the Bread & Butter came out on top, but the non-violent showdown between contrasting styles proved a general level of quality plus an attention to detail, diversity and price in the limited but well-picked wine selection at Motley.
Motley: Cheese, beers and Rage Against The Machine
I smile as I gaze around the room, watching small clusters of happy faces hunched over a plethora of plates and half-full glasses while, in a completely surreal and at the same time perfectly fitting moment, a subdued, low-volume Zack de la Rocha barks "Fuck you I won't do as you tell me!" over and over again at the diverse crowd as the playlist of the evening shuffles to the end of Rage Against The Machine's 1991 counter-culture classic "Killing In The Name." Katrine smiles back softly, spotting my bemusement: "We wanted to try something new with the music," she simply states matter-of-factly. In the background someone laughs heartily as Dave Grohl takes over the microphone and begs us not to stop when he says when. And, incidentally, at this very moment in this very chair, this is exactly how I feel about Motley, these people, this night… "Beers with the cheese," asks the co-diner, ripping me from my thoughts. I agree, willingly. Drunk on half a bottle of Champagne, several glasses of wine, emotions and ambiance. Beer? Cheese? What's not to love! Well, here's the thing. Even if you don't like beer, do not rob yourself of the Motley cheese board experience. Cheese is King at Motley and nowhere is this more apparent than on the cheese board. The board features around 15 predominantly Danish and French artisan cheeses, served in selections of either 3, 5 or 9 varieties. Having already shown unusual restraint, we order a full nine varieties, add an additional blue cheese for good measure and ask for a side order of that Danish dessert classic, deep-fried Camembert with blackberry marmelade. Because, really, what guy in his right mind can say no to deep-fried cheese from the hands of beautiful women? Not these guys!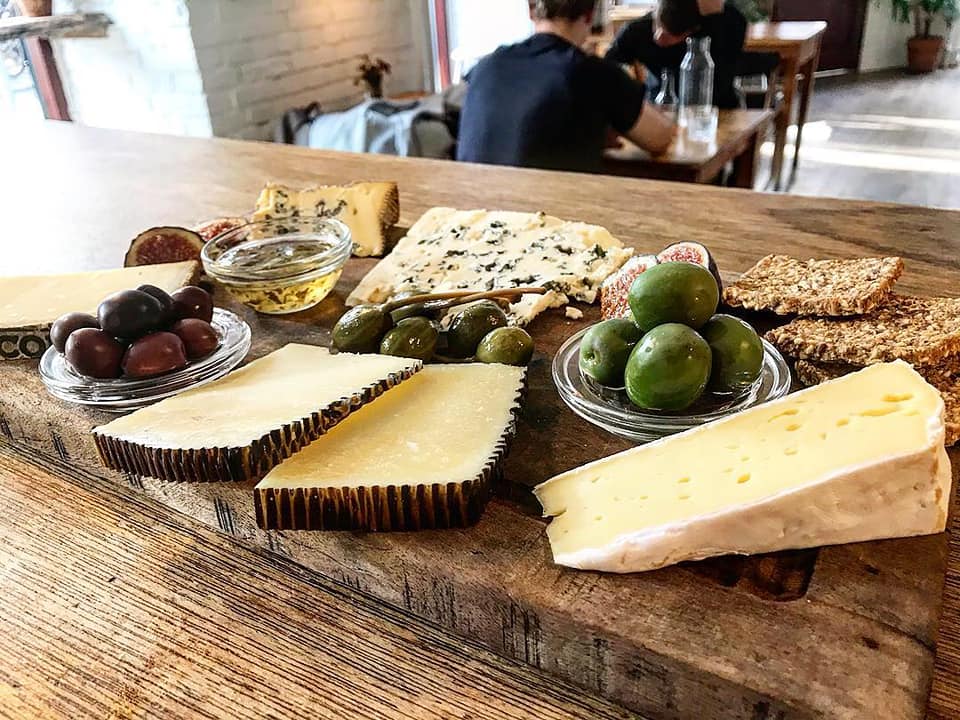 Cheese, glorious cheese! Photo Credit: Motley In our all-out assault on the cheese menu, we start out with the fried Camembert, savory, sweet and slightly tangy as these things should be. Crunchy on the outside, warm, creamy and sexily oozy on the inside. A sublimely nutty, crumbly and protein crystal-filled thirty-month old Comté is devoured at record speed afterwards, followed by a slur of impressions including a beautifully ripe raw cow's milk cheese, a tangy goat gouda and a classic Pecorino. Culminating, eventually, in Sort Himmel (literally, Dark Sky) a funky, nearly blackened blue cheese made from a combination of cow's and sheep's milk laced with the most wonderful aromas of barnyard and ammonia that only a true cheese lover would appreciate. Eventually, after a long, brave, losing battle, we reluctantly admit defeat.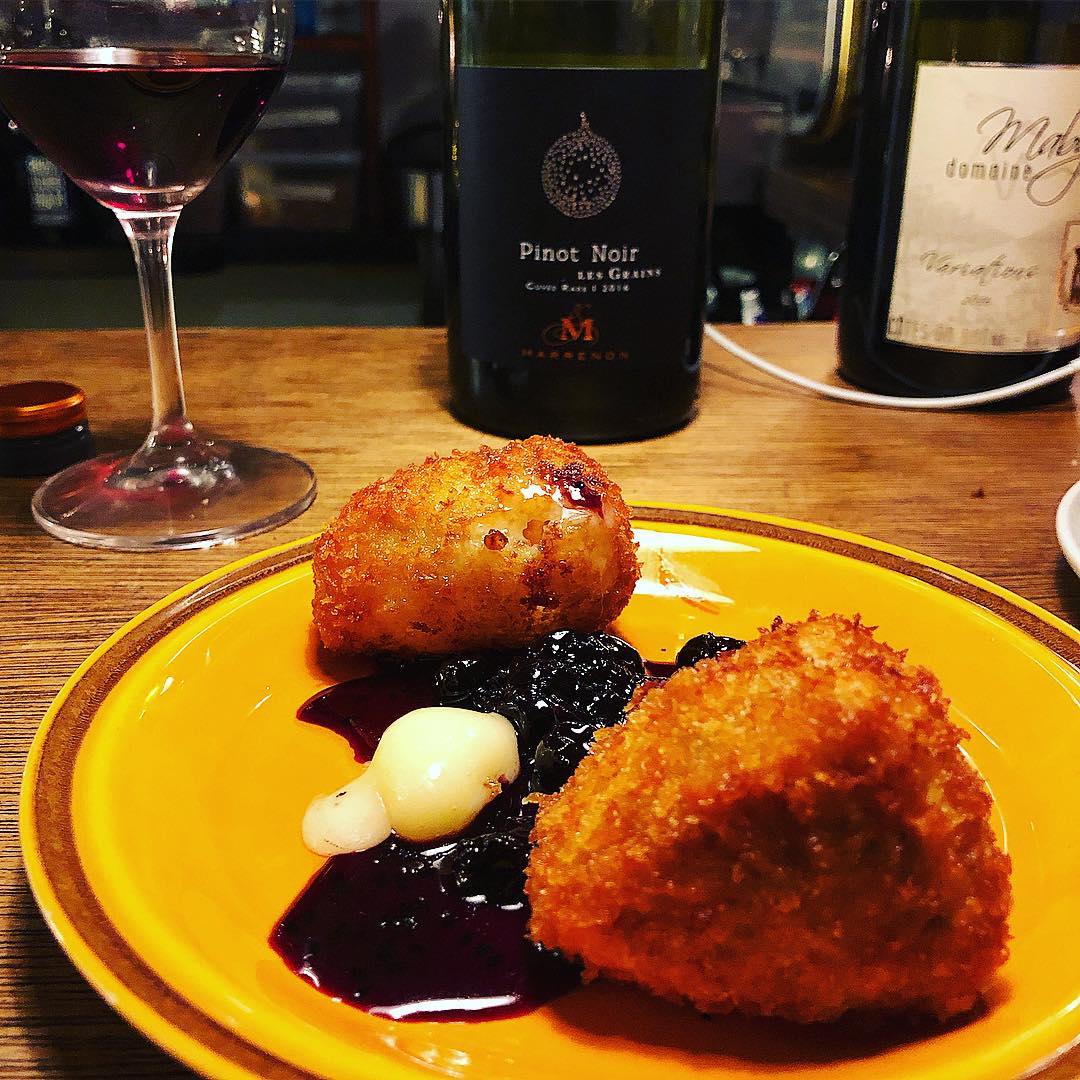 "I thought you guys were hungry," smirks Katrine as she removes the last of the battle field of the great cheese battle of 2019… Truth be told, we WERE hungry, but after storming through half the snacks, most of the small plates, a dish of the day and two thirds of the cheese board at Motley, fatigue is setting in. As the girls from the other side of the bar join us for a debriefing and drinks, we ask for the bill and are shocked to find it in the area of DKK 1000 (EUR 135) per person. After a spare no expenses trip through Champagne, wine, beer and just about every dish on the menu, we've managed to spend less than we would at your average mid-price restaurant or even a better quality steak house for that matter.
Motley: Come for the food, stay for the ambiance and the party
More shockingly, perhaps, we could have stuck to the dish of the day and a glass of wine each and shared some of that wonderful bread and butter and gotten away with about DKK 150 (EUR 20) each. That's what they want you to do at Motley: come in for the affordable, well-made and flavorful food –stay for the party if you like. Oh, hey, and if you're anything like me, that's what you'll want to do as well. Come in for the warmth, food and the smiles, stay for the party! Speaking of party, events at Motley eventually spin slightly out of control in ways I imagine was exactly how the late, great Anthony Bourdain fell madly in love with Copenhagen. More wine is tasted, beers are downed, drinks are had. At some point the co-diner takes it upon him to show the staff how to make a proper Old Fashioned cocktail as more laughs fill the warm and cozy dining room. I'm so in love with this place, I remember thinking several times over throughout what is without a doubt, the best night out in months.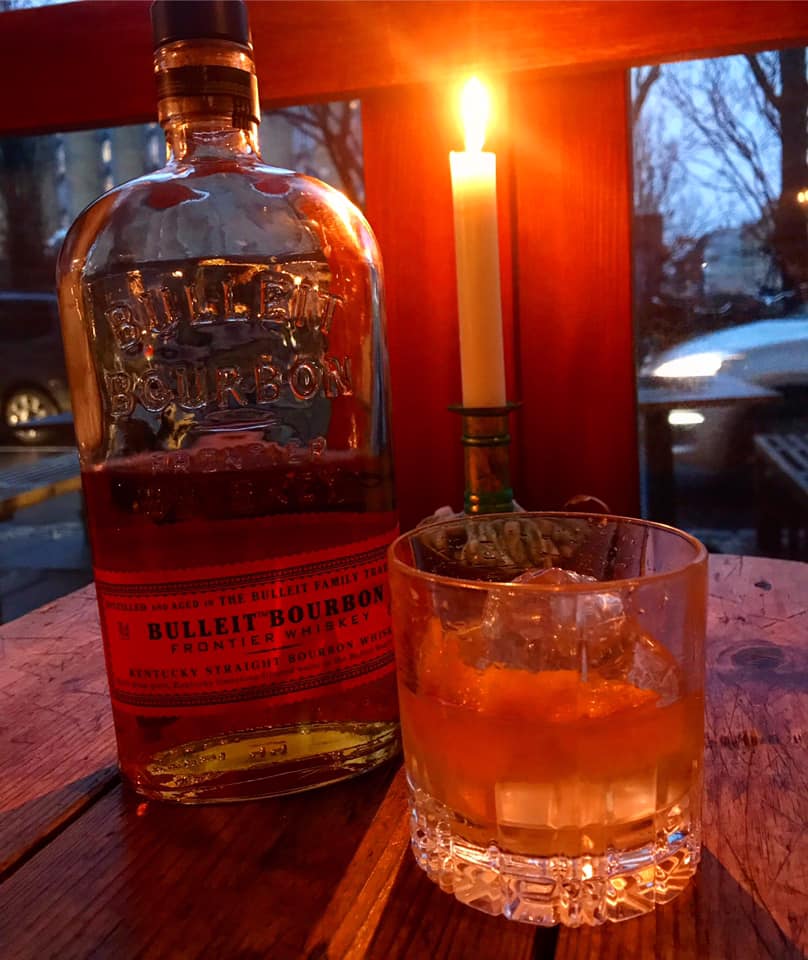 Nothing beats a good old-fashioned… Well, Old Fashioned! Photo credit: Motley And then suddenly I'm back on the cold, windy streets of Copenhagen, drawing in some fresh air on the walk home. The streets of Nørrebro have given way to Vesterbro, my home turf when in town, and a place I hear was historically home to nothing but whores and pick pockets. I see none of the former on my way home as I recall, but as I near my hotel, I am approached by a young, pushy and not entirely pleasant young man who claims to want me to offer me the ride I had been looking for all night. Not really sure if we're talking a drug metaphor but certainly in need of 400 meter ride from a psychopathic unlicensed Uber driver from hell, I decline politely at which point events turn confrontational and unpleasant. I duck out, happy to escape the situation only to discover that in the confusion, my phone seems to have conveniently escaped the comfort of my pocket. And along with it every single photo from the night so far and all my notes from a perfect night out… I've, essentially, been mugged!
Epilogue: What dreams may come…
Entirely too aware of the old mantra about men and backup, I wipe a tear from my eye as I trot the last couple of hundred meters back to my hotel in a state of perfect gloom. "It's not about the phone," I curse to myself. "I hope it makes you a fair buck on the black market," I spit, "it's about invading my personal space and robbing me of my precious photographic memories from a perfect evening… You fucker!" As I push through the door of the hotel, I ask the receptionist for the time that I now have no way of telling but know I will need for the police report I'll eventually have to file on the matter. I then trot up the two flights of stairs to my room, push through the door and collapse on the bed. I fall asleep and dream mercifully. Not of trick thieves or stolen memories but of Champagne, sweet smiles, the world's best butter, dimly lit dining rooms, mountains of cheese and hearty laughs… In short, I dream of Motley!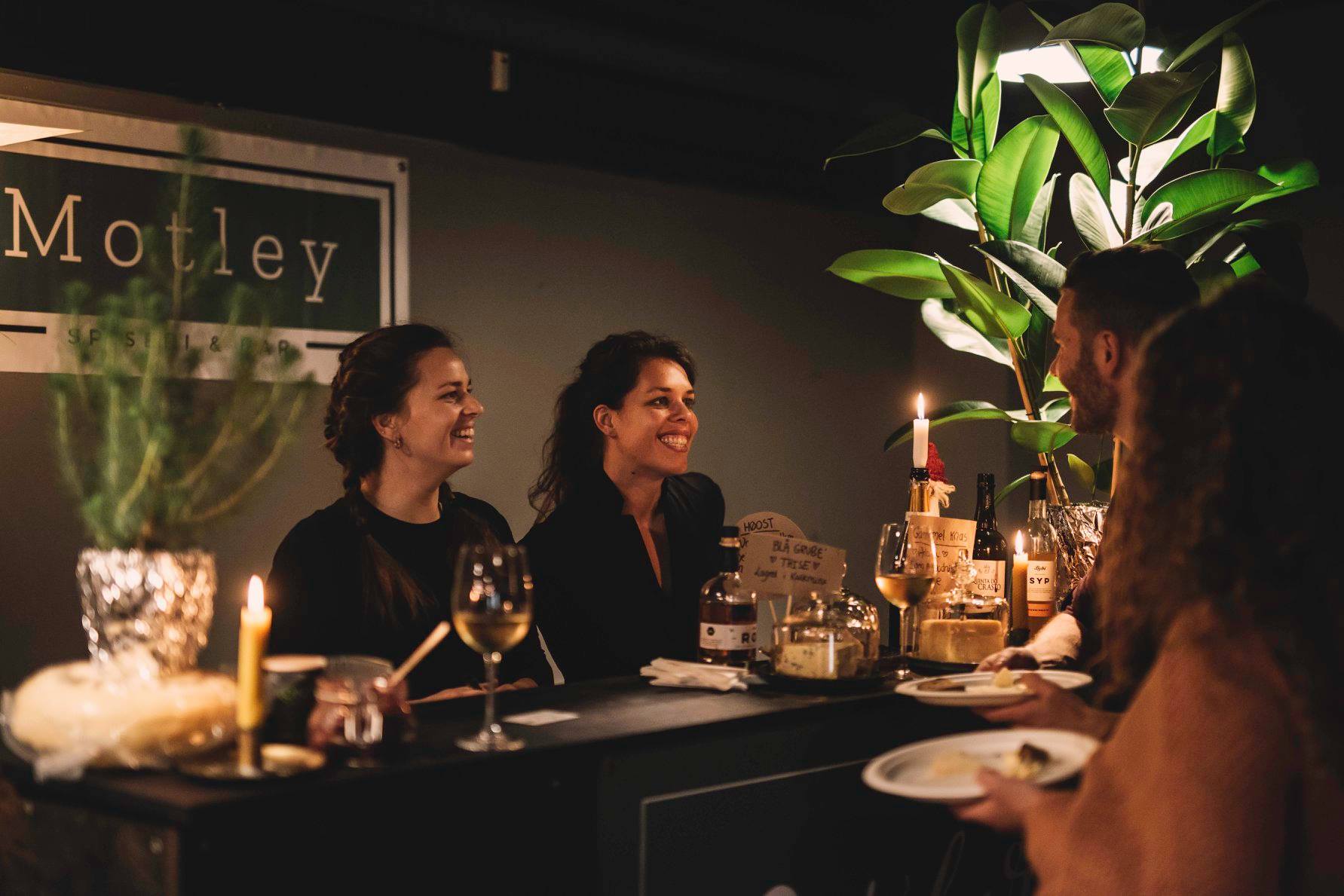 This, this is what I dream of… Photo Credit: Motley Thank you, Motley! You are nothing short of lovable. I can't wait to come back and recapture those stolen moments of time and I can't wait for you to become yet another safe home away from home. How to find those good eats,sweet smiles and cold drinks:Motley – Eatery & BarRyesgade 30B2200 CopenhagenReservations HIGHLY recommended on weekends!