Home » Blog » Restaurant Reviews » Review: Brace – The Copenhagen Restaurant that Michelin forgot?
Dear Brace I am sorry… This is one of those love song that should have been written long ago…
Frequent visitors to my Instagram may remember that I first visited Italian-born chef Nicola Fanetti's culinary playground Brace almost a year ago, and like many of my peers (Gastromand and Feinschmeckeren for example) at the time, I was impressed. Very, very impressed with Brace's unique twist on modern fusion cuisine.
Brace at night. Photo Credit: Restaurant Brace on Instagram
"I will write this song," I told myself at the time, "this place deserves it more than many places I visited throughout 2018!" I'm pretty sure I even told co-owner Ursula Waltermath so when she, being the perfect hostess that she is, visited my table during my meal.
But… As this crazy little thing called fate would have it, not even 24 hours after said promise to myself. During what was literally the only thunderstorm of a hazily dry Danish summer, lightning (figuratively) struck this food blogger and, err, let's just say my mind was occupied making other, equally beautiful memories… I am sorry, I am but a man.
Now is the time, though, for this well-deserved love song to be finally sung in the best possible way that a tone-deaf rock n roller can possibly serenade something as beautiful as the couple that is Ursula and Nicola and their love-child, Restaurant Brace. I was fortunate enough, see, to be invited back for a second round at Brace and if I were impressed initially, it would be my second visit to Brace that would blow me aback completely.
"BRACE celebrates its 2nd birthday with a newer, fuller and more immersive dining experience," the press release forwarded to me by my favorite and most beautiful fixer in Copenhagen stated and it included a more than generous invitation from owners Ursula and Nicola for me and a friend to explore the new menu… And really, who am I to say no to such fine gestures?
Brace: A culinary juxtaposition
Centrally located at Teglgaardstræde in Copehangen's inner city, Brace's mission statement is as simple as it is seemingly impossible: To combine elements of New Nordic and Northern Italian cuisine from the hands of head chef Nicola Fanetti in a senseful manner and serve them coupled with a selection of interesting and sometimes provocative niche wines from predominantly Southern and Eastern Europe sourced by sommelier Felix Chamorro.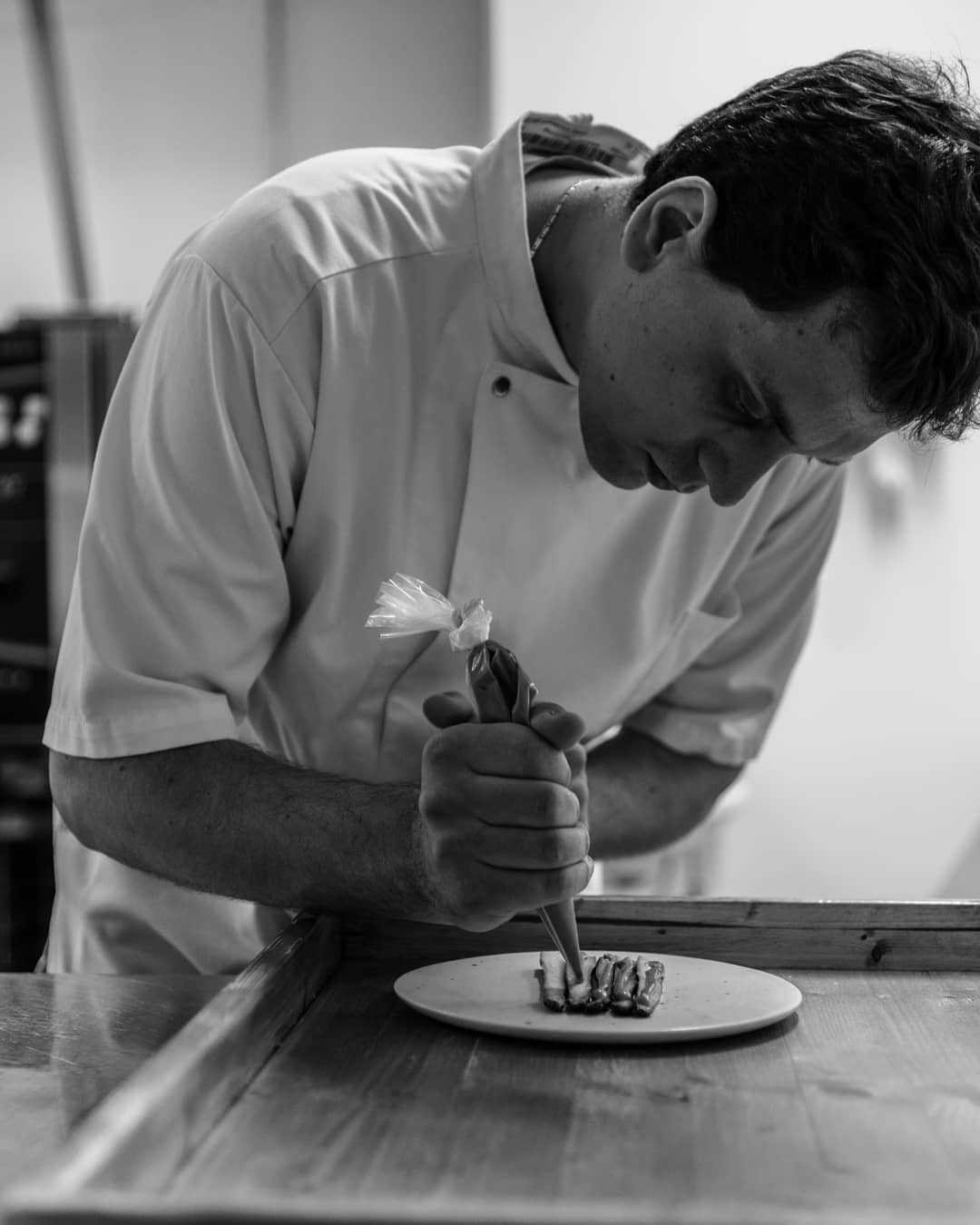 Head chef Nicola Fanetti. Photo Credit: Restaurant Brace on Instagram
The menu offers a variety of choices. From small, extremely affordable a la carte selections over a more immersive 10 servings menu entitled "Taste of Brace" (DKK 495 / EUR 62) to the full-blown 16 servings tasting menu known simply, and appropriately, as "The Brace Experience" (DKK 895 / EUR 120). The term servings over courses is deliberately used here, by the way, as Brace, in their own words, strives to break down the standard structure of the meal, offering instead so-called experiences of various sizes, textures and intensity throughout the meal served in untraditional ways to create a fuller, more immersive… Well… Experience!
If the name Nicola Fanetti sounds familiar, by the way, it is probably because the 28-year old Italian-born rising star is not only one of the more well-known members of the alumni from the Original Noma, but is also known for revolutionizing and modernizing the cuisine of Copenhagen's Michelin-starred Italian sensation Era Ora.
By no means unimpressed with Nicola's claims to fame, I remember leaving from my first visit at Brace, absolutely intrigued, thinking that if anyone was going to tackle the seemingly impossible task of fusing New Nordic and rock-n-roll Italian cuisines in a beautifully restored century-old building in Inner Copenhagen, it was probably Nicola – and if anyone was going to provide the wines to match or challenge the cuisine, it's got to be sommelier Felix Chamorro.
On that, the night of my first visit, the dishes then were intense, thoughtful, playful surprising, at times challenging and of superior quality, but perhaps a little lacking in presentation – something I was happy to see changed during subsequent visits from my food blogging peers.
Brace, then, was a diamond in the rough. But what would a year have done for the concept? Could the experience be made prettier, more immersive, more challenging, more meaningful and wholesome? Few are the times in recent years of food blogging that I have been more anxious to answer a question!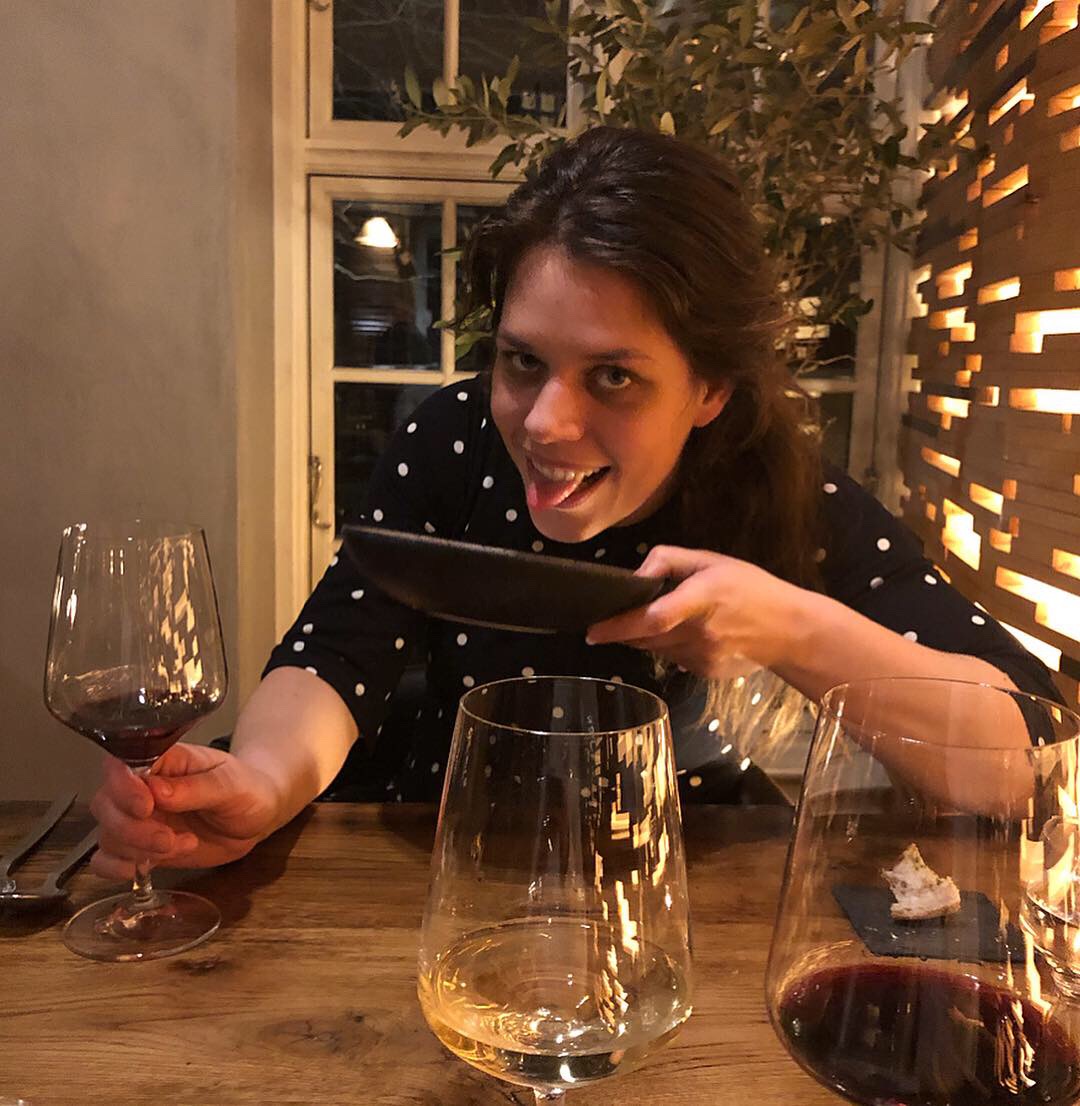 My beautiful dork of a co-diner and friend… Not quite sure what I'd do without her.
Eager to find out, I grabbed my beautiful, Copenhagen-based, chef friend Katrine (of Motley fame) by the hand and on a Thursday evening in March, we went to check out the new experience that was BRACE 2.0.
Restaurant Brace: New menu, same gorgeous setting
Walking into Brace is the sort of experience that never fails to amaze. The initial feeling as you cross through the old courtyard and in through the double doors is one of a soft, darkish air of classical European warmth brightened with a touch of New Nordic cool and brightness. All stirred with a touch of New York vibes provided by soft hip-hop beats playing over the sound system and wrapped in an immaculately restored century-old building.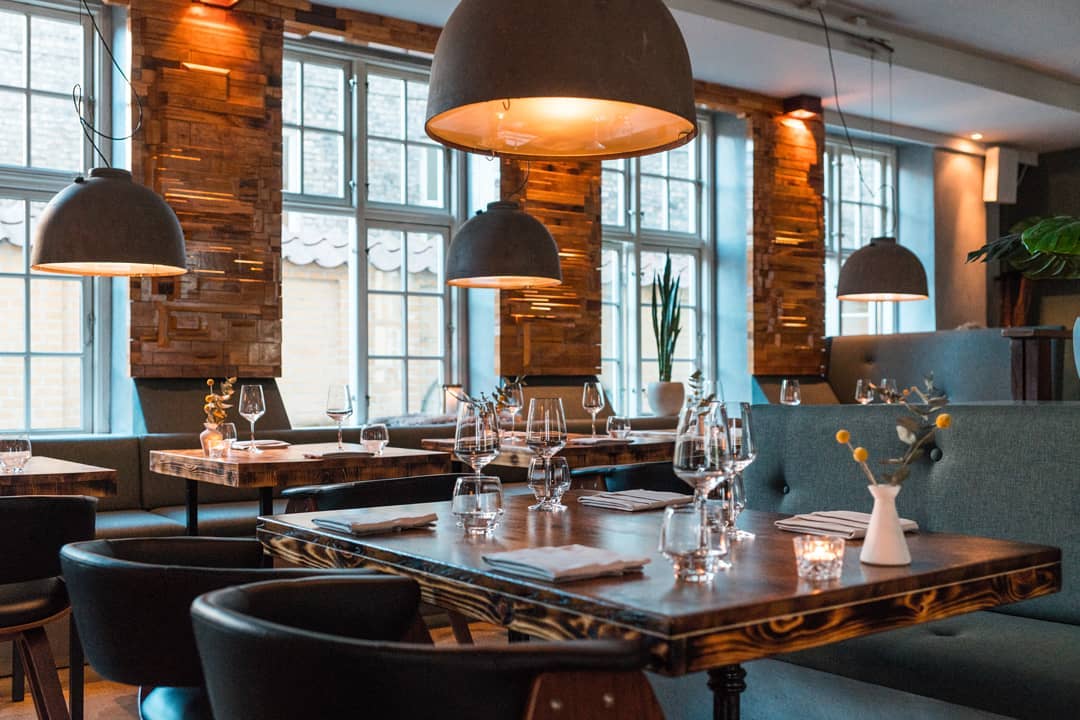 The dining room at Restaurant Brace. Photo Credit: Restaurant Brace on Instagram
I will go as far as to say that even if you are not in the mood, or monetarily dispositioned, for a full on tasting menu experience, Brace is the sort of place you'll want to visit even for just a few a la carte dishes and a taste of the ambiance. The look and feel of the dining room is one of absolute elegance in a strange but appealing juxtaposition between classical warmth and top modern cool.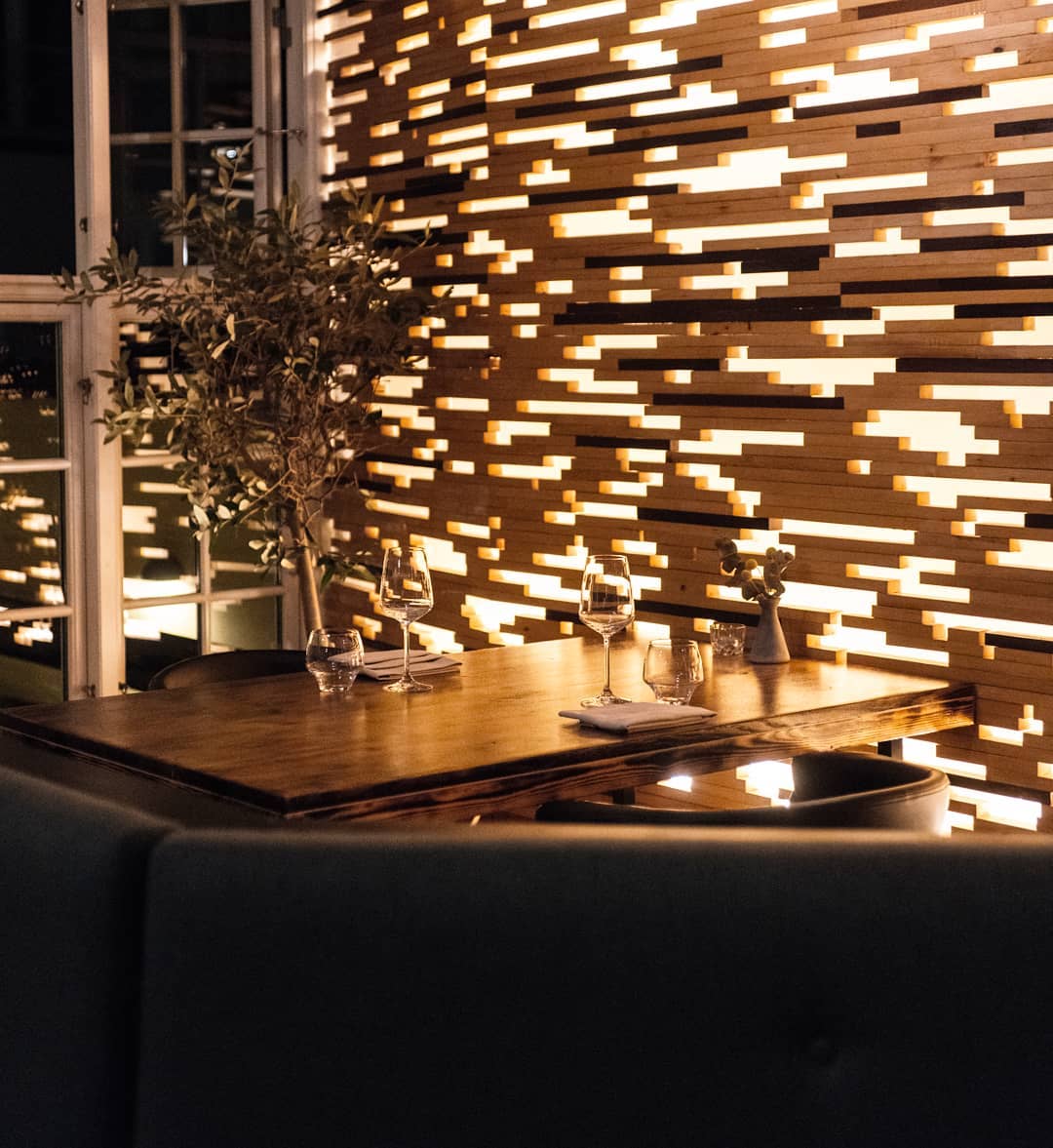 Our table for the evening. Want the best seats in the house? Then here's a quick tip. Book well in advance and ask for Table 88. Photo Credit: Restaurant Brace on Instagram
"Wow," said the co-diner softly, looking around in awe, as we were shown to our table on a small platform at the corner of the room, overlooking the lusciousness around us. – "Wow," I concurred as I pulled out the chair for the lady and took in the surroundings once more. – "You have to push the chair back now," the lady reminded me and on such a half-assed note of chivalry, our experience began.
Brace Experience: a 16-course tour de force!
"As you may know, we will be presenting you tonight with our sixteen-course Brace Experience," our smiling waitress for the evening began, "along with the wine menu of eight glasses," she continued, quickly adding a "they're small glasses, mind you" with a giggle as the co-diner put on an expression of mild shock… "Will that be okay with the entire table," she then demanded before double checking for any possible allergies and kicking the entire operation into gear with yet another contagious smile.
Non-classic snacks: Messing with tradition is part of Brace
We kicked things off with a few modern classics: Brace Carbonara, a signature snack, featuring a pastry shell filled with an egg and cheese custard flavored with bacon. Next to it, Brace's take on Baccalá Mantecato (a traditional Venetian dish) featuring Norwegian salt cod mashed to a creamy mousse with olive oil and served in a crispy savory pastry shell dusted with seaweed. Both snacks beautifully complimented, by the way, by a glass of bone-dry, hazy and fruity Prosecco-style sparkling wine full of chalk, citrus and attitude.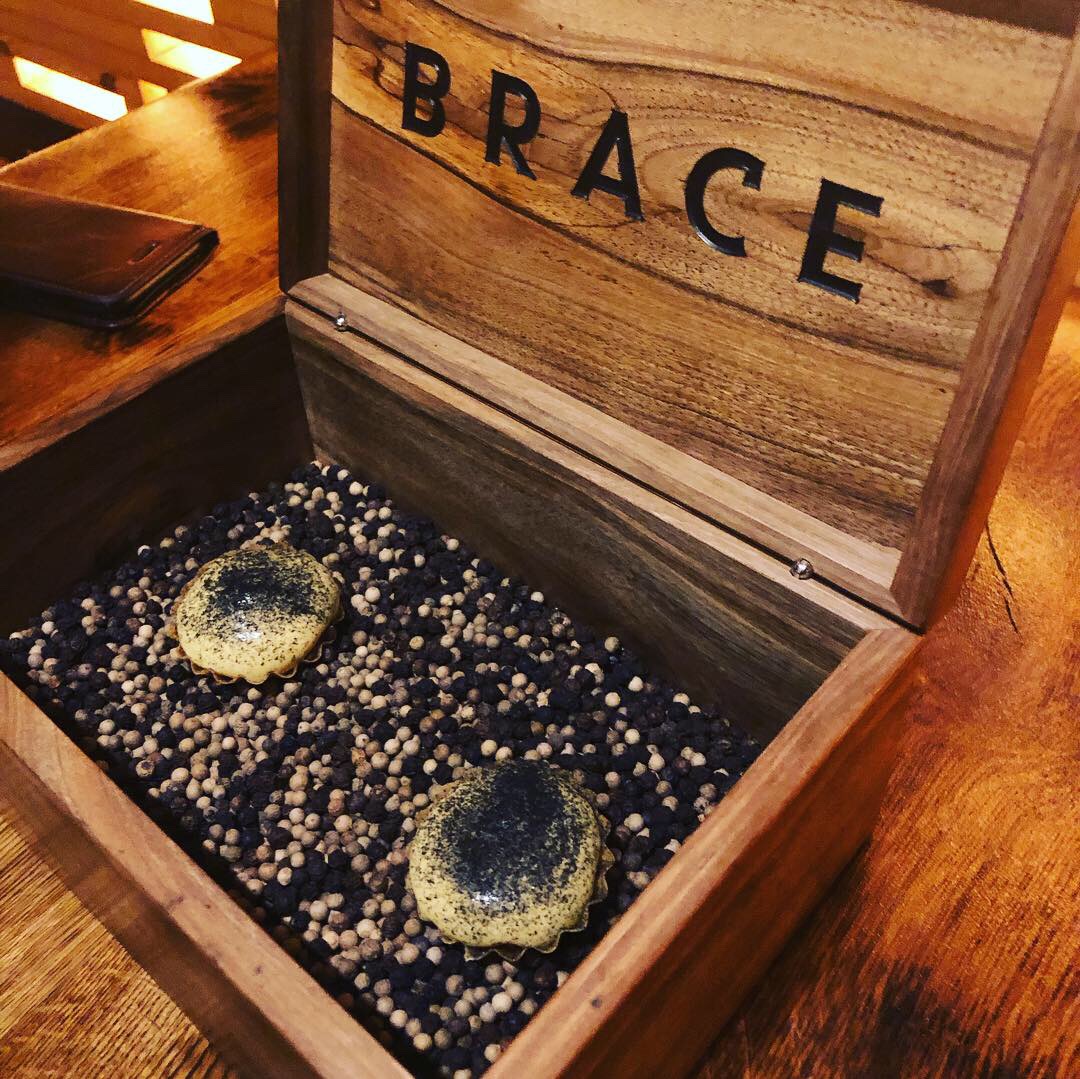 Brace Carbonara: Forever a signature snack at Restaurant Brace
"Down in one," my cheese-loving co-diner asked, bringing a Brace signature Carbonara pie to her lips. I watched happily and knowingly as her eyes roll back in their sockets with delight. Indeed, the rich, wonderful combination of crunchy pastry, soft egg and cheese cream with just the right amount of smoky bacon flavor was surprisingly wonderful in every way. As was the cod: "Fishy," the co-diner pointed out. "Intensely, but not overly so or in a bad way," I added. In that way, the snacks showed beautifully what Nicola Fanetti strives to achive with the flavors of his dishes: incredible intensity and concentration in flavor, but never overwhelmingly or vulgarly so.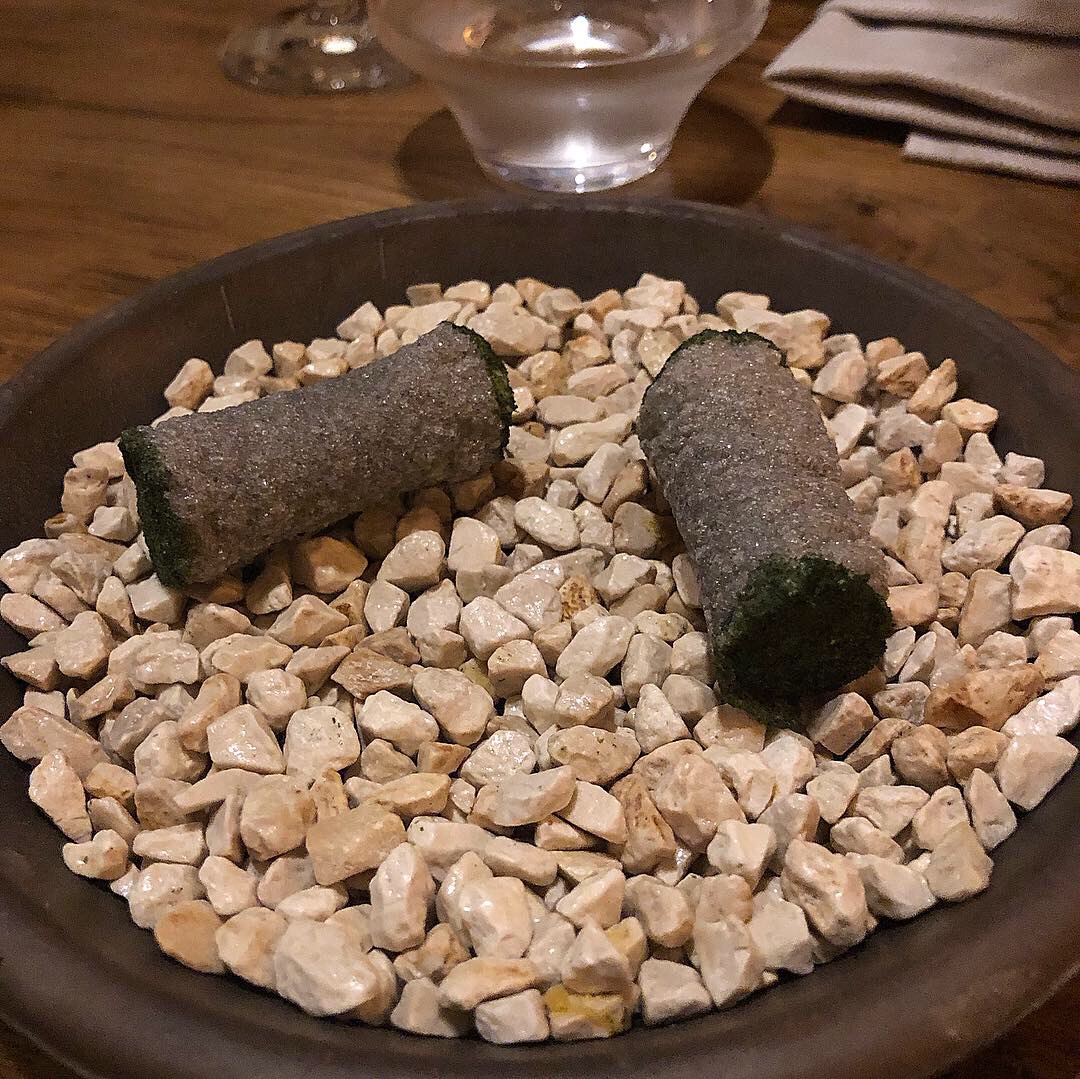 Venetian Baccalá Mantecato as you've probably never seen it before.
But more than being intense and full of taste, the snacks, simple as they were, serve as a strong mission statement. One bite into the meal, Fanetti had done the absolute unthinkable for a trained, Italian chef: he'd gone and fucking messed with the classic Carbonara recipe. "Bah! Humbug? Unthinkable," cried the mob… But no, bear with me, conservative Italian readers, Nicola has his very own and very good reasons for doing so.
"There's this whole concept of Italian grandmother food," co-owner Ursula Waltermath explained to me during my first visit to Brace, "and the notion that you don't mess with the classic recipes at all. Well, Nicola likes to throw caution to the wind and see what happens" … It's provocative and daring but what happens through these old dogmas and recipes shaken up and thrown about is, indeed, pretty damn amazing. A red flag in the face of traditionalists perhaps, but a stunning display of creativity, courage and a modern rock 'n' roll approach to cooking. Modern cuisine with strong ties in – and appreciation for – tradition.
The sort of menagerie that your inner traditionalist wants to see fail, and the same menagerie that has you rooting for the young underdog more and more with each bite you take at Brace.
A trifecta of fresh, world-class seafood
What followed in the wake of the provocative snacks was something far more comforting and familiar – a perfect nod to Nicola's time at Noma: Big, meaty Danish Limfjords oysters served with last year's pickled asparagus and sorrel. Clean, simple, stunning  in their simplicity and very, very New Nordic.
"It doesn't get much more classic and Danish than this," said the co-diner referring to the time that oysters served as the primary diet for neolithic men. – "Nope," said I, admiring the craftmanship of the seemingly simple dish as my mind fast-forwarded a few thousand years from the neolithic age to my night at Noma a few years back. This was exactly the same sort of underplayed craftsmanship and seeming simplicity you would have marveled at at Noma's old waterfront location at Christianshavn.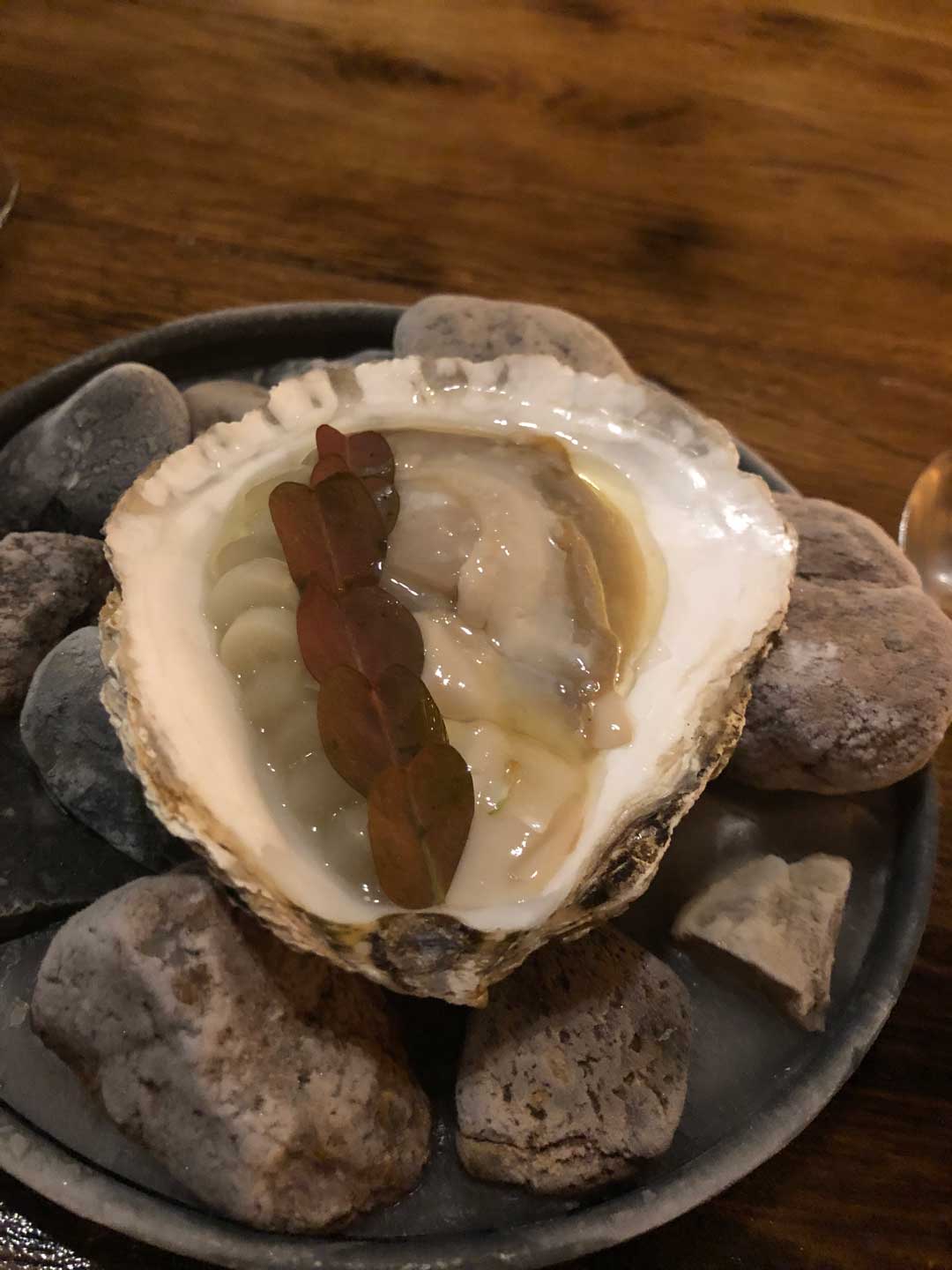 The oysters, it seemed, would however also be our last brush with simplicity and stringency as things soon took a turn towards fusion and intricacy. Our next serving, for example, carpaccio of scallop doused in basil oil, sprinkled with sesame seeds and dusted tableside in burrata snow, sent an entirely different message. While still relatively simple in appearance, here now was a far more complicated ménage à trois of cuisines in play: The new Nordic scallops, a clearly Italian twist in the shape of the basil and burrata and then, of course the sesame seeds which, aside from giving a pesto-like funk to the dish when paired with the basil-oil, served as the first of several prominent nods to Asian cuisine throughout the meal.
Undogmatic, flavorful and wonderful with the burrata snow adding an interesting layer of texture, the scallop serving broke away from yet another major trend in gastronomy and fine dining; local for the sake of local! Only two servings after the Carbonara bomb, Nicola had another important message to share: the notion that whilst a strong appreciation for fresh, local ingredients native to the region is often pivotal to a great gourmet dining experience, one should never shy away from clever use of exotic ingredients and elements from other cuisines as long as these serve as an enhancement to the experience rather than a gimmick.
This utterly beautiful disregard for tradition carried on onto the next serving, in the shape of one of the absolutely most beautiful and thoughtful pieces of the evening. Norway lobsters, plum and juicy, the best in the world according to chef Nicola Fanetti. Beautifully and carefully cooked in their shells in butter and crusted with juniper then served with a dipping sauce in the shape of a lightly spicy and tangy emulsion flavored with a native Italian pepper known as Peperono Crusco. Finger food at its finest, and a clear mashup of Nordic and Italian flavors and expressions.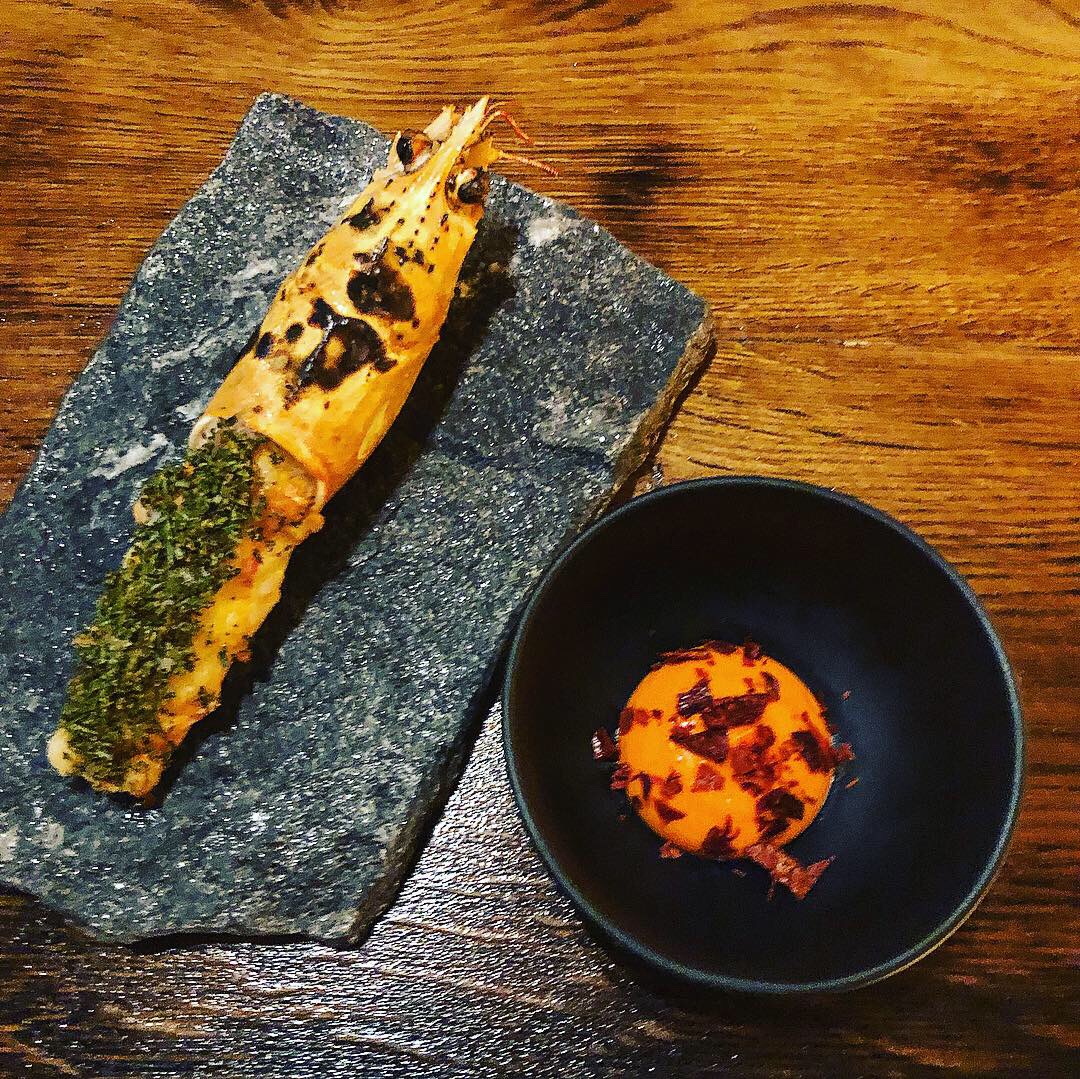 Still only a few bites into the meal at this point, forced to getting our fingers dirty, we bore witness to yet another way in which Brace sought to break down fine dining as we know it. Whilst deeply engaged in the sort of deep conversation that only the barrier-lowering effects of messy finger food brings about, a waiter quietly and discretely slipped a second expression of the Norway lobster we were eating onto the table between us. A vol au vent-like pastry filled with a thick foam made from a bisque of the Norway lobster shells and rose hip, then topped with monks cress.
This beautiful, sweet and savory, fragrant display served two purposes. For starters, it broke down the structures of the meal, just as we had been promised, allowing complimentary or contrasting servings of the same basic ingredient to be enjoyed alongside one another rather than after one another. Secondly, it served as yet another red flag in the face of traditionalists.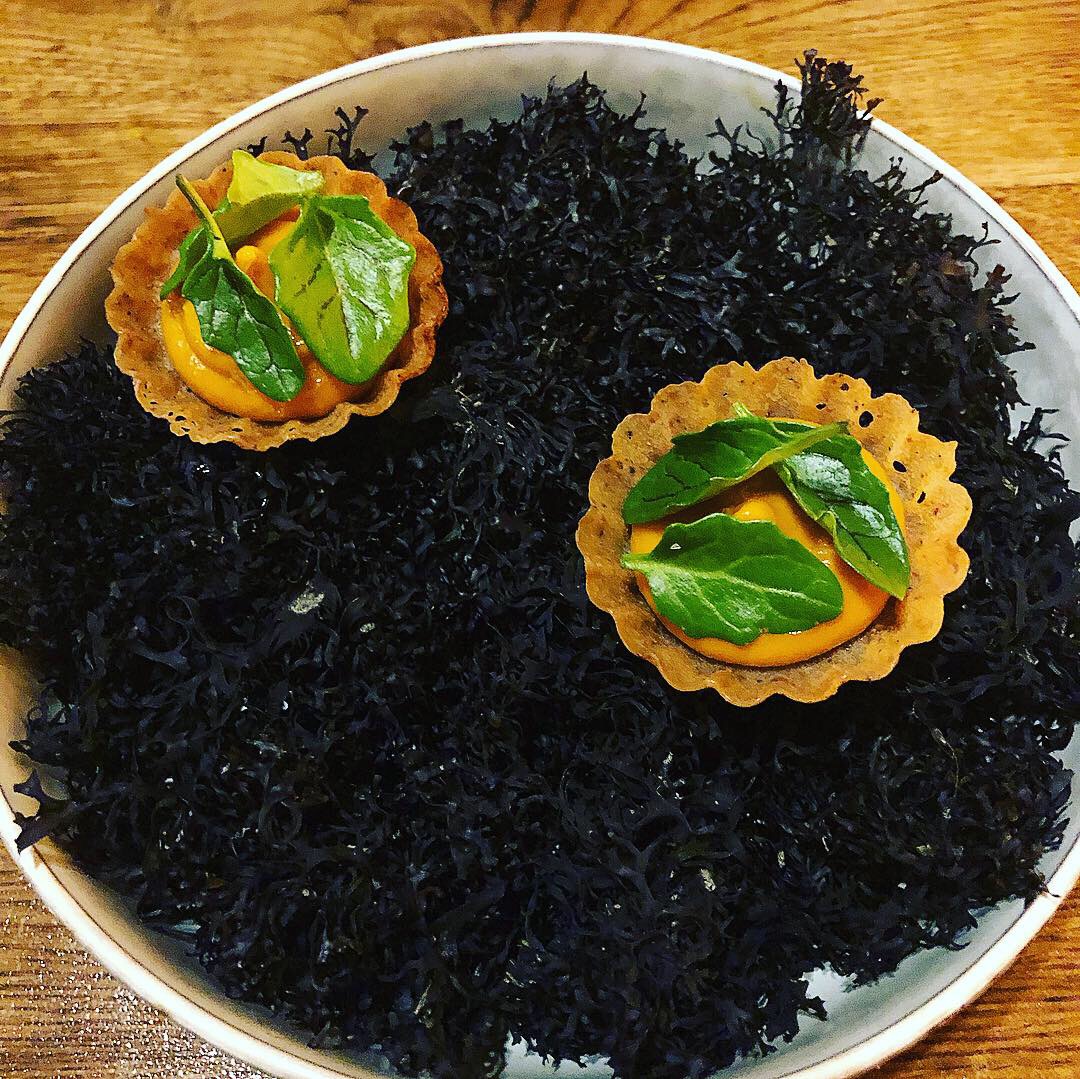 The vol au vent concept, known to Danes as tarteletter (or little tarts ) would be familiar to all lovers of traditional Danish food as puff pastry shells usually filled with a creamy chicken and asparagus stew. We know and treasure the dish as the height of comfort food and childhood memories, but certainly not in this way, shape or form. We, the Danes, just got served by Fanetti in much the same way that the Italians did with the opening Carbonara salute. And I for one approved!
Sitting there, eating this incredible piece of modern gastronomic art with a woman who made a name for herself creating creative twists of traditional Danish cuisine at Grisen Grillbar amongst other places, the irony was not entirely lost on me. "Is this how you make tarteletter as well," I smirked at my date for the evening. Eye-rolling and a hint of a smile ensued, as we dried our fingers and lips with the provided hot towels and headed four our first mistake of the evening.
Sourdough and virgin butter: I could die happy
If the co-diner and I share a common burning passion for something (aside from whiskey and Champagne), it's freshly baked bread and quality butter. Indeed, if you read my review of Motley Eatery and Bar, you will know that Katrine first won me over as a friend with freshly baked bread and butter. Consequently, we needed very little convincing to dig hungrily and almost impolitely enthusiastically into the next serving: Brace's homemade bread served with virgin butter dusted with leek ash.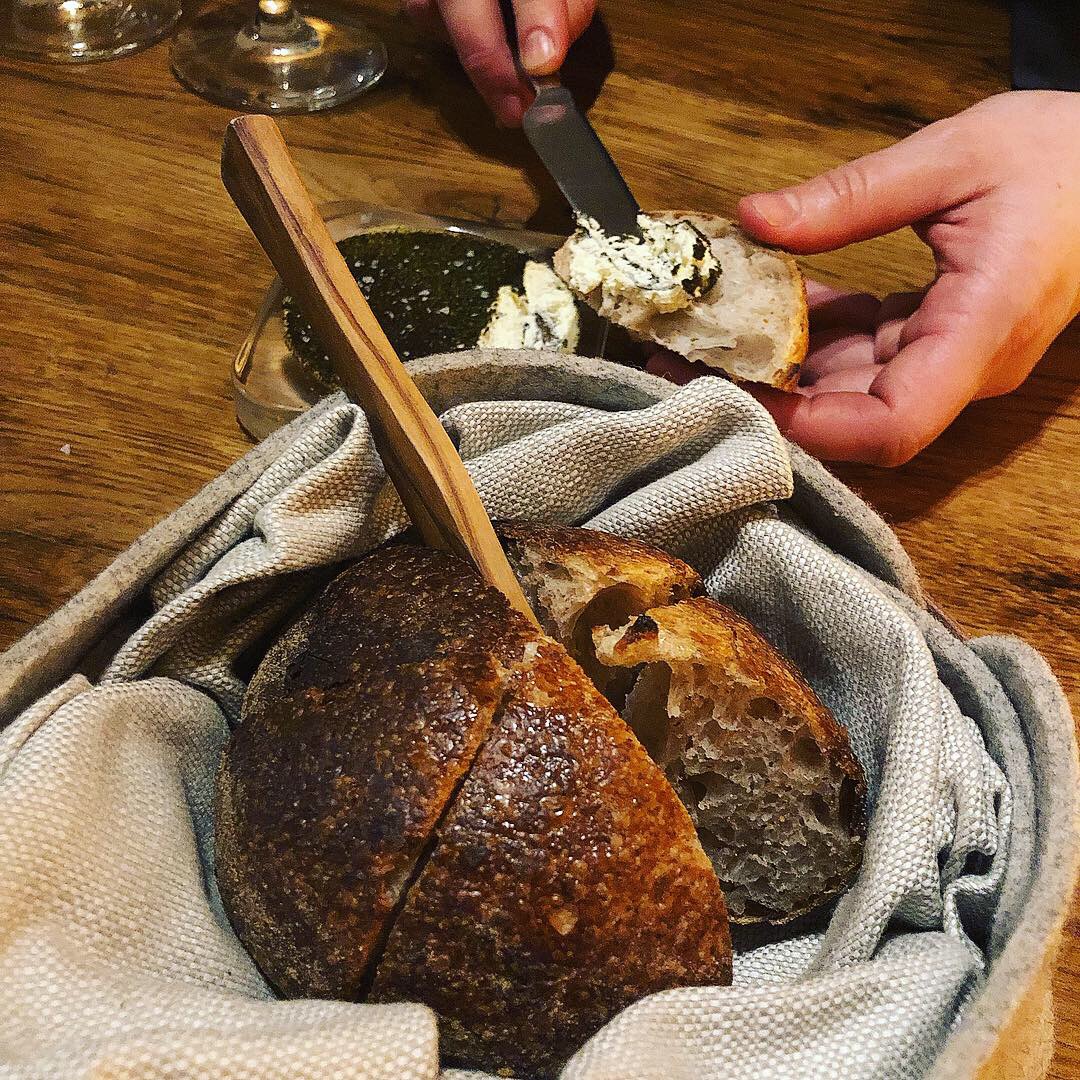 If I've said it once, I've said it a thousand times: a restaurant is only as good as the quality of it's bread… and by those standards, Brace is a very good restaurant. The soft, moist airy crumb, the perfectly crumbly crust and the deep, intense, fermented flavor from the sourdough, all slathered in perfectly tempered butter, completely brought a halt an otherwise buzzing conversation as we enthusiastically and completely without thought devoured the loaf in front of us.
"This was probably a bad idea, babe," I told the co-diner in a too little too late kind of fashion afterwards. "I know," she sighed. And, indeed, in the light of things to come, our disposition proved not to wise.
Impossible pasta perfection
"This is the first of two pasta dishes of the evening," said one member of Brace's small army of staffers, placing in front of us four delicate and intricate pieces of ravioli del plin. "This is a special shape of ravioli," he explained, "designed to better cling to the sauce. We serve it stuffed with ricotta cheese and topped with raw Norwegian shrimp and bergamot."  – On top of this masterpiece, he then proceeded to pour the second nod to Asian cuisine of the evening, a light, clear umami-laced and lightly smoked dashi broth .
Perfectly al dente in the way usually reserved for my dreams with a soft, creamy center, the ravioli served as display pieces into the art of pasta perfection – probably the most well-prepared I've had in my life. The lush beauty of the texture almost, but not quite took away from the interesting subtly sweet, subtly briny, very fragrant and lightly bitter citrussy combination of shrimp and bergamot and the underlaying layer of smoky funk and umami from the dashi. – "Is this as good as pasta is going to get," I thought for a few minutes until my mind was yet again blown by taste and texture.
After a small break and an intermezzo in the shape of a beautifully prepared and perfectly twice-fried artichoke served with a horseradish dipping sauce came another study into lesser known pasta shapes and textural perfection: Pacherri, a long tube-shaped pasta served with textures of cannellini beans, shavings of dried mussels and winter savory.
The pasta, again, was perfectly cooked and the beans that adorned the dish, too. I love beans as much as the next guy but find the texture extremely difficult to get right. In this dish, the kitchen got it right in more than one way; in the boiled to perfection beans that topped the dish, but also in the surprisingly light, silky and intensely flavorful purée that formed the base of the dish along with a bright green herb oil.
The Brace Main Event: Quail three ways
"I'm really more used to drinking than eating this time of night," the co-diner whispered jokingly as our empty pasta plates were removed, but the glazed over look in her big, slightly dazed blue eyes, mirrored the truth behind her statement. They mean well at Brace, the portions are generous and the poor girl was struggling. Our attentive waiter noted it, too. "Perhaps a small break is in order," she inquired professionally and the co-diner nodded thankfully. The kitchen abode and mercifully a perfectly timed small break was inserted before presenting us with the highlight of the evening, the main course:
A small dollop of black, fermented garlic flanked by a quail breast, cooked gently and perfectly sous vide then covered in a honey/miso glaze and finished on a screaming hot yakitori grill.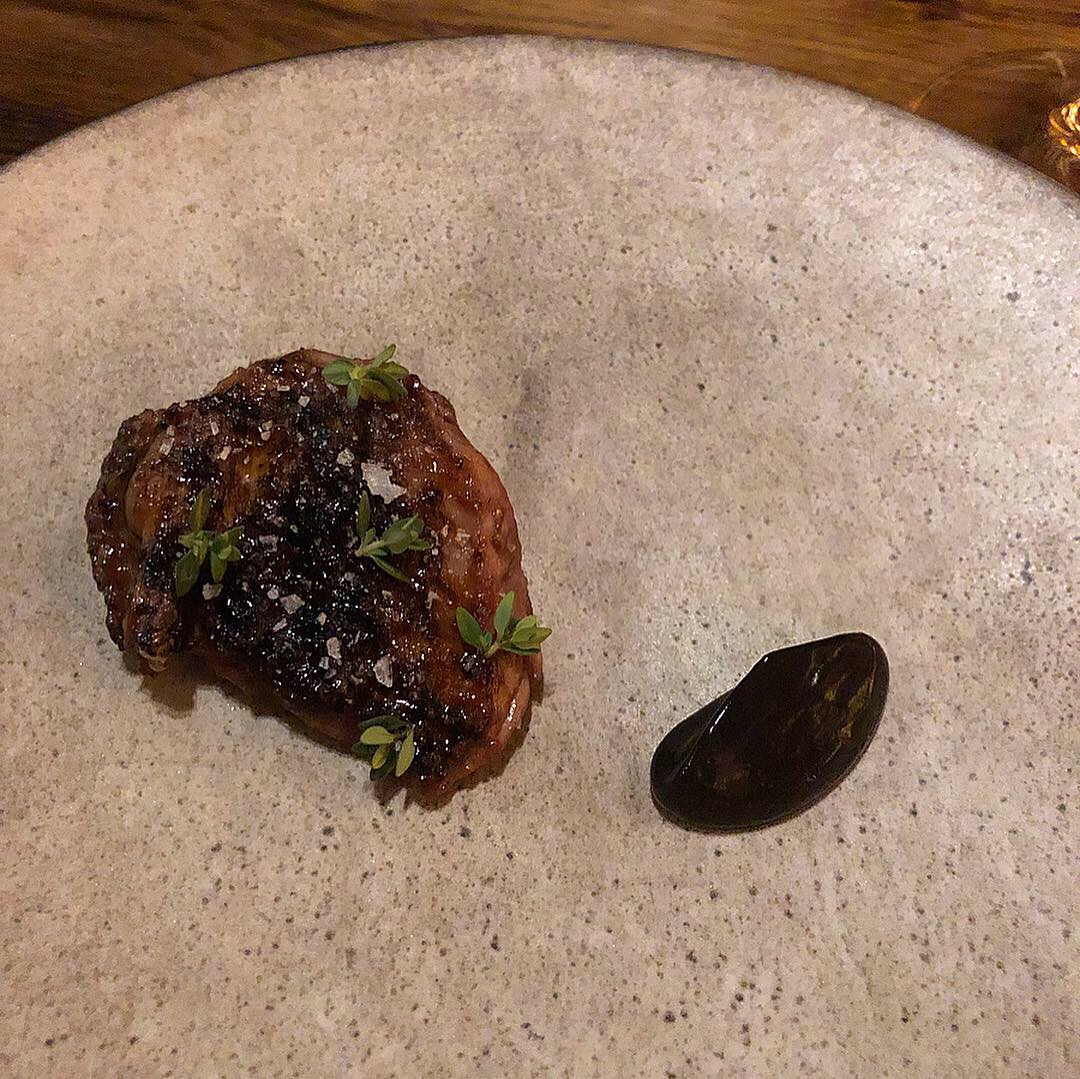 The miniature spectacle was finished tableside with a pouring of clementine sauce, creating a gastronomic painting of sheer, simplistic visual beauty dwarfed completely by the underlying technical complexity of the dish and the intense aromas of game, citrus, sweet, lightly caramelized honey and fermented funk that rose from it. These very expressions, by the way, carried on into the flavors of the dish easily made the smallest dish of the evening the most complex, flavorful and intense. Meaning no disrespect to the beautiful woman in front of me, I take another bite, close my eyes and zone out for a while.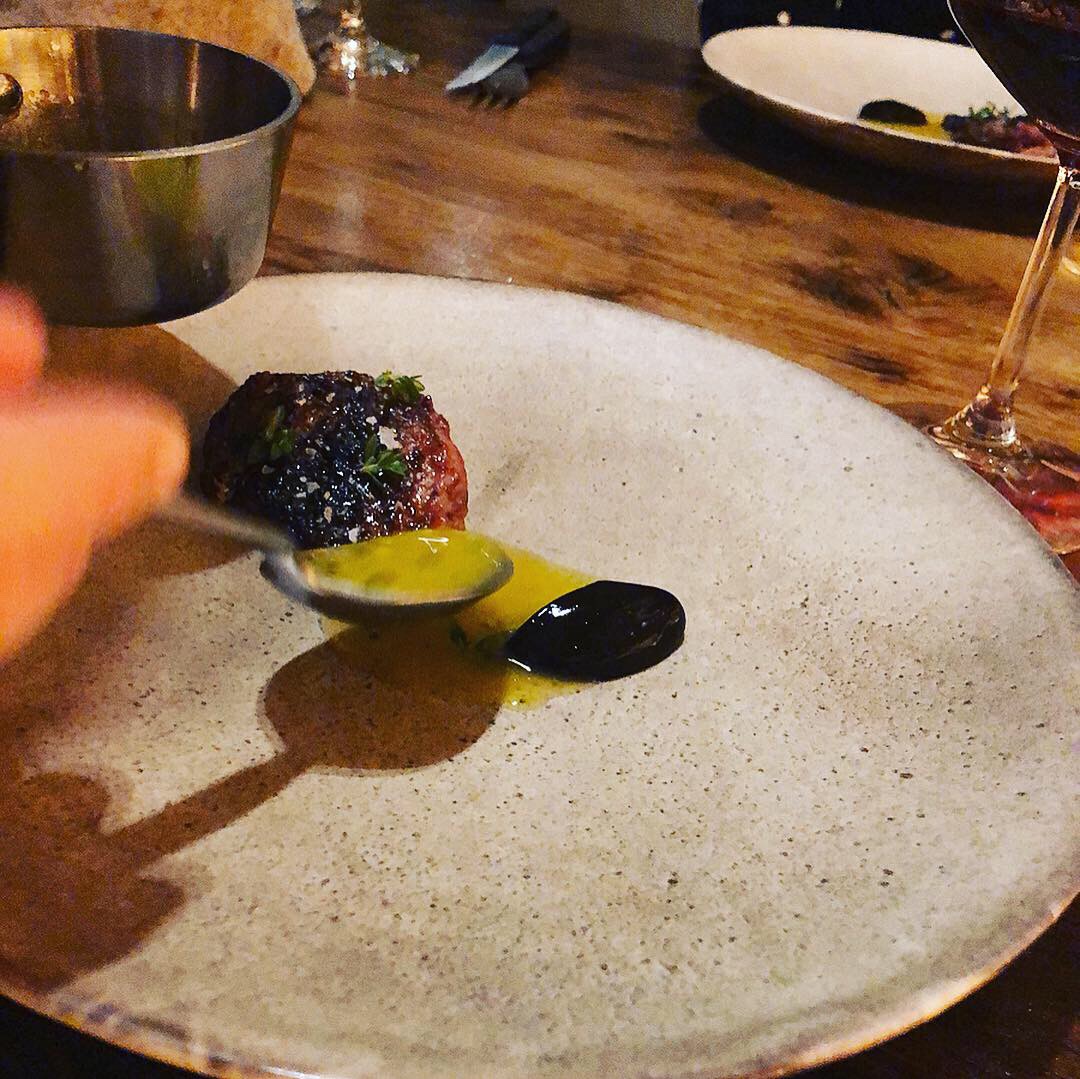 "I bet you wonder where the rest of the quail went," said a staffer with a smirk, interrupting our foodgasms by placing a second platter between us, "here is the rest of the quail in the shape of tempura quail legs and a soft-boiled quail egg."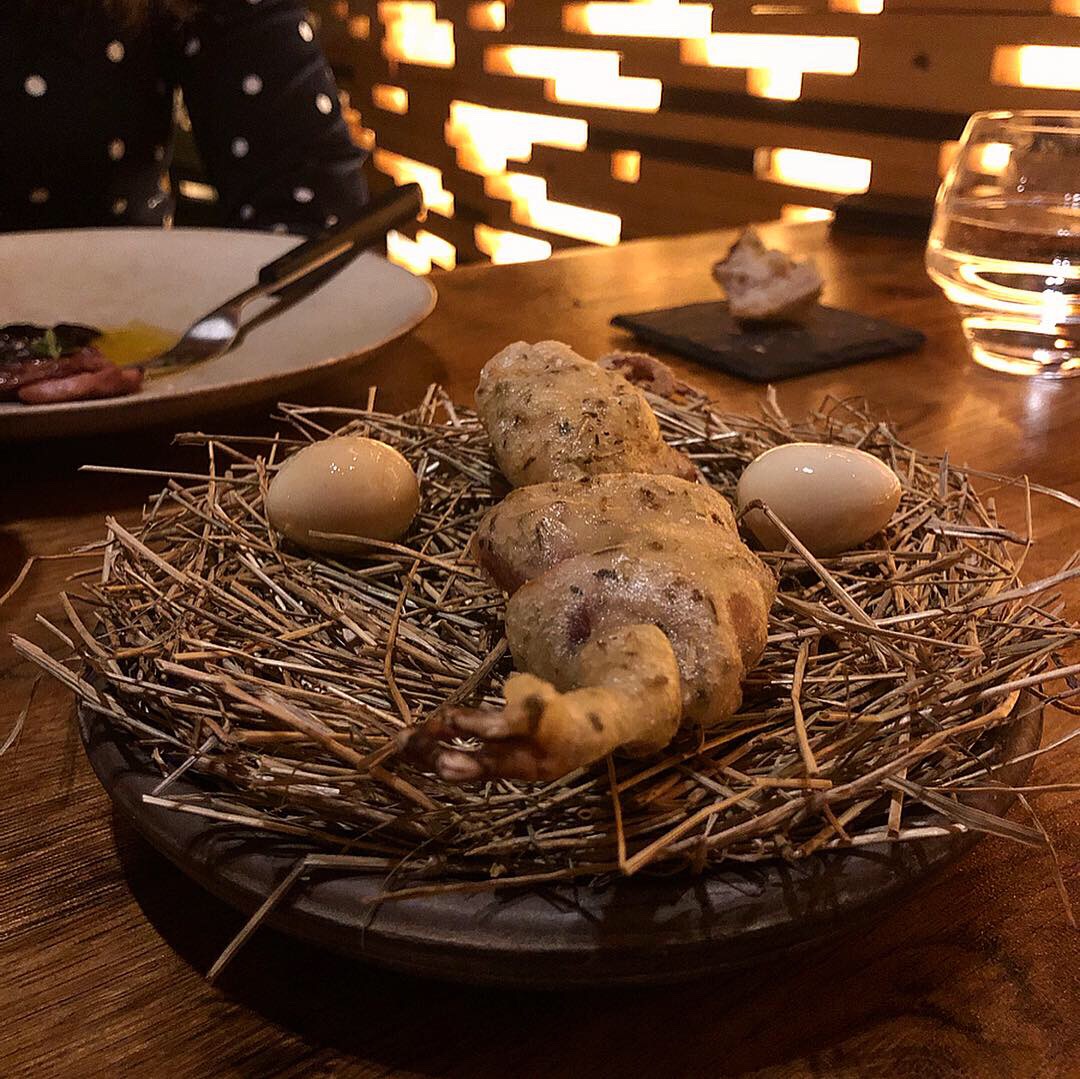 Strangely, the first thing that popped to mind when seeing the spectacle in front of me were thoughts along the lines of "I wonder what sort of knife they used for this." Now, if you've ever seen real life quails running around, you'll know they're impossibly small creatures. Once plucked of their feathers, these creatures become even more minuscule and with my mind working in the mysterious ways that it does, got to wondering just who on earth would have gotten the bright idea of butchering them into pieces and cooking them separately. The answer to the question is obvious, Nicola Fanetti, and his reasons are, of course, entirely his own.
Whatever his reasons may have been, the results were stunning. Even the minuscule two-nibble legs of quail were perfectly cooked, dressed in an impossibly light, airy and surprisingly crunchy and intensely flavorful tempura dough. An intense bite which stood most perfectly balanced by the creaminess of the soft-boiled quail egg on the side which in taste, appearance and texture is pretty much like a hen's egg, only much smaller, slightly more exotic and a lot more decadent.
An Italian chef, cooking miniature Japanese cuisine in a Danish restaurant? I don't know what kind of sorcery this is, but my hat is off to you, Nicola!
At Brace, New Nordic desserts are not just a gimmick!
"You made it," smiled our waiter, clearing the carnage left by baby bird consumption, "Only desserts left now!" – "Desserts," said the co-diner dreamily, her face lighting up in a way which confirmed my year-long suspicion that women are creatures of two tummies. A regular tummy which fills easily, plus a dedicated dessert tummy for… emergency ice cream issues.
But the strange and wonderful anatomy of women are an entirely different story. Suffice to say, the co-diner should be (and indeed was) happy to have saved room for dessert. The desserts at Brace, like everything else, are not subtle afterthoughts. Rather, the Brace Experience menu features a veritable onslaught of desserts, a trifecta of dessert complexity if you will.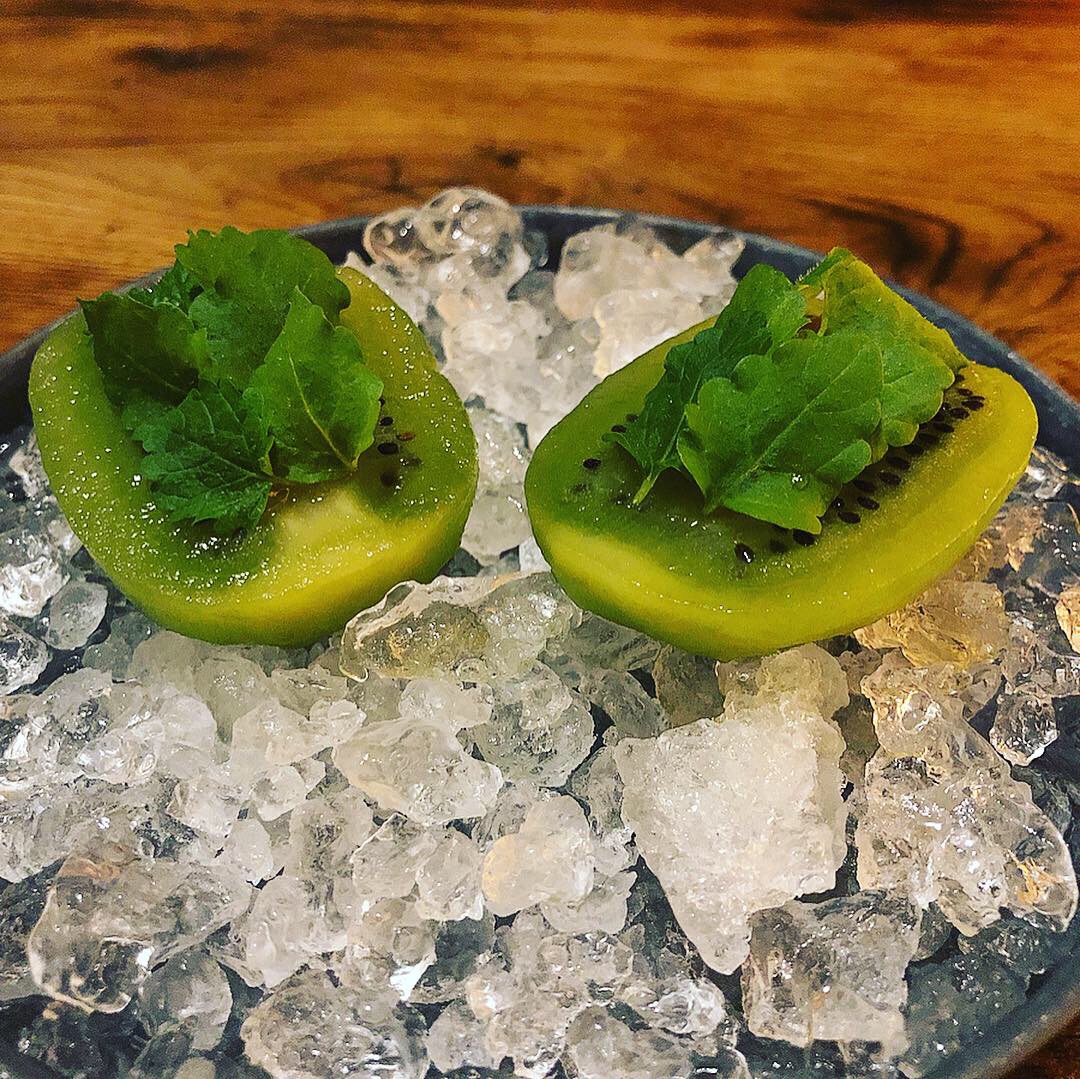 First on the stage was a sort of a sweet palate cleanser, if you will, in the shape of a kiwi, marinated in elderflower, halved and served on ice with leaves of lemon balm. Perfect for sharing, sweet, tangy, floral and not too heavy on top of what was basically a knock-out punch of flavors, textures and intensity. Rather, it served to clear and freshen up the palate after a three-hour long onslaught of deep flavors and get us settle for some brighter, sweeter action. A sweet and thoughtful little treat.
A treat that was, however, completely, utterly and deservedly dwarfed by the kitchen's next creation: a sorbet of pine needles covered in a mousse made of yogurt from local Jersey cattle and topped with a tuille flavored with bee pollen. Not only technically and visually impressive, the dish set a new standard in my experiences with New Nordic desserts.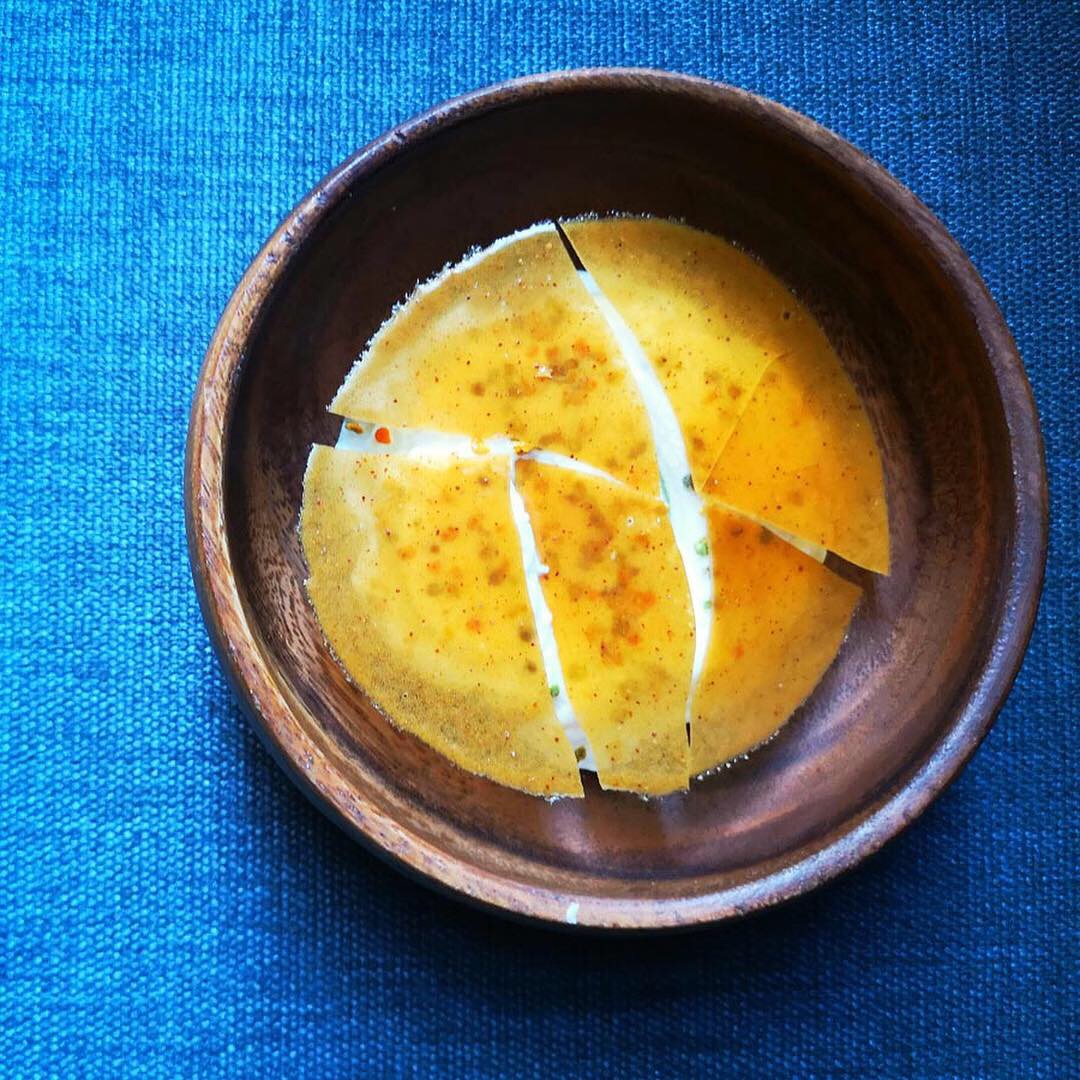 Now, I'll be the first to admit that I'm not usually the biggest fan of the savory, herbal or floral elements that have been the trend in Nordic desserts for about a decade now. It's been seen, it's been done and seldom very successfully so. There, I said it! However, from time to time, talented chefs get it right and this was quite obviously one such time.
Not too savory, not too sweet with just the right amount of floral herbaceous notes shining through from the brightly green sorbet hidden under an airy mousse of creamy,  tangy yoghurt and a bee pollen tuille (who does that?!) engineered to break apart perfectly at the tap of a spoon. Spectacular, perfectly balanced and beautifully presented. Once again, one could only imagine – and not quite help being impressed with – the countless hours of thought, research, dedication plus trial and error must have gone into creating such a near-perfect masterpiece of taste and texture.
With such a triumphant Italian salute to New Nordic dessert, the evening could – for all I cared – have ended in perfect harmony, It would, however, be the Italian in Nicola Fanetti that was to have the final word of the evening after all: Carried almost ceremonially to the table came a modern and beautiful twist on Fritella, a traditional fried dough cookie from Venice usually only enjoyed for the Carnival season. Served, in this modern version, with a perfectly textured sage ice cream that also succeeded quite well in not making me rant about the use of savory ingredients in modern desserts.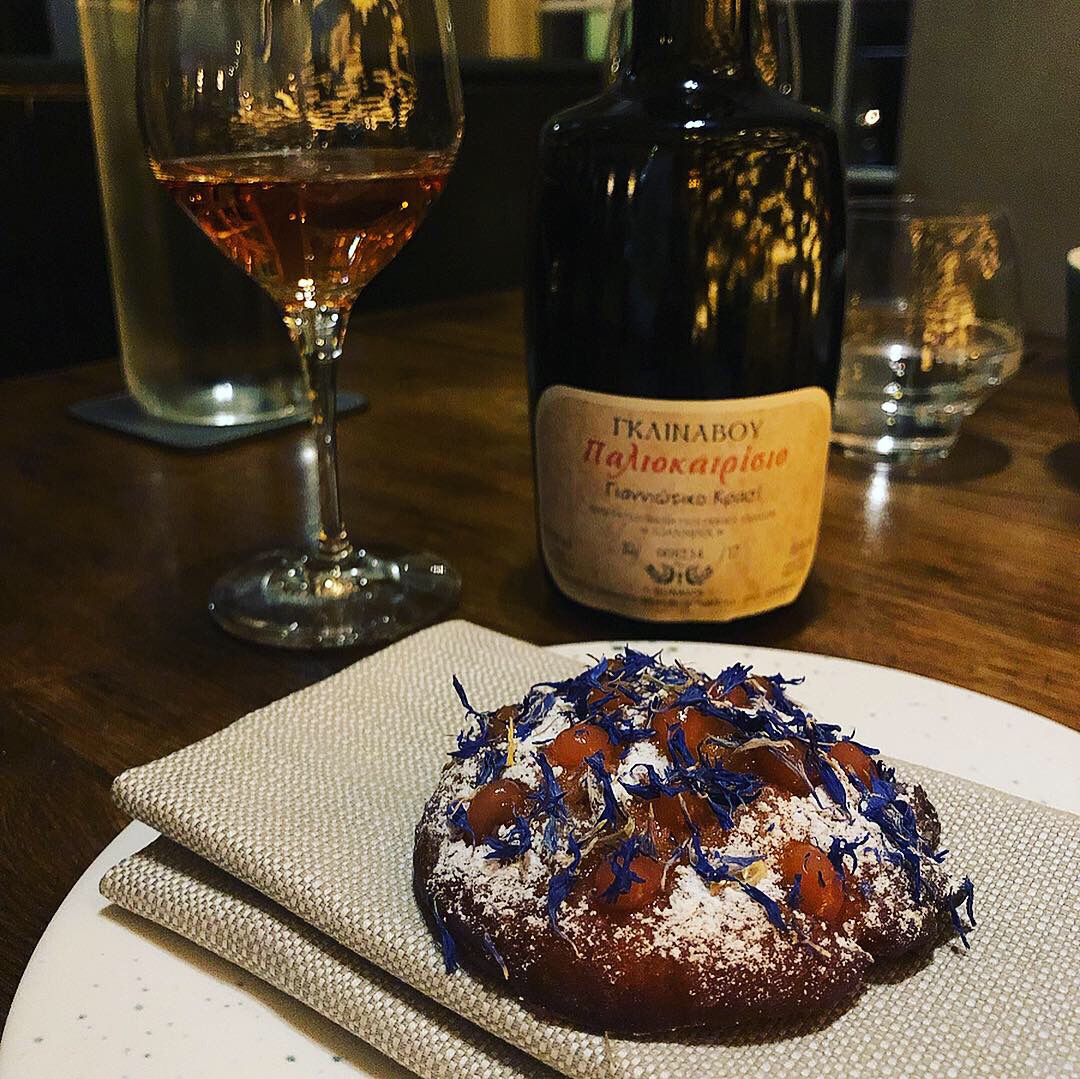 Even the, at this point, near dangerously full co-diner couldn't help but be impressed with the effort and nibbled enthusiastically along on the crispy on the outside chewy on the inside fried cookie filled with flavors of earthy spices, blood orange  and powdered sugar.
And thus was placed the final stone on yet another great evening at Brace. We had conquered the nearly four-hour long onslaught that was the Brace Experience. Reeling happily, appropriately inebriated and an overwhelming (in the most beautiful of ways) culinary display of power  richer, we threw in the napkin and called it quits.
Wines at Brace: Odd but interesting wine pairings
But hey, what of the wines, you ask? Well, you see… In so many ways, the wines are Brace are in a league of their own and consequently could warrant a lengthy review of their own… Buuuut, already some 4000 words into this epic tale, I will try to keep it to a paragraph or two.
The wines at Brace are by no means an afterthought as someone could have generally feared from looking at the overall DKK 1600 price of the meal and then considering the quality of the food. Rather, it constituted one of the more interesting and thoughtful wine menus I've seen in quite some time, featuring good solid crowd favorites, a number of surprises and even a few shocks. As was obviously the case with the food, it was clear that a certain amount of thought and energy on behalf of sommelier Felix Chamorro had gone into creating the wine menu.
From a beautifully hazy, unfiltered, bone dry Prosecco-style sparkling wine to kick things off, over a stunningly beautiful Sicilian white wine aged sur lie (on its own yeasty residue) to add extra complexity and depth to its summery and fruity explosion of minerals and acidity, to clearly funk-driven but very palatable natural wines , and eventually even some classic full-bodied and fruity Italian reds and on the span was mesmerizing.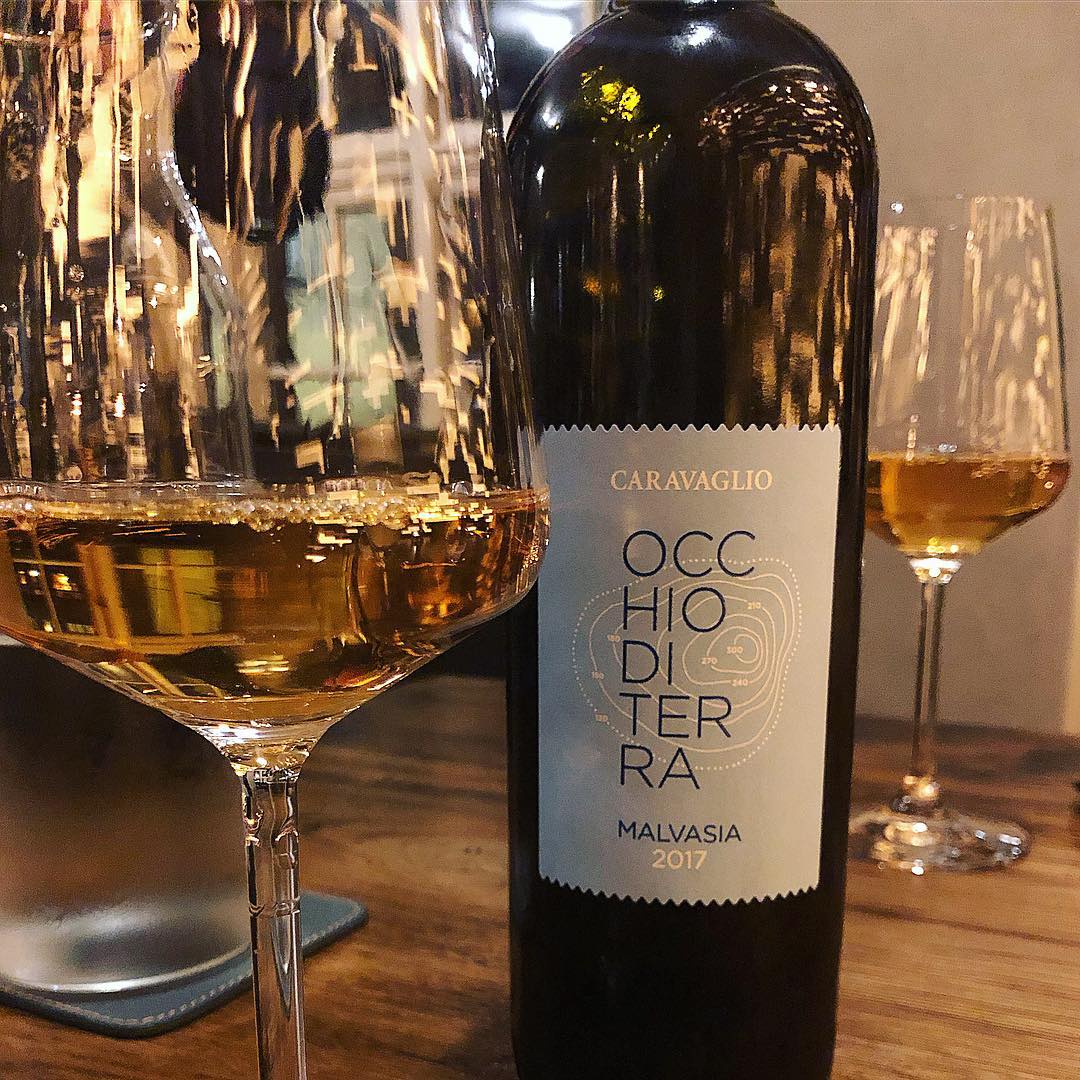 How is such a level of quality, diversity and surprise achieved? Simple! The focus at Brace is obviously not on well-known producers and famous appelations. Rather it is on finding interesting wines from smaller producers and spending some time and thought paring them properly with the cuisine of Nicola Fanetti.
This, first and foremost, obviously helps bring down the overall price of the dining experience, leaving you with a clear-cut sense of full value for money, but it also leaves you with a feeling of surprise and a bit of awe. Surprise at the level of diversity and quality that is found within wine regions that are not necessarily known by the general dining public. Awe at some of the obvious wildcards and surprises that are thrown into the mix Such was the case, for example when the combination of pasta, beans and dried mussles was paired with a dusty, chalky and surprisingly dry white wine made from Muscat Petit Grains, a grape usually reserved for sweet and acidic dessert wines… Or how about the fritella dessert pairing? A dark, thick and fully ripe Greek gem of a dessert wine that I've no idea how to pronnounce… Made from… Well, your guess is honestly as good as mine.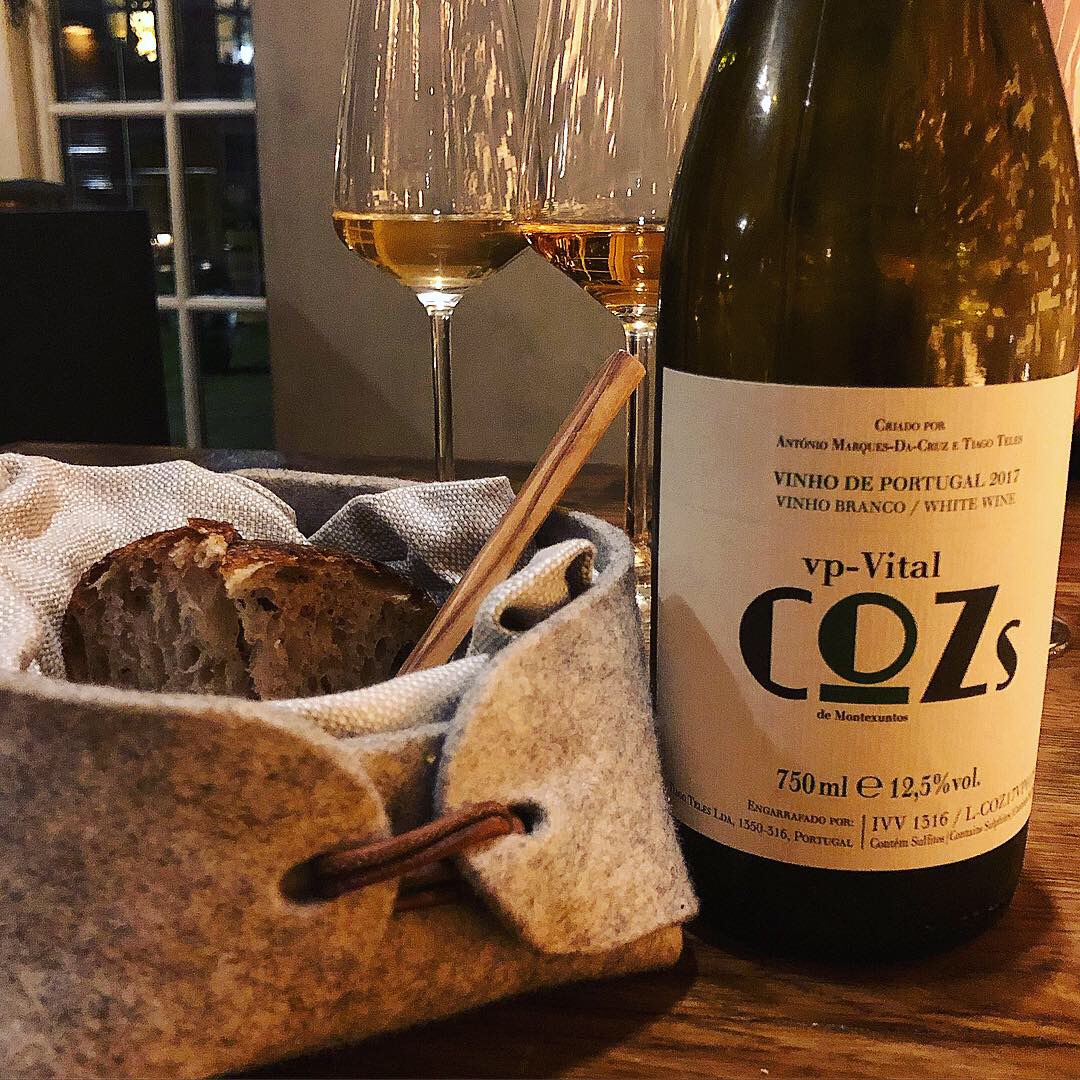 Whatever the contents of the bottle, the unpredictability of the wine menu in many ways mirrors many of the qualities of the food: surprising, unconventional, slightly mysterious, slightly provocative, plentiful and, much like anything else that goes on at Brace, deeply endearing.
Epilogue: Digesting Brace
"I think I'll get my bike some other day," the co-diner states grabbing me by the arm as we emerge back into the century-old narrow streets of Inner City Copenhagen. – "Wise decision," I summarize, then venture "cocktails with Geoffrey at Balderdash?" – "I know the way… I think, " she smiles, tugging at my arm.
"What just happened," I wonder to myself, as we start to zig-zag through ancient streets, slightly overwhelmed by the experience that just unfolded… Then the warm light of of a neighborhood bar illuminates the tipsy grin on my friend's face as she finishes recalling an anecdote about a drum-playing Ethiopian she once met on these very streets… "It's going to take some time to settle and appreciate," I deduct, and decide to just appreciate the fact that even with my fourth decade on earth within reach, I'm allowed the pleasure of spending a near-spring night, staggering tipsily through the streets of Inner City Copenhagen with a young, beautiful woman on my arm… Life is what you make of it, and I've made a pretty good thing out of this little life of mine…
As I wake the next morning to the morning sun shining through the window of my Vesterbro hotel room, a little worse for wear after several glasses of Champagne, a wine menu, cocktails, more bubbles and a night cap of Mezcal ("It is the blessed dirt of Mexico," insisted Balderdash owner and cocktail wizard Geoffrey Canilao in one of my final memories of the evening), words start pouring into my head. They continue to do so during the morning and even before meeting my partner in crime Martin for a bite of breakfast of champions, I've written my opinion on Brace:
Brace: the star that Michelin forgot?
Brace operates in one of the most insanely competitive markets of all: the mid-tier gourmet level in Copenhagen Denmark. The culinary Twilight Zone in which a menu will constitute a deliberate choice and a sizable investment, but still be a lot more affordable than a trip to one of the city's gourmet temples.
A full Brace Experience for two will set you back around DKK 3200 (EUR 430), considerably more than your average night out for most casual diners, but significantly less than an evening at the likes of AOC, Noma or Geranium – to name but a few – and in many ways perhaps a better investment. While obviously not in the same level as its two- and three-starred brethren, Brace shines brightly above many of its peers and in the mind of this reviewer presents a serious contender for top value for money on the Danish dining scene. The quality of the ingredients, the attention to detail, the intricacy of the preparations and the pride with which they are presented are well above what one could expect at this level and price – this alone makes Brace a star.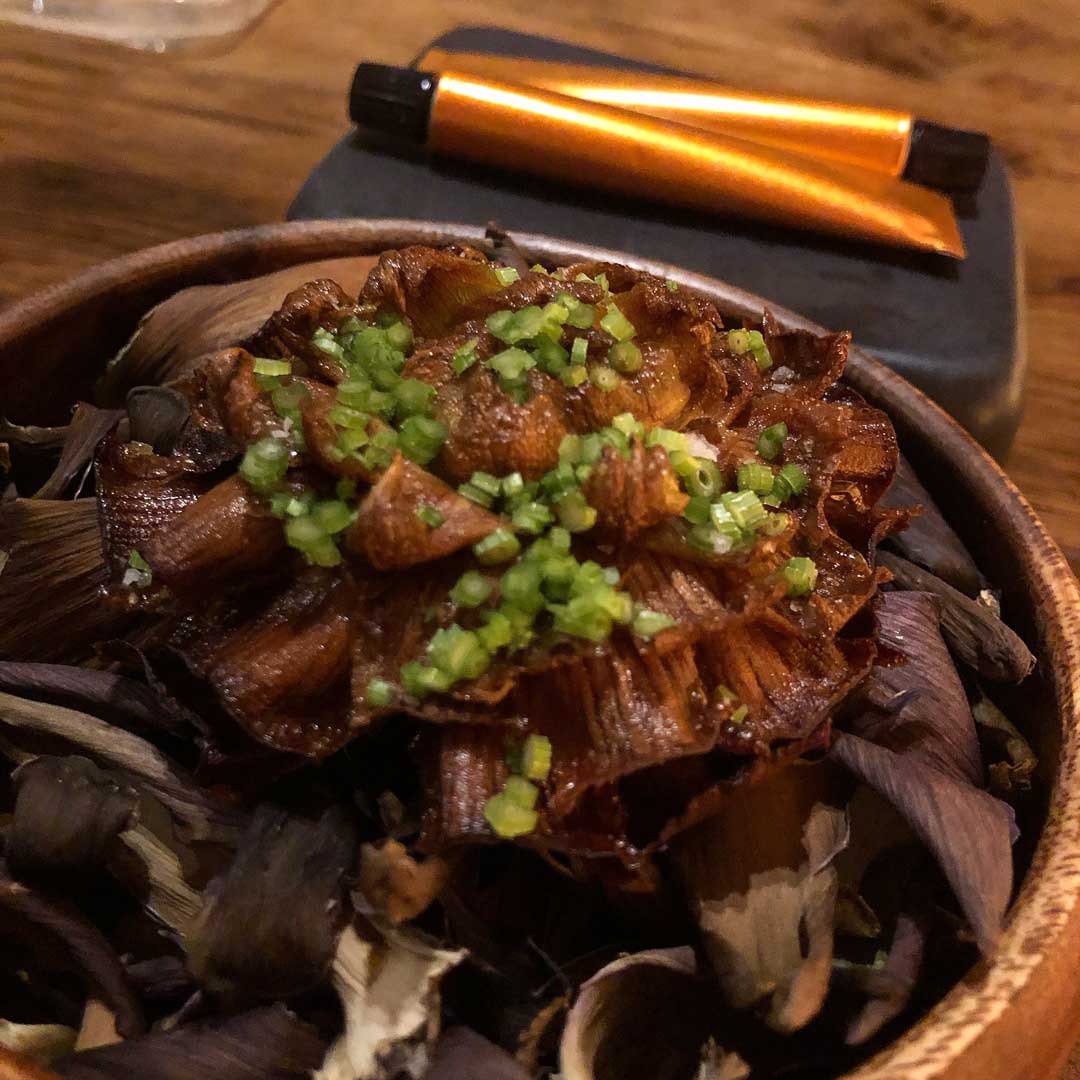 Fried artichoke with horseradish cream on the side… Another of the 16 servings of the evening.
The flaws in our Brace experience were miniscule and aside from a few textural elements that needed a bit of work, they revolved mostly around portion size: the pasta servings, especially, were simply too large in the opinion of this reviewer and certainly so in the eyes of his co-diner. I pointed out this fact to a brilliantly attentive Fanetti who descended on us after the meal, eager for input.
"Okay," he simply said humbly and thoughtfully with a smile and an appreciative nod, obviously already processing the feedback in his head. In the next round of photos I saw posted from Brace on social media, the pasta portions had taken on a more manageable size… And in there lies yet another quality of a great chef: to be able to listen, to reevaluate and to constantly improve as the season of a tasting menu runs its course.
Through careful sourcing of ingredients, clever economies of scale and a wine menu that features hidden gem wines from lesser known regions whose true qualities have yet to reflect in their price, Brace pull out an overwhelming tour de force of an Experience for an asking price that should rightfully strike fear into the hearts of some of the nearest competitors. Coupled with a humble attitude, an open mind and a constant willingness to change, experiment and improve, Brace becomes a force to be reckoned with.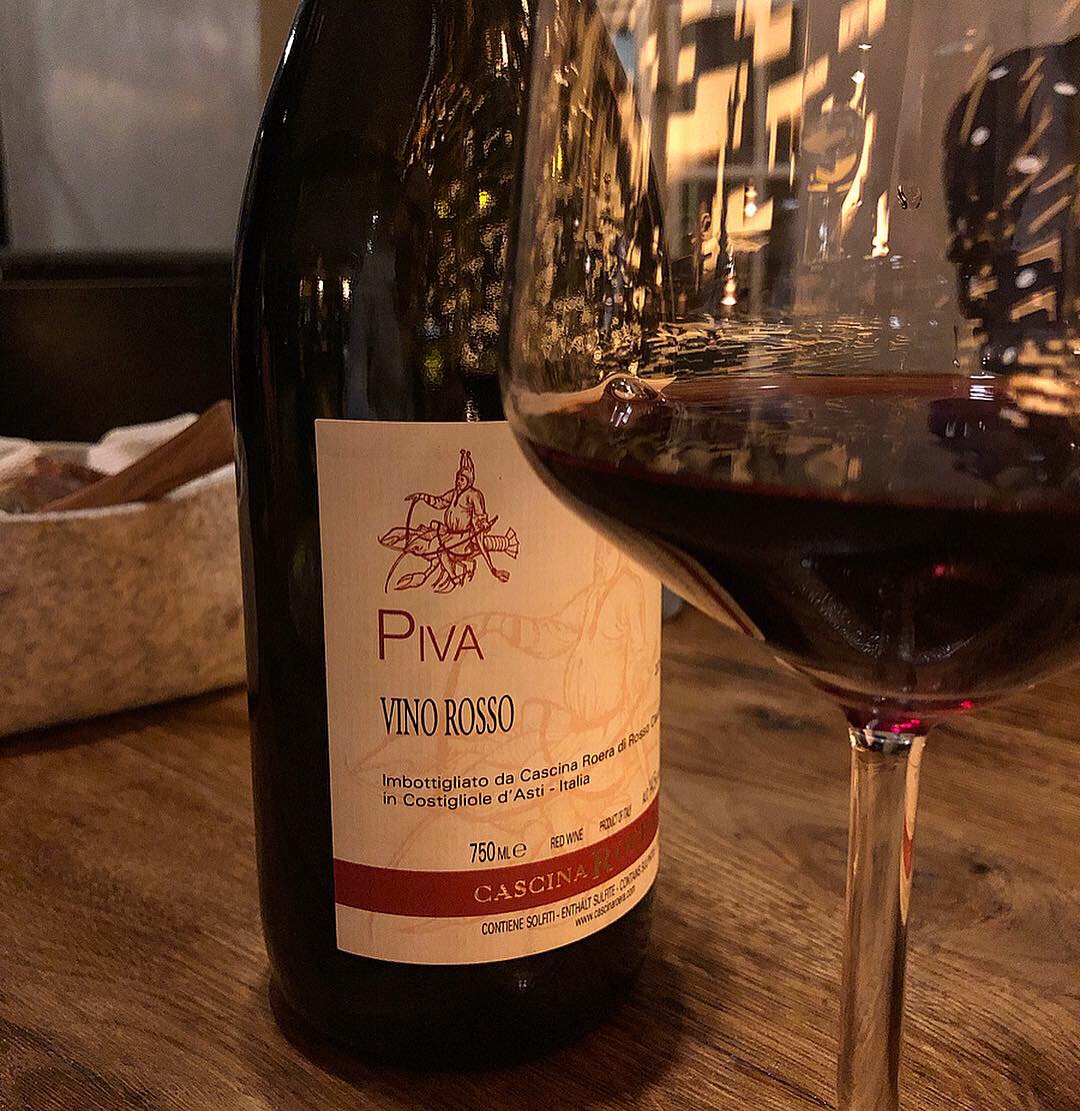 Unique, exciting and relatively obscure and unknown wines of great quality help create a sense of value for money at Restaurant Brace.
With a veteran of two Michelin-starred kitchens at the helm, the ingredients, preparations and servings at Brace are, naturally, of superb quality, certainly worthy of their 2019 Michelin Plate award if not a Bib Gourmand or more. While obviously an honor and an act of praise, in many ways, the decision by Michelin to award Brace the lowest possible grade in the book seems more of an afterthought than a general recognition of the standard of food, wine and service at Brace as of 2019. Nicola, Ursula and their team at Brace, honestly, deserve better than that and may well reach higher than that.
But such are, I suppose, the ways that we have come to expect from the French guide. In the strange manner that the Michelin star system works in Denmark – seemingly asking so impossibly much more in terms of quality, execution, theater, consistency and astringency of chefs here than their International counterparts, its anybody's guess as to whether further distinction or even a star of his own is actually within reach next young Nicola Fanetti next year… Maybe the rock n roll Italian's style is just a little too, extreme, for the classically inclined tire guide?
Having experienced the scale on which Michelin ratings work in other locales, however, I feel confident that young Nicola would be fully entitled to a star of his own before his 30th birthday in many other cities around the world – and that I would be the first to raise a glass of funky and cloudy Prosecco-style sparkling wine in his honor… But please don't go chasing that star elsewhere, Nicola, we're more than happy to have you here in Denmark!
Brace. Nicola. Ursula. Everybody. I'm sorry it took so long… The Johan approves!