Home » Blog » Recipes » Food memories: Low Fat (-ish) Orange Chicken Recipe
Ten years ago, pretty much to the date, I spent a week in San Francisco. I remember it as one of the most buzzing and interesting cities in the US and I most certainly remember it as having one of the best food scenes with all sorts of exciting ethnic options.
I was backpacking at the time, so I stayed in a, umm, discount hotel in Chinatown sandwiched between traditional pharmacies, hole in the wall eateries, Chinese billboards and even stranger things. For a 22 year-old kid from Scandinavia, it was an experience to say the least! As was the food!

Ah Chinatown! I miss your craziness! – Photo Credit: Wikimedia, By Christian Mehlführer, User:Chmehl – Own work, CC BY 3.0, Link
I was lucky enough to stay pretty much next door to a non-descript little hole in the ground takeaway place which served up dirt cheap Chinese-American dishes in Styrofoam containers and, apparently, according to Lonely Planet, local city guides and others, just happened to be one of the best establishments in town when it came to doing just that.
I've since forgotten the name of the place, but I must've eaten there about once every day and I probably gained about ten pounds in the process. The food, cooked up by a friendly, smiling and downright sadistic (when it came to seasoning) elderly Chinese gentleman who spoke about ten sentences of English (including but not limited to "you sure you want spicy, spicy only for real chinese, hahaha!") was just so damn good – and plentiful and hearty.
Note on food/personal safety: If a smiling, nodding elderly Chinese gentleman asks you if you want your food spicy, followed by the words "spicy only for real Chinese, hahaha!" Just… Don't… Just walk away! Unless you really want to clear out your sinuses and start crying into your soup, that is. I try these things so you don't have to!
It was here that I fell in love with the Chinese-American classic dish Orange Chicken: Stir fried breaded chicken in a sweet, tangy and spicy orange glace served, in this establishment, on a bed of green beans and egg noodles. And herein lies one of the reasons, I think, why I gained those perceived ten or so pounds eating there. See, in true cheap Chinese-American fashion, pretty much everything, save maybe the egg noodles, was sent through the deep fryer. The noodles were just fried in a wok. Boy, let me tell you, you haven't really lived till you've eaten deep-fried green beans after a night of binge drinking. But I digress.
The fact of the matter is, I loved the stuff, I lived off the stuff, and then I had to move on to Vegas and other pastures new. I tried the dish in a few other places since, most un-notably so at Panda Express, but it was never quite the same. Then I lost the ability to stomach deep-fried food. And then, as it sometimes happens, I forgot all about the dish. Until sometime last week when I was heading on a trip down memory lane and got to thinking about San Francisco, crazy old Chinese men and Orange Chicken. "I wonder if that crazy, old bugger is still around," I thought, "and I wonder if Orange Chicken still tastes good.. Hey, I wonder if I could make Orange Chicken!" – And that eventually got me thinking about creating an updated, personal and slightly healthier version of this classic dish.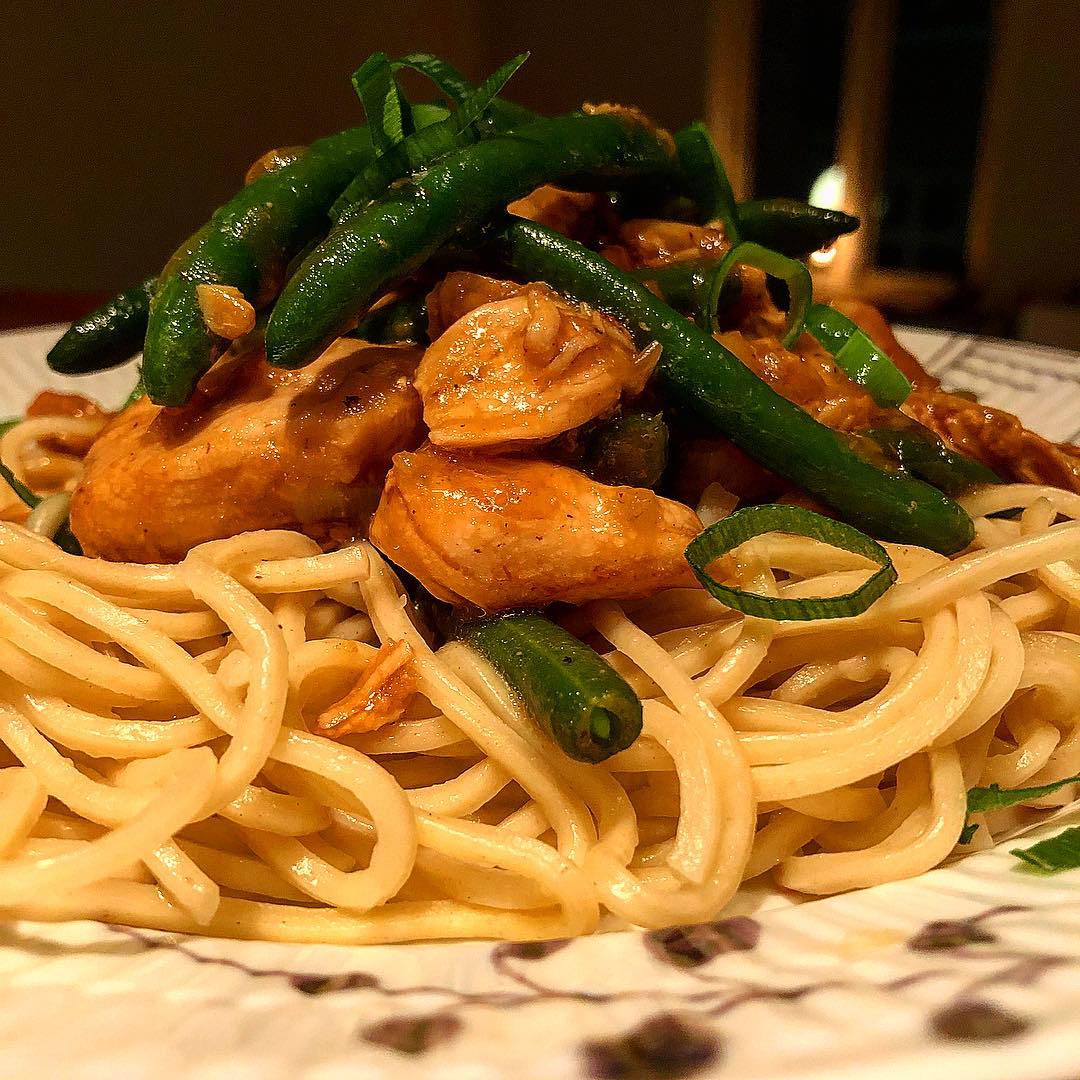 As it turns out, recreating from memory a dish last had ten years ago is by no means easy, but can it be done?
Recreating a dish from ten years ago from memory is by no means an easy task. Especially not considering that quite a few beers were consumed with friendly locals during my stay in San Francisco. Luckily, though, as I've already mentioned I had the dish quite a few times and the taste impressions, as I remember them, were pretty simple: Orange being the most obvious, backed by the traditional ginger, garlic and soy as well as a fair portion of heat. The dish had a certain twang to it, so vinegar was obviously used as well and some sweetness which, I deducted, could have come from either sugar or honey.
Recreating Orange Chicken At Home
With this in mind, I set out to recreate my beloved Orange Chicken from ten years ago. The version I created can be thrown together quickly for a 30 minute weeknight dinner, but could also easily be jazzed up and served to guests on the weekend with a lovely crisp white wine. That's the beauty of stir fries, they're quick to make, but if made with top class ingredients and dressed with a few greens or veggies, they make for a visually impressive and tasty feast.
I call this a low fat version which isn't really supposed to be confused with healthy. There's some oil involved for frying here as well as honey and other things. But unlike the original dish, it's neither breaded nor deep fried. And, of course, one could pass on the frying of the noodles and have a downright healthy dish at hand.
Note on serving size: I'm stating in the recipe below that this dish serves 2-4 people and that's just me making an honest guess, really. It served me for two square meals and I eat quite a lot! So, I'm guessing it would probably feed three normal people or four light eaters.
Low Fat (-ish) Orange Chicken
My version of the famous Chinese-American dish Orange Chicken recreated from memory of a visit to San Francisco's Chinatown.
Ingredients
500

grams

boneless, skinless chicken breast, cut into uniform cubes

250

grams

egg noodles

250

grams

green beans

frozen will do

1

bunch

spring onions

whites sliced thinly, greens cut into longer pieces

2

garlic cloves

minced

2

cm

fresh ginger root

grated

4

tablespoons

light soy sauce

1

tablespoon

Sriracha hot sauce

add more (or less) to taste

1

tablespoon

rice wine vinegar

1/2

orange

juice freshly squeezed

1

tablespoon

honey

Freshly ground pepper

to taste

Sesame seeds

for garnish

1

liter

chicken stock
Instructions
Put cubed chicken into a Ziploc bag along with the soy sauce, hot sauce, vinegar, garlic, ginger, the white of the spring onions and black pepper.

Stash Ziploc bag in fridge and allow to marinate for a as little as one hour and as much as overnight.

Remove bag from fridge, strain off marinade and reserve.

Fry green beans over medium heat in a bit of oil in a non-stick skillet and set aside.

Bring chicken broth to a boil in a pot. Once broth comes to a boil, dump in noodles and cook till tender.

Drain noodles, reserving the broth.

Add a little more oil to the non-skillet, then add the noodles. Season with a bit of soy sauce and hot sauce, then fry slowly and gently over medium heat. If they start going dry and want to stick to the skillet, add a small amount of stock to the skillet.

While noodles are frying, heat a cast iron pan or wok over medium-high heat and add a generous amount of oil.

Add chicken and stir fry for about a minute. The marinate will help it brown nicely. You'll have to keep things moving so the garlic doesn't burn. Nothing destroys a dish quite like burned garlic!

Once chicken is browned, add the reserved marinade, toss chicken a few times to coat, then evacuate chicken from the pan.

Add a bit of chicken stock to the pan/wok along with the juice of half an orange and the honey. Reduce to a thick, dark glaze. Keep an eye on the glaze, it will burn!

Turn down the heat and add cooked chicken and green beans to the pan/wok, toss a few times to coat and reheat.

Serve chicken and beans on top of the fried noodles, sprinkling with sesame seeds and the spring onion greens.
Recipe Notes
For a less oily version, skip the frying of the noodles, or serve over jasmine rice or plain white rice.
Like I said, it's been ten years and I hardly remember the flavors of the original dish. However, this sure took me back to the good old streets of San Francisco and my Chinatown adventure a decade ago. Only without the noise, the smells, the myriads of Chinese people, the more or less recognizable items on display in corner store windows and earthquakes! Yes, the ground moved when I was there. The ground is not supposed to move!
How authentic is this? I've no idea, but I'm guessing not very. Does it matter? No. I found it to be an enjoyable stir-fry full of sweet and sour, tangy and spicy flavors, and it fit the flavor profile as I remember it. Besides, I'd quite honestly be surprised if any westernized Chinese dishes were very authentic at all. Regardless, I'll definitely turn this into a stable on my short but enjoyable list of go to Chinese-style recipes.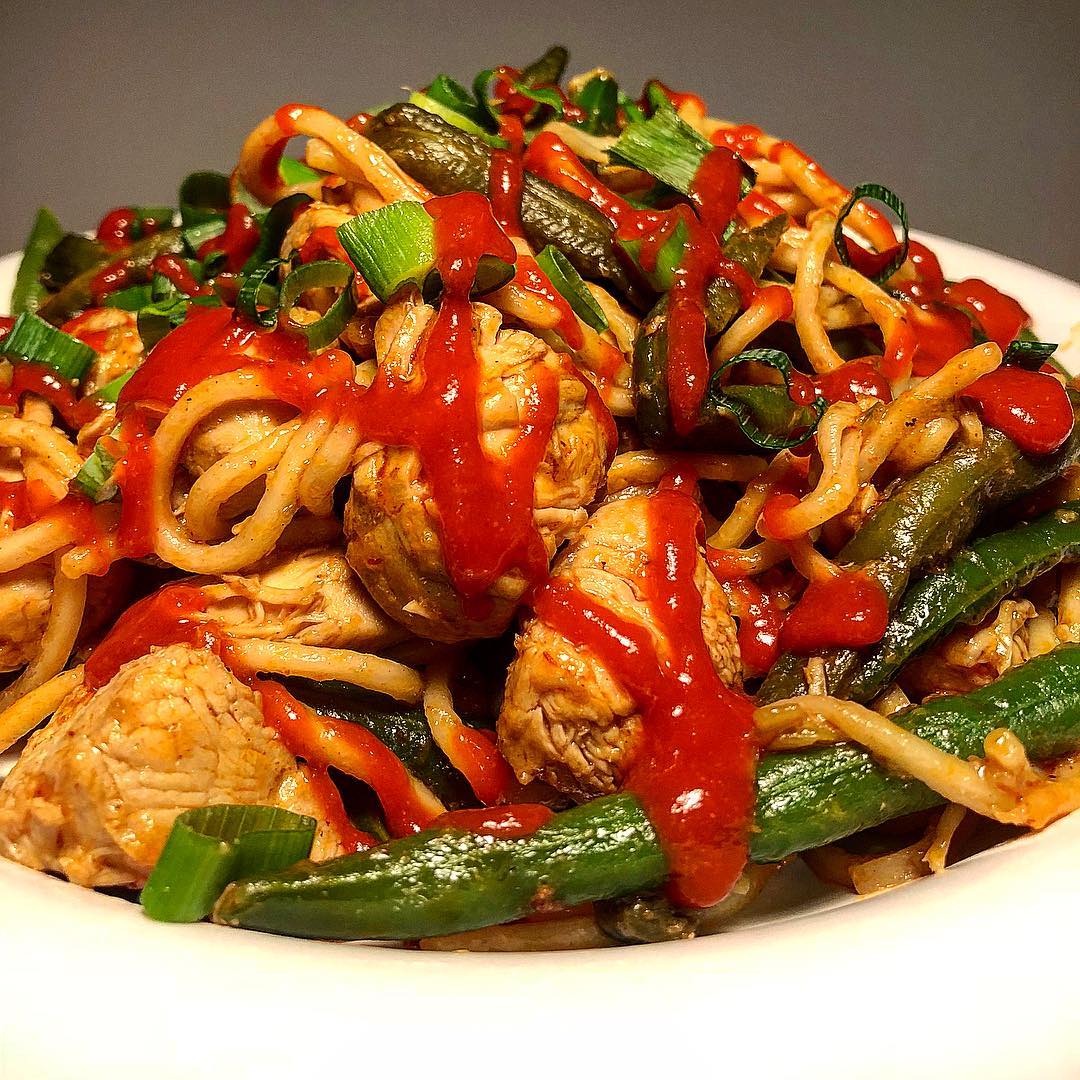 Best thing about orange chicken? With the addition of a bit of Sriracha, it makes for some pretty messy, pretty awesome leftovers!
I'm a serious chili head so I added a lot more hot sauce than this recipe states and I used my own home-made Sriracha-blend using a fair share of super hot chilies. I've discovered regular Sriracha to be plenty hot for the ordinary Danish palate and I'm guessing that the above measurements should be enough for most. If in doubt, I suggest starting slowly and adding more chili when serving if it's not hot enough. It's a lot easier to add heat than it is to remove heat.
You'll want the end result to have a nice warm and noticeable burn on the back of the throat, but not an overpowering heat that drowns out the sweetness and the subtle orange flavors. Only you can decide what is just right for your palate, so you'll need to taste and adjust accordingly!
What's your favorite travel food memory?