Home » Blog » Restaurant Reviews » Strange Brews: State of the Danish Craft Brewing Scene
The craft brewing scene is alive and well in Denmark. And they know how to throw a party! As I write these lines, those are the all-overshadowing impressions from last night.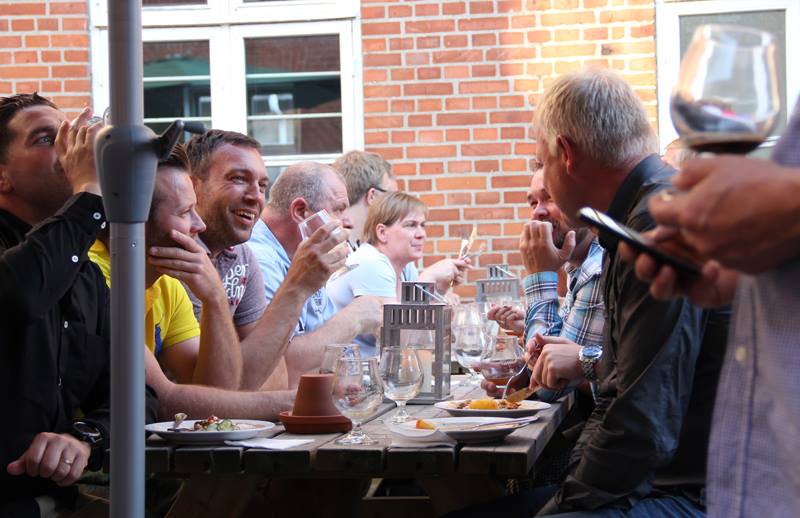 Chilling the most… Photo credit: Trolden Bryghus
Last night, June 12th 2015 at the time of this writing, my buddies Morten, Peder and I attended the 10th anniversary party of our good friend Michael Svendsen's local Trolden Brewery. Ten years is a LONG time in the craft brewing business and our buddy Michael rightfully wanted to mark the occasion by throwing a bit of a party. So, he invited yours truly, and nearly 250 other paying guests to visit his small brewery in Kolding Denmark for some good food, a few laughs and, most importantly, a chance to sample his full lineup of beers – as well as some other shining stars on the Danish craft brewing scene from visiting breweries such as Munkebo Mikrobryg (Munkebo Microbrew), Ugly Duck Brewing, Herslev Bryghus (Herslev Brewery) and Coisbo.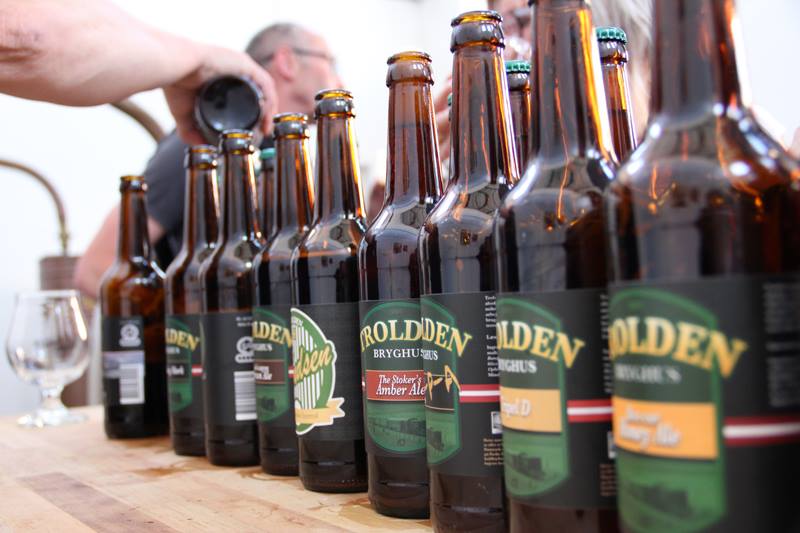 Trolden Brewery – the full line-up… Photo credit: Trolden Bryghus
I attended the event with the intent to mingle with other like-minded geeks as well as a chance to check the state of the Danish beer scene. I succeeded not only in doing both, but also in sampling some great, some not so great, and some at times downright ridiculous brews. I'm writing many of these words onthe day thereafter with the experience and tasting notes still fresh in my mind, and my body still aching after an onslaught of generous samples from some key players on the Danish craft brewing scene. By the time this post makes it to the end of the pipeline, it will probably be nowhere near the day after the event, but that only means I'll have had some more time to reflect on the event, the beers, the impressions and the state of the Danish Craft Brewing scene. The latter, by the way, is a pretty interesting subject that will certainly have turned no less interesting in the time it takes this writeup to reach its final published form.
Craft Brewing in Denmark: A Brief History
Back in the good old days, aka the dark ages, craft brewing was all there was in Denmark. Every self-respecting major farm brewed their own beers consumed not only at parties and special events but also as a means of daily hydration. Back in the good old days, you see, water quality was so poor that brewed (hence boiled) beer was actually preferable to the murky, polluted waters that came out of local wells.
By the time the industrial revolution rolled around, brewing – like many other production processes – became an increasingly centralized trade and what was once brewed at home could now easily and cheaply be purchased from respectable producers. As production, marketing and distribution methods grew increasingly modernized, it meant not only the death of home brewing, but also a dwindling in the number of professional breweries, large or small.
Pouring hundreds of years of history into a but a few lines, the end result for the once so brewfully diverse nation of Denmark, was a market owned largely by two competing brands, Carlsberg and Tuborg, both owned by Carlsberg. Adding insult to injury, the main brews consumed were two largely identical takes on the classic pilsner type of beer: Green Tuborg (named from the color of the bottle, not the beer!) and Carlsberg Hof. A few largely boring seasonal and/or extra strength varieties as well as a few niche offerings from minor breweries aside, that WAS the sad state of the Danish brewing scene for large parts of the 20th century.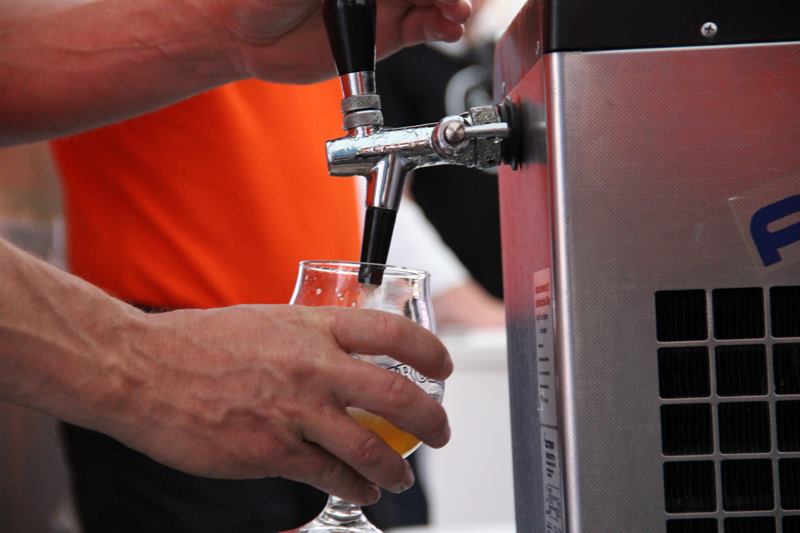 Craft beer on tap. It's a wonderful life! Photo credit: Trolden Bryghus
And then something wonderful happened. People essentially grew bored! The end of the 20th century and the very early years of the new millennium saw a downright boom in small craft breweries. It started slowly with a few alternative offerings from largely forgotten minor breweries. The people had a taste, enjoyed what they were given and wanted more. Suddenly new players rose to the occasion, largely forgotten breweries chimed in, new sprang up and even the once so mighty giants felt compelled to act, either by introducing new brews, digging up old recipes or starting spin-off operations. The Danes had spoken. They wanted new and exciting beers and they were willing to pay for them! For a few very odd and confusing years, we reached a point where it seemed like everybody and their mothers were again brewing beer – only this time not solely for home consumption, but also with the intention to bottle and sell. For better and for worse, Denmark had suddenly become number one in the breweries per capita charts.
Then, out of the blue, the financial crisis struck – and that, if I'm to be a bit cynical, was maybe not such a bad thing for the Danish brewing scene as it cleared the scene of some of the, shall we say, less knowledgeable and less dedicated players. Now, don't get me wrong, I'm not one to gloat at people's defeat or financial downfall, and I do believe in the synergy achieved from of a lot of people trying new things in unison. But, honestly, while a lot of exciting new things were happening ten years ago, a lot of the stuff pumped out in this second coming of craft brewing was often either copies or spins on existing brews, or plain not worth drinking. The crisis forced brewers to show their worth and the breweries to survive the crisis were generally those headed by talented, hard-working people who know what they're doing and have a pretty solid understanding of how to make a profit of it.
Thankfully, as we shall see, that's not to say that the innovation, playfulness or urge to provoke and reinvent that drove the original wave of craft brewers is dead. Far from it. It just so happens that the wave of innovation is no longer driven by good-hearted amateurs trying to do weird for the sake of weird or weird because they didn't know any better. No, the beer revolution is now being spearheaded by a well-established and slowly growing bunch of exceedingly skilled professionals who know what they're doing – or at the very least has some pretty sound idea about what they're doing and which directions their experiments are taking!
The craft brewing movement, my fiends, is alive and well in Denmark and – some would say – funkier and more daring forever. Those are the major conclusions drawn from a hot evening in June spent visiting our local hero and good friend Michael Svendesen's 10th anniversary party as brewmaster and distiller at Trolden Brewery and Distillery.
Party Over Here: Trolden Bryghus Tenth Anniversary Party In A Nutshell
My friends and I arrived at Trolden Brewery on a brightly sunlit Friday evening in mid June to find upwards of 300 people waiting in line for the tasting. We sighed and did what other self-respecting gentlemen would have done and got in line to enter the fenced off tasting area in front of the brewery.
The brewery itself is situated in rather industrial surroundings flanked by old factory buildings and storage units but even so, the  staff had done what they could to make the place appear welcoming and open. A large tent had been raised between factory buildings serving as a checkpoint for us to surrender our tickets and receive our official tasting glasses, as well as a mingling point for beer enthusiasts and a base for many of the guest breweries that had graced us with their presence and their brews on the day.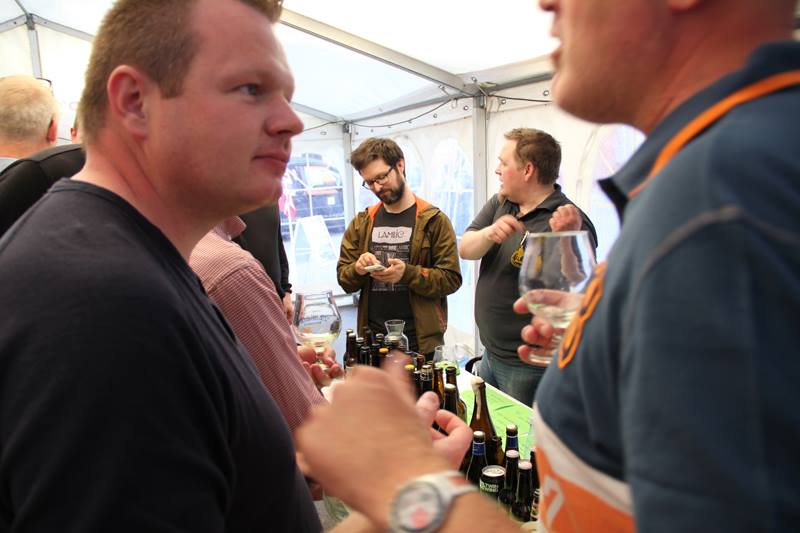 Discussing the state of Danish craft beer. Photo credit: Trolden Bryghus
Walking through the tent, making sure to sample the brews of Munkebo Brewery, Herslev Brewery and Ugly Duck on the way, one would wind up in the brewery's newly opened patio garden where a couple of cooks from local restaurant Den Gyldne Hane (The Golden Cock Rooster) were struggling to keep up with demand for complimentary servings of a hearty, filling and delicious stew offered as a solid foundation for mass beer consumption.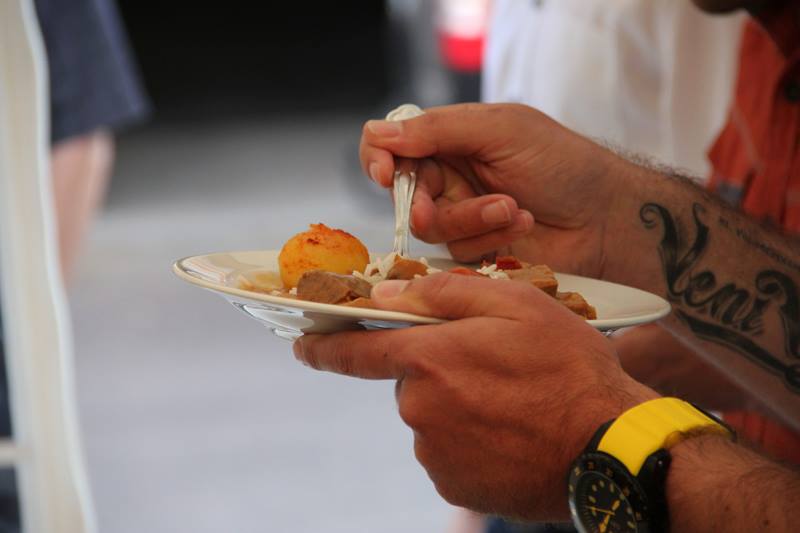 Food, glorious food! Photo credit: Trolden Bryghus
Having gotten ones fill or given up doing so owing to the length of the line, one could pass by a few booths occupied by German and Eastern European breweries and continue into the hallowed grounds of the brewery itself. In here the beaming "birthday boy" himself was found surrounded by friends and family and his full lineup of his own brews as well as a few others from visiting, critically acclaimed phantom brewer Coisbo.
The overall space was, shall we say, intimate but not too intimate for the number of guests. It was a tight squeeze at times, but I dare say we all felt quite happy and at home strutting around, mingling, laughing, bumping into old friends, or bumping glasses with new ones.  Interestingly, with so many would-be competitors gathered in a tight space (on the home turf of one brewers, none the less) there wasn't the faintest trace of competition, envy or bad blood in the air between brewers. Rather, the spirit was one of camaraderie, understanding and mutual interest in the common good: the pursuit of great beer.
And it was in this pursuit of good beer, we had come. Initially with an (idiotic) idea of tasting every damn beer on offer. With over a hundred beers on offer, though, that would have been a suicide mission so instead we set off, seeking out a few select breweries to try some of their more hyped, experimental and in some cases notorious brews. Our mission? To examine the state of the Danish craft brewing scene in the year of our lord 2015!
Strange Brews: The State Of The Danish Craft Brewing Scene
Let it again be stated: Innovation is alive and well amongst Danish craft brewers. Unusual ingredients, spontaneous fermentation, cask-aging and double-hopping are just a few keywords to describe the current wave of playfulness sweeping the scene. Every beer geek has heard the rumors of what is going on, but seldom do many of them get to sample all much of the madness and innovation in one night. As such, my main goal of the evening quickly became to search out some of the stranger, more famed and provocative brews on offer. And I would drag my friends down with me!
Since the first thoughts of any beer lover heading into a marathon tasting are probably of food and copious amounts thereof to withstand the onslaught of alcohol, I rightfully expected everybody to queue up for food about two seconds after they'd made it through the hallowed gates of the party. I was not wrong and so my first task became to find a suitable apéritif while I waited for the line to thin out a bit. My eyes were drawn immediately to a booth set up by a rising star on the international craft brewing scene, Munkebo Mikrobryg, and particularly to their Coconut Wheat Ale.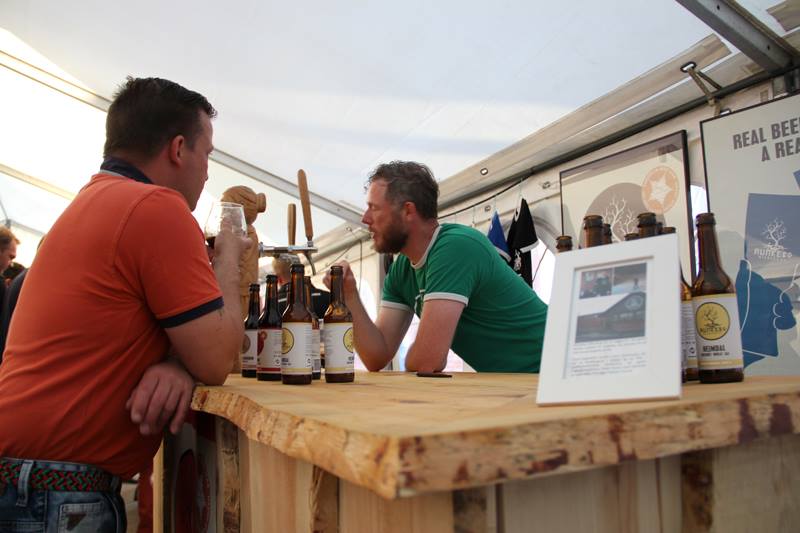 Munkebo Mikrobryg – an exciting place to be! Photo credit: Trolden Bryghus
While still a relatively new brewery, Munkebo Mikrobryg is already firmly rooted in the mind of many Danish beer lovers. Founded in 2013, they're a family owned and operated brewery, sporting a deadicated head brewmaster that holds a Master's degree in biology and a Ph.D. in health sciences, a solid marketing department and a strong, diverse lineup of beers all of which have one thing in common: even if they sound a little odd in name and appearance, you can rest assured that serious thinking, hard work and dedication have gone into them. Their Hjemstavns Ale (Homestead Ale), for example, is brewed with strains of yeast isolated from the backs of local bees, and their lineup furthermore includes equally elaborate modern classics such as a Agave Gluten Free IPA and a  Brettanomyces (wild yeast) porter.
Even though production methods are modern, they are firmly rooted in tradition and craftsmanship. This is evident not only in some of the traditional measures taken (like wild yeast isolation) but also in the use of references to Norse mythology in both names and imagery. Munkebo Mikrobryg, essentially are mixing tradition with inovation to the delight of beer lovers everywhere… But that's another story, my eyes for the time being were on the Coconut Wheat.
Munkebo Mikrobryg – Hejmdal Coconut Wheat Ale (5.2% ABV)

This particular brew, the brewmaster informed me, was made after American wheat ale tradition meaning it sported more character than continental style wheat beers. This was certainly true, I though, as my first whiff brought creamy notes, citrus and what I could best describe as hints of malo-lactic fermentation. There was nuttiness, too, but not one I immediately recognized as coconut. The taste was fresh with an obvious soap-like note from cascade hops and more depth than could be expected from a wheat ale. I'm a big fan of Munkebo Mikrobryg, but sadly not of this particular brew.
Coconut wheat ale… Not my thing, but I applaud the effort none the less!
When later I was re-tasting the beer with my entourage in tow, Morten described it as "fresh, fruity, an absolute delight" whereas Peder thought it more in line with "the smell and taste of a highschool gym class". Obviously a statement brew that split the crowd, but even if it wasn't my cup of tea, I applaud the brewmaster for going down that route and trying something new.
As we should soon see, when diving further into their lineup, Munkebo Mikrobryg is a shining new star on the craft brewing scene, not afraid to push boundaries and  definitely a force to be reckoned with in years to come! For the time being, though, I passed on Munkebo Mikrobryg's other offerings and ventured on in search of food and beer to go with it.
The food, I found at the end of a long line that snaked through the brewery's lovely little outside patio, the beer to go with it, I found at the hands of my buddy Michael with whom I spent some time discussing a good match for the food.
Trolden Bryghus – Rye-P-A (5.0 % ABV)

Michael Svendsen and I, it seems, share a common interest for rye and the malty, grainy yet surprisingly fruity notes it brings to the table, be it in whiskey or beer. This, sadly, makes us part of a dying breed as the use of rye in brewing, while previously a common occurrence, is now a pretty rare sight.
Trolden Rye-P-A, as the name suggests is an IPA brewed with rye. Now, IPA's are traditionally chock full of hops for a fresh, bitter, citrusy overall impression. They are, however, not usually made with rye, probably because one would think that the malty and grainy notes would clash with the bitter citrus notes of the hops. Somehow, in this strange brew, though, it doesn't. Rather it creates a beer that's fresh, fruity and citrusy yet has pronounced bready and malty notes, even a hint of apples and caramel. It's a beer that's sweet but not cloying so, fruity but not too much and bitter but not as you'd expect from your average IPA. And it's a damn fine food beer. Especially, it turned out, when enjoyed with large amounts of hearty stew in the company of good friends at the brewery from whence it came.
Putting the terroir in beer: Herslev Bryghus
Having had our fill of good food (thanks the boys from Den Gyldne Hane for hooking a brother up with extra bacon!) and Rye-P-A, and having weighed in on our experiences thus far, we ventured off in search of more strange and, as it would turn out, exceedingly challenging brews. Our first stop was one of the more controversial offerings on the Danish beer scene in recent years:
Herslev Bryghus – Herslev Mark Hø-Øl (4.9 % ABV, brewed with wild-fermented grass)

"Whoa, someone dropped the lemons in this one," yelled Peder after getting his first whiff and taste. "That," I said, "and this tastes exactly like silage smells!" – We were trying our luck with the latest and wildest in a long line of exceedingly provoking craft beer offerings. A beer so strange that experts are debating if it's actually a beer or not. A beer so controversial that the Danish government and the EU had been een threatening action. We were dancing with Herslev Mark, the demonic brainchild of brewmasters at Herslev Bryghus. A so-called hay beer by name, it was brewed using spontaneously fermented grass in place of hops and yes, this shows in the tasting notes!
Herslev Mark.. I, uhh, wow!
With this beer, the brewers are willingly pushing the boundaries of what can be considered beer right to the edge, probably a little over, and the results are, interesting… The main flavor component is a wildly acidic, sour and indeed lemon-like note, coupled with a whiff of dried grass, spice, more lemon, a strong, fermented undernote and an air of silage. It sounds disgusting, but in all honesty, it's really not. It is, on the other hand, probably not something you'd just quaff down on a hot summer's day. It is, I suppose, what you would call an acquired taste and a statement beer of sorts. What kind of statement? I'm not exactly sure. It's an experience so all-together strange that even revising this post weeks down the line, I'm not sure what to make of it. I liked it, I think. But it's so incredibly strange and maybe not even a beer at all.
But wait, there's more, it brought it's evil older brother along for the show…
Herslev Bryghus – Herslev Mark Fadlagret Hø-øl (11 % ABV)

"If you thought that was strange," said the representative from the brewery, "then try this. This is them actually trying to make something out of it!" – and with that, she poured us sample of a cask conditioned and heavily fortified version of the brew we had just had.
Again we were greeted with a cacophony of wild, sour and acidic flavors and smells, but in a strangely subdued almost controlled manner. The racy, wild intensity that was the first version had been tamed remarkably and softer notes of butter like those you see in a well-aged Chardonnay were woven into the mixture. As was a sparkling hit of alcohol as the brew now carried a whopping 11% ABV. The experience was bizarre to say the least, but again strangely comfortable in a really odd and unfamiliar kind of way. I'd like to say I loved it, but love is a strong word, so how about this: I did not not love it?
Wild-fermented hay, cask aged… This is nuts! And pretty interesting!
The wild, anarchistic brews we were struggling through were brought to life by Herslev Bryghus, a small farm brewery from the city of Herslev. Since its founding in 2004, the powers that be at the brewery have produced local, organic brews with a sense of terroir about them. The word terroir is usually reserved for French winemaking and refers to the idea that wines should taste of the soil of the regions from whence they came. Herslev Bryghus has attempted to shift this paradigm to the beer world by brewing distinctly characteristic beers  from locally grown and at times downright unusual ingredients. The end result is a wide array of brews with a distinct local touch and a very unique feel, none of them more so than their  spring asparagus wheat beer, rosehip harvest beer and, now, their wild-fermented hay beers. The former of these, I've yet to try, but after having danced with the latter, I'm quite curious to do so.
The hay beers were probably the weirdest and wildest brews on display that evening and while not an instant fan, I'm crushing a little on the concept of wild, crazy brews. There are definitely some boundaries being pushed here. And that, if you ask me, is a good thing. But so is a sense of familiarity which we found on our next stop of the evening.
The Ugly Duckling: Ugly Duck Brewing Co
Indslev Bryggeri is a brewery situated in the middle of our dear country, not too far from my lovely hometown. For many years, they adhered by a set of dogmatic rules stating they would only produce wheat beers. A noble idea, but one that I never fully got behind. Thankfully, in later years, they've establish a spin-off brewery which produce regular ales and lagers that are, well, anything but regular. Ugly Duck is the name they chose for their sister brewery and it is, in this humble food blogger's opinion, one of the most exciting newer Danish breweries. They produce beers with an aura of attitude about them and a good example of that would be our first sample from them: the Hop Devil.
Ugly Duck – Hop Devil (7.5 % ABV, Double dry-hopped)

Hop Devil came on as a full-on grimace-causing onslaught of hop bitterness. Which, to my awe and surprise, within a second or so mellowed into clear, pleasant notes of citrus and tropical fruit – but still with a pronounced and dominating hoppy backdrop.
Ah, the Hop Devil. How something so insanely bitter can be so insanely pleasing, I'll probably never figure out!
Hop Devil is a perfect example of the style of Ugly Duck and a general trend in Danish craft brewing. It's not a beer made to please everybody, it's a beer made to provoke and make you reflect. A beer with attitude that may scare off some, but will appeal to, challenge and maybe even provoke lovers of the style they're brewed in. The same holds true for the next beer we sampled in Ugly Duck's lineup.
Ugly Duck – Coffee Vanilla Imperial Porter (9.5 % ABV)

Who in their right mind mixes coffee and vanilla, in a porter none the less, I remember thinking.  The answer, of course, is our punk rock friends at Ugly Duck and the result is, quite simply, amazing.
Revisiting the Ugly Duck Imperial Coffee Vanilla Porter on the day thereafter. It's crazy. I like it.
Ugly Duck's Imperial Vanilla Coffee Porter starts off with a surprisingly light sweet, prickling sensation on the tongue followed by a huge onslaught of coffee, roasted malts, chocolate and caramel. There's vanilla, too, but thankfully in a subdued kind of way. The huge, creamy mouthful is the only major indicator of the dangerously well-integrated 9.5% ABV found in this brew. For a brew of this size and character, it actually seemed surprisingly light but with a long, lasting, sweet and slightly bitter aftertaste.
The coffee vanilla porter is a favorite amongst many beer-loving friends of mine and always a welcome tipple with me as well as a perfect way to lead us into the heavier, stronger beers of the night.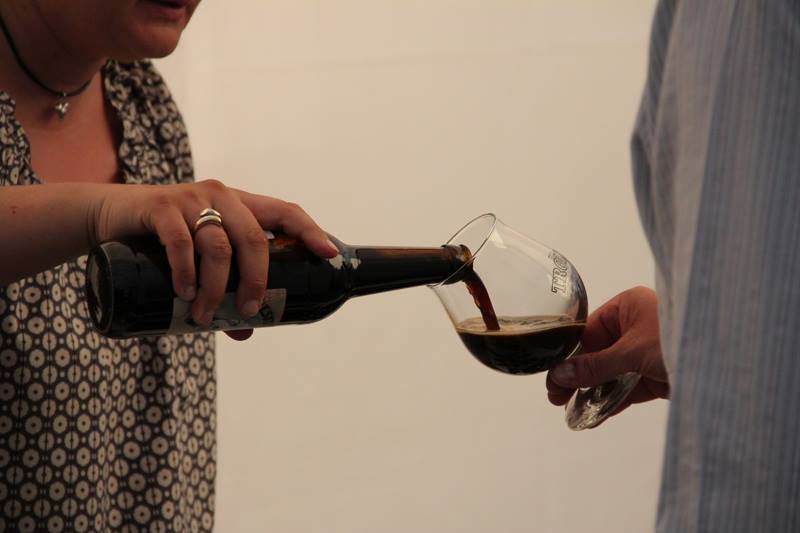 Once you go black, you never go back! Photo credit: Trolden Bryghus
Porter? Stout? What's the difference? If, like me, you're a little geeky, you might read the words porter and stout and get to wondering… Just what is the difference between a porter and a stout? The very quick, simplified, slightly discouraging answer to the question is: these days, there isn't really much of a difference! Very few, even brewing professionals, are aware the difference and use the words pretty much interchangeably when describing dark, strong beers with roasted/smokey profiles. Historically, though, a stout was a stronger, more complex and flavorful version of the Porter – the original dark beer, created using roasted malts and named after the Porters working the docks in London. Hence the original name Stout Porter. For a longer, geekier explanation, check out this amazing read.
Having subjected my poor friends to a bit of everything, we decided to rendez-vouz at the Munkebo Mikrbryg booth where I had my stand-off with the Coconut Wheat ale earlier in the evening.
While here, Morten tackled the Coconut Wheat and offered a second, more favorable, opinion while Peder went to town on a personal favorite of his, a lovely prime example of a Bavarian Weissbier the notes of which sadly escapes me. Possibly because I had something entirely else and slightly darker and more sinister in mind.
Munkebo Mikrobryg – Alstærk Bourbon (9.4 % ABV)

In a not too surprising move the beer I was determined to tackle, Munkebo Alstærk Bourbon, was declared Brew of the year 2015 by the Danish Beer Enthusiasts Society. While brand new, it is, however, based solidly on tradition. Munkebo has for a while now produced a Scottish strong ale by the name of Alstærk. Alstærk Bourbon, as the name may suggest, is a special version of Alstærk, blended with Knob Creek Kentucky Straight Bourbon then matured in American oak. The result is a hefty and wonderfully complex, sweet yet powerful ale with strong notes of bourbon and a whiff of smoke and oak.
Alstærk Bourbon… You take beer, you take Bourbon… You shake them up. What's not to love?!
Compared to the coffee vanilla porter sampled previously, Alstærk Bourbon seemed heavier but also sweeter and less bitter, probably owing to the use of seven different kind of malts, very little bitter hops and the wonderfully sweet, warming and slightly smokey Knob Creek Bourbon. It's a fine line when adding Whisky or Bourbon to beer. Enough is enough and too much is definitely too much. Munkebo Alstærk Bourbon walks the line – flawlessly – with the bourbon powering through almost too much, but then again, not really. Alstærk Bourbon is over the top in a just right kind of way.
Anniversary Brew Galore
Speaking of over the top, I was about to find a spirit-infused and cask-aged beer even more extreme as I, somewhat reluctantly, moved on to pastures new and went to visit some old friends from Coisbo.
Coisbo is not a brewery in the formal sense of the word. Rather it's a product line developed by brewmaster and beer geek extraordinaire, Anders Coisbo,  a so-called phantom brewer who leases equipment from established breweries to create one or more batches of signature brews. The brews are produced either as standard brews or as one-off limited editions brews. With names ranging from Urban Haze over Manhattan Dawn and Brooklyn Fall to Astoria Black there's a clear sense of funk (and tribute to one of my favorite cities in the world) in Anders' lineup, further edged on by elaborate and inventive styles including but not limited to elderflower Pale Ale, smoked beer, lemongrass Lager and, hell, oak-aged Barley Wine.
My shining beacon in their lineup for the night, though, was a special limited edition brew, namely Coisbo's fifth anniversary brew – Coisbo 1825 – named not after a particular year but rather after the number of days elapsed since Anders Coisbo created his first brew. Clever that!
Coisbo – 1825 (Fifth Anniversary Brew, Russian Imperial Stout, 10% ABV)
Coisbo 1825 is a Russian Imperial Stout matured in used Cognac casks and bottled at a whopping 10% ABV.With notes of tar, smoke, liquorice and tobacco-scented wood it's definitely not one to be taken lightly, and it did prove a bit of a mouthful to be honest. It does sport nice, off-sweet, malty, bitter notes and roasted earthy tones, though, that made it seem quite interesting but still a little untamed. I'm usually all in favor of bold beers, but it honestly seemed a bit harsh and boozy on the day. I do admit, though, that my senses may have been thrown a bit by the constant sampling coupled with the noise and flow of the crowd. I'd quite like to visit this one again under more quiet, thoughtful circumstances and I'd quite like to cellar a couple of bottles for a while to see what would happen. I'm sure there's boldness in this for years to come, and quite a bit of potential for interesting development.
Cellaring beer? Cellaring is for wine, right? Well, yes, but some people – present company included – have had quite a lot of fun cellaring beers as well. That is, leaving them undisturbed in a cool, dark space for lengthy periods of time only to open them up and see how and if the flavor profile has developed. While most beers are brewed for immediate consumption, some beers do change flavor profiles given enough time in the bottle. And some, usually bottle-fermented, stronger more complex varieties can turn out surprisingly good after a few years in the bottle. It is important to note, though, that not all beers are created equal and not all beers are created for cellaring. Light pilsner or lager style beers, for example, will come completely apart with age. Generally, in order to not only keep and develop well, beers will have to be high in alcohol and/or hops and complexity. One should also note that, unlike wine, cellaring beer does not so much create new flavors as it cause certain existing flavors to increase while others decrease. So, if giving it a go, start with a beer that you actually enjoy most of the notes off, drink one, take notes, put it down for a few years, re-taste and see what happens. You might light the result, you might not. It's all part of the fun. Sounds fun? Read more on the concept here and here.
On this particular night, though, I guess my taste buds were looking for something that was not only bold and powerful, but also rounded and pleasing. And thankfully they found it in the last beer on my to-do list. A beer which also happened to be the one that I had (probably) looked forward to the most. So here, as the late, great Steve Jobs, would have said, is one last thing…
I turned my back on Coisbo  and drifted back to the neighboring booth, that of our host and birthday boy, Michael Svendsen, and Trolden Brewery. My intention? To try their new special brew, conveniently released on the night of our visit.
Trolden – 10th anniversary brew (Dubel-style, 8 % ABV (est))

Trolden's 10th anniversary brew is a Belgian Dubel style beer brewed with ten different malts then fermented and later bottle conditioned with the intention of hitting the magical 10% ABV. As I understand it, in reality the yeast died out before things got that far and the final result wound up at around 8% ABV.
Trolden 10th Anniversary Brew. A solid effort if ever I saw one from Trolden Brewery.
No matter, though, the 10th anniversary brew is a wonderful effort that could have probably carried the extra alcohol but doesn't need it at such. I'm not usually a fan of Dubel style brews as I often find them too sweet, fruity and one-sided. As far as this one goes, though, the variety of malts really help in creating a deeply complex and likeable, sweet but not too sweet drinking experience with notes of candied fruit, bread and yeast.
Trolden is one of those breweries that brew to please and create harmony rather than to provoke and test boundaries. What this means is that their beers are usually pretty thought through, not too crazy and pretty well-balanced. And for my money, this might well be the best, most balanced, effort from Trolden thus far. So much so that I've actually already, in a bit of a weak moment, ordered my case of 10th anniversary brew with the intend of cellaring it to see how it turns out over the next decade or so. Now, if I can somehow figure out a way to get Michael to pour some onto his used whisky casks, I'd be a happy, happy camper. Remember, Michael, cask conditioned beer is all the rage these days!
Whisky casks at Trolden Distillery… Please, Michael, use some of these for aging beer! We shall be ever so grateful
And that, as they say, was that… At least for my tapping into the state of the Danish Craft Brewing scene portion of the evening. Having thus reached the end of the line with Trolden's 10th anniversary brew, I folded up my little black notebook, stuffed my pen in my pocket and spent the remaining portion of the event mingling with people, cracking jokes, making friends and trying my gosh-darn best to sample every beer under the sun (and in the tent). As any true beer lover and party lover should after playing the role of serious food blogger for a while.
Just checking up on some tasting notes at the after party… It's a hard blog life!
And then, as quickly and frantically as it began, it was suddenly all over. After an amazing four hour look at the beer scene, we left the brewery grounds reluctantly at shortly past 10 PM. Our spirits delightfully heightened, not only by many an ample tasting of what the Danish craft brewing scene anno 2015 had to offer, but also by the warming feeling that the Danish craft brewing scene was not only alive and kicking after a financial crisis, but also full of spirit, innovation and playfulness. From the great, over the good, to the bold and downright bizarre, we'd tasted our way through many a brew. And while all exceedingly different in taste and character, they all had one single feature in common: they were brewed by hard-working, skilled brewing entrepreneurs who, while maybe not catering to everybody's tastes in every brew they produced, brewed with passion, thoughtfulness, quality and determination in every single batch they produced.
Pouring my very own Trolden from tap… Many of these were poured during the evening of our visit!!
I for one can't wait to revisit the state of the Danish beer scene at Trolden's Birthday bash next year! Or to come back in ten years for their 20th anniversary and see where things have taken us by then. Who knows, maybe wild-fermented, cask aged hay beer is pushing the norm by then and something decidedly wild and crazy is needed to push the boundaries once more?
I want these? How can I get some? Before I even finished writing this report, people from all over the world started asking: "Johan, where can I get some of this wonderful stuff of which you speak?" The sad answer, my friends, is that it probably won't be easy. If you're in Denmark, your friendly neighborhood specialty store will be able to hook you up. If not, well, your really geeky, niche beer store might be able to help. If not, I've included links to all breweries in the descriptions of their beers. Shoot them an e-mail and they might just be able to help you on your quest.
Note: I attended this event as a paying guest. Opinions are entirely my own and in no way  encouraged, endorsed or funded by the breweries mentioned.